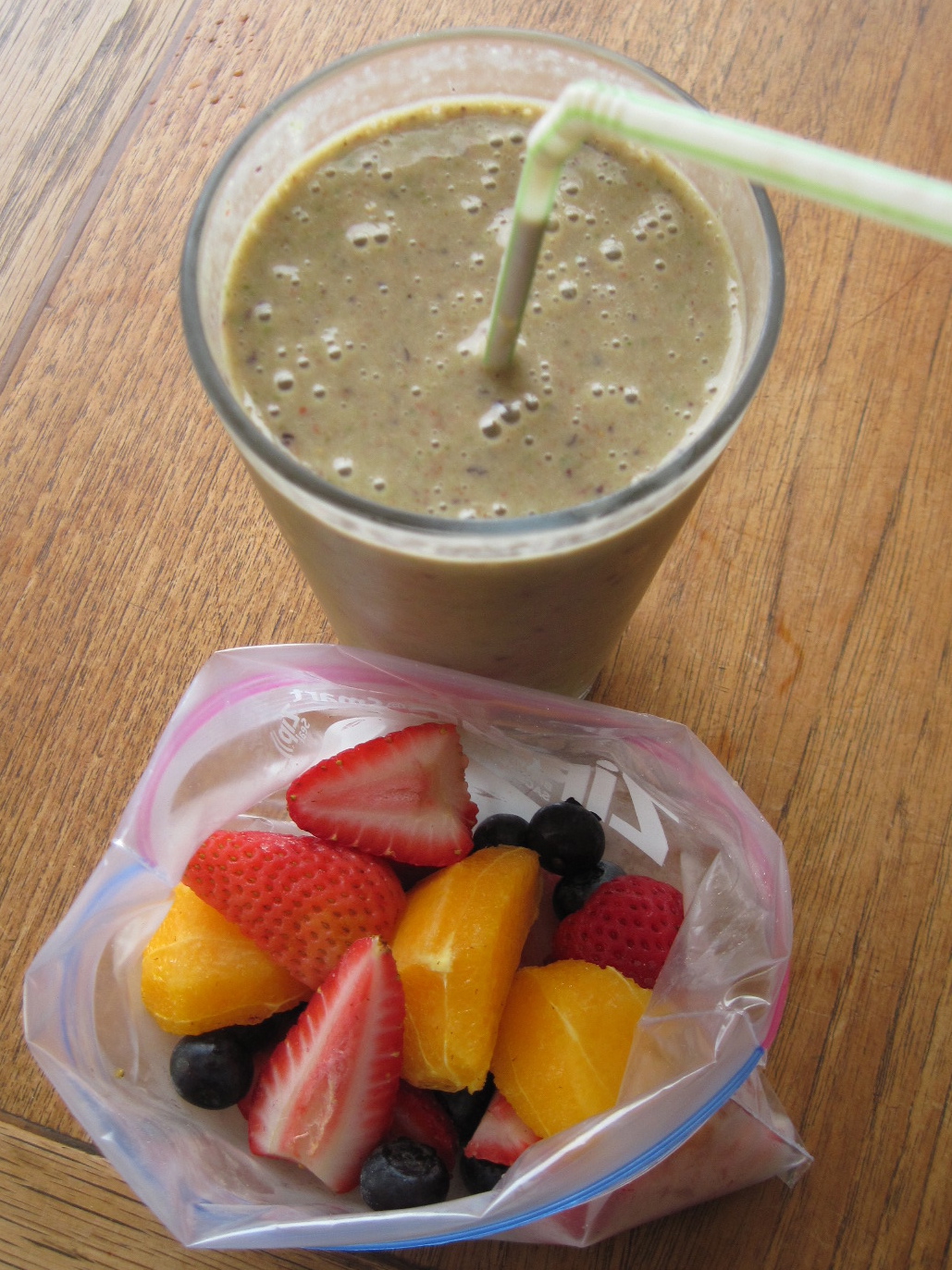 On weekends, I love a big breakfast of eggs benedict or something similar, but on weekdays, I try to go for something a little lighter. Enter: the smoothie. Mine usually includes frozen berries, orange, banana, plain yogurt, ground flax seeds, cinnamon, maple syrup or honey, water or almond milk, and (this is where it might get weird for you) kale leaves. This is results in a not-quite-green smoothie that tastes nothing like kale and everything like deliciousness, but still makes me feel like I'm eating a leafy green vegetable. Sometimes I'll also add half an avocado (I know, weird again), which makes it super creamy and smooth.
I came across this "smoothie pack" tip on Budget Bytes via Pinterest, and wanted to share it here because I think it's such a great idea (I wish I could take credit for it, but I definitely can't). When I make a smoothie, inevitably I'm either missing something (berries, bananas) or I get the proportions of fruit all out of whack and then end up having to add more of everything else, and then my "smoothie for one" ends up becoming "the smoothie that ate New York". Assembling all the necessary ingredients (ie, the fruit part) in little bags (reusable freezer bags, of course!) that you can just pull out of the freezer and dump in the blender solves both those problems, and it's a time saver. This is important for busy mornings! Plus, these little bags are individually sealed, which cuts down on freezer burn.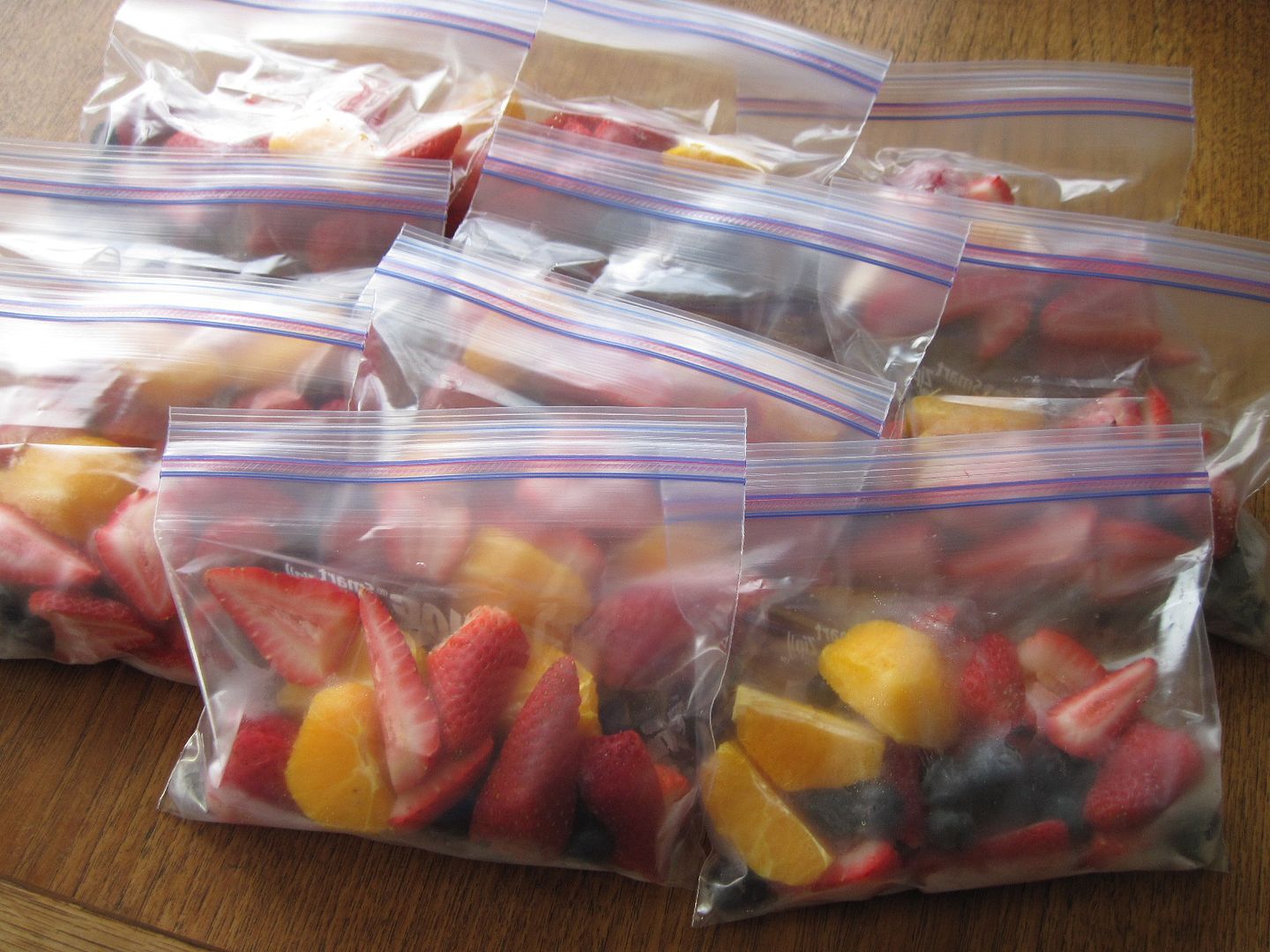 Because there is an abundance of fresh fruit in the store at the moment, I took advantage of the "clearance" rack (that sounds so unappealing, but what else do you call it?) and bought a bunch of berries that were on the verge of being too ripe and needed to be used RIGHTNOW. I washed them and cut them up and froze them overnight on cookie sheets, and for my efforts I saved a few bucks. But these smoothie packs could be made even more easily with bags of frozen fruit, especially if it's on sale.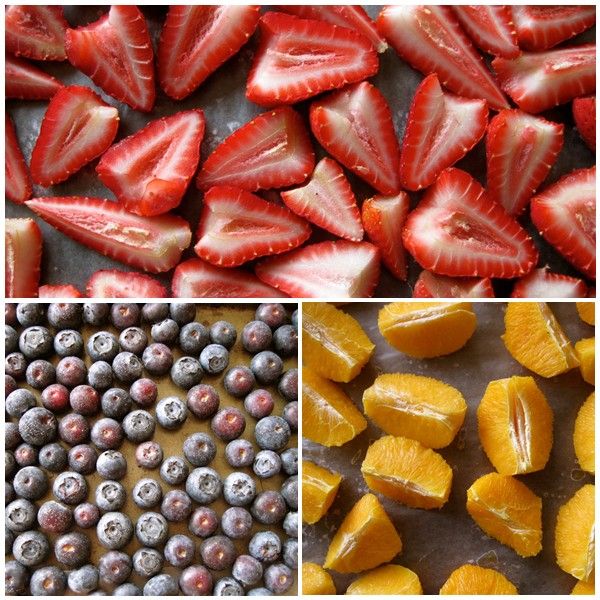 And then, all you do is portion out your frozen fruit and bananas into little freezer bags.
For each smoothie pack, you will need:
3/4 – 1 cup of frozen fruit (I used strawberries, blueberries, and three-quarters of a peeled orange)
1/2 a peeled banana (which I did not add to these ones because I am currently working through my giant stash of overripe, already frozen bananas that I keep for baking, which require a quick thaw in the microwave to get the peel off before being smoothie'd)
When you have a hankering for a smoothie, you just chuck the contents of one bag into the blender along with some kind of liquid and whatever else you want, and you're good to go! My current favorite smoothie formula looks like this:
Strawberry-Blueberry-Orange Smoothie
Adapted from Budget Bytes
In a blender jar, blend until smooth:
1 smoothie pack containing strawberries, blueberries, orange, and banana
a large dollop of plain yogurt
a spoonful of ground flax seeds
a few kale leaves, de-stemmed
(half an avocado, optional)
enough water/unsweetened almond milk (vanilla or plain) to make it blendable (~1/2 cup)

Once it's all blended, add:
a pinch of cinnamon
a little maple syrup or honey (optional, to taste)
Blend again. Makes enough to fill one large glass.