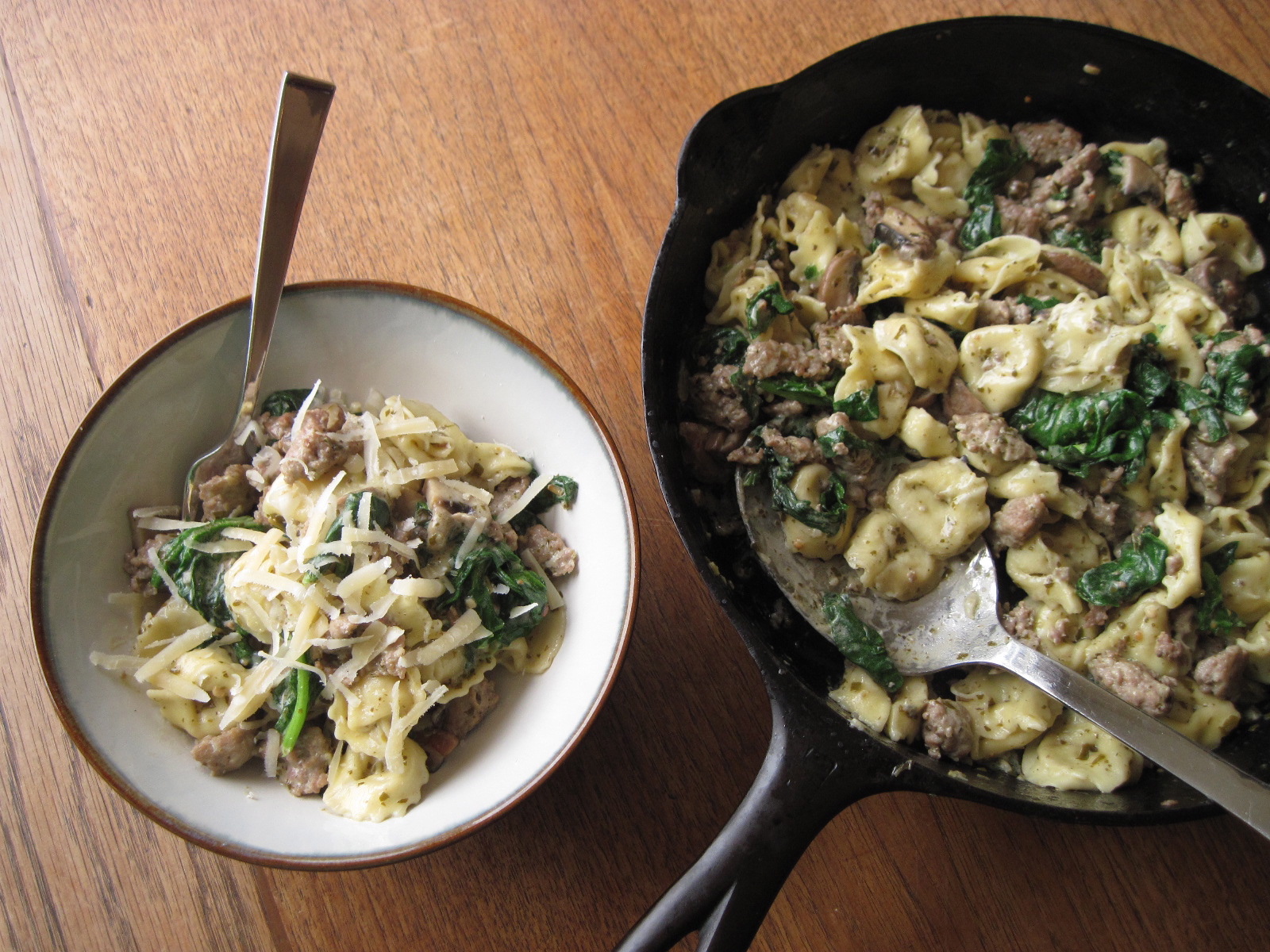 I have a new blog crush… which is kind of an old blog crush, actually. I discovered Dinner with Julie when I first started this blog (the recipe for Rosemary Raisin Pecan Crisps, one of my very first posts, came from there) but somehow lost track of it in the onslaught of new food blog discoveries that followed. I'm happy to report that I rediscovered Julie's blog and I want to make everything on it. I also want to host a pierogy bee (who's in?).
(As an aside, Julie has my dream life: she is a Canadian food writer who works with CBC, she is constantly baking for bake sales and things, and she seems to feel the same way I do about Canadian Living, which has been my inspiration since like forever. Since before Martha, if you can believe it! I actually started university with the intent of going into journalism and cooking school to become a food writer and one day work for Canadian Living, but somehow I ended up with a degree in psychology and a career in sport education…)
Anyway. Quite a while ago now, I made this simple pasta dish that Julie posted because it had all the right things in it: tortellini, mushrooms, spinach, Italian sausage, pesto, and little bit of cream, and cheese.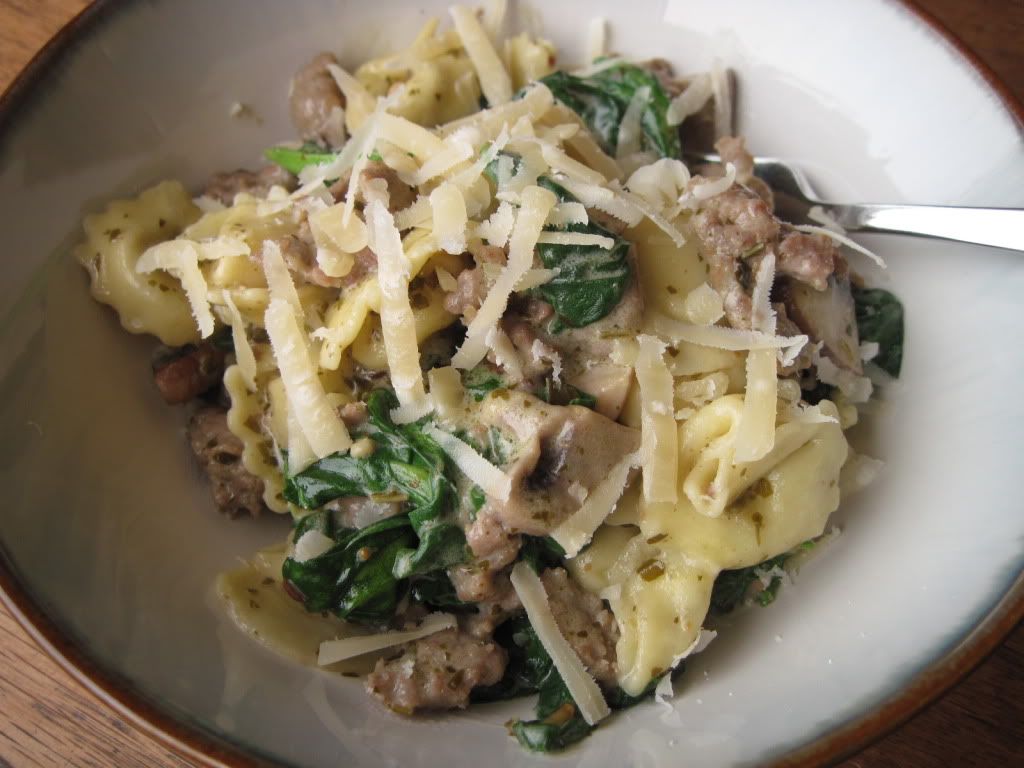 The only thing I changed was to use sour cream instead of heavy cream, because that's what I had in the fridge. It was good. Really good, really simple, and infinitely variable – swap the sausage for chicken or shrimp, the spinach for asparagus or peas or kale, the pesto for olive tapenade or puréed sundried tomatoes, etcetera, etcetera. This is perfect for a weeknight dinner (only one pot and one pan to wash!) and I am now reminded to make it again very soon. Yum.
Tortellini with Mushrooms, Spinach and Italian Sausage
Adapted very slightly from Dinner with Julie. Serves 4 – 6 (I scaled the amounts down when I made it for just the two of us).
Remove the casing from:
1 lb Italian sausage (sweet or hot, your choice)
Sauté the sausage in a large heavy skillet over medium heat with a drizzle of olive oil until about halfway cooked, breaking up the sausage as it cooks. Add:
a couple handfuls of sliced mushrooms
a few minced garlic cloves
Cook until the sausage is browned and cooed through and any liquid has cooked off. Add:
1/2 cup chicken stock or water
Stir, scraping the bottom to get any browned bits, then add:
1/2 – 1 cup of sour cream (or heavy cream or half and half)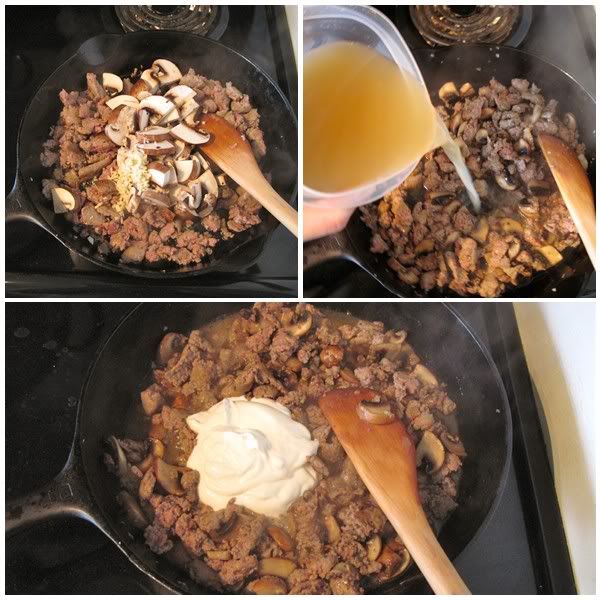 Meanwhile, in a large pot of salted boiling water, cook according to the package directions:
1 lb fresh cheese tortellini
When it is just done, toss it with:
a few big spoonfuls of pesto
Add the tortellini to the sausage mixture in the pan, along with:
a few big handfuls of spinach leaves, torn or roughly chopped
Cook, stirring gently, until the spinach wilts and everything is heated through.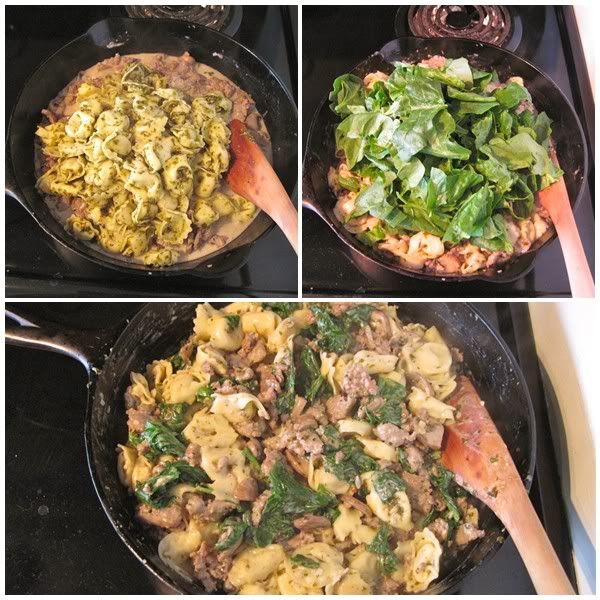 Serve topped with grated parmesan cheese. Dig in.