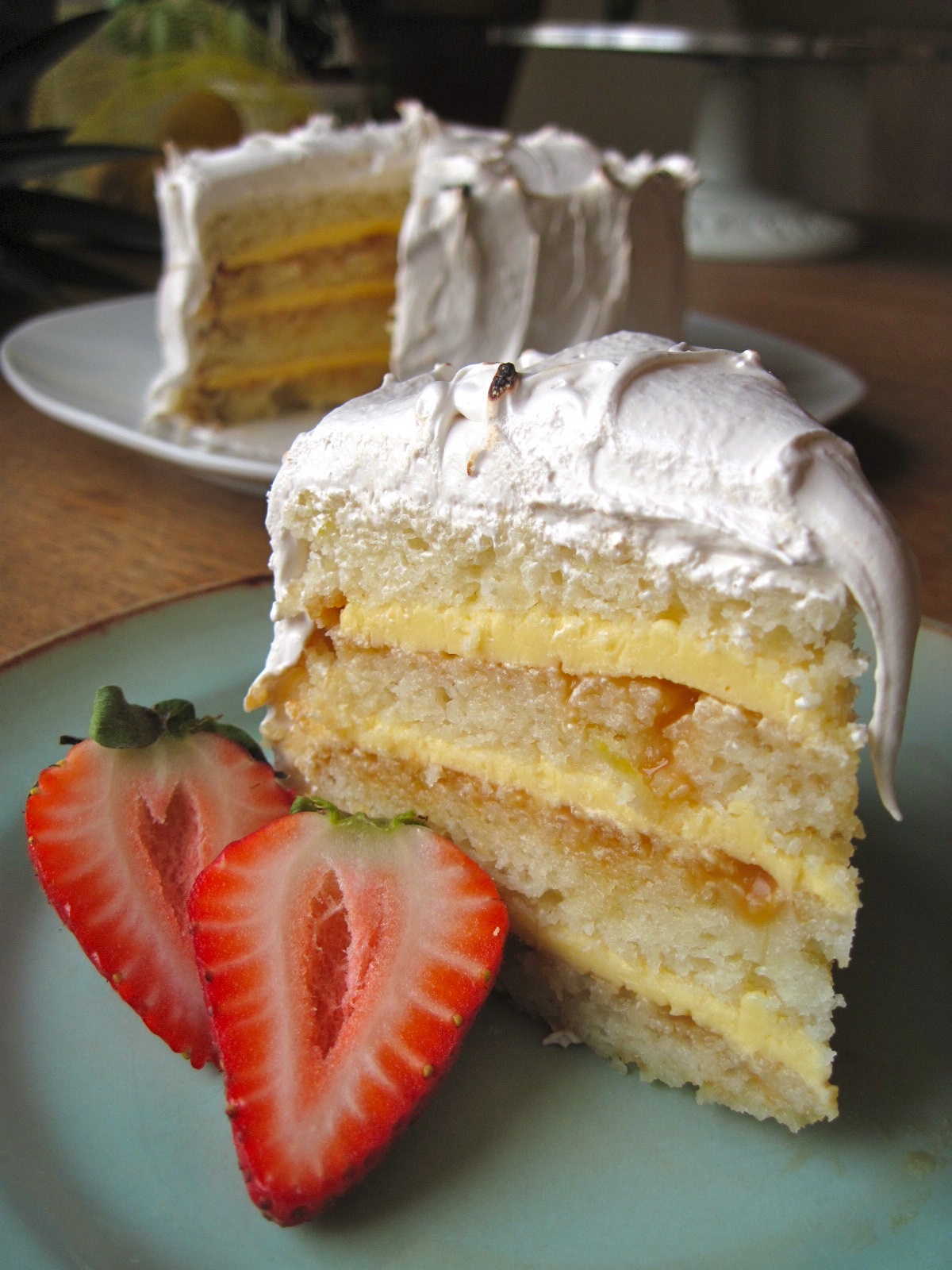 Recently Nate had a birthday, so naturally, I made a birthday cake. Last year I made him a lemon-tastic cake which didn't quite turn out the way I wanted, so I gave it another go this year. I came across two amazing-sounding lemon cakes: one with black tea-flavoured Italian meringue frosting by Honey and Jam, and the Tartine lemon meringue cake (lemon butter, caramel, chiffon cake, and torched meringue) at The Way the Cookie Crumbles. I decided to use the cake and frosting recipe from the first, and the lemon cream and caramel fillings from the second. I also intended to torch the black tea meringue frosting, but I'll get to that in a minute…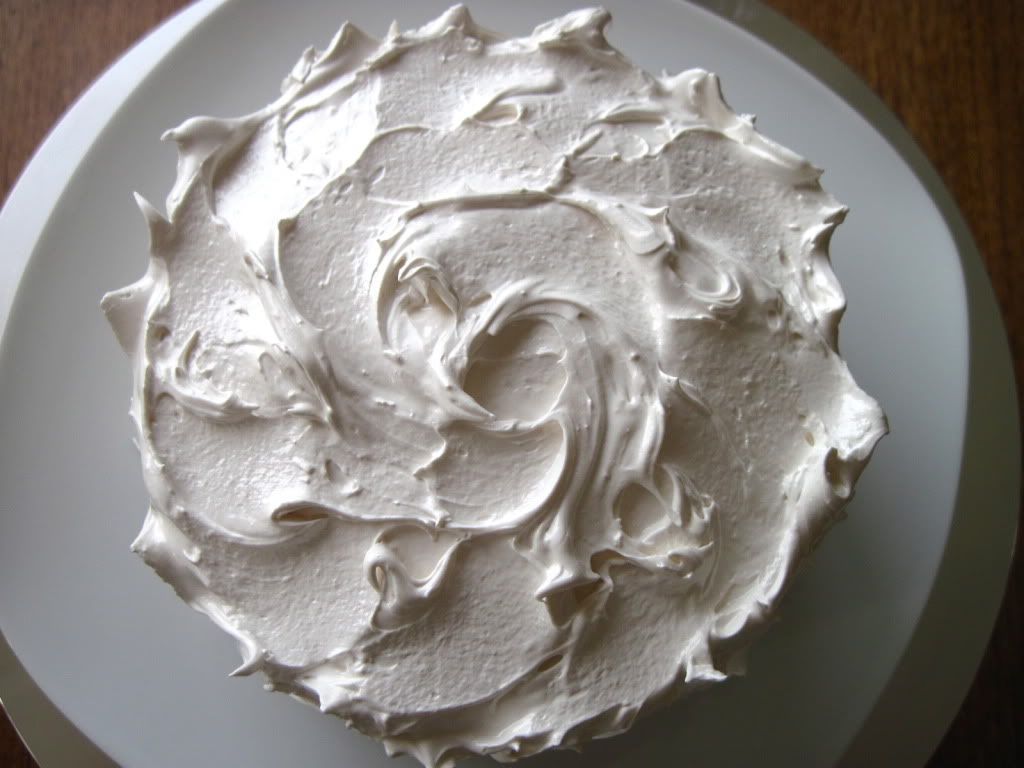 As with last year's cake, this one looked great but still wasn't quite what I was going for. I either need to find a new theme (ie, not lemon!) or just pick one recipe that someone else has already perfected rather than fussing around so much. The end result was tasty but very sweet, and the cake part wasn't quite right, which I don't think is due to the recipe but rather my own fault by not baking it as directed. I halved the recipe and did my regular trick of wrapping the pans in strips of damp towel and reducing the oven temperature by twenty-five degrees to help the cakes bake evenly, and they came out a bit dense and raw-tasting, even though they were baked through. The buttery lemon cream and caramel would have paired better with a lighter, fluffier cake, which this may well have been if I'd baked it properly and which is probably why the Tartine cake includes a chiffon cake. (See? Someone else already figured that out!)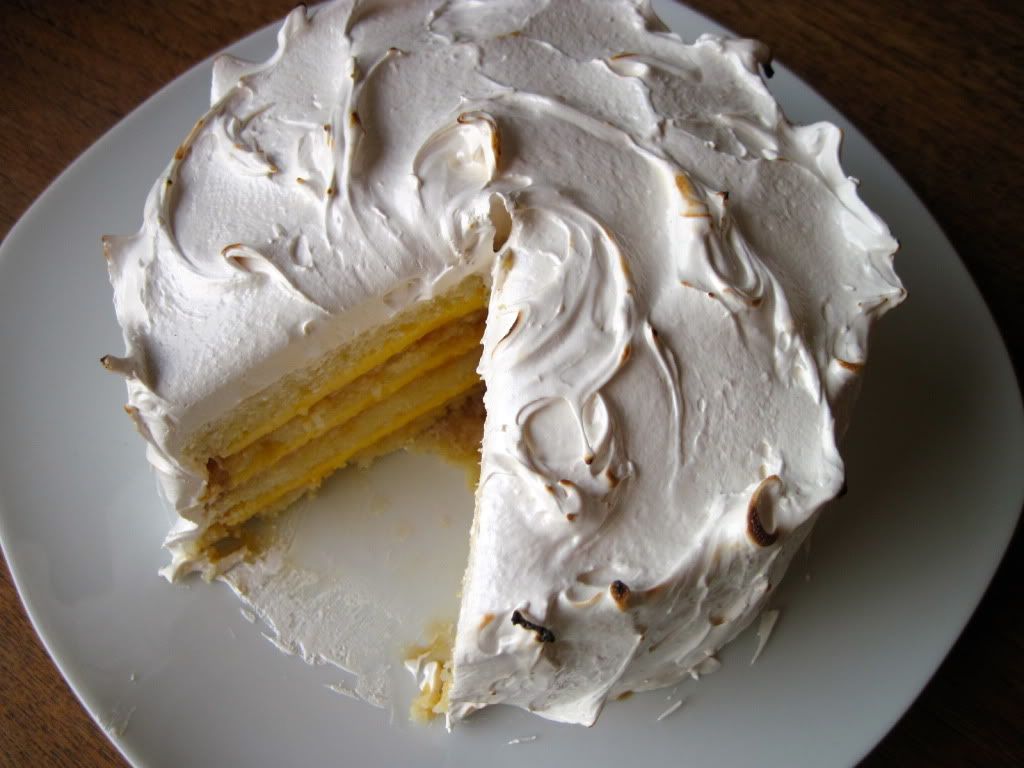 The lemon cream and caramel fillings were delicious though, and fun to make, and I really liked the black tea Italian meringue frosting – it's quite sweet but the tea is subtle and goes with the lemon really well – and all together it was a pretty awesome flavour profile. I wanted to torch the meringue because it looks really impressive and tastes like toasted marshmallow, and I remembered from a past Daring Bakers challenge that someone had used a barbeque lighter to brulée meringue. Turns out it's not so effective…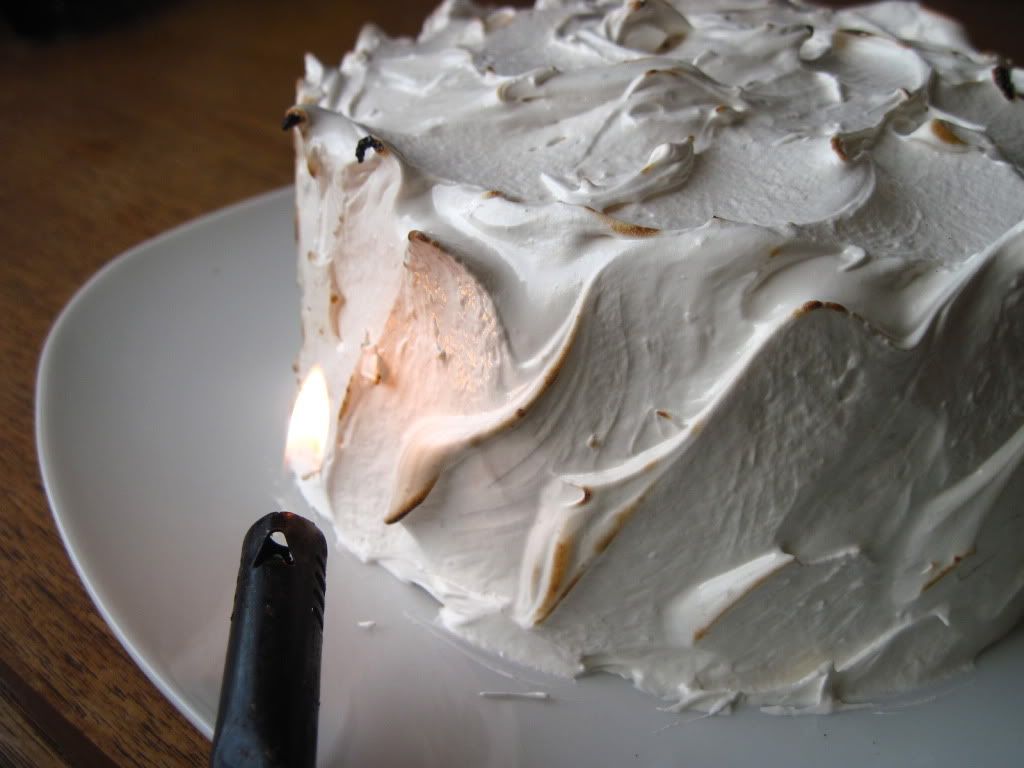 A trip to Canadian Tire and $17 later, I had a blow torch… that didn't work! So I made do with the barbeque lighter for some "torched tips", lit a candle, and then we dug in. And while it might not have been the exact cake I was hoping for, it was still pretty darn good!
Lemon Meringue Birthday Cake
Adapted from Honey and Jam and The Way the Cookie Crumbles. Makes one 9- or 10-inch round cake (I halved the recipes to make a 6-inch cake).

Cake
Because the cake part of my attempt was not super successful, I'm going to direct you to the original post for the recipe for Dorie Greenspan's Perfect Party Cake. Or you could try the Tartine chiffon cake. (The Perfect Party cake is two 9-inch round cakes; the Tartine chiffon cake is one 10-inch round cake baked in a springform pan. If you go the 9-inch cake route, you will have a little bit of the lemon cream and caramel filling left over – but I wanted to eat them with a spoon on their own, so I don't see extras being a problem.)
Caramel
Heat in the microwave:
2/3 cup heavy/whipping cream
Keep the cream warm while you prepare the caramel.
In a heavy pot over medium heat, combine:
1 1/4 cup granulated white sugar
1/4 cup water
1/4 tsp salt
2 tbsp corn syrup
Stir to dissolve the sugar, then when it comes to a boil let it cook without stirring until the caramel syrup turns amber, anywhere from 5 – 10 minutes or more (this will happen all of a sudden so don't walk away from it! If you smell burning sugar, it's too late 😉 ). Remove the caramel from the heat and slowly pour in the warm cream. It will bubble like crazy. As the bubbles die down, stir it with a whisk to combine. Add:
3/4 tsp lemon juice
Let the caramel cool for about 10 minutes, then whisk in:
4 tbsp unsalted butter, cubed
Add the butter cubes one at a time and whisk well after each. Let the caramel cool completely.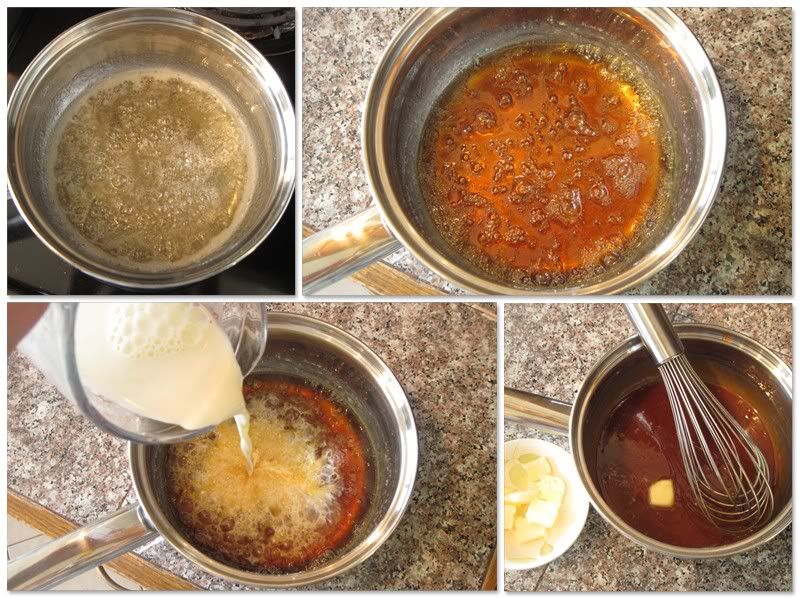 Lemon Cream
In a double boiler over simmering water, whisk together:
1/2 cup + 2 tbsp lemon juice
3 large eggs
1 egg yolk
3/4 cup granulated white sugar
pinch of salt
Continue whisking until the mixture is very thick and/or reaches 180˚F. Remove from the heat and let cool until warm. Place the lemon mixture in a blender and blend in:
1 cup unsalted butter, cubed
Add the butter one cube at a time and blend well after each. You should end up with a luscious, creamy lemon curd. Let it cool completely (you can chill it but bring it back to room temperature to assemble the cake).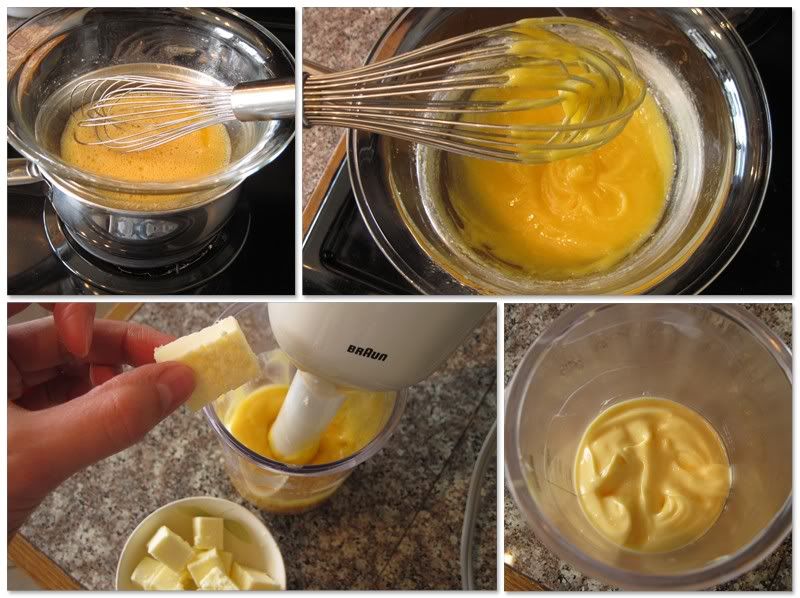 Lemon Syrup
In a small saucepan over medium heat, combine:
1/3 cup lemon juice
1/3 cup water
1/3 cup granulated white sugar
Boil until the sugar dissolves, then pour into a bowl and cool.
To Assemble the Cake
Cut the cooled cake(s) into 4 even layers. Place one layer on a serving plate (protect the edges with wax paper), cut side up. Brush with the lemon syrup. Spread with about 1/3 of the caramel, then 1/3 of the lemon cream. Repeat twice more, then top with the last layer and brush the top of the cake with lemon syrup. Wrap it in plastic wrap and chill at least 4 hours or overnight.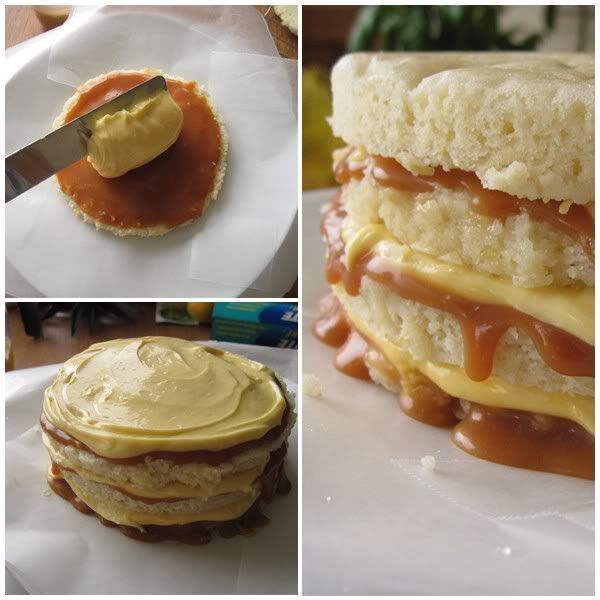 Black Tea Meringue Frosting
This frosting was originally billed as a 7-minute frosting, but it's actually an Italian meringue. They have similar ingredients (water, sugar, cream of tartar, egg whites), the difference being that for a 7-minute frosting, all the ingredients are cooked together in a double boiler and then whipped, whereas for an Italian meringue, a boiling sugar syrup is poured over beaten egg whites and whipped. Just in case you were wondering.
In a mixer bowl, beat:
2 egg whites
Beat until foamy and thick, but not stiff peaks.
In a saucepan over medium heat, combine:
1 cup sugar
1/4 tsp cream of tartar
1/3 cup very strongly brewed black tea (double strength or more)
dash of salt
Stir to dissolve the sugar, then when it comes to a boil cook without stirring until it comes to 235-240˚F on a candy thermometer (soft ball stage). While the mixer is going, pour the hot syrup in a thin steam into the egg whites. Continue to beat for 5 – 7 minutes until stiff peaks form. If you wish, you can beat in up to 1/4 cup extra tea (1 tbsp at a time) for a stronger tea flavour. Once the meringue has formed stiff peaks, reduce the speed and continue stirring gently until the frosting is cool to the touch.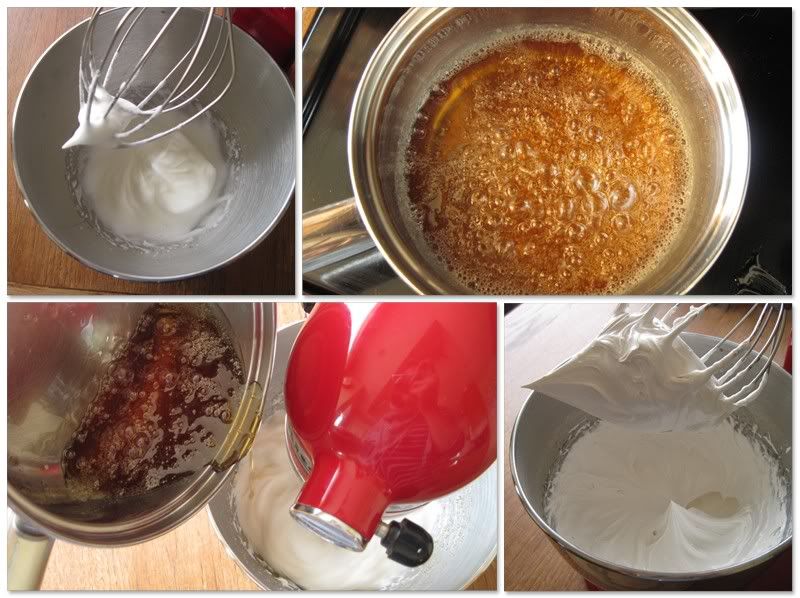 Remove the plastic wrap from the cake, clean up the sides with a spatula, and frost it with the meringue frosting. Use a knife or spatula to create lots of peaks and swirls, and if desired torch it all over with a blow torch (or a barbeque lighter if you're feeling up to a challenge!).