A few months ago I was asked if I would write a review of Shelley Adams' newest cookbook (her third so far), Whitewater Cooks with Friends. I jumped at the chance, because 1) free cookbook! Yay! and 2) my Mum has Shelley's first book, Whitewater Cooks, and has very good things to say about it, so I was pretty sure I would enjoy this one. However, I've been putting off reviewing it until now, when I'm off work for the summer and actually have time to do a proper job of it. Also, the whole tone of the cookbook is so summery that I couldn't face concentrating on it too much while it was still grey and dreary outside – not when it was taunting me with its fresh, sunny flavours, colourful pictures, and outdoor potluck-worthy recipes.
That is really the essence of this book: food that is for sharing with people. Many of the recipes come from Shelley's friends, which is why they all evoke a casual "company for dinner" feeling.
While there are recipes for comforting, cozy-sounding, hearty dishes – such as Jane's Beef Bourguinon, Moroccon Lemon Chicken Tagine with Saffron Couscous, and White Bean, Spicy Italian Sausage and Kale Soup – the ones that stand out to me are the ones that say, "I taste best with fresh air, sunlight, and good company." Such as:
Pacific Sashimi Towers – shown on the cover, they are a layered appetizer of crispy wonton pieces, tuna sashimi and tartare, smoked salmon lox, and avocado, topped with tobiko (flying fish roe) and a creamy wasabi dressing. Definitely a showstopper for a dinner party!
Gazpacho in a Glass with Dungeness Crab and Avocado Salsa – the name pretty much says it all. I don't usually love raw tomatoes all that much, but this recipe has me salivating.
Orchid Lime Salad – a glorious mess of rice noodles and julienned vegetables in a peanutty dressing, finished off with toasted almonds, sesame seeds and Chinese 5 spice powder. I could see myself eating a lot of this.
Pescado Blanco Fish Tacos – grilled white fish in corn tortillas with red cabbage, orange avocado salsa, and chipotle crema. Uh, YUM!
Linguini with Prawns, Chilis and Preserved Black Beans – this just sounds so interesting! Prawns, pasta, fresh tomatoes, basil and arugula tossed together with chili flakes, Chinese preserved black beans and romano cheese. Asian-Italian fusion!
And then there's dessert – my favorite:
Peppi's Biscotti Tortoni – I've never heard of a tortoni before, but this creamy frozen concoction with toasted almonds and coconut macaroon crumbs has me intrigued.
Rolled Pavlova with Lots of Fresh Fruit – a cool twist (get it?) on one of my favorite things.
Lovely's Fall Apple Almond Torte – pastry crust, almond paste, apples with cream and toasted almonds. Reading the recipe makes me look forward to long late summer/early fall afternoons.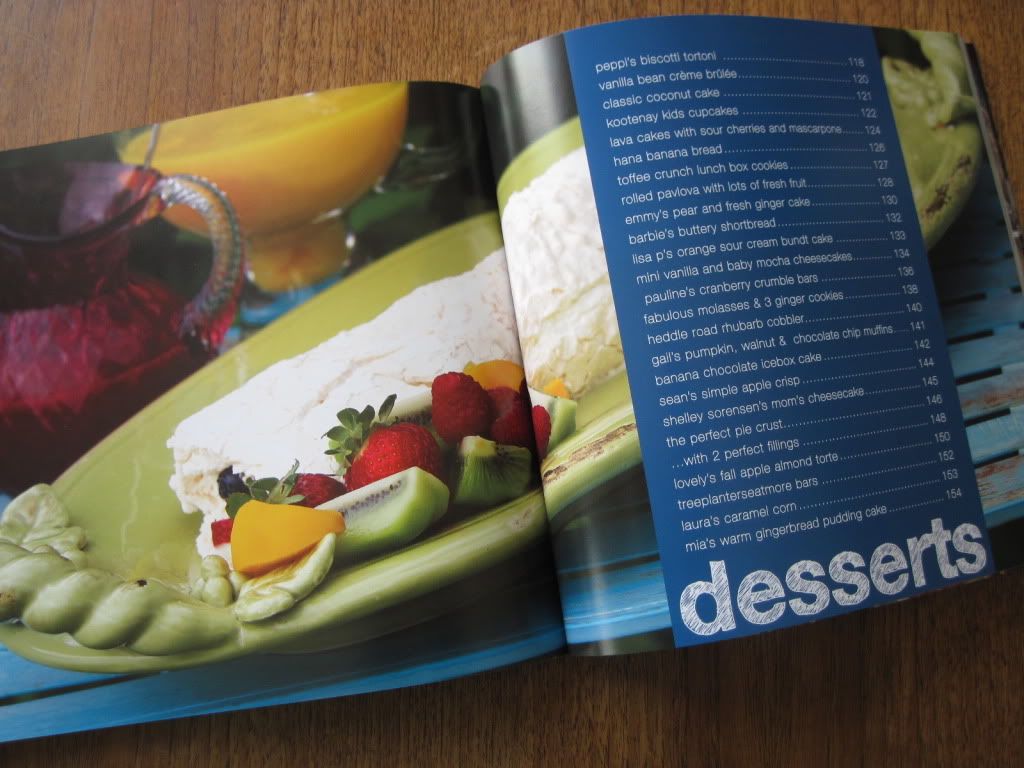 The recipes themselves are straight-forward, fairly simple, and use common ingredients. Because they are mostly recipes for entertaining, some of them contain fancy or specialty items, but nothing too extravagant or impossible to find, and they are prepared in a way that is not fussy or pretentious. Just delicious and good for sharing. There are lots of colourful pictures, too – not quite one for each recipe (which is how I like my cookbooks!) but definitely enough to keep my photograph-happy brain engaged.
What I like most about Whitewater Cooks with Friends is that the recipes all seem sort of familiar to me. Shelley is a long-time resident of Nelson, British Columbia, and the former proprietor of Whitewater Ski Resort and the Fresh Tracks Café. I've never been to Nelson, but I grew up on Salt Spring Island, a small island off the West Coast of BC, and I've been told that Salt Spring and Nelson are very similar. They attract the same kind of people – artists, creative types, those wanting to escape the city and pursue alternative lifestyles – and have the same community feel. The food in Shelley's book reminds me of the food I was lucky enough to grow up with, the food my parents cooked, the food we had at potlucks and ate with friends. If you grew up in a small community in BC, there's a good chance you might feel the same.
So far I've made one recipe out of the book and I am seriously impressed. I ate a lot of rhubarb crisps as a kid, so I chose to make the Heddle Road Rhubarb Cobbler for nostalgic reasons (and because I still have last year's rhubarb in my freezer). Appropriately, I took it to a barbeque to share with friends, and as a testament to how good it was, after I served it the conversation died down to complete silence for a solid five minutes as everyone forgot about talking and became totally engrossed in their dessert. It was really, really tasty, and I can't wait to make it again. You can tell that this was an oft-requested recipe that was passed between friends – the rhubarb cobbler that was anticipated at every potluck and family gathering. This is the vibe I get from Whitewater Cooks with Friends: recipes that have been curated over years of sharing meals with friends. You know they're going to be good.
Heddle Road Rhubarb Cobbler
This is so good. SO good. The middle is moist and custardy, the tart rhubarb cuts the sweetness just enough, and the base and topping provide crunchy texture. It smells amazing while baking. From Whitewater Cooks with Friends by Shelley Adams. Serves 12.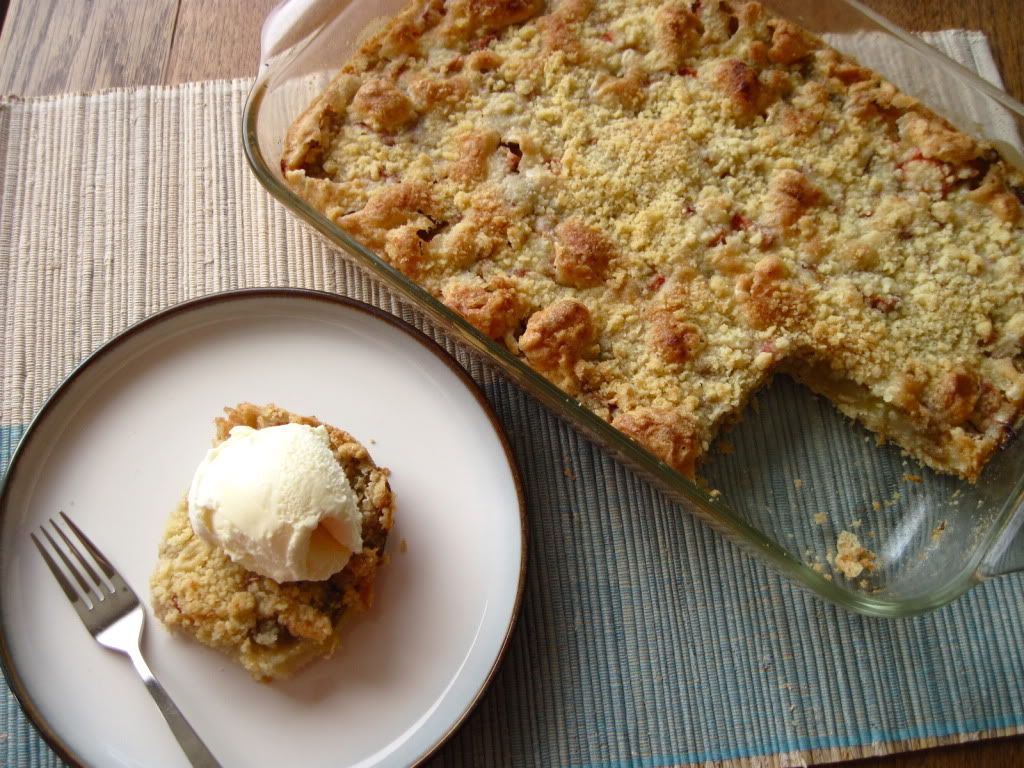 Base and Topping
In a large bowl, combine:
2 cups all purpose flour
1/4 cup granulated white sugar
1 tsp baking powder
1/4 tsp salt
1/2 cup cold unsalted butter, cubed
1 egg, lightly beaten
With a pastry cutter or your fingers, blend the mixture until it is crumbly and looks like coarse breadcrumbs. Reserve 1 cup for the topping. Lightly press the rest into the bottom of a greased 9″ x 13″ pan. Set aside.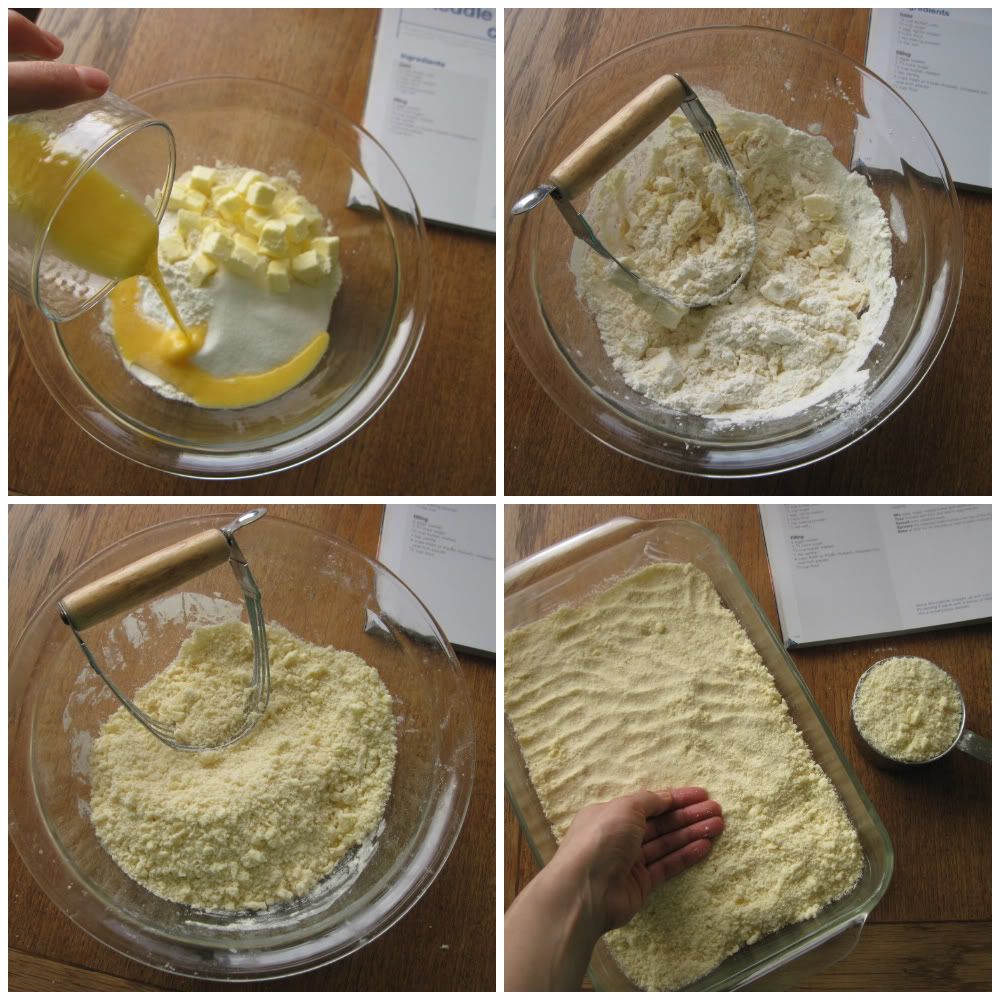 Filling
In a large bowl, whisk together:
1 3/4 cups sugar
2 eggs
1 tsp vanilla
1/2 cup melted butter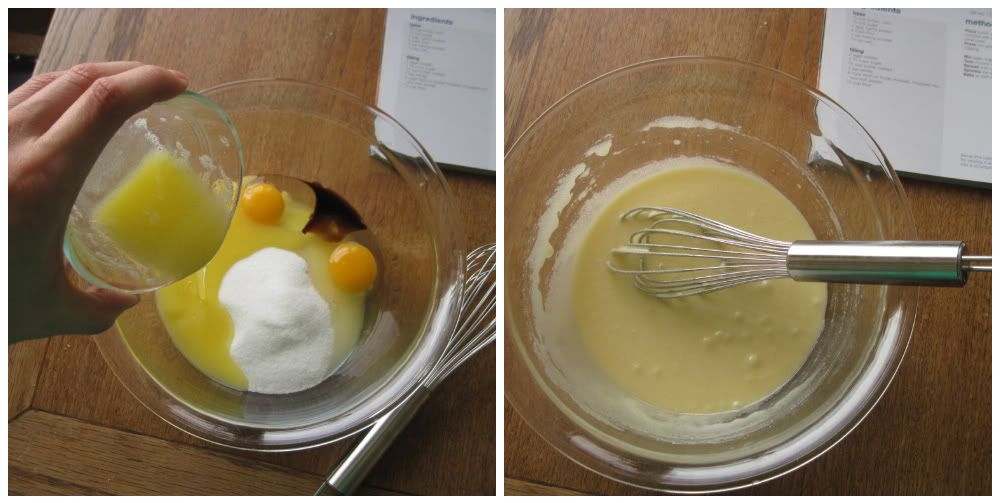 In a smaller bowl, toss together:
4 cups fresh or frozen rhubarb, chopped into 1″ pieces
1/2 cup all purpose flour
Add the rhubarb mixture to the egg mixture and stir to combine. Pour it over the unbaked base and spread it evenly. Sprinkle with the reserved base mixture and bake at 350˚ for 45 minutes (mine took 75 minutes) until golden brown.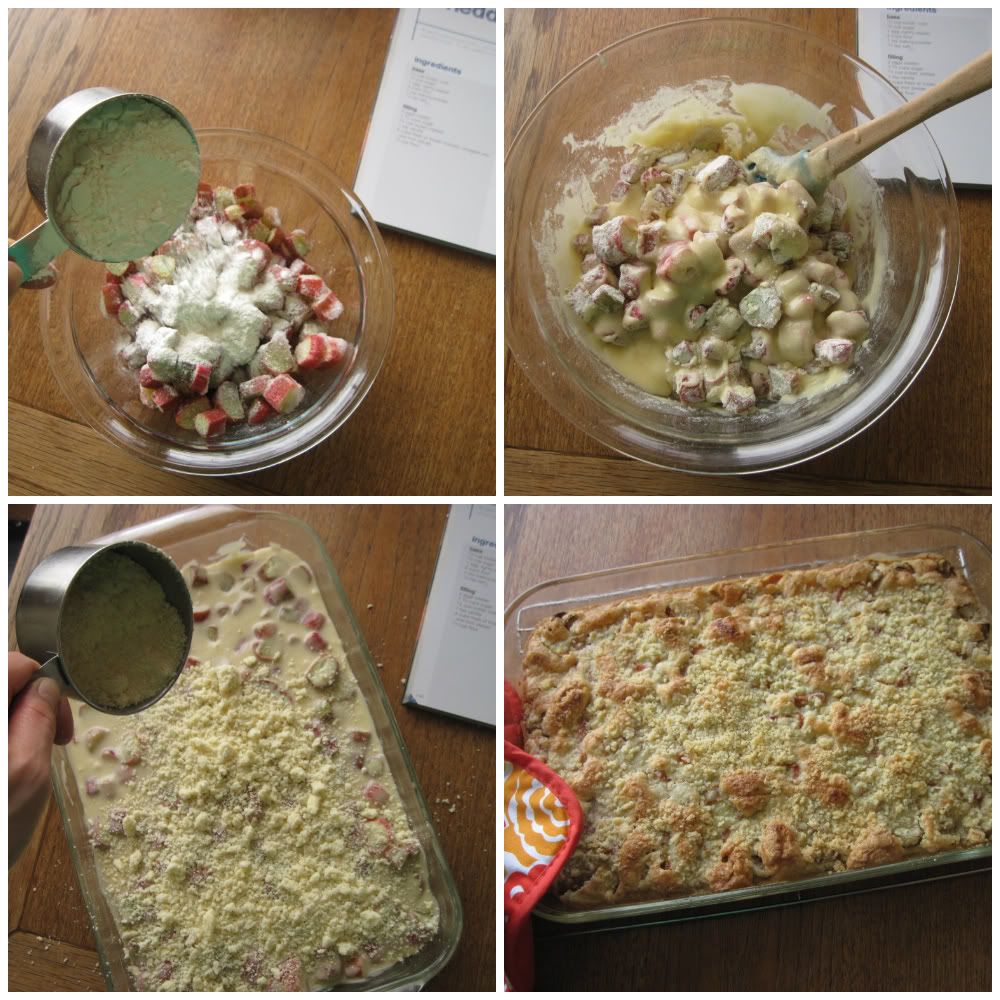 Serve warm with vanilla ice cream.
Disclaimer: Other than a copy of the cookbook, I received no compensation for this review. My opinions are my own.