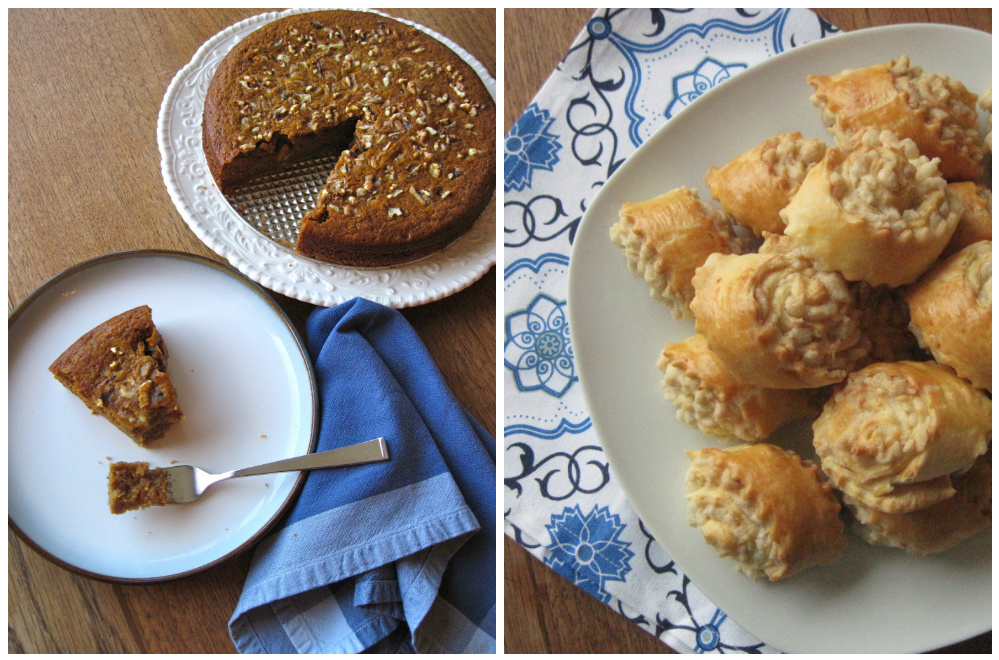 The Daring Bakers' April 2012 challenge, hosted by Jason at Daily Candor, were two Armenian standards: nazook and nutmeg cake. Nazook is a layered yeasted dough pastry with a sweet filling, and nutmeg cake is a fragrant, nutty coffee-style cake.
Armenian baking is not something I had ever contemplated before this challenge, which may ring true to many (have you ever contemplated Armenian baking?). However, Nate's paternal forebears came from Armenia several generations ago, and he has a very Armenian last name, so it does surprise me just a little bit that, me being me, I never looked into it. That's totally something I would do.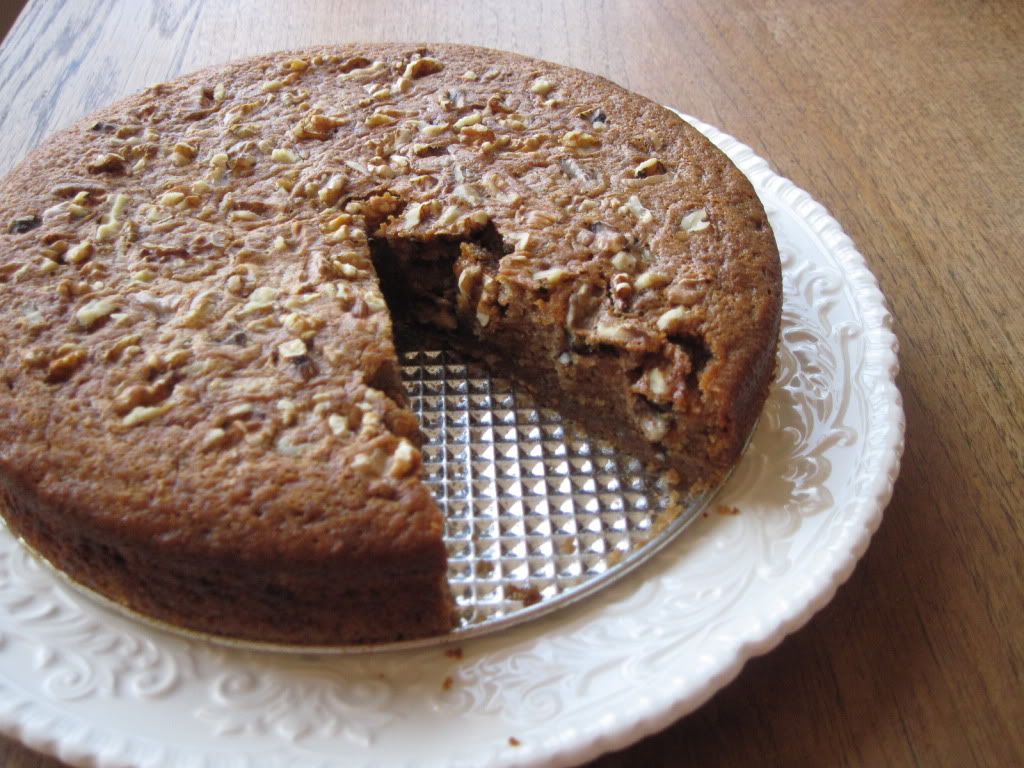 But now I don't have to, because thanks to Jason, I've discovered two very scrumptious Armenian baked goods. Armenian nutmeg cake, a sort of coffee cake with a crumb crust, is traditionally flavoured with nutmeg (obviously!), but you can use whatever spice you want (cinnamon and cardamom are also traditional). I added cinnamon as well because I'm not a huge nutmeg fan, however nutmeg really does work well in this cake, and I would recommend grating it fresh rather than using the dried powdered stuff.
The method for this cake is not one I've ever encountered before: you mix together flour, butter, and sugar to form a crumb mixture, press half of it into a pan for the bottom crust, and combine the other half of the crumbs with egg, baking soda, and milk to make the batter. It bakes up moist and delicious and not-too-sweet. I LOVED the buttery, crumbly bottom crust. Perfect with a cup of coffee or tea.
The Armenian nazook recipe is courtesy of Jason's Aunt Aida (I'm a bit sad that Nate doesn't have a lovely Armenian aunt who will share her traditional recipes with me!). To make nazook, you roll a yeasted pastry dough around a crumb filling (crumbs seem to be a hallmark of Armenian baked goods?) and cut it into spirals. The traditional filling is scented with vanilla and smells just HEAVENLY baking in the oven.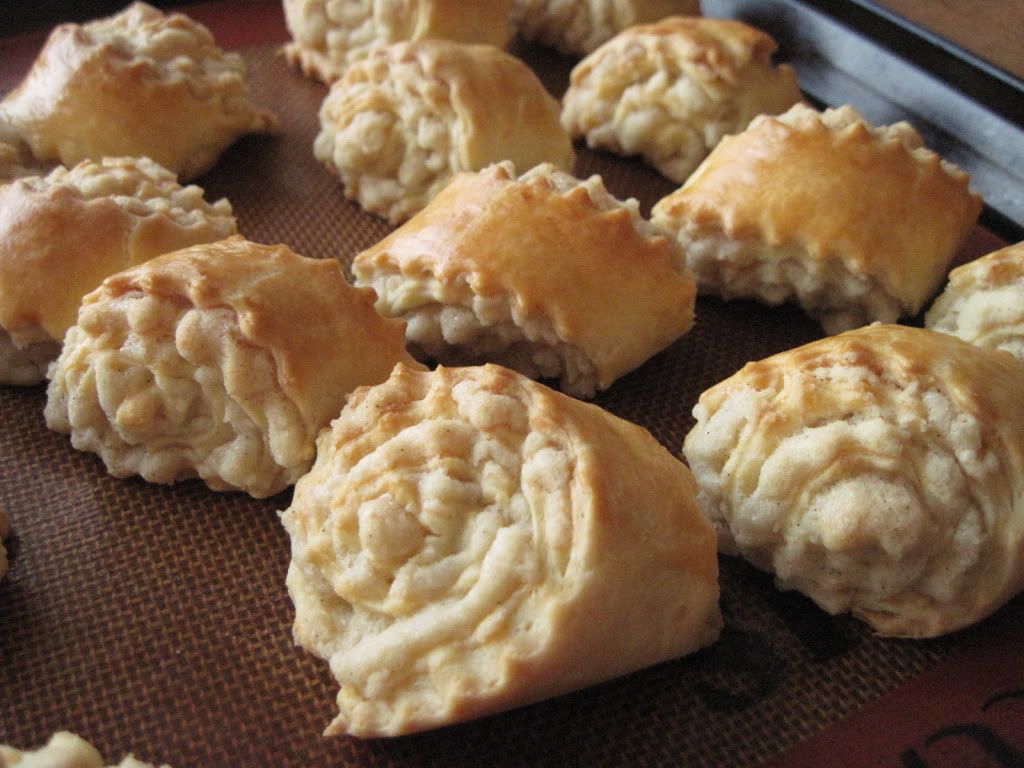 I made two batches, one with vanilla and one with cinnamon (which I didn't get pictures of), and the vanilla was my favorite, hands down (the cinnamon was still pretty tasty though!).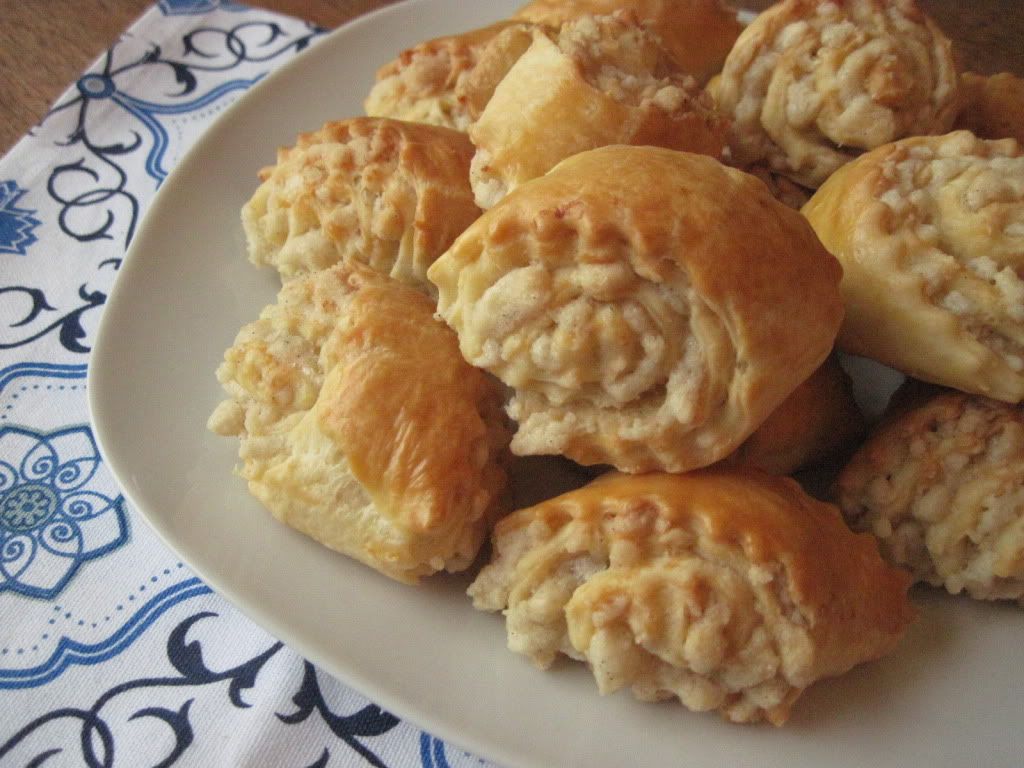 The dough is made with butter and sour cream and it was really nice to work with. Baked, it resembled sort of a cross between pie crust and brioche, and combined with the vanilla filling, the taste and smell reminded me of a Belgian liège waffle – sugary, buttery, yeasted, baked deliciousness that literally sets my mouth to watering at the mere thought.
Thank you Jason for sharing these recipes with us this month – I'm sure very few of us would ever have come across them on our own :). I will making both of them again, I'm sure! Check out the Daring Kitchen for everyone else's nutmeg cakes and nazooks, and for the original challenge recipes.
Armenian Nutmeg Cake
Video tutorial with Jason here.
Preheat the oven to 350˚F. In a large bowl, sift together:
2 cups all purpose flour
2 tsp baking powder
Mix in:
1 1/2 – 2 cups firmly packed brown sugar (depending on how sweet you want it – I used 1 1/2 cups but would use a bit more next time)
Add:
3/4 cups cubed unsalted butter, at room temperature
Get in there with your hands (or you can use a fork, but I like to play with my food) and work the butter into the flour and sugar until you end up with a crumbly mixture that looks like damp sand. Pour half of the crumbs into a greased 10″ springform pan. With the back of your knuckles, gently press the crumbs into the bottom to form a crust – don't press too firmly or the crust will be hard.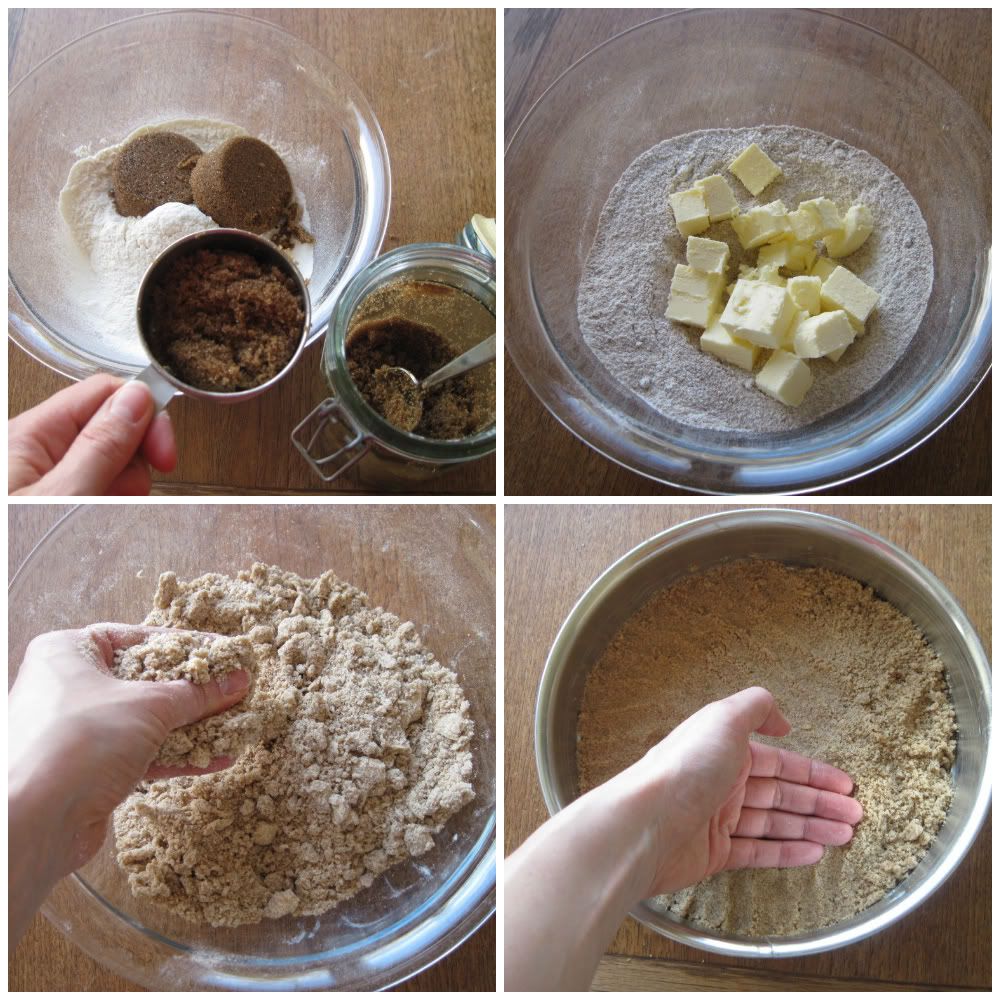 In another bowl, beat vigorously with a whisk until frothy:
1 egg
1 – 1 1/2 tsp freshly ground nutmeg (or cinnamon or cardamom or any combination thereof)
In a measuring cup, mix together:
1 cup milk
1 tsp baking soda
Stir to dissolve then pour into the egg mixture and whisk to combine. Add the remaining crumbs and beat very thoroughly. The resulting batter should be mostly uniform (some small lumps are okay) and quite liquidy.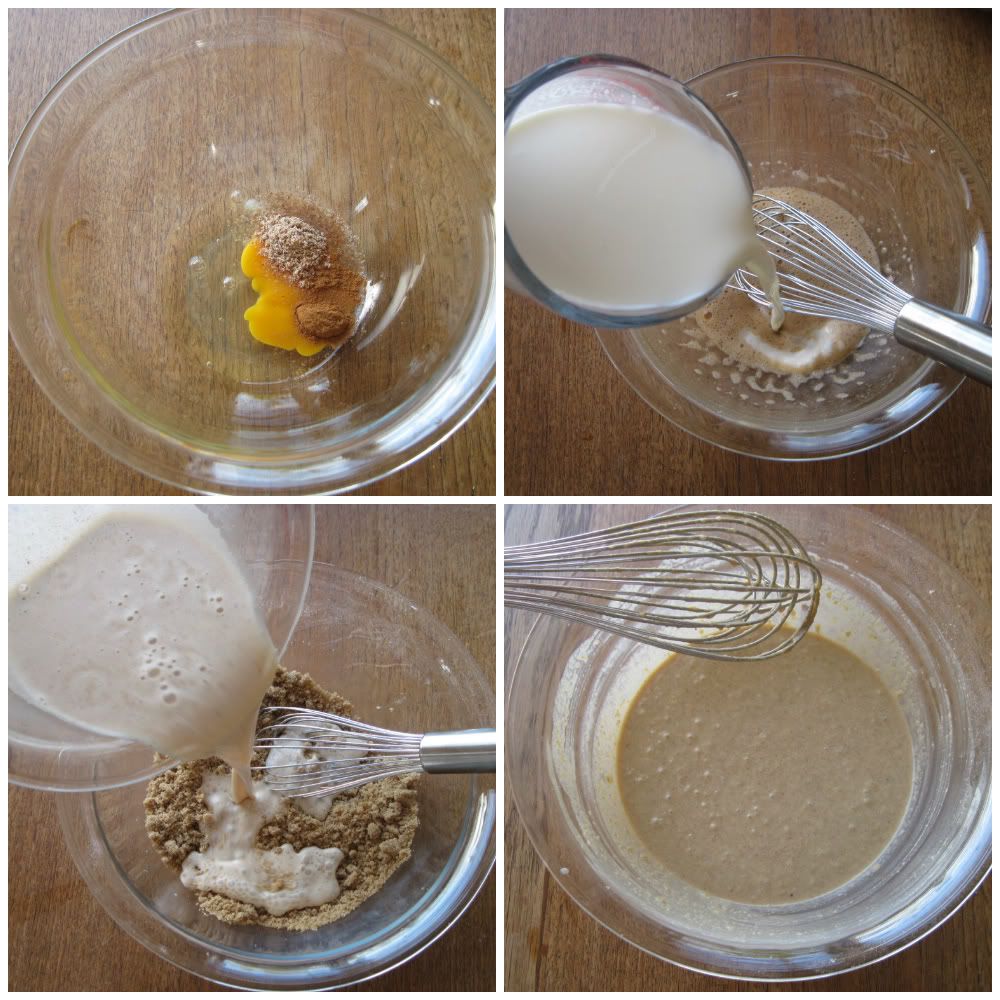 Pour the batter over the crumb crust in the pan. Top it with:
approx 1 cup walnut pieces
I found it best to sprinkle them on very gently, otherwise they get swallowed up by the batter.
Bake the cake at 350˚F for 30-45 minutes, until deeply golden brown and a toothpick inserted in the middle comes out with just a few crumbs sticking to it.
Allow to cool slightly in the pan then run a knife around the edge and release the sides. Can be served warm or cooled. Will keep, covered, for 3 – 4 days at room temperature.
Armenian Nazook
Video tutorial with Aunt Aida here. I added vanilla beans to the vanilla extract in the filling, which is totally optional but makes me feel fancy ;).
For the Pastry Dough
Into the bowl of a mixer, combine:
3 cups all purpose flour, sifted
2 1/4 tsp instant yeast (1 packet)
Add:
1 cup sour cream
1 cup cubed unsalted butter, at room temperature
With the dough hook attachment on low speed, work the mixture into a dough. It should start to come together and pull away from the sides of the bowl. I had to add a few splashes of milk to incorporate all the flour. Knead on low speed until the dough is silky and no longer sticky (you may need to add a little extra flour). Cover the dough with plastic and chill for 3 – 5 hours, or overnight (it won't rise very much).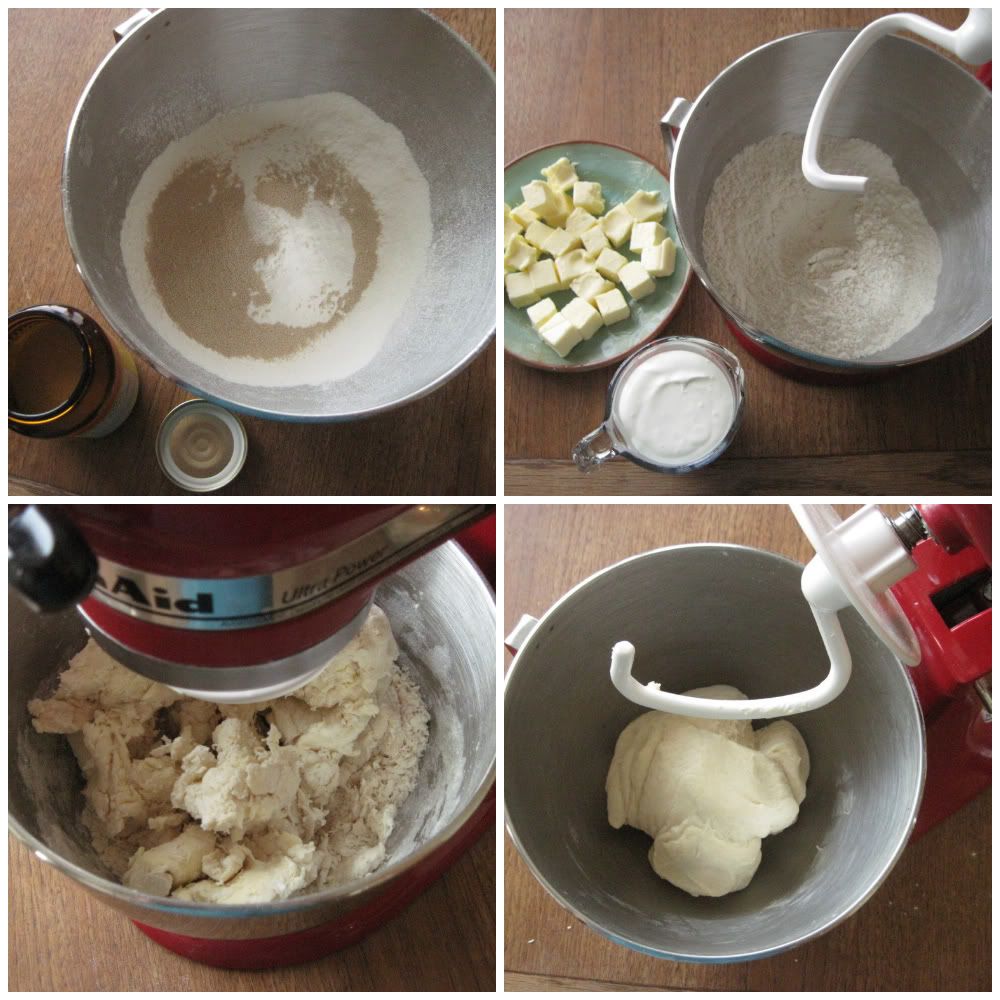 For the Vanilla Filling
In a bowl, combine:
1 1/2 cups all purpose flour, sifted
1 1/2 cups granulated white sugar
dash salt
3/4 cups cubed unsalted butter, at room temperature
Mix it all together with your hands until it resembles damp sand.
Mix in:
2 tsp vanilla extract
(optional: mix the contents of 1 vanilla bean, scraped, into the vanilla extract)
Set the filling aside until you are ready to assemble the nazook.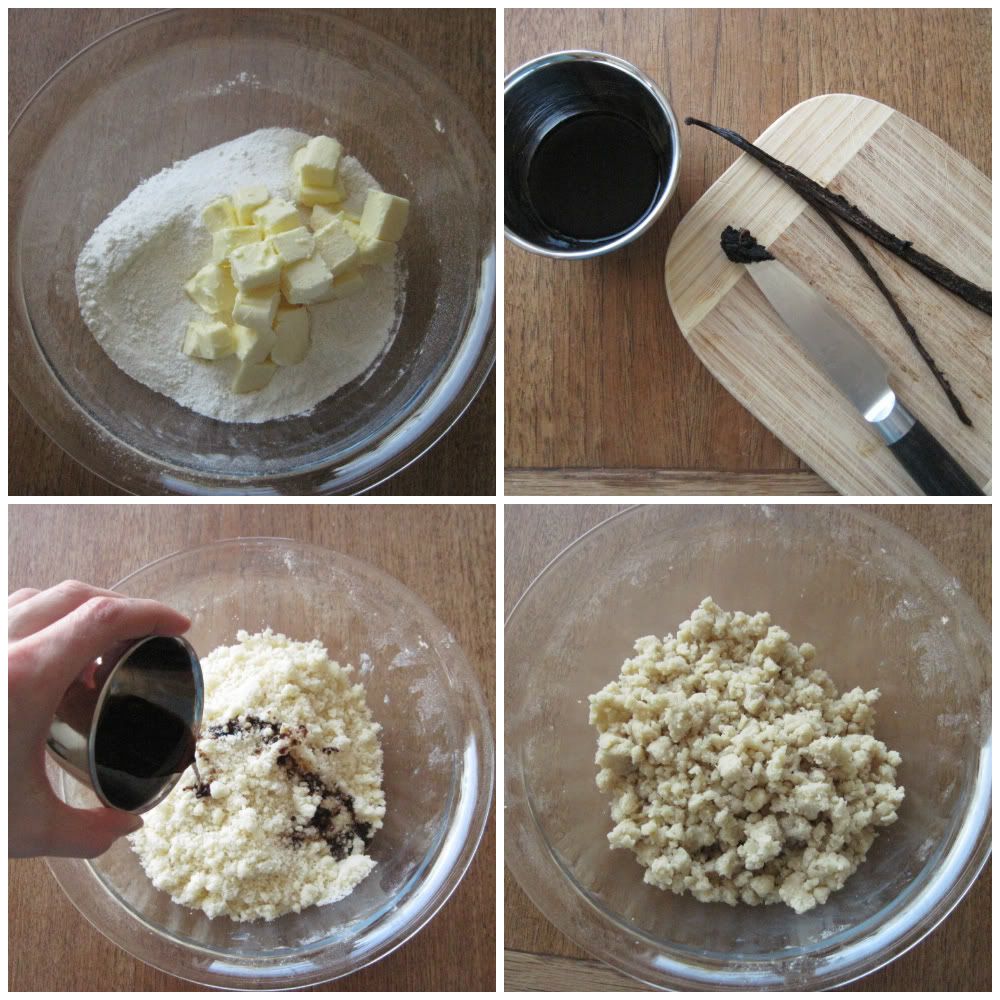 For the Nazook
Preheat the oven to 350˚F. Mix together an egg wash of:
1 egg yolk
1 tbsp water
Set aside.
Divide the chilled dough into quarters and roll each out into a 12″ rectangle on a lightly floured surface. The dough should be thin but not see-through. Sprinkle each rectangle with one quarter of the crumb filling, spreading it right to the short edges but leaving about 1 inch bare along one long edge. Firmly roll up the pastry from the long edge, keeping the filling evenly distributed as you roll. Gently pat down the roll to flatten it slightly, brush it with egg wash, and cut it into 10 – 12 pieces with a crinkle cutter or sharp knife.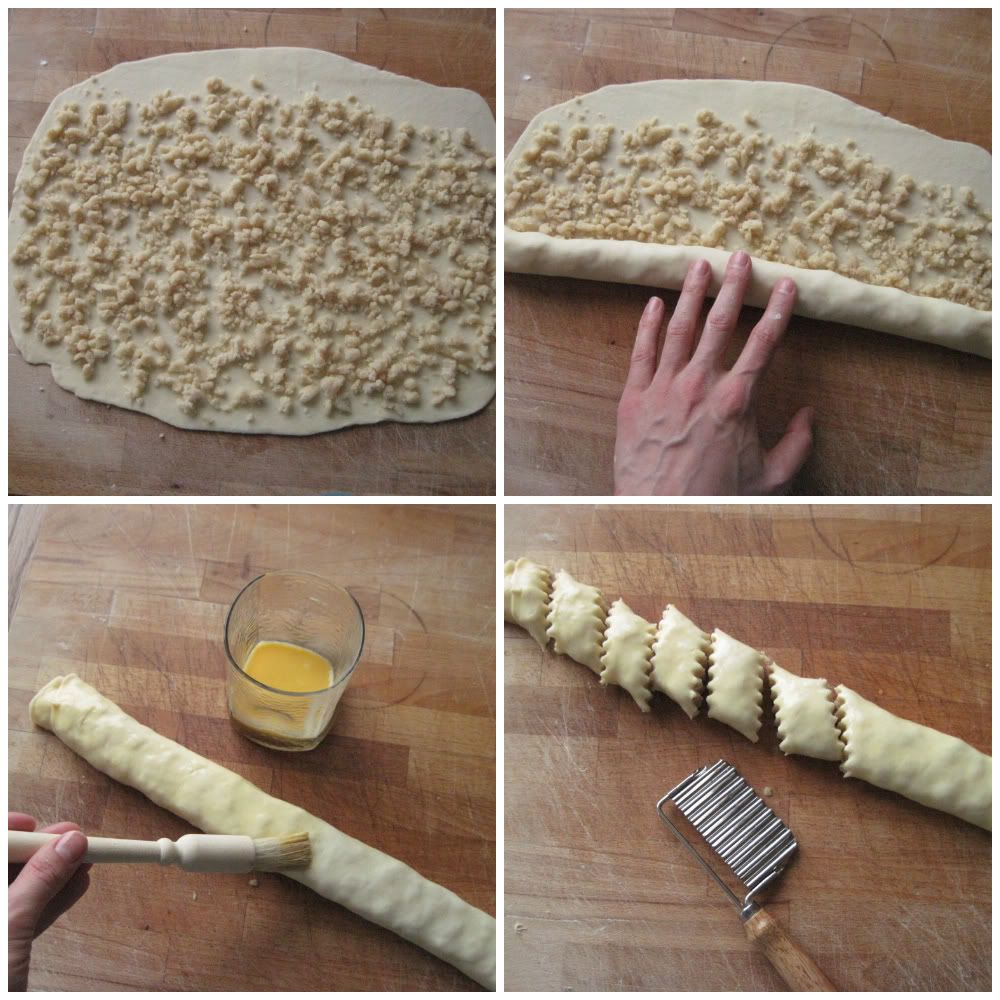 Place the pieces about an inch apart on a baking sheet lined with parchment paper or a Silpat. Bake at 350˚F for about 30 minutes, until slightly puffed and golden brown. Cool on a rack. Will keep in an airtight container for a few weeks.