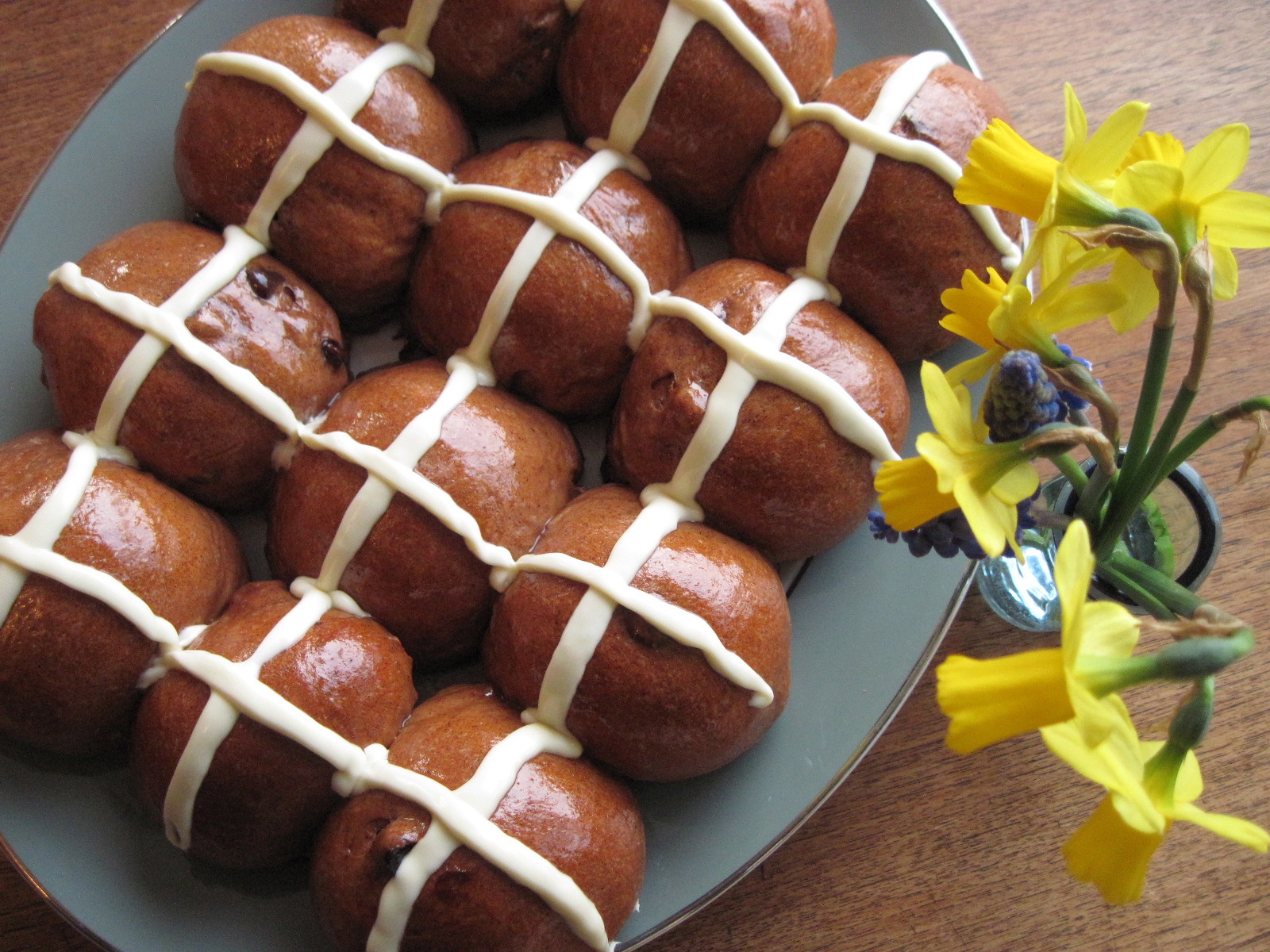 Once again, the start of spring and the approach of Easter mean that it's hot cross bun season. I had pretty good success last year making hot cross buns, so I gave them another try – but this time I added chocolate, because almost anything is better when you add chocolate. Prior to this, I had never actually had a chocolate hot cross bun, but I have seen them in bakeries and heard wonderful things about them (apparently they are very popular in Australia). There doesn't seem to be a huge amount of recipes available on the internet, so I decided to come up with my own. I added cocoa powder and chocolate chips (plus dried cherries and apricots) to my existing hot cross bun recipe, along with a healthy dose of cinnamon and cardamom, with which I have recently become enamoured and which happens to go very well with chocolate. And for the cross on top, white chocolate.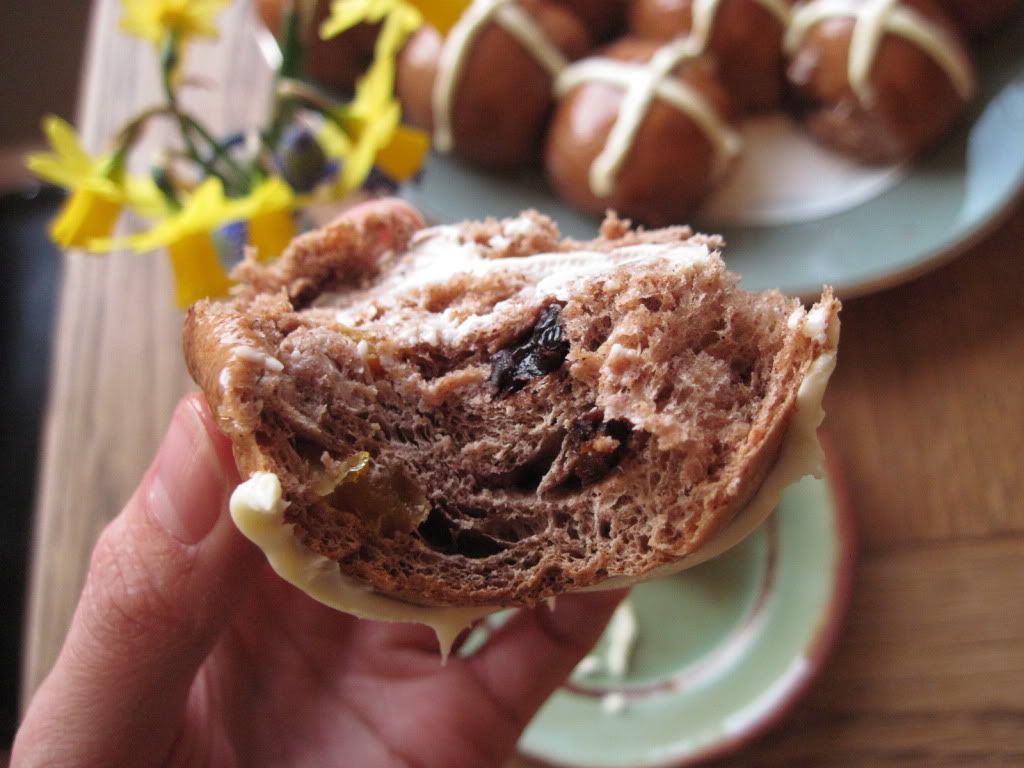 I actually made these twice, because they didn't come out as well as I wanted the first time – too dense from not enough rise, and too bland from not enough spice. So, I used slightly less flour so the dough wasn't as stiff, added more cinnamon and cardamom, and let them rise good and long (a trick I discovered is to let the dough rise in the cold oven with the oven light on – the minimal heat from the light creates the perfect, just-warm-enough environment). The second time around, they came out great! They were really tasty – subtly chocolatey, nicely spiced, and with a great texture. I took most of them work work and they disappeared almost immediately, accompanied by appreciative "mmm"s.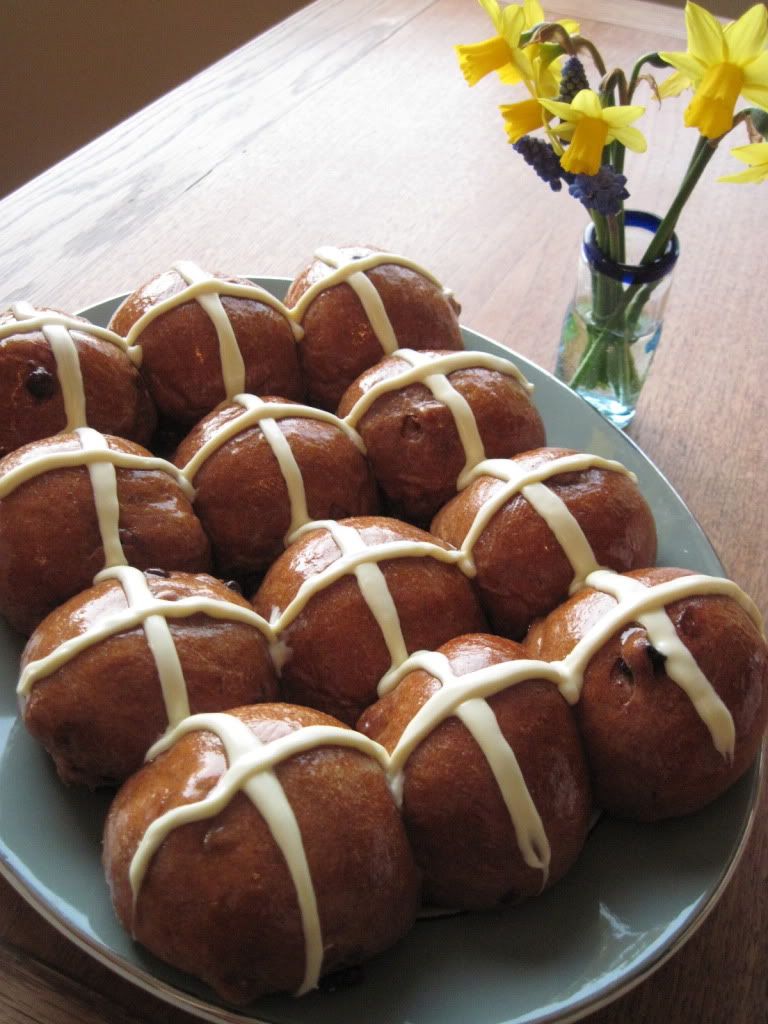 Even if you don't like hot cross buns, there is a good chance you will like these, because they have chocolate in them – essentially they are a spicy, chocolatey bun. Unless you don't like chocolate, in which case I don't even know what to say. Anyway, these buns would be a great way to ease into things on Easter morning. 🙂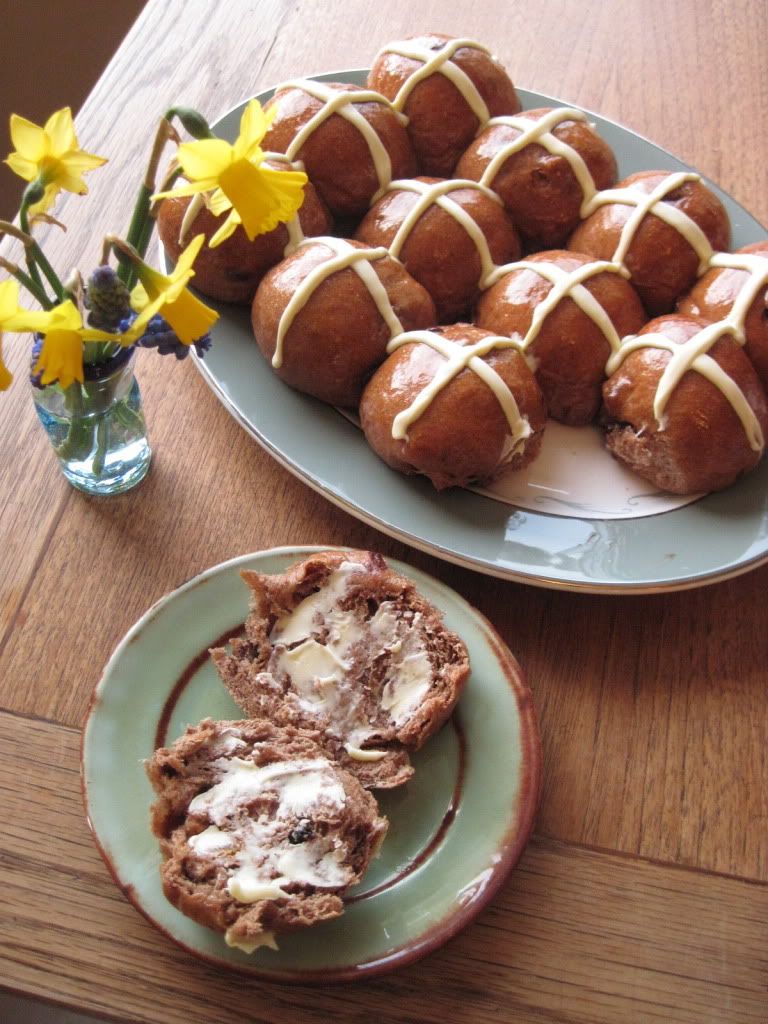 Chocolate Hot Cross Buns
Adapted from last year's recipe, which is adapted from my trusted friend Martha. I included dried cherries and apricots along with chocolate chips in these buns, but for a totally chocolate experience, you could use all chocolate chips. The zest of half an orange would also be a good addition to the dough (I didn't have any oranges). I recommend Dutch cocoa rather than natural cocoa in this recipe, because as I understand it, the more acidic natural cocoa does bad things to the yeast. Makes 12 buns.
In a mixer bowl, combine:
2 eggs, slightly beaten
6 tbsp melted and cooled butter (unsalted)
2 tbsp honey
1 1/2 tsp coarse salt
1 1/2 tbsp cinnamon
2 tsp cardamom
1 tbsp Dutch cocoa powder
2 1/4 tsp instant yeast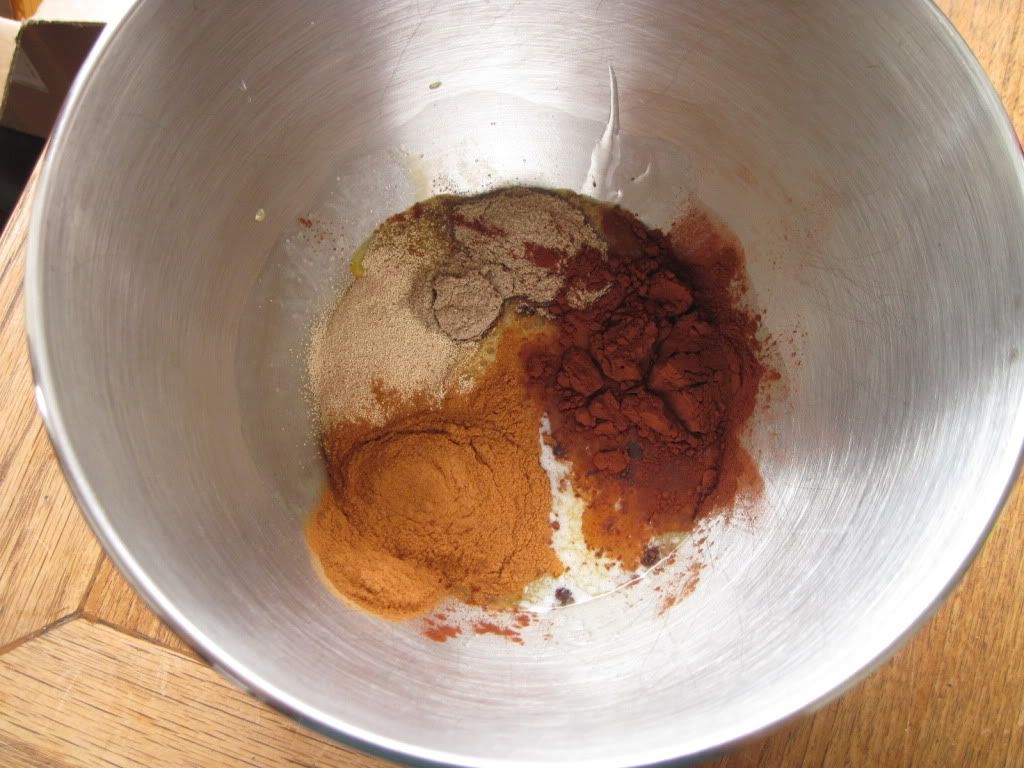 Whisk together with a fork, then stir in:
1/2 cup warm milk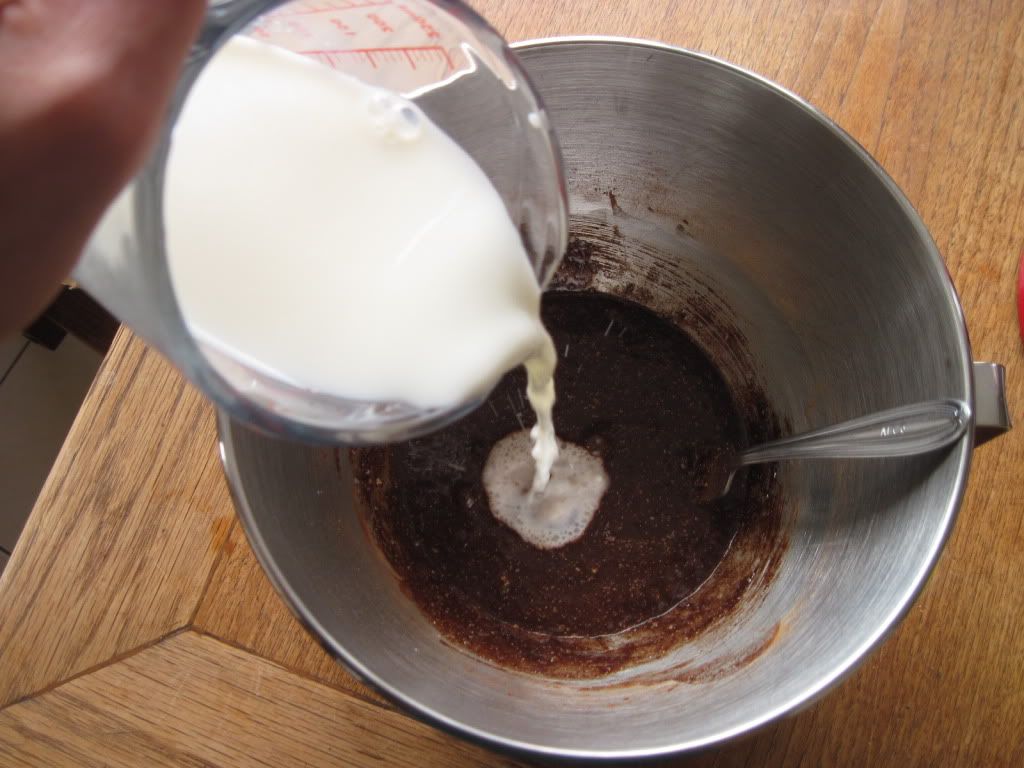 Mix again, then place the bowl on the mixer with the dough hook attachment. With the mixer on low speed, slowly add:
up to 2 3/4 cups all purpose flour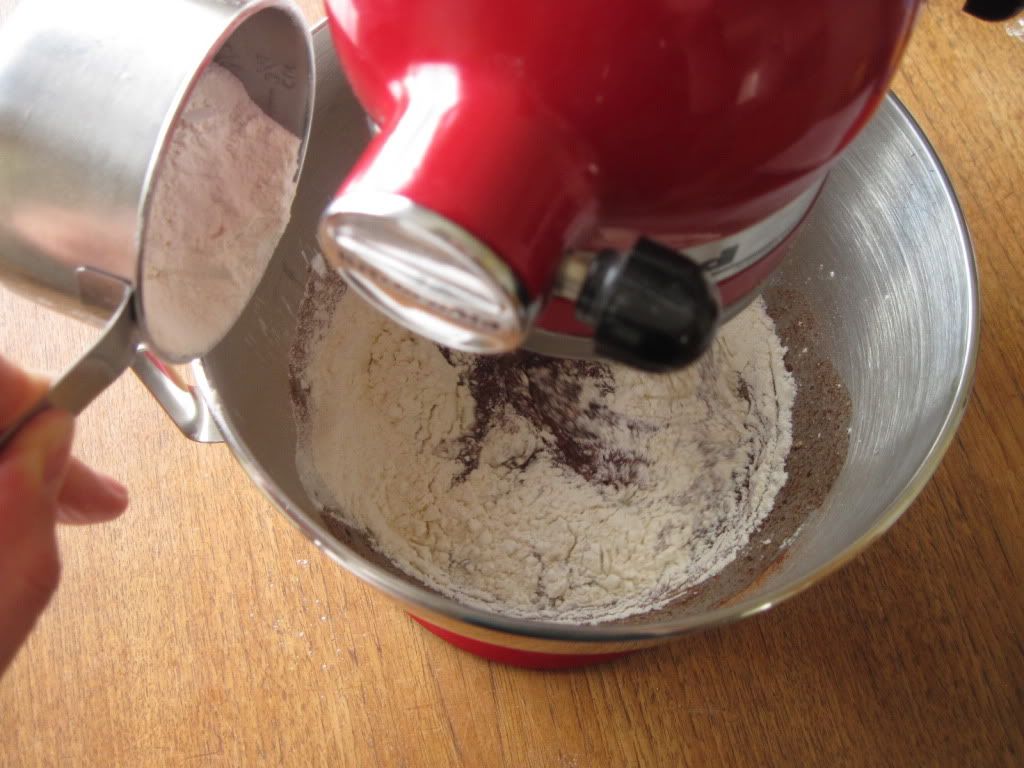 You may need a little more or less flour – the dough should be coming away from the sides of the bowl cleanly and be slightly sticky to the touch. Too much flour will prevent the dough from rising as it should.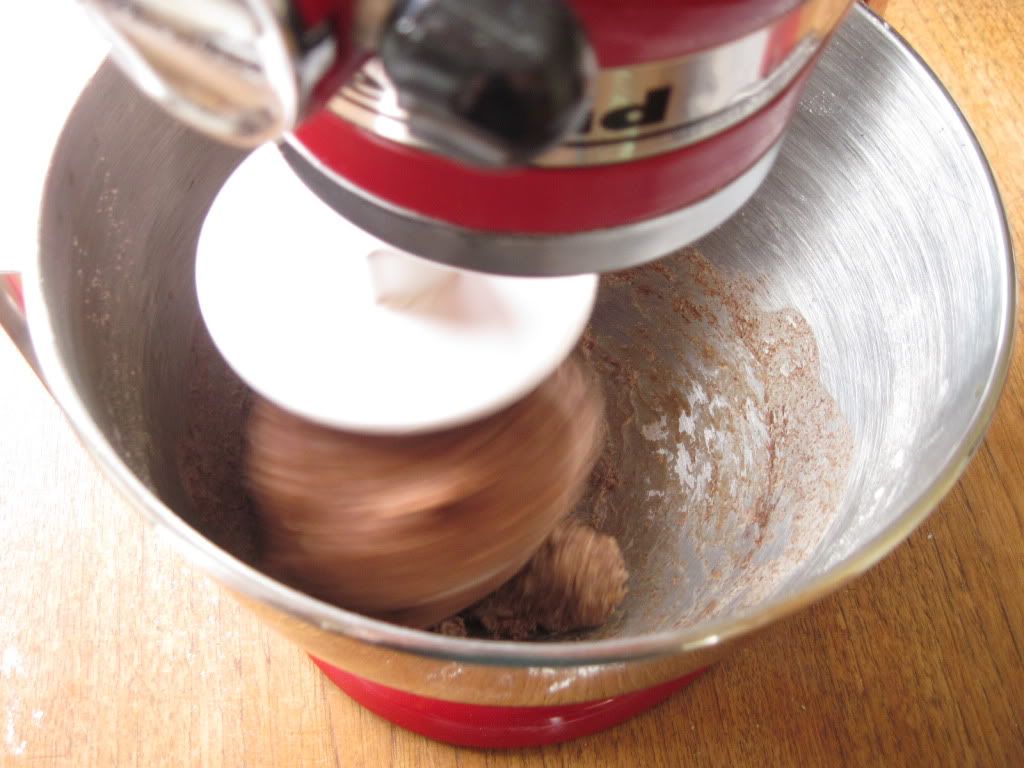 Knead on low speed for about 4 minutes, until the dough is smooth and silky and no longer sticky. Add:
1/4 cup chopped dried cherries
1/4 cup chopped dried apricots
1/4 cup chocolate chips
Stir on low speed to combine (don't worry if it doesn't combine very well).
Turn the dough out onto a very lightly floured surface and knead a few times to evenly distribute the fruit and chocolate. Grease the inside of the mixer bowl with soft butter, place the dough inside, cover with plastic, and let rise somewhere warm (like a cold oven with just the oven light on) for 1 1/2 hours, until doubled in size.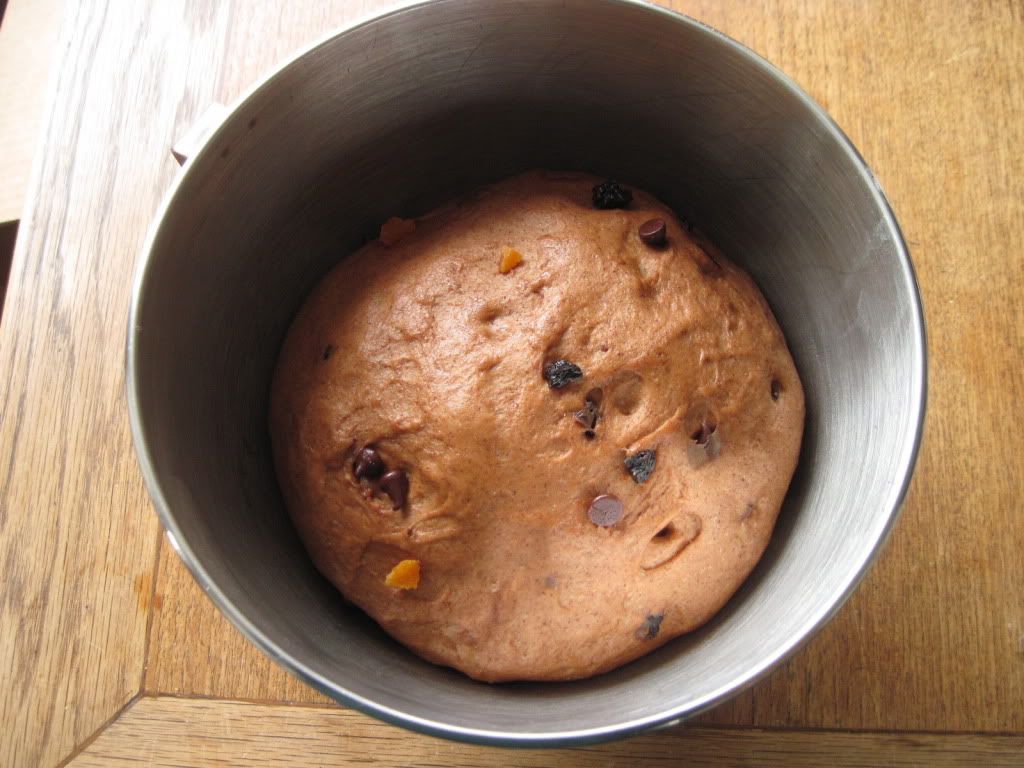 Turn the rise dough onto a lightly floured surface and divide into 12 pieces. Shape each piece into a bun by pulling and pinching the top and sides, then patting the pinched bit down.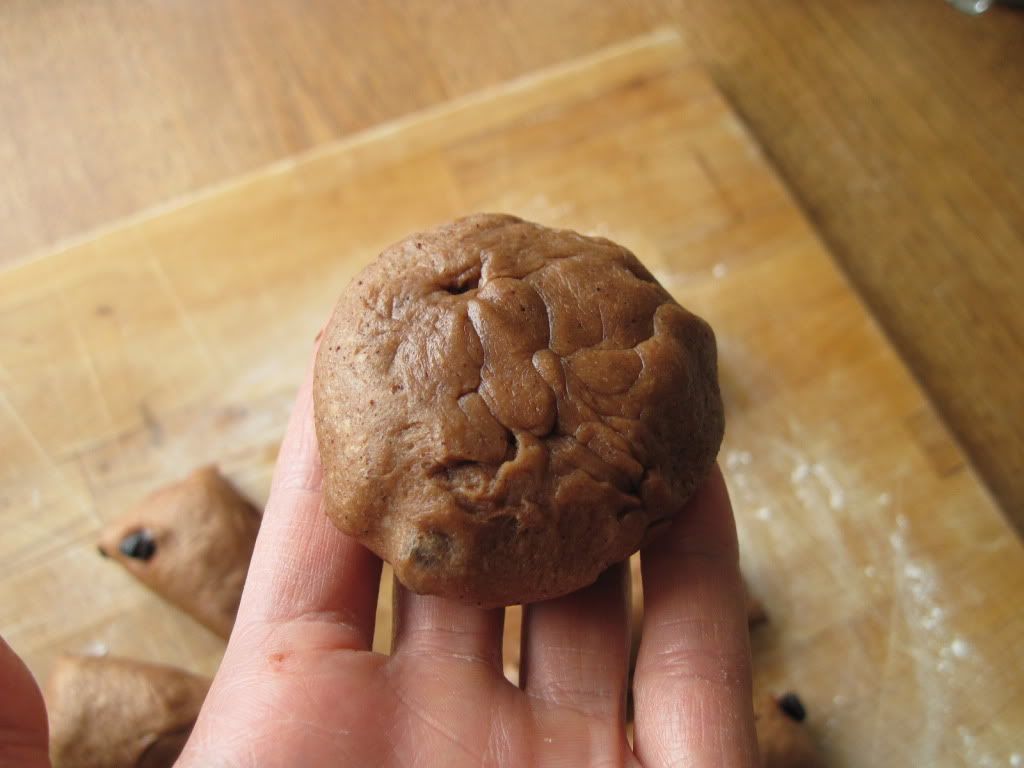 Place the buns, seam side down and almost touching, on a parchment paper-lined baking sheet.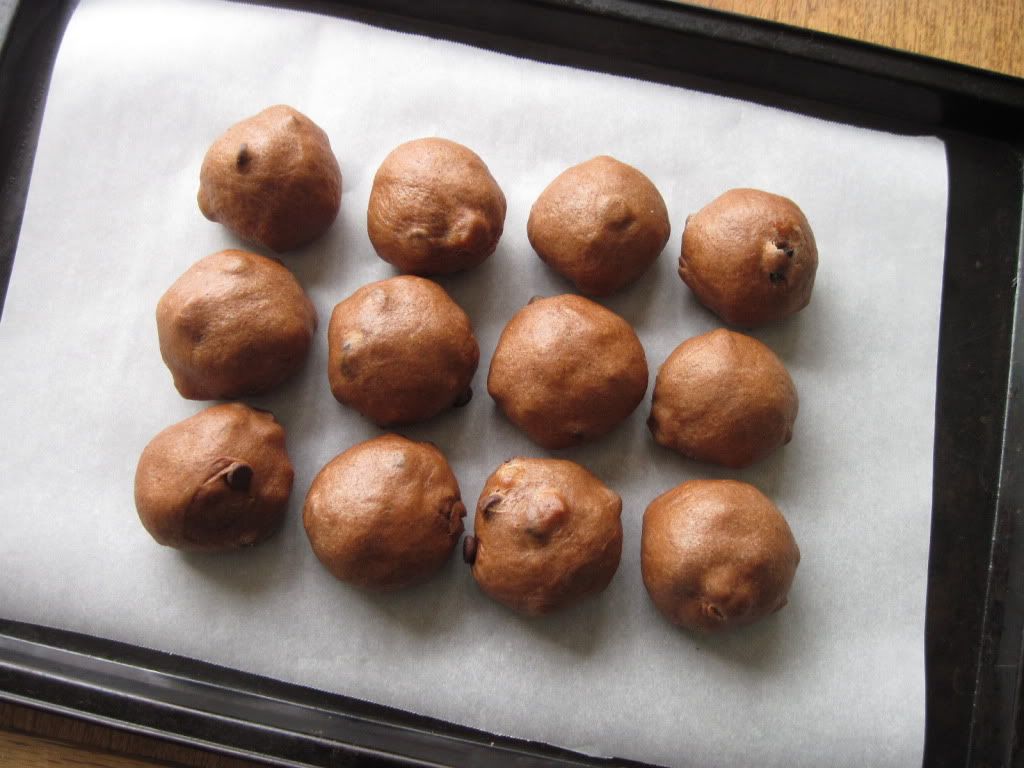 Cover lightly with plastic wrap and rise again in a warm place for 1 – 2 hours, until the buns have almost doubled and are touching.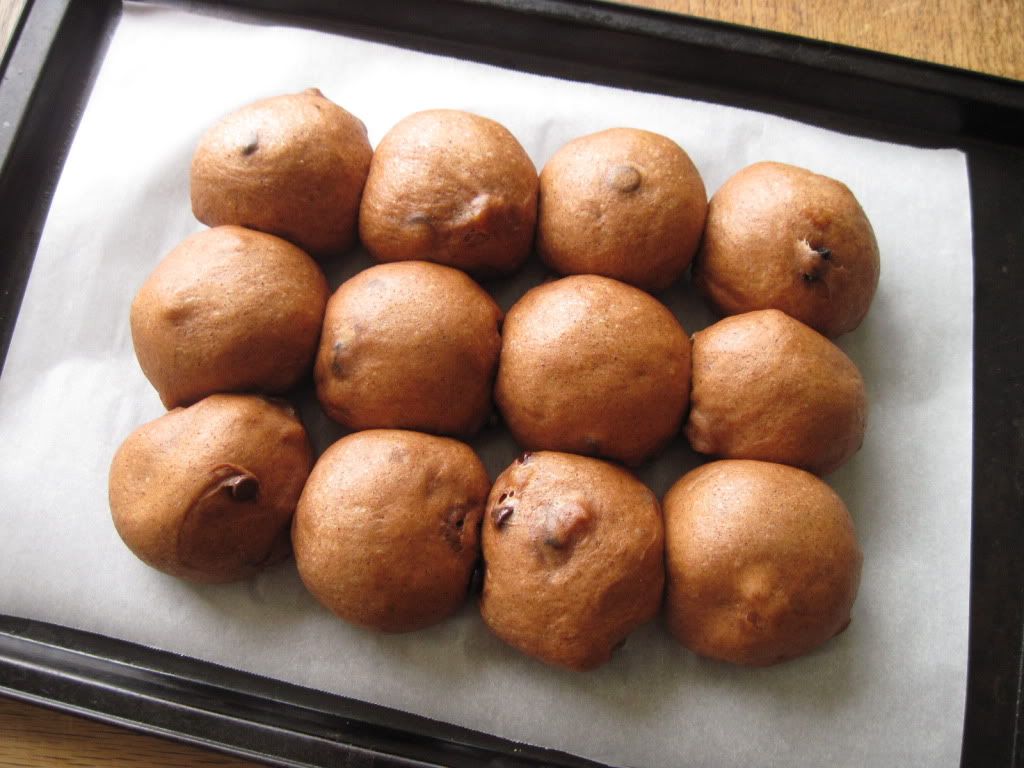 Bake in a preheated 375˚F oven for 18 – 25 minutes (mine took exactly 18 minutes). Let cool on a rack.
For the glaze, press a few tablespoons of apricot jam through a strainer and brush over the cooled buns.
For the crosses, melt 2 oz white chocolate. Place it in a small Ziplock bag, snip a tiny bit off one corner, and pipe crosses on the buns.
For best results, let the chocolate set before eating.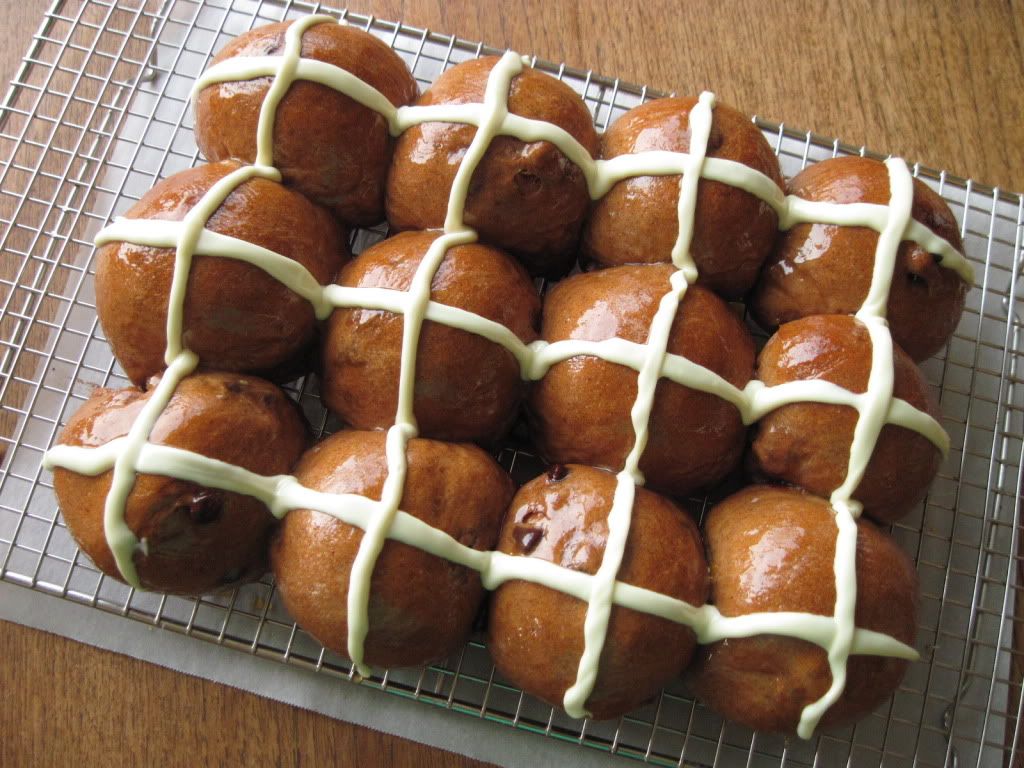 HAPPY EASTER!