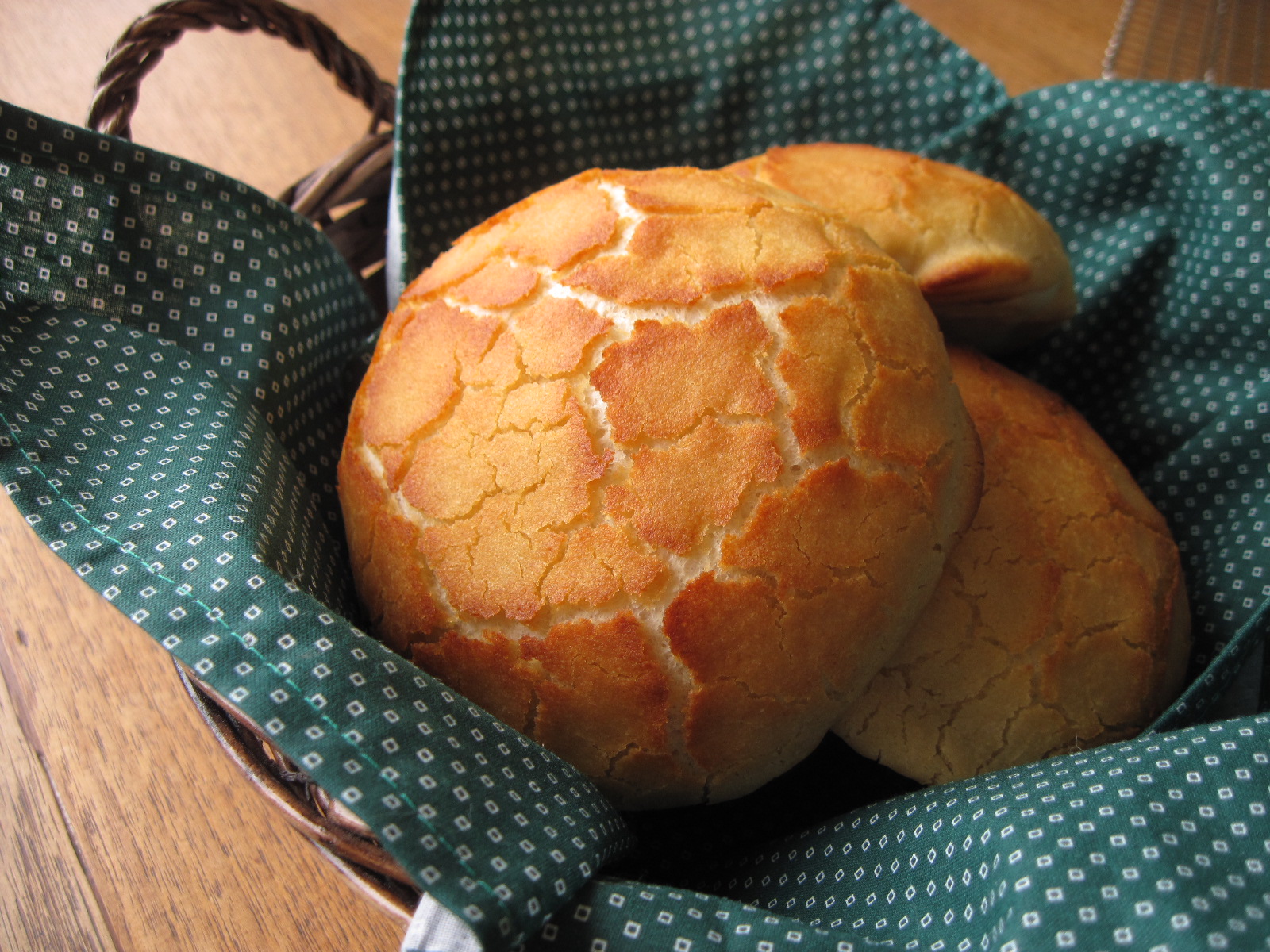 Sara and Erica of Baking JDs were our March 2012 Daring Baker hostesses! Sara & Erica challenged us to make Dutch Crunch bread, a delicious sandwich bread with a unique, crunchy topping. Sara and Erica also challenged us to create a one of a kind sandwich with our bread!
Despite the fact that I was really hoping for a ridiculous, elaborate, sugary baking project for this month's challenge, these Dutch Crunch Rolls are pretty fantastic. I had never heard of Dutch Crunch bread, but it turns out that it's a San Francisco local specialty that originated in the Netherlands (hence the name). In Dutch, it's called tijgerbrood, or "tiger bread" because of the way the topping cracks to look like tiger stripes (although there's a growing consensus that it looks more like a giraffe's spots!). "Dutch crunch" refers to the yeasted rice flour topping that is applied to the bread before baking, rather than to the bread itself, which can be any kind of soft-ish sandwich-style bread.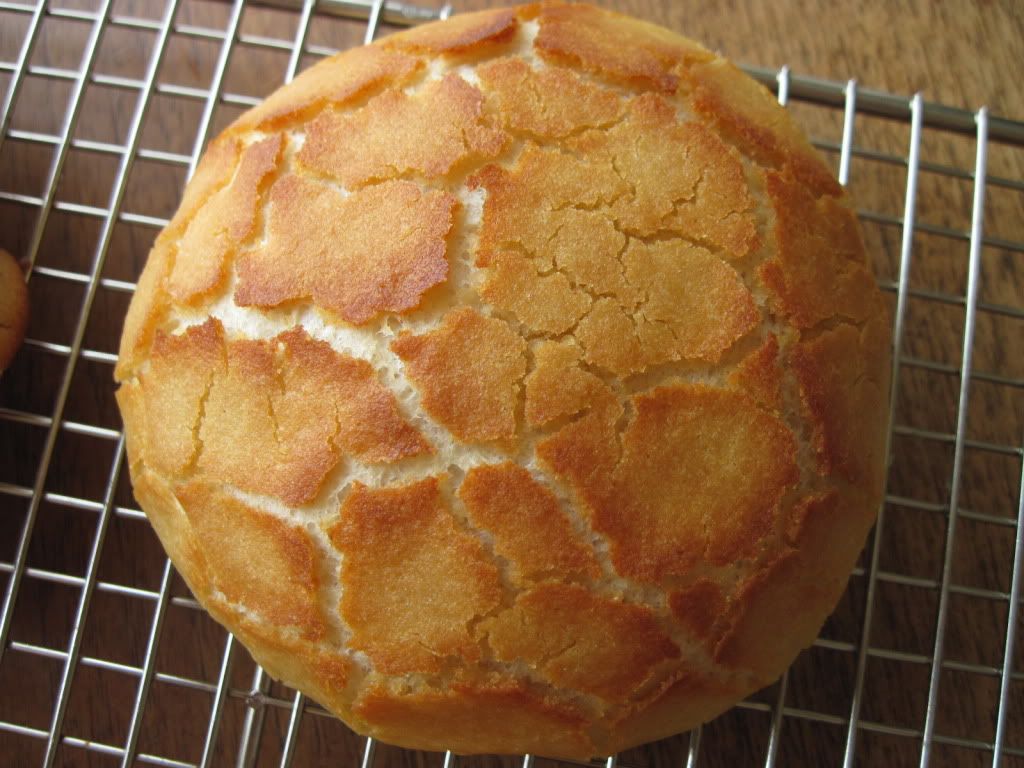 Going into this challenge, I was a bit apprehensive after seeing on the Daring Bakers forum that some people were having troubles with getting the topping to crackle and brown properly, so when I took these out of the oven, I was pretty happy about it!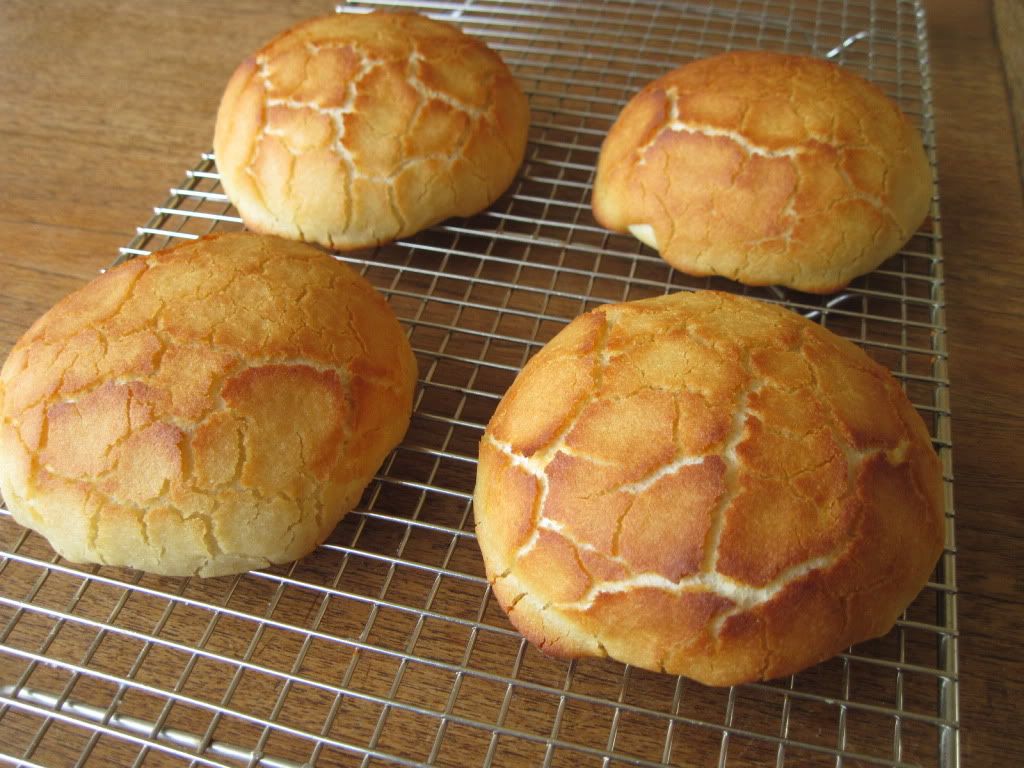 I was really impressed with the bread recipe that Sara and Erica provided, and I may have found my new "go-to" white sandwich bread! Nice and soft but still with a good texture and great flavour. The Dutch Crunch topping added a really interesting texture contrast and was very tasty, and was a really easy way to add a little something extra to plain bread.
For the second part of the challenge, it definitely made delicious sandwiches! I made a grilled turkey, bacon, and avocado club sandwich with homemade mayonnaise for dinner the day I made the rolls.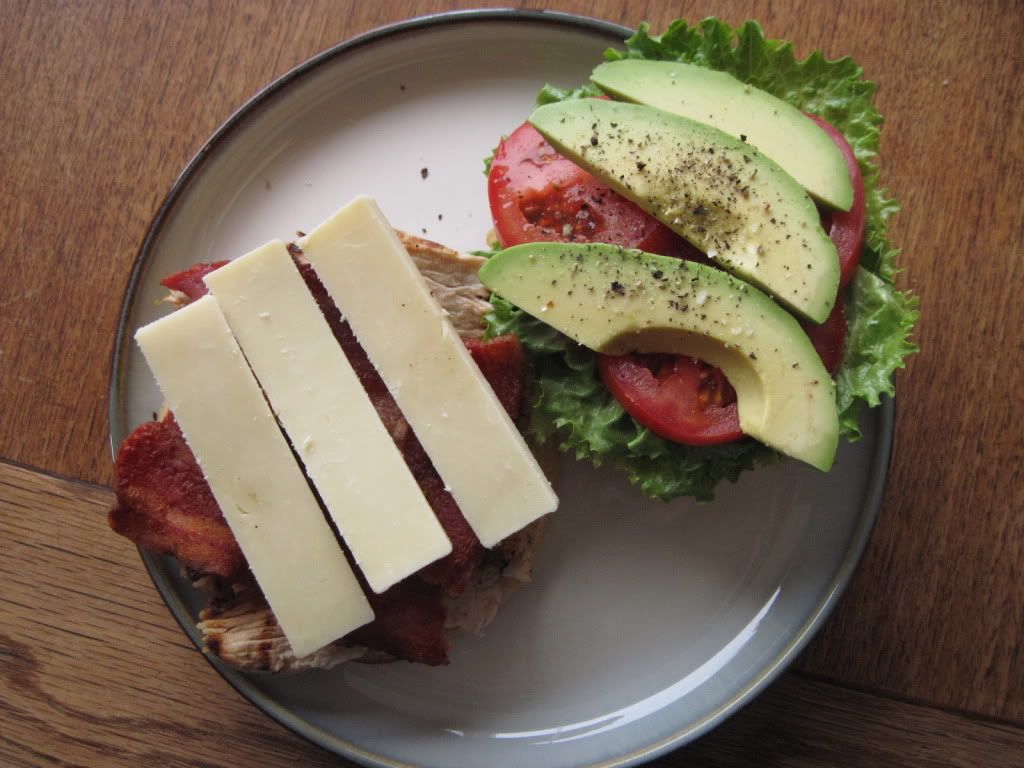 For breakfast the next morning, I toasted the buns and made breakfast sandwiches with egg, cheese, ham, and avocado. Yum!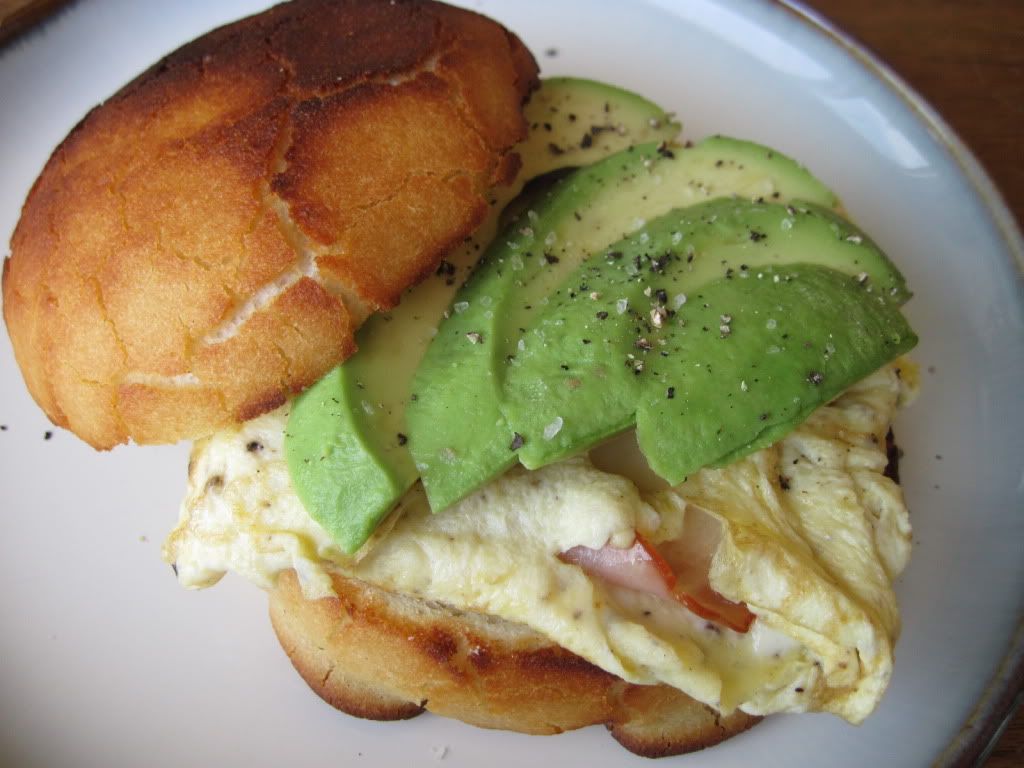 Thanks Sara and Erica for showing us this tasty way to make bread! I always get such a feeling of pride when I take bread out of the oven, and these rolls were very satisfying to make 🙂 Check out the Daring Kitchen for the other Bakers' gorgeous tijgerbrood!
Dutch Crunch Rolls
Soft White Rolls
Recipe provided by Sara and Erica, adapted from Rose Levy Beranbaum's The Bread Bible and Baking Bites. I made only half of the following recipe to make 4 decent-sized rolls. The full recipe as written would yield 6 large rolls or 8 more reasonable ones.
In the bowl of an electric mixer, combine:
1 tbsp active dry yeast
1/4 cup warm water
1 cup warm milk
1 1/2 tbsp granulated white sugar (I might try 1 tbsp honey next time)
Stir to dissolve and let it sit for about 5 minutes, until foamy.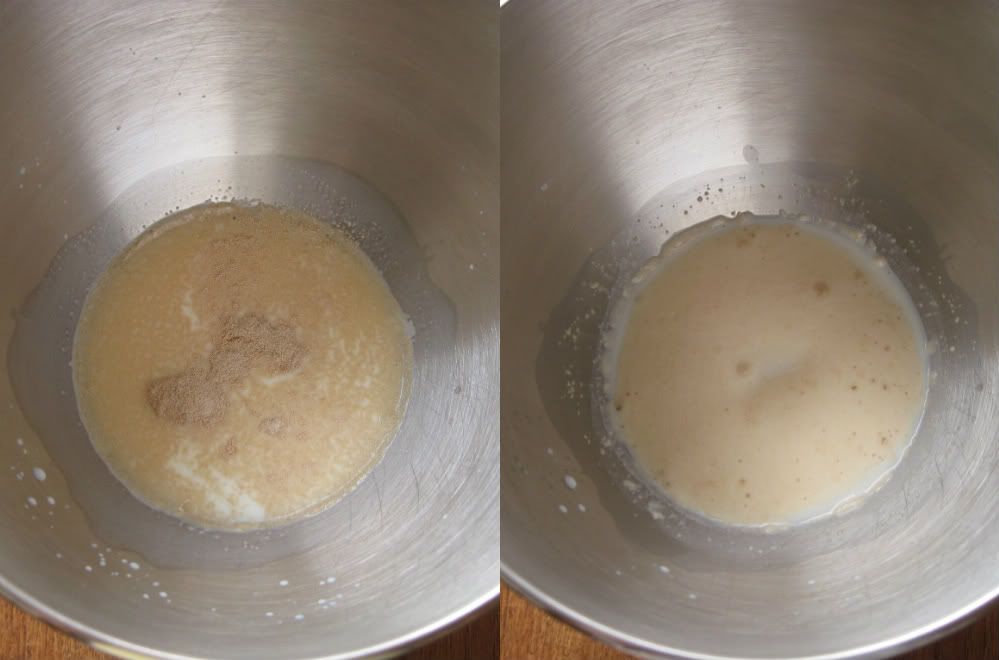 Add:
2 tbsp vegetable oil
1 1/2 tsp salt
2 cups all purpose flour
With the dough hook attachment, stir on medium speed to combine.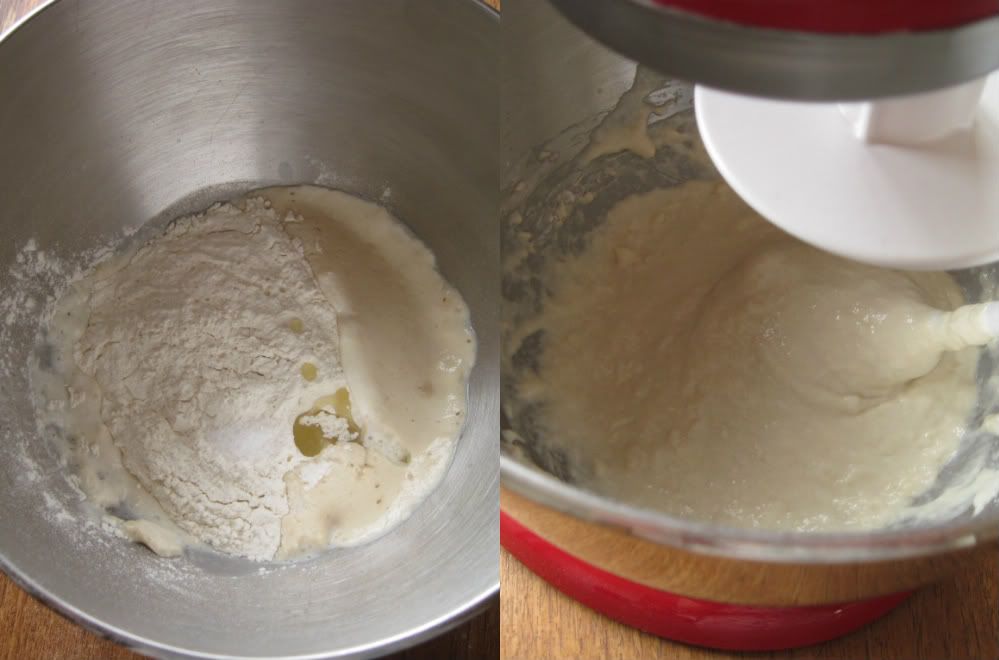 With the mixer still going, add up to 2 additional cups of flour, 1/4 cup at a time, until the dough starts to come away from the sides of the bowl but is still sticky.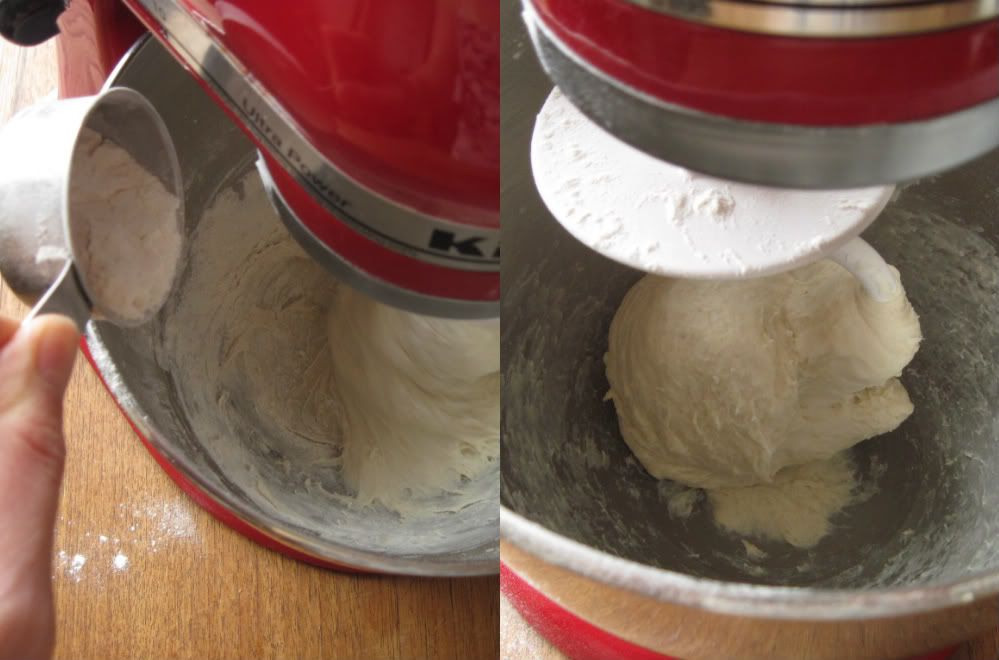 At this point, add a few tablespoons more flour, then let the mixer knead the dough for about 4 minutes, until the dough comes cleanly away from the sides of the bowl and is soft, elastic, and not too sticky to the touch. (Alternately, you can knead the dough on a lightly floured surface for about 4 minutes).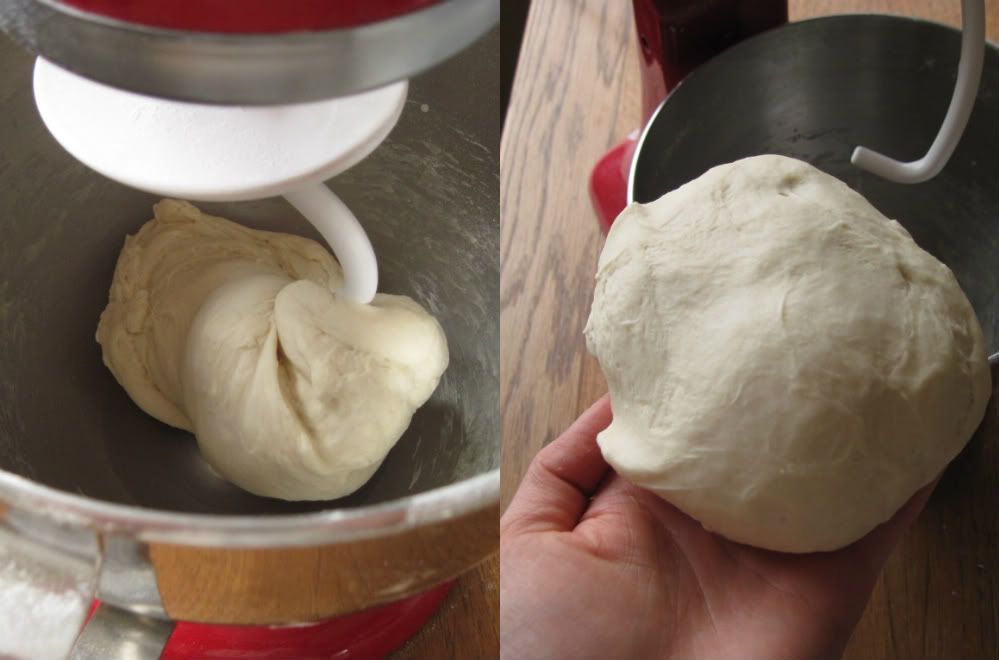 Take the dough out of the bowl, grease the bowl lightly with vegetable oil, and place the dough back in it, turning to coat it in the oil. Cover the bowl with plastic wrap and let rise in a warm place for 1 hour, or until doubled in size.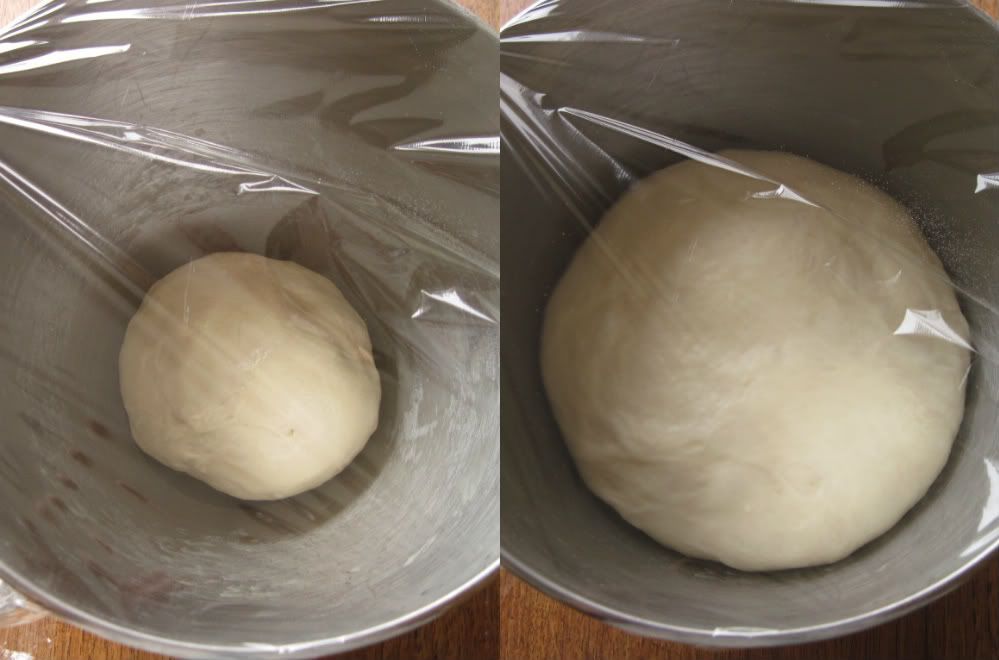 (I could have sworn that I read in the instructions to punch the dough down after it rose double, but apparently I was making it up! Anyway, I punched it down and let it rise a little while longer at room temperature and then in the fridge, and it didn't seem to hurt the final product at all!)
Turn the risen dough onto a lightly floured surface and divide it in two. Divide each half into three or four pieces (keep in mind that I made half the recipe, hence only four pieces total).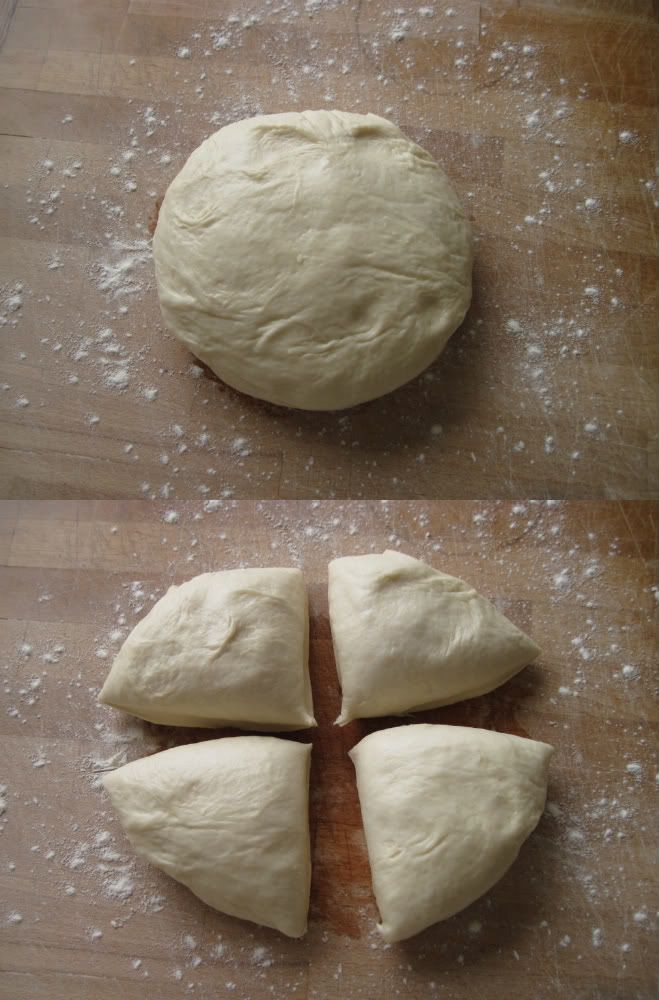 Shape each piece into a roll by holding it in your palm, pulling/pinching the edges into the middle, and then patting down the pinched bits.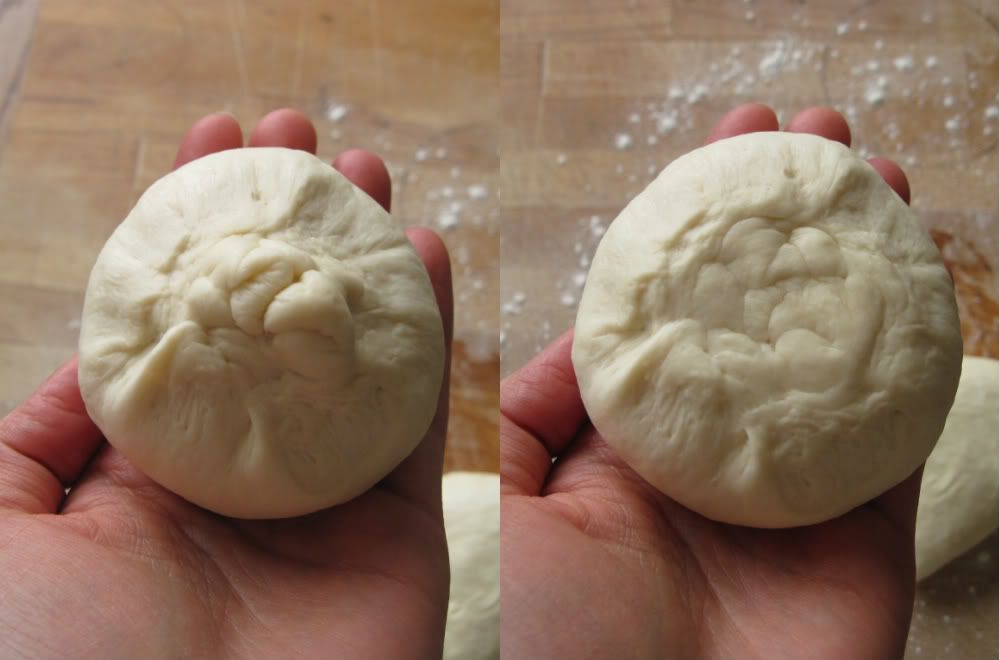 Place the rolls seam-side down on a parchment-lined baking sheet. Turn on the oven to 350˚F, and let the rolls rise for about 15 minutes while you make the Dutch crunch topping.
Dutch Crunch Topping
Recipe adapted from Rose Levy Beranbaum's The Bread Bible. A few Daring Bakers used sesame oil in place of the vegetable oil and added Marmite to the topping, both of which sound like delicious variations to try. Makes enough to cover 6-8 rolls from the above recipe.
In a bowl, whisk together:
1 tbsp active dry yeast
1/2 cup warm water
1 tbsp sugar
1 tbsp vegetable oil
1/4 tsp salt
3/4 cups rice flour (white or brown – I used brown. Make sure it's NOT sweet or glutinous rice flour)
At first the mixture will be quite pasty, but with vigorous stirring it will liquidify a bit. Add a few drops of water or a sprinkle of rice flour as needed to adjust the consistency – it should be drippy but spreadable, like stiff royal icing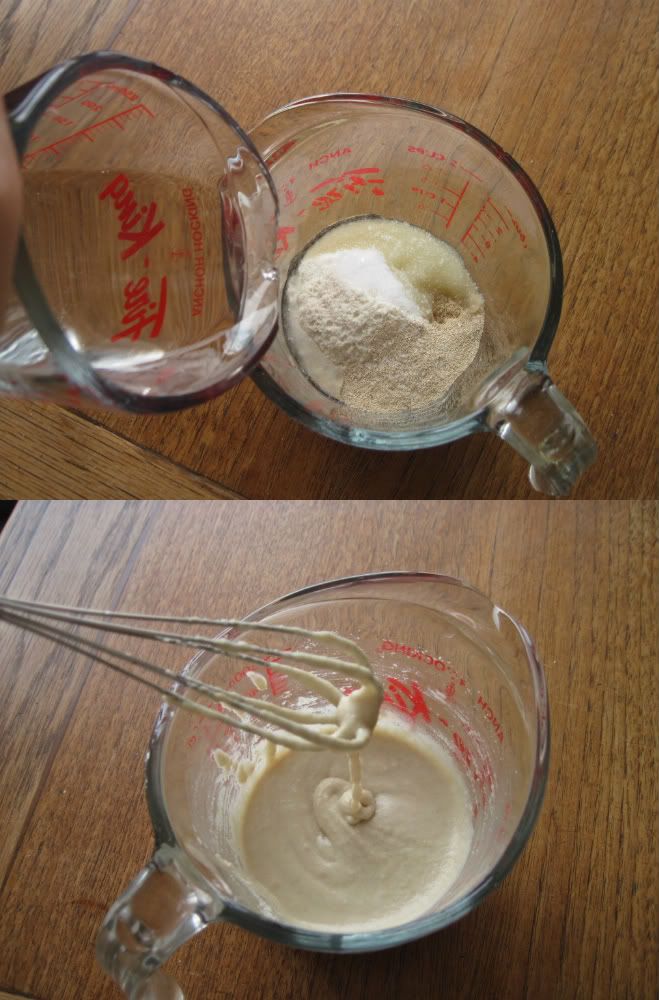 Let the batter stand for 15 minutes while the rolls finish their rise. The rice flour batter will also puff up and rise a bit because of the yeast.
Spoon the rice flour batter over top of each roll and spread it out in a thick layer.
Bake in the preheated 350˚F oven for 25-30 minutes, until the topping is crackled and well-browned and the bottom of the rolls sound hollow when tapped. I baked the rolls with steam to encourage browning, but I'm not sure if it actually made a difference. To do this, place a roasting pan in the bottom of the oven when you turn it on. When you put the rolls in, pour about half a mug of hot tap water in the roasting pan, which will provide steam while the rolls bake.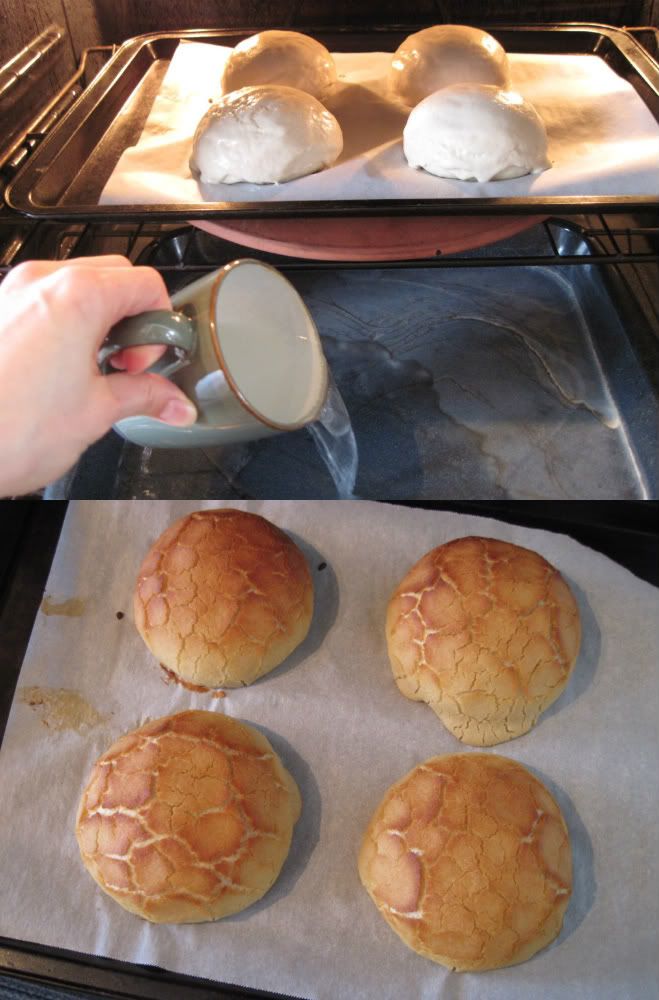 Let the rolls cool completely on a rack. The rolls are best the day they are made, but if you want to keep them a day longer, I found they were fine left out over night – just don't put them in a plastic bag or they will soften and lose their crunch. These rolls make a mean sandwich!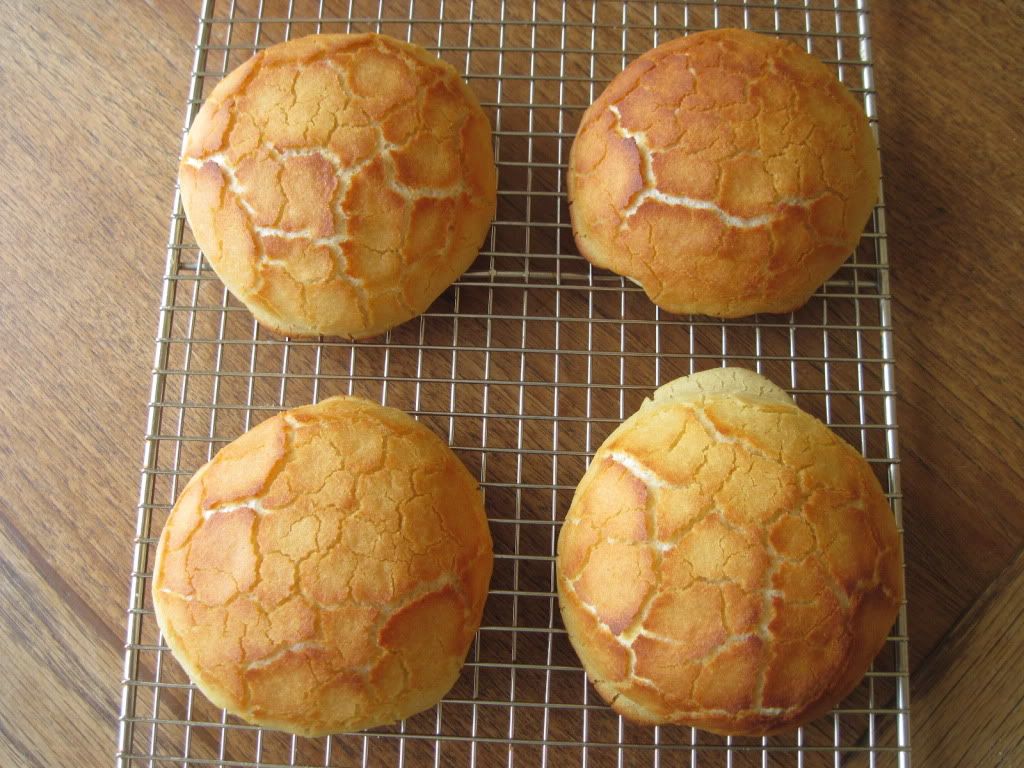 Save