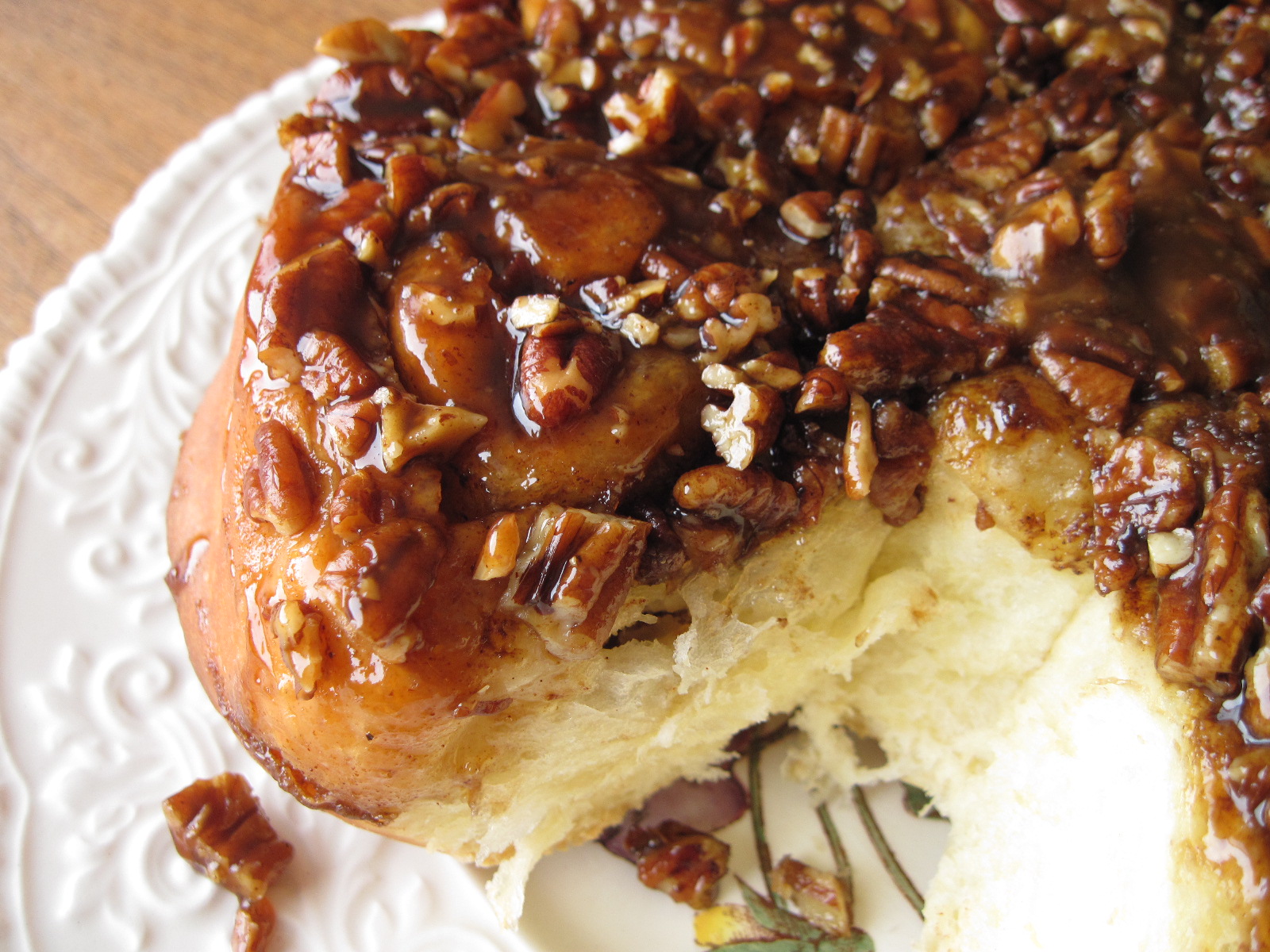 Here they are… the caramel pecan sticky buns that started my obsession with making bread the Artisan Bread in Five Minutes a Day way. They are so good that I am sure they will also start your obsession.
This is one way to use up a portion of this challah dough. Roll it out, spread it with cinnamon-sugar-butter and sprinkle it with pecans, sit it on a bed of brown sugar-butter-pecan goodness, let it rest, let it bake, and then you will be in caramel pecan sticky bun heaven.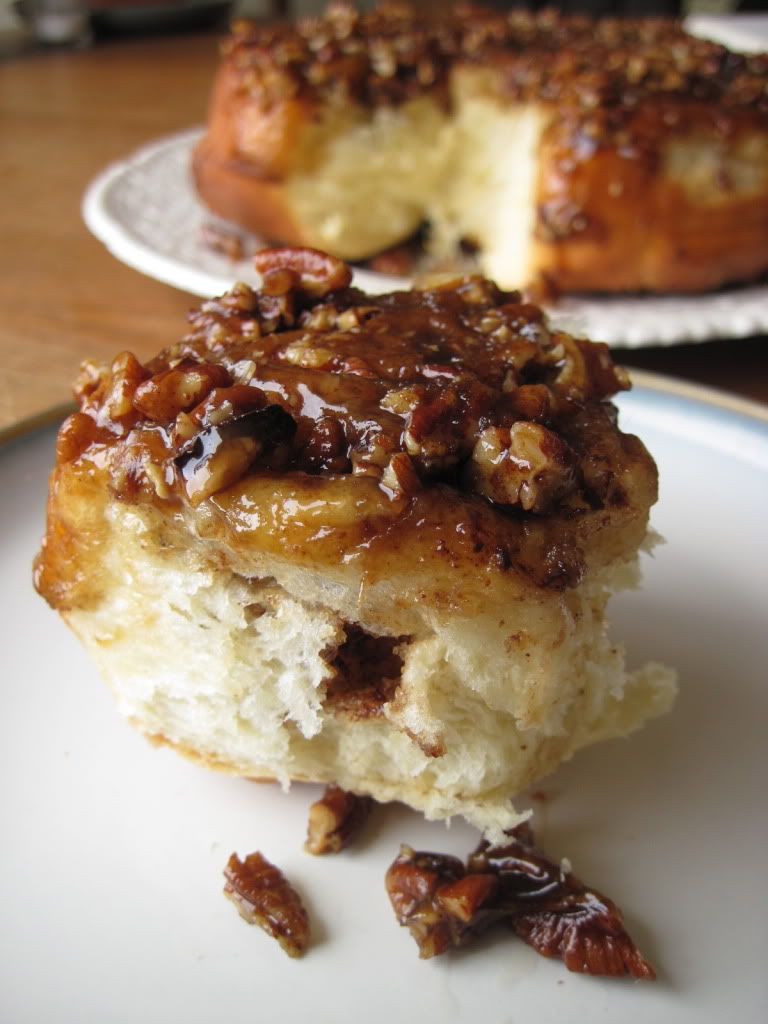 I'm telling you, these are GOOD, and although they require some waiting time, they don't require a lot of physical effort. They don't even have to be particularly pretty or neat looking to still taste out-of-this-world amazing. There is a TON of butter and sugar in this recipe, so if you're looking for something diet-friendly, you might want to pass on this one… but I wouldn't recommend it ;).
The pecans are calling your name. Make these sticky buns. You know you want to…
Caramel Pecan Sticky Buns
From Artisan Bread in Five Minutes a Day. Makes 8 buns. This recipe uses one 1 1/2-ish lb portion of challah dough.
Caramel-Pecan Topping
In a medium bowl, cream together:
6 tbsp unsalted butter, soft
1/2 cup brown sugar
1/2 tsp salt
Spread the mixture evenly over the bottom of a 9″ round cake pan. Sprinkle it with:
1/2 cup roughly chopped pecans (you can leave them whole if you prefer)
Set aside.
Filling
In a small bowl, cream together:
4 tbsp unsalted butter, soft
1/4 cup brown sugar
1 tsp ground cinnamon
1/4 tsp nutmeg
pinch of freshly ground black pepper
Set aside.
In a 375˚F oven, toast:
1/2 cup chopped pecans
Toasting the pecans keeps them from getting soggy inside the rolls. They should take about 20-25 minutes – watch them carefully and stir several times. Set aside to cool.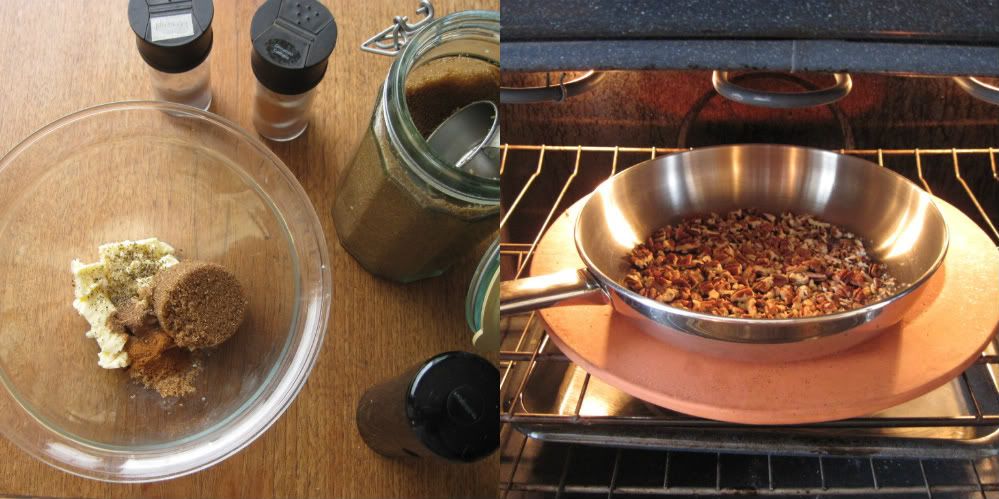 Assembly
Place a 1 1/2-ish lb portion of chilled challah dough on a lightly floured surface. Using your hands and a rolling pin, roll and stretch it into an 18″ x 9″ rectangle. Keep the dough lightly floured to prevent it from sticking, but try not to over-flour it.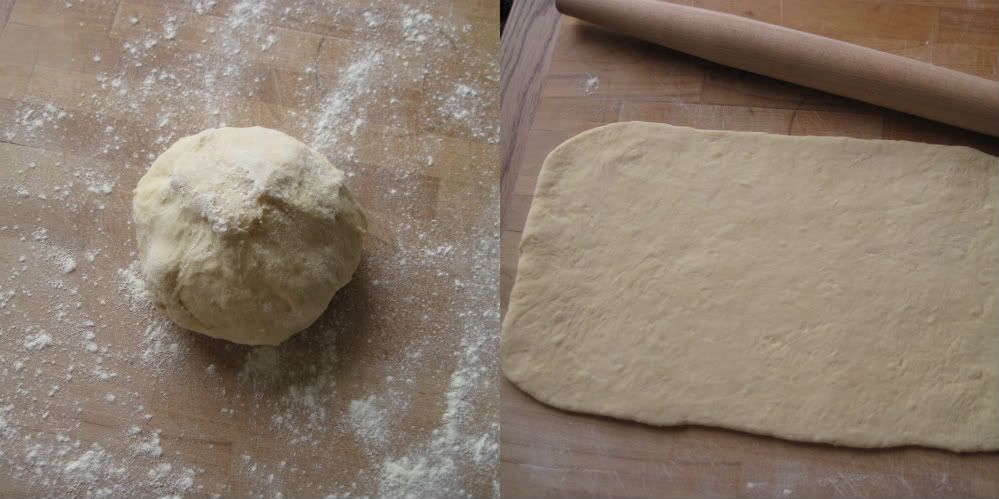 Spread the rectangle of dough evenly with the filling, then sprinkle it with the toasted pecans. From one of the long edges, roll up the dough securely to enclose the filling.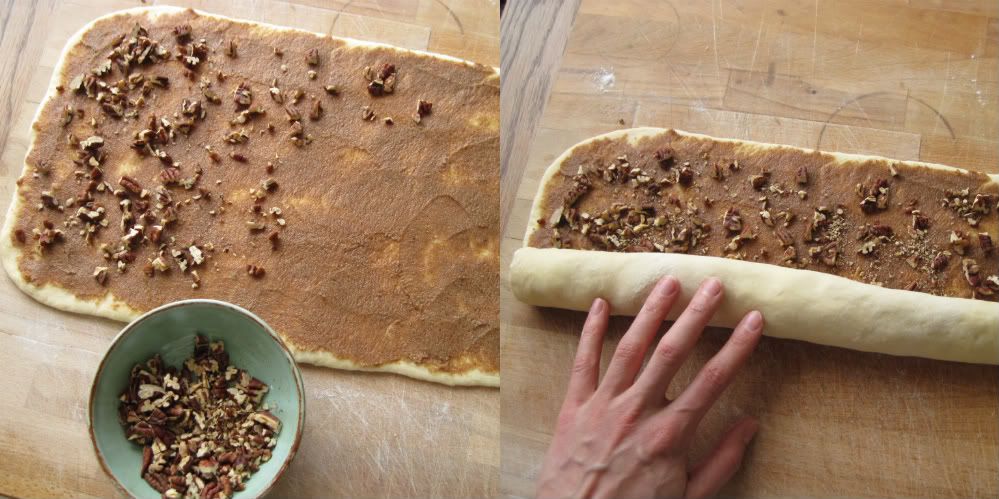 With a sharp serrated knife, cut the roll into 8 pieces. Arrange them over the caramel-pecan topping mixture in the baking pan. Cover lightly with plastic wrap and set aside to rest for about 1 hour.
After an hour, the buns should have expanded quite a bit. With a few minutes left in the rest period, preheat the oven to 350˚F. Remove the plastic wrap, place the pan on a cookie sheet to protect against bubbling-over caramel (I didn't do this and my oven was a mess of melted butter and molten caramel!), and bake at 350˚F for about 40 minutes, until golden brown and cooked all the way to the center of the pan.
Place the pan on a cooling rack for about 5 minutes, until the bubbling caramel subsides. While still hot, run a knife around the edge of the pan to release the buns and invert them onto a plate (if you wait for them to cool they will stick to the pan). Scrape out any caramel and pecans left behind.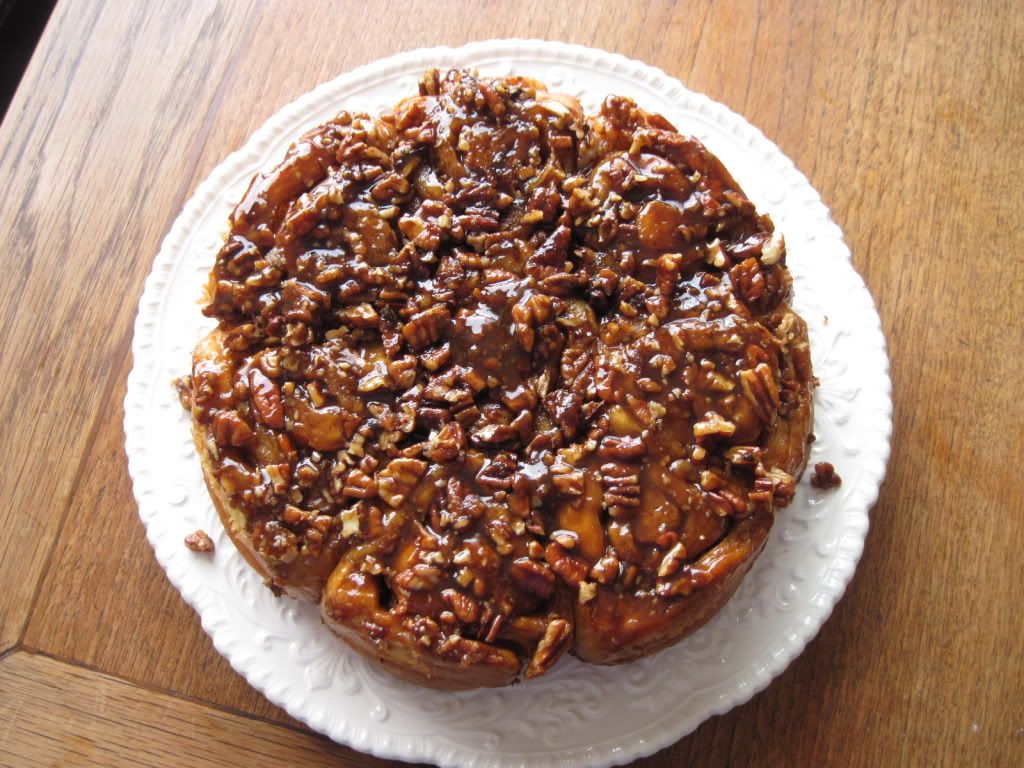 Devour!