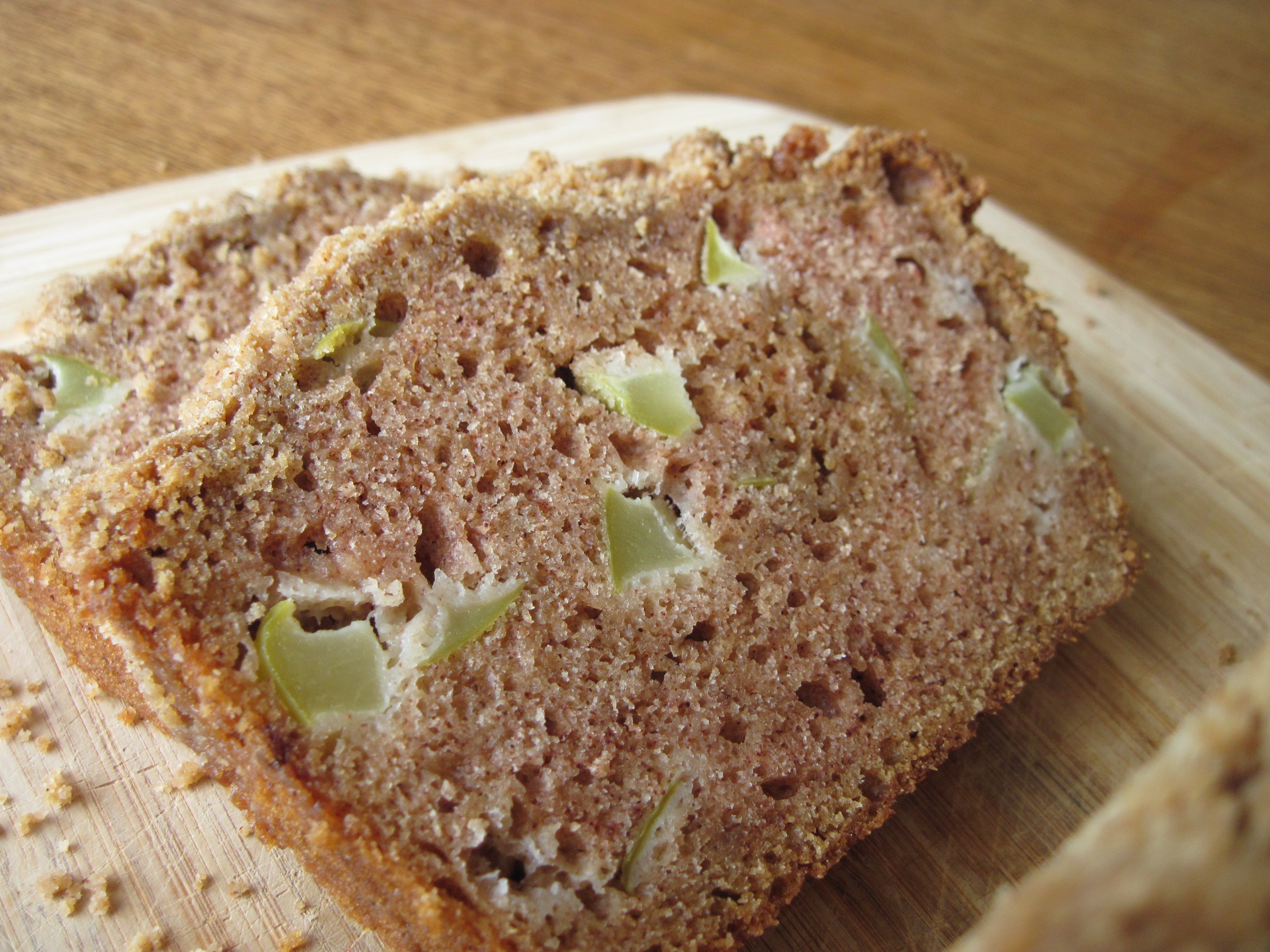 The Daring Bakers' February 2012 host was – Lis! Lisa stepped in last minute and challenged us to create a quick bread we could call our own. She supplied us with a base recipe and shared some recipes she loves from various websites and encouraged us to build upon them and create new flavor profiles.
A quickbread is a sweet or savory bread/cake that is made with baking powder or baking soda (and sometimes eggs) rather than yeast, thereby making it "quick" to make, start to finish. Scones, muffins, popovers, Irish soda bread, and loaves like banana bread and tea cakes all fall into this category.
My quickbreads for this challenge all happened to be sweet, and after looking though a bunch of recipes, I wondered, where do you draw the line between a sweet quickbread and a cake? The answer is… it all comes down to the shape of the pan ;). A sweet quickbread is generally baked in a loaf pan and often comes out more dense and rustic-looking than a cake, and may include things like fruit in the batter. Any quickbread batter can also be baked as muffins, and then, depending on what's in them, it's a toss-up as to whether to call them muffins or cupcakes…
Somehow, anything baked in a loaf pan or muffin tin is a lot more acceptable to eat for breakfast, and in my case, totally OK to slather with butter.
Even though it wasn't a complicated challenge this month, the Daring Bakers taught me something new (actually, a few somethings). Here's what I learned:
First, quickbreads are generally made in one of three ways:
The muffin method (aka 2-bowl method), in which the dry and wet ingredients (including a liquid fat, such as melted butter or oil) are mixed separately, them combined gently with as few strokes as possible. The idea is to avoid creating tough gluten strands by overmixing, and the end result is usually moist and tender with a larger crumb.
The creaming method, in which a solid fat (such as butter) is creamed with the sugar, egg and flavourings, then the dry ingredients and any other liquids are mixed in. Most cakes are made with this method, so it stands to reason that this will give a lighter, more finely-textured end result.
Second, there are generally three types of quickbread batter:
Pour batter, which has an equal ratio of wet to dry ingredients and, as the name suggest, can be poured. The end result is usually moist and dense – think pancakes.
Drop batter, with a 3:1 ratio of dry to liquid. This is generally muffin and loaf batter, and ends up moist and fluffy.
Stiff batter, with a 7:1 ratio of dry to liquid, such as scones or Irish soda bread. This gives a light and fluffy end result.
Third, especially with the muffin method, the gluten in the flour is important, in that less is more. Lower gluten flours are best because they keep the baked good from getting tough, and to help this out you can replace up to 4 tbsp per cup of all purpose flour with cake flour.
OK, enough with the learning. Lis gave us a basic quickbread recipe to play around with, so my first attempt, at Nate's request, was a Brown Sugar Caramel Apple Struesel Loaf.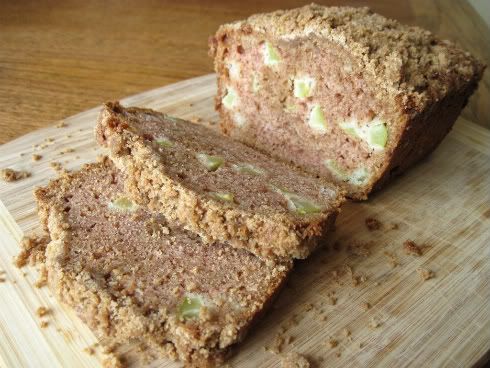 Then I decided to recreate the Good Morning Muffin from Pure Vanilla Bakery in town, using my favorite muffin recipe as a base. These babies have chopped apple, grated carrot, dried apricots, golden raisins, coconut, sunflower seeds, and flax seeds in them, and are topped with a sticky orange glaze (which is actually frozen orange juice concentrate – it's my favorite part!).
And then, after seeing Renata's amazing-looking popovers on the Daring Bakers forum, I decided to give them a try. A popover is very similar to a Yorkshire pudding but made without the beef drippings, and can be served with butter and jam rather than gravy. I coated these in cinnamon-sugar to make Cinnamon Sugar Doughnut Popovers, inspired by David Lebovitz. I made theme once according to David's recipe, which came out under-cooked and doughy, and a second time using the recipe Renata provided, which came out perfectly. Moral of the story: bake the popovers until they are deep brown and crisp! These are SO GOOD and will satisfy any doughnut cravings.
Thanks to Lis for not only hosting this challenge, but for running the Daring Kitchen and giving us all the chance to do this every month!! Check out the Daring Kitchen for the original challenge and all the other Bakers' contributions!
Brown Sugar Caramel Apple Struesel Loaf
Makes one 9″ x 5″ loaf
Brown Sugar Caramel Sauce
Adapted from Modern Classics II by Donna Hay
In a small, heavy saucepan, combine:
6 tbsp brown sugar
1/2 cup heavy whipping cream
dash salt
Place over medium heat and stir until the sugar is dissolved. Increase the heat slightly and bring the mixture to a boil. Let it simmer rapidly for about 8-10 minutes without stirring (watch it carefully and remove it from the heat if it looks like it will boil over). Pour the caramel into a bowl and set it aside to cool while you make the struesel.
Cinnamon Struesel
Adapted from Flour Power: Recipes from Jana's Bake Shop by Jana Roerick
In a bowl, mix together:
1 cup all purpose flour
3/4 cups brown sugar
1 tsp cinnamon
1/4 tsp baking powder
1/4 tsp salt
With your fingers, rub in:
6 tbsp unsalted butter, softened
Mix until the butter is fully incorporated and the mixture is crumbly-looking. Set aside while you make the batter.

Apple Cinnamon Batter
Adapted from the basic recipe provided by Lis for the challenge
Preheat the oven to 350˚F. Grease a 9″ x 5″ loaf pan and line the bottom and sides with parchment paper (I didn't do this and almost had a near-death sticking experience!).
In a bowl or measuring cup, whisk together the wet ingredients:
1 cup sour milk (1 tbsp white vinegar + enough milk to make 1 cup)
1 egg
1/4 cup neutral-flavoured vegetable oil
In a large bowl, whisk together the dry ingredients:
1 1/2 cups all purpose flour
1/2 cup cake flour
1 cup granulated sugar
1 tsp baking soda
1/2 tsp salt
1 tsp cinnamon
Add:
1 chopped apple

Toss gently to combine, then make a well in the center of the dry ingredients. Pour in the wet ingredients and with a rubber spatula, stir just to combine, using as few strokes as possible. There should still be a few lumps and streaks of flour.
Sprinkle over 2/3 of the cinnamon struesel and 2/3 of the cooled brown sugar caramel and fold them into the batter with three or four strokes.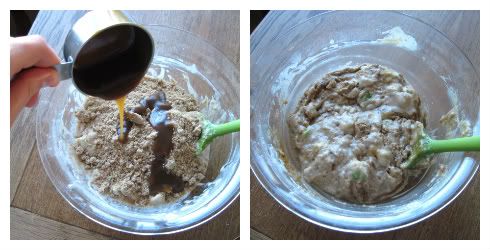 Pour the batter into the prepared pan and spread it evenly. Pour over the remaining caramel and sprinkle with the remaining struesel.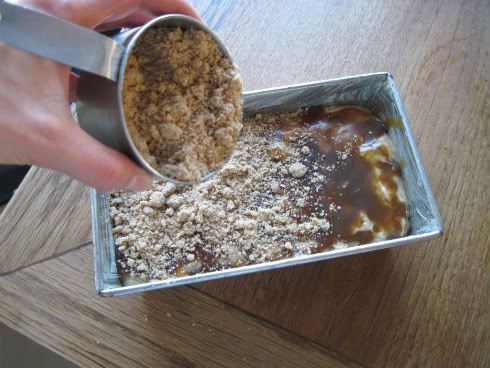 Bake at 350˚F for 65-75 minutes, or until a skewer inserted in the middle comes out clean. Cool for 5 minutes in the pan, then remove, peel off the parchment, and cool completely on a rack.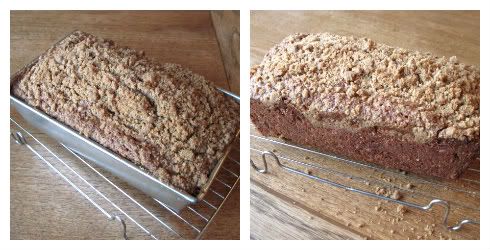 Will keep for a few days wrapped in plastic or in an airtight container.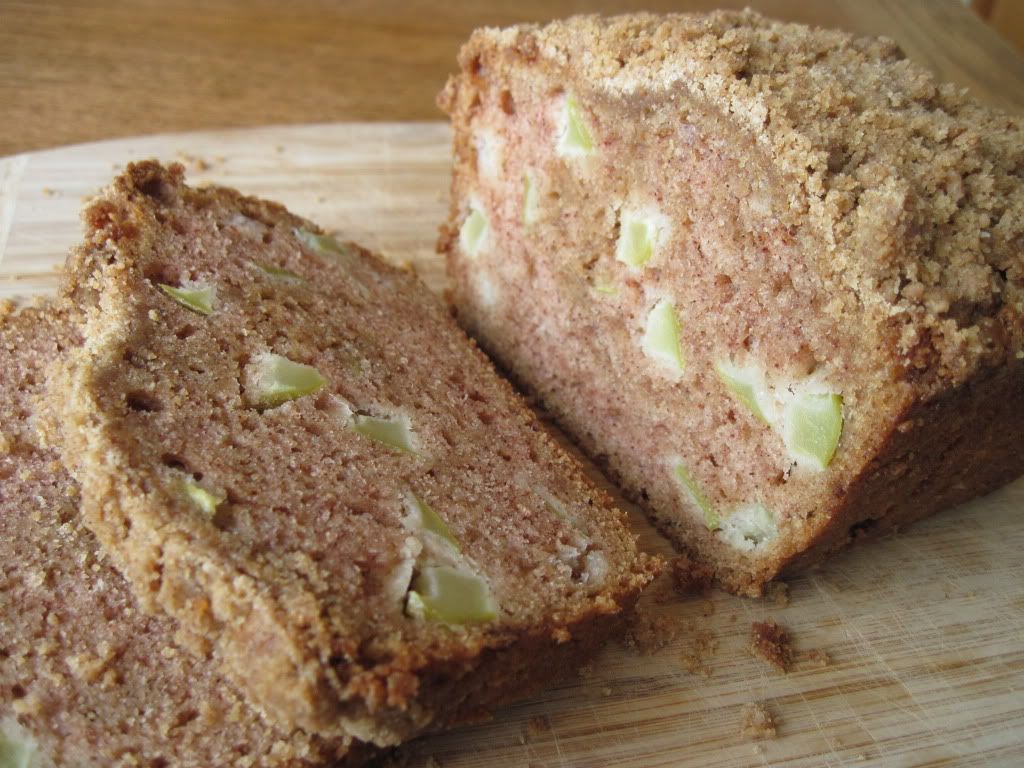 "Good Morning" Muffins
Inspired by Pure Vanilla Bakery + Cafe, adapted from these muffins. Makes 12.
Preheat the oven to 375˚F. Lightly grease the top of a muffin tin and line the cups with paper liners (or these nifty silicon liners).
In a small bowl, combine:
1/3 cup chopped dried apricots
1/3 cup golden raisins
Pour over 1/3 cup boiling water to rehydrate the fruit. Set aside.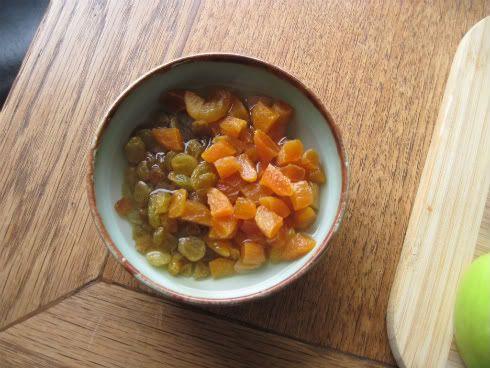 In a small bowl, mix together the wet ingredients:
3/4 cup plain yogurt
1/4 cup brown sugar
2 tbsp granulated sugar
1 egg
5 tbsp neutral-flavoured vegetable oil
1 tsp vanilla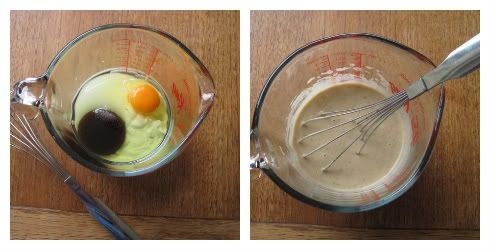 In a large bowl, mix together the dry ingredients:
3/4 cup all purpose flour
3/4 cup whole wheat flour
1 1/2 tsp baking powder
1/4 tsp baking soda
1/4 tsp salt
Make a well in the dry ingredients and pour in the wet. With a rubber spatula, mix until just combined. There should still be lots of lumps and streaks of flour.
Add:
1/2 an apple, chopped
3/4 cup grated carrot
the rehydrated apricots and raisins (discard any liquid that hasn't been soaked up)
1/4 cup shredded unsweetened coconut
2 tbsp hulled sunflower seeds
1 tbsp flax seeds
Stir everything together gently in as few strokes as possible.
Spoon the batter into the prepared muffin tins and sprinkle each muffin with a few flax seeds and sunflower seeds.
Bake at 375˚F for 20-25 minutes, until a toothpick inserted in the center comes out clean. While the muffins are still hot, brush the tops with 2 tbsp thawed orange juice concentrate.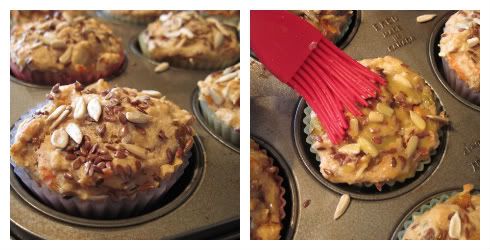 Remove the muffins from the tin and cool on a cooling rack. Best eaten the day they are made, but will keep a day or two in an airtight container.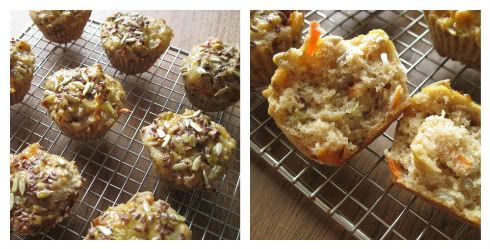 Cinnamon Sugar Doughnut Popovers
Inspired by David Lebovitz, recipe adapted from Second Floor Walkup. I made 6 large popovers, but next time I would make 12 smaller ones. You could omit the sugar all together and replace the butter with beef drippings to make Yorkshire puddings, which I will be doing the next time we have roast beef!

Preheat the oven to 425˚F. Grease the cups of a muffin tin VERY liberally with butter, then place a small piece of butter in the bottom of each. Put the pan in the oven to preheat.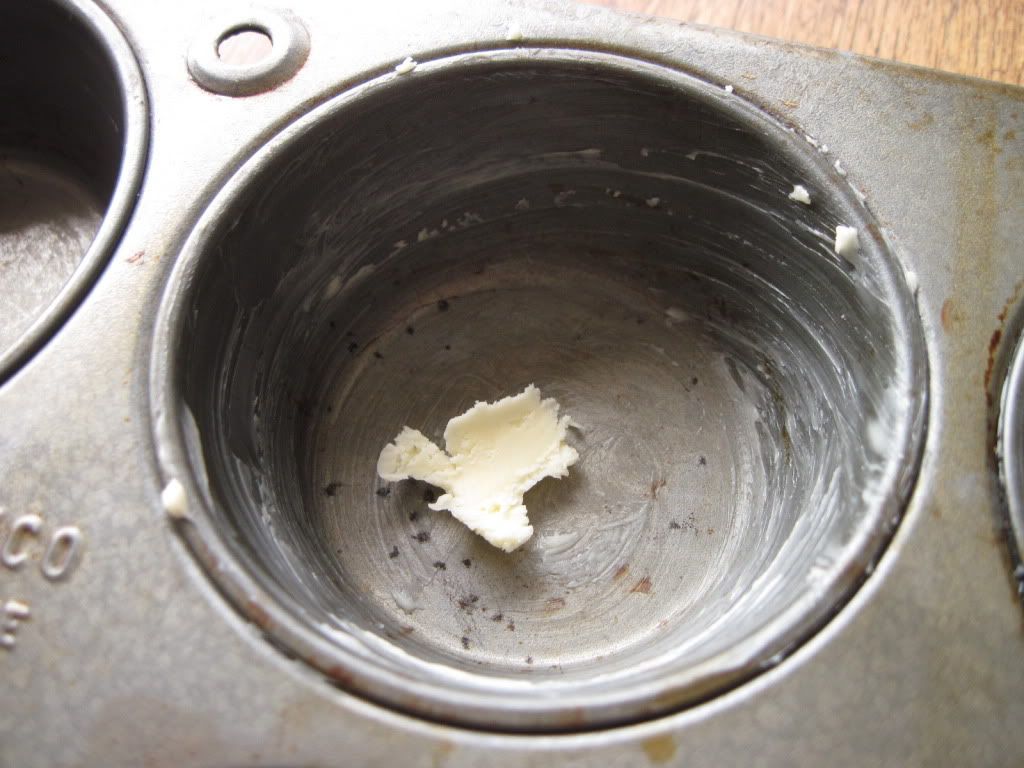 Meanwhile, in a bowl, beat together with a whisk:
2 eggs
1 cup milk
1 tbsp melted butter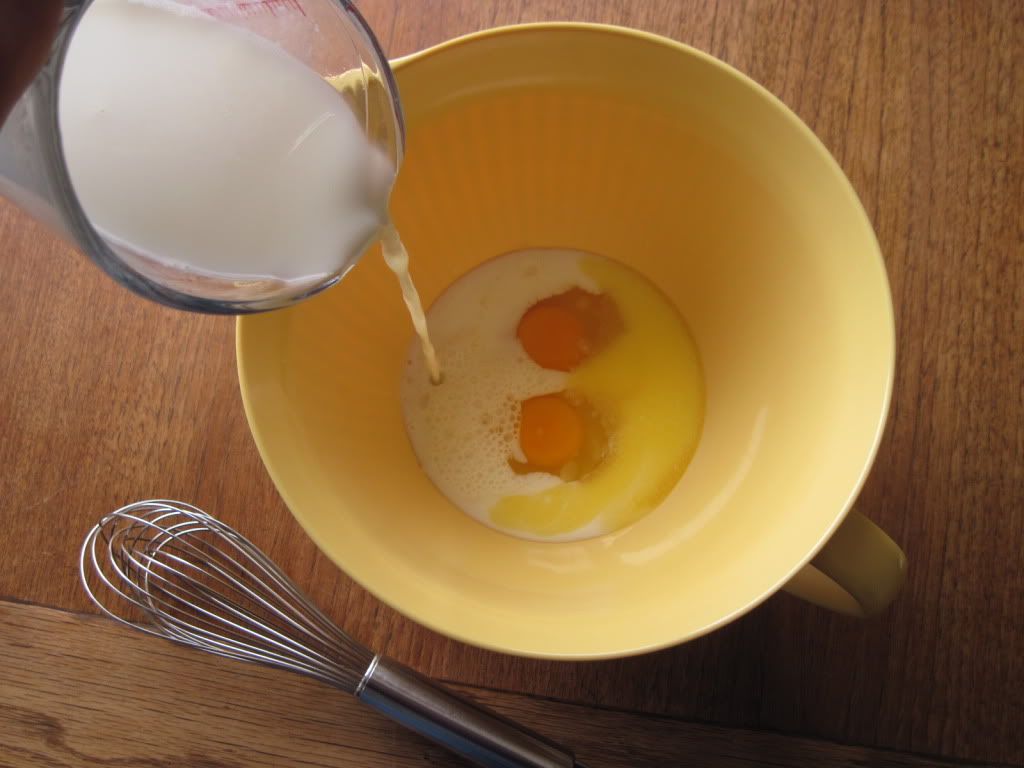 Add:
1 cup all purpose flour
1 tsp sugar
pinch salt
Whisk vigorously so there are no lumps.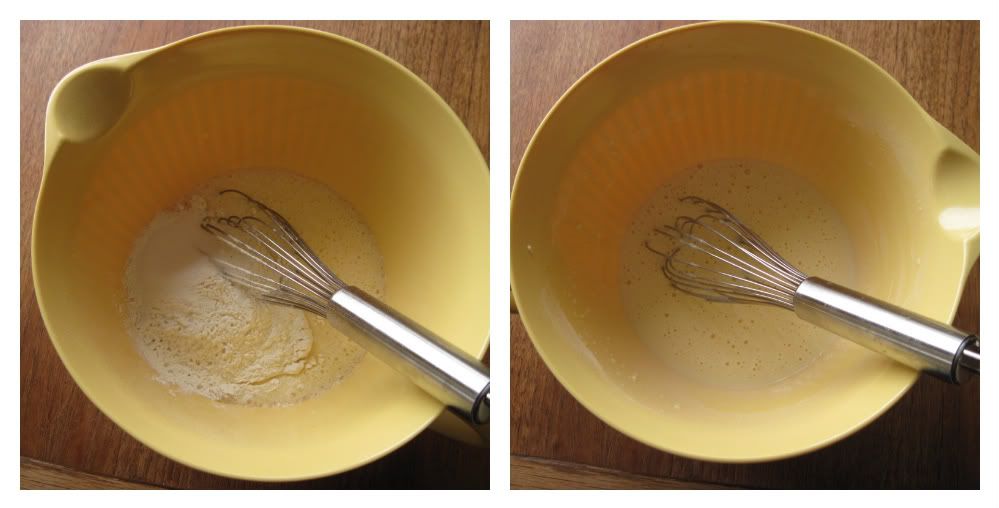 When the oven reaches 425˚F, remove the muffin pan, pour the batter evenly between the greased cups, and place the pan back in the hot oven.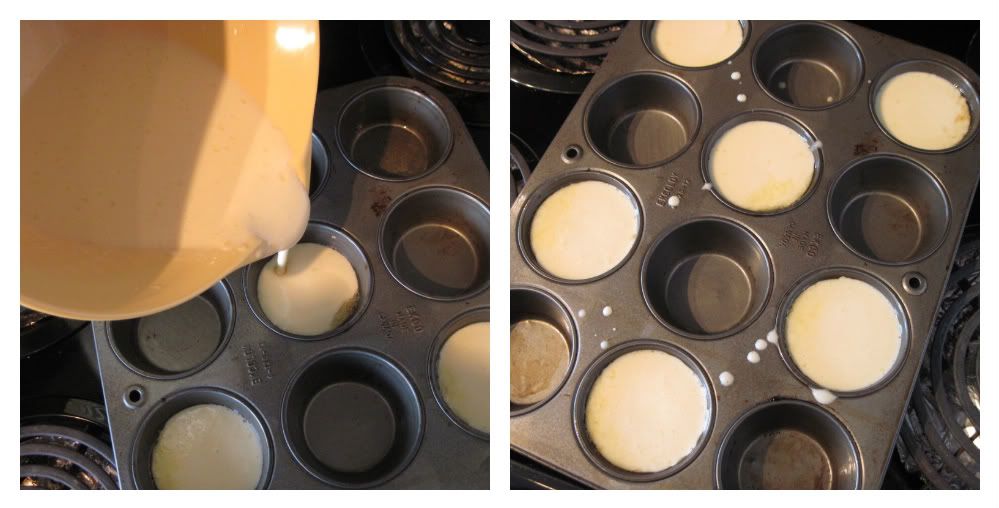 Bake for 15 minutes, then reduce the heat to 350˚F and bake another 15-25 minutes, until deeply golden brown and crisp. DO NOT open the door to peek at your popovers before the second 15-minute mark – this will cause them to collapse.
While the popovers are baking, mix together:
1/2 cup granulated sugar
1 tsp ground cinnamon
Have ready:
2-3 tbsp melted butter
When the popovers are baked, remove them from the muffin tin (you may need to coax them out with a butter knife), brush them lightly with melted butter, and roll them in the cinnamon-sugar. Place on a rack to cool.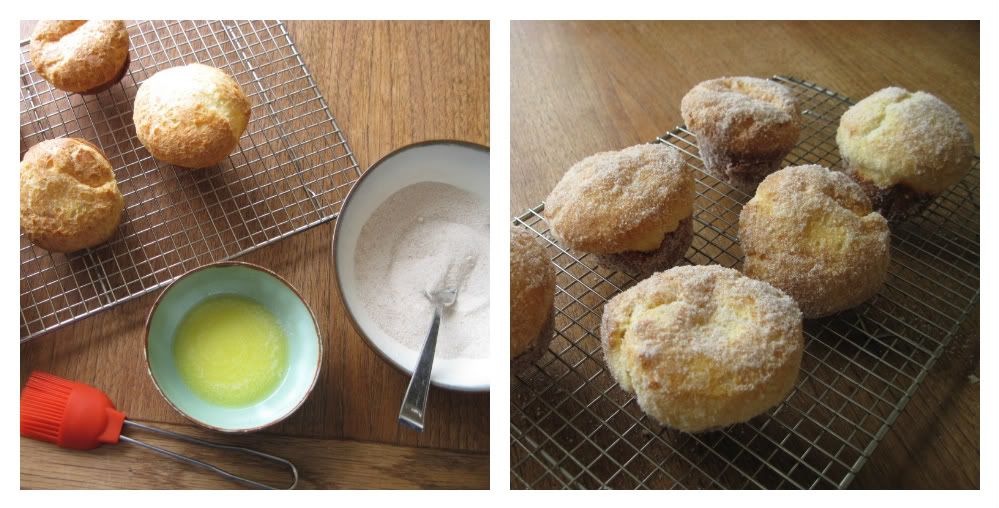 These are best eaten the day they are made (which shouldn't be a problem!).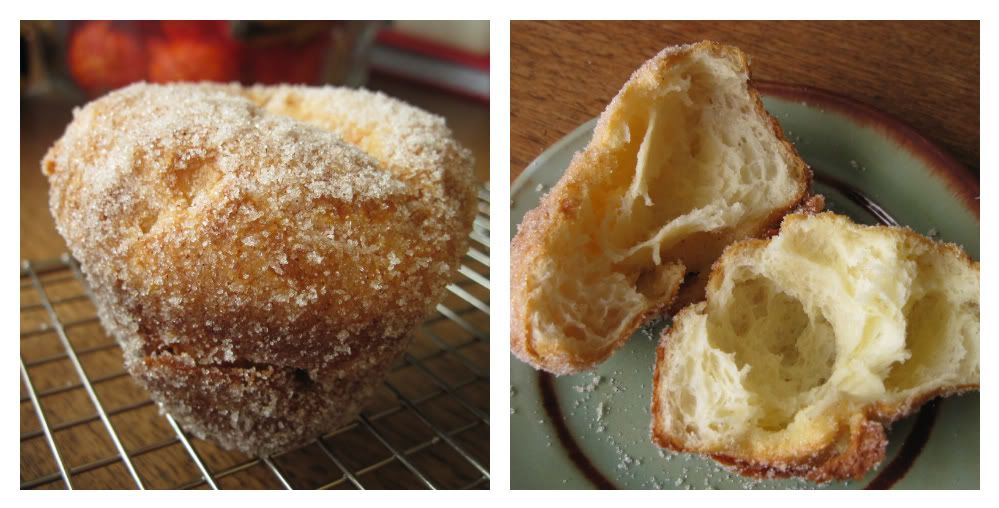 Save