I've been looking for an excuse to make the Rebar chocolate cake ever since Kate at Venison for Dinner posted about it a week or so ago. Valentine's Day seems like a pretty dang good excuse, no?
Rebar is a local restaurant that specializes in highly delicious, mostly vegetarian cuisine, and in addition to food like this amazingly decadent chocolate layer cake, they are also known for their wheatgrass shots and other crunchy-granola-hippie specialties. Several years ago they came out with a cookbook and it is a favorite of mine. I've had this recipe bookmarked for a while and have heard rave reviews from anyone who's made it, but I never got around to it – until now. And I am kicking myself for not having made it sooner, because I have three words for you: BEST. CAKE. EVER.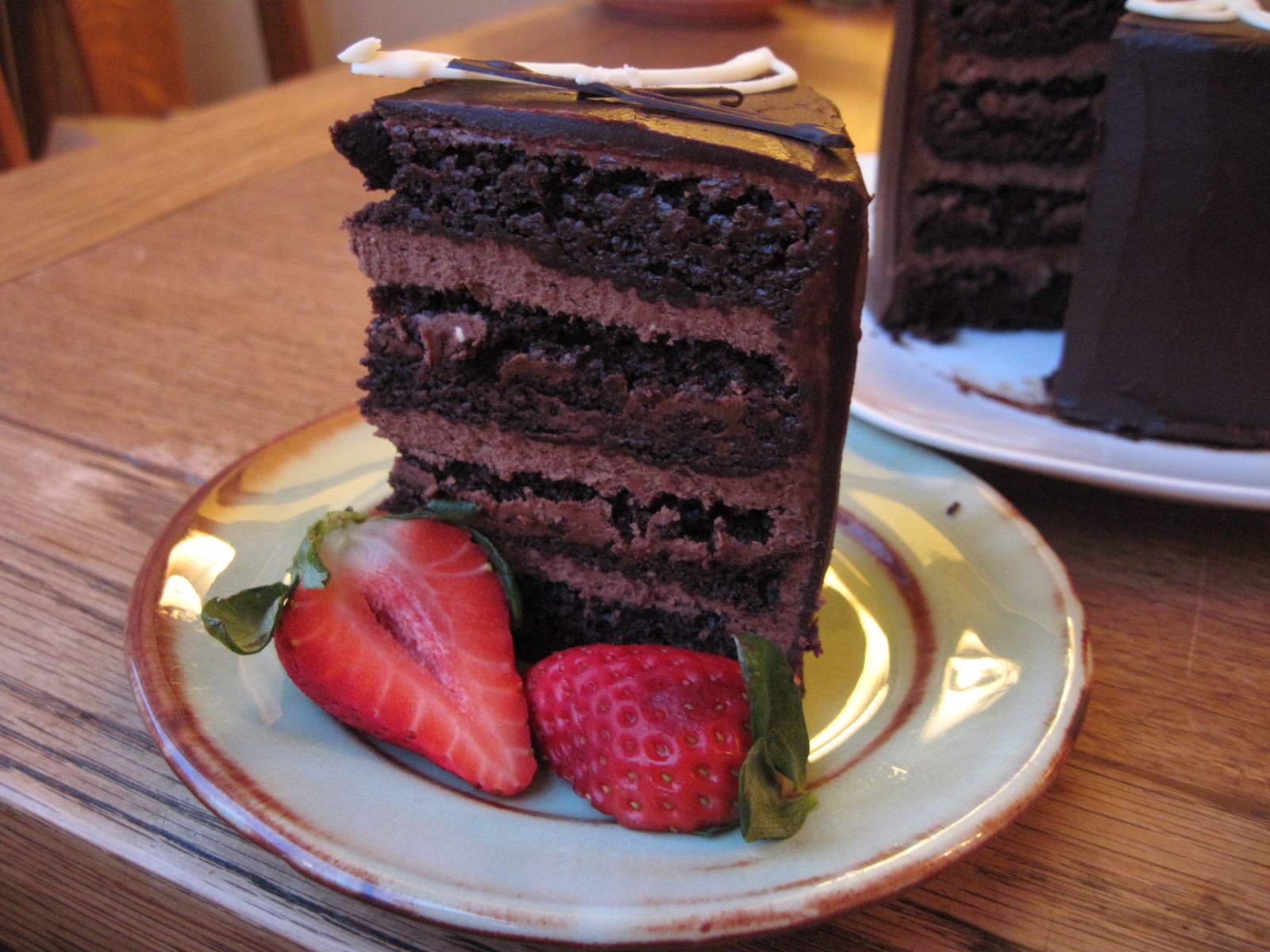 Like all of the good chocolate cake recipes I've ever made, this one contains cocoa powder, buttermilk, and coffee (which doesn't flavour the cake, but instead makes it more chocolately). The only change I made to the recipe was to add some actual chocolate to the batter, because in my opinion, you should always add more chocolate. The chocolate cream cheese filling contains both dark and milk chocolate (I used the last of a giant milk chocolate Toblerone from Christmas so it has tiny bits of nougat and almond in it), and the whole thing is topped off with a dark chocolate ganache.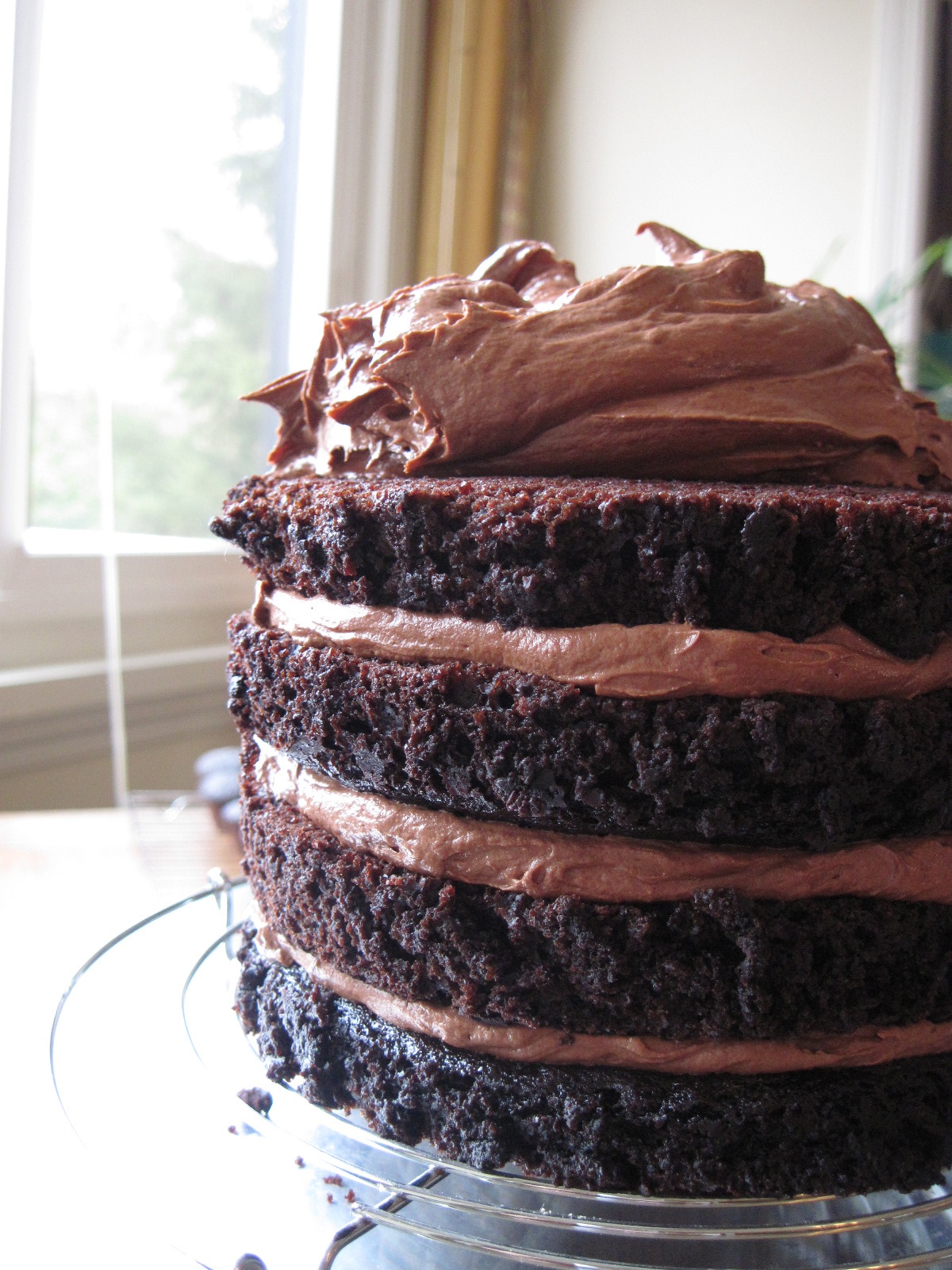 Given all the chocolate, butter, and cream cheese, this is not an inexpensive dessert, but it's so worth it, and it was actually quite easy to make. Next time I might jazz it up with some raspberry purée or something added between the layers, but it is pretty perfect as is.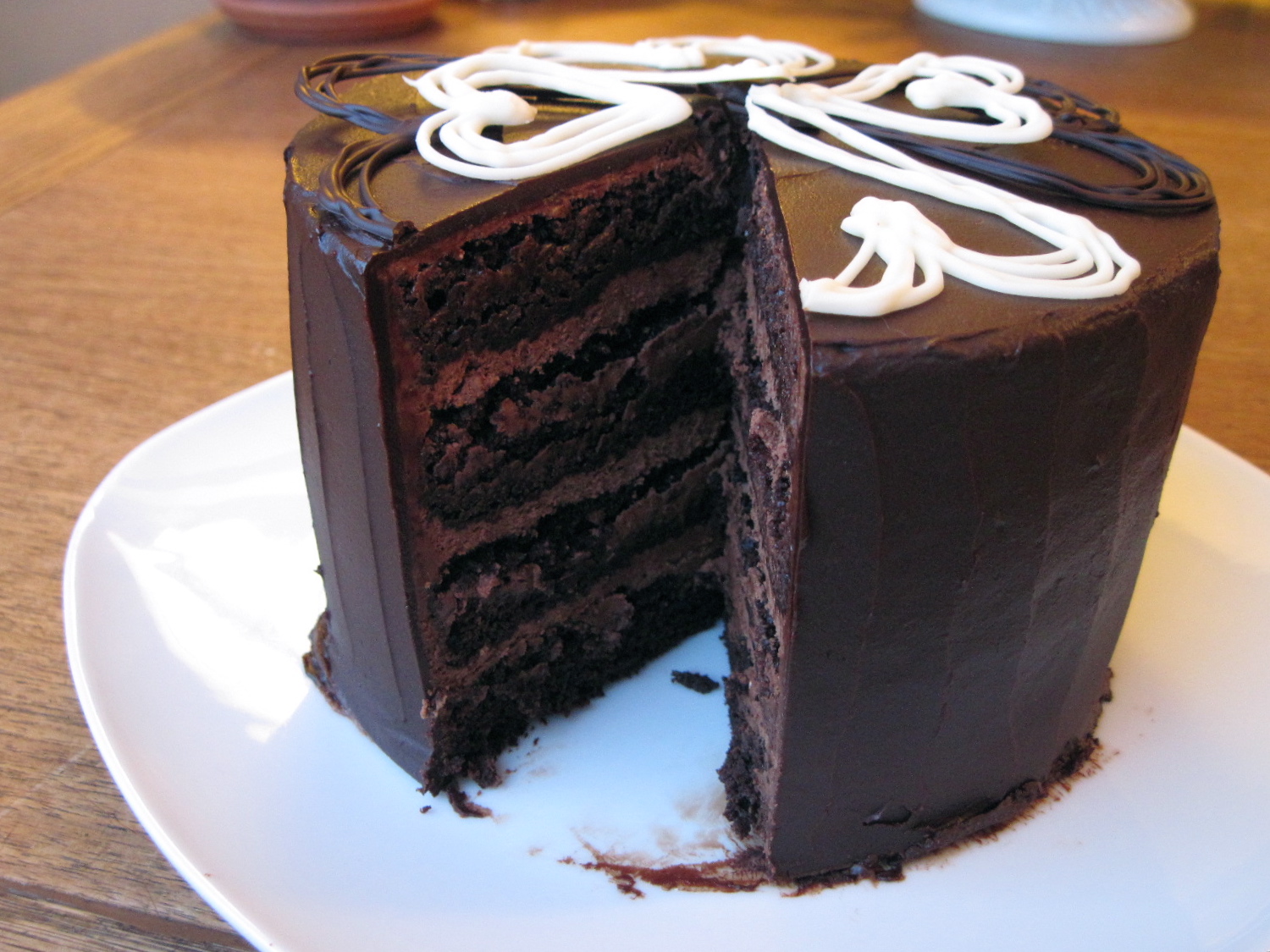 Happy Valentine's Day! Make this cake for someone you love – I guarantee they will love you back!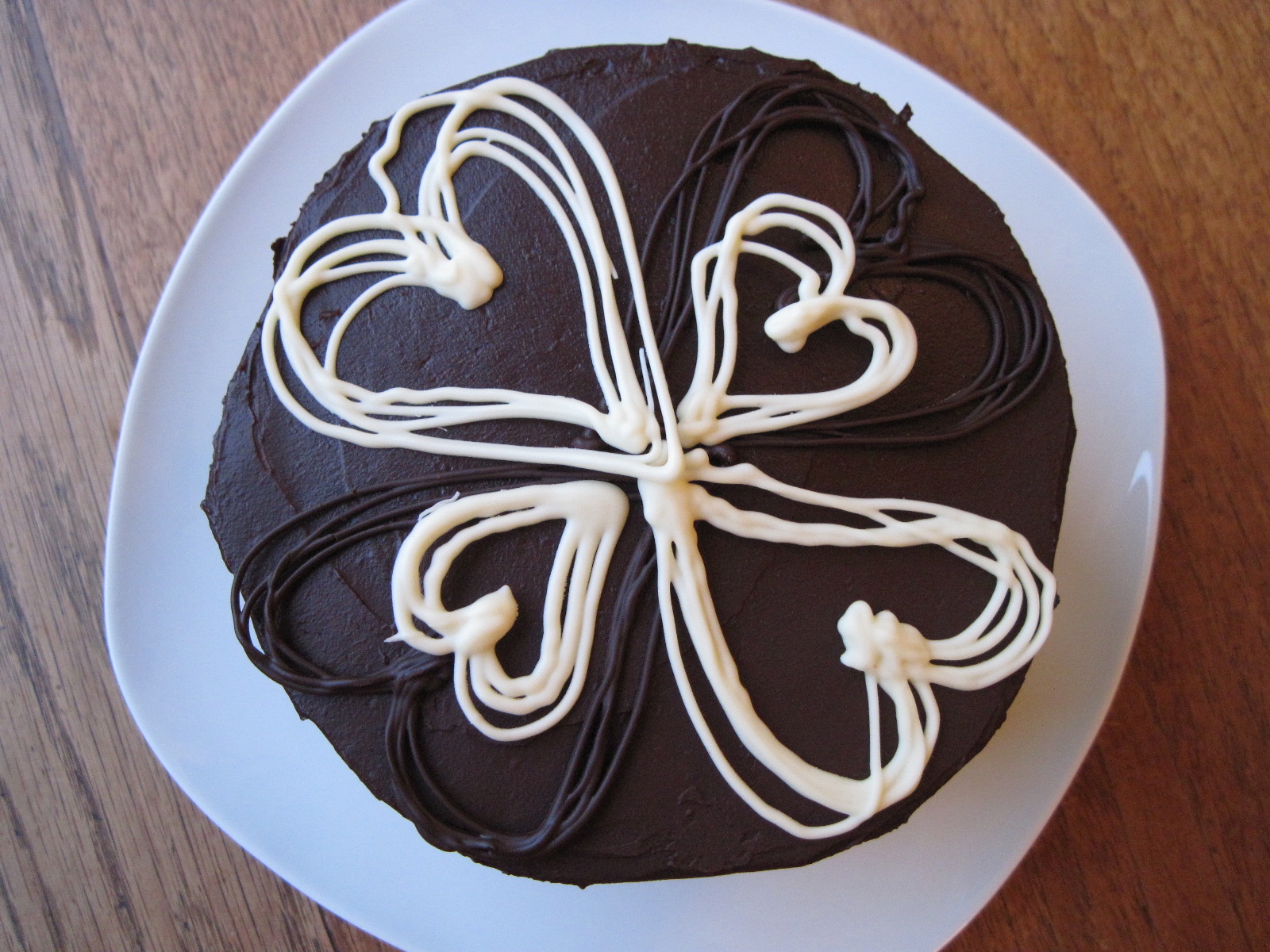 Rebar Chocolate Cake
This recipe is supposed to make one 3-layer, 8-inch cake, but because only Nate and I are around to eat it, I baked half the batter into two 6-inch layers (which still ended up making a cake that could easily feed 8 people!) and the rest into tiny cupcakes to take to work (I ended up with 20). I baked it at a lower temperature (325˚F instead of 350˚F) and wrapped the pans in wet strips of towel to get perfectly baked, even layers. From Rebar Modern Food Cookbook.
The Cake
Preheat the oven to 325˚F. Prepare three 8-inch round cake pans by lining the bottoms with parchment paper, greasing them, and dusting them with cocoa powder. Set aside.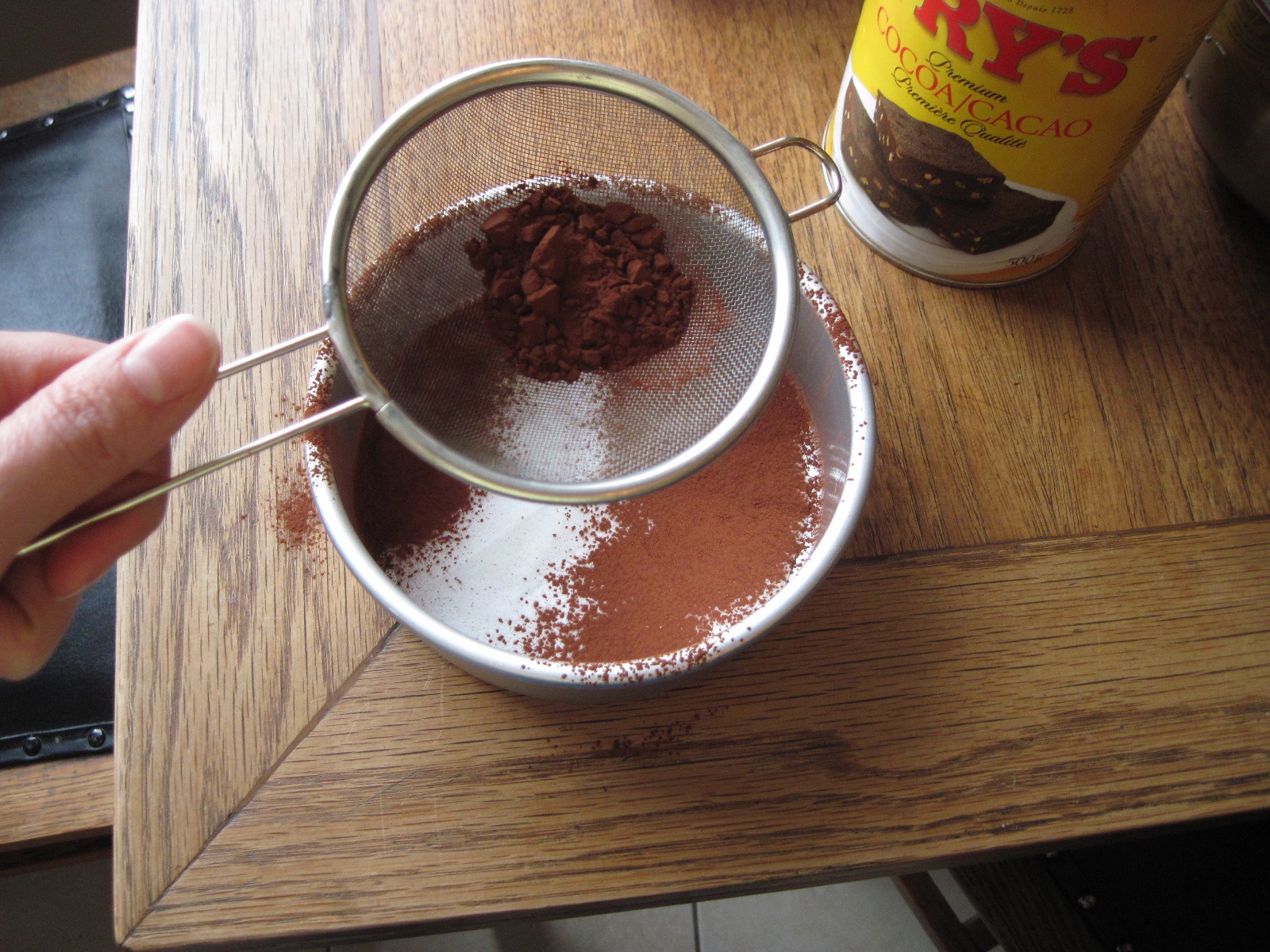 In a small bowl or measuring cup, combine:
2 oz dark chocolate, chopped
3/4 cup hot, strong coffee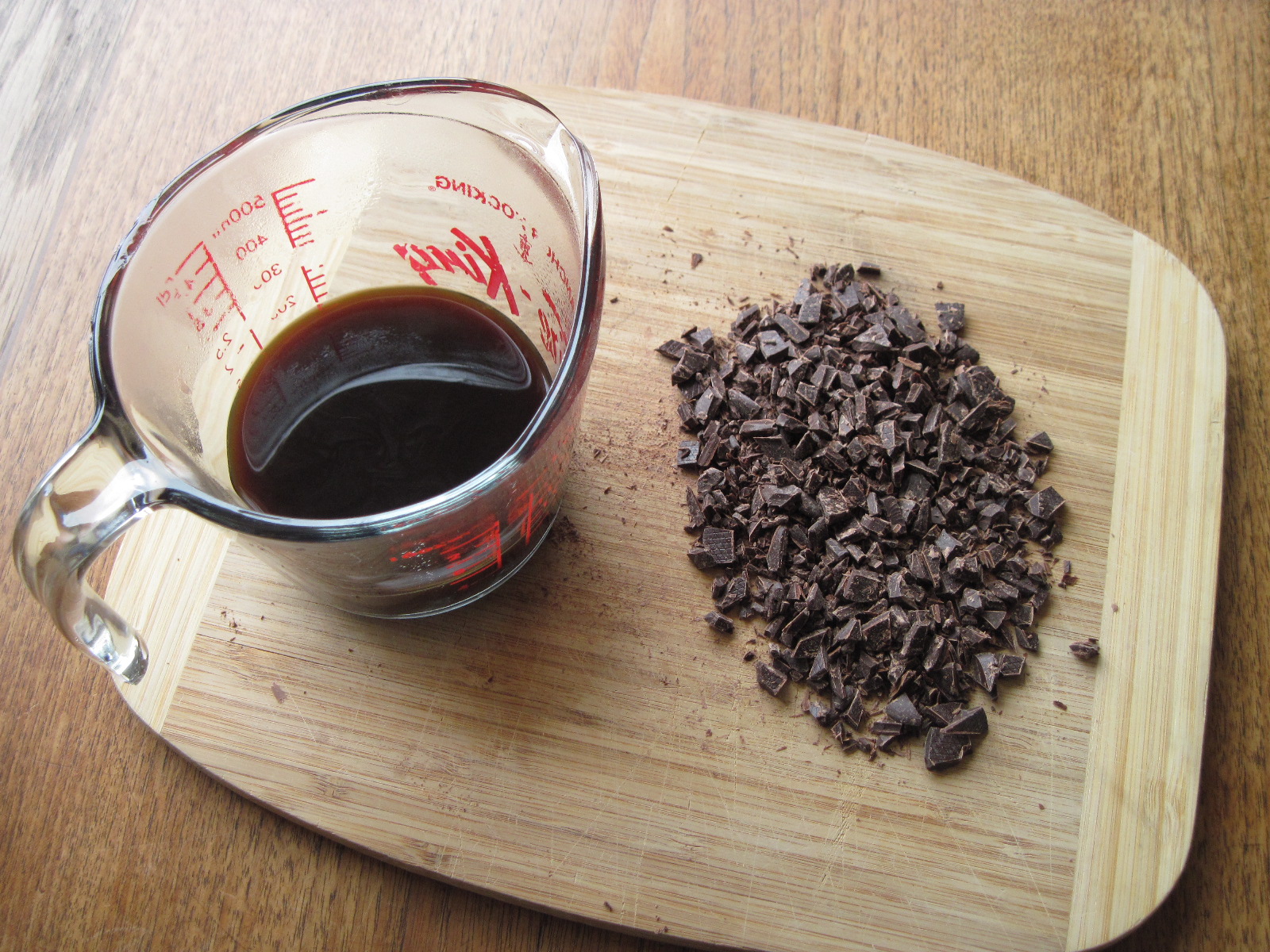 Stir to melt the chocolate and set aside to cool.
In a mixer bowl, combine:
1 1/2 cups light brown sugar (or 1 cup dark brown sugar + 1/2 cup white sugar)
1 1/2 cups all purpose flour
1/2 cup Dutch process cocoa powder
1 1/2 tsp baking soda
3/4 tsp baking powder
1/4 tsp salt
With the whisk attachment, mix the dry ingredients on low speed to combine so there are no lumps.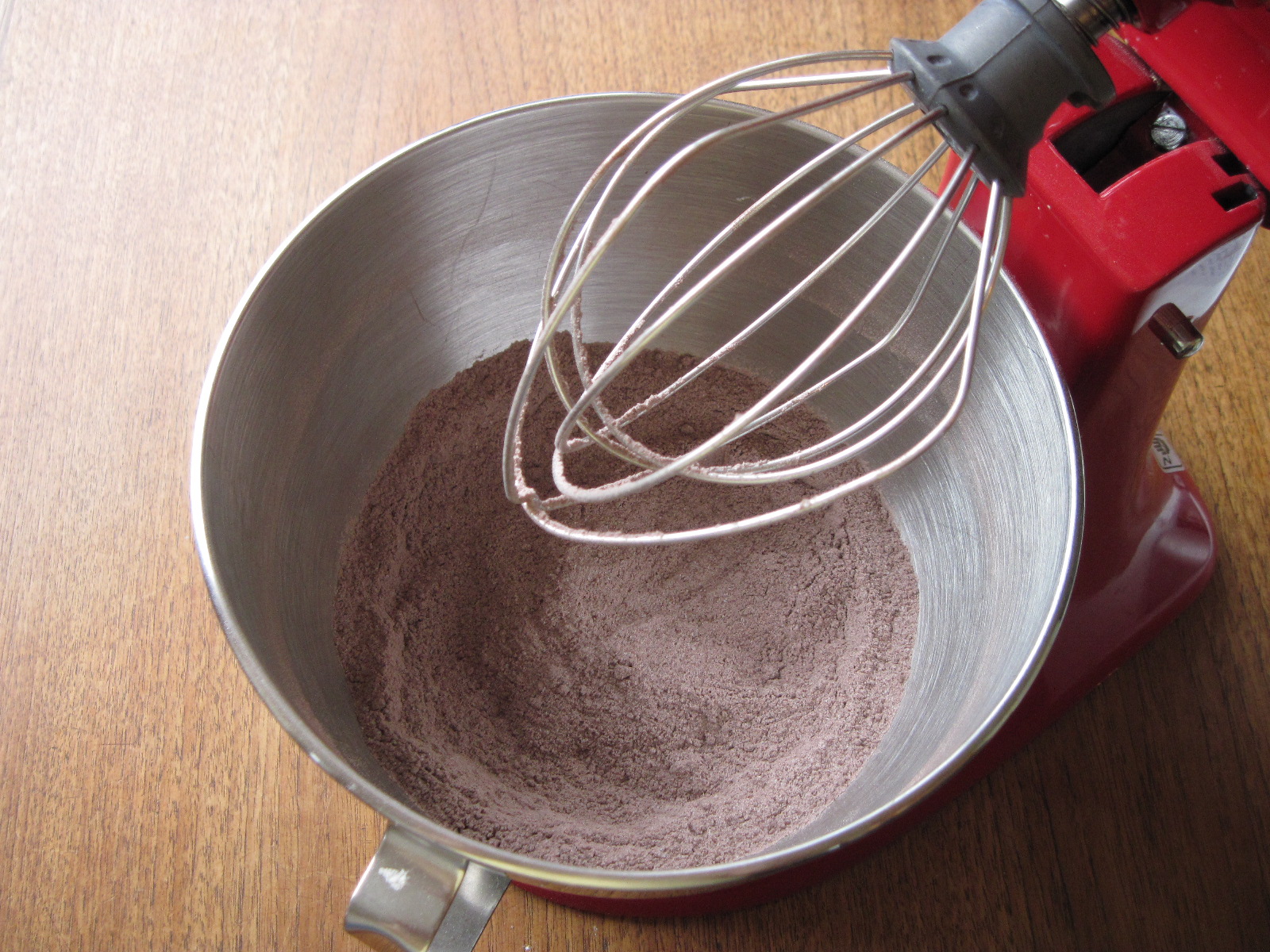 Add:
2 eggs
3/4 cup buttermilk (or 3/4 tbsp white vinegar + enough milk to make 3/4 cup)

1/3 cup vegetable oil
1 tsp vanilla
the cooled coffee/chocolate mixture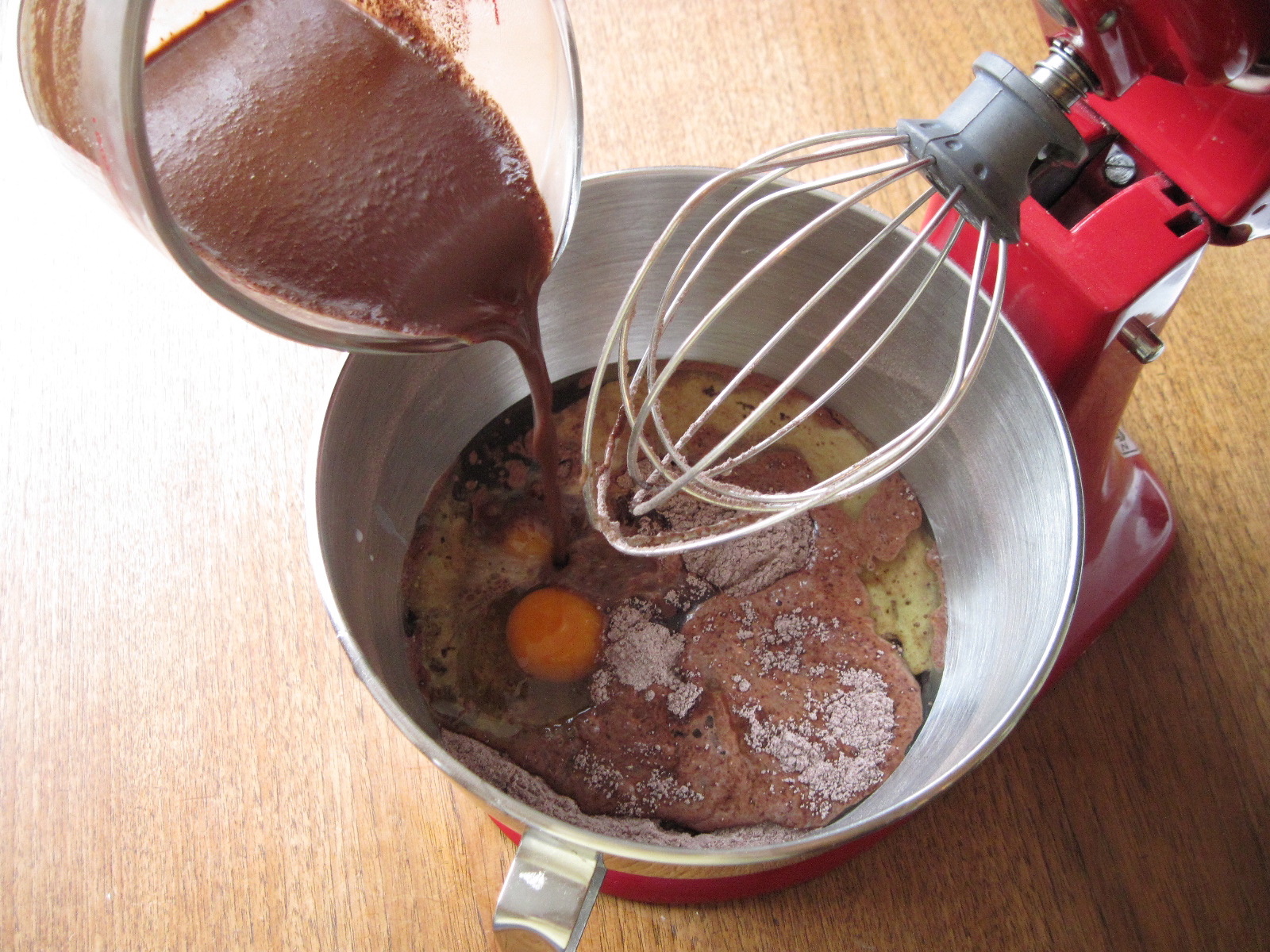 Mix on medium low for a few minutes, scraping down the sides as necessary. The batter should be thick but pourable.
Divide the batter between the prepared pans and wrap the outside of each pan with a strip of wet towel.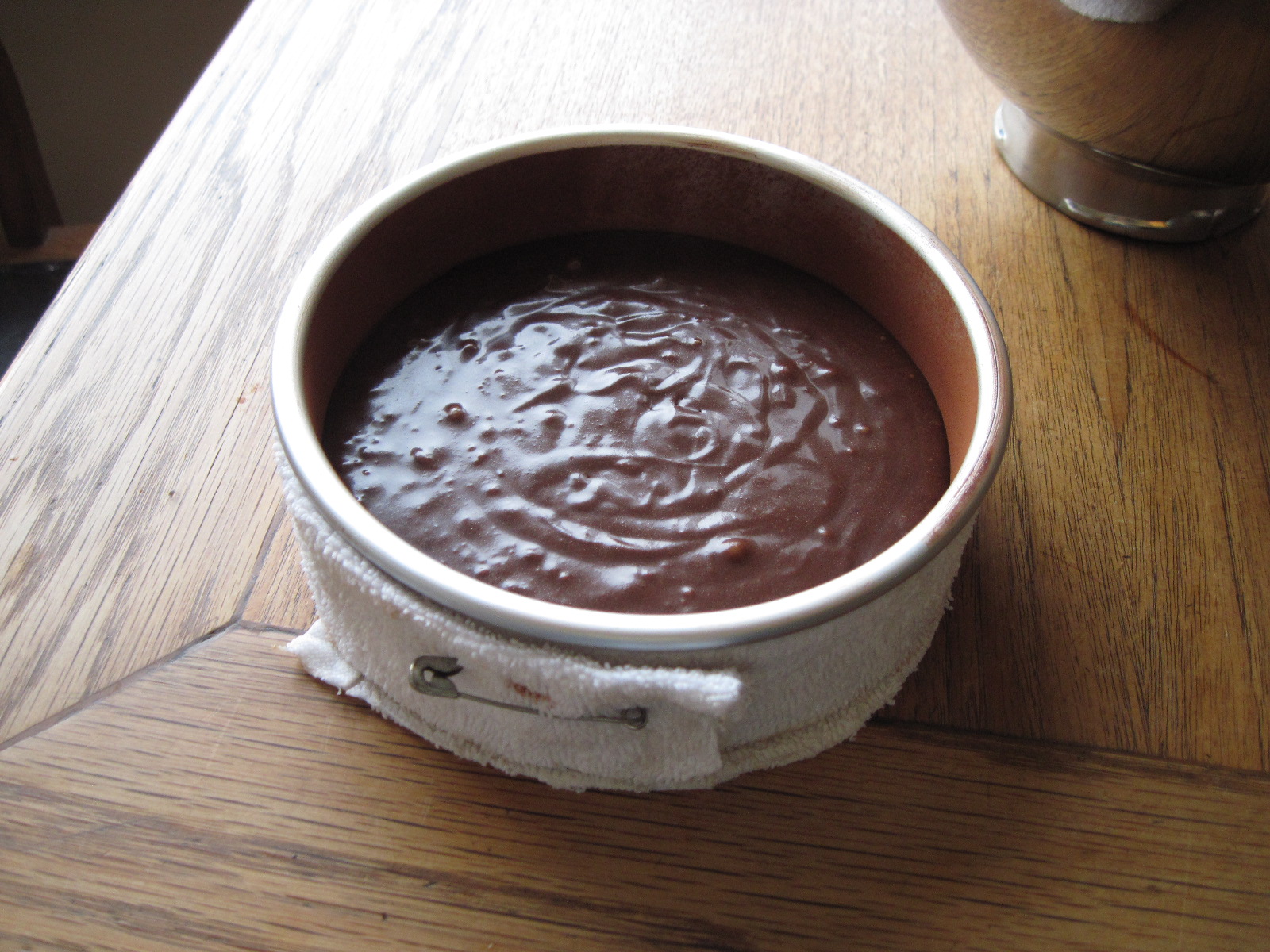 Bake at 325˚F for 35-45 minutes (this was the time range for a 6-inch cake, but should be similar for an 8-inch cake), until a toothpick inserted in the middle comes out clean.
Let cool in the pan for 5 minutes, then run a knife around the edge and invert onto a cooling rack. Peel off the parchment paper and let the cake layers cool completely. Chill them in the fridge to make them easier to handle when assembling the cake.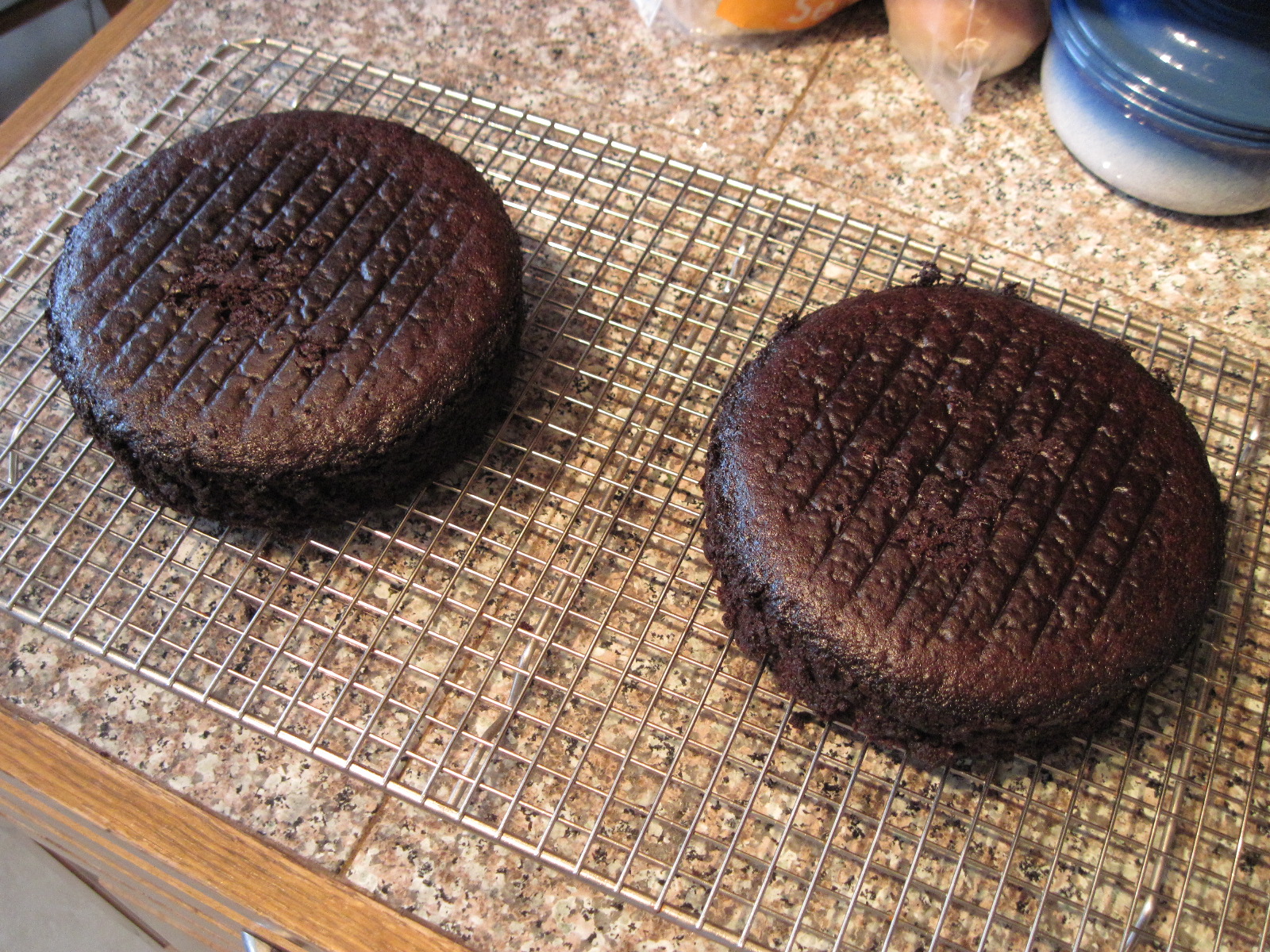 The Filling
Over a double boiler, melt:
5 oz dark chocolate, chopped
5 oz milk chocolate, chopped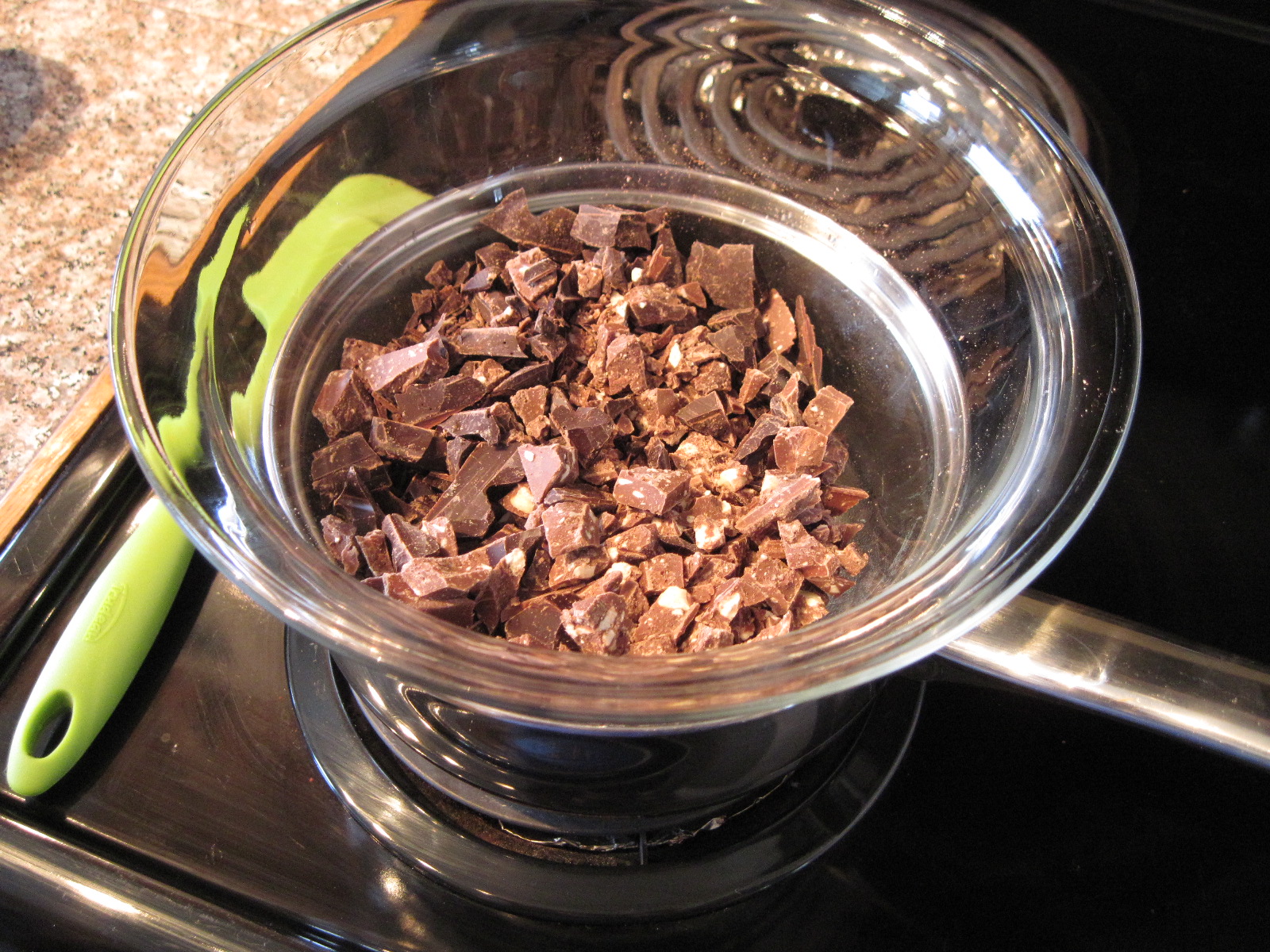 Set aside to cool for about 10 minutes.
In a mixer bowl with the whisk attachment, cream together:
1/2 lb unsalted butter, softened
1/4 lb cream cheese, softened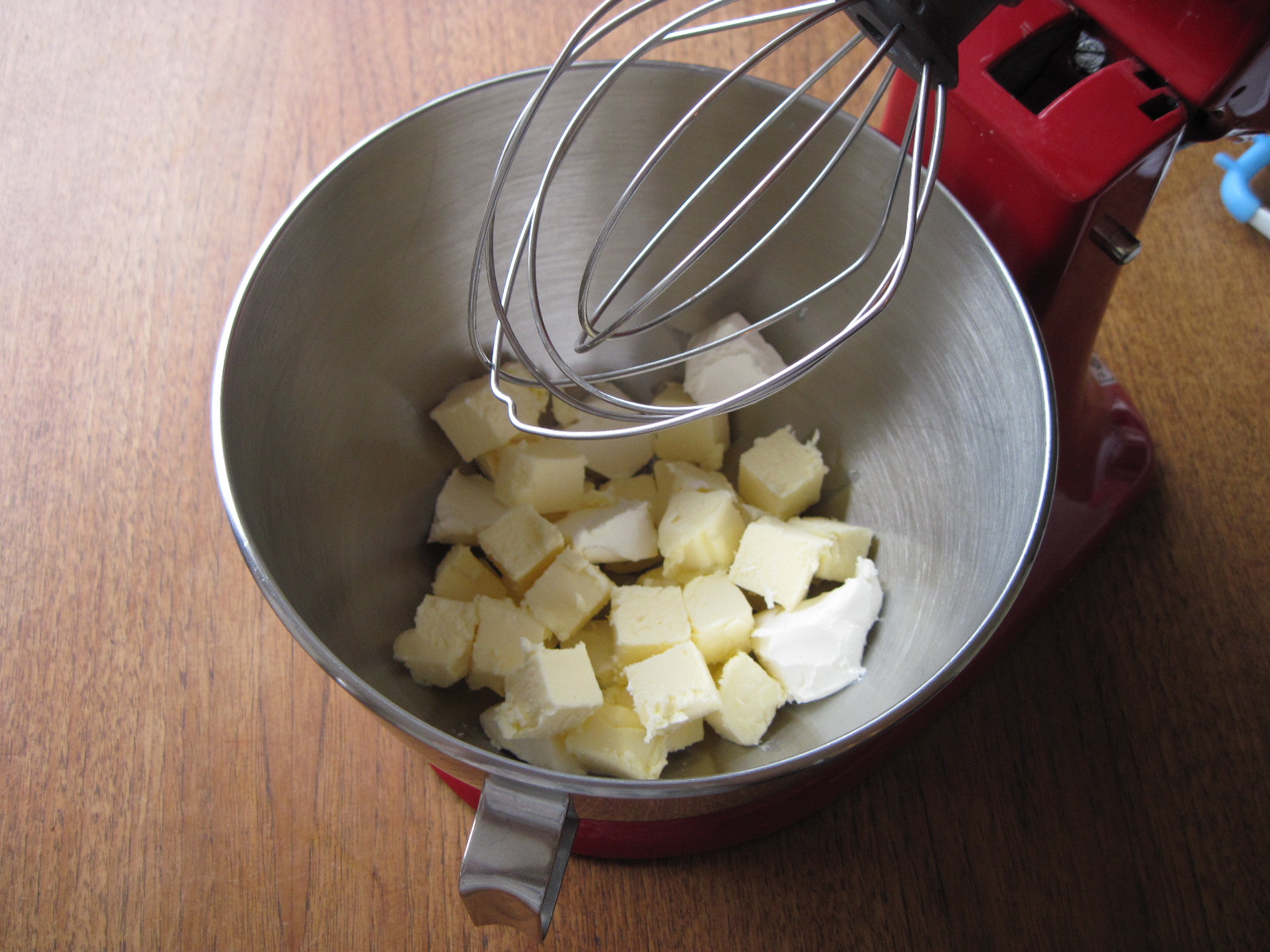 Add the cooled chocolate and 1 tsp vanilla.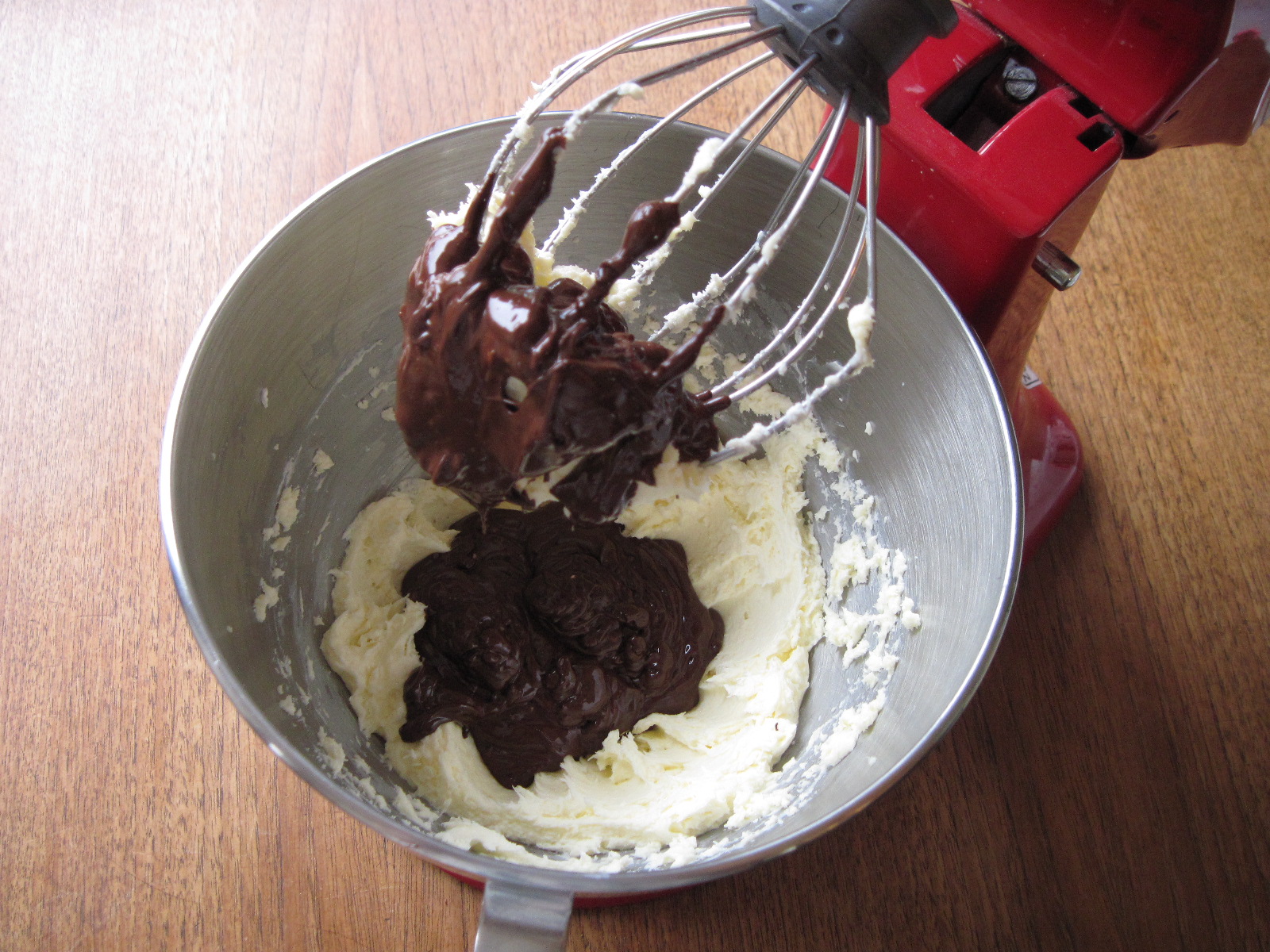 Beat until fluffy, scraping the bowl as necessary.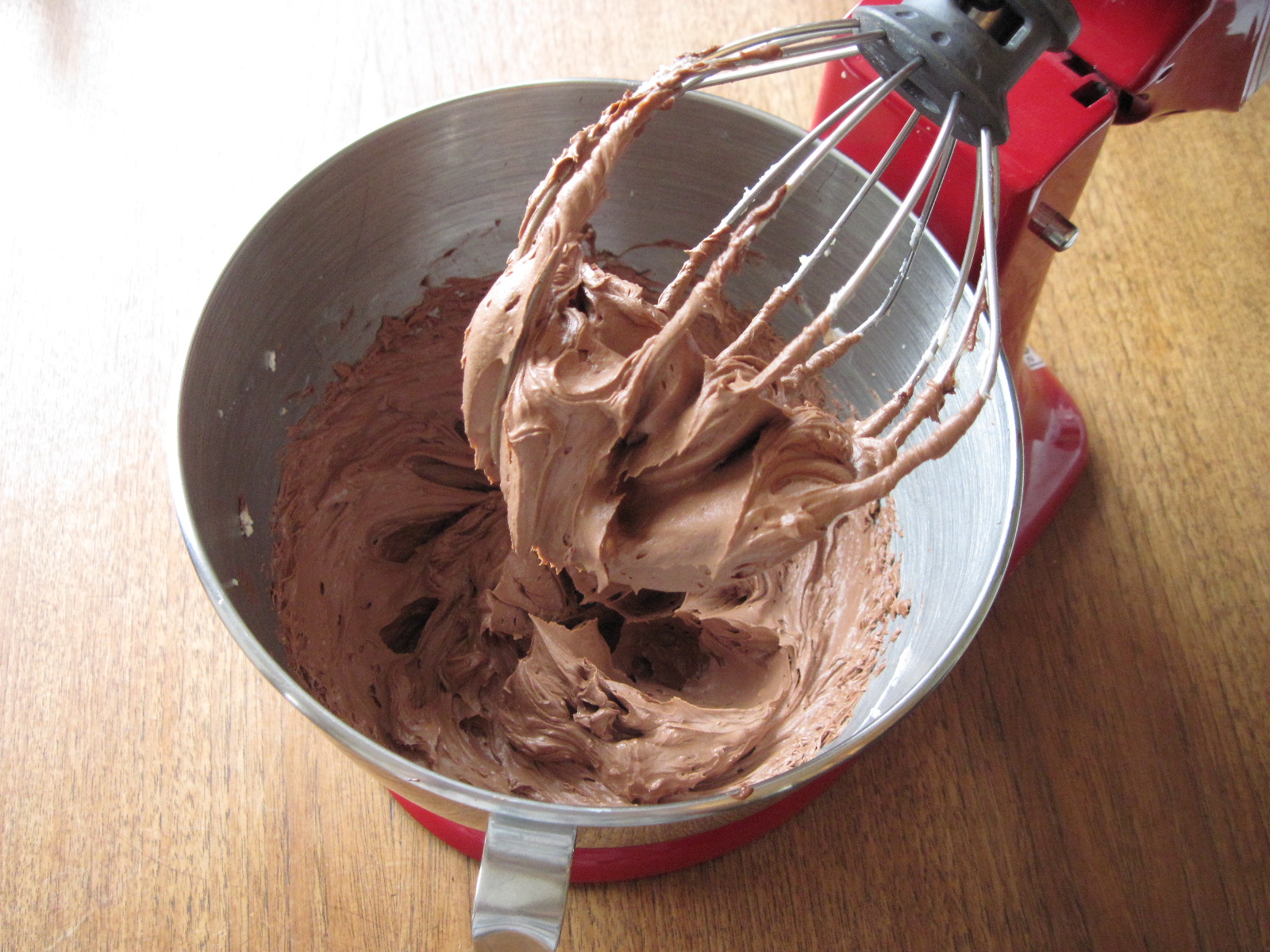 To assemble, place one layer of the cake on a cooling rack, which will help keep things neat when you pour the ganache over top. Fill the cake layers with 2/3 of the chocolate cream cheese filling, and spread the remaining 1/3 over the top and sides of the cake (it doesn't have to be perfect as it will be covered in chocolate ganache!).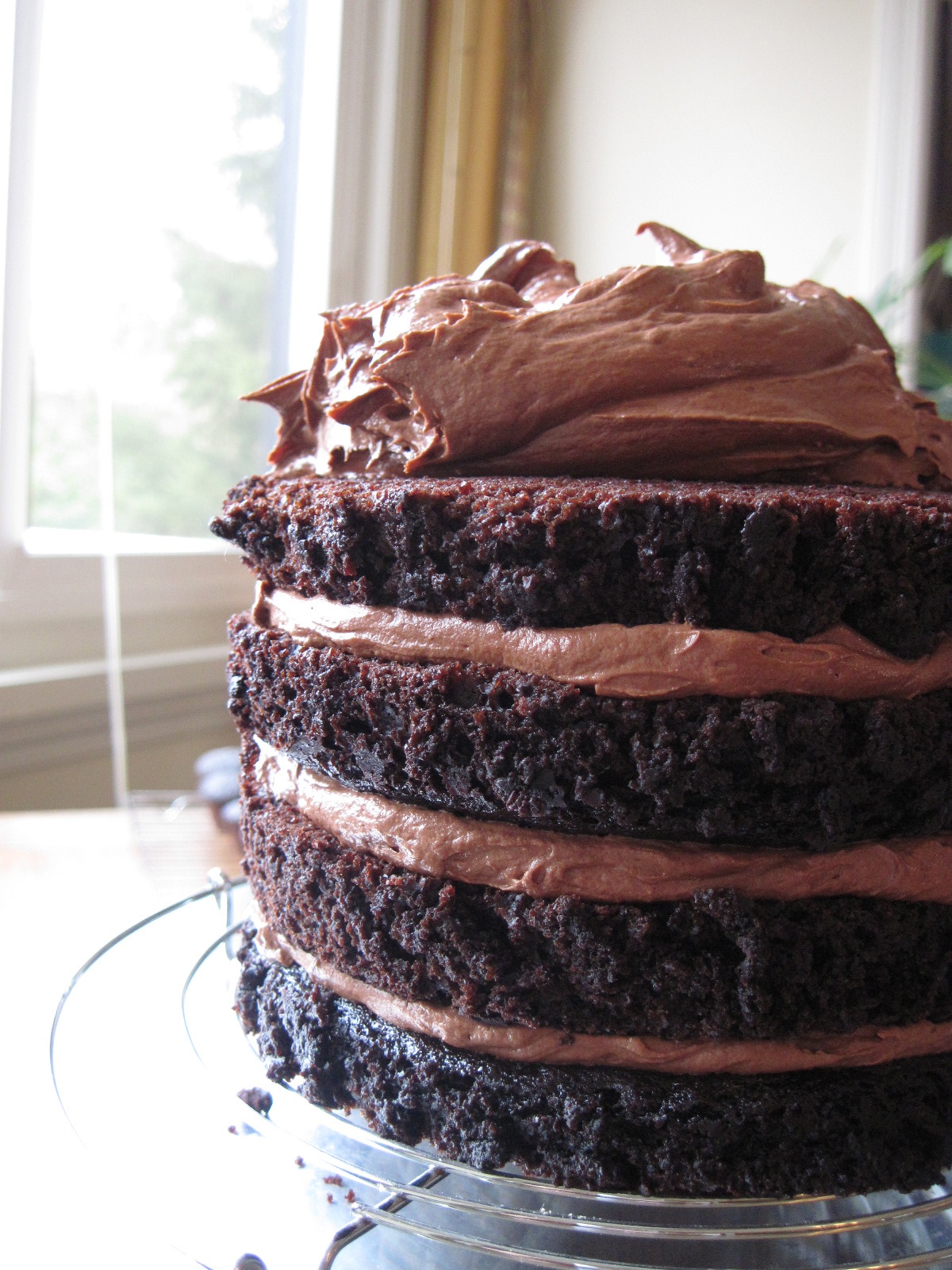 Chill the cake in the fridge while you make the ganache.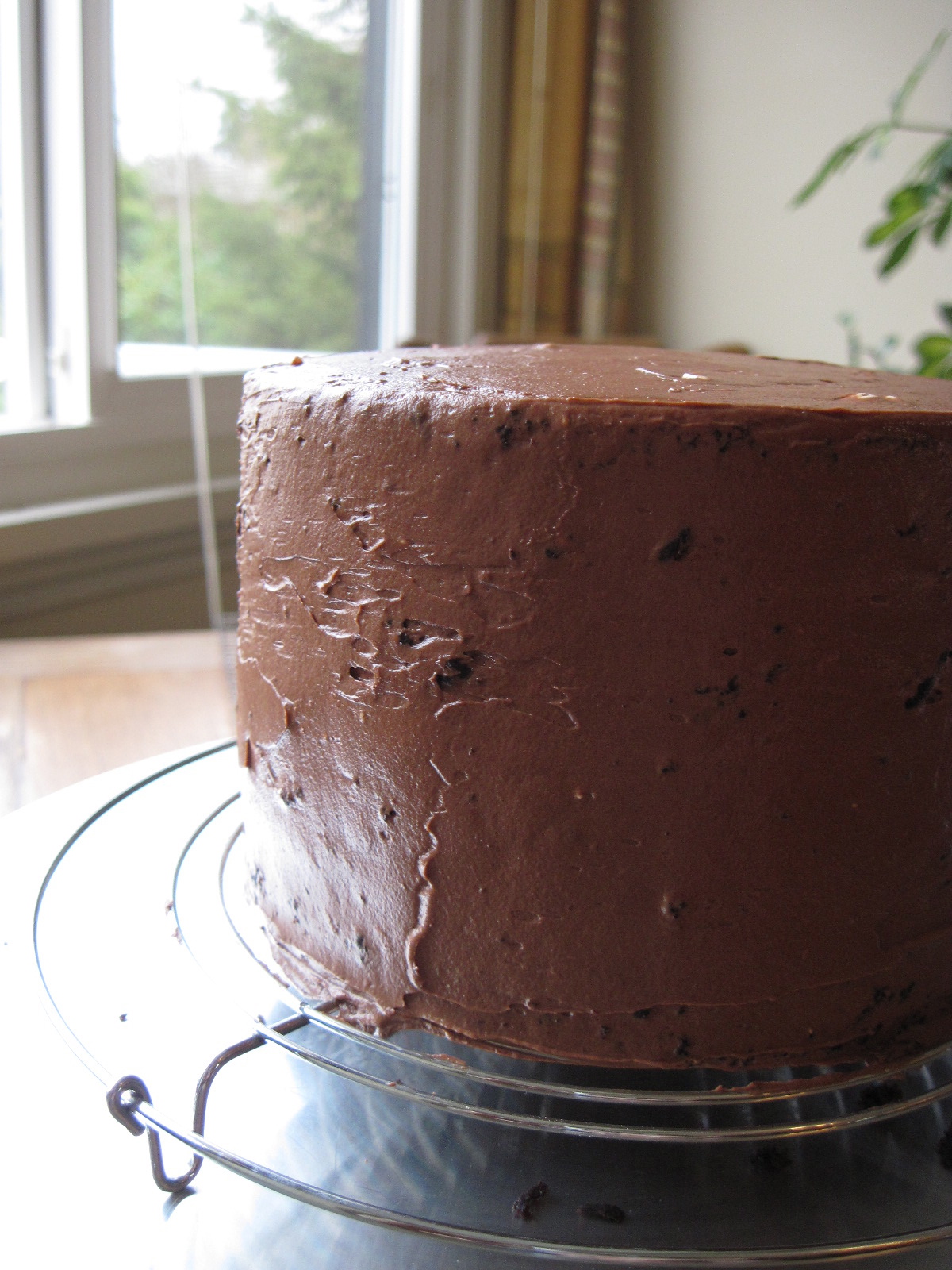 The Ganache
In a saucepan, heat until just below scalding:
1/2 cup whipping cream
1 tbsp unsalted butter
When it is hot, pour it over:
5 oz dark chocolate, chopped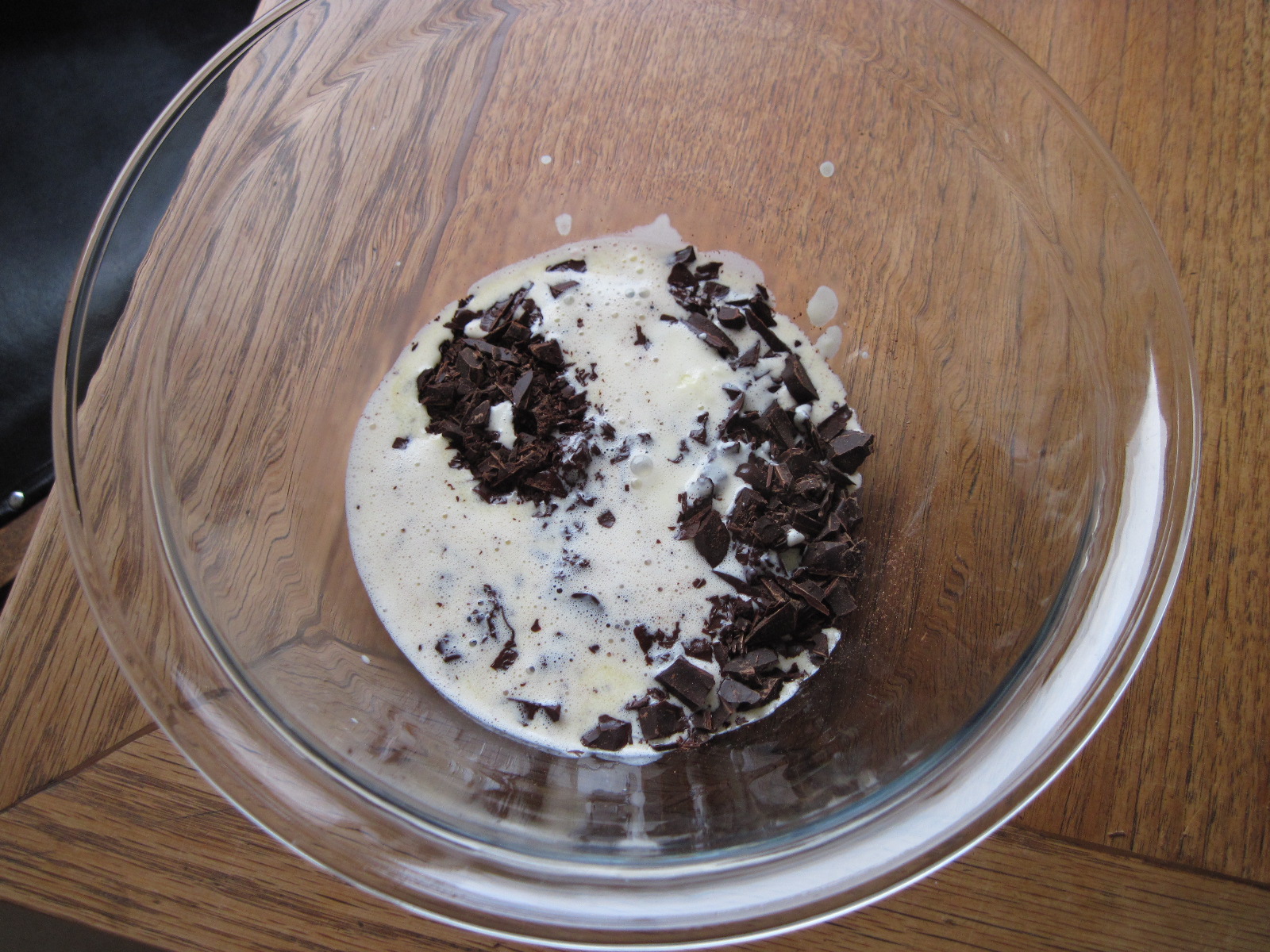 Let it sit for a few minutes, then stir until smooth.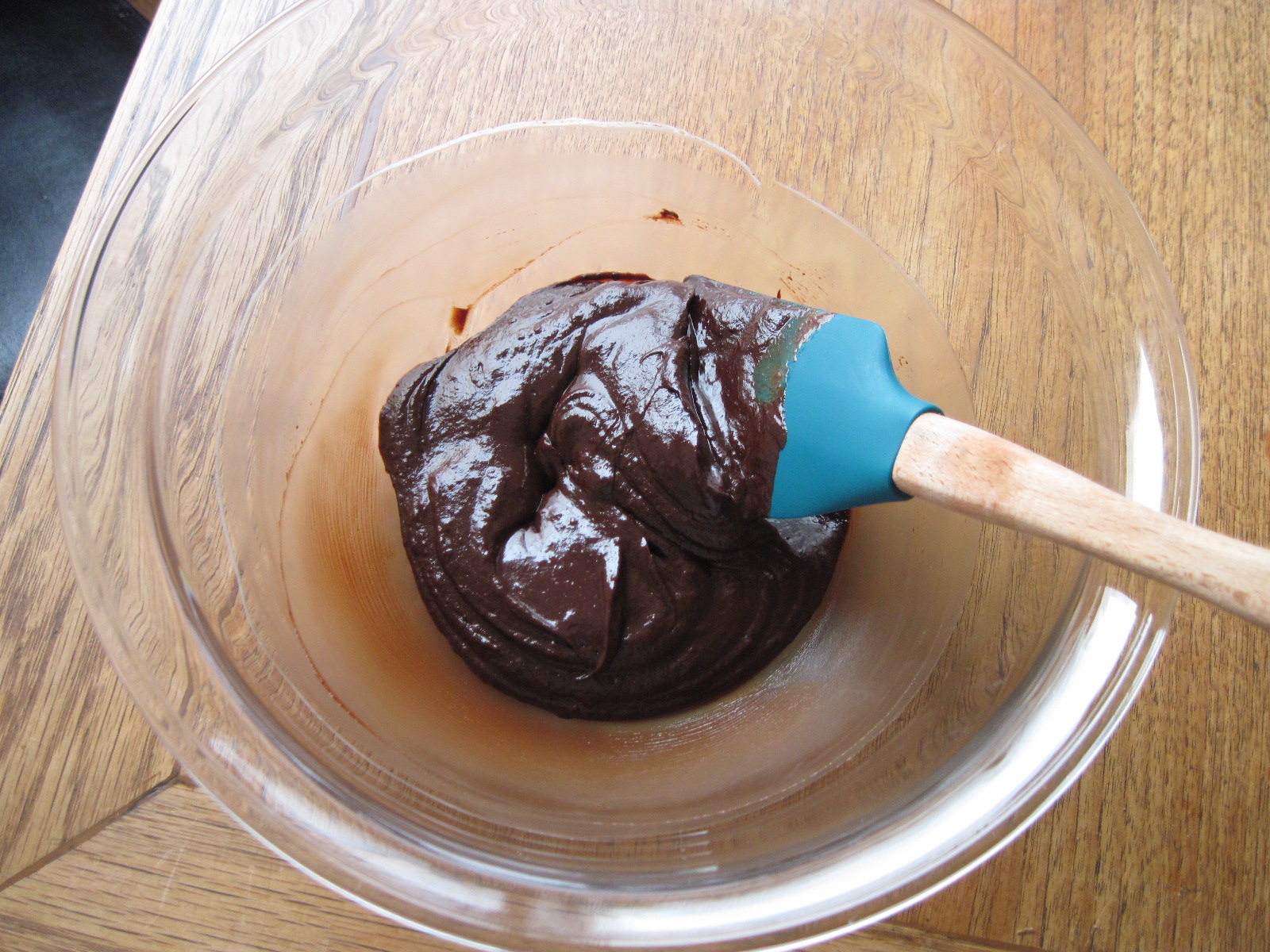 Let it cool slightly, then pour it over the chilled, frosted cake.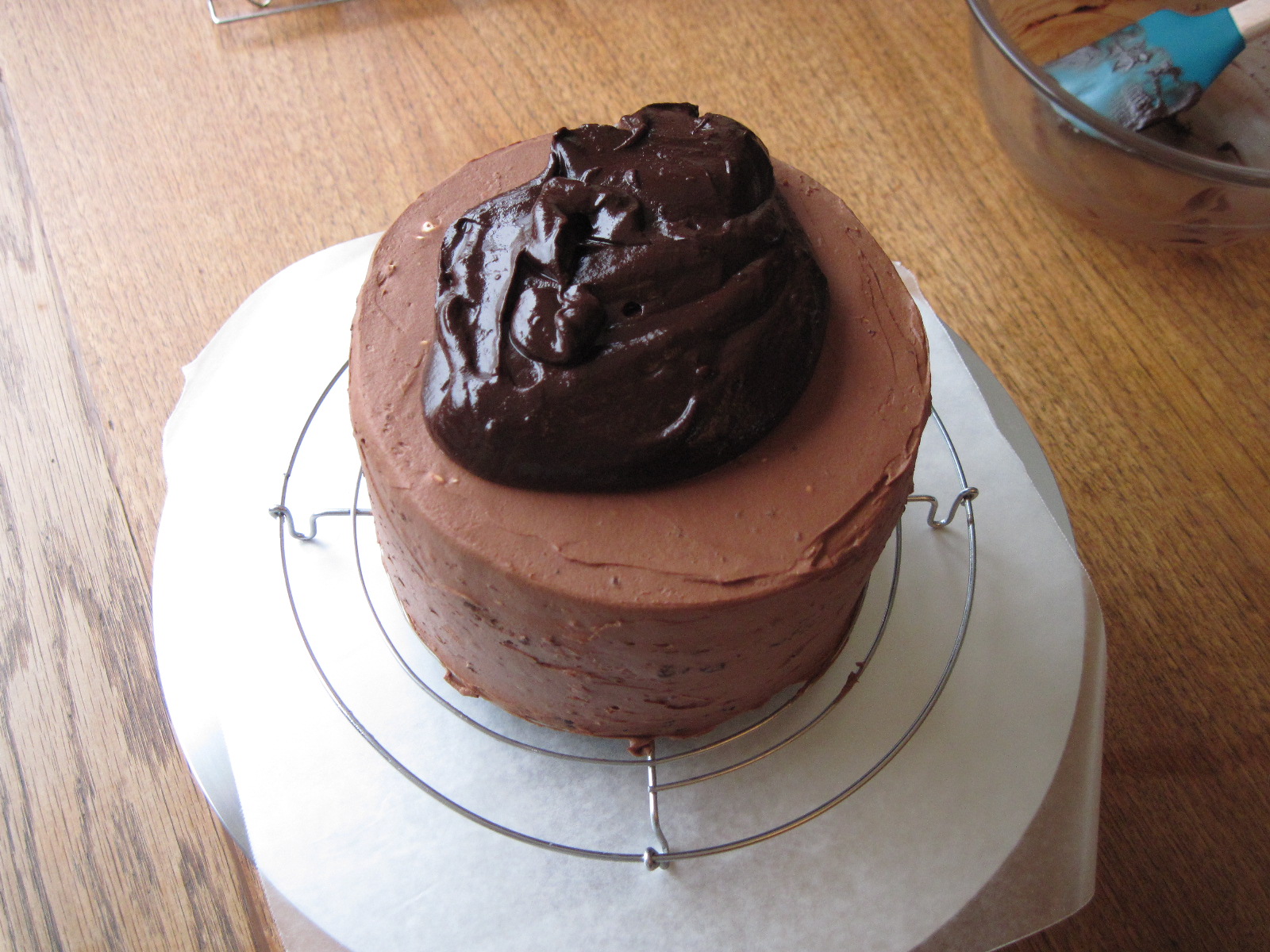 With a long spatula, spread it smoothly over the top and sides.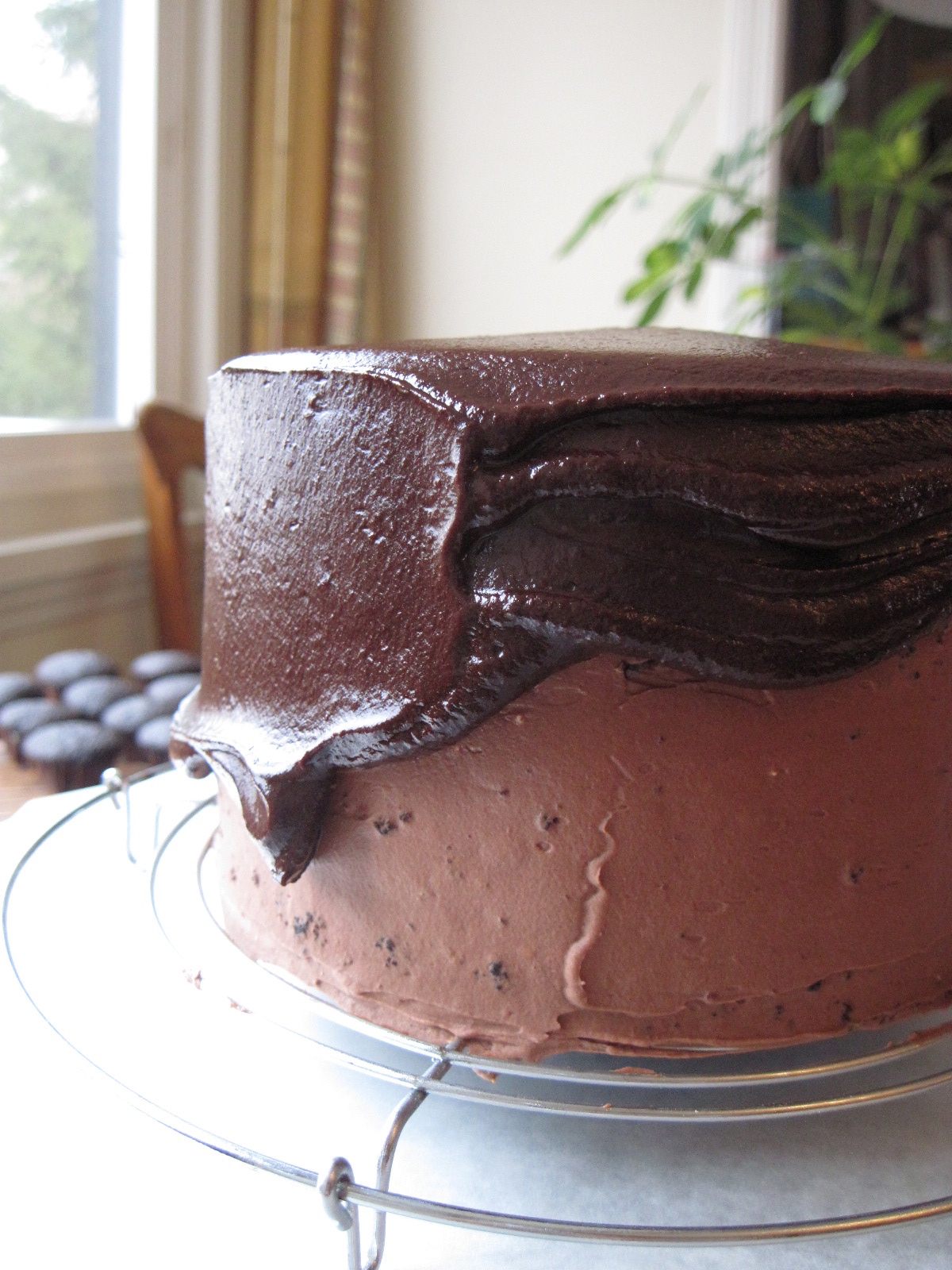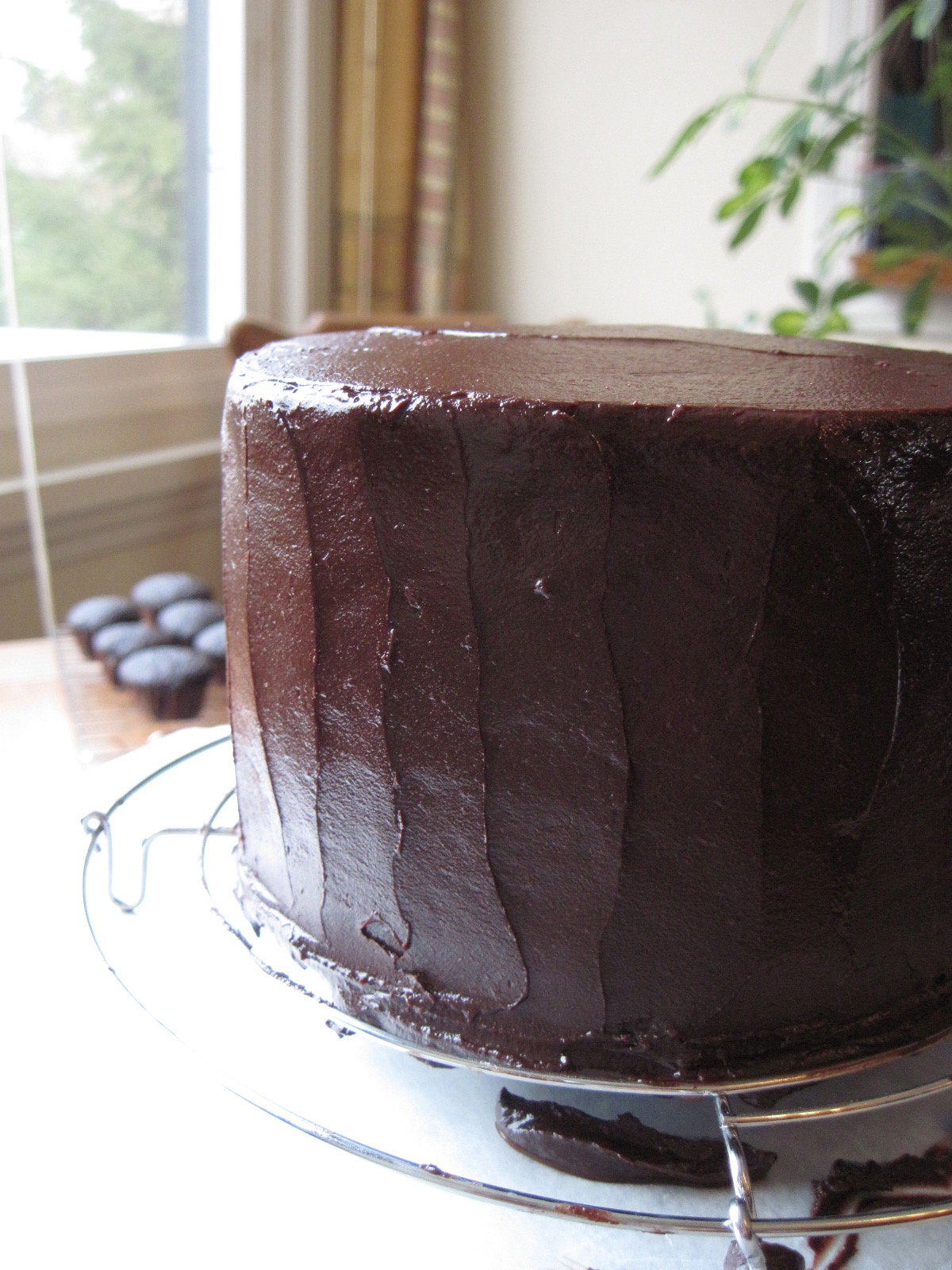 Chill again until the ganache is firm, then carefully lift the cake off the cooling rack onto a serving platter. For decoration, I piped hearts out of melted chocolate onto waxed paper, chilled them until they set, then transferred them to the cake using a thin spatula so my fingers didn't melt them.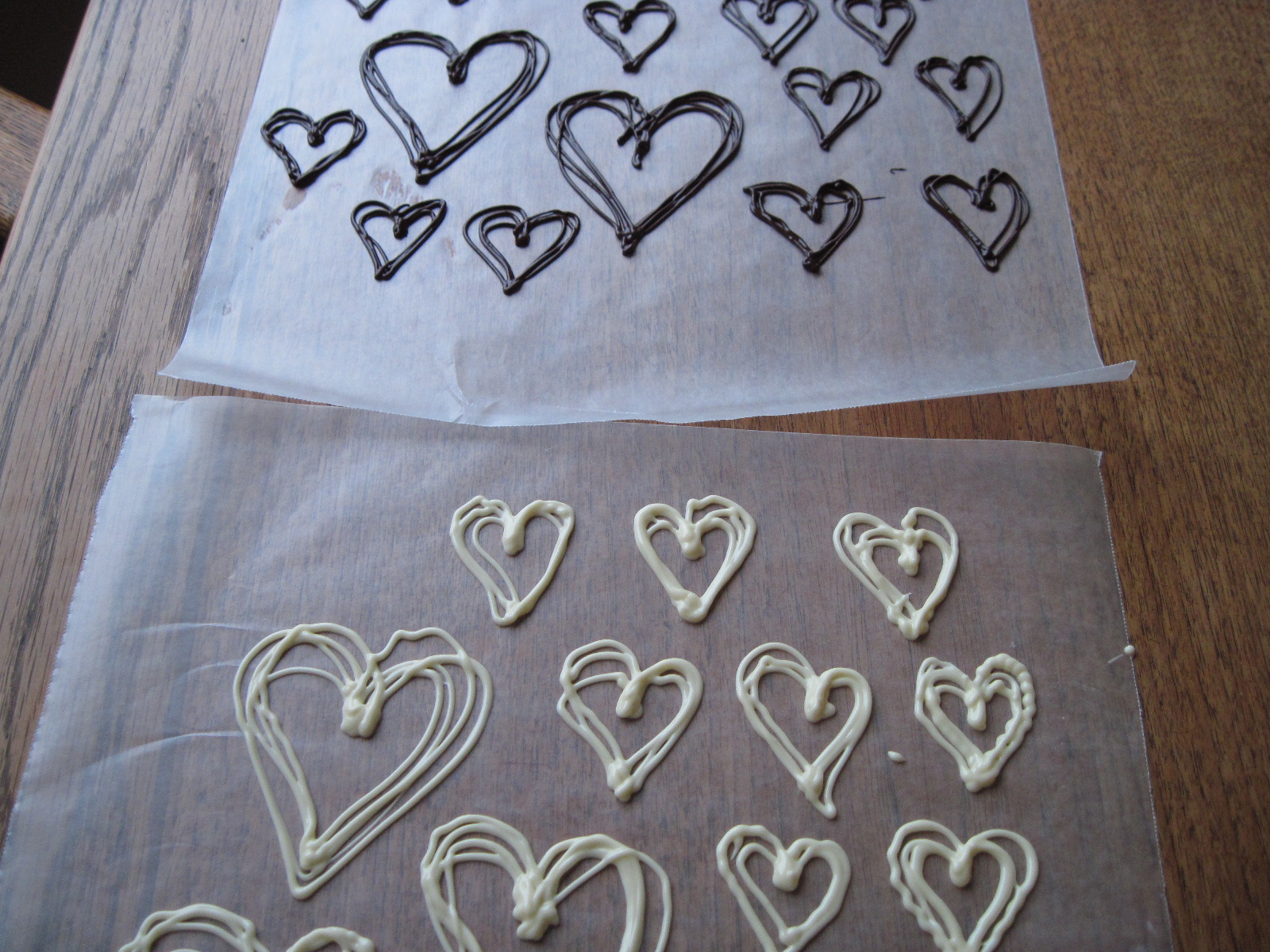 Chill the cake again before serving.