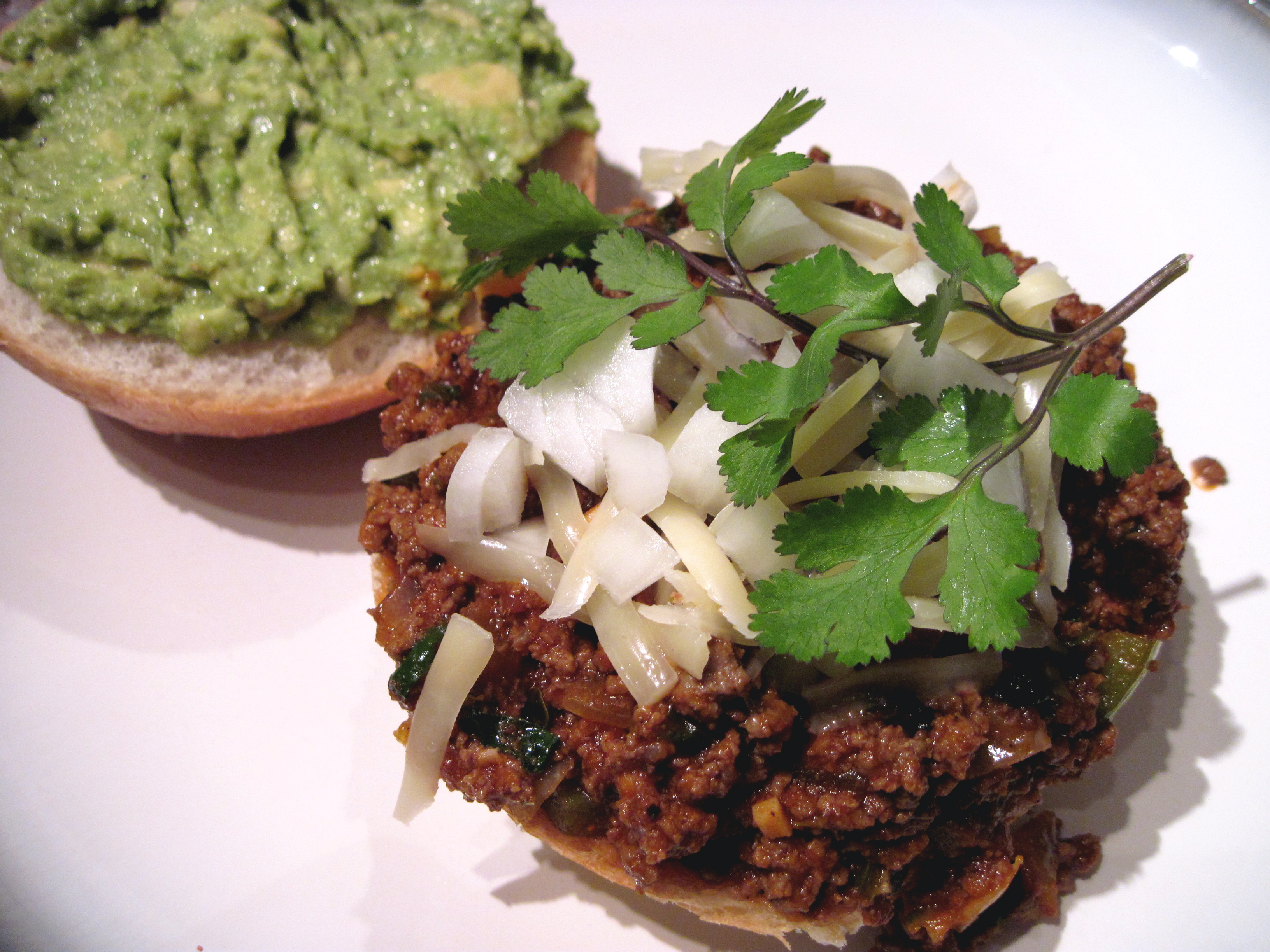 I can't honestly remember the last time I even had a sloppy Joe, but I can assure you, it was not as good as these ones were. I am a sucker for anything Tex-Mex, so as soon as I saw this recipe on Homesick Texan (which was about 8 am on a Saturday morning!), I knew I was making them for dinner. They were awesome. A little bit spicy, a little bit sweet, a really nice mix of flavours from all the spices, a bit of creaminess from the guacamole, and very, very sloppy. I made a few changes simply because I didn't have everything that was called for, and they still came out great. And the leftovers made fantastic huevos rancheros the next morning with some tortillas, refried beans, cheese, and eggs!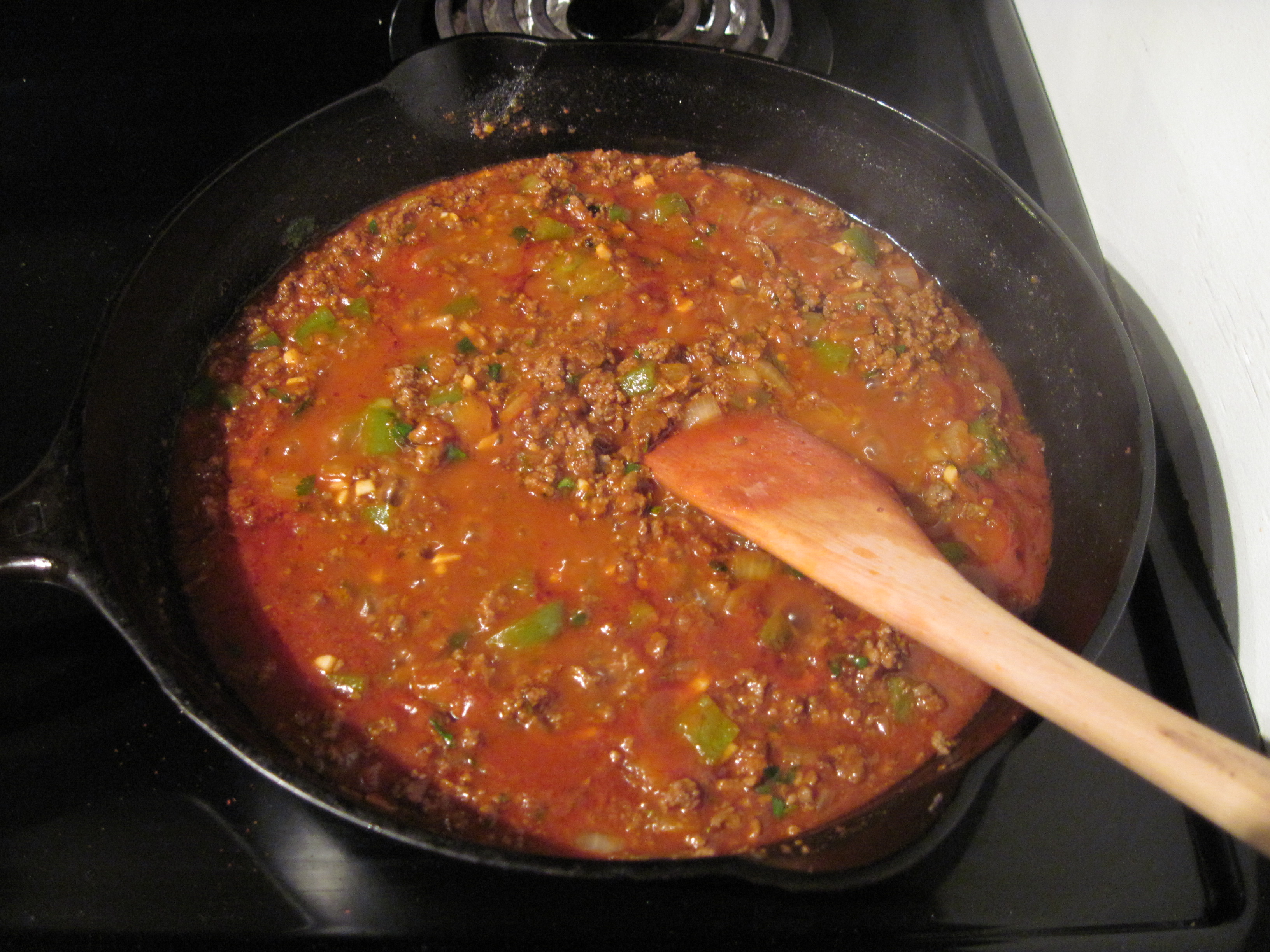 To make the chipotle purée that I used in this recipe (and that I use all the time because I friggin' love chipotle), chuck a can of chipotle peppers in adobo in the blender and purée. Store the purée in a small container in the fridge. I usually freeze half because it takes me a while to go through a whole batch – this stuff is spicy!
And as for the guacamole that tops these sloppy Joes, feel free to make your own favorite version. I don't have a set guacamole recipe, but it usually involves avocados (of course!), minced garlic, lemon or lime juice, salt and pepper, and a dash of hot sauce. If guacamole feels like too much work, sliced or mashed avocado would do the trick.

Please try these. They are really really good!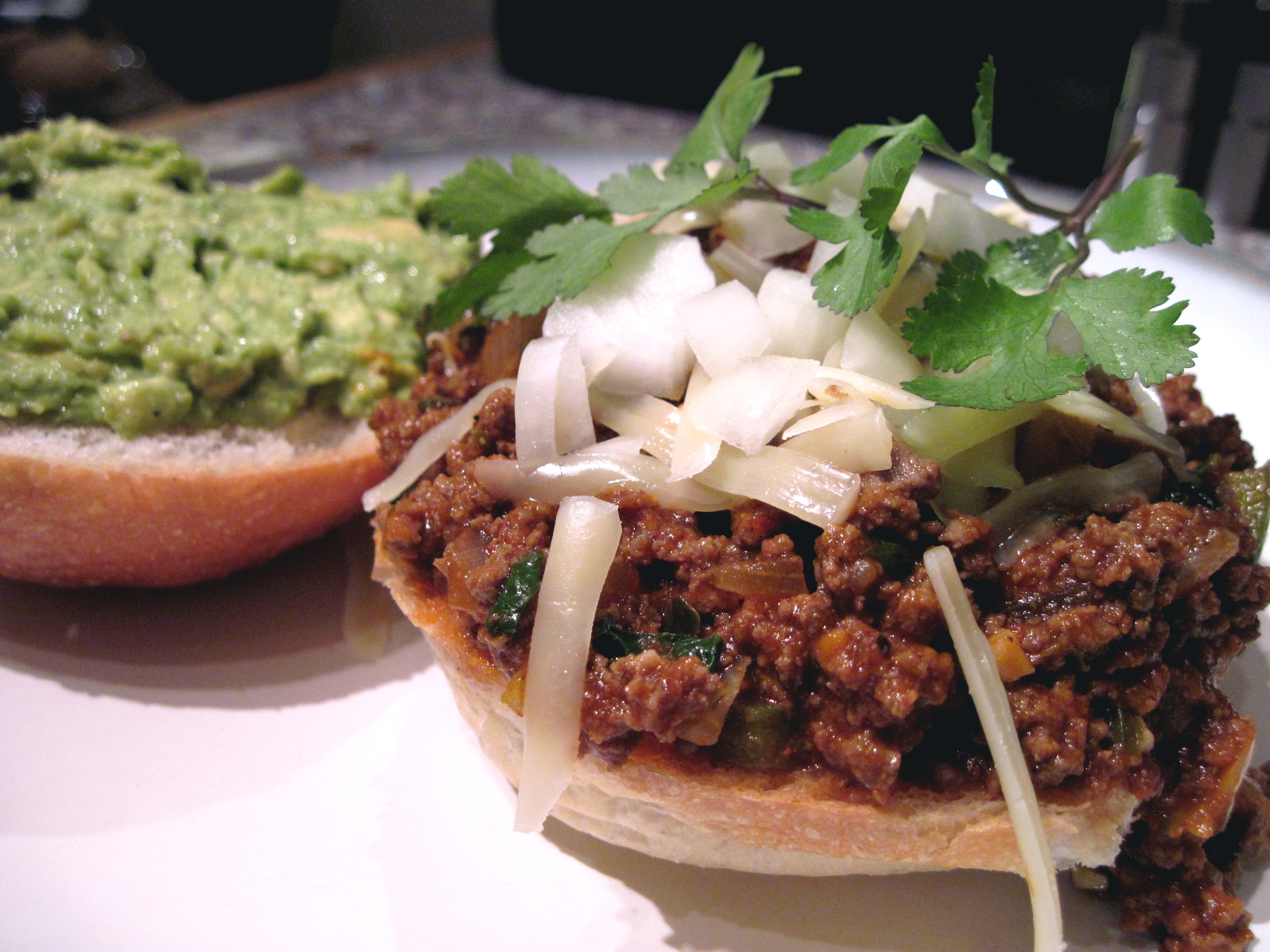 Tex-Mex Sloppy Joes
Adapted very slightly from Homesick Texan. Serves 2 with left-overs.
In a heavy skillet over medium/medium-high heat, brown:
3/4 – 1 lb of ground beef
Drain off all but 1 tbsp of fat, then add:
1-2 cloves of garlic, minced
1/4 yellow onion, diced
1/4 green pepper, diced

Cook until the vegetables are slightly softened, then add:
1 small, 213 ml can of tomato sauce (about 7 oz)
1-2 heaping tsp chipotle purée
1 tsp dried oregano
1 tsp ground cumin
1/2 tsp ground ancho chili (or smoked paprika – I didn't have any)
1/8 tsp ground allspice
dash of cayenne pepper
1 tsp Worchestershire sauce
1 tbsp ketchup
3/4 cup chicken stock (or Mexican beer! This would be so good with beer, but again, I didn't have any :(. It still came out fine though.)
2 tbsp chopped cilantro

Stir it all together and let it simmer, uncovered, for about 15 minutes or until thickened. When it looks thick enough to spoon onto a bun without completely falling off, stir in:
2 tbsp chopped cilantro
lime juice, to taste
salt and pepper

To serve, slice 2 soft buns in half. Smear the top half with guacamole, and spoon the sloppy Joe mixture onto the bottom. Top it with grated cheese (I used white cheddar), chopped onion, and more cilantro (jalapenos are also a tasty-sounding option if you want more heat).

Serve with a large side of napkins ;).