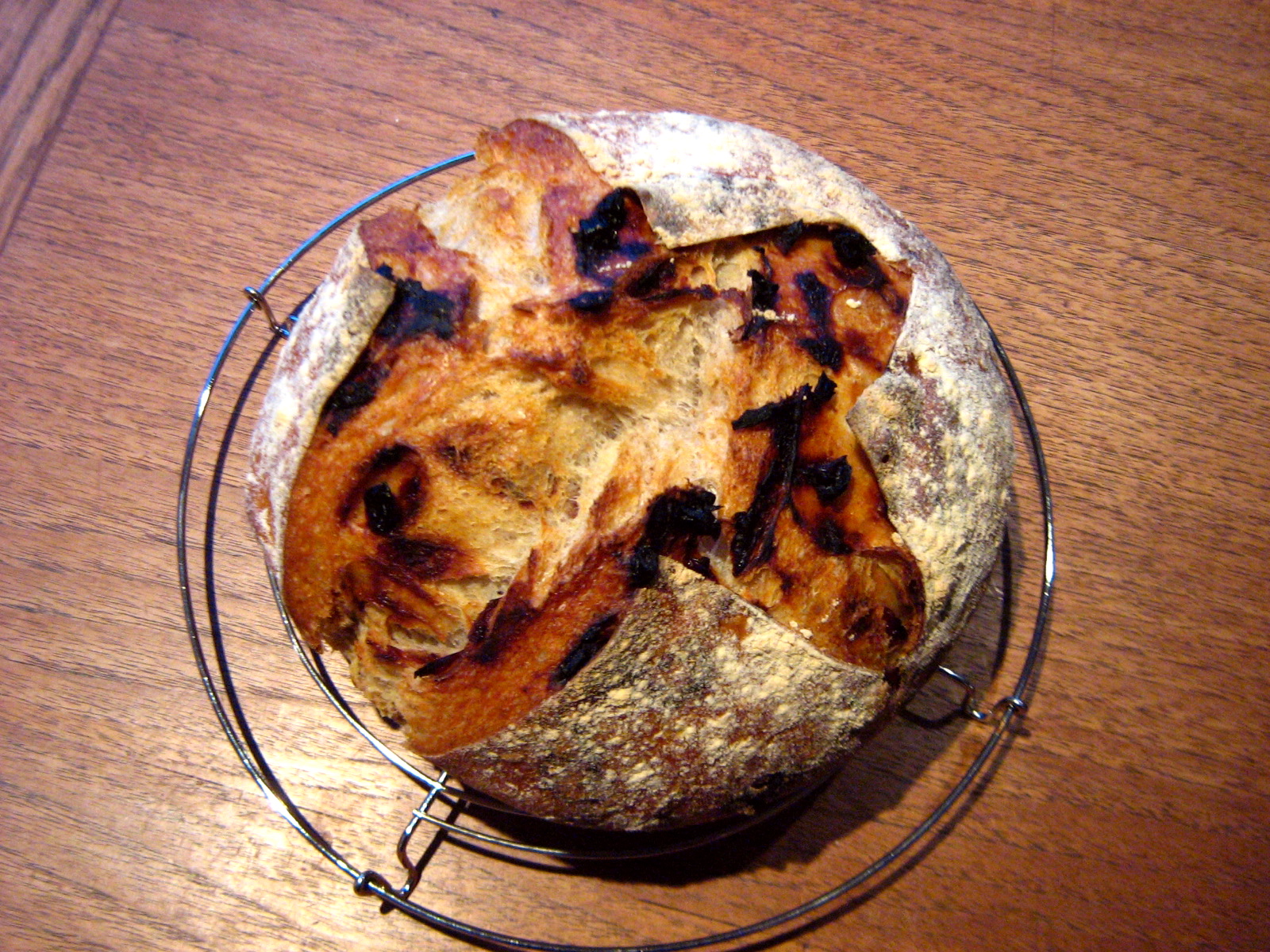 We live near a Cobs Bread bakery, and before I started baking my own bread, we were in there at least once a week to buy fresh bread. One of our favorites was the cranberry sourdough loaf: slightly tangy bread studded with tart, sweet cranberries, wonderful for a sandwich or toast with cheese or butter and jam. I figured this was something I could recreate myself at home using the no-knead crusty artisan bread dough from Artisan Bread in 5 Minutes a Day, which develops a slight sourdough flavour from being stored in the fridge (I've been experimenting with using my sourdough starter in the dough, which I will most definitely share when I have it figured out!).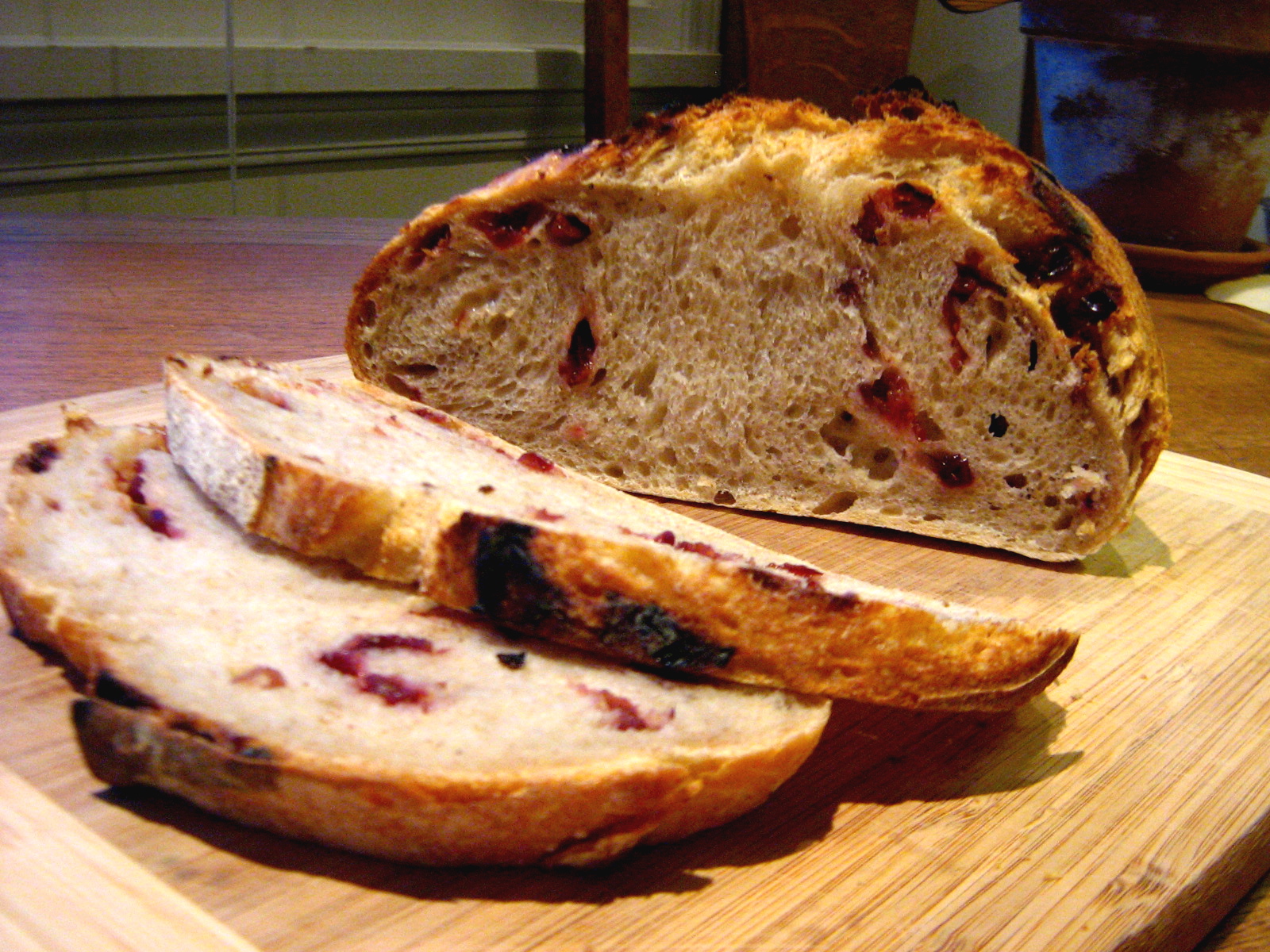 Really, it's so easy that I'm almost embarrassed – you simply roll out the dough, sprinkle it with dried cranberries, and roll it up again – but it's so good and would be tweaked to suit any kind of addition to the bread, savory or sweet. I can imagine a beautiful olive or cheese loaf, or rosemary and roasted garlic, or sundried tomato and parmesan, or cinnamon raisin, or chocolate and orange zest, or…
I actually like this version of cranberry sourdough even better than the Cobs bread. It's chewier and crustier, and you can add as many cranberries as your little heart desires, plus the feeling of accomplishment that comes from baking a loaf of bread makes it a hundred times more delicious. Try it and see!
Crusty Cranberry Bread
Before making this bread, familiarize yourself with the method in this post: Crusty No-Knead Bread… in 5 Minutes a Day! Technique inspired by this post.

First of all, stir yourself up a batch of no-knead crusty artisan bread dough and let it sit overnight or longer in the fridge to develop some sourdough-ish flavour. When you are ready to bake, cut off a 1 – 1 1/3 lb piece of dough (I used 1 1/3-ish lbs), sprinkle it gently with flour, and form it into a ball with your hands by pulling down the top and sides and pinching them underneath. This should only take a few seconds.
Place the dough ball on a lightly floured surface and press it into a rectangle with your fingers (don't knead it!). You want to use just enough flour to keep the dough from sticking to your work surface, but not any more than is necessary, otherwise the dough will be too dry. Use a lightly floured rolling pin to roll it into a rectangle about 1 cm thick (the dimensions don't matter).

Sprinkle the dough with a few handfuls of chopped dried cranberries, covering the dough evenly right to the edges, then roll it up tightly from one short end.

Pick the roll up in your hands and tuck the ends under. Using the same technique you used earlier to form the lump of plain dough into a ball, gently pull the top and sides of the cranberry'd dough and tuck them underneath to form a smooth ball. Sprinkle sparingly with a little bit of flour if it sticks to your hands too much, and don't worry if a few cranberries burst through.

Place the dough on a square of parchment paper and let it rest, uncovered, for 40-90 minutes for a 1 lb loaf, and up to 2 hours for a 1 1/3 lb loaf. You will know it has rested enough if it jiggles slightly when you tug on the parchment paper.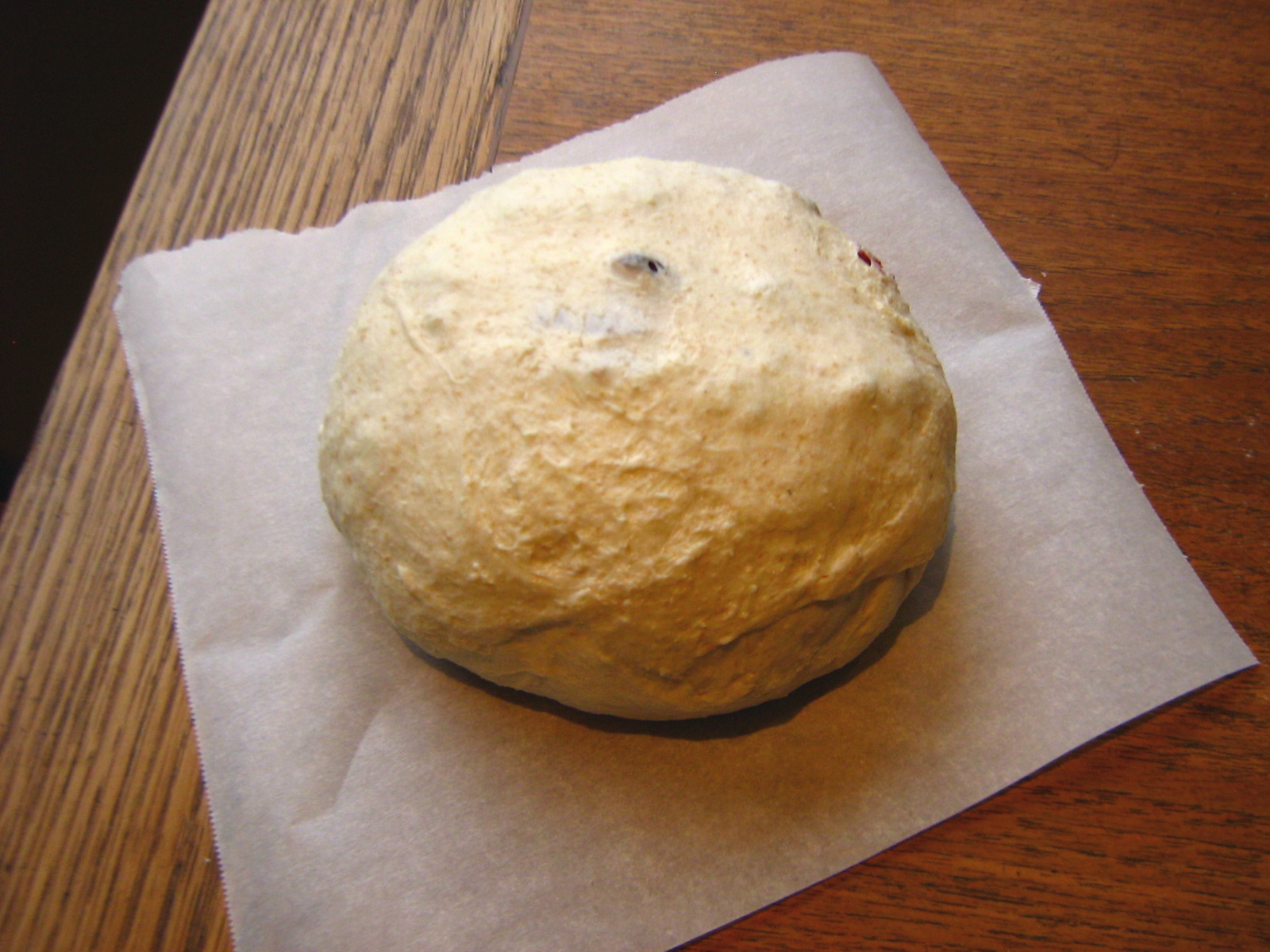 With 20 minutes to left in the rest period, prepare the oven by placing a pizza stone on the center rack and a roasting pan on a lower rack. Preheat the oven to 450˚F. When the dough is fully rested and the oven is hot, sprinkle the dough lightly with flour and slash it 1/4″ deep with a serrated knife. Place the dough and parchment paper on the preheated pizza stone, then pour a mug of hot tap water into the roasting pan. The steam will make the crust shiny and crisp.

Bake for 30-55 minutes (depending on the size of your loaf), until dark brown and crusty. Cool completely on a rack before slicing.