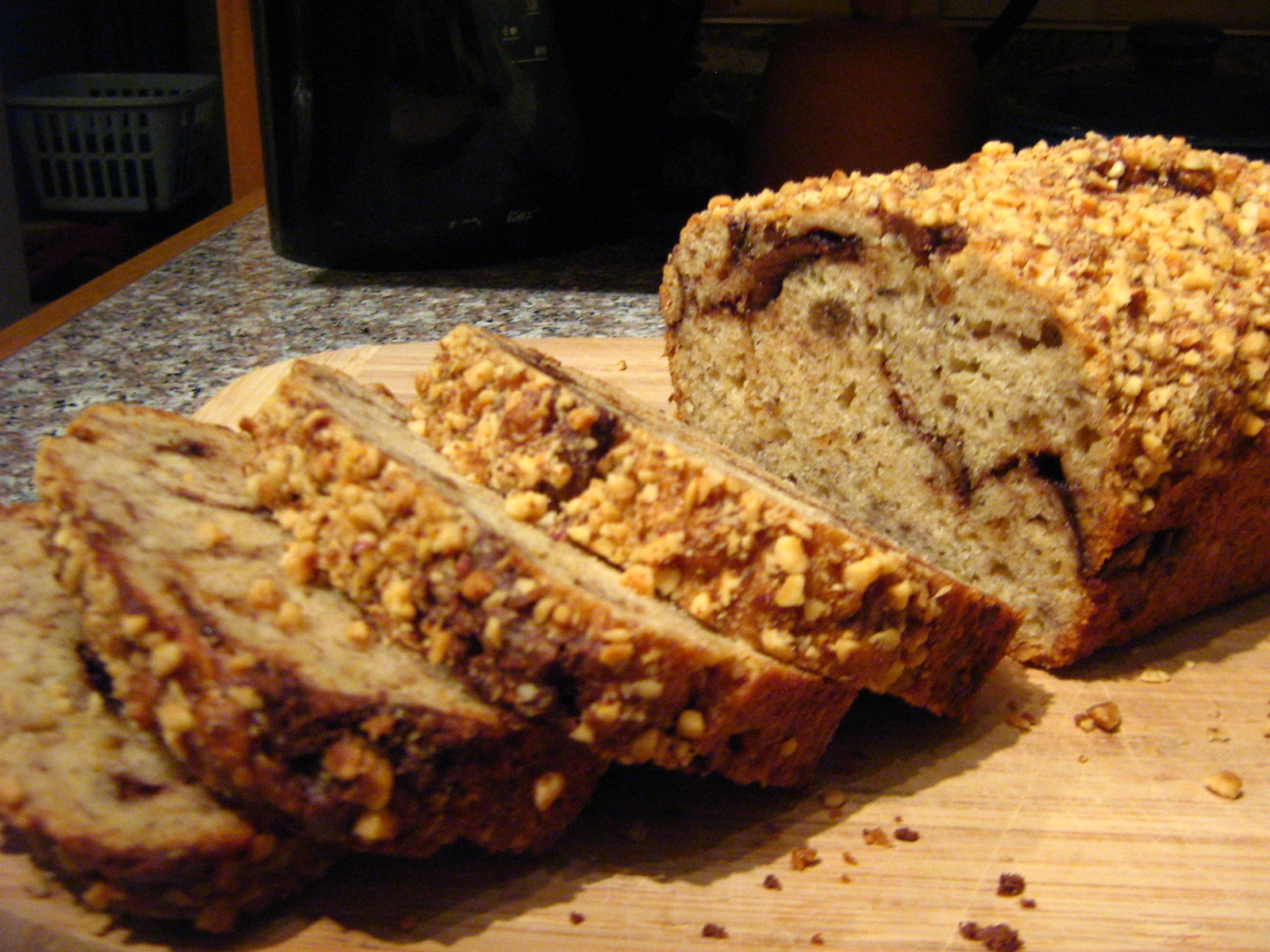 This Chocolate Hazelnut Banana Bread is sure to derail your New Year's resolutions to eat less sugar and/or chocolate. I have stopped trying to make those kinds of resolutions for myself, because they never last long and I just straight up love sugar and chocolate (luckily I also love exercise, so it balances out). The collection of over-ripe frozen bananas in my freezer was approaching epic proportions, so I figured it was time for a batch of the best banana bread in the entire world ever. I'm also trying to find ways to use up the crazy amount of Nutella that I got for Christmas that doesn't involve eating it straight out of the jar (at least I use a spoon), and the logical progression was to combine the two.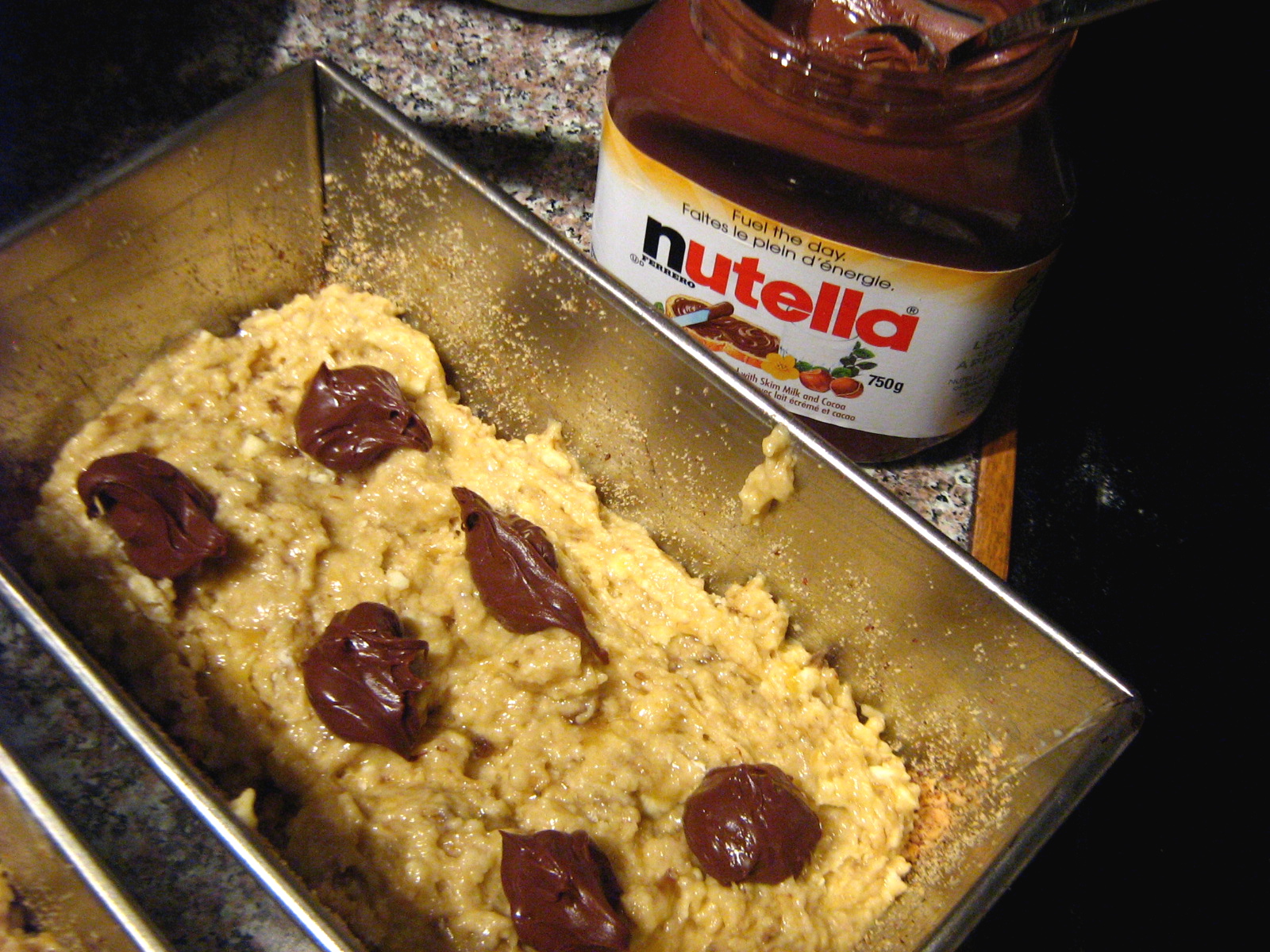 The result is that banana bread plus Nutella plus hazelnuts equals love. That's all you need to know. If you really feel you have to justify it to yourself, rest assured that bananas and hazelnuts are actually considered to be quite good for you.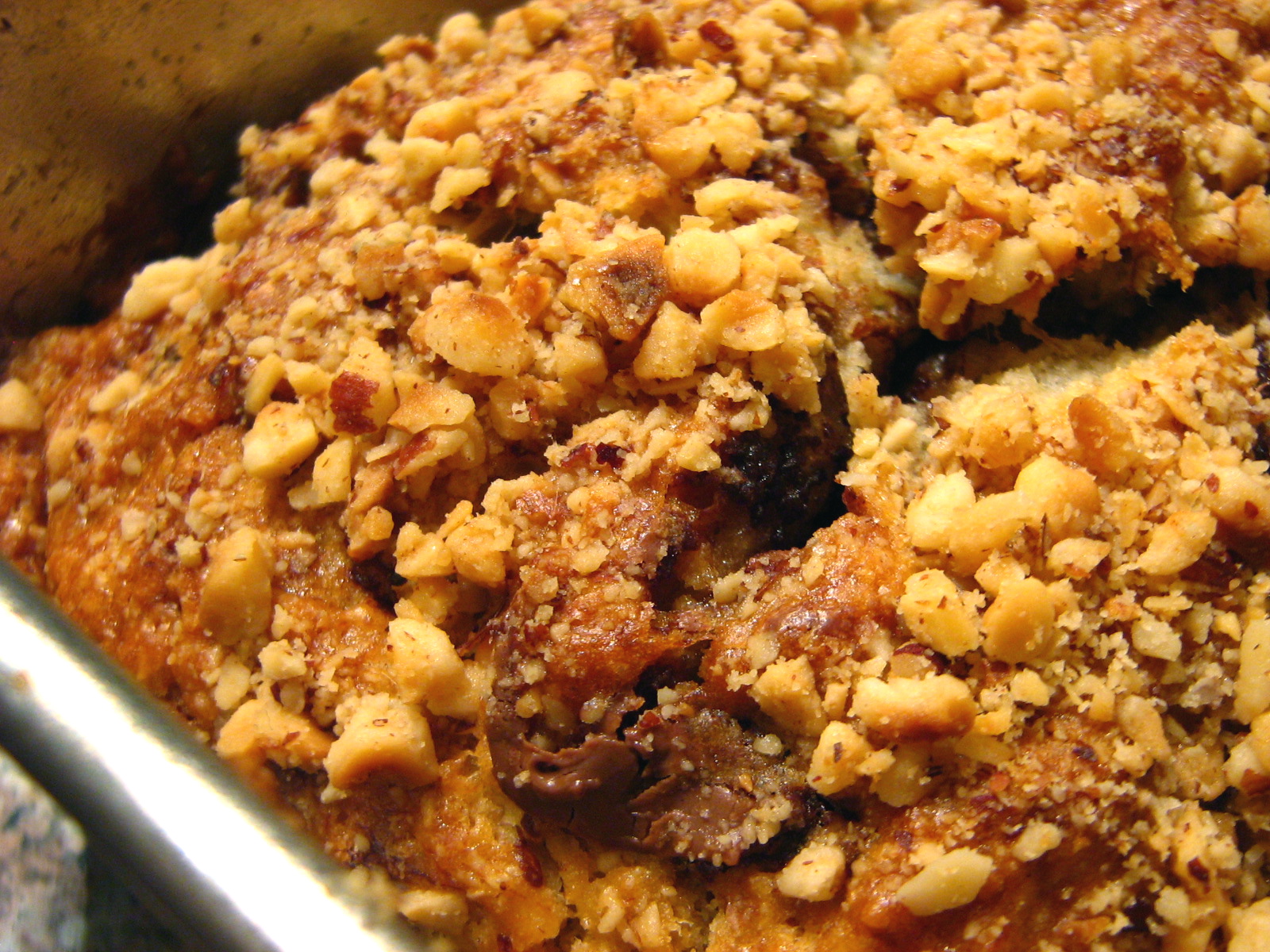 (Just ignore all the sugar and chocolate.)
(Also, sorry for ruining your New Year's health kick ;). )
Chocolate Hazelnut Banana Bread
Makes 2 loaves. Recipe can easily be halved.
Preheat the oven to 375˚F. Place 3/4 cup whole, raw hazelnuts in an oven-proof dish and toast them in the oven for 20-25 minutes, stirring a few times, until they are fragrant, lightly browned, and their skins start to curl off. Place them in a clean tea towel and rub them vigorously in the towel to remove most of the skins.

Let the nuts cool, then chop them finely. Yay new food processor! (A knife will also suffice.)

Grease two 9″ x 5″ loaf pans with butter, then sprinkle the bottom and sides of each pan with about 1 tbsp of the chopped hazelnuts. Set the nuts and pans aside.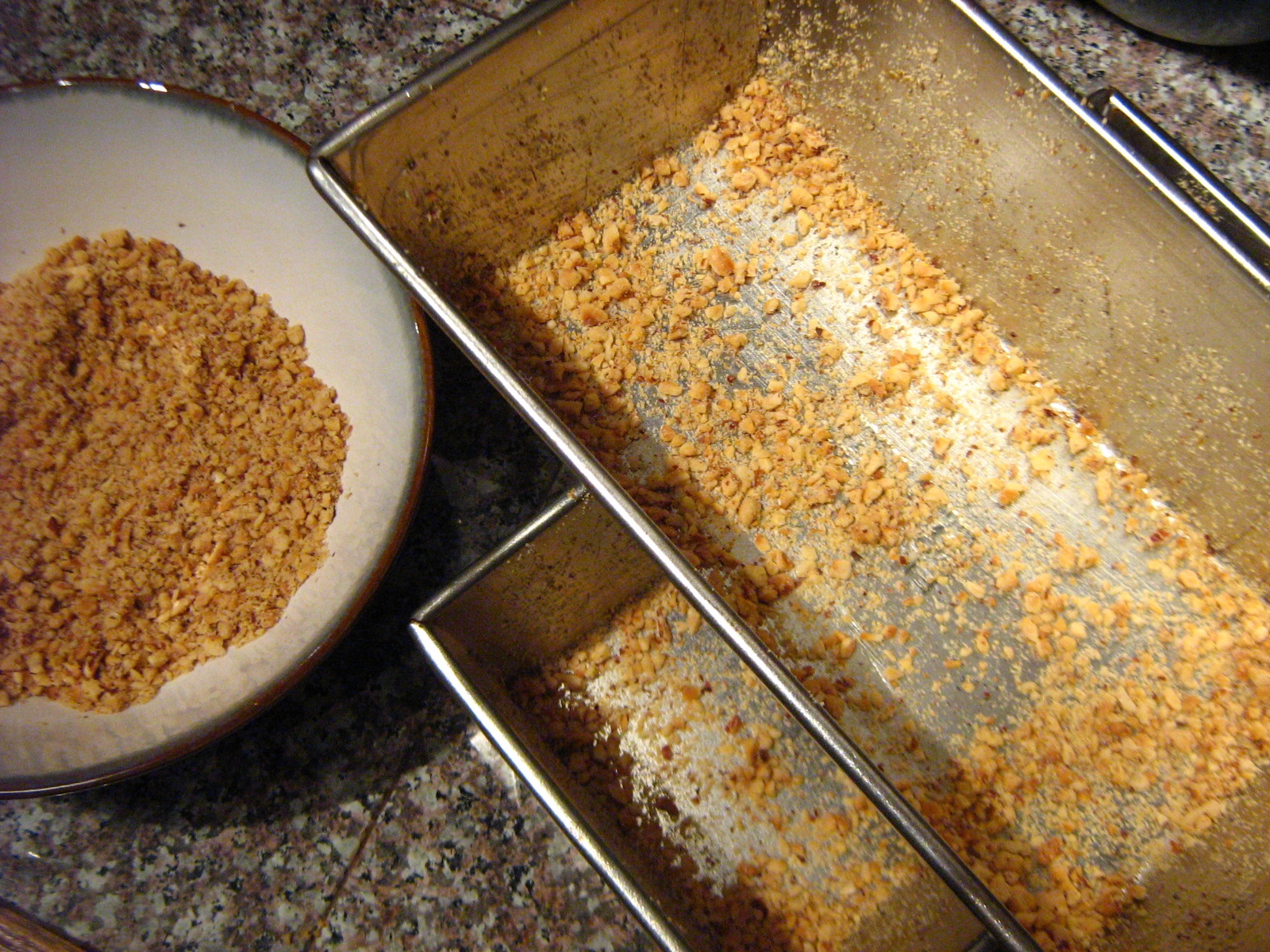 Turn down the oven to 350˚F. In a medium bowl, combine:
6 large, very ripe bananas (the blacker and mushier the better)
4 eggs
1 tbsp vanilla extract
Beat with a fork or whisk to break up the bananas (a few chunkier bits are OK).

In a large bowl, combine the dry ingredients:
3 1/2 cups all purpose flour
1 1/4 cup granulated sugar
2 tsp baking powder
3/4 tsp salt
1/2 tsp baking soda
Add 1 cup cold butter, cubed, and cut it into the flour mixture with a pastry cutter until it resembled coarse bread crumbs.

Pour in the banana mixture and fold it with a spatula until just combined – if you over-mix the batter, the banana bread will be tough, so stop mixing when there are still a few flecks of dry flour left.

Divide half of the batter evenly between the two prepared loaf pans and spread it out to cover the bottom of each. Top the batter in each pan with about 2 tbsp of Nutella in little dollops, and sprinkle with 1-2 tbsp chopped hazelnuts. Top with the remaining batter and dollop with another 1 1/2 tbsp of Nutella. With a chopstick or the tip of a butter knife, swirl the Nutella through the batter. Sprinkle the batter with another 1-2 tbsp chopped hazelnuts.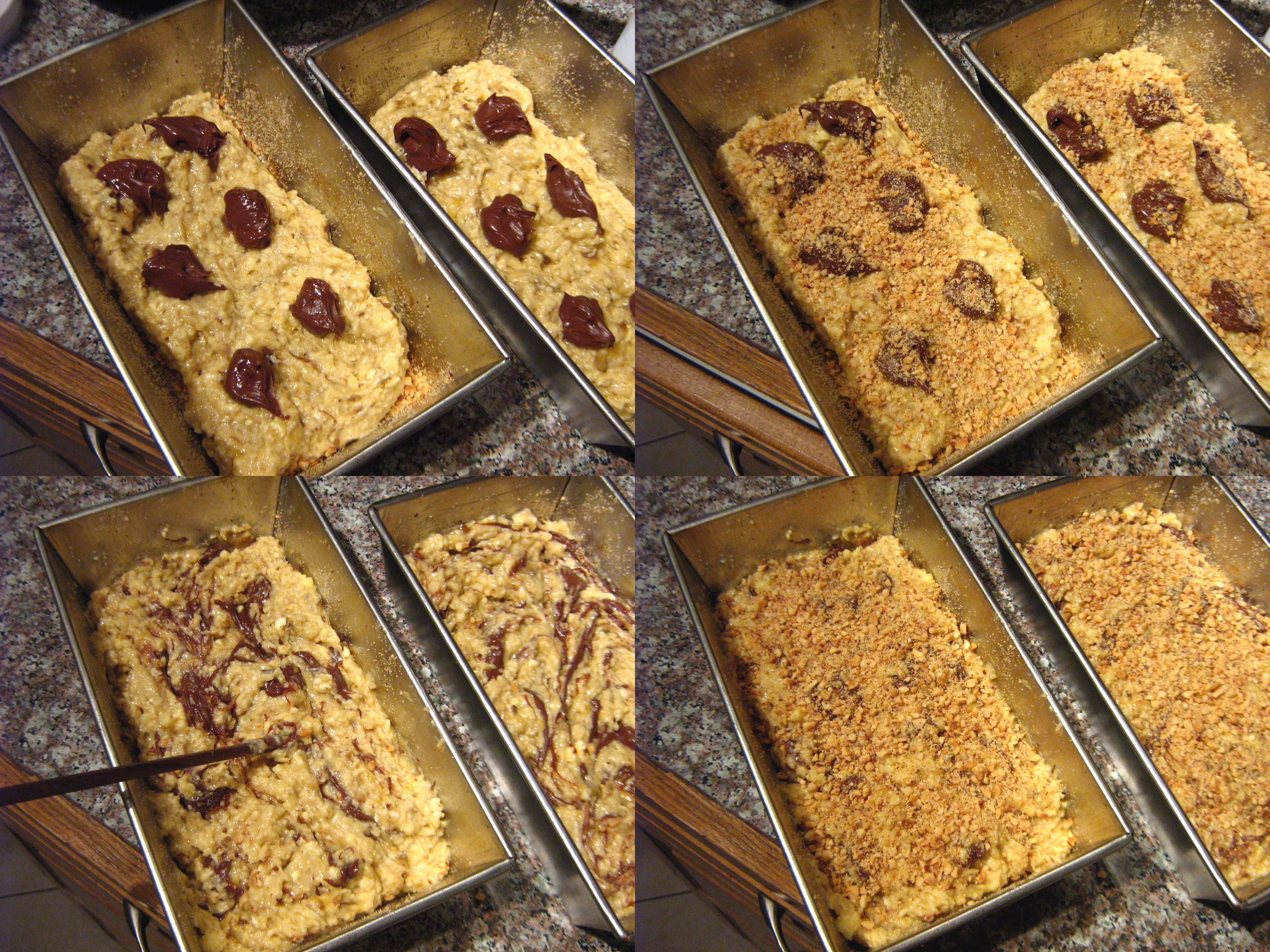 Bake the loaves at 350˚F for 55-65 minutes, until a toothpick inserted in the centre comes out clean. Let cool in the pans for about 5 minutes, then run a knife around the sides of the pan and turn out onto a rack to cool completely.

Devour.