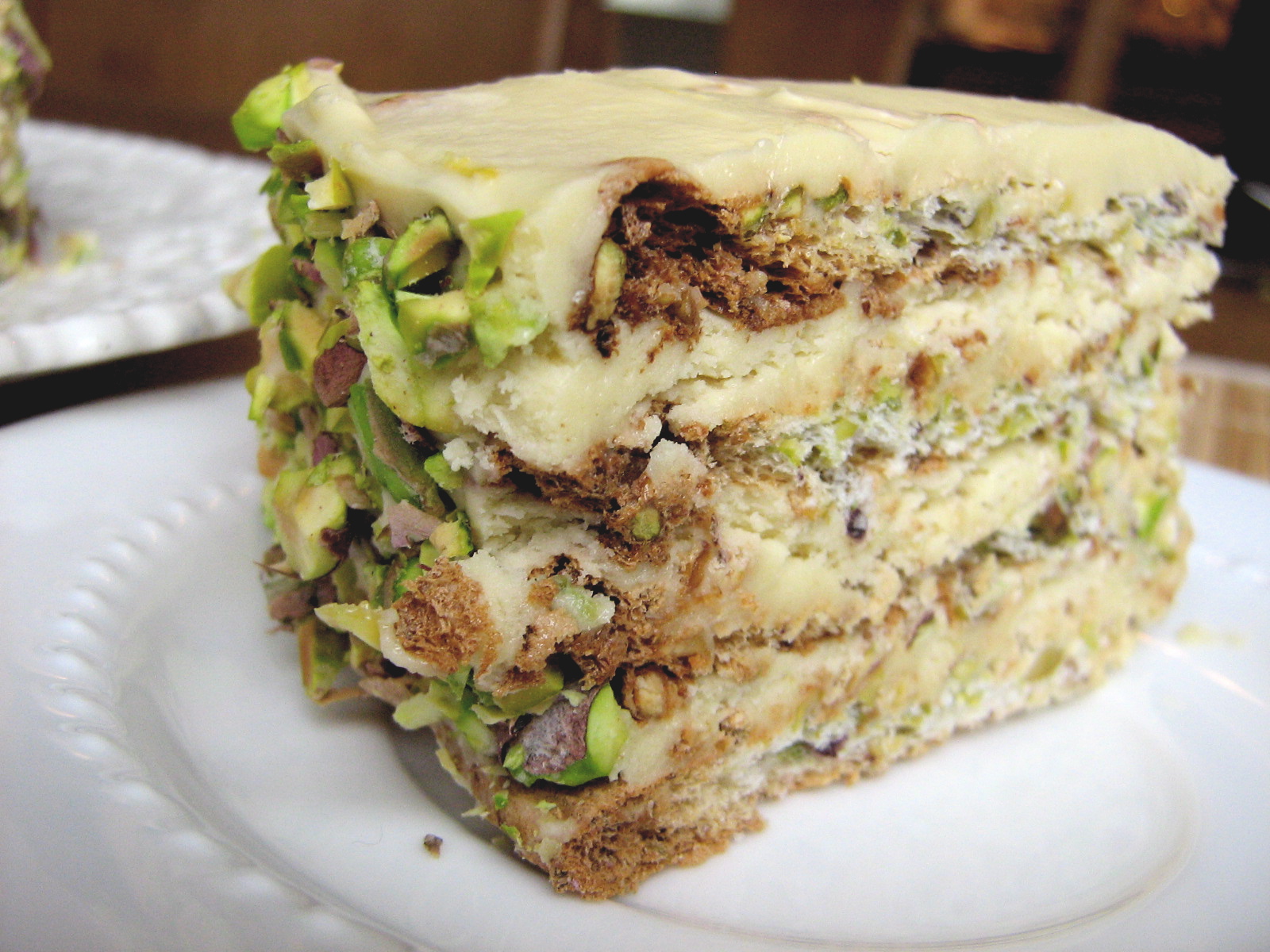 Catherine of Munchie Musings was our November Daring Bakers' host and she challenged us to make a traditional Filipino dessert – the delicious Sans Rival cake! And for those of us who wanted to try an additional Filipino dessert, Catherine also gave us a bonus recipe for Bibingka which comes from her friend Jun of Jun-blog.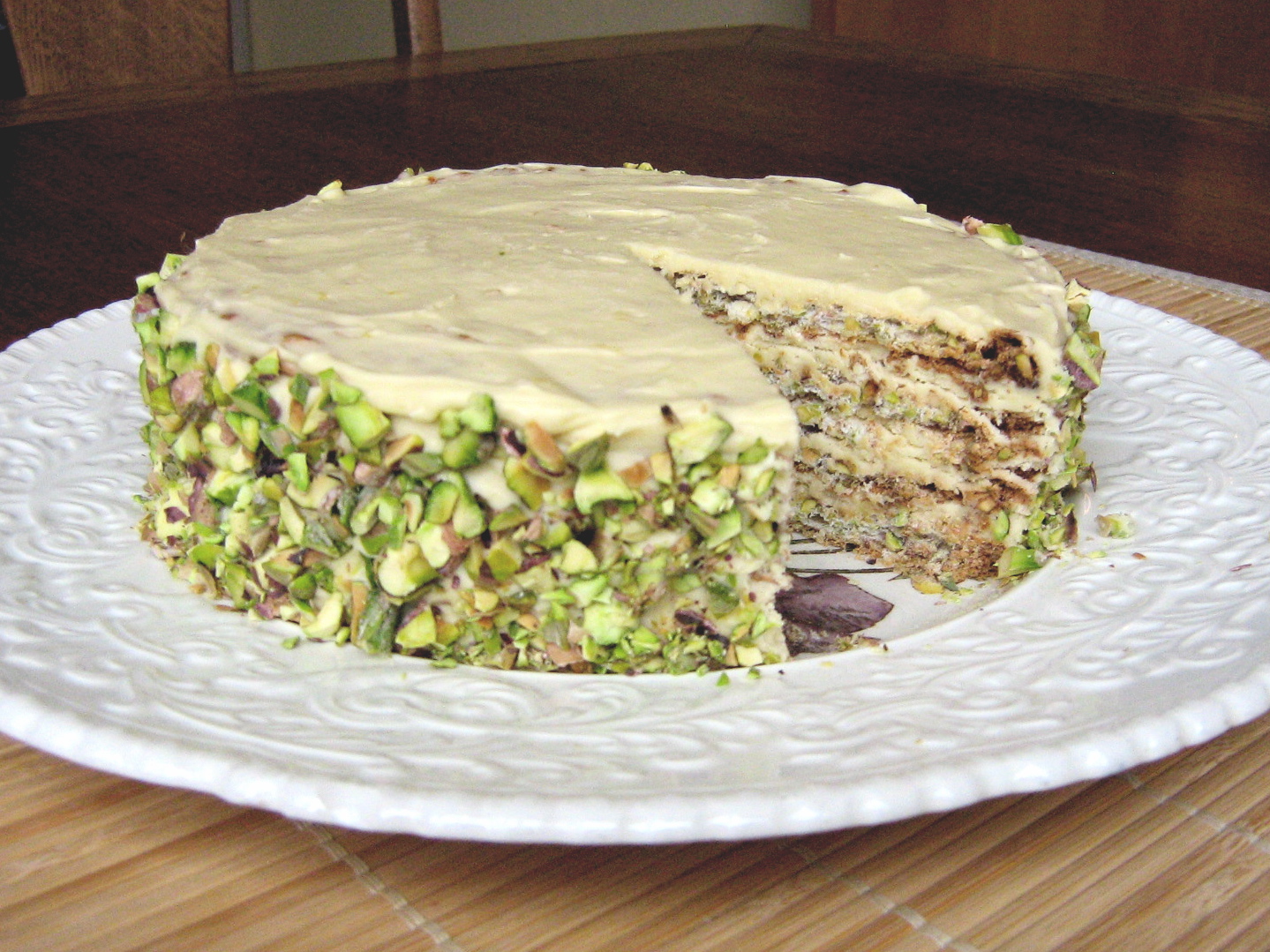 At first glance, it seems odd that Sans Rival is a traditional Filipino dessert, being that all of its components are decidedly French! This is a cake made of dacquoise discs – meringue mixed with nuts and baked until crisp – layered with French buttercream frosting and decorated with more nuts (traditionally cashews). Apparently, in the 1920s and 30s, many Filipinos went abroad to study and those who ended up in France brought home the French language and pastry chef techniques that originated the Sans Rival. Sans Rival means "without rival", and it's a pretty appropriate name: this is a delicious, rich dessert.
Rather than the traditional cashew dacquoise with plain French buttercream, I made pistachio dacquoise (which meant shelling almost a pound of pistachios!) with white chocolate lemon buttercream. I'd made a dacquoise before, but not French buttercream, which is egg yolks beaten with hot sugar syrup and then mixed with soft butter (kind of like a Swiss meringue buttercream, but a slightly different technique). OH MY GOD is French buttercream ever good! It tastes just like cookie dough at the stage where you've creamed together the butter, sugar, and eggs, before you've added the flour – but in frosting form (I know you're not supposed to eat raw eggs, but that's my favorite part of making cookies!). Rich, buttery, just delicious. Next time, rather than adding any flavours, I might just leave it plain because it was so yummy on its own.

Catherine's original recipe called for 10 egg whites for the dacquoise and 5 egg yolks for the French buttercream and made 12 servings, but because there's only two of us, I halved the recipe. This gave me four 6-inch dacquoise discs and just barely enough buttercream to fill and cover the cake. I thought this was going to be a problem, but after tasting the cake, this amount of buttercream was just right – any more would have been overkill.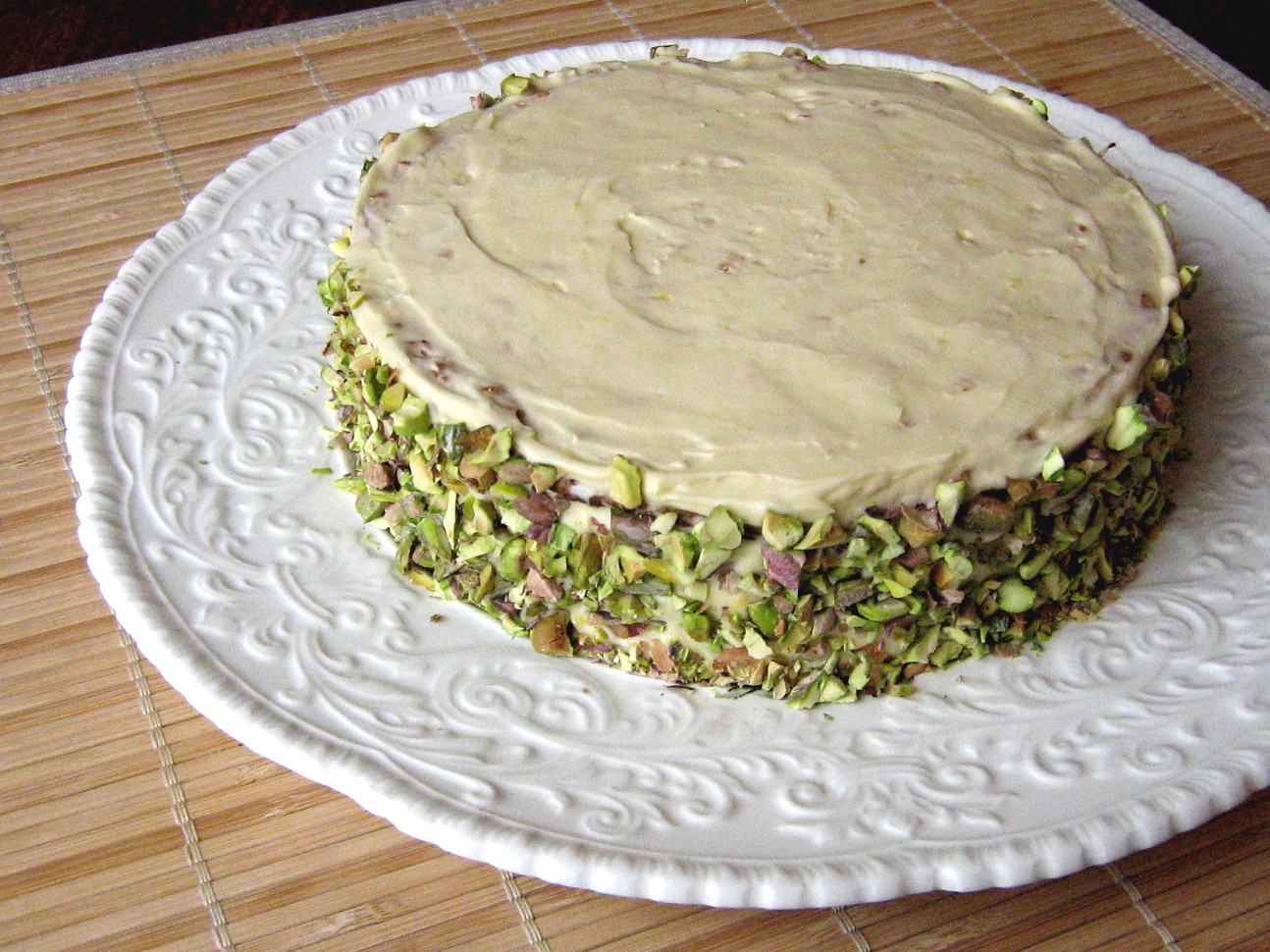 The texture of Sans Rival can either be crispy or slightly chewey, depending on how much the dacquoise discs dry out in the oven and how long you let it sit in the fridge after assembly. I left my cake in the fridge overnight, and it came out chewey and nougat-like. The pistachios were a nice crunchy contrast and contributed a little bit of saltiness, and the lemon in the buttercream paired really well with the pistachios. All in all, a success! Thank you Catherine for introducing me to this dessert! Check out the Daring Kitchen for the challenge recipe and the other Daring Bakers' masterpieces :).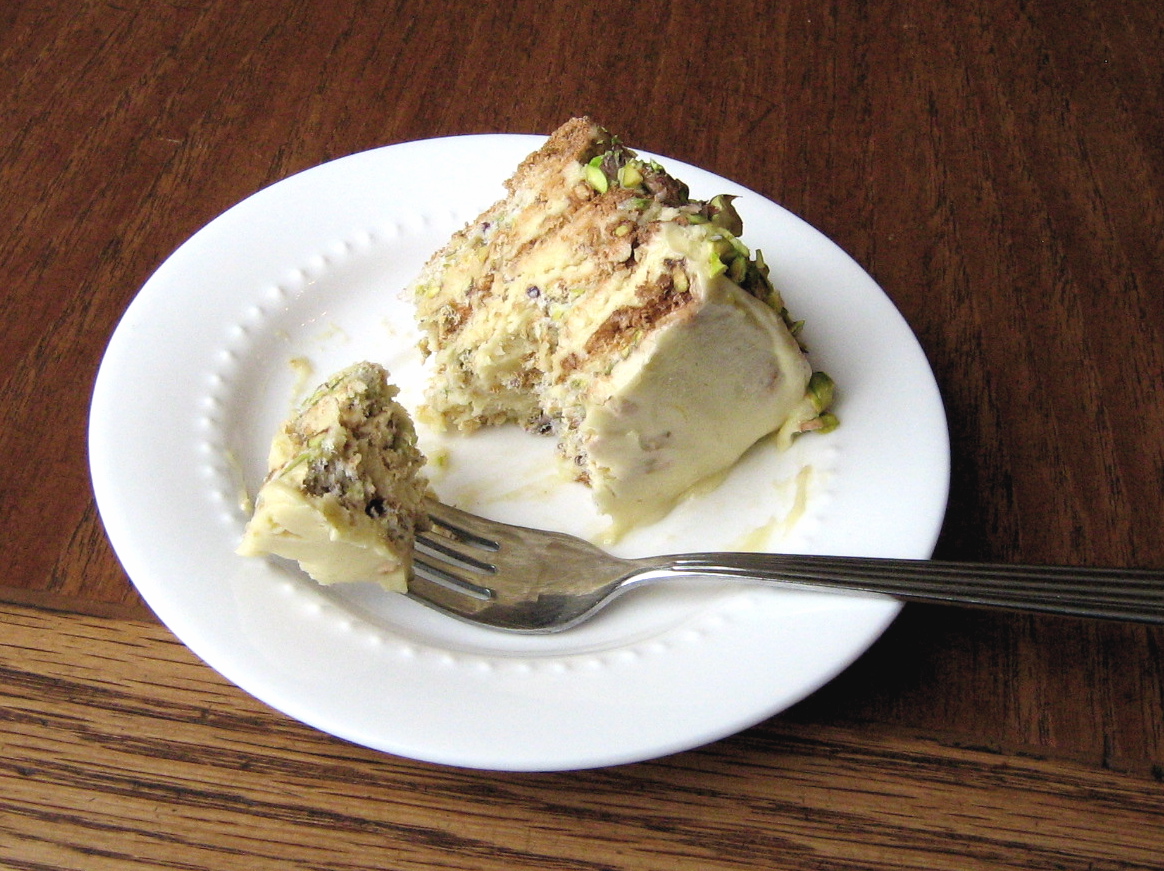 Pistachio White Chocolate Lemon Sans Rival
Makes one 6″ round cake. To make a 9″ round cake, double the recipes. Pistachios are a bit of a pain to shell, but they taste so good and look so pretty! You will need just less than 500 grams of pistachios in their shells (and then you'll have to shell them!) for this recipe.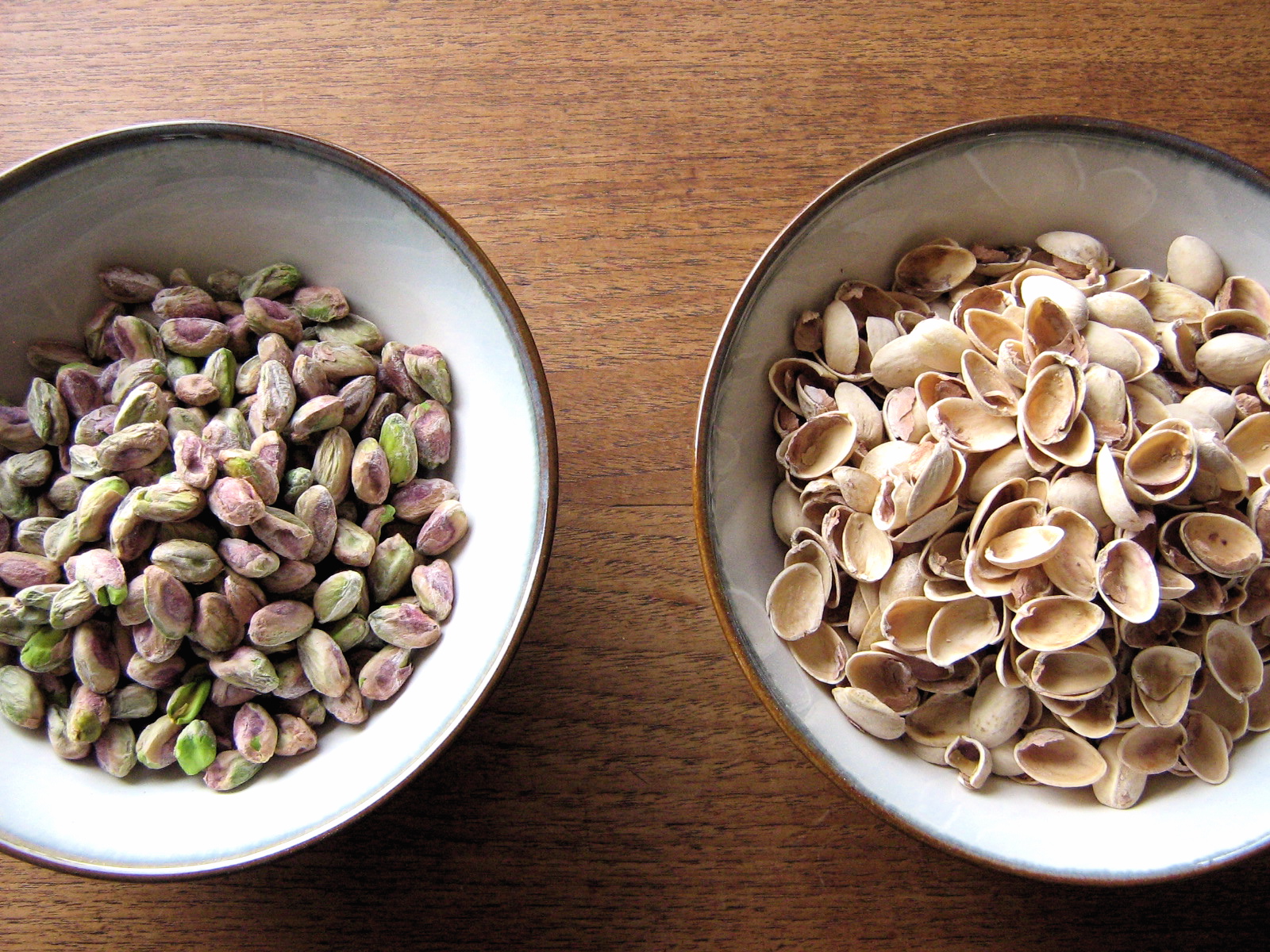 Pistachio Dacquoise
Preheat the oven to 325˚F.
In a mixer bowl, beat on medium speed until foamy:
5 egg whites
Sprinkle with:
1/2 tsp cream of tartar
Slowly add:
1/2 cup granulated sugar
Increase the speed to high and beat until stiff peaks form, 7-10 minutes.

Fold in:
1 cup finely chopped pistachios

Line 2 baking trays with parchment paper and trace two 6″ circles on each. Turn the paper over so the pen or pencil markings are facing down and very lightly grease the paper (I forgot to do this). Fill a pastry bag with the pistachio-meringue mixture and using the circle outlines as a guide, pipe four 6″ disks on the parchment paper. Try to make them as even and flat as possible.

Bake the dacquoises in the 325˚ oven for 30 minutes, rotating half-way through, until golden brown and crispy. Turn off the oven, crack open the door, and leave the dacquoises in there for 30 more minutes. When the time is up, carefully peel the dacquoises off the parchment paper, flip them over, and return them to the cooling oven for another 30 minutes. Remove them from the oven to a rack to cool completely.

White Chocolate Lemon French Buttercream Frosting
Make just enough to fill and frost the cake. If you would prefer a more generous amount of buttercream, increase the egg yolks to 5 and double the other ingredients.
In a mixer bowl, beat on high speed until very thick and pale yellow:
3 egg yolks
Meanwhile, combine in a small saucepan over medium heat:
1/2 cup granulated sugar
2 tbsp water
Bring to a boil and cook to 235˚F. Remove from the heat. With the mixer still on high, carefully pour the hot syrup in a thin stream into the egg yolks. Try to avoid pouring the syrup over the beater, as it will spatter the syrup all over the sides of the bowl where it will harden, rather than mixing into the egg yolks.

Keep beating on high for several minutes until the mixture is light and creamy, then reduce speed to medium-low until the mixture is room temperature and the mixer bowl is cool to the touch, at least 15 minutes.
Meanwhile, set out to soften:
1/2 cup + 2 tbsp unsalted butter, cubed
When the egg yolk mixture is completely cool, turn the mixer speed to high and beat in the softened butter, one cube at a time. Keep beating until all the butter is added and the mixture becomes a fluffy, creamy, frosting.

Add:
2 oz melted white chocolate, cooled but still pourable
zest of half a lemon
1/2 tsp vanilla extract
2 tsp lemon juice
Beat until combined, scraping down the sides of the bowl as needed.
Refrigerate for at least 1 hour to firm up the buttercream, then beat again for a few minutes before frosting the cake.
To Assemble the Sans Rival:
Place a dacquoise disc on a cake plate, protected with waxed paper. Spread with a thin layer of frosting. Repeat with remaining dacquoise layers, then frost the top and sides of the cake.
Press about 3/4 cup roughly chopped pistachios onto the sides of the cake.

Refrigerate for at least 3 hours before serving. Cut into slices with a serrated knife. The longer you let the cake sit (up to 5 days, covered, in the fridge), the less crunchy/more chewy the layers will become. Leftovers can be wrapped in plastic and frozen.
Save