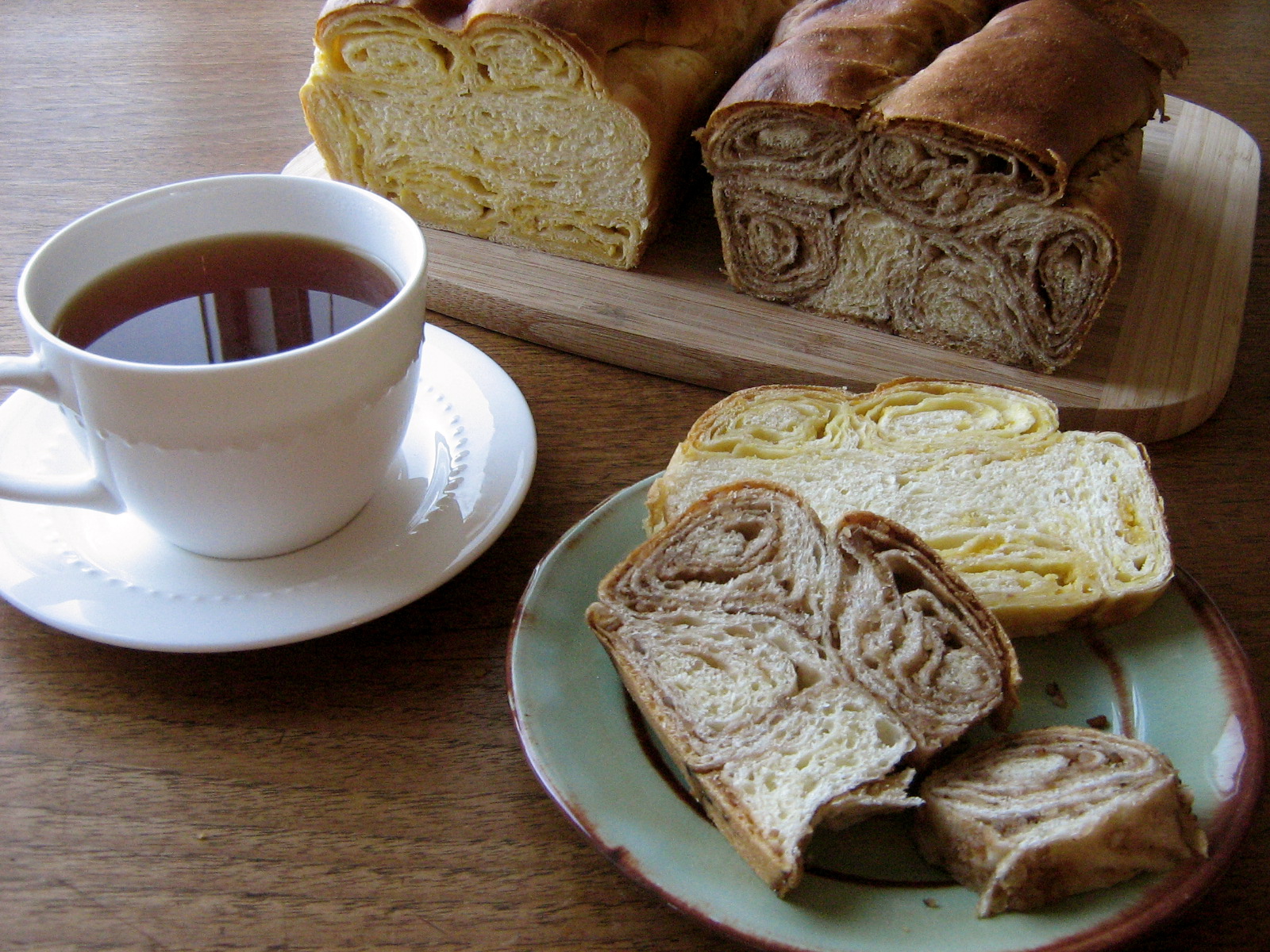 The Daring Baker's October 2011 challenge was Povitica, hosted by Jenni of The Gingered Whisk. Povitica is a traditional Eastern European Dessert Bread that is as lovely to look at as it is to eat!
My first thought when I saw this month's challenge was, "What the hell is povitica?". When I found out that it was a walnut-filled bread, I have to admit that I was not super excited about it – we had just done croissants last month, and I was hankering for something drenched in chocolate. However, once I started seeing some of the beautiful loaves showing up on the Daring Baker's members' forum and reading all the various iterations of, "OH MY GOD THIS IS SO GOOD!!!", I decided to pull up my socks like a big girl and get over my attitude problem. And I'm really glad I did, because this is a beautiful, delicious bread!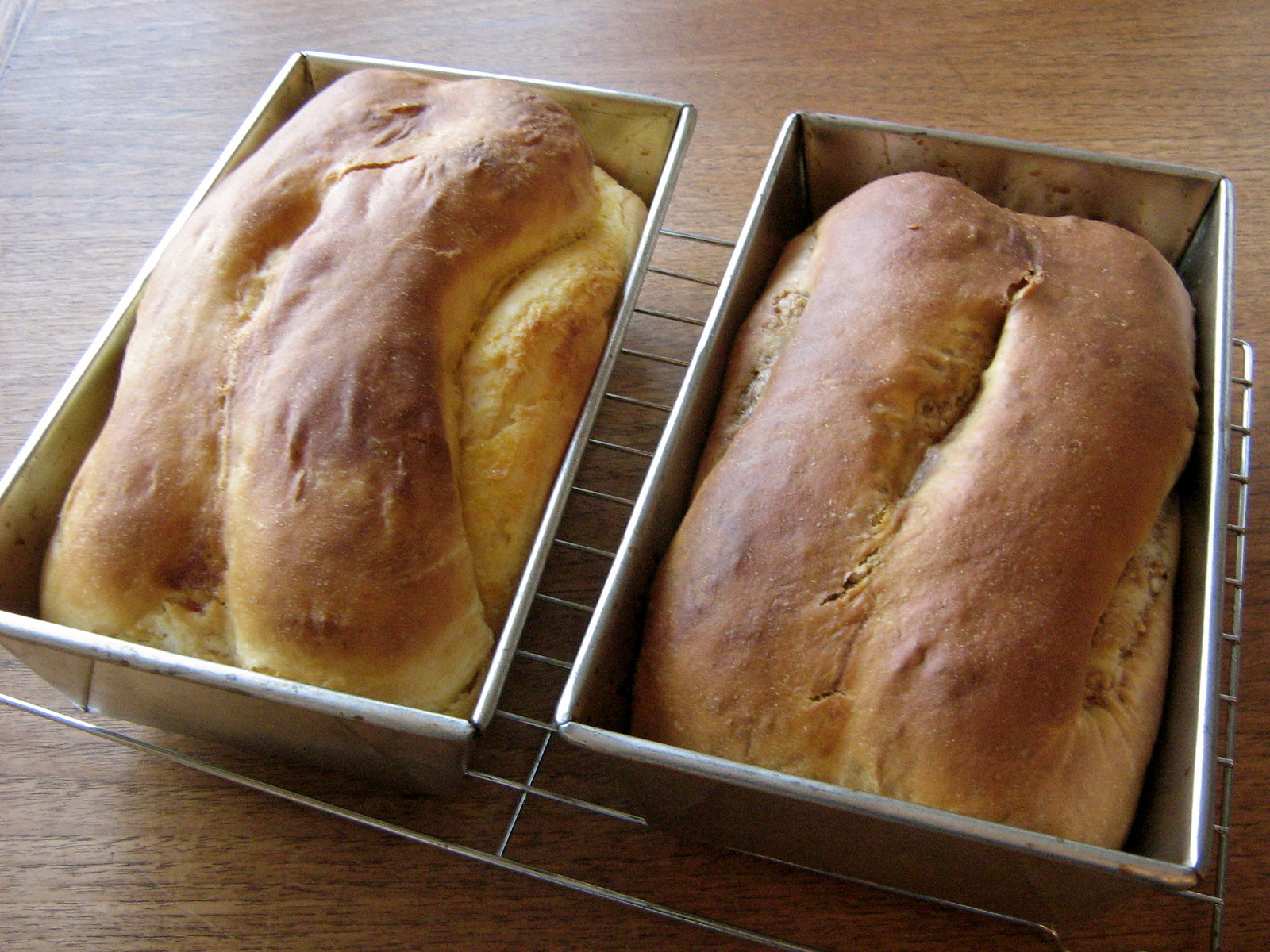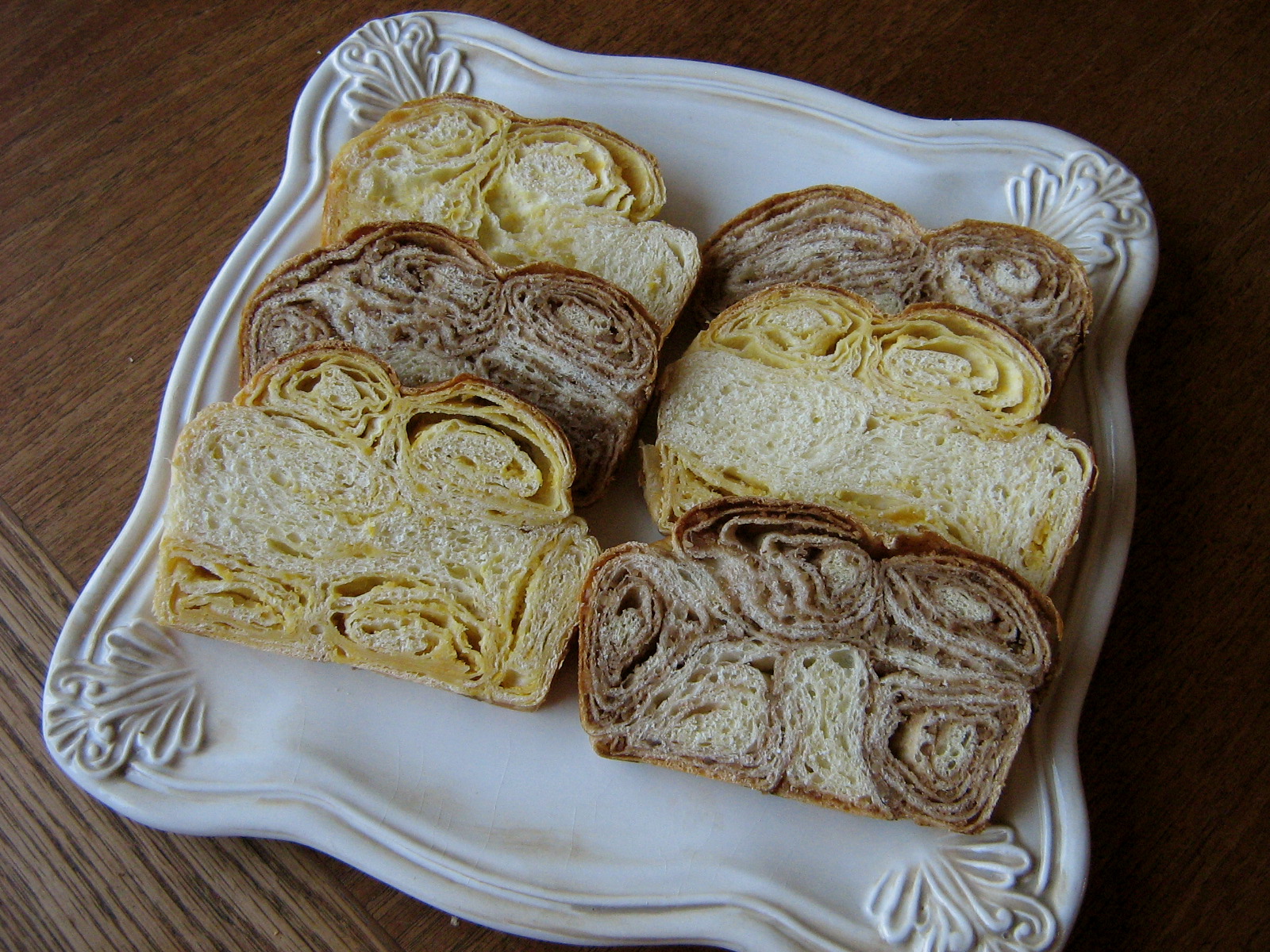 Povitica (po-va-TEET-sa) is made from a sweetened yeast dough enriched with butter, milk, and eggs, that is rolled or stretched out very thinly, spread with a filling (traditionally walnut), rolled up, and coiled into a loaf pan to bake. When sliced, the rolling and coiling produces this amazing swirl pattern in the loaf, making it just as beautiful and impressive-looking as it is tasty. Because making povitica is quite labour intensive, what with stretching the dough out to cover your entire kitchen table, it is available for purchase from specialty bakeries for ridiculous prices – upwards of $25 a loaf! Needless to say, making it yourself costs only a fraction of that, which is just one of the great things about home baking ;).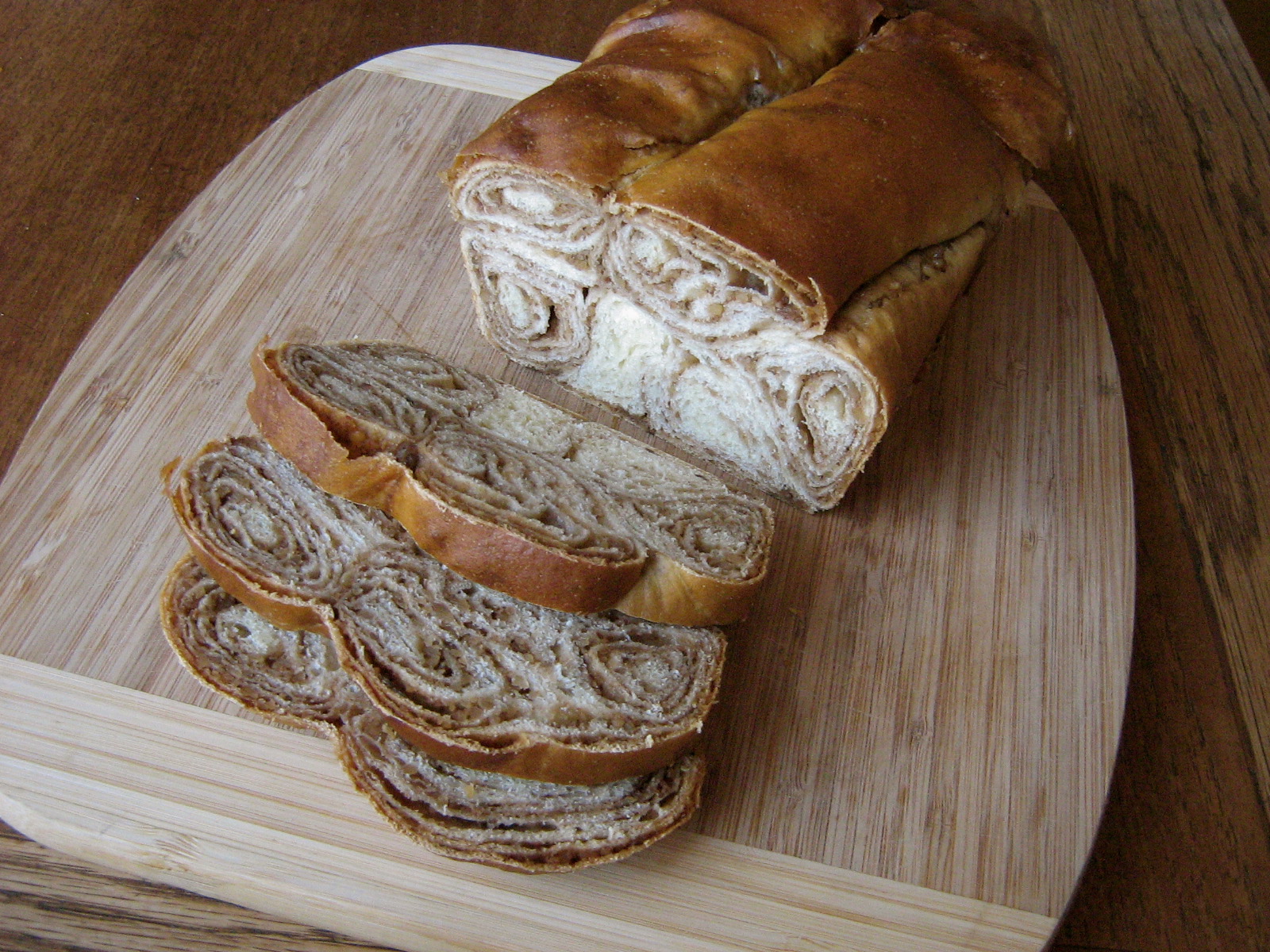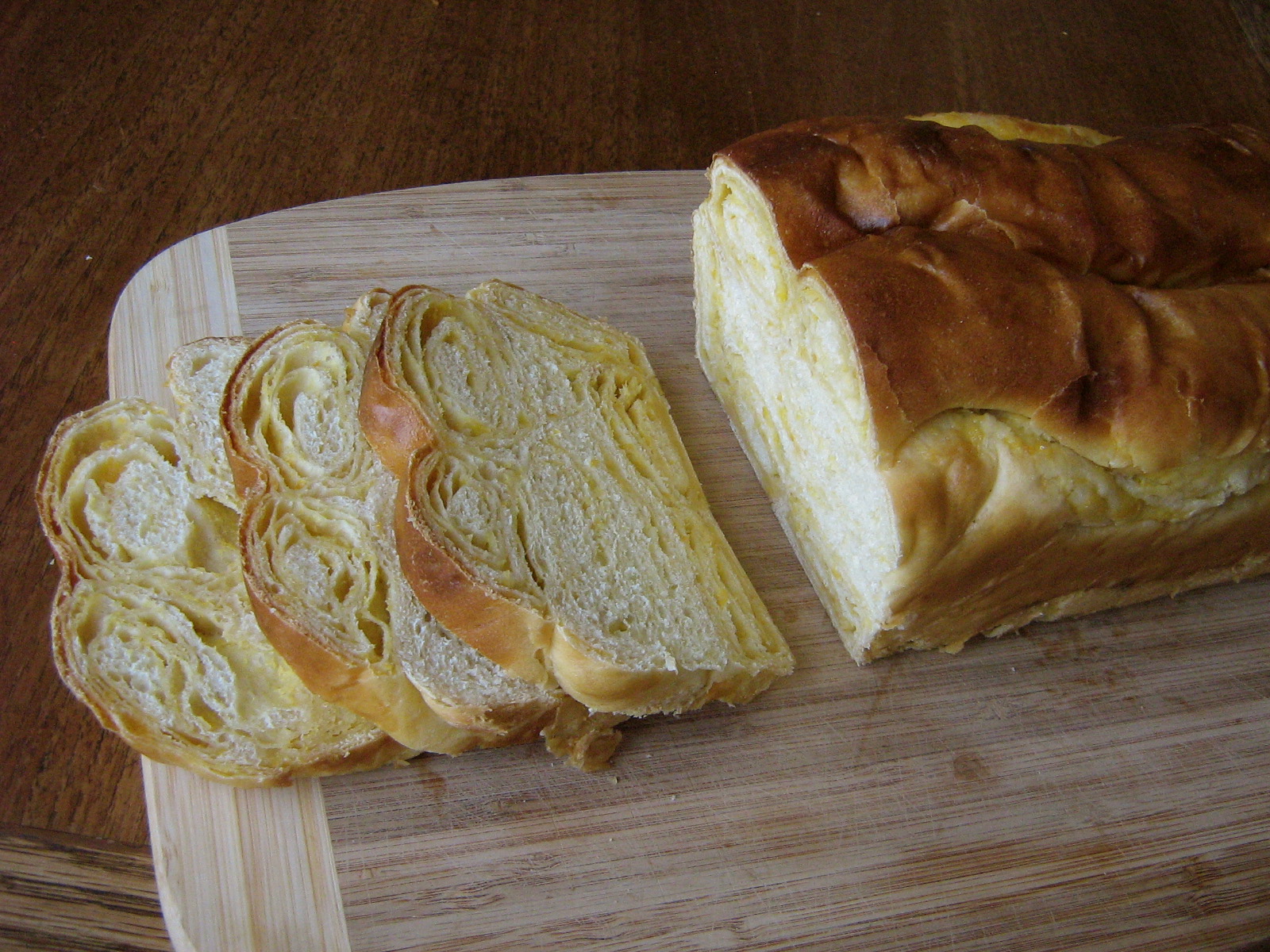 Jenni developed this recipe herself (kudos!!) and the original yield was for four loaves, which is about three more loaves of bread than I need at one time. With the intention of bringing some to share at work, I halved the recipe to make two loaves – one with the traditional walnut filling (because all the Daring Bakers who had tried it, loved it), and one with an apricot-cream cheese filling that I sort of came up with on the fly. Both turned out well, but the walnut filling was amazing. Very lightly spiced with cinnamon and cocoa powder, I wanted to eat it by the spoonful, and it tasted great in the bread. I did end up taking some of each loaf to work, where they got rave reviews and everyone was very impressed by the spiral patterns.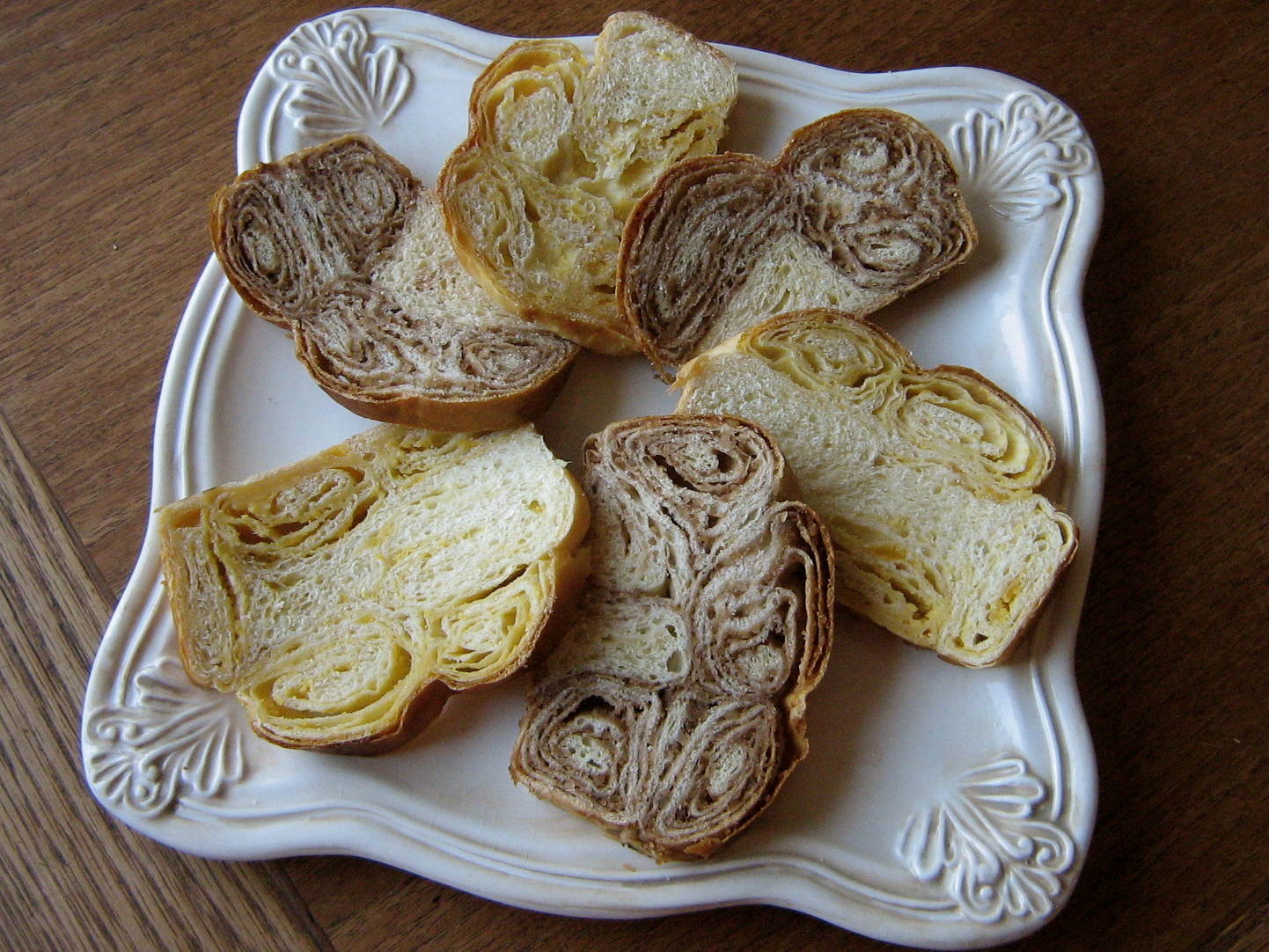 Thank you Jenni for sharing this recipe with us! Such a beautiful bread that I never would have made otherwise, and am looking forward to making again :). Check out the Daring Kitchen for the original challenge recipe and a slide show of everyone's poviticas.
Povitica
Dough and Walnut Filling recipes by Jenni of The Gingered Whisk; Apricot-Cream Cheese Filling recipe by me

Makes 2 loaves
Dough
Because you have to stretch this dough out very thinly, you want it to be pliable but not breakable. This is achieved by making a dough that is a little on the wet side and then kneading it enough for the gluten to develop. Don't add too much flour when making the dough – it should be a bit sticky, and will become less so with kneading. This is easily done in a stand mixer.
To activate the yeast, combine the following in a small bowl and let sit for 5 minutes, until foamy and large:
1 tsp sugar
1/2 tsp all purpose flour
1/4 cup warm water
1 tbsp dry yeast
(I used instant yeast so technically this "activating" step was unnecessary but still fun to watch the yeast foam up!)
In a saucepan, heat until scalding:
1/2 cup milk
Allow to cool slightly. Meanwhile, measure out:
4 cups all purpose flour
Sift the flour after measuring and set aside.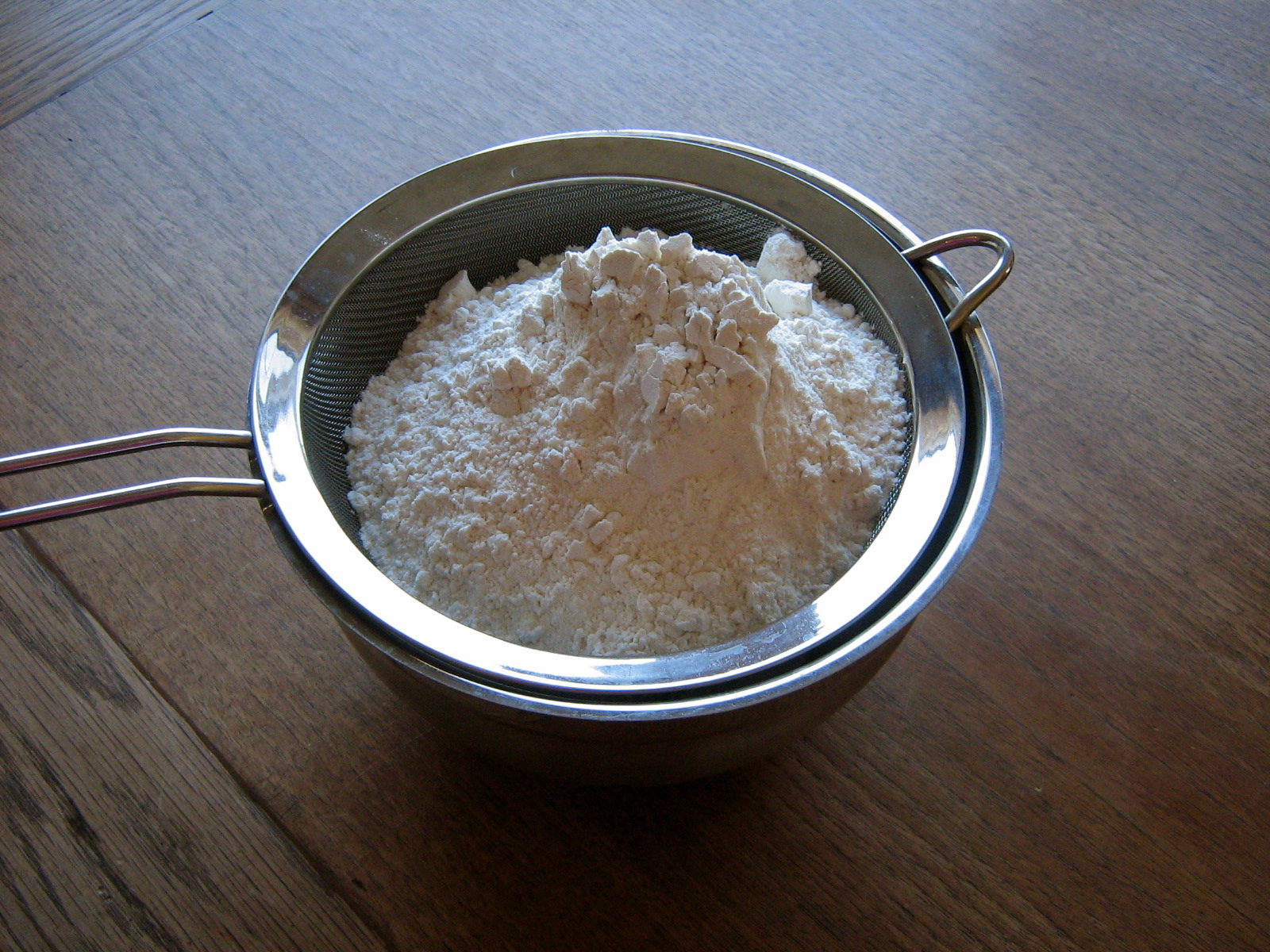 Pour the milk into a stand mixer bowl and stir in:
6 tbsp white granulated sugar
1 1/2 tsp salt
Add:
2 cups sifted flour
1/4 cup melted butter
2 beaten eggs
the activated yeast mixture
With the dough hook attachment on your mixer, stir the mixture on low to combine. It will be very wet and gloopy.

Add the remaining 2 cups of flour, bit by bit, until the dough is still sticky but starts to come away from the sides of the bowl (this may require slightly more or slightly less flour – but you want the dough to be sticky, not dry). Turn the speed up a notch and knead the dough for about 10 minutes (you may need to stop to pull the dough off the hook a few times), until it cleans the sides of the bowl.
When gently stretched, it should create a "window pane" – that is, get thin enough to see light through without breaking.
Divide the dough in half and place each half in a lightly oiled bowl. Cover loosely with plastic wrap and a tea towel and let rise in a warm place for one and a half hours, until doubled in size. While the dough is rising, make the filling.
Traditional Walnut Filling
Makes enough for 2 loaves
In a bowl, combine:
3 1/2 cups ground walnuts
1 cup sugar
1/2 tsp cinnamon
1/2 tsp unsweetened cocoa powder

Heat until boiling:
1/2 cup milk
1/2 cup unsalted butter
Pour the hot milk over the walnut mixture, and stir in:
1 egg, beaten
1/2 tsp vanilla extract
Stir to combine.

The mixture should be quite runny, like liquid honey. Add more warm milk if needed to adjust the consistency – it will thicken a bit as it cools. Let cool to room temperature.
Apricot-Cream Cheese Filling
Makes enough for 2 loaves
In a saucepan, combine:
2 cups dried apricots
1 cup water
zest from half an orange
juice from a whole orange
4 tbsp sugar
Bring to a boil and simmer gently until the apricots are plump and soft and there is only a little liquid left in the pot.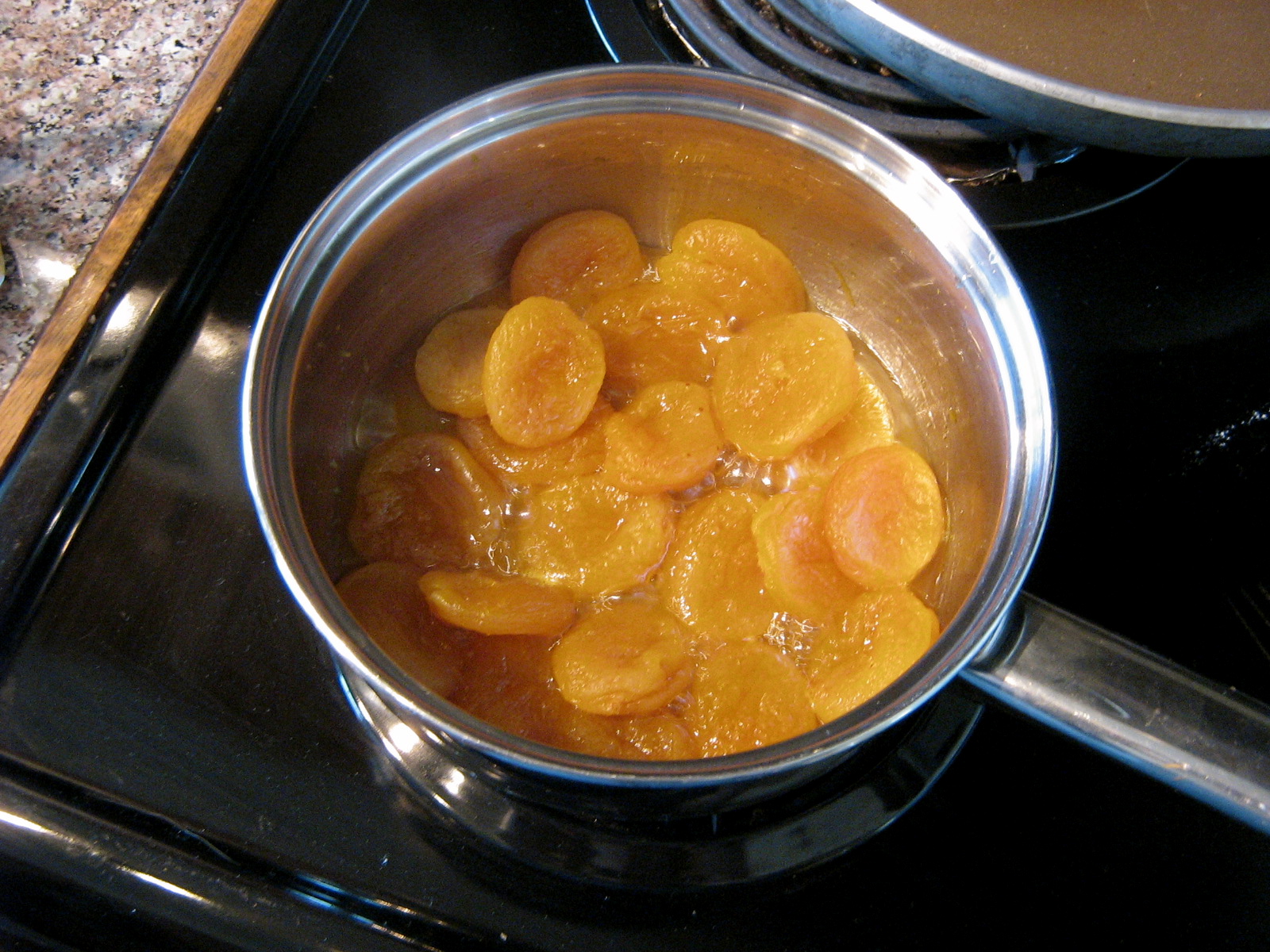 Cool slightly then transfer the apricots and liquid to a food processor. Process until smooth (some small chunks are okay).
Add:
8 oz cream cheese, softened and cut in cubes

2 tbsp all purpose flour
1 egg, beaten
dash of salt

Process until mixed, adding warm water as needed to thin the mixture to a spreadable consistency. Let cool to room temperature.
To Assemble the Loaves
Cover your workspace (ie, kitchen table) with a clean sheet or cloth. Sprinkle lightly with flour (use the flour sparingly) and place one portion of double-risen dough on the floured cloth.

Roll it out to about 12″ square and drizzle with 1 – 1 1/2 tbsp melted butter. Spread the butter over the top of the dough with your hands, then reach underneath the dough and gently start to stretch it with your hands, starting from the middle and working towards the edges.

Try to keep it in a roughly rectangular shape with the short sides of the rectangle 18″ long – this will make fitting it into the 9″x5″ loaf pan much easier (hindsight is 20/20!). Stretch the dough as thinly and evenly as you can – it should be thin enough to read through and will be very large.

Check the consistency of your filling and add warm liquid to thin it as needed – it should be easily spreadable (the walnut filling should be almost runny). Drop the filling by spoonfuls over the stretched dough and spread it out evenly with a rubber spatula to within half an inch of the dough's edges.

Lifting the sheet to help you, roll up the dough from one short (18″) side to the middle, then repeat from the other short side, so you end up with two rolls, side by side.
Fold the ends of the rolls into the middle, then turn the loaf over so the ends are on the bottom and place it in a greased 9X5″ loaf pan.
Mix together:
1/4 cup cold strong coffee
1 tbsp sugar
Brush over the top of the loaf. Cover loosely with plastic wrap and let rest somewhere warm for about 15 minutes. While it's resting, preheat the oven to 350˚F.

Remove the plastic wrap from the loaf and bake at 350˚F for 15 minutes, then turn down the heat to 300˚F and bake for another 45 minutes, until brown and it sounds slightly hollow when tapped on top. Check after 30 minutes to make sure it's not browning too much – if it is, cover loosely with foil.
Remove from the oven and brush with:
melted butter (I forgot to do this)
Let cool completely in the pan on a rack before removing from the pan to slice.

Will keep for 1 week at room temperature, or 2 weeks in the fridge.

Save