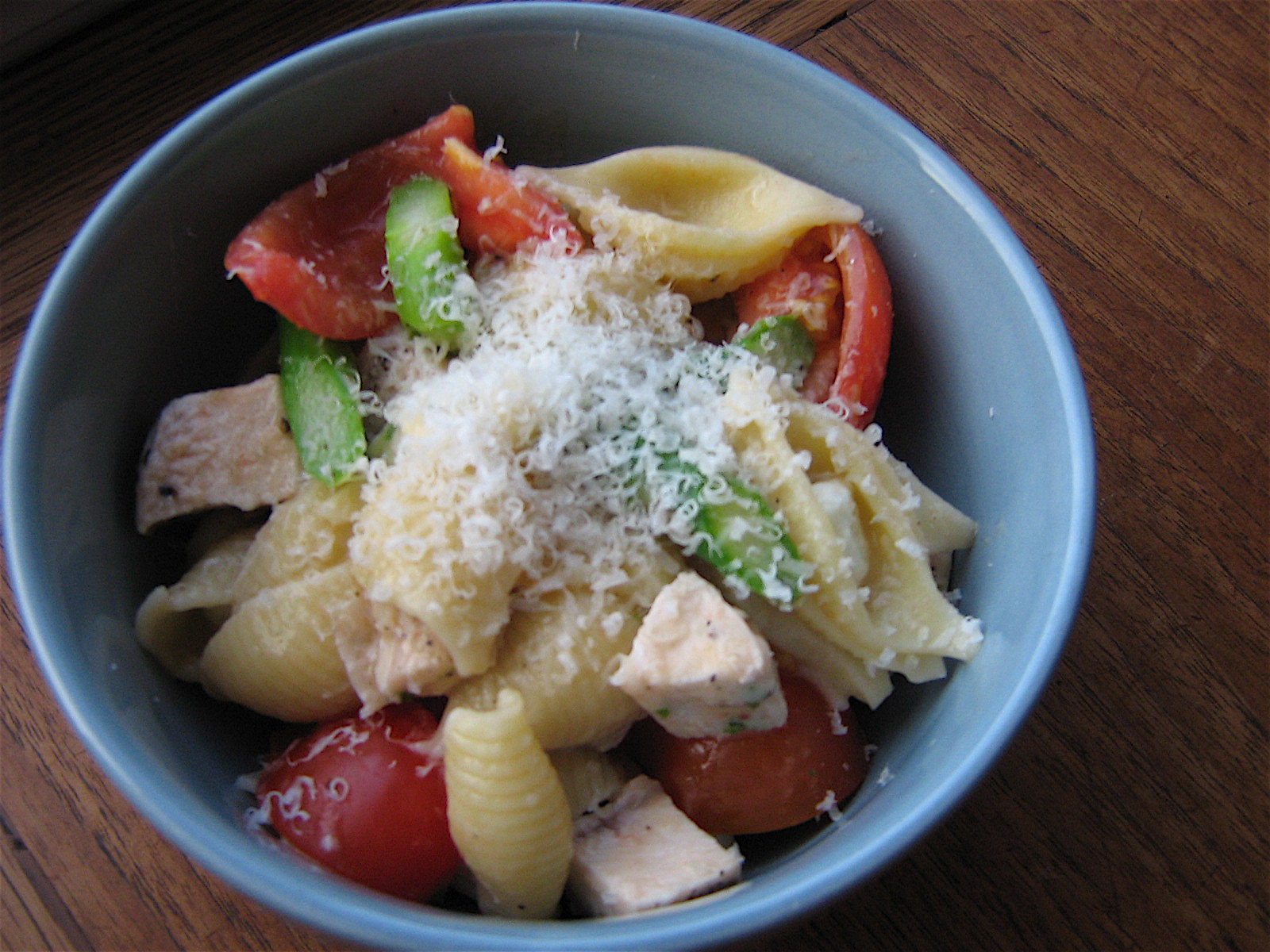 It's been a long, busy week, and I'm kind of uninspired in the kitchen right now, so it seems that now is a good time to share this pasta dish that I made several months ago. The recipe comes from my trusted friend Martha's Everyday Food magazine, which I was fortunate enough to have been gifted a subscription to a few years back. This is my kind of pasta: chicken, cheese, fresh vegetables, and a light sauce. It's SUPER easy to throw together – you barely even need to use measurements, just a handful of this and a handful of that – and you can make it even easier by using left-over chicken. Aside from cooking the chicken, this is a one pot meal: you boil the pasta, drain it, and then toss everything right into the pot with the pasta along with some parmesan, butter, and a splash of the pasta cooking water. Really good, really simple, and now I want it for dinner!
One thing to note – because the tomatoes are just mixed in with the hot pasta and cooking water, they don't actually get cooked. Nate is not a huge fan of raw tomatoes (neither am I actually, but I don't mind them here) so next time I will give the tomatoes a quick sauté in a hot pan with some butter or olive oil before adding them to the pasta.
Pasta Shells with Chicken, Bocconcini and Cherry Tomatoes
Adapted from Martha Stewart; serves 2 (with leftovers)
Season 6 – 8 chicken breast cutlets (depending on size) with salt and pepper, and cook on both sides under a preheated broiler or on a grill until cooked through. Cut into bit-sized pieces, cover to keep warm, and set aside.
Bring a large pot of salted water to a boil for the pasta. Meanwhile, assemble the other ingredients:
a handful of cherry or grape tomatoes (about 6 or 7), cut in quarters
several spears of asparagus, cut into one inch pieces
2 oz of bocconcini – about 2 large balls cut into 1/4″ dice, or a handful of tiny pearl or cherry bocconcini
a few handfuls of freshly grated parmesan
a small palmful of chopped parsley
1 soup bowl full of medium/large pasta shells – pasta tends to double in volume when cooked, so start with half the amount (raw) that you want to end up with (cooked) (or about 4 oz raw pasta, if you won't want to eyeball it)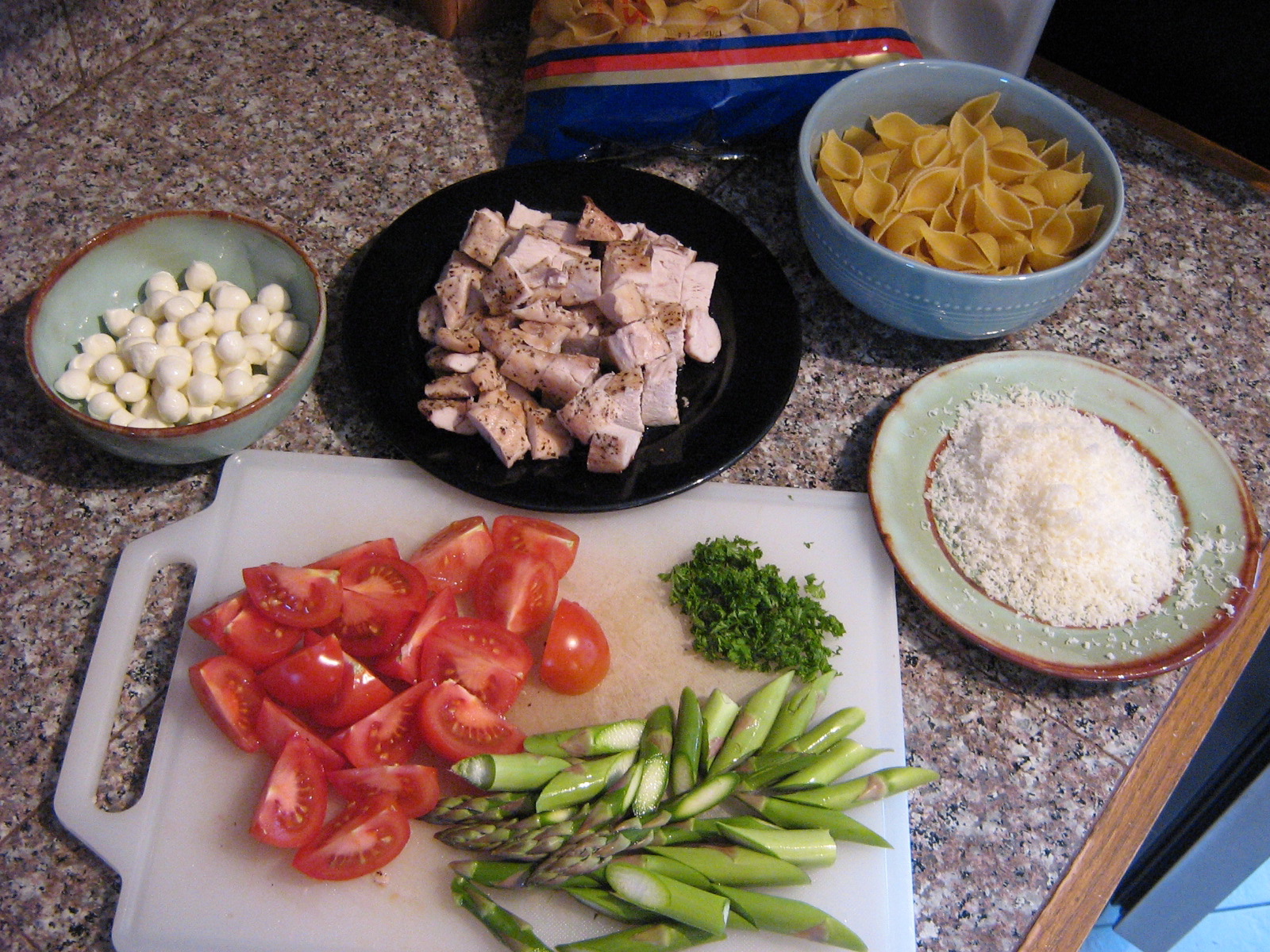 When the water boils, chuck in the pasta. When it is *just* al dente, toss in the asparagus and cook for about 30 seconds. Drain the pasta/asparagus in a colander, reserving about 1 cup of the pasta water. Working quickly so you don't lose any residual heat, toss everything but the bocconcini in the pot along with:
about a tablespoon of butter
salt and pepper
Stir to combine, adding the reserved pasta water a little at a time until you have a light sauce coating the pasta (you probably won't need all the water). Stir in the bocconcini.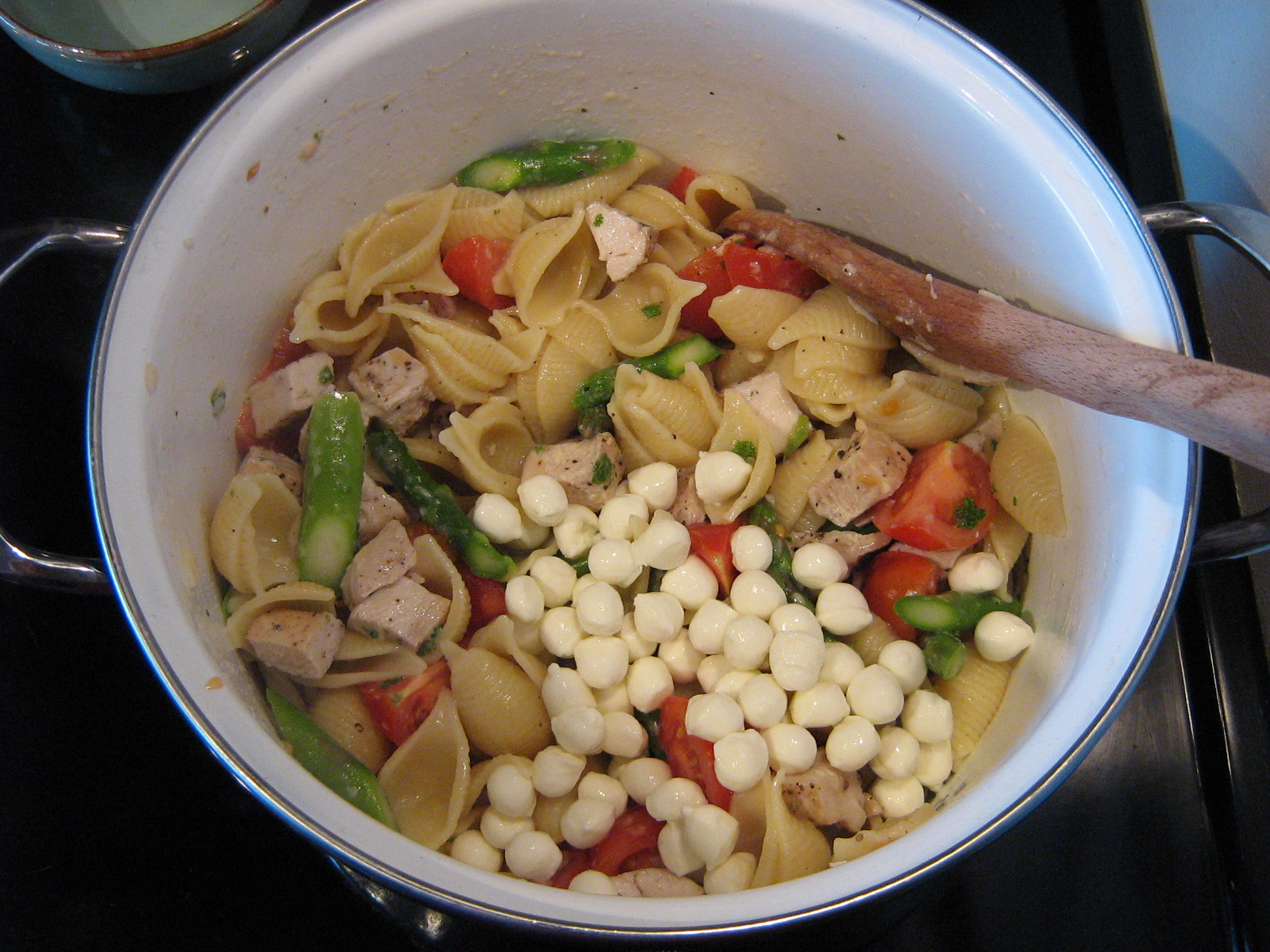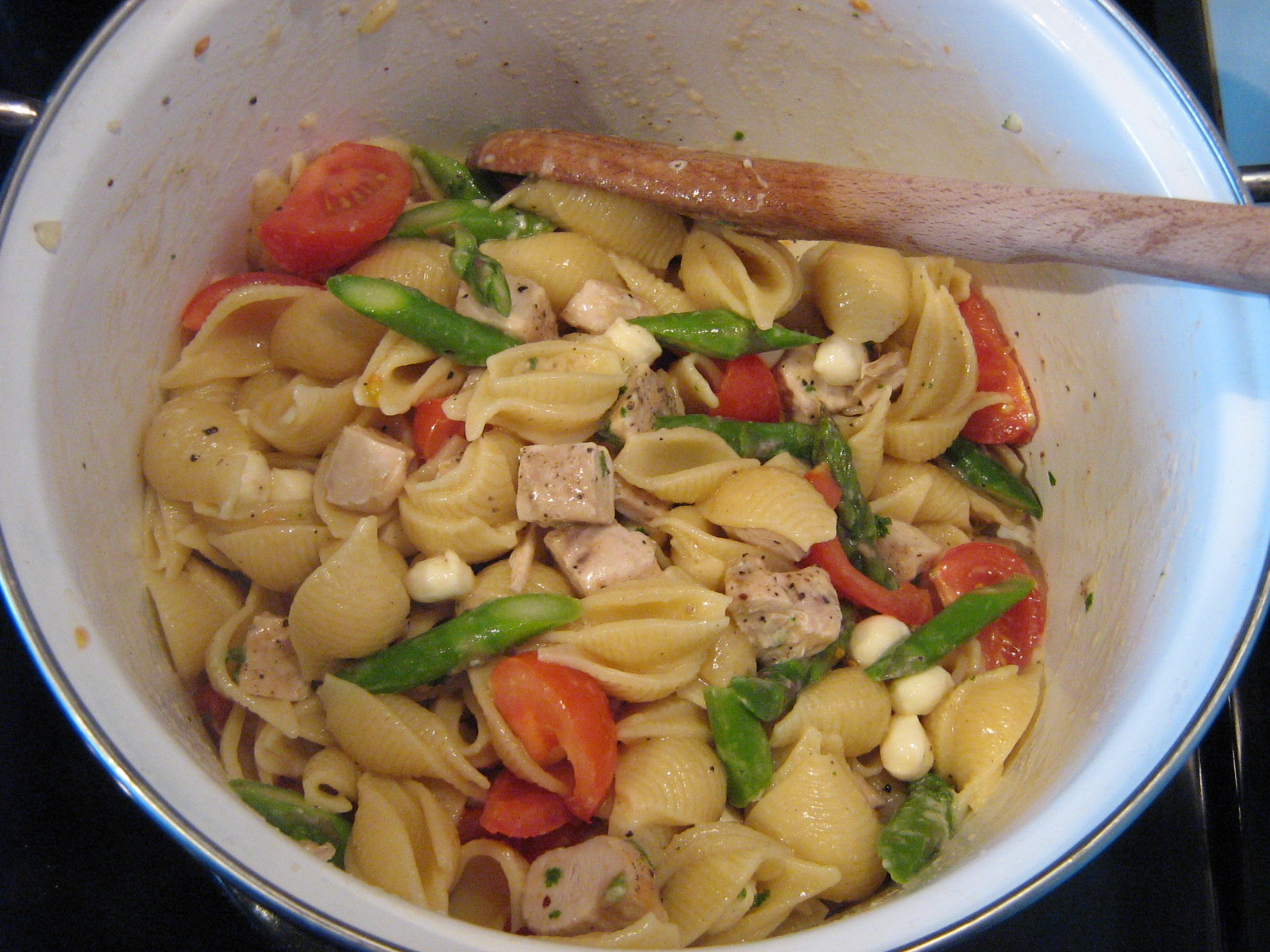 Serve with more grated parmesan on top.