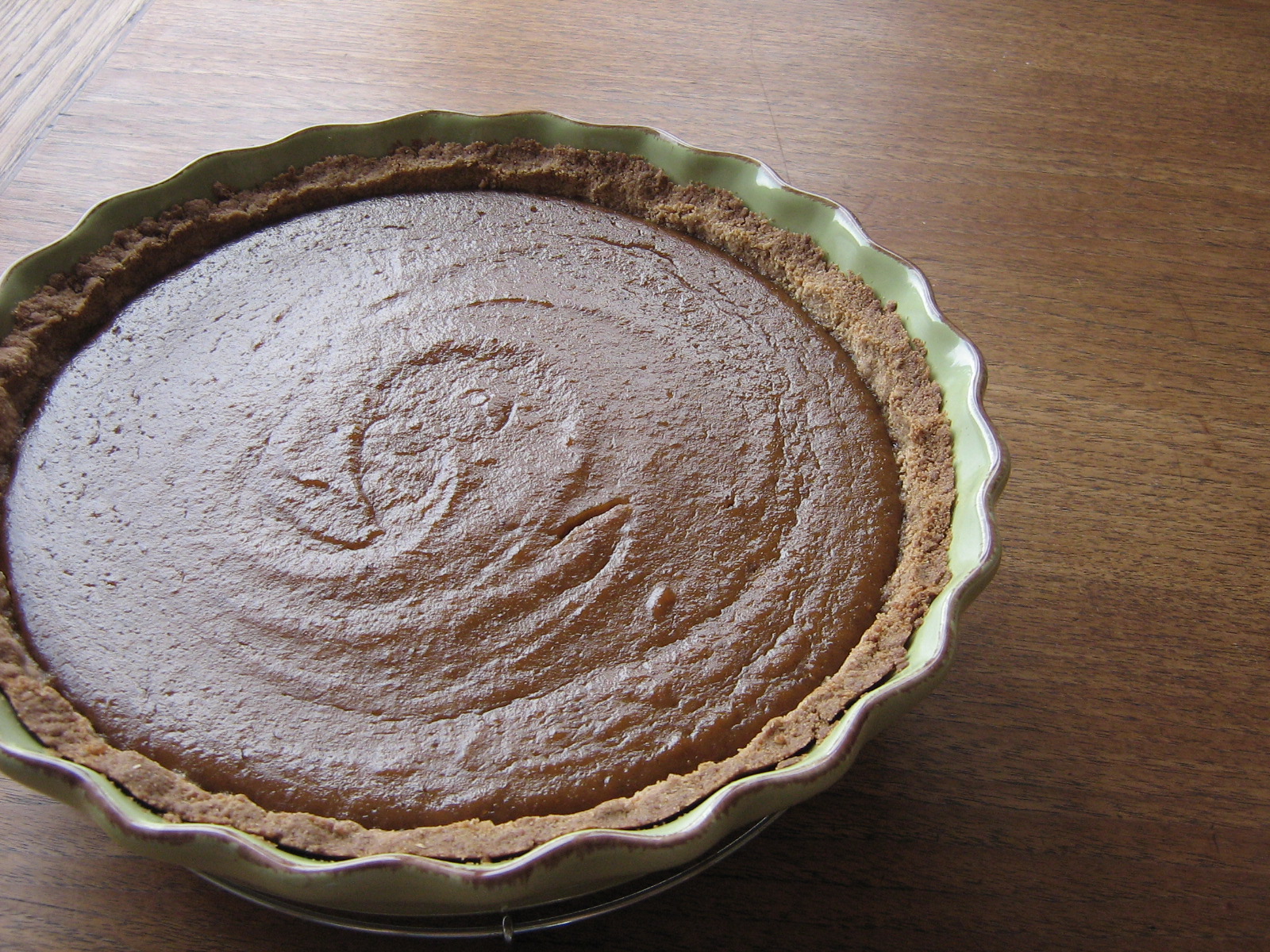 Happy Canadian Thanksgiving! I still can't believe it's October and, according to all the store displays and lifestyle/cooking magazines, the beginning of the holiday season. Where the heck did summer go so quickly?
I'm enjoying fall though – I love the cooler weather, the coloured leaves, and the abundance of delicious, harvest food – and maybe I'm okay with the holiday season starting. Heck, I've bought my first holiday cooking magazine and I'm already thinking about Christmas baking. Yeah, I'm totally okay with it ;). For me it's mostly about the food anyway, and a Thanksgiving meal is a great way to kick it all off.
I've been in charge of holiday desserts in my family ever since I can remember, so this is the pumpkin pie I took to my parents' house for Thanksgiving dinner. By the way, my mum is a turkey super-star – it is always juicy and awesome. And it has bacon on it. That's all you really need to know.
Anyway, back to pie. This recipe comes from my trusted friend Martha, and this is the second year I've made it. What sets it apart from other pumpkin pie recipes is the crust, which comes out tasting more like a shortbread cookie than regular pie pastry. Rather than rolling out the pastry, you just press the crust right into the pie plate and then blind bake it.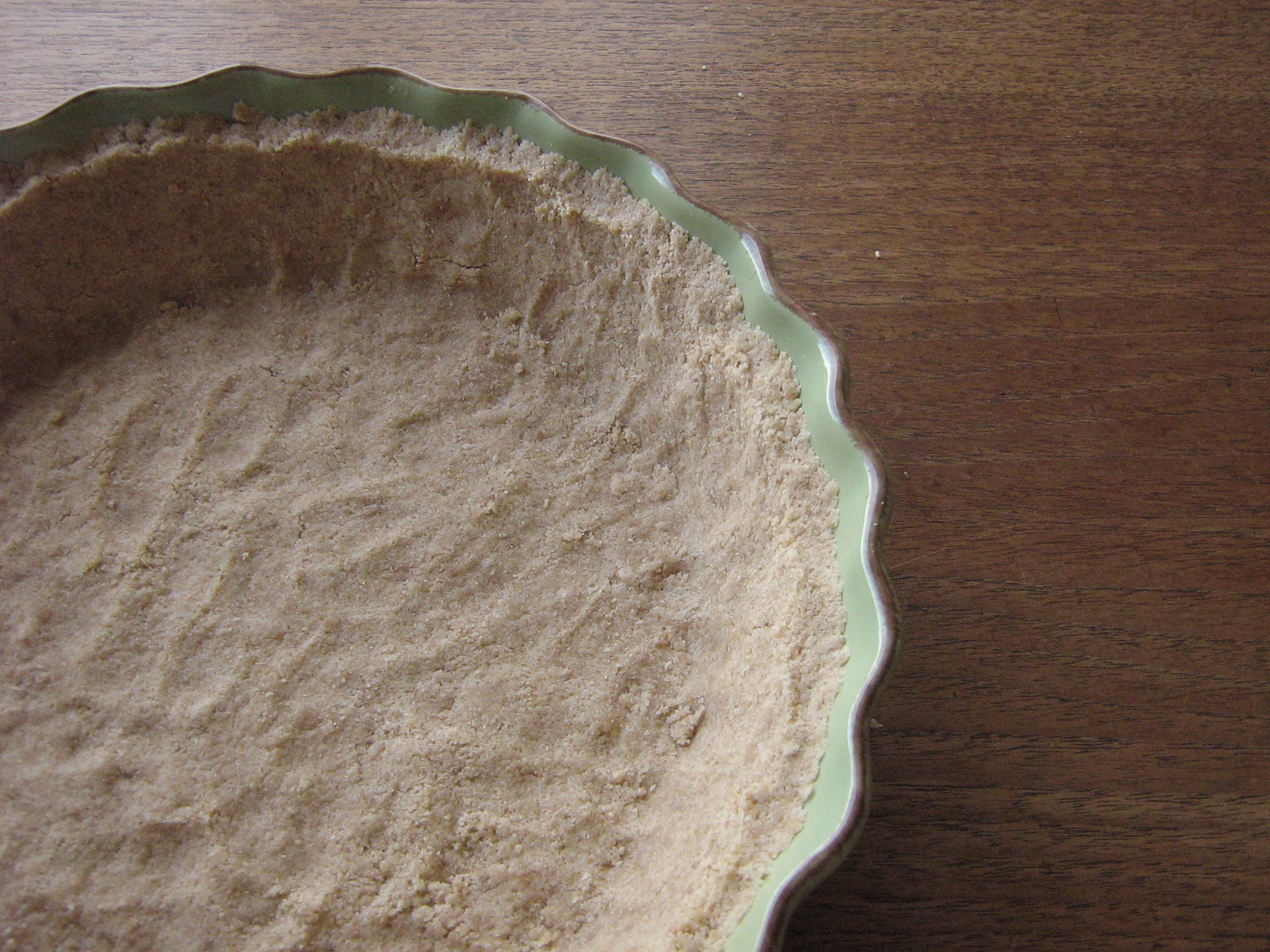 This is definitely the easiest and best recipe/method I have come across for blind-baked pastry, because it doesn't shrink or bubble up like other pastry often does.
The pumpkin filling, while quite tasty and nicely spiced, was not particularly special or unique as far as I could tell the last time I made it, so I cut out the regular white sugar and used maple syrup and brown sugar instead.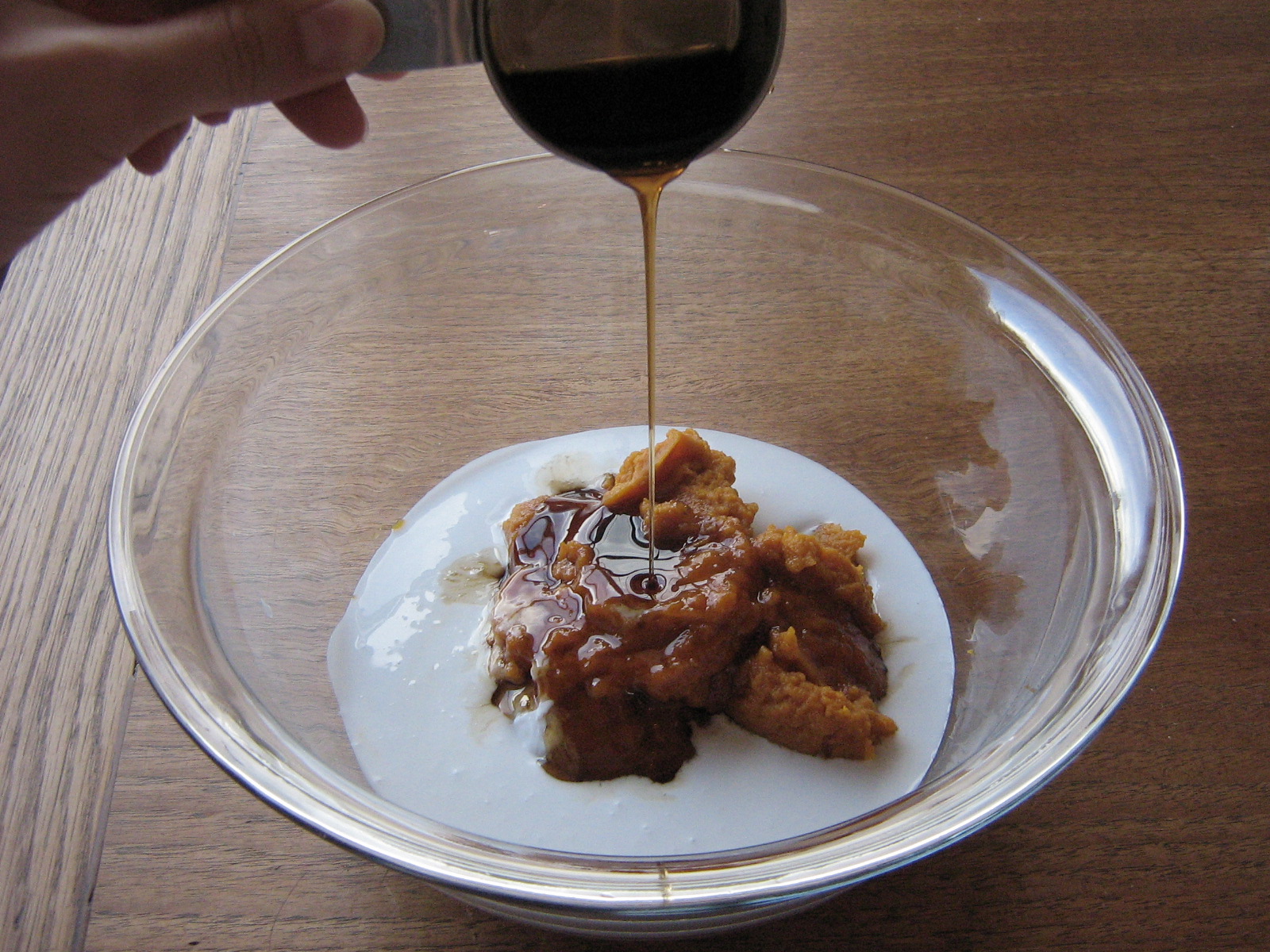 I also added a splash of maple syrup to the whipped cream – because what's pumpkin pie without whipped cream?
Because my mum can't eat wheat or dairy, I used whole spelt flour in the crust and coconut milk instead of cream in the pumpkin custard filling (she missed out on the maple whipped cream though – next year I might try this coconut whipped cream recipe). The spelt flour gives the crust a slightly toasted flavour, and the coconut milk (which might sound weird) actually pairs really well with the pumpkin, maple, and spices. You can substitute heavy cream if you want, but I would recommend trying it with coconut milk even if you don't have a dairy allergy!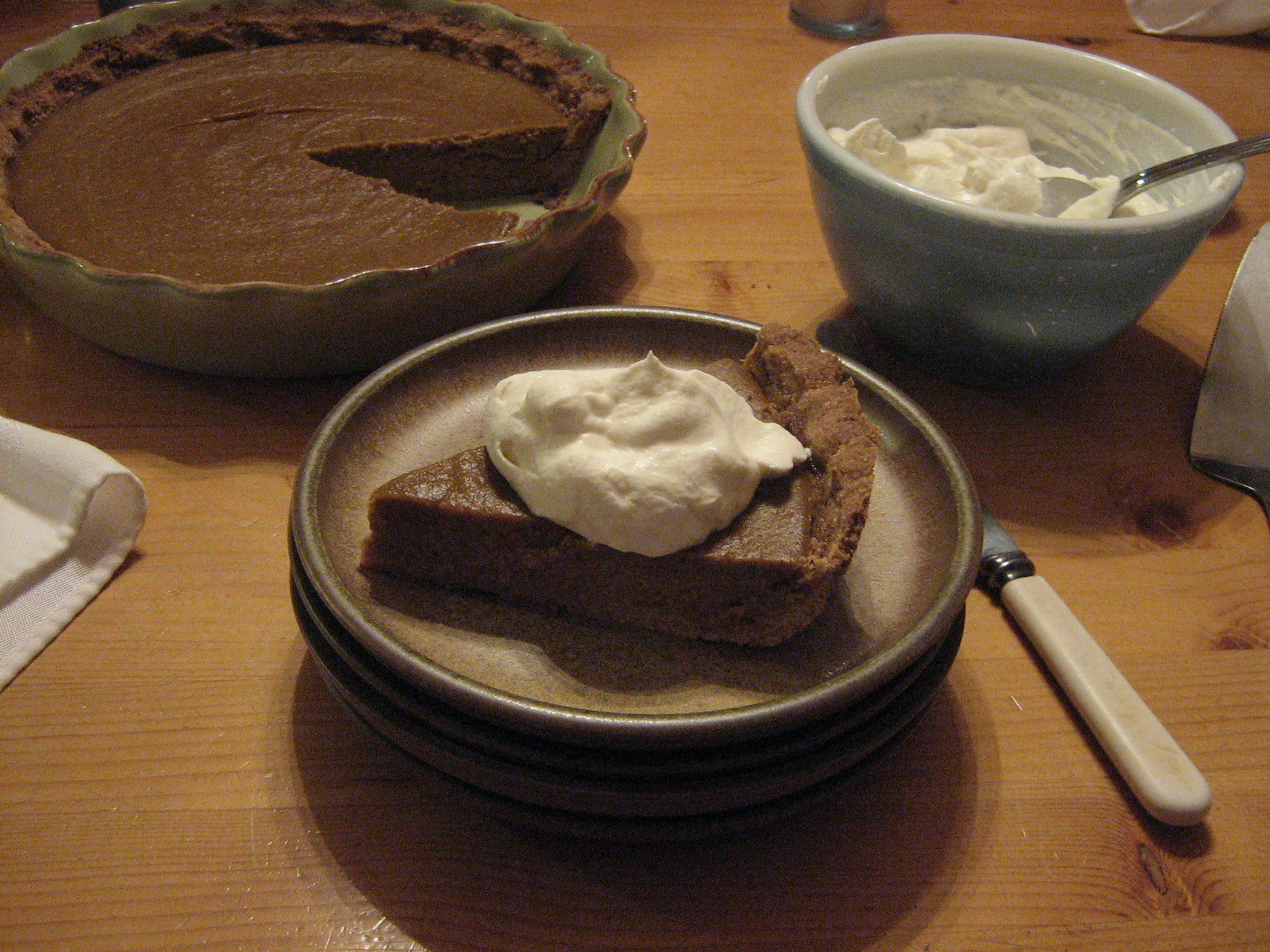 Maple Coconut Pumpkin Pie with Spelt Shortbread Crust
Modified from Martha Stewart; makes one 9-inch pie
Spelt Shortbread Crust
A note on baking with spelt: spelt flour is a cousin of wheat flour, but is lower in gluten so it behaves a little differently in baking – basically, it absorbs less liquid and often turns out a bit crumblier. I usually think of it as similar to cake and pastry flour, but I'm not sure how accurate that actually is. In most cases, to substitute spelt for wheat flour, just increase the amount of flour by 25% (or, you can decrease the amount of liquid by 25%, but this sometimes also decreases the volume of whatever you're making, so I usually go with the other method). However in this recipe, because there is no liquid added to the crust, a straight one-to-one substitution works.
Preheat oven to 375˚F.
In a bowl, cream together:
4 tbsp unsalted butter or margarine, softened (I used dairy-free margarine to accommodate a dairy allergy)
3 tbsp white granulated sugar
Stir in:
1 large egg yolk
Add:
1 cup whole spelt flour (or all purpose wheat flour, or 1/2 cup each all purpose and whole wheat flours)
1 tsp coarse salt
Stir until the mixture is uniformly crumbly – it should clump together easily when squeezed between your fingers. Press it evenly into the bottom and just over an inch up the sides of a 9-inch pie plate. Freeze until firm (20 minutes – I forgot to do this and it turned out fine), then bake in a 375˚F oven for 15-20 minutes, rotating half-way through, until golden brown. Let cool while you prepare the pumpkin filling.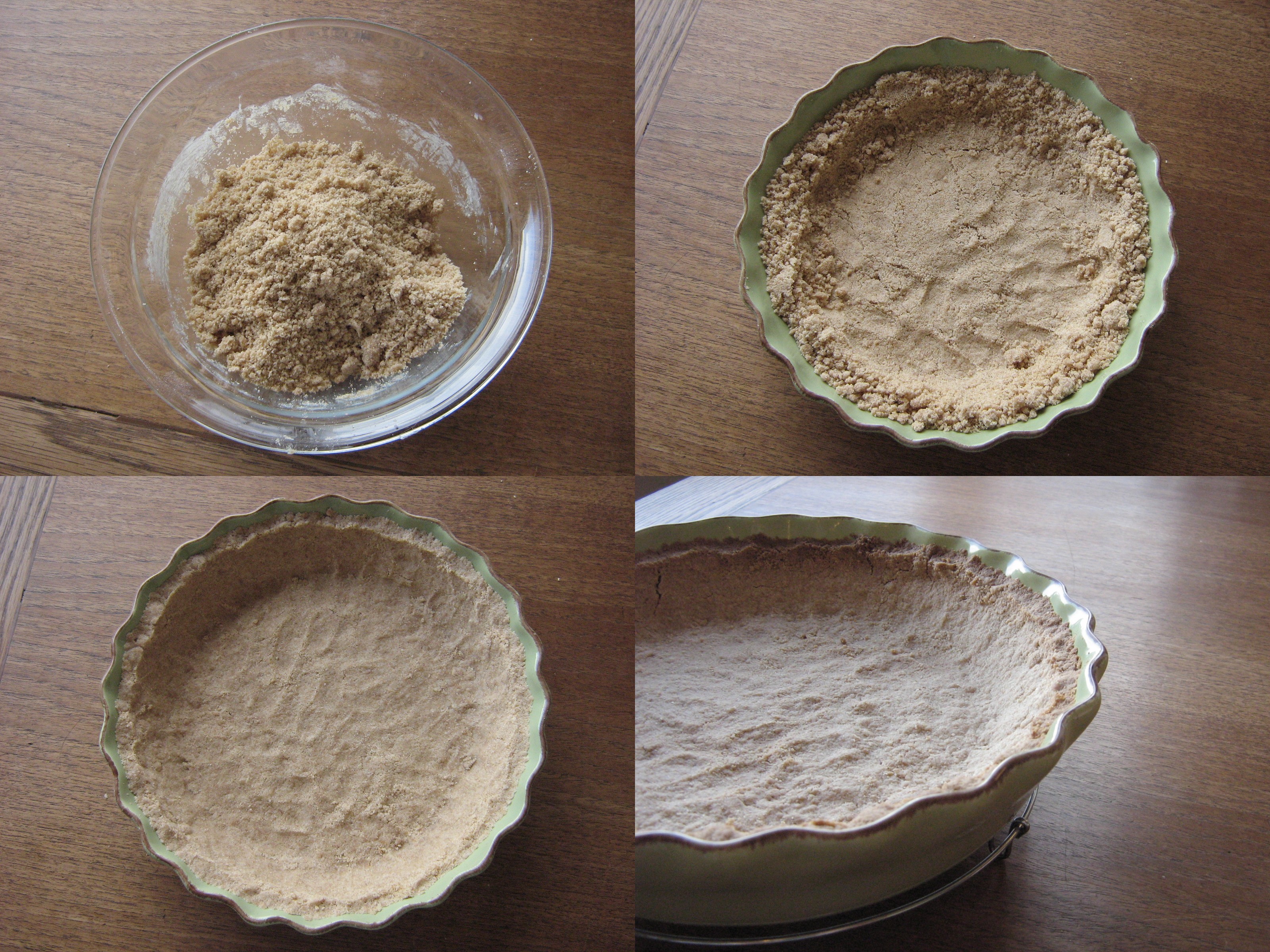 Maple Coconut Pumpkin Filling
Preheat oven to 325˚F.
In a medium bowl, whisk together until smooth:
1 14-0z/398 ml can pure pumpkin (not pumpkin pie filling)
3/4 cup coconut milk with a high fat content (ie, not light – the one I used had 14 grams of fat per 1/3 cup – and make sure you shake the can well)
1/3 cup pure maple syrup (the darker the better – darker = more flavour)
2 eggs, beaten slightly
2 tbsp dark brown sugar (demerrara if you can find it)
1 tsp pure vanilla extract
1 tsp coarse salt
1 tsp ground cinnamon
1/2 tsp ground ginger
1/4 tsp ground allspice
1/8 tsp ground nutmeg
1/8 tsp ground cloves
Pour the filling into the prepared pie crust. Bake the pie at 325˚F  for 65-70 minutes, until the filling is slightly puffy and just set (it should still jiggle a bit). Cool completely on a wire rack, then refrigerate, uncovered, for at least 6 hours. Serve with maple whipped cream (1 cup whipping cream + 1 tbsp maple syrup).