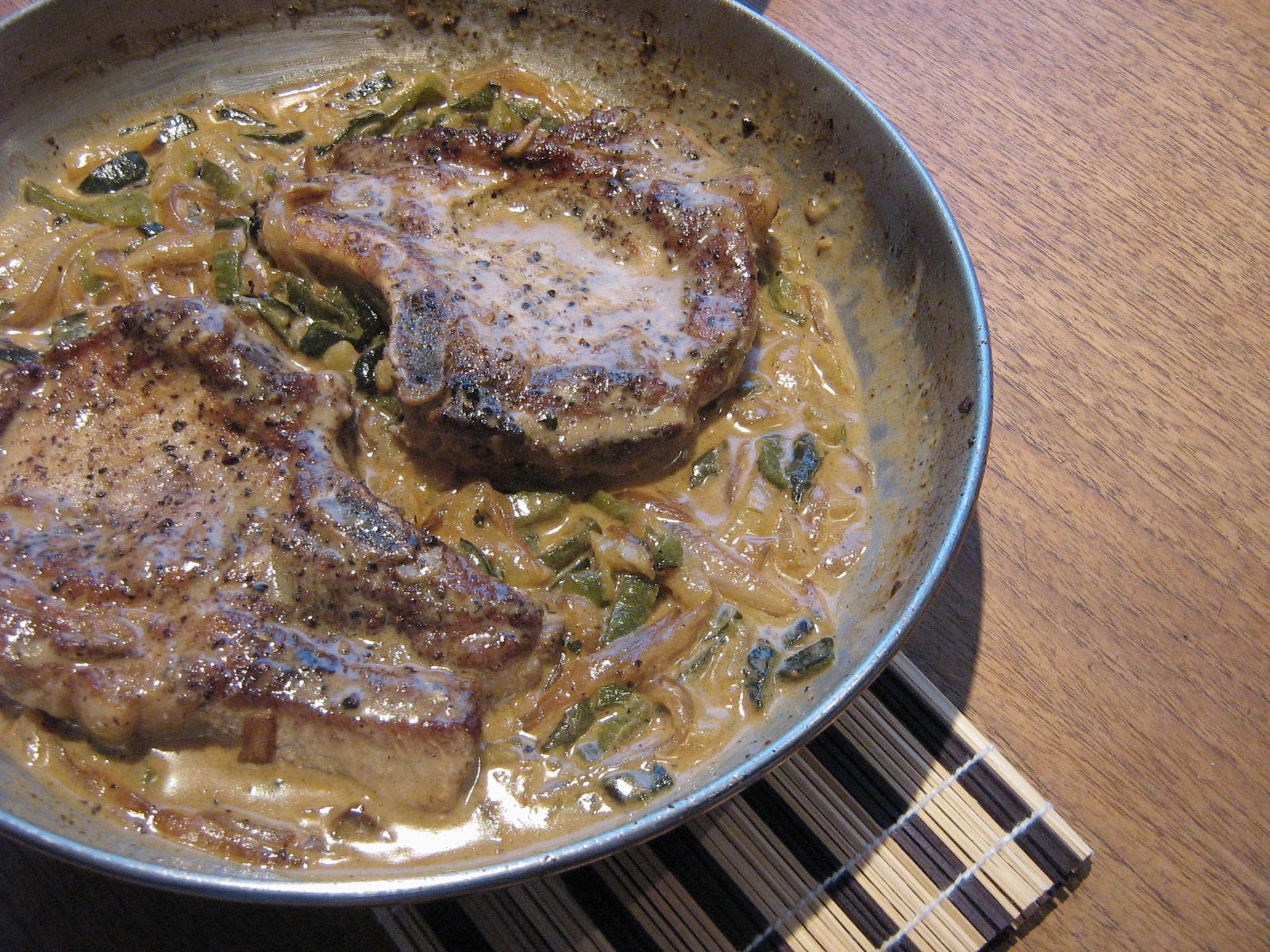 We have a recipe from Nate's parents involving baked pork loin with green chili peppers and onions in a creamy sauce made with a little sour cream. With those ingredients you can't really go wrong, but I still decided to play around with it a bit. I used bone-in pork chops (the bone adds more flavour and keeps them juicy) instead of pork loin, roasted peppers instead of canned jalapenos, and added some cumin. I also added tequila because – well, why not? I was feeling a slightly Mexican vibe from the peppers and cumin and it just seemed right. Turns out it was!
Making this is a little bit time consuming because you have to roast the peppers, but if you plan ahead you could roast the peppers while you brown the pork chops, then peel and chop them while the onion is sautéeing. If you're the plan ahead type, that is. I usually seem to be cooking by the seat of my pants, so to speak.
So, plan ahead and make this. It's delicious served over brown rice to soak up the sauce, which has a little bit of a tequila kick. Or maybe I'm just a lightweight ;).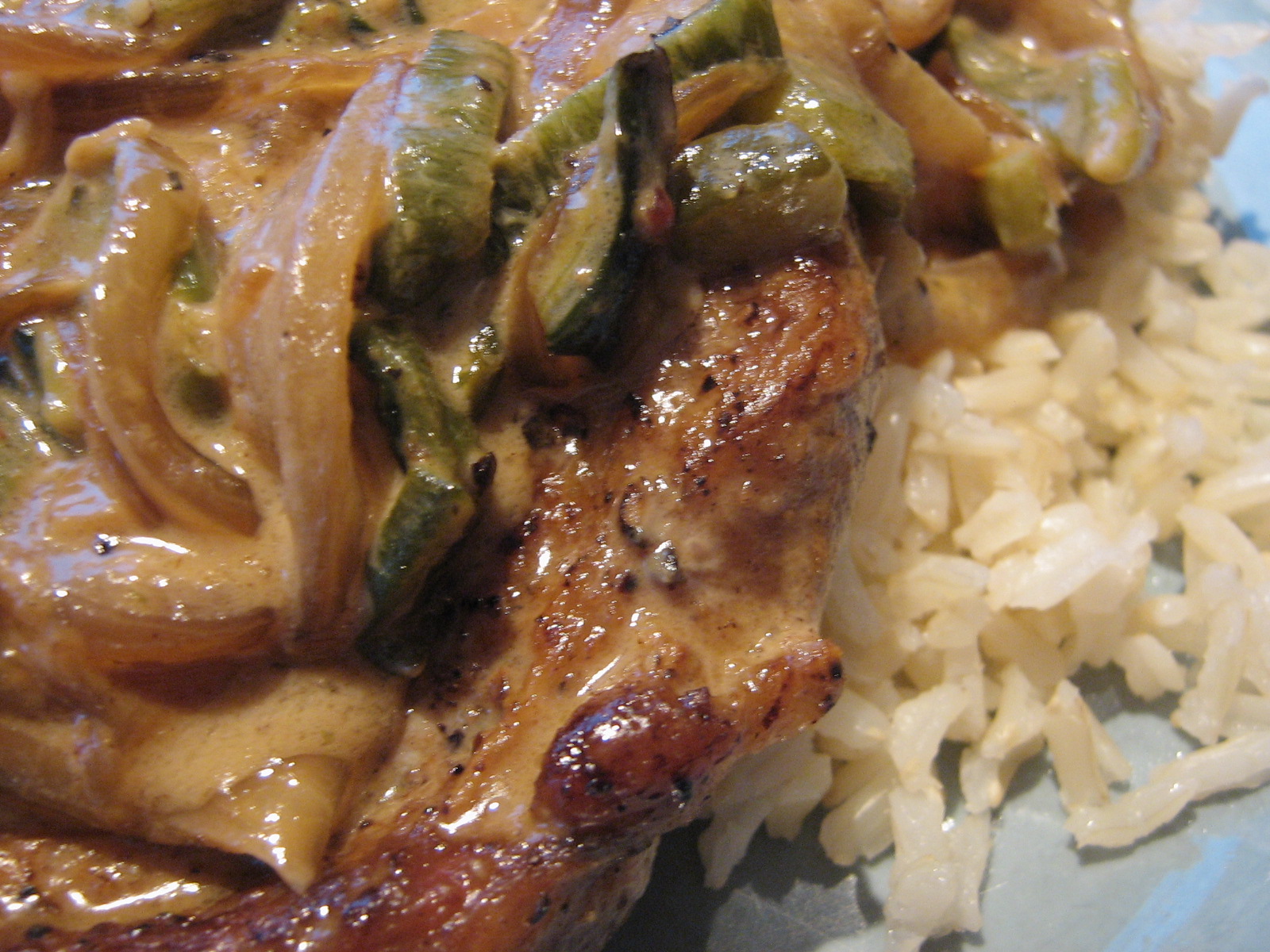 Chili Pepper Pork Chops with Tequila
Serves 2.
First, roast the peppers:
2-3 medium-sized peppers, cut in half lengthwise (I used a poblano pepper, a white Hungarian pepper, and half a green bell pepper, which are all quite mild, but feel free to use a variety with more heat)
Place the peppers cut-side down on a foil lined baking sheet. Broil until the skin is charred, then put the peppers in a bowl and cover with plastic wrap. Let them steam for a few minutes, then remove the seeds and membranes, peel off the skins, and slice into strips. Set aside.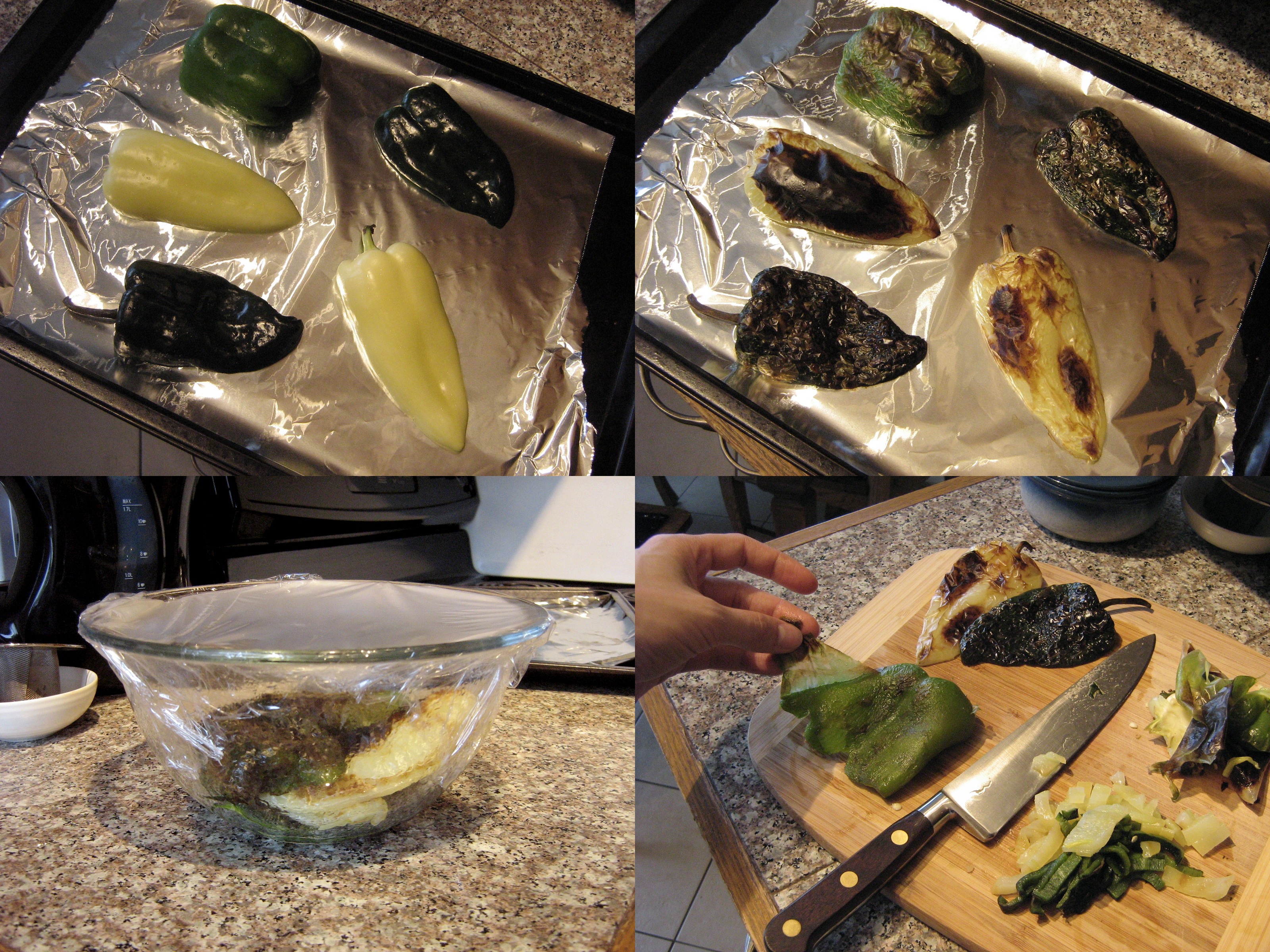 Turn the oven to 350˚F. Prepare the pork chops:
2 bone-in pork chops
Season on both sides with:
salt
pepper
a little granulated sugar (to help with browning and caramelizing, not make them sweet!)
Heat a splash of olive oil and little butter in an oven-proof frying pan over medium heat and cook the pork chops on both sides until golden brown.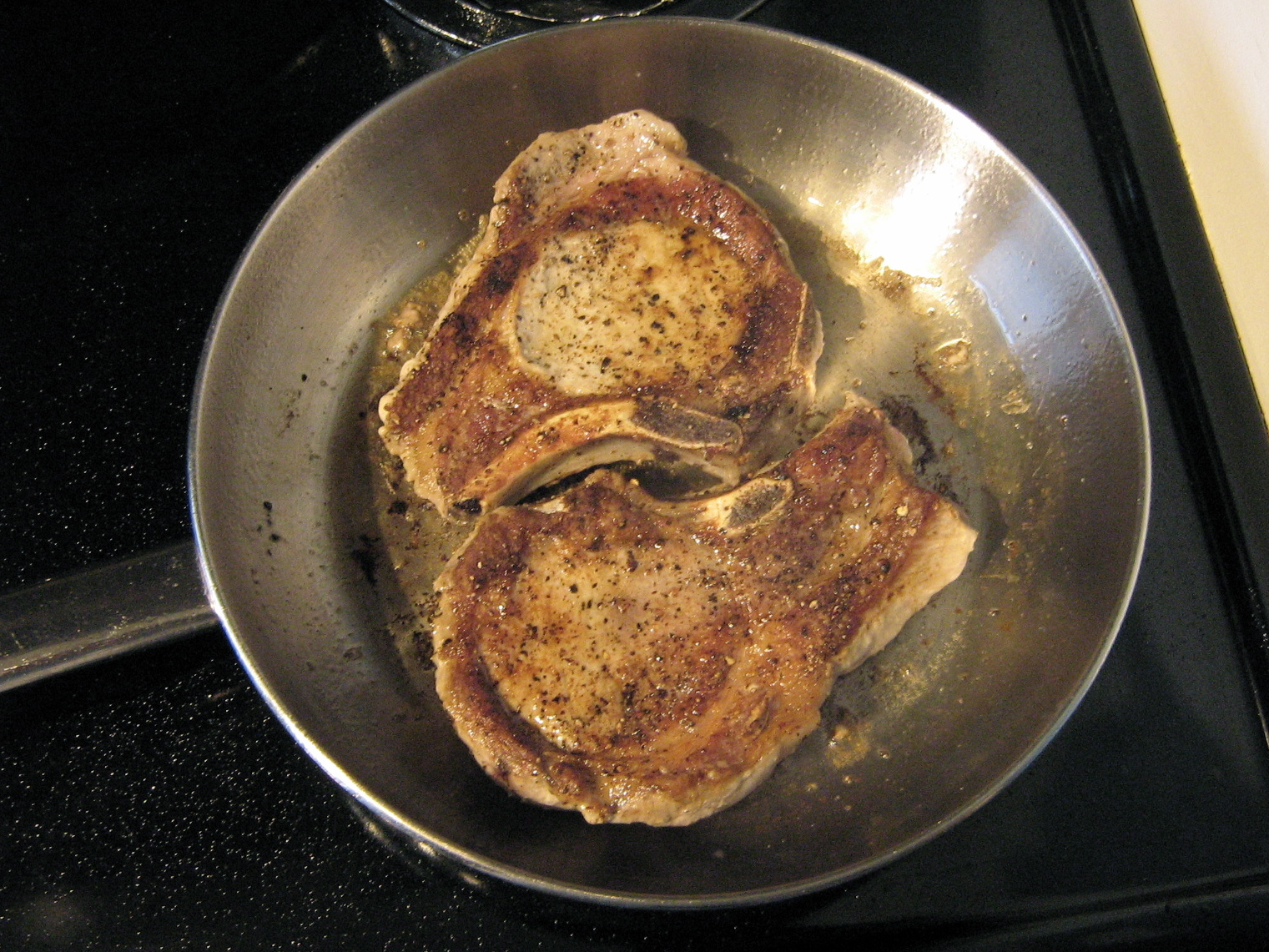 Remove the pork chops  from the pan and add:
1 small sliced onion
1 minced garlic clove
Sauté  in the frying pan until browned and soft, and season with:
salt
pepper
1 tsp cumin powder
Deglaze the pan with a shot of tequila, stirring to scrape up the browned bits on the bottom of the pan. Nestle the pork chops back in the pan, cover with the roasted peppers, and sprinkle with more salt, pepper, and cumin.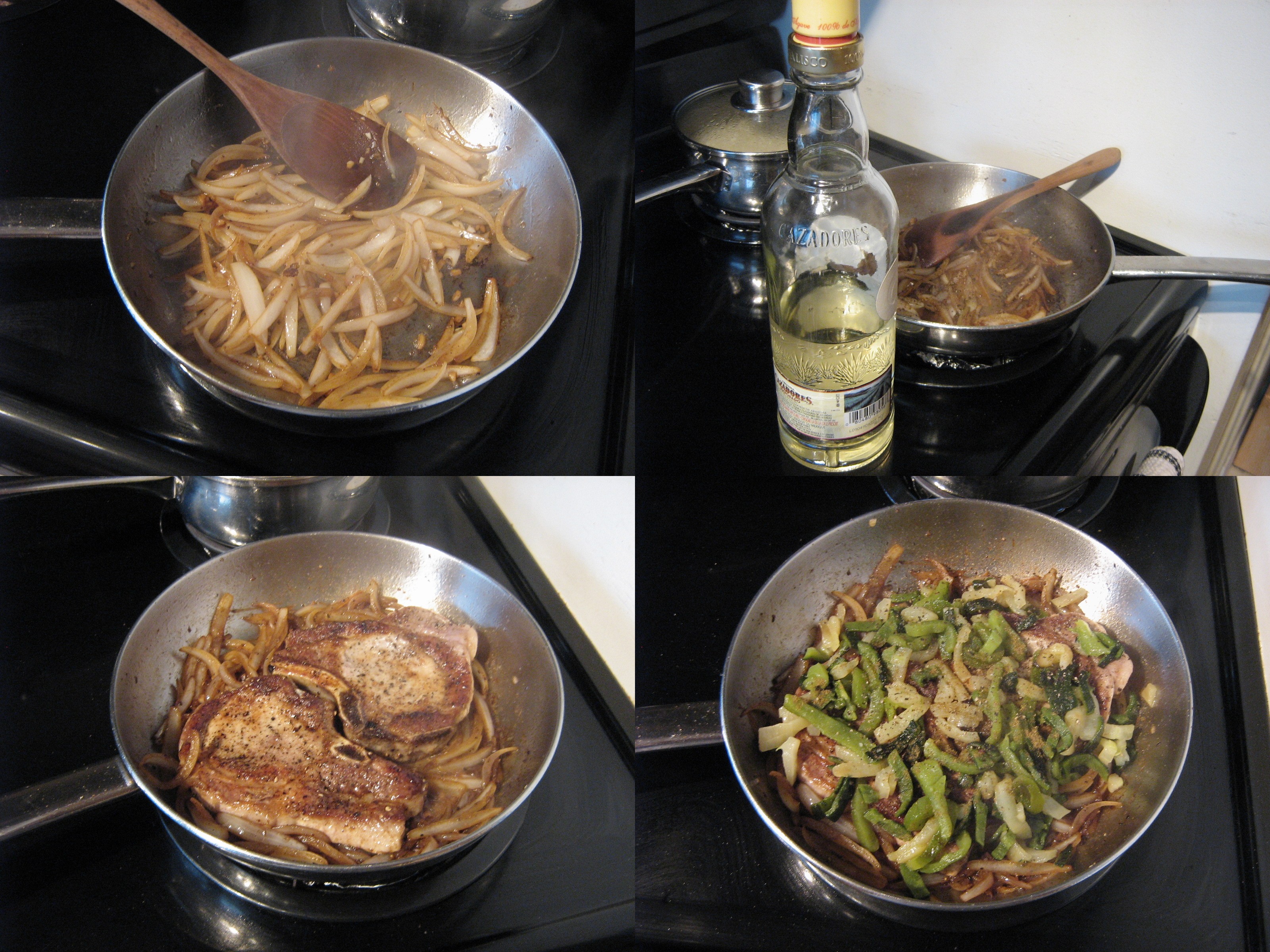 Bake in a 350˚F oven for 20-25 minutes. Remove the pork chops, leaving the onions and peppers in the pan, and place the pan over medium heat. Stir in:
2 tbsp sour cream
1 shot tequila
Simmer for a few minutes, then return the pork chops to the pan and coat with the sauce. Serve over brown rice.