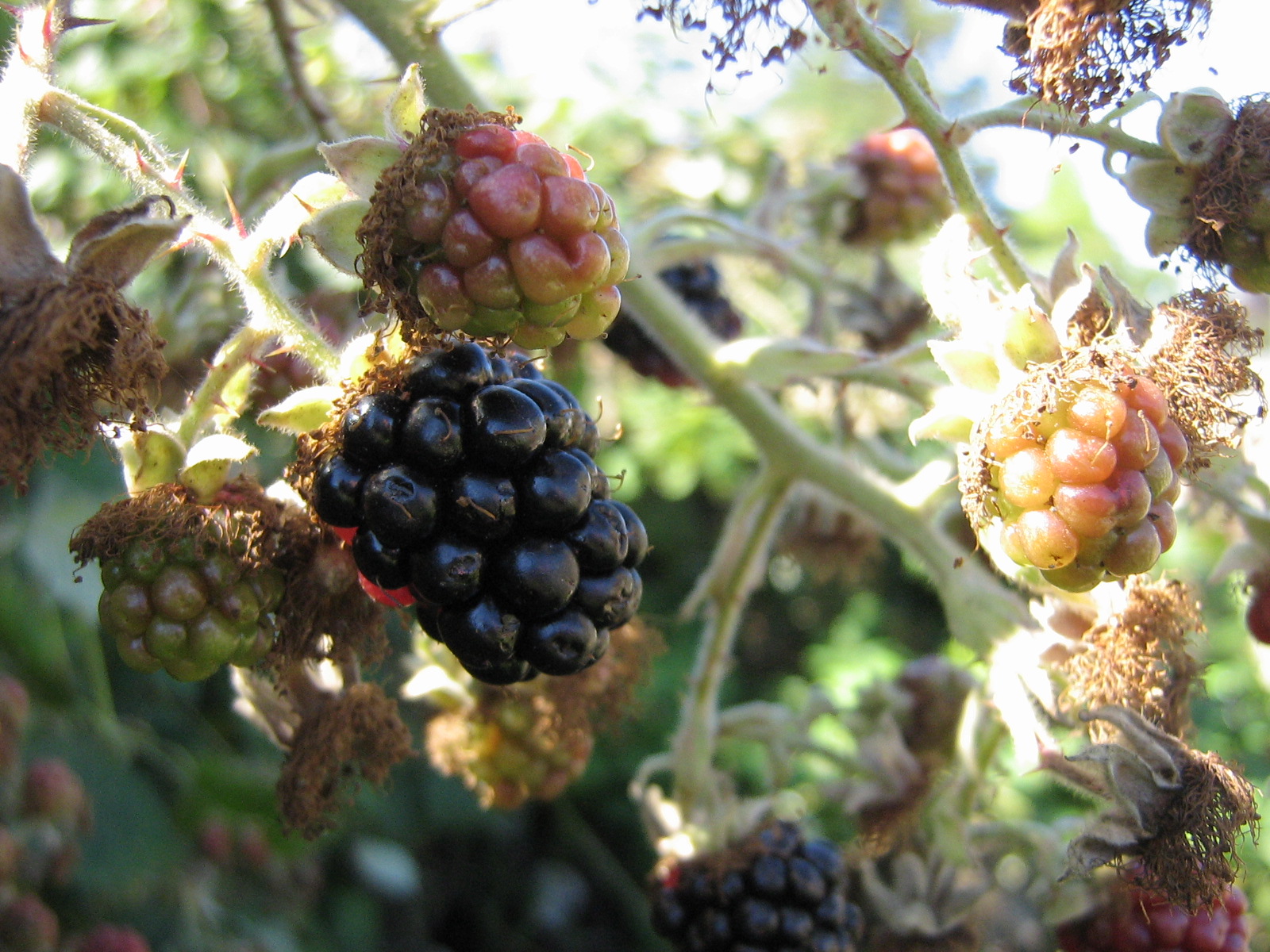 After making galettes and scones I still had a bunch of blackberries left, and my thoughts turned to a blackberry barbeque sauce for pork ribs. I'd heard of other fruit-based barbeque sauces, such as peach, and a quick Google search came up with several such recipes featuring blackberries. The one I went with is from Bon Appetit magazine, and includes honey, ginger, and hot sauce (which I substituted for chipotle pureé, because I put that stuff in everything!). It also makes a TON of sauce, so feel free to scale down the recipe.
Rather than puréeing the sauce in a blender and then straining it and using it to baste the baked ribs as the recipe originally instructs, I gently mashed the berries and didn't bother straining, to end up with a chunkier texture. My favorite way to cook ribs involves smothering them in sauce and baking them, rather than just basting them with sauce at the end, and the berries broke down quite a bit with cooking, so next time I might just leave them mostly whole to begin with.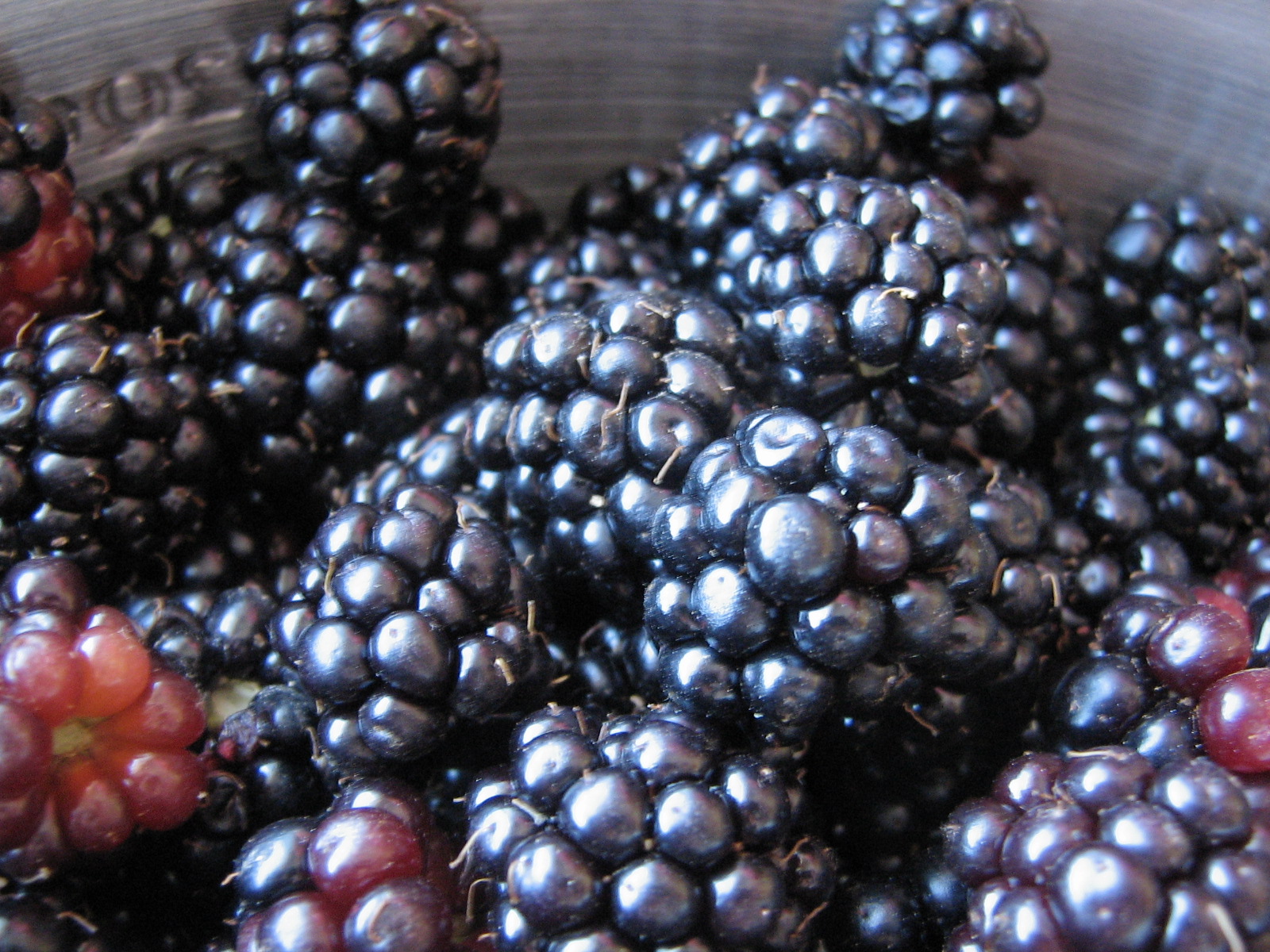 These ribs, while not particularly photogenic, came out tasting fantastic. Pork works especially well with fruit, and the blackberries gave a nice tangy sweet flavour to the sauce. This recipe is definitely a keeper – I imagine the sauce would be equally delicious on chicken or steak.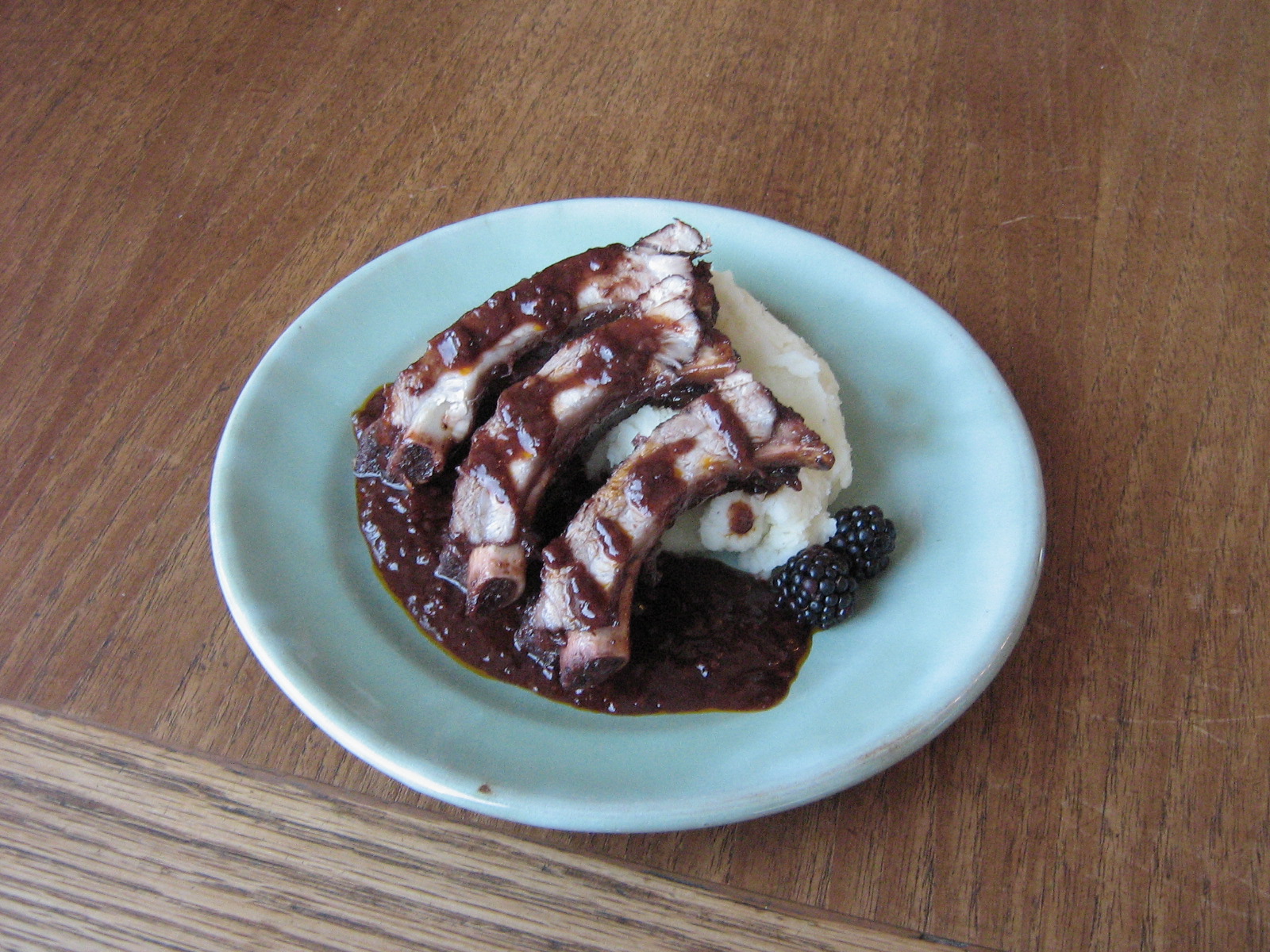 Baked Ribs with Spicy Blackberry Barbeque Sauce
Recipe adapted from Bon Appetit. As I mentioned, this makes a LOT of sauce – probably half would still be enough for this amount of of ribs. I thought about parboiling the ribs (partially cooking them in boiling water to make them cook faster in the oven), but after reading some rib-lovers' opinions on the matter (sacrilege!), I changed my mind – essentially it just boils out the flavour, which is never a good thing. Turns out they only took a little over an hour to bake anyway, so I didn't really have anything to worry about.
Preheat the oven to 325˚F. Mix together the spice rub:
3 cloves garlic, minced
3 tsp chili powder
1 tsp each salt and pepper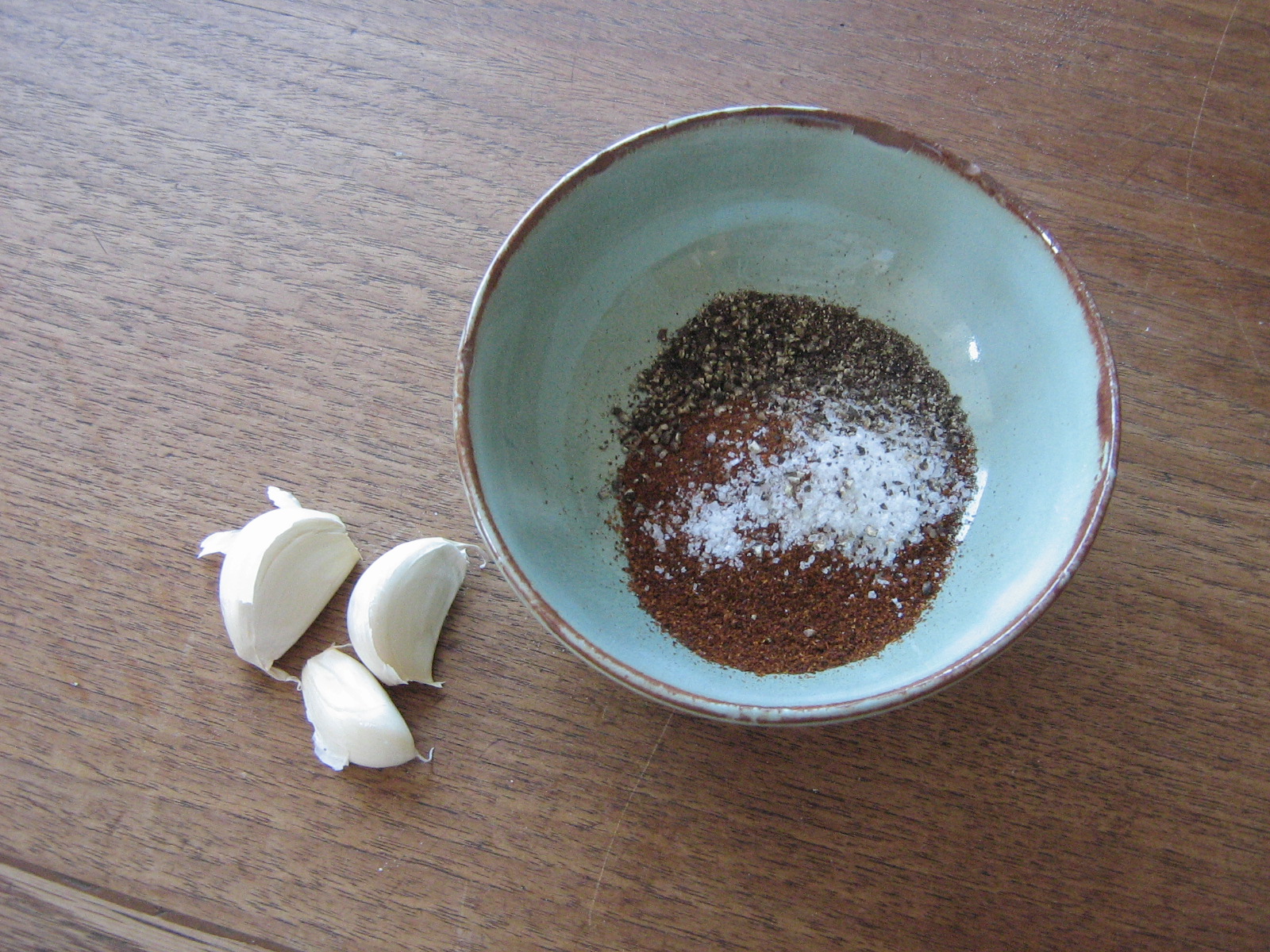 Rub the spices over both sides of 1 3/4 – 2 lbs of ribs (baby back, spare, whatever). Arrange the ribs in a baking dish.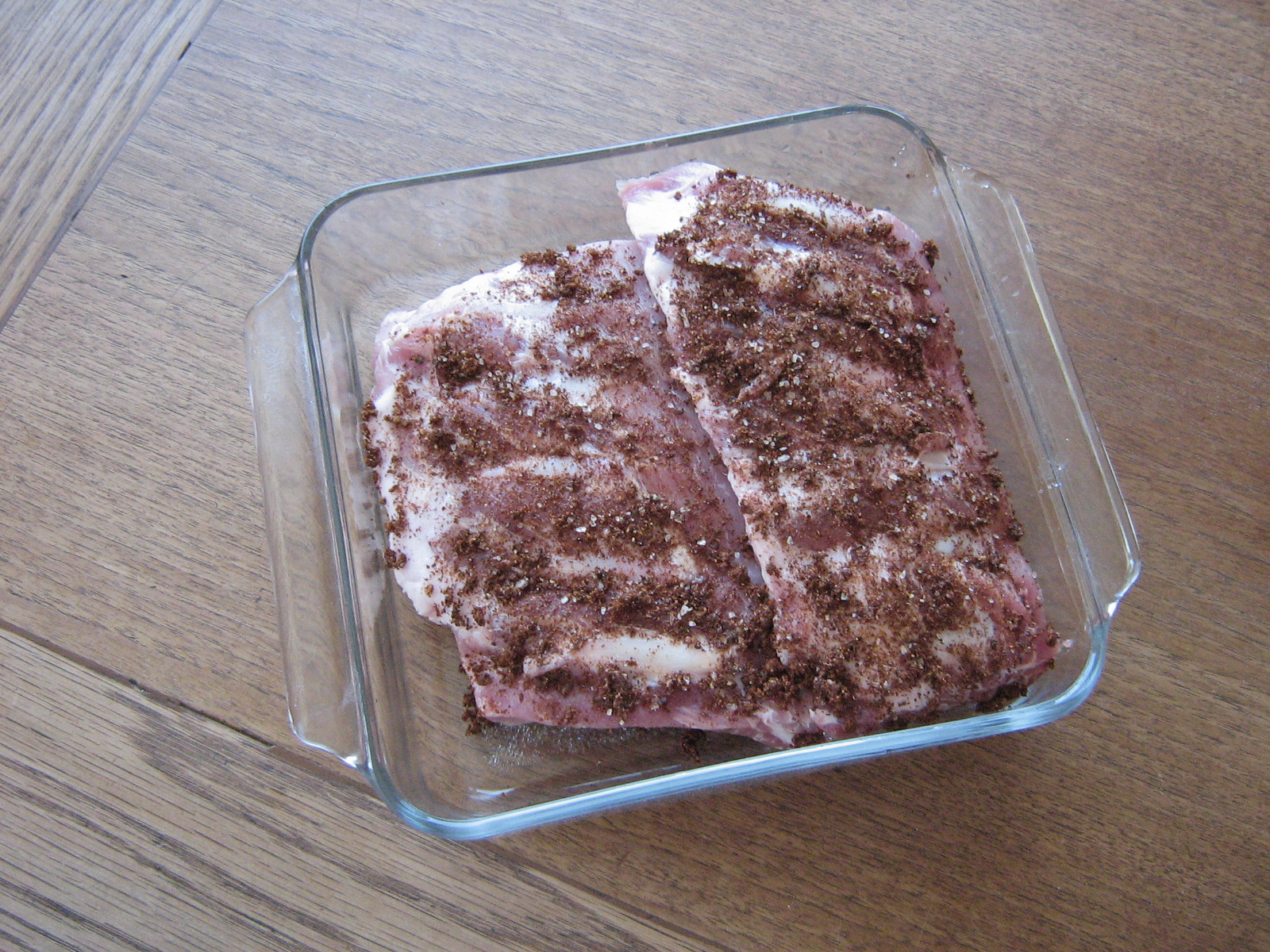 For the sauce, combine:
2 1/2 cups blackberries
1/2 cup ketchup
1/2 cup honey
1/4 cup fresh grated ginger (about 1″ chunk)
2 tbsp balsamic vinegar
2 tsp chipotle purée (or regular hot sauce)
salt and pepper
Stir gently to keep some of the berries whole (alternately, purée in a blender and strain through a fine mesh strainer). Pour the sauce over the ribs, turning to coat (make sure they are meaty side down when you're done).
Cover the baking dish with foil and bake in a 325˚F oven for about 1 hour, until the meat pulls away from the bone easily but is not totally falling apart. Remove the lid, flip the ribs over (meaty side up) and bake uncovered for another 10 minutes or so. Remove from the oven, put the ribs on a plate, and pour the sauce into a saucepan. Taste to check the seasoning (add salt and pepper as needed) and then bring it to a boil and simmer to thicken it. Cut the ribs between the bones into individual ribs, and serve smothered with sauce. Mashed potatoes work well to soak up the extra :).