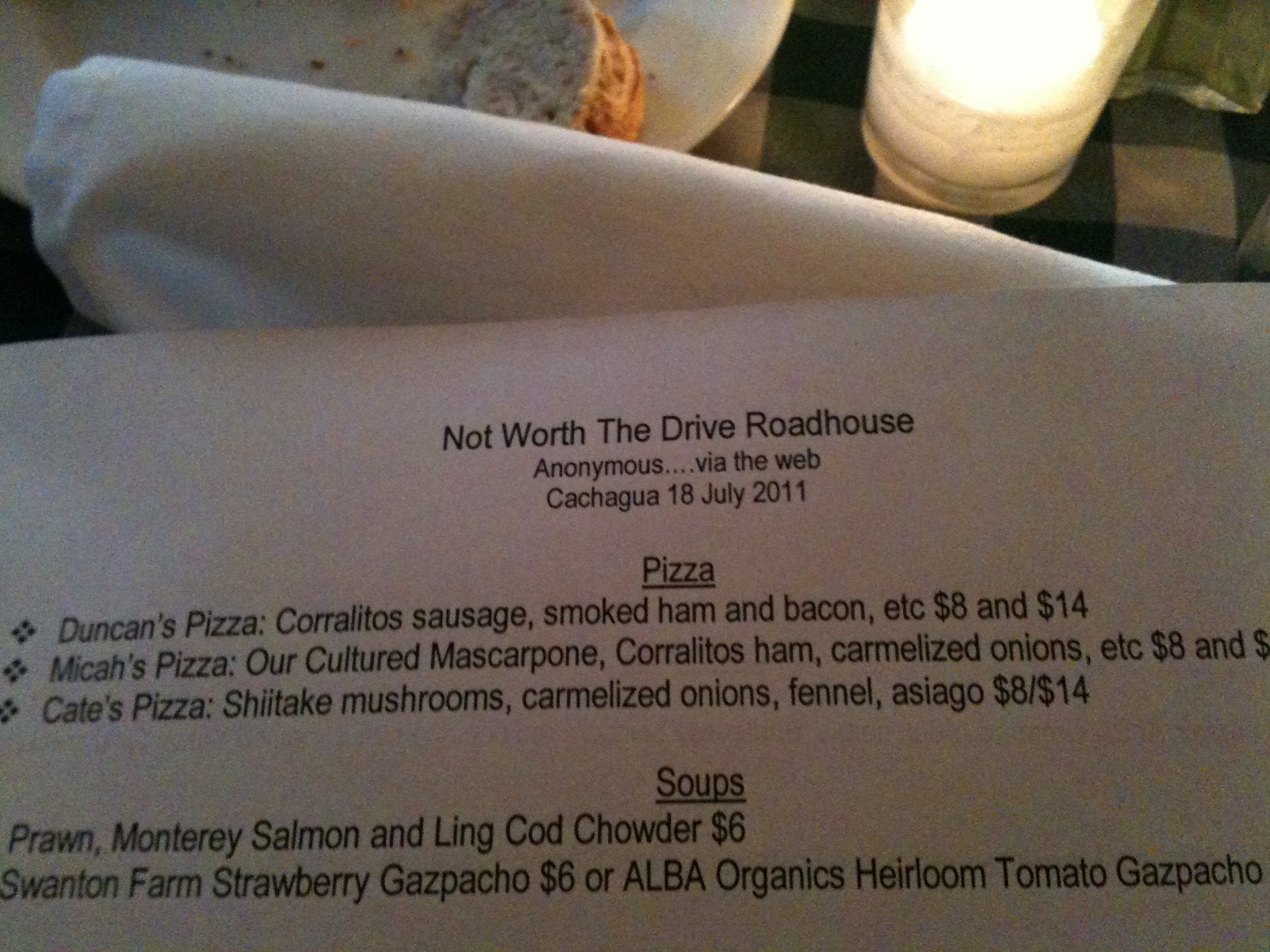 Towards the end of my visit to California, my aunt, uncle and I made an epic journey to have dinner at the Cachagua Store. This is a restaurant run out of a general store in the boonies of Cachagua, Carmel Valley. The restaurant is only open on Mondays, and the rest of the time the chef runs a catering company (A Moveable Feast) out of the kitchen. The restaurant receives mixed reviews from people who, after driving for an hour into the sticks on perilously twisty back-country roads, are expecting a fine dining experience, because it is certainly not that – no white table cloths, no white-shirted servers, no sterling silver flatware. But the food was awesome – locally sourced, regional specialties, interesting preparation methods, with a different menu every week – and just being in the restaurant was an experience in itself.
And so was the hour-long journey into the back of beyond to get there. We started the drive with rolling hills and large fields on either side of a wide, straight road, and as we drove further, the hills got closer together, the fields disappeared, the trees got closer and closer, and the road got narrower and windier. Then abruptly we took a right hand turn up the side of one of the hills onto another road full of twists and hairpin turns and bounded on either side by Spanish-moss covered trees. As we reached the top of the hill, the road stayed just as twisty and narrow, and we could see the spines and valleys and tops of other hills – some green with trees, some golden yellow with grass. It was incredibly beautiful.
Eventually the road plunged downward again – still with the death-defying blind corners and 180-degree turns – and finally we found ourselves in a gravel "parking lot" full of pick-up trucks in front of a red painted wooden building with the Cachagua Store sign out front. I half expected to see an old guy with no teeth, wearing overalls, playing a banjo on the front stoop.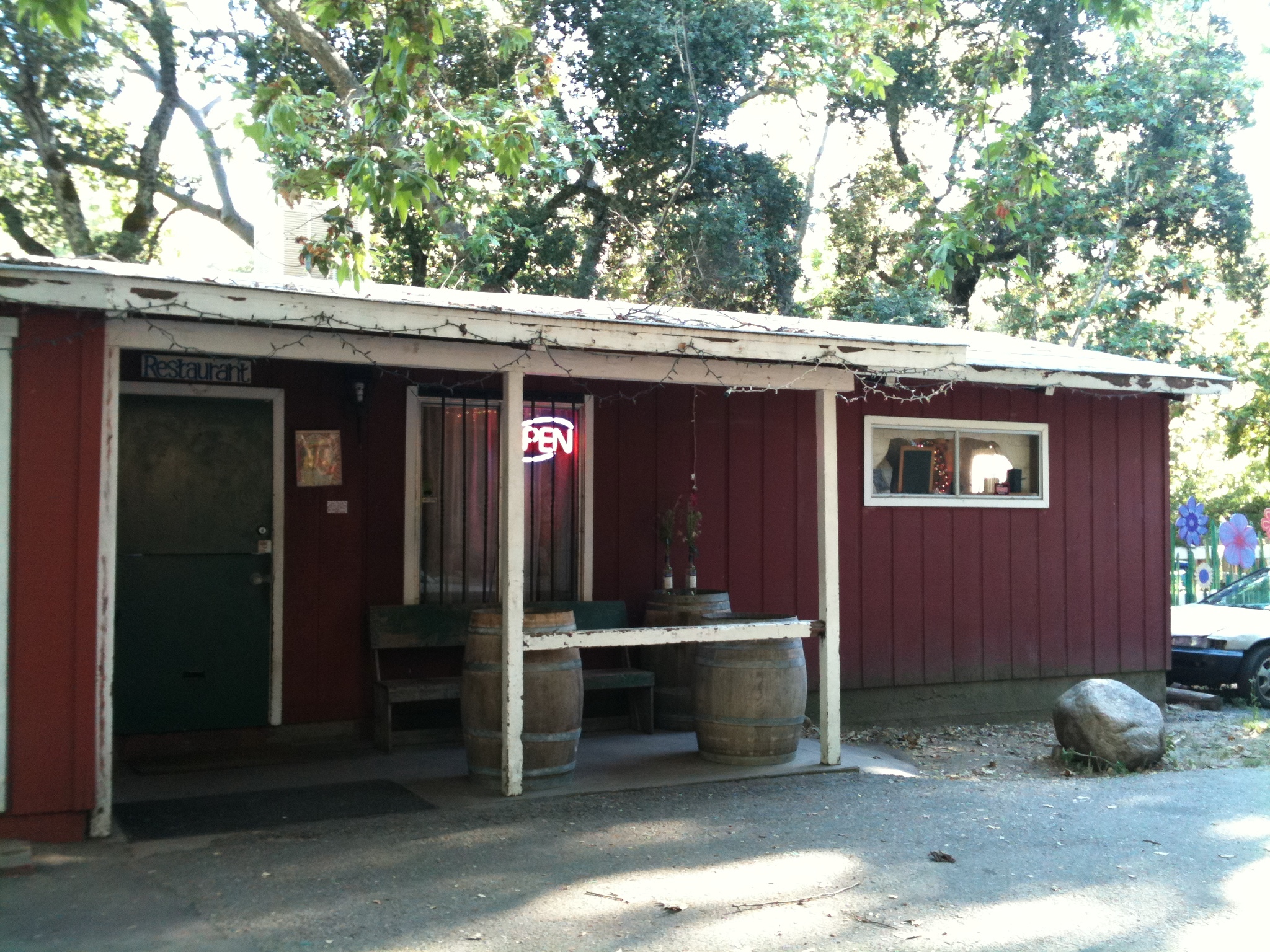 The restaurant entrance was just a door at one end of the building with a flourescent "Open" sign, and we entered gingerly, not sure what to expect.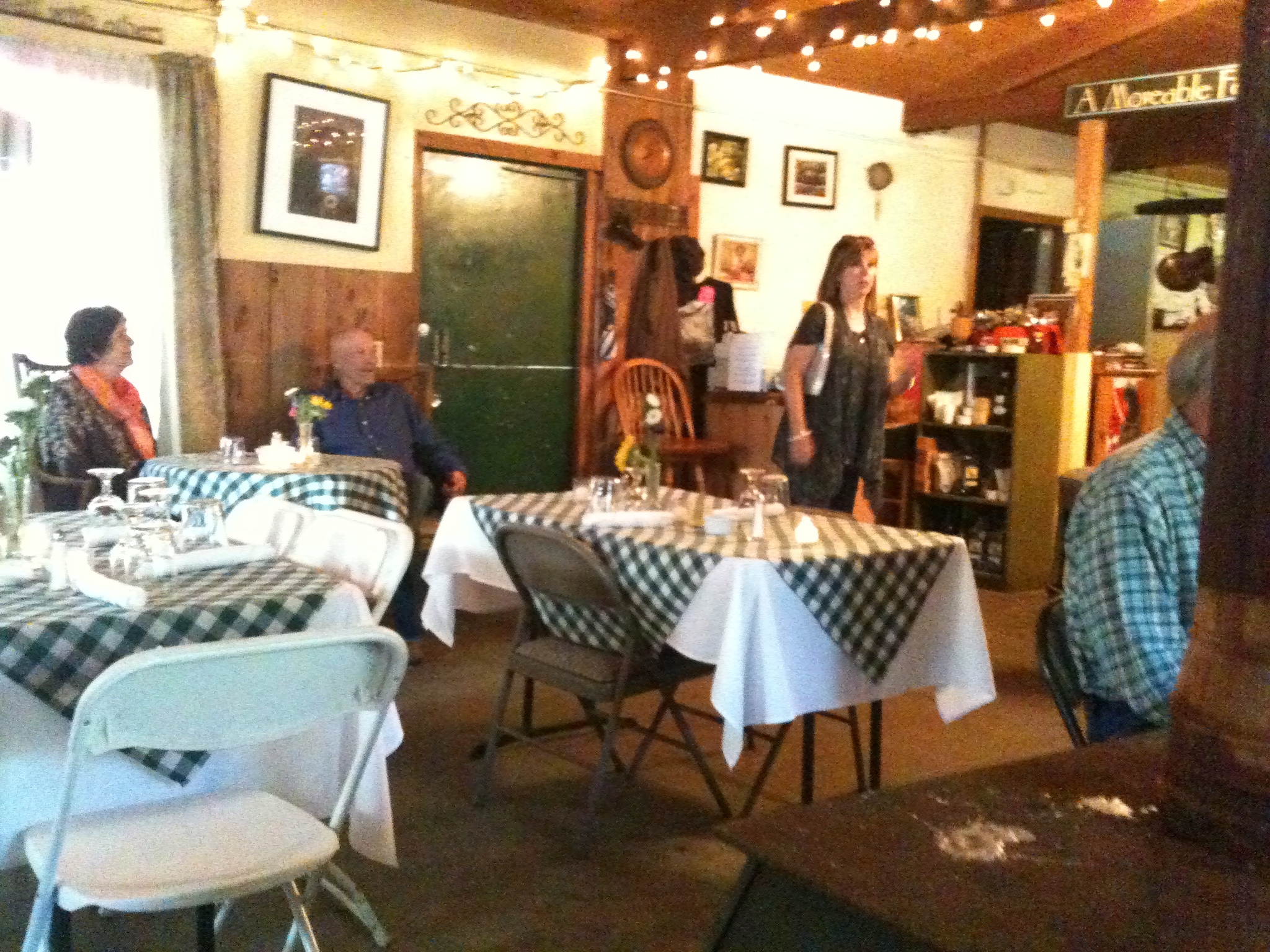 What we saw was a room full of tables with checkered tablecloths and folding chairs, exposed beams, a moose I mean elk head on the wall (decorated with Christmas lights) at one end, an open kitchen at the other, and paper curtains on the windows.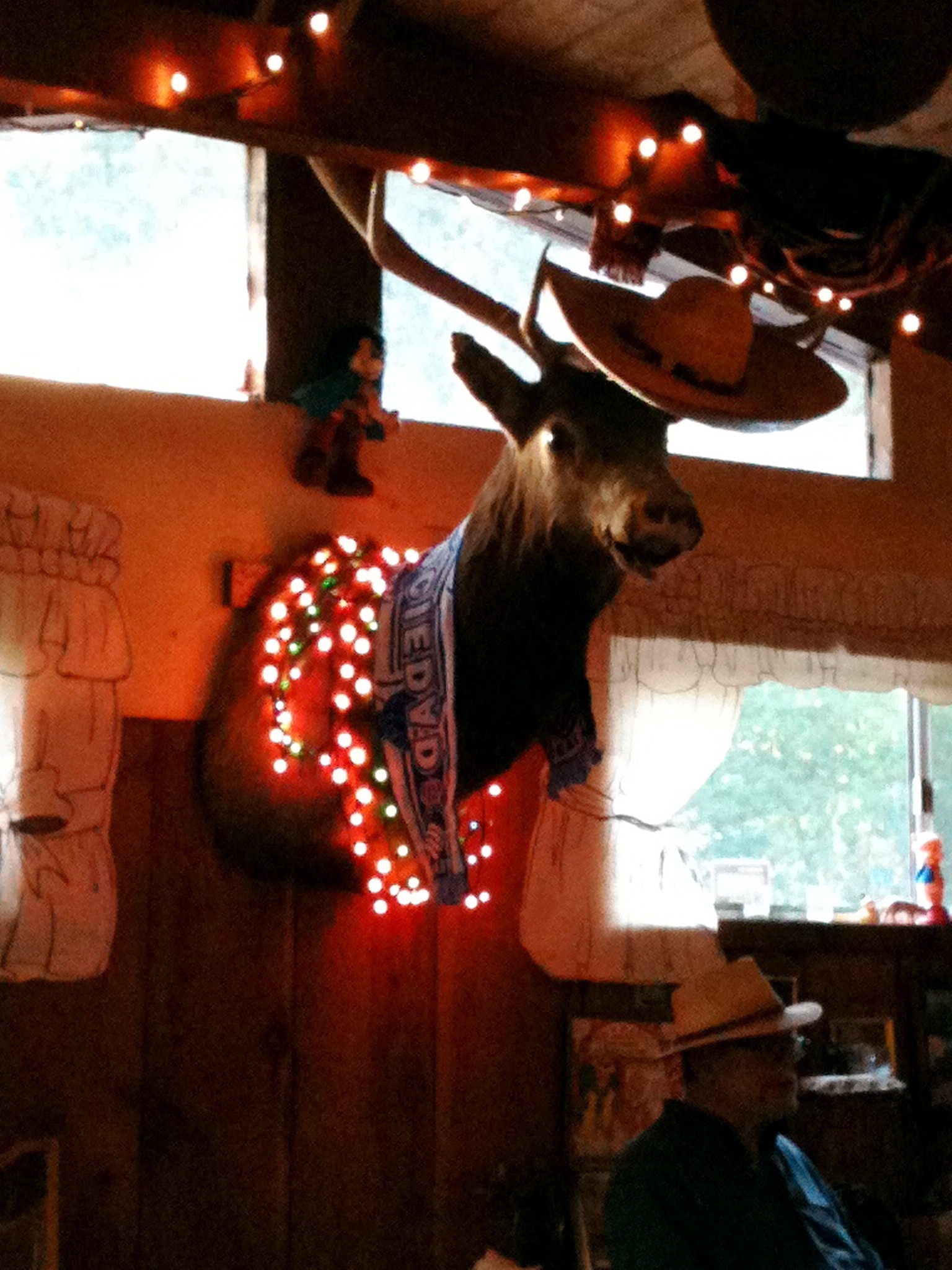 A band consisting of a guitar player and a percussionist were setting up in one corner. A wait staff of mostly young local girls was hanging out around the kitchen entrance. We arrived at 6 pm, and were told that the menu hadn't even been printed yet – the chef was still finalizing some things. When it did arrive, it was an impressive two pages long – one whole page of starters and another of main courses.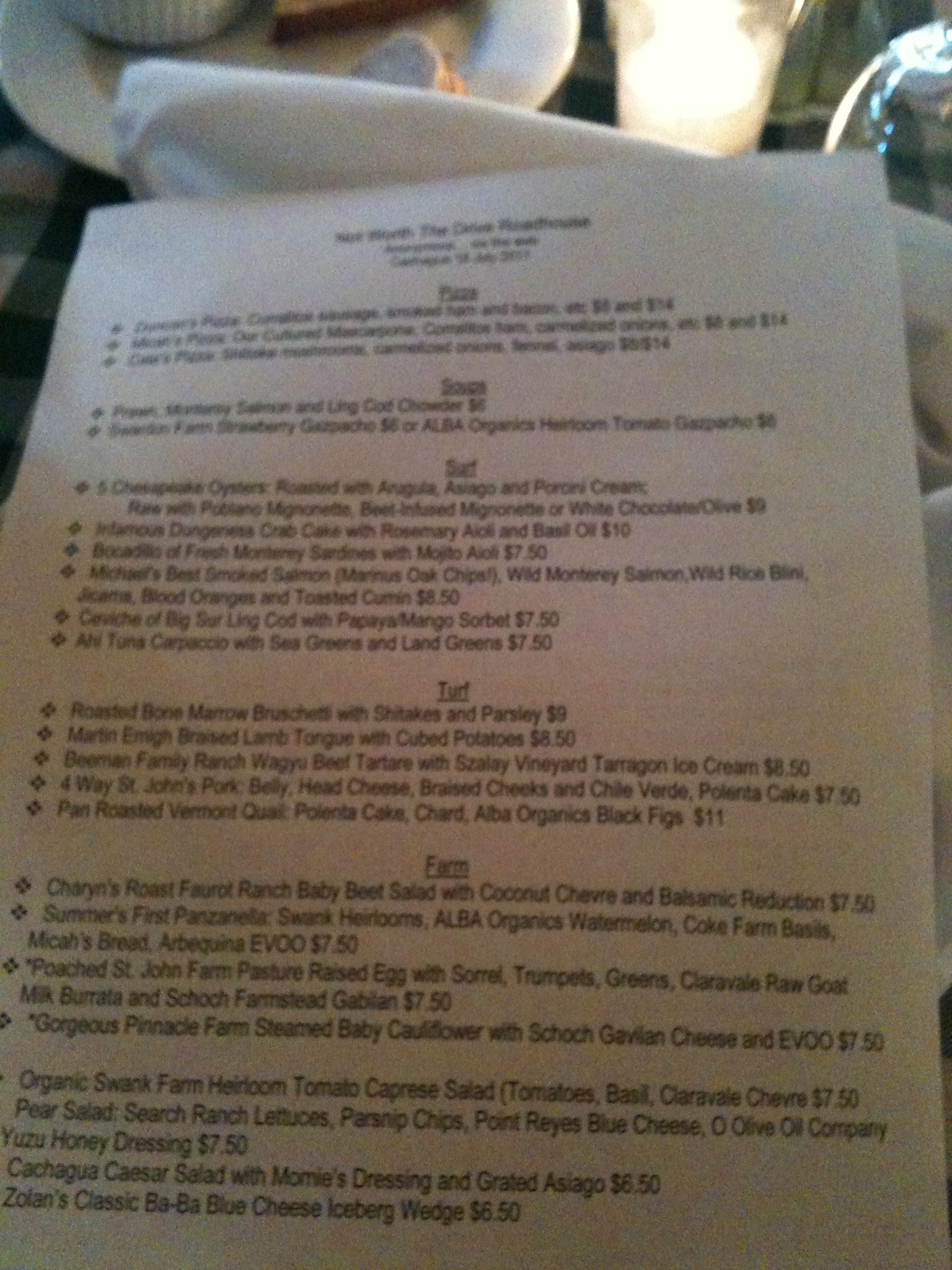 At this point the sun started to set, and the candle on our table wasn't doing very much to help out the dim lighting in the room, so these photos are pretty low quality (I was using my iPhone). For starters, my uncle had beef tartare with tarragon ice cream and the most delicious tomato gazpacho I've ever tasted – it was deeply tomato flavoured, with a herby-infused oil drizzled on top. I don't even like raw tomatoes but this was fantastic. Definitely one of the highlights of the meal.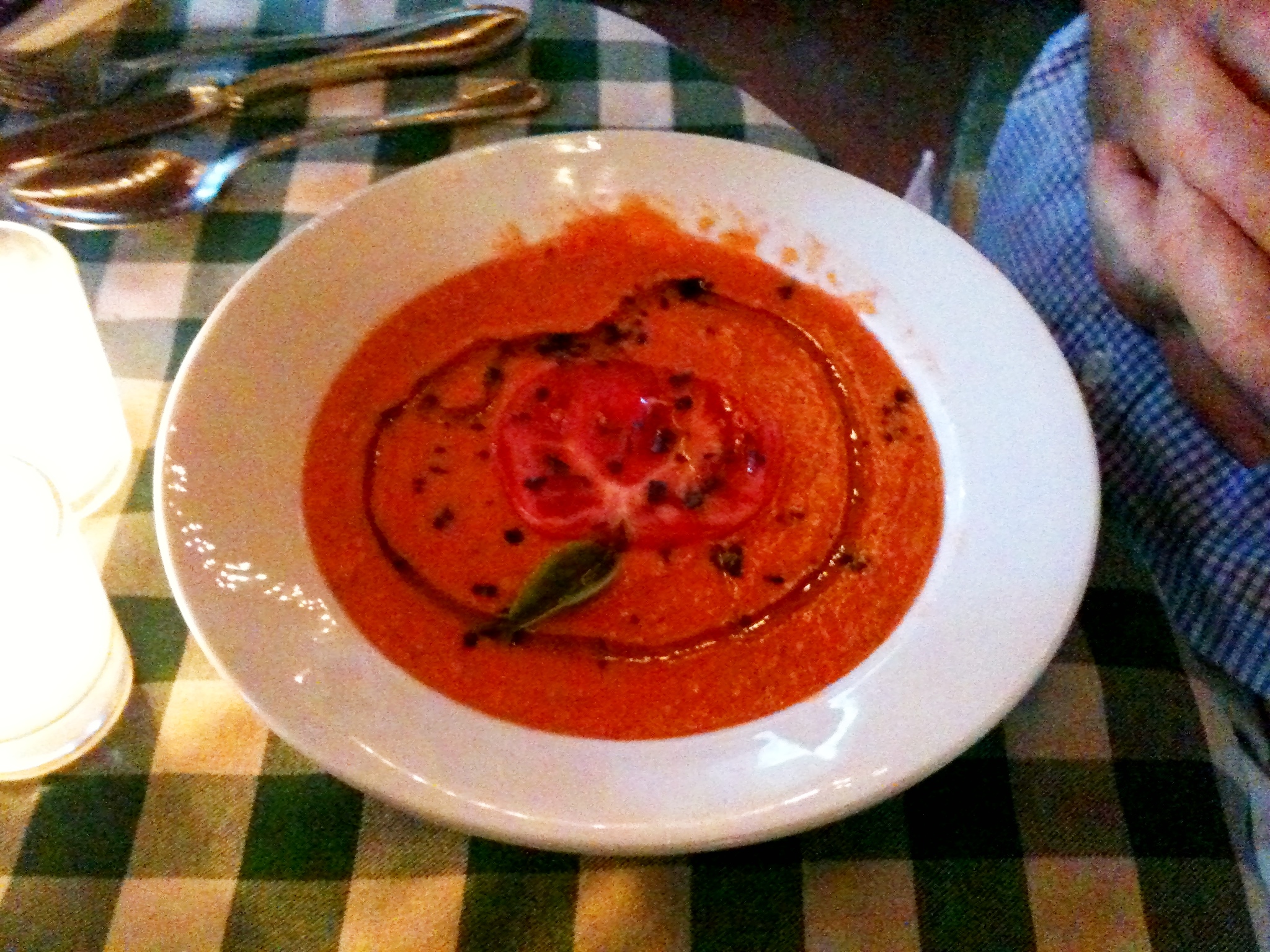 My aunt had a poached egg on top of sauteed greens and trumpet mushrooms that was also surprisingly delicious – she said it wasn't at all what she expected, but she was really disappointed when it was all gone!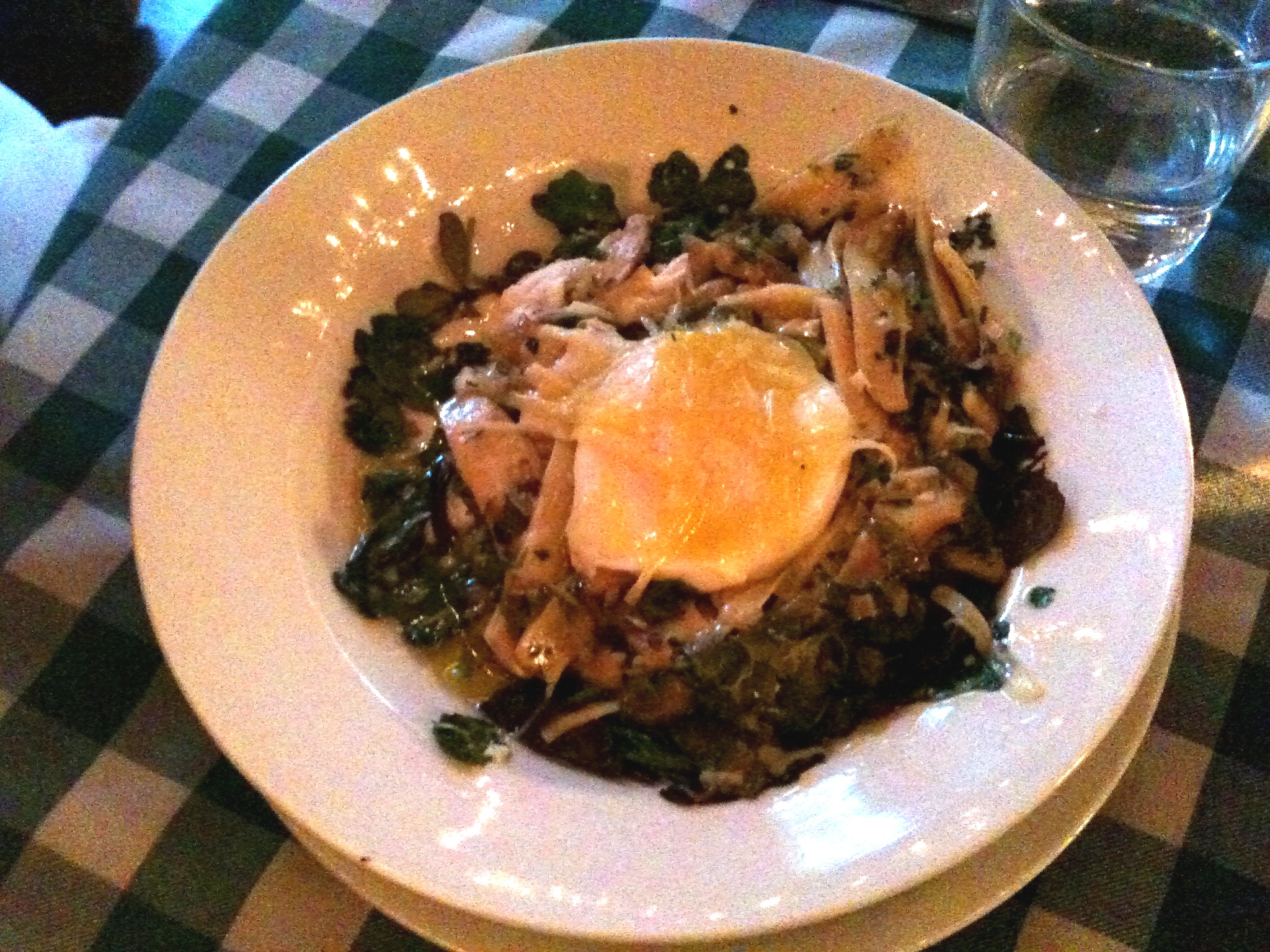 I had a starter-size pizza with homemade mascarpone, ham, and caramelized onions.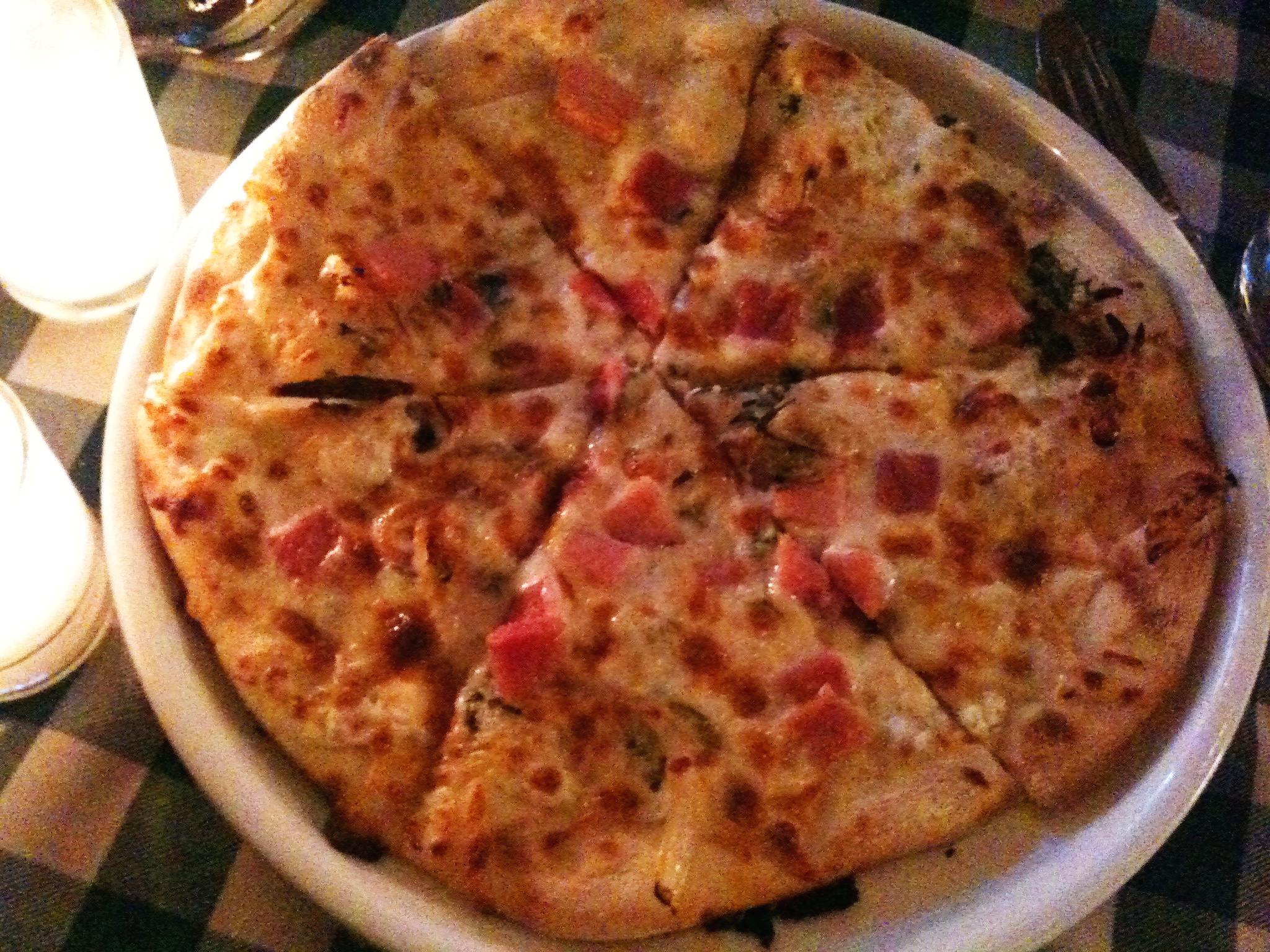 It was good, but not quite what I wanted. This whole meal, actually, was an instance where I did not do a very good job of ordering food for myself, which happens sometimes when there is just too much choice in a menu. It all tasted good and was prepared beautifully, but I felt like I would have enjoyed different dishes more. Oh well, a good excuse to go there again!
My uncle had pork done six ways for his main course: a pork chop, pork chili verde, pork belly, roast pork loin, trotters, and something else – maybe a pork sausage? I can't remember. It was a lot of pork, to say the least, and he barely got through a third of it.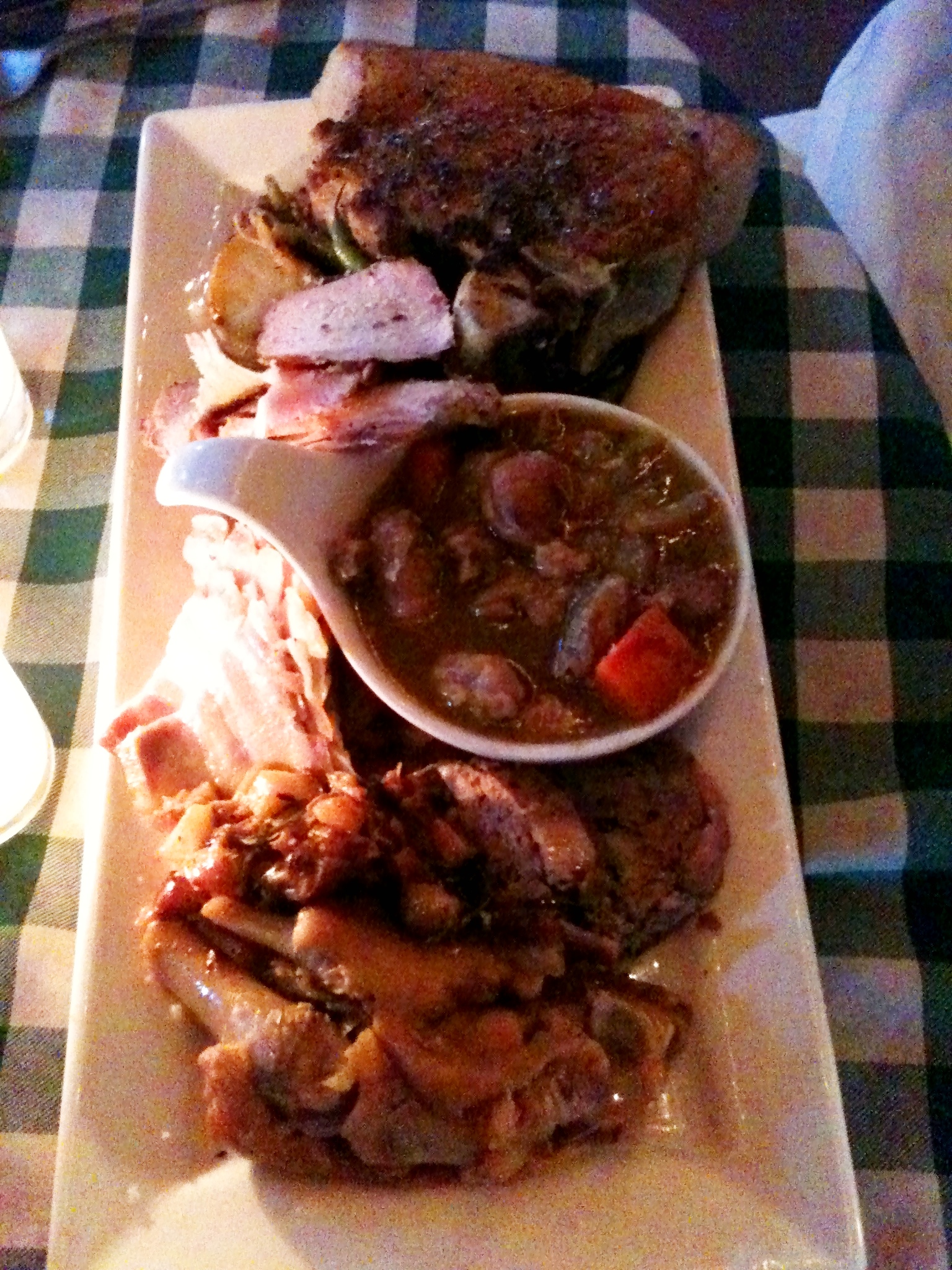 My aunt had the duck – a seared breast and confit leg, which must have been really good because she was not very interested in sharing ;).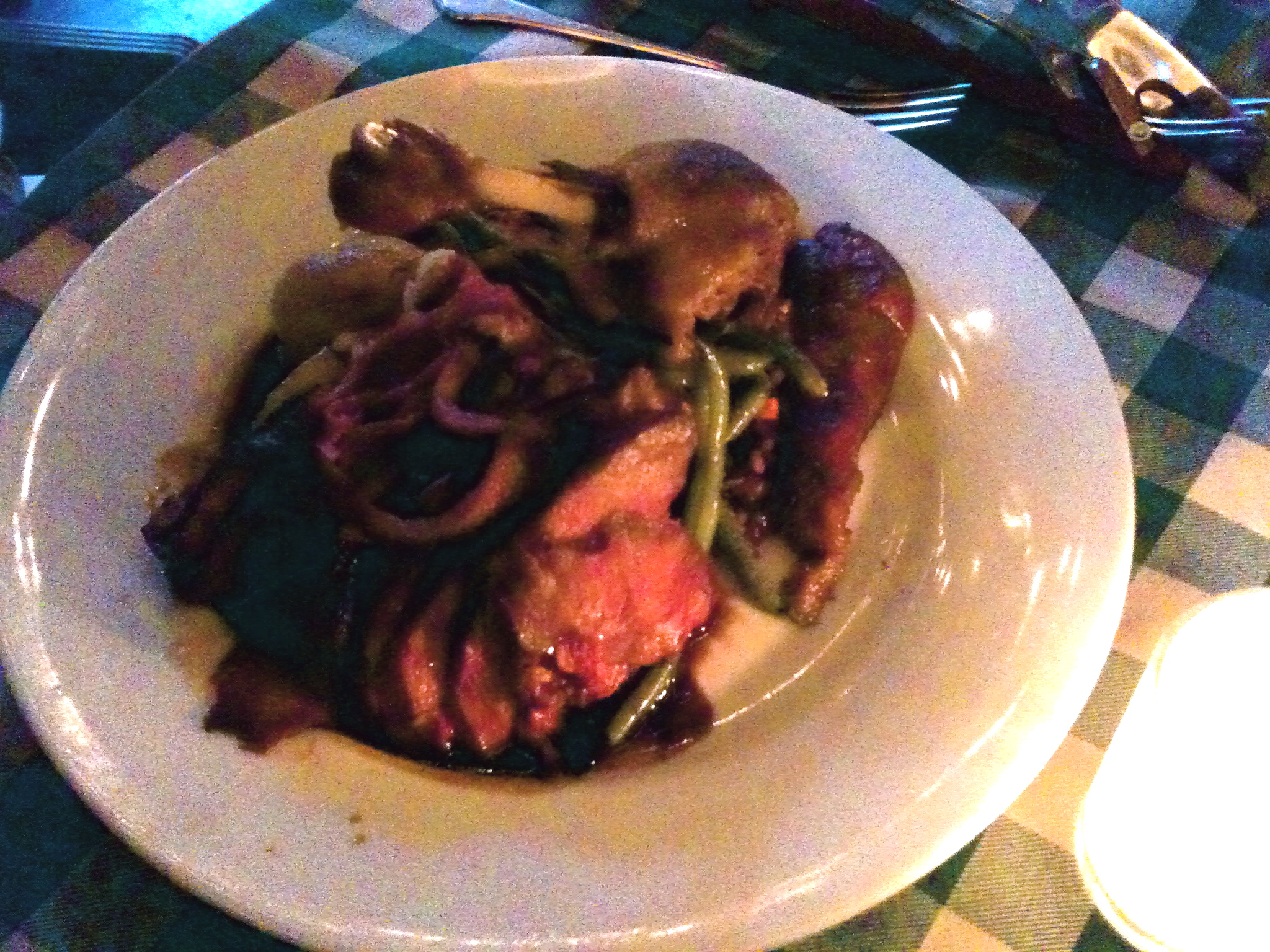 I had Mesquite grilled skirt steak with a mushroom sauce. The flavours were good but I was really full from my pizza starter and I spent a lot of the meal being a little jealous of my aunt's duck.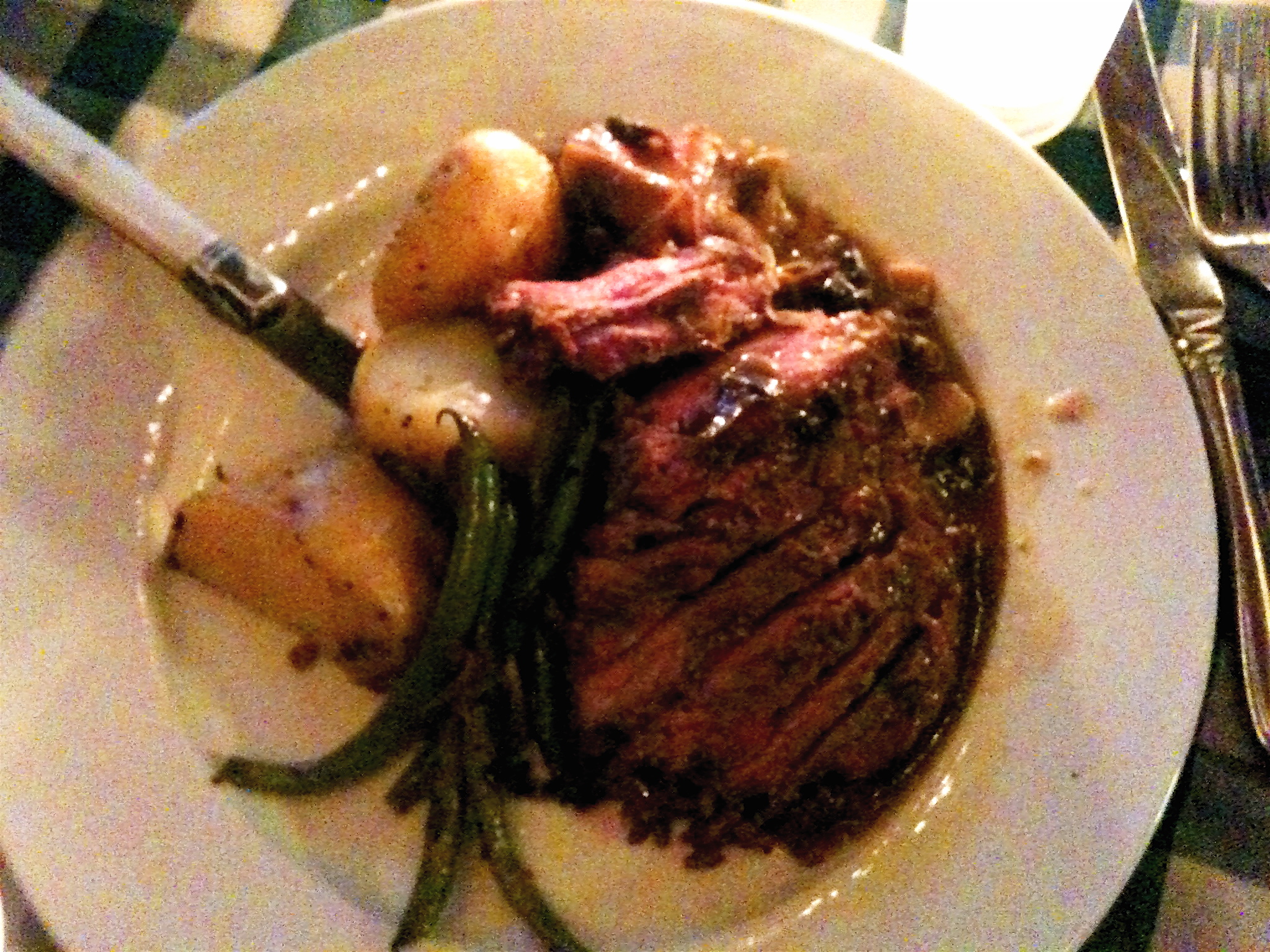 My uncle opted out of dessert, but my aunt and I perused the page-long menu and finally decided on a dark chocolate mousse (her) and a white chocolate-berry parfait (me). The mousse came served with a crouton, olive oil drizzle, and two kinds of sea salt around the edge of the plate. Sounds weird, but the flavours of the oil and the salt played off the dark chocolate in an amazing way.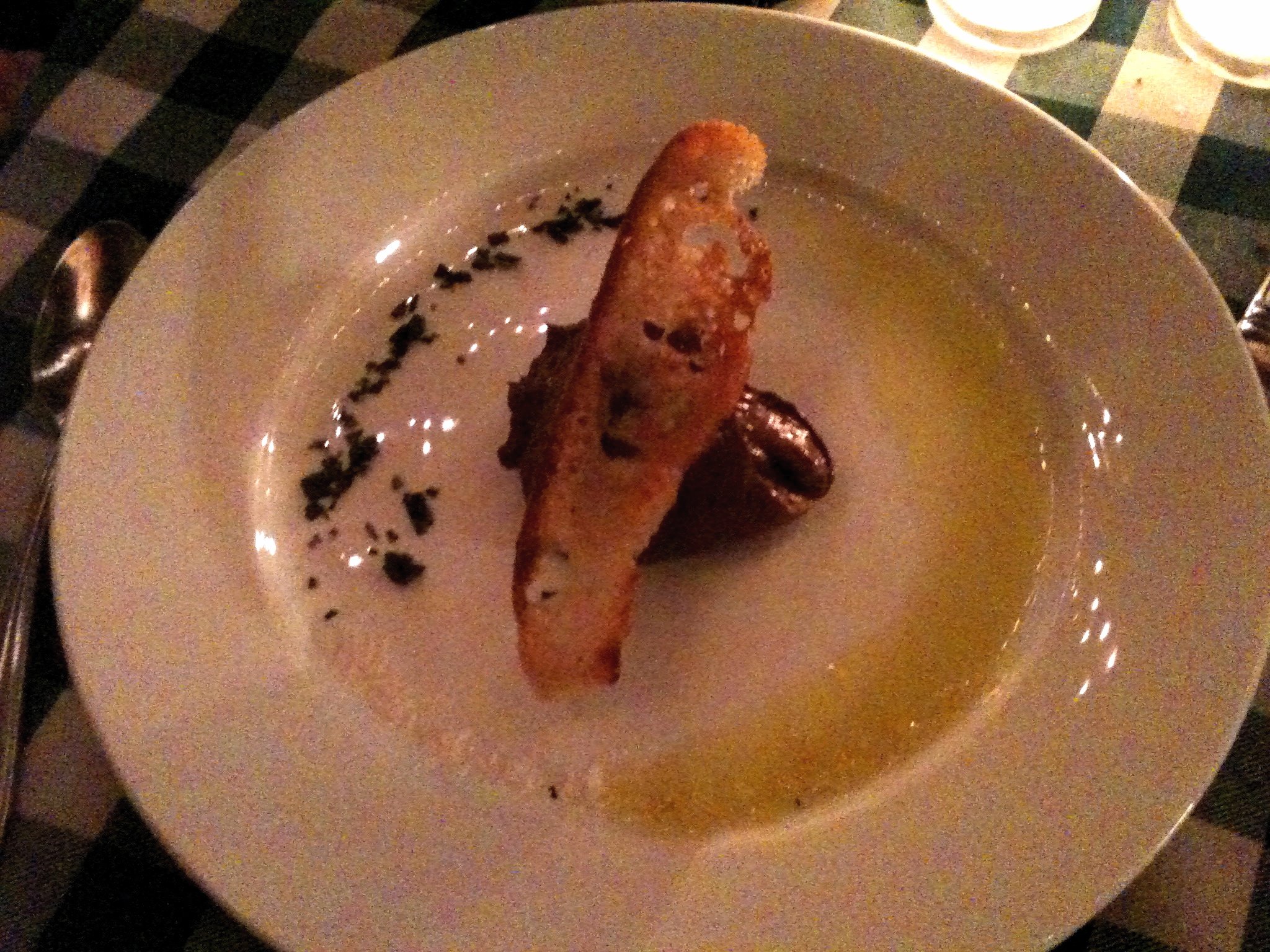 Once again I had food envy – my parfait was  okay, but mostly just sweet (but it didn't stop me from eating all of it!).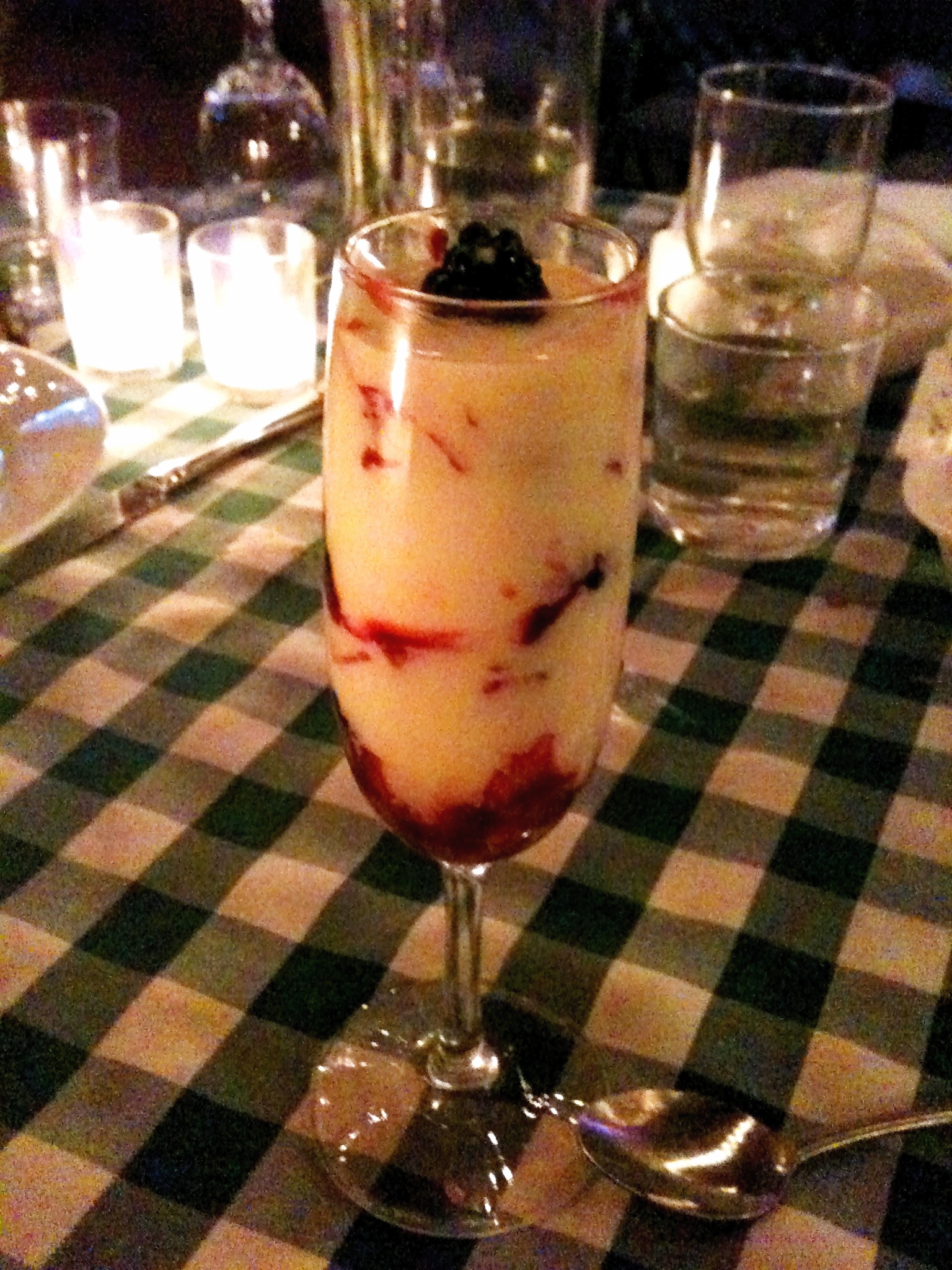 Throughout the meal, the band played bluegrassy, countrified versions of popular songs with moderate success – they got considerably better after their first beverage break, so I guess they just needed to loosen up.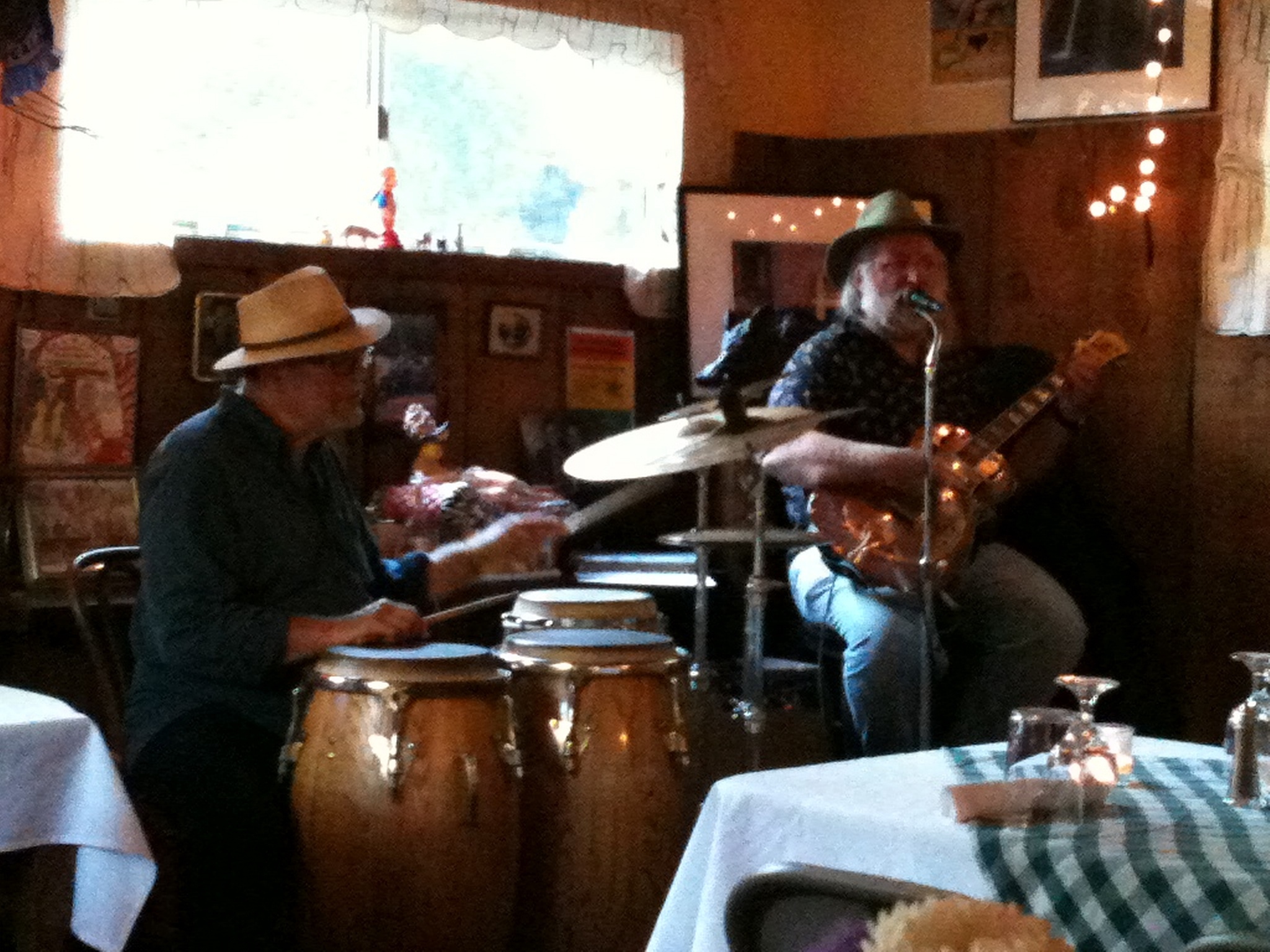 The service was friendly, but slow and intermittent (the various wait staff went back and forth by our table almost non-stop, but paid us very little attention and we had to flag someone down each time we wanted to order). However it meant that there was ample opportunity for people-watching and you could tell everyone was having a good time, appreciating the food and slightly eccentric atmosphere.
So if you ever have the opportunity to drive into the middle-of-nowhere Carmel Valley, I recommend you do it on a Monday night so you can check out the Cachagua Store. If you're open to an interesting food experience, you'll enjoy yourself.