Read Part 1: Lunch at the Zuni Café
After stuffing ourselves full of delicious Zuni Café roast chicken at lunch, we spent the rest of our San Francisco afternoon shopping in Union Square and Chinatown (I bought a dress, some shoes, a ring, a scarf, and a comforter – because that's a really easy thing to bring home in a suitcase, right?!), and then finally ended up at Millennium for dinner. Millennium is a vegetarian restaurant that specializes in healthy, sustainable, environmentally-friendly foods, served in a very up-scale manner. In fact, their entire menu is actually vegan – completely free of animal products – but they stick with the vegetarian label because it is more approachable. Nonetheless, the phrase "vegetarian restaurant" can conjure up images of aging hippies eating bean sprouts, brown rice, and tofu by the forkful, not ladies sporting Fendi Spy handbags, enjoying sophisticated food in an elegant, white-linen'd dining room. But that's exactly what Millennium delivered. Plus they had these really cool light fixture things:
The menu was quite extensive, but after some serious perusing, we settled on appetizers. My uncle had the Crusted Oyster Mushrooms, breaded in rice and sesame flour and deep fried, which looked like calamari and were deliciously crunchy. He was a little disappointed because they didn't taste very mushroom-y, so maybe breading and deep-frying wasn't the best treatment for something as subtle as an oyster mushroom.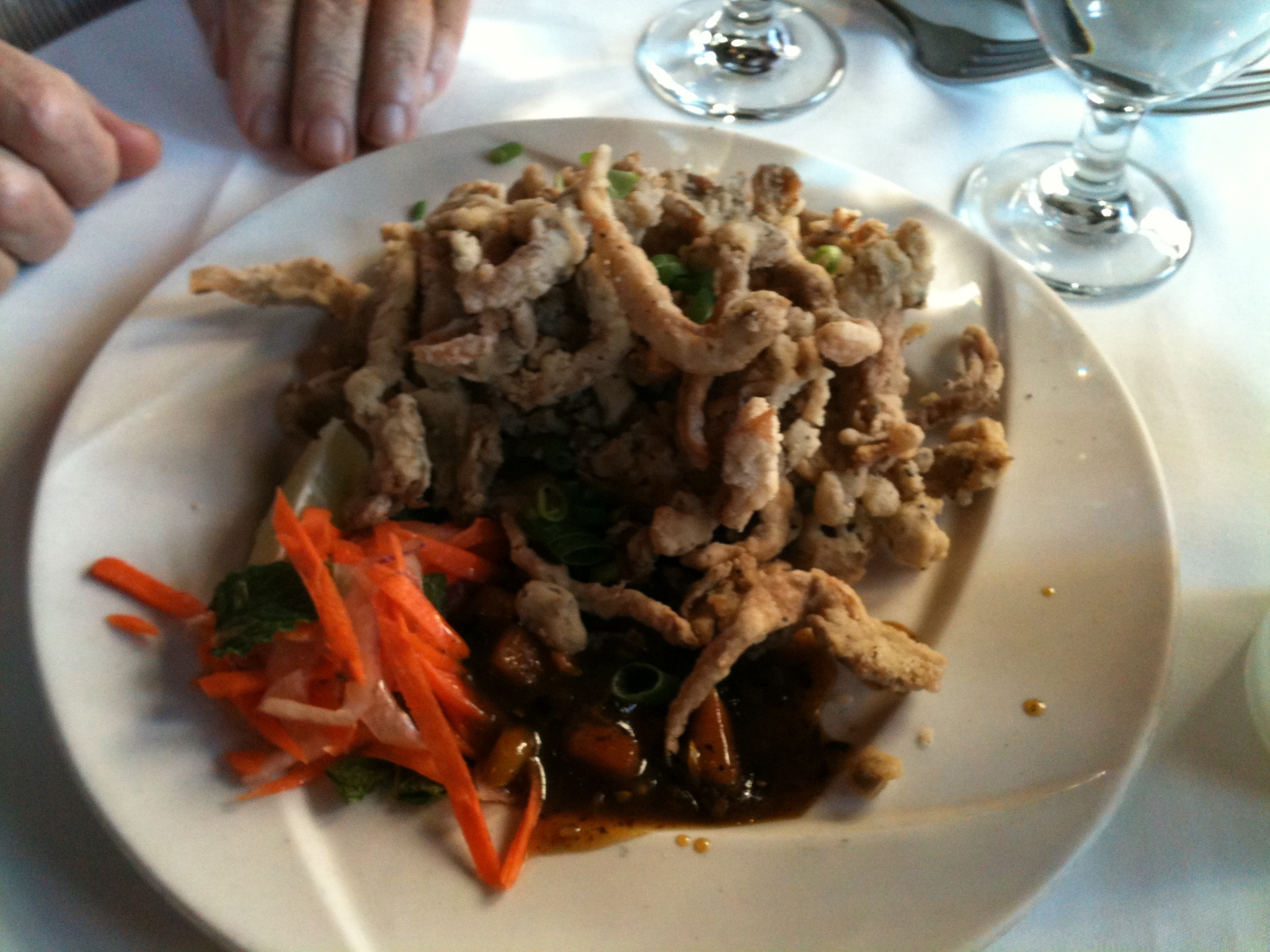 My aunt had a black bean and caramelized plantain torte.
I had the Chickpea Panisse: a chickpea purée with a firm, almost custard-like texture that was panfried like polenta and served with sautéed mushrooms, onions, raisins, and spiced almonds on top and a roasted garlic-cashew cream sauce underneath. I love chickpeas so this was an easy choice for me. Yummy.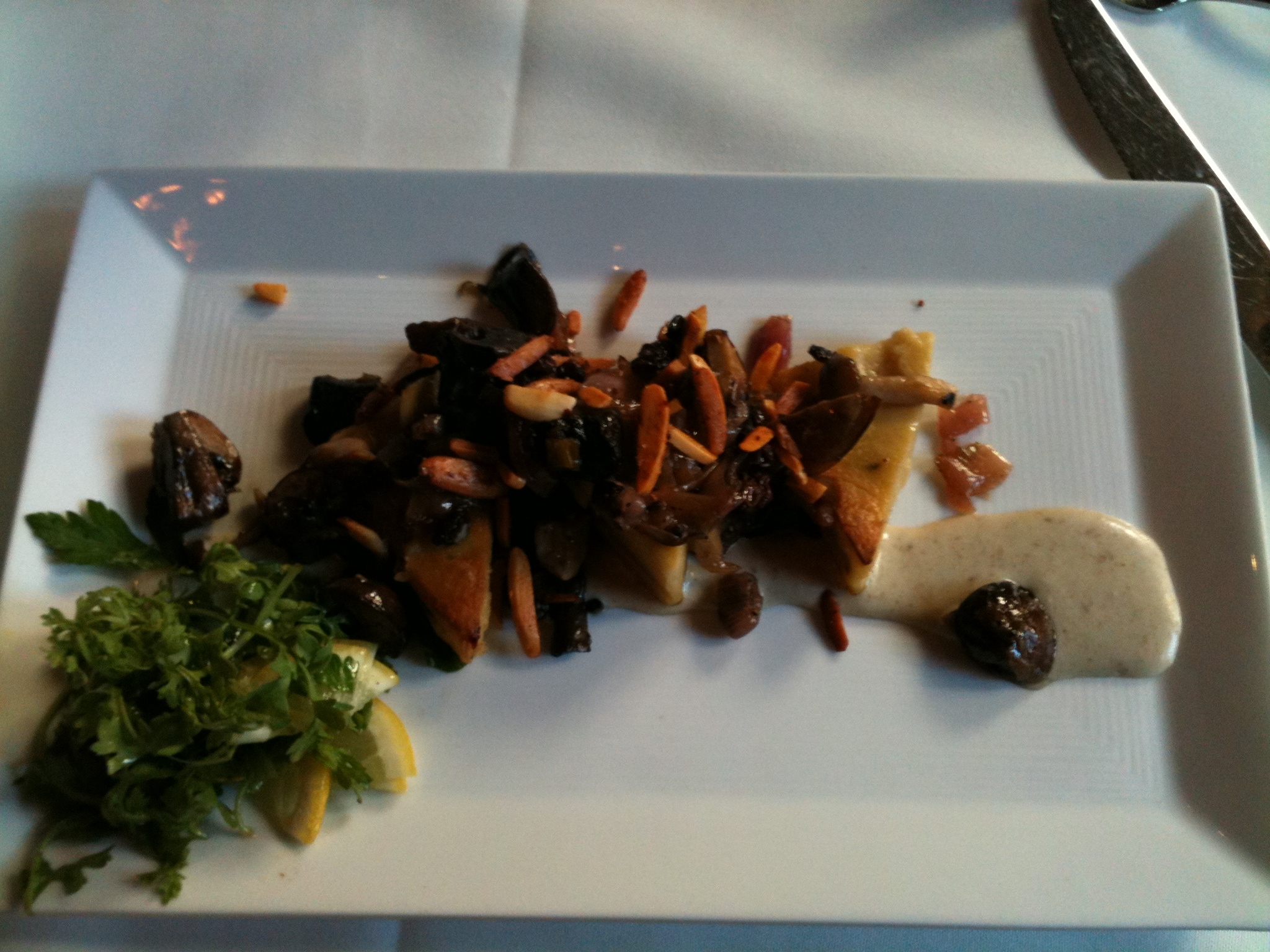 Next up were the entrées. My uncle continued with the mushroom theme and got the Huitlacoche Tamale, but again found that the mushroom flavour wasn't as prominent as he was hoping for.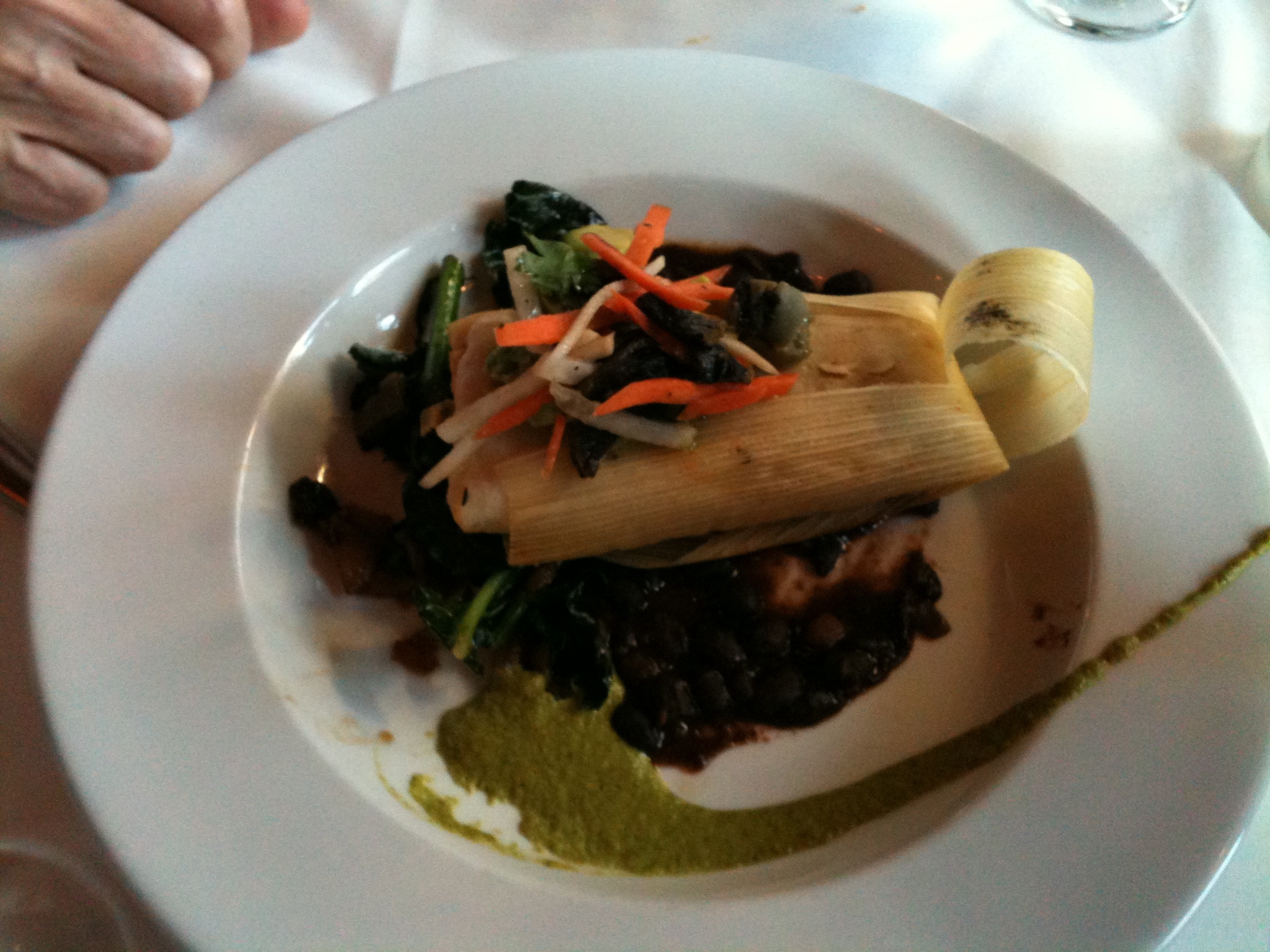 My aunt had a coconut curry dish that she said was full of very interesting flavours.
I had the Brick Pastry, which turned out to be a strudel-like construction of very thin pastry rolled around a filling of seitan, sautéed chard, potatoes, and mushrooms, served over black lentils, green beans, and mushrooms, with a red currant sauce. It was delicious. I'd never had seitan before, and the flavour was quite strong, but still tasty, and the whole thing was balanced really nicely by the acidity of the red currant sauce. And the lentils were awesome – they were almost my favorite part (I never thought I'd say that about lentils!).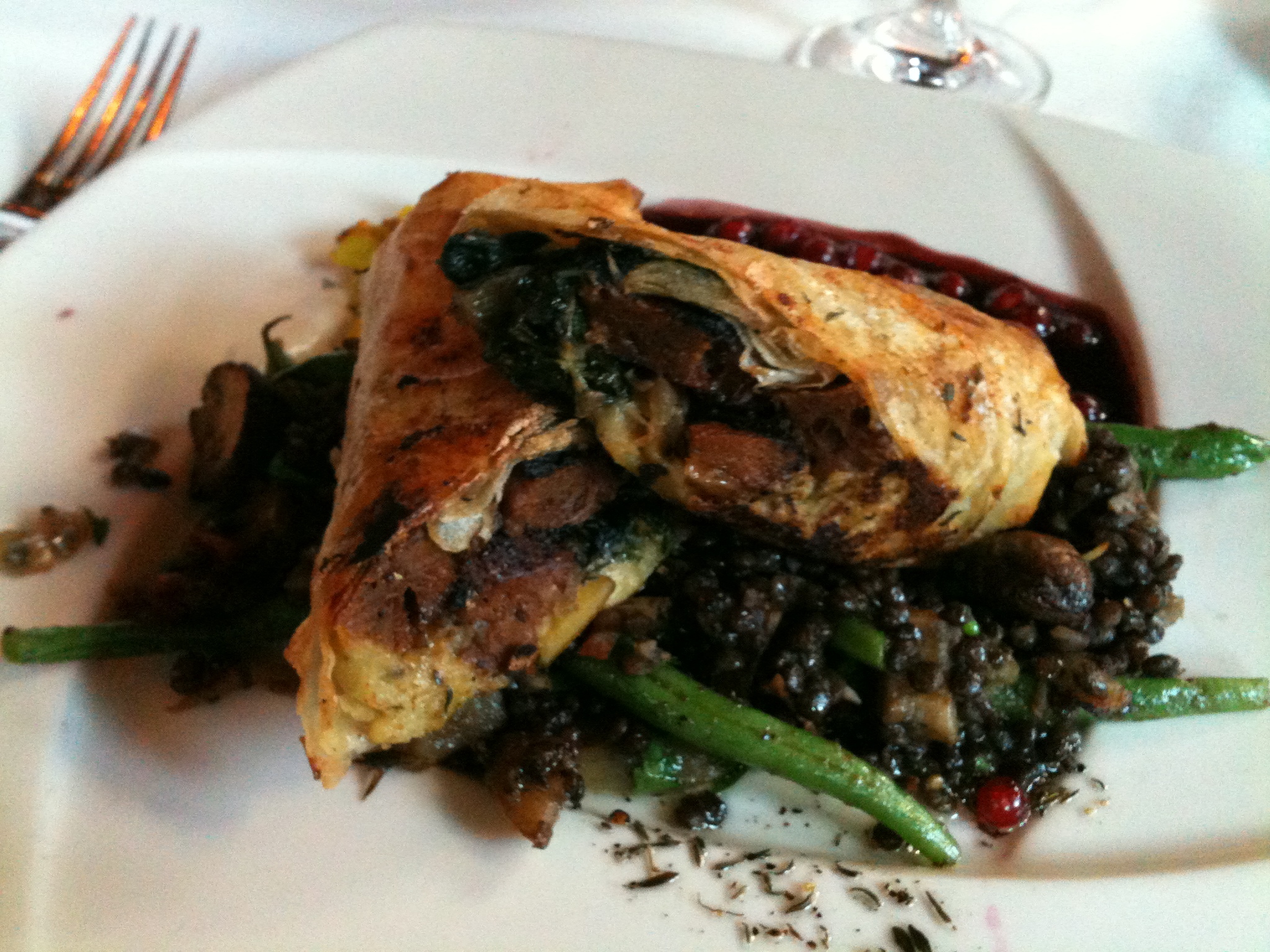 Then my aunt and I shared a dessert. This one was seriously mind-blowing: you would never guess that it wasn't packed full of dairy and eggs. We had the Chocolate Midnight, which was white chocolate and dark chocolate-mocha mousse on a chocolate nut crust with raspberry sauce. Absolutely to die for.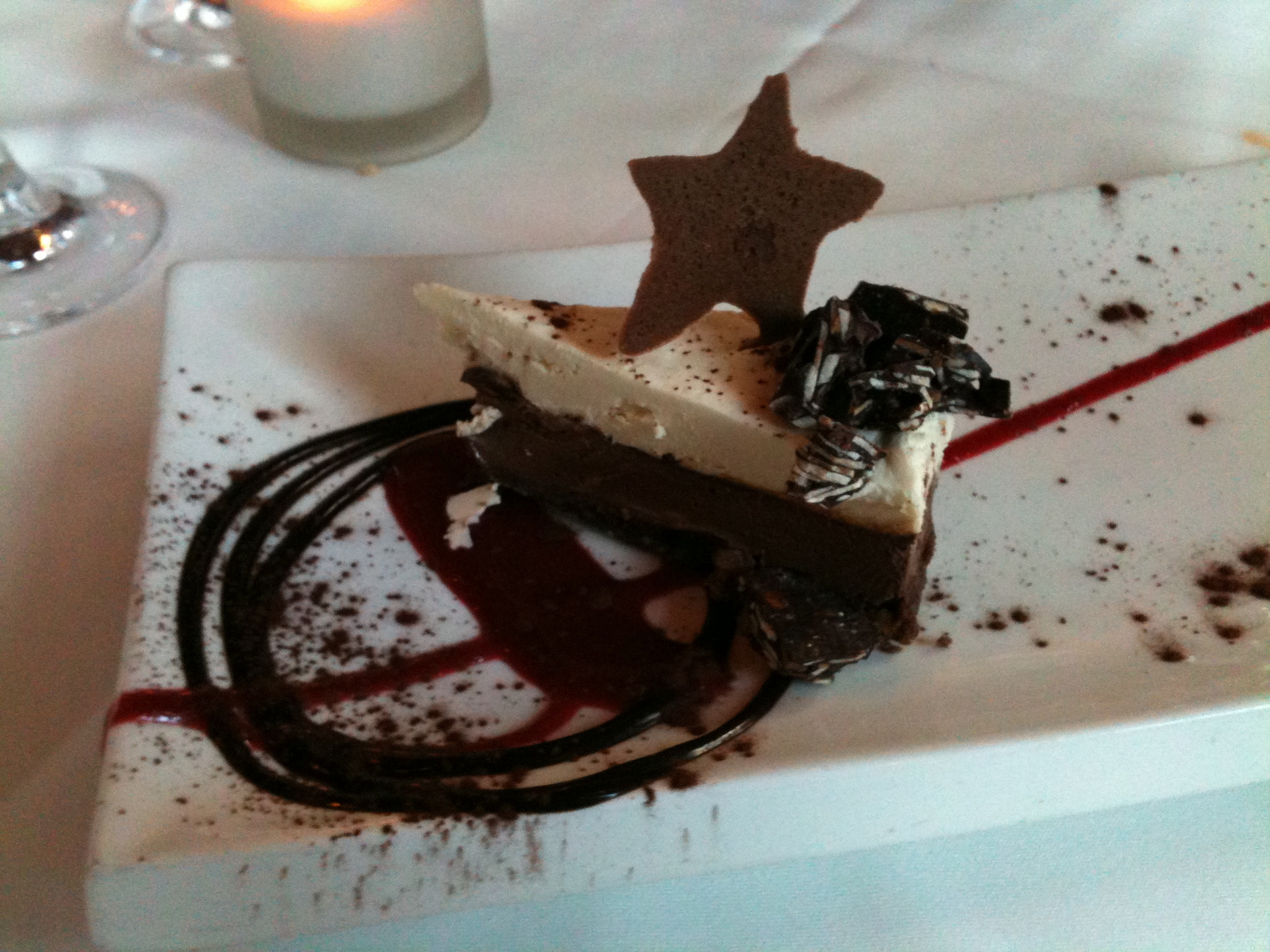 Their dessert menu was perhaps the most impressive, because it was all egg- and dairy-free but they still managed to make several kinds of ice cream. Our server told us they use different bases of coconut, almond, rice, and soy milks, and somehow they can even make a dairy-free, vegan "buttermilk" ice cream! I want to go back just to try all their desserts.
This was a really impressive meal and a great example of amazing food – vegetarian, vegan, or otherwise. I didn't even notice that there wasn't any meat in my meal, and I certainly didn't miss it! If you are in San Francisco, definitely give Millennium a visit – try the ice cream and report back to me!