Do you remember the days before the Food Network? Before Diners, Drive-ins and Dives and Top Chef and Cupcake Wars and Giada Di-Whatshername and Iron Chef, when channels like the Knowledge Network and KCTS9 aired cooking shows of the same calibre as Bob Ross' The Joy of Painting? I loved those shows. I used to sit in front of the TV, watching, with a pen and paper to write down the recipe and ingredients because there was no internet to get it from after the show. This risotto is based on a recipe from a show called Nick Stellino's Family Kitchen, and believe it or not, the original recipe is now available on the internet!
After making Nick's recipe several times, I've taken those flavours and put them into my basic risotto method. It comes out just as delicious but in a smaller, easier to manage quantity. If you've never made risotto, you should give it a try – it takes a while but is not actually difficult to make, and the results are worth it: creamy, flavourful, carbohydrate-laden deliciousness. Risotto is made of simple things – essentially just it's rice and stock – so it's important to pay attention to the ingredients. Use a flavourful stock, either homemade or good quality store bought. Don't use bouillion cubes – your risotto will taste terrible. I know this from unfortunate experience :(. The rice must be specific for making risotto: short-grained round, Italian rice, and it will probably say "risotto" on the package. Arborio rice is the type I can usually find, but Carnaroli is another choice. Other kinds of rice (sushi, long grain, etc) won't work.
And a quality parmesan (Parmegiano-Reggiano, if you can get it) makes a big difference in taste (I'll admit that I used Canadian Parmesan for this because I'm feeling poor, but normally I'd splurge!).
Also important to note: this recipe calls for canned pumpkin purée, NOT pumpkin pie filling.
Make sure you read the ingredients on the package – it should be just pumpkin, no sugar or spices or anything else pie-like.
If you are feeling industrious, you could steam some squash and make your own purée (about 1 cup), but I find opening a can to be much easier 😉
And I realize that these flavours might seem more suited to fall cooking, but my sage plant is currently sprouting leaves like mad so I figured this would be a good way to use up some of the bounty!
Pumpkin, Sausage and Sage Risotto
Inspired by Nick Stellino
In a pot, combine:
3 1/2 cups chicken stock (homemade or good quality store bought – if homemade, add a pinch of salt)
1/2 of a 398ml (14 fluid oz) can of pumpkin purée (NOT pumpkin pie filling!)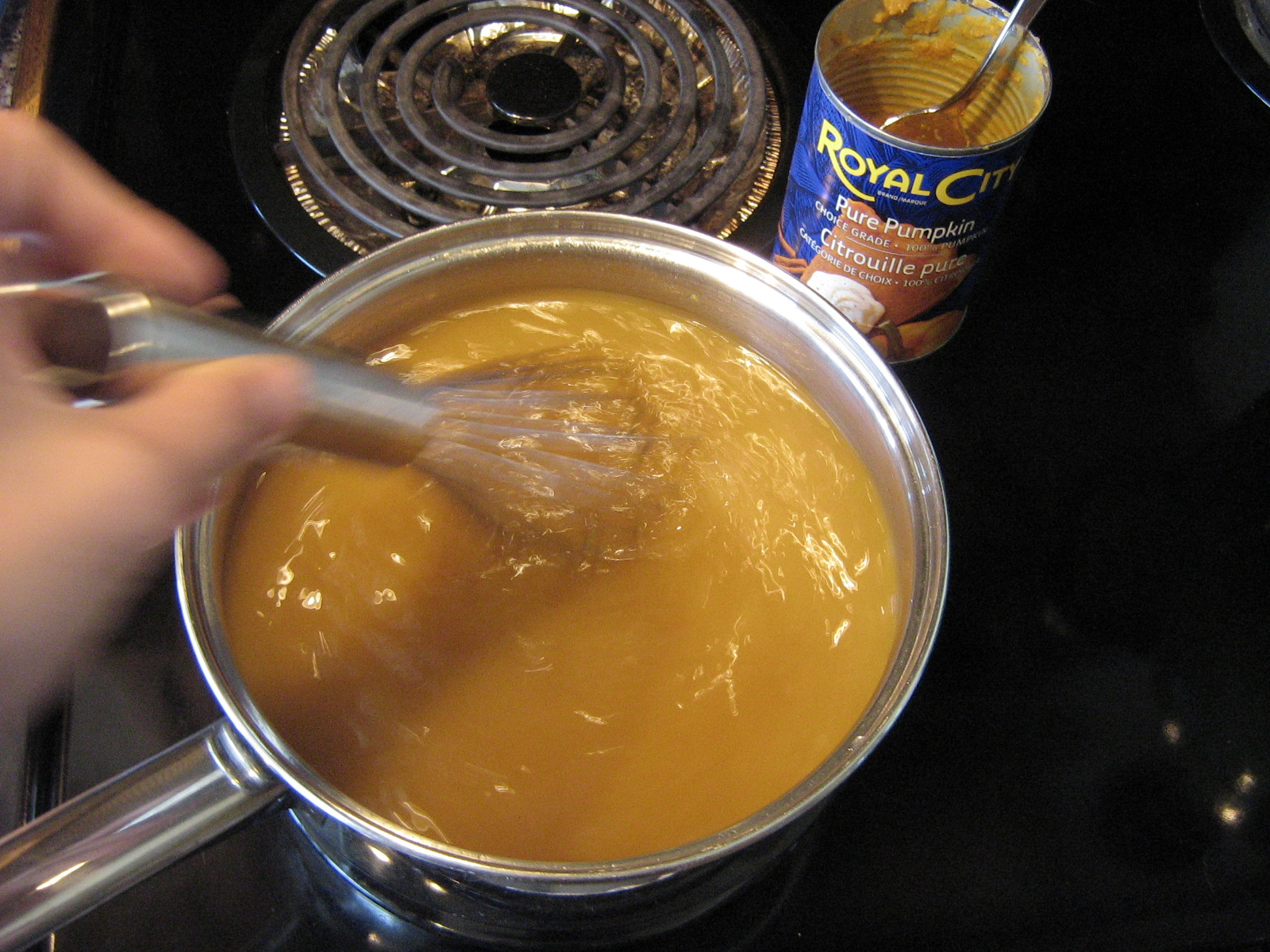 Cover and bring to a simmer. Keep simmering, covered, on low heat.
Meanwhile, prepare the following:
1 medium onion, diced
1-2 cloves garlic, minced
1 tbsp fresh sage leaves, chopped (or 1 tsp dried sage)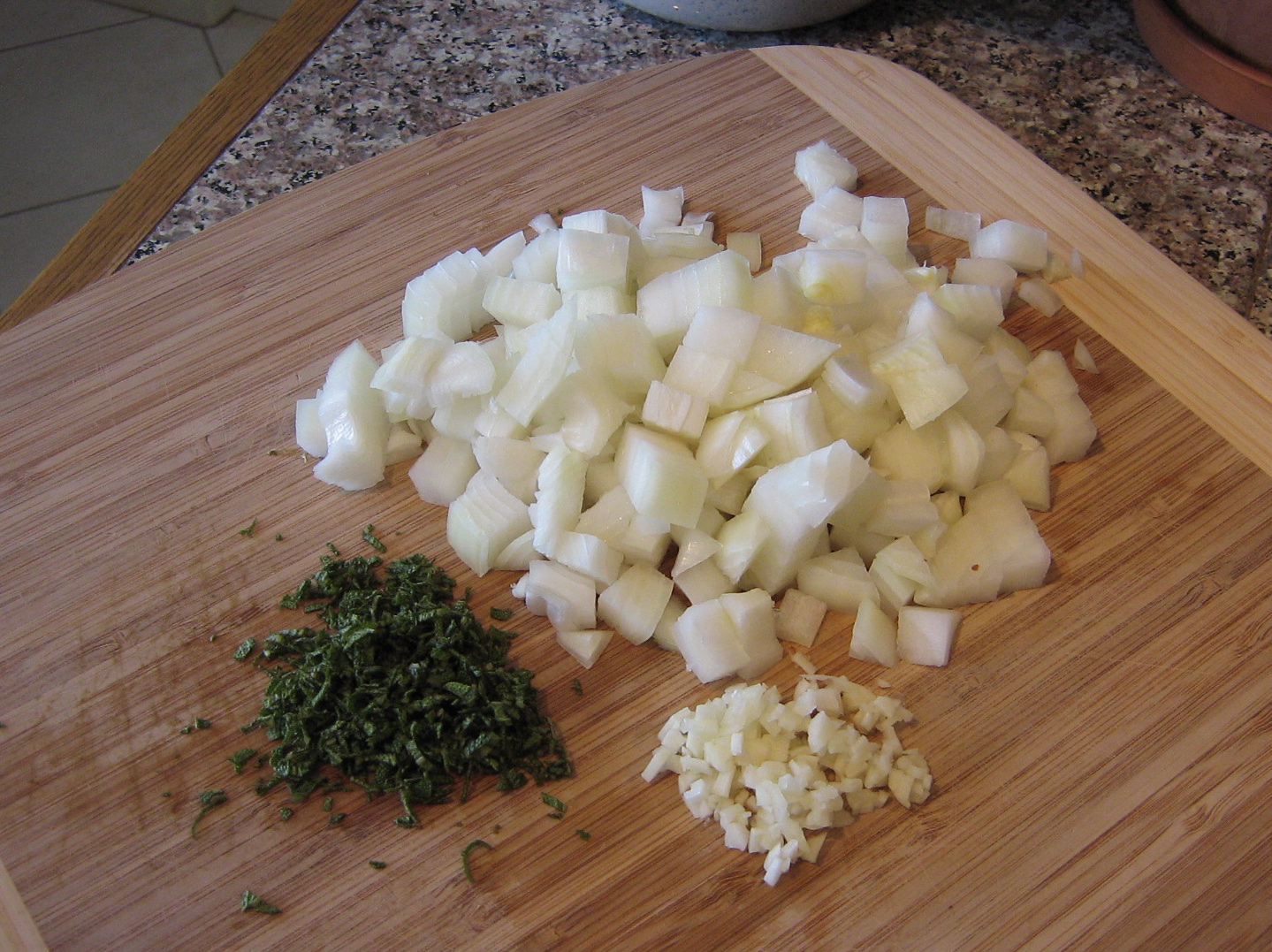 Remove the casings from 4-6 links of Italian sausage (hot or mild, your choice) and brown them in 1 tbsp olive oil in a large, heavy pot over medium-high heat (if the sausages release a lot of liquid, turn up the heat until the liquid evaporates and just the fat remains). When the sausage is cooked, remove it from the pot and set aside, reserving about 1 tbsp of fat in the pot.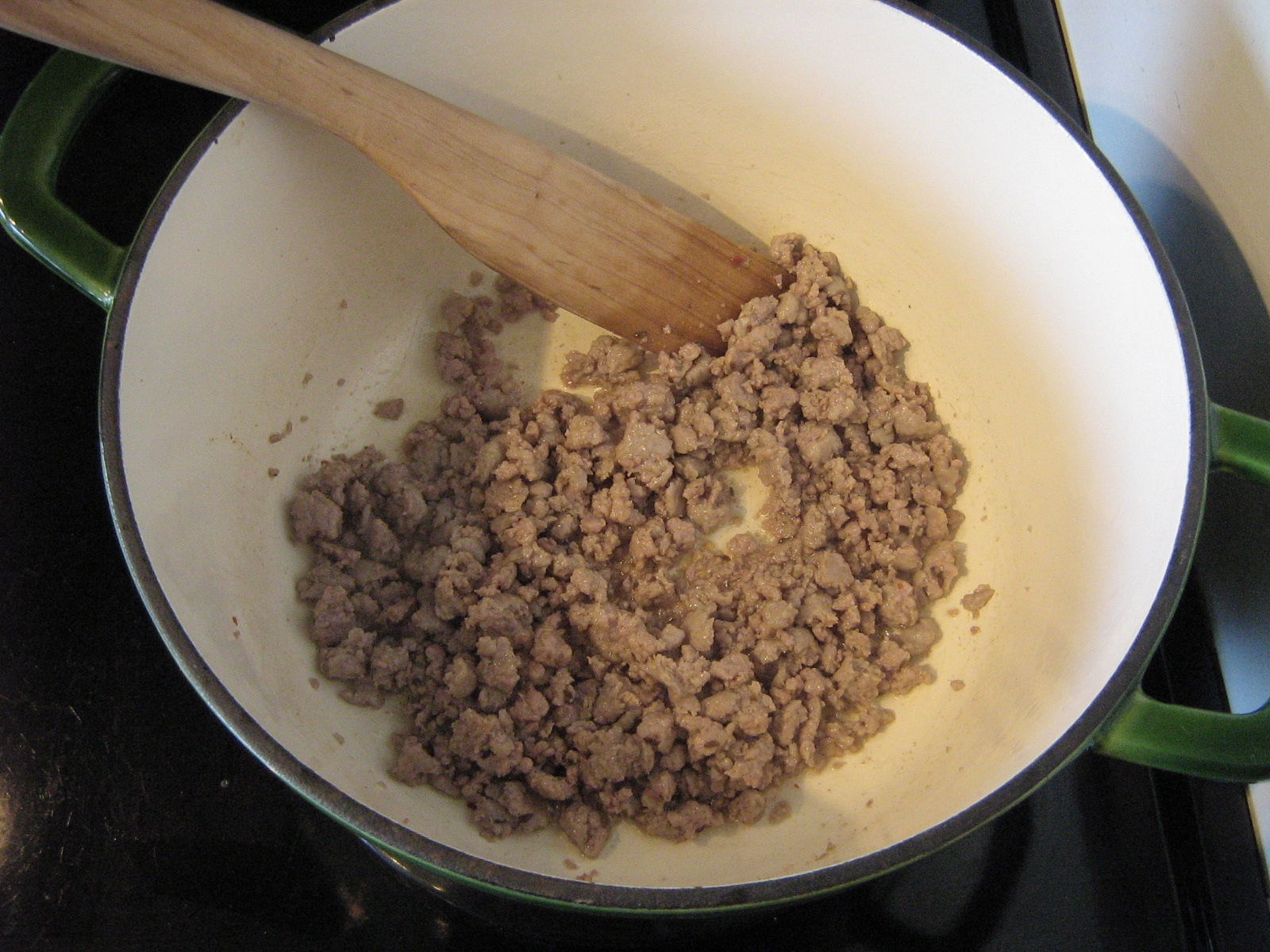 Return the pot to medium heat and add 1 tbsp of butter. Sauté the onions until the edges are opaque, then add the garlic and sage and cook until the onions and garlic soften.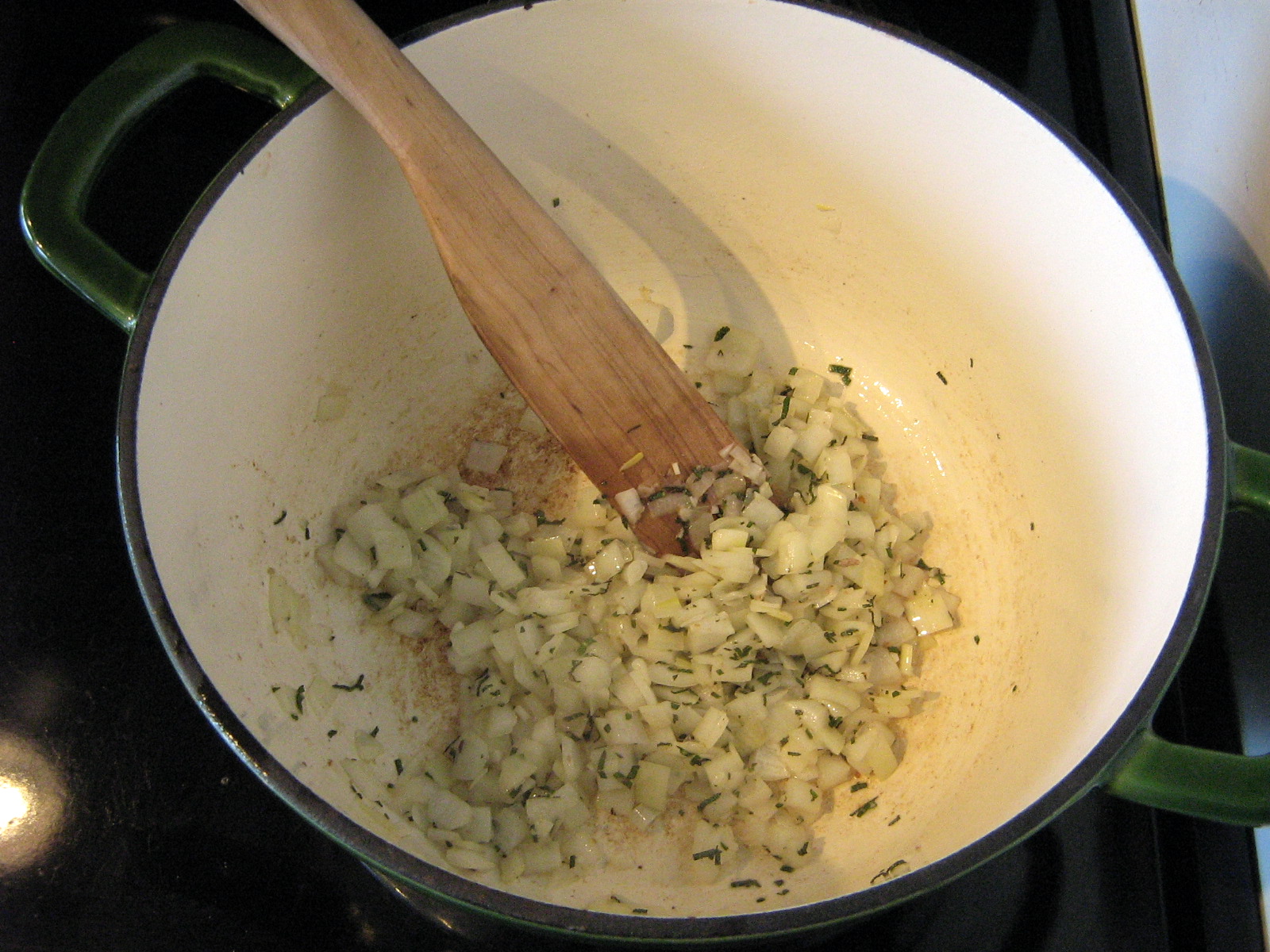 Add 1 cup of Arborio rice and cook, stirring, for about 2 minutes, until the rice is coated with oil, the edges get opaque, and it makes a sound like glass beads clinking against the bottom of the pot.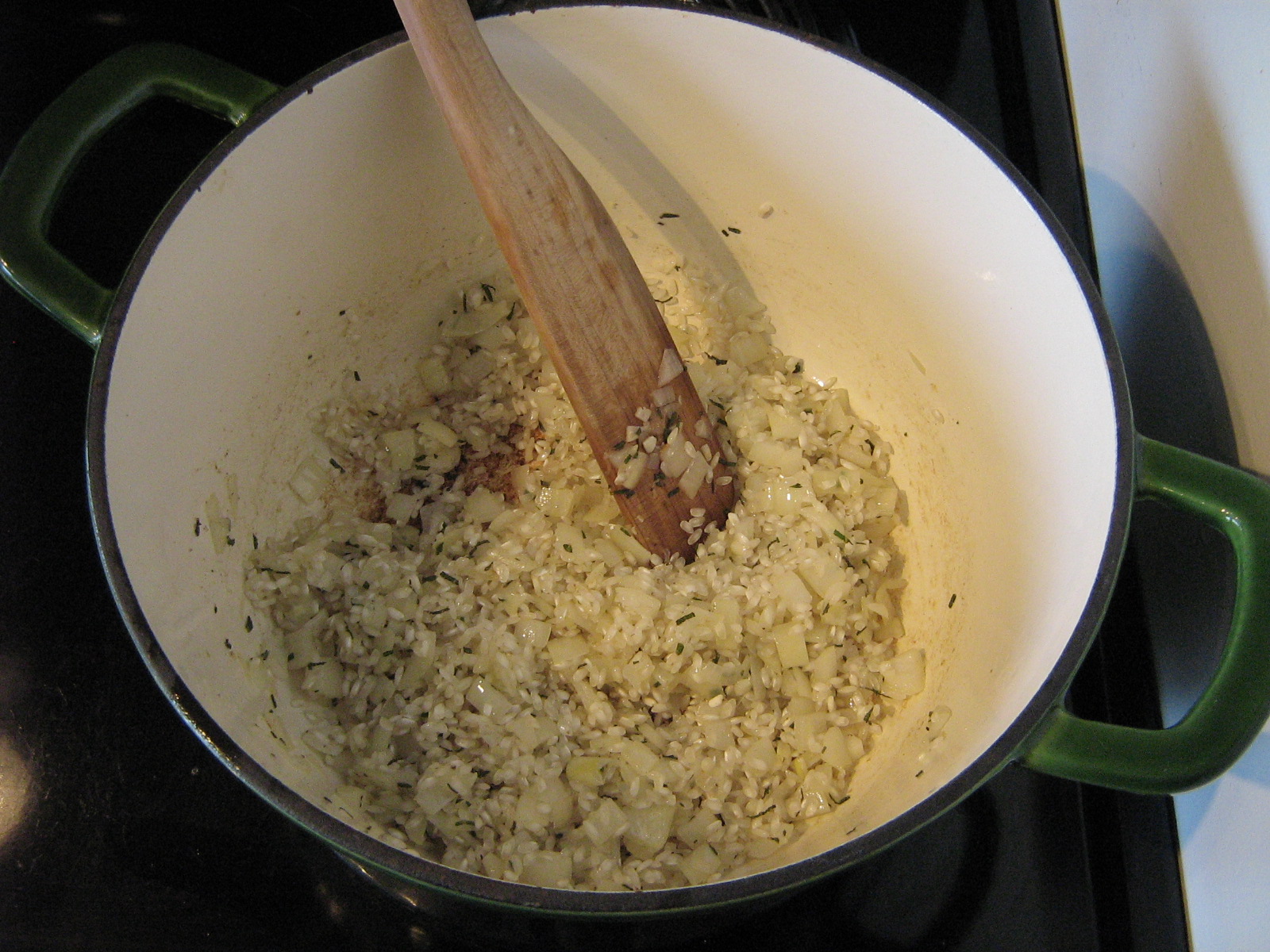 Add a ladle full of simmering pumpkin-stock (or 1/2 cup of white wine, if you have it – I never seem to!) to the rice and stir to loosen the browned bits on the bottom of the pot.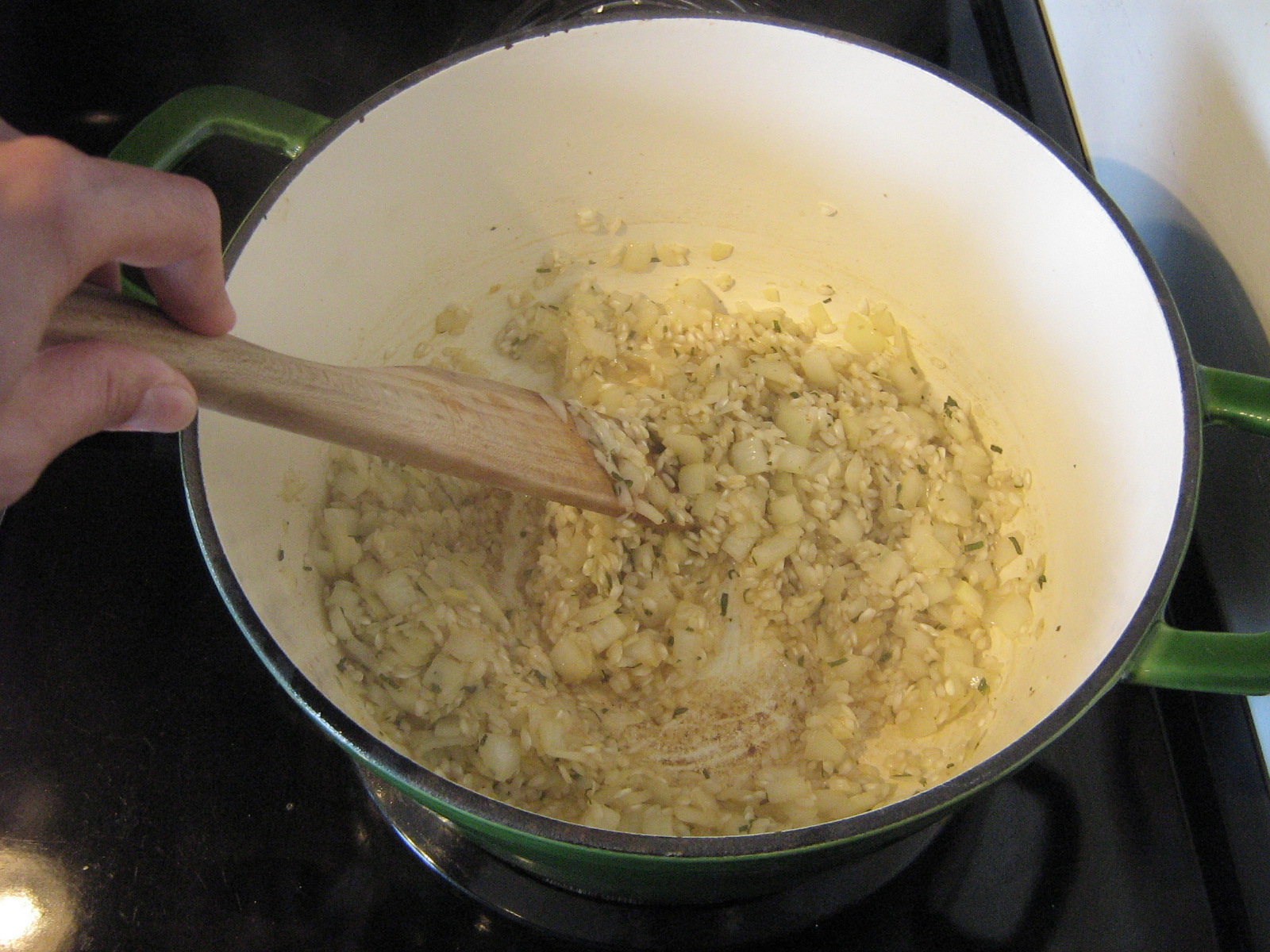 When the liquid is absorbed, add another ladle of stock and continue stirring. The rice-stock mixture should be simmering gently. When you can see the bottom of the pan in the path made by the spoon as it moves through the risotto, add another ladle of stock.
Continue stirring and adding ladles of stock until the rice is al dente – at least 30 minutes (if you are running out of stock, add some boiling water to the stock pot). The grains of rice should be suspended in a sauce the consistency of heavy cream (it will continue to thicken off the heat).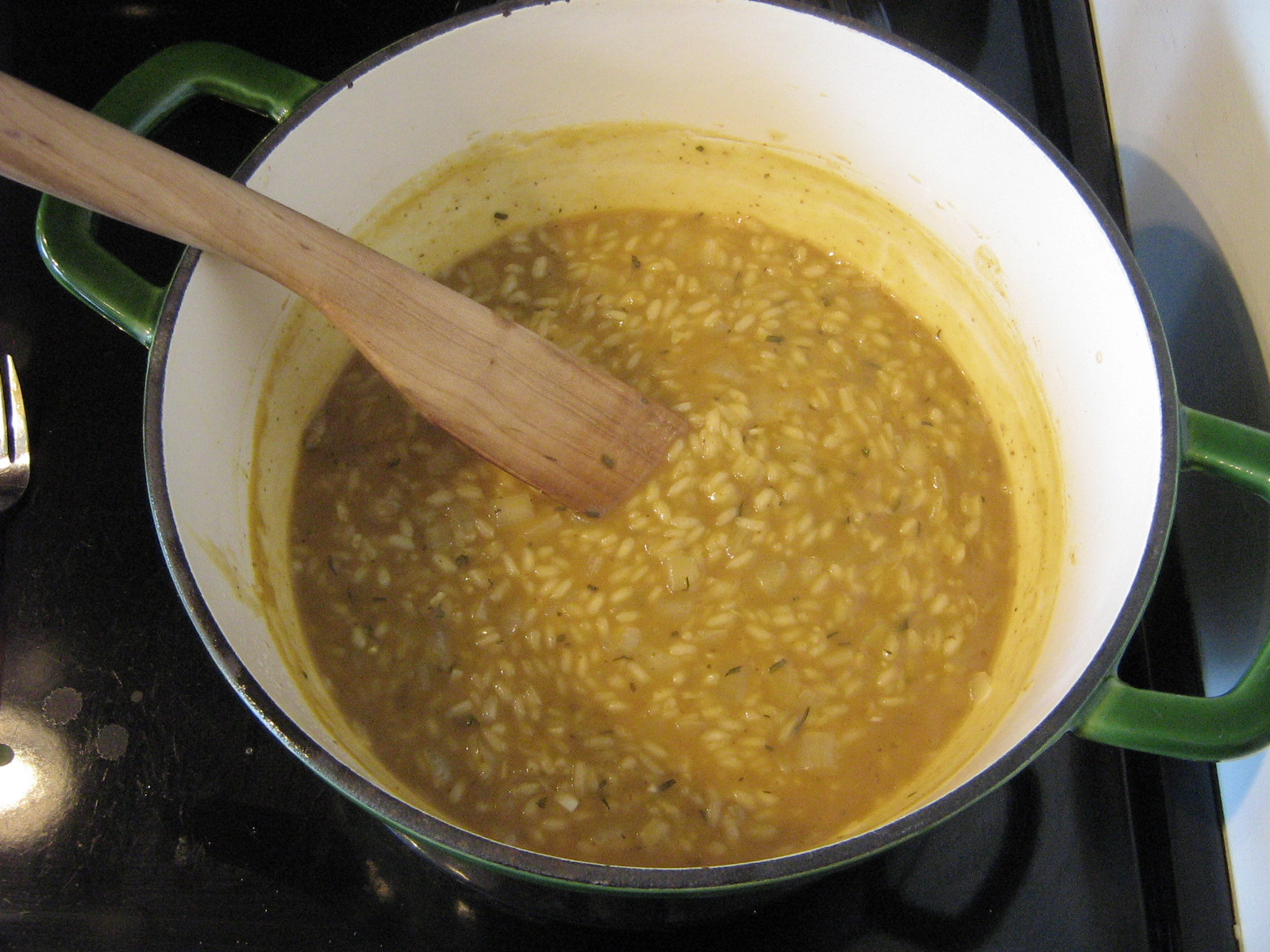 Add a final ladle of stock as needed and stir in:
reserved sausage meat
1/2 cup grated parmesan cheese
1 tbsp of butter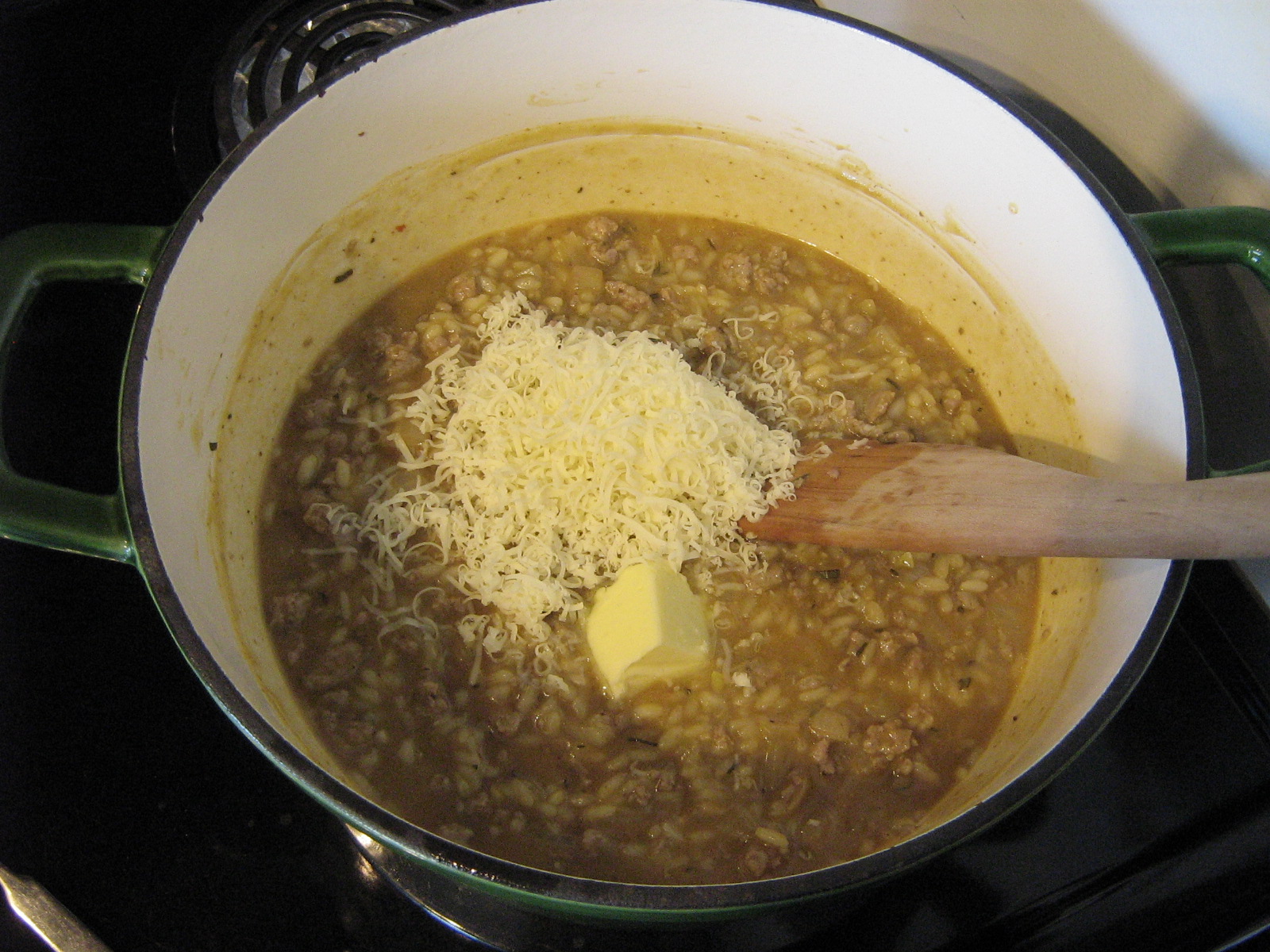 Season to taste with salt and pepper and serve topped with more parmesan.