July 2012 update: The Gatsby Mansion has recently come under new ownership and has a new chef, and their afternoon tea is now very good. Read my new review here!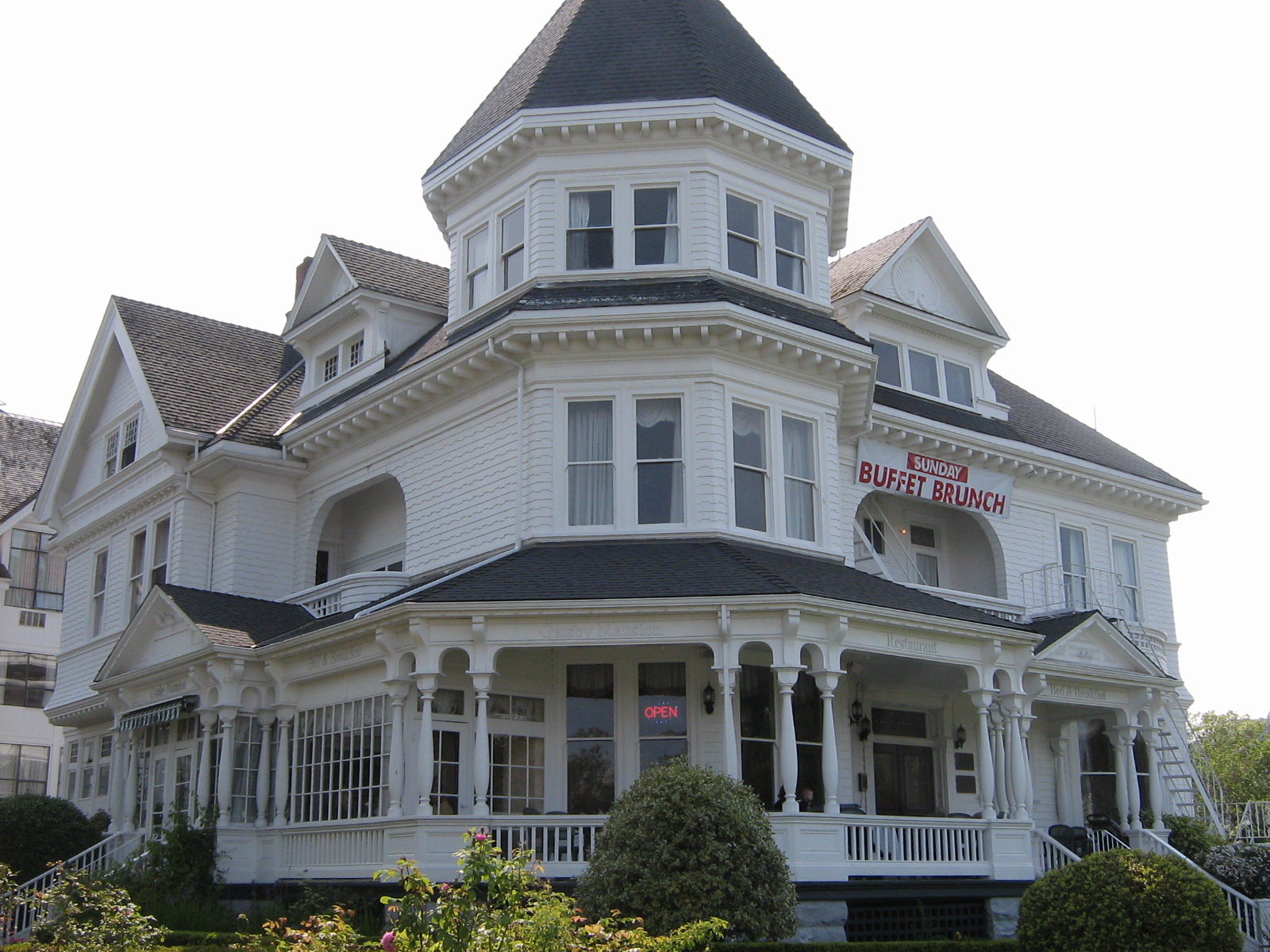 Once again, Lynette and I had a hankering for afternoon tea, and as the White Heather Tea Room was closed, we figured this would be a great time to try out one of the other establishments in Victoria that serves tea (there are a lot of them). We decided on the Gatsby Mansion, and brought our friend Candice with us. Frankly I'm sorry that this was her first afternoon tea experience, because it was definitely sub-par. Hopefully that means it can only get better from here!
As you can see above, the Gatsby Mansion restaurant is beautiful on the outside, and the restaurant inside has definite potential from a decor point of view, but it felt like it was trying to be grand without really making the full effort to BE grand.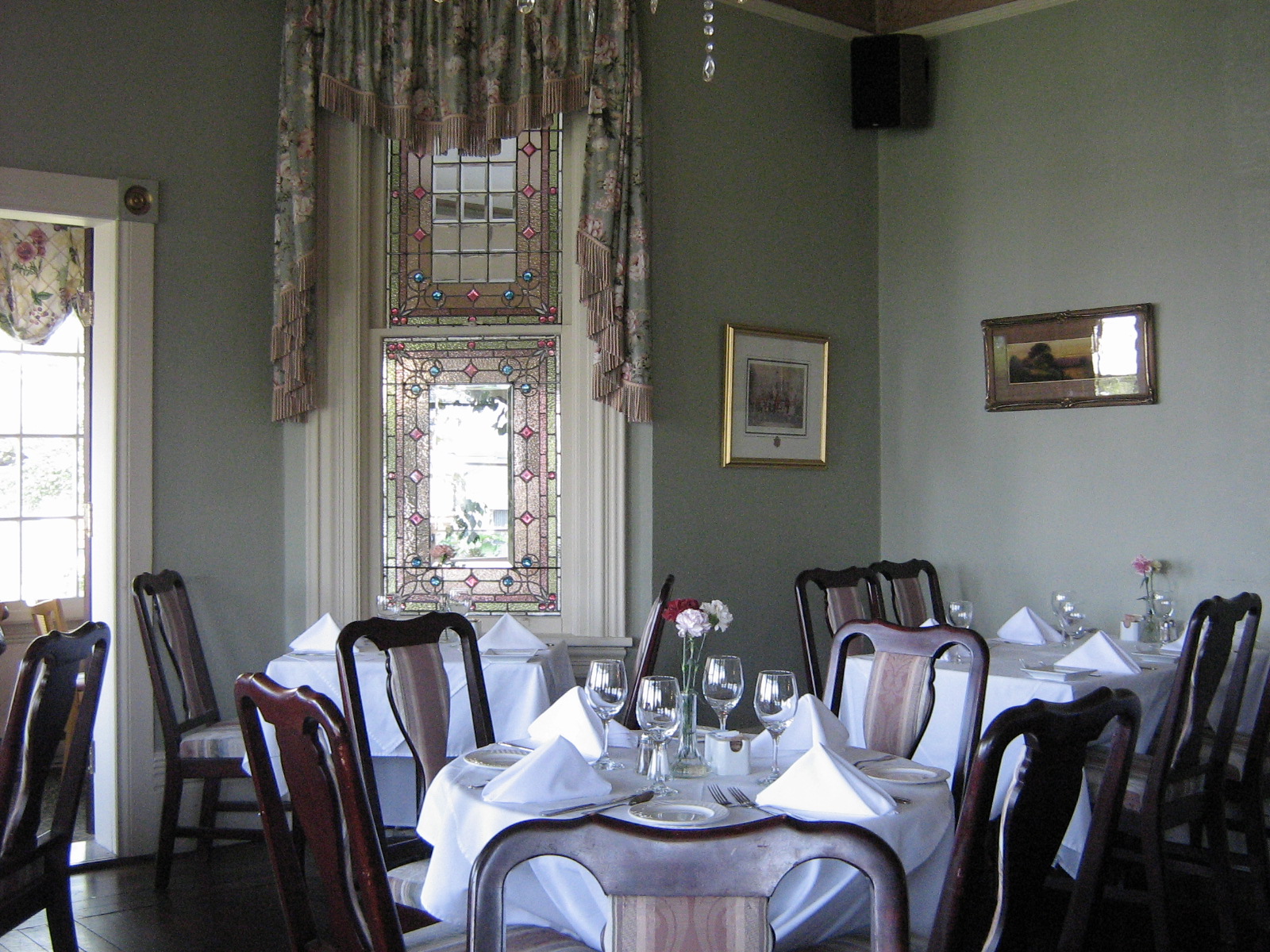 The ceiling of the room we were in was very ornately painted, and I couldn't decide whether it was pretty, or pretty awful. The fake crystal chandelier was definitely leaning towards pretty awful, however.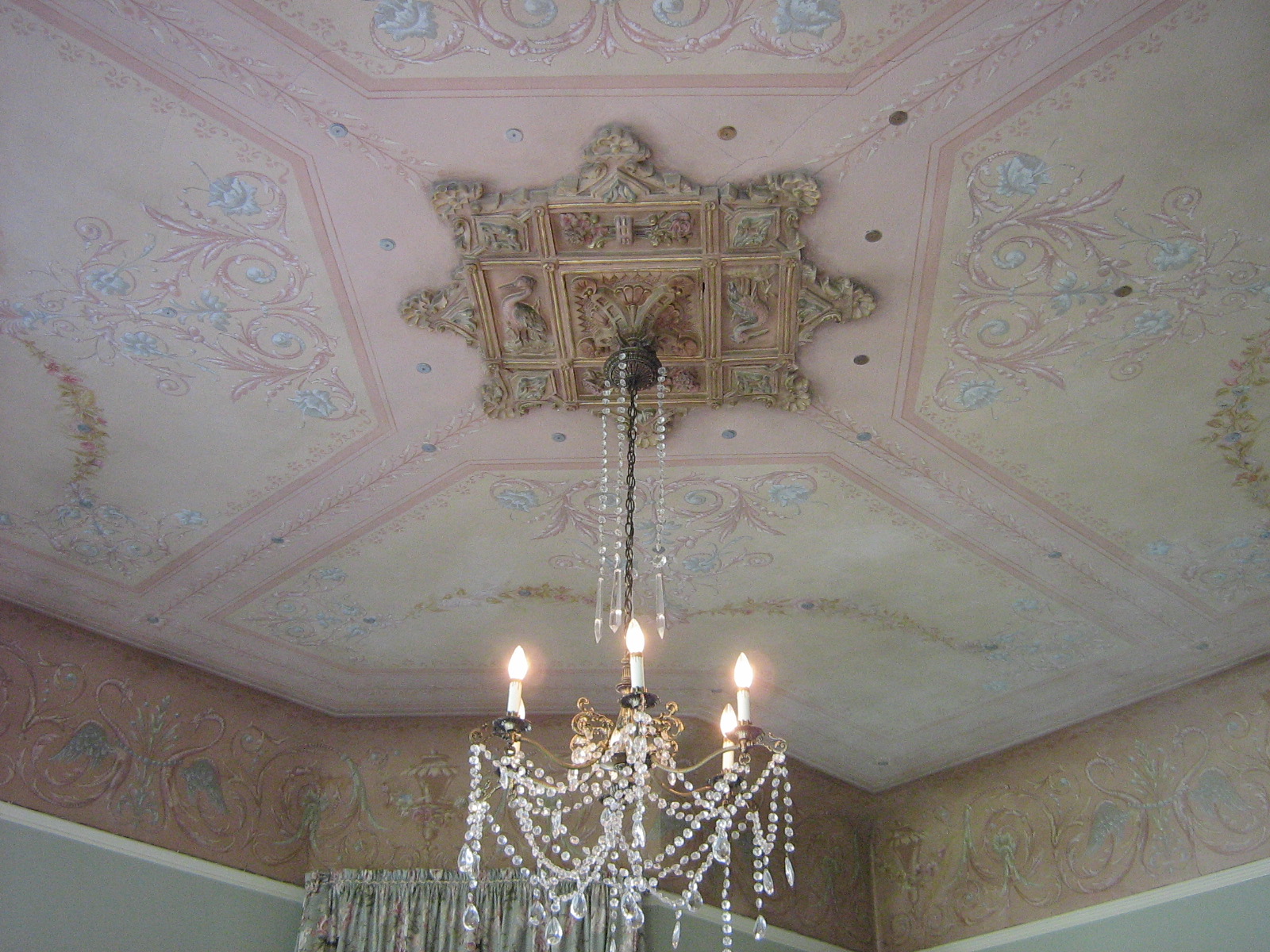 We ordered our tea from a basic selection of black, green, and herbal teas, and our server brought us the teapots, along with some little plastic containers of "honey flavoured spread", which turned out to be a really good indication of what was to come.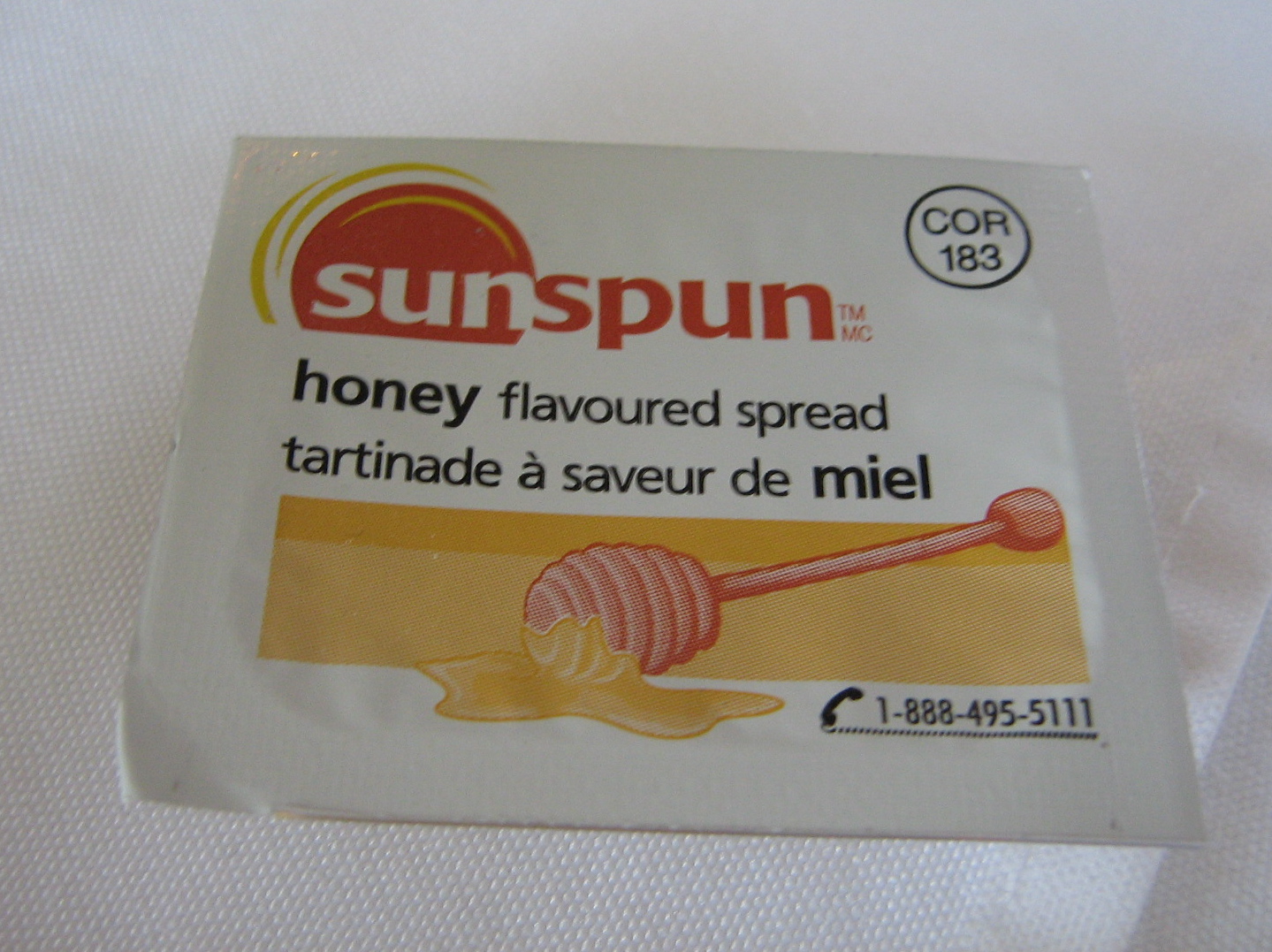 Then we waited for a bit until our first "course" of fresh fruit came out. The fruit was all ripe and tasted good (even the cantaloupe was OK, and cantaloupe is one of the only foods I really dislike!) but it looked like a ready-cut fruit platter you can buy in the produce section of the grocery store – definitely nothing special, and with only the barest minimum of care put into the presentation.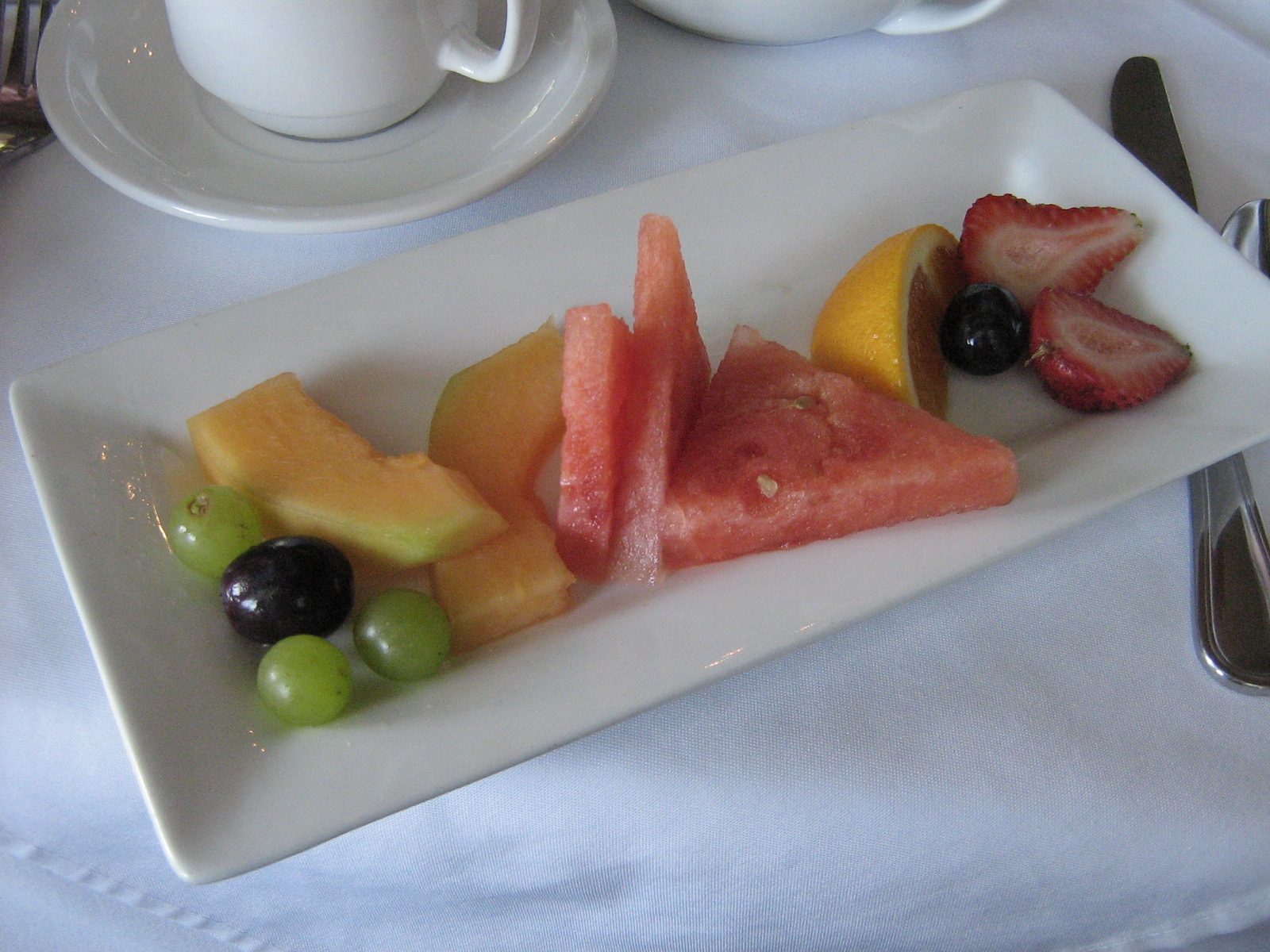 We waited some more, and were rewarded with fresh, hot cranberry scones, served with strawberry jam and thickened cream (in a disposable plastic container, of course!). The scones were actually very good: light textured on the inside and crunchy on the outside, and definitely right out of the oven.
After the scones, we waited some more, and then the sandwiches were brought out, "garnished" with a side of wilted salad greens and pink Kraft raspberry dressing (blech!). The sandwiches themselves were made of thick bread and thick deli slices of meat and cheese, and the quintessential teatime cucumber and cream cheese sandwich contained giant slabs of cucumber – not exactly dainty tea sandwiches. The bread was dry on the outside, leading me to believe that the sandwiches had been sitting for a while. They weren't very good, but a tiny sandwich is a tiny sandwich, so we ate them anyway.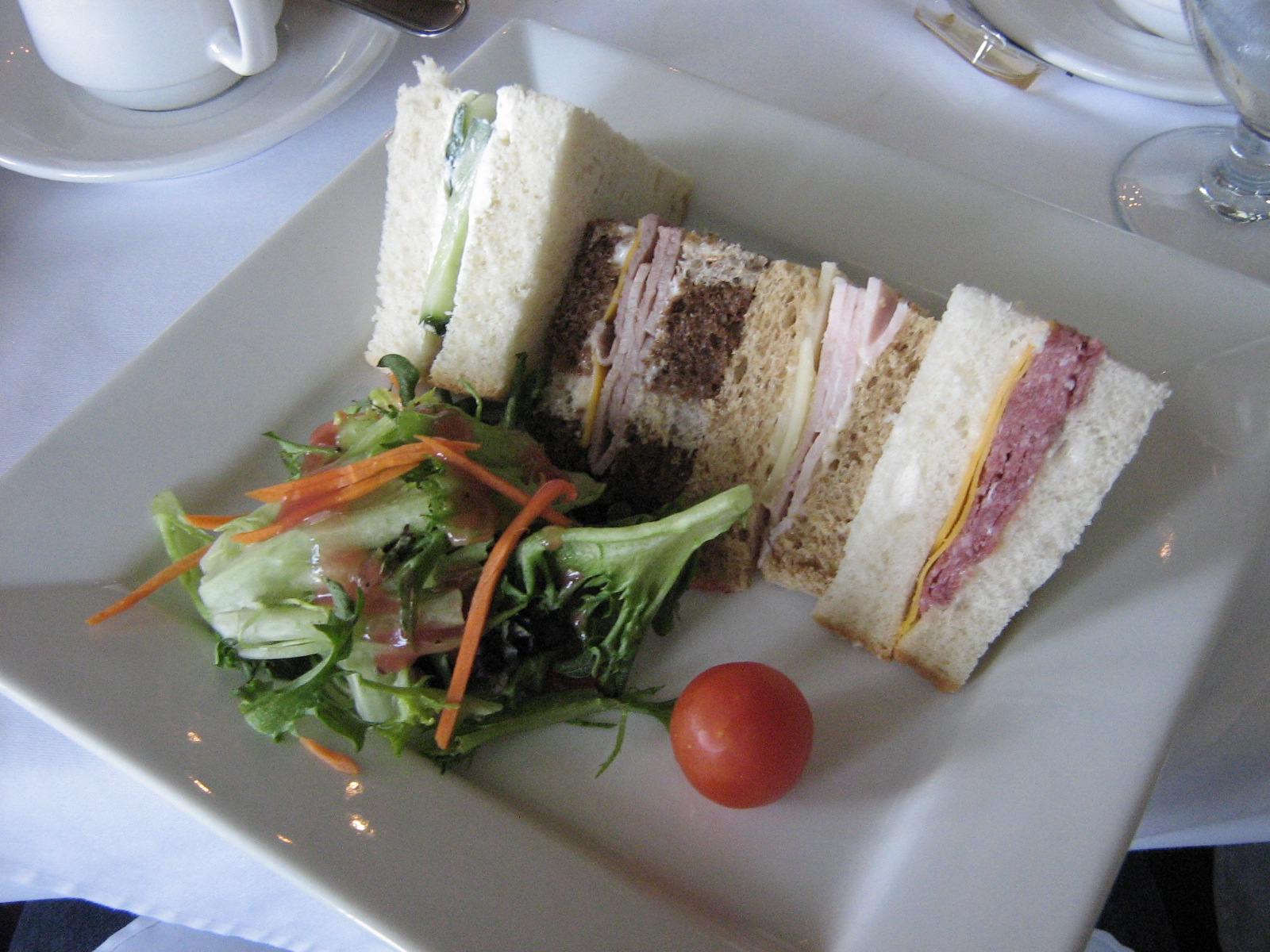 By this time we were into our second pots of tea and getting rather full, so when dessert came, we only ate the tablespoon of chocolate mousse (from a powdered mix) and got the squares (not homemade) to go.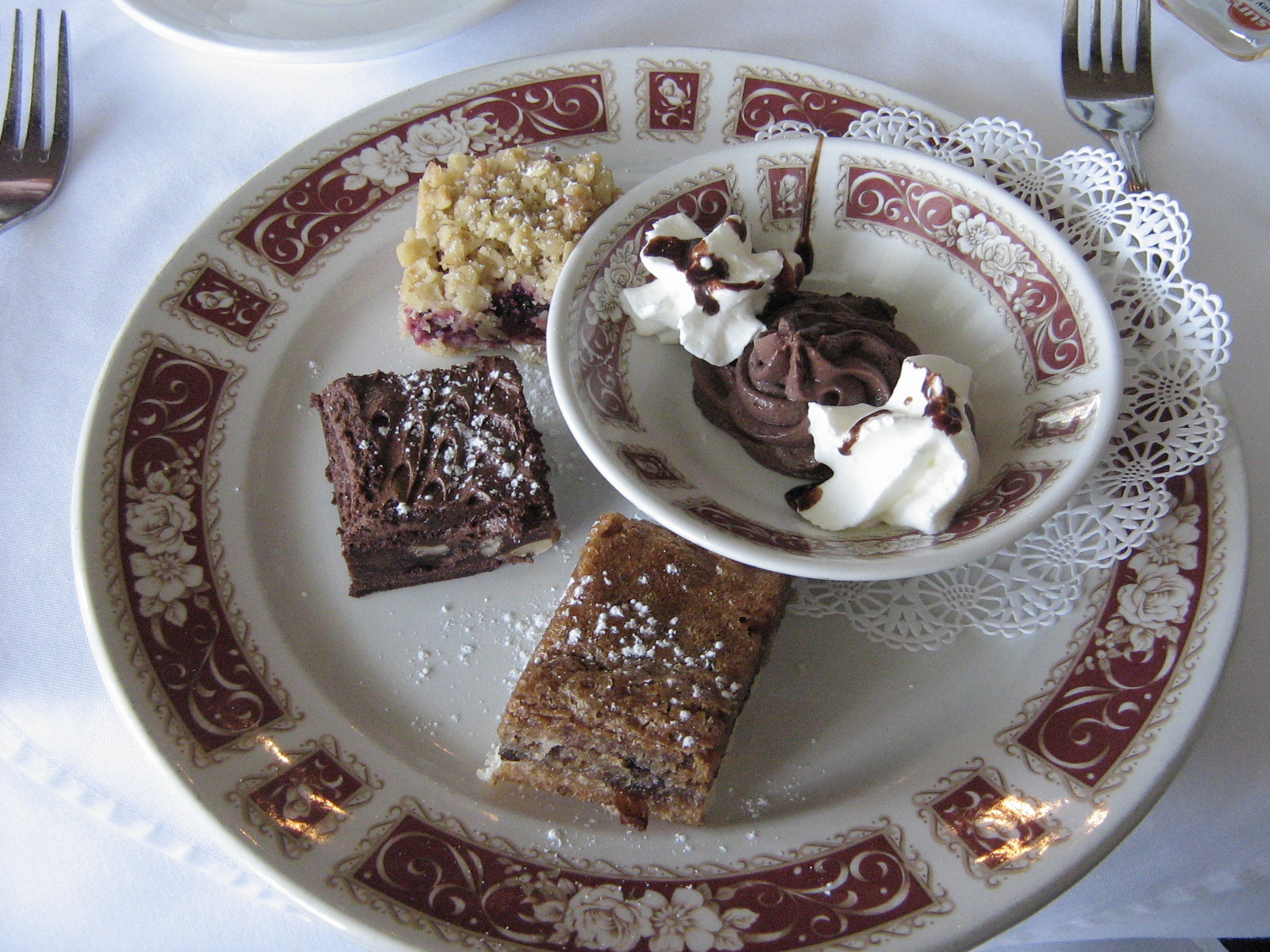 The whole thing took about two hours and cost us $24.95 each, before tax and tip.
Was it enjoyable? Yes. Afternoon tea is always enjoyable, even when it's kind of dreadful – it just adds to the experience. Was the food good? No, not at all, apart from the scone. Everything else was pre-made or from a bag/package and nothing was particularly fresh or interesting, but it was all more or less edible (except for the "salad"). Was it worth the money? Uh, no, the food was bad and definitely not worth almost $25. However, as I said, the experience was almost more fun because of how bad it was, so I didn't *really* mind paying $25 for it. Am I being a total snob? Yes, but come on – afternoon tea is supposed to be fancy and dainty and Victorian – no "honey flavoured spread", no pink Kraft dressing, no deli meat sandwiches. And if it's not going to be dainty or fancy, at least it could taste good! Lynette made a good point: all of the tea establishments in town are essentially competing with the Empress Hotel's afternoon tea, which is extremely expensive but tastes good and is beautifully presented. Obviously the ambiance and experience of tea at the Empress is part of the price and can't be gotten elsewhere, but you would think that the other places serving tea would at least try to offer comparable quality, because if it was as good as the Empress for only $25 (which wouldn't be very difficult – the Empress is good, but nothing mind blowing), chances are you'd have people flocking to your restaurant. Unfortunately, the moral of the story here is that the afternoon tea at the Gatsby Mansion is not worth checking out. There are much, much better teas to be had elsewhere. If you want delicious food, go to the White Heather, and if you want grand surroundings (and don't mind a grand price tag), go to the Empress Hotel!
All in all, for food, experience, and price, I give it one teaspoon out of five, thanks only to the yummy scone.
*   *   *
Bonus photo! After this disappointing tea experience, we stopped in at Murchie's to buy some delicious loose leaf teas, and saw this gem (it's 120 years old and it moves!):