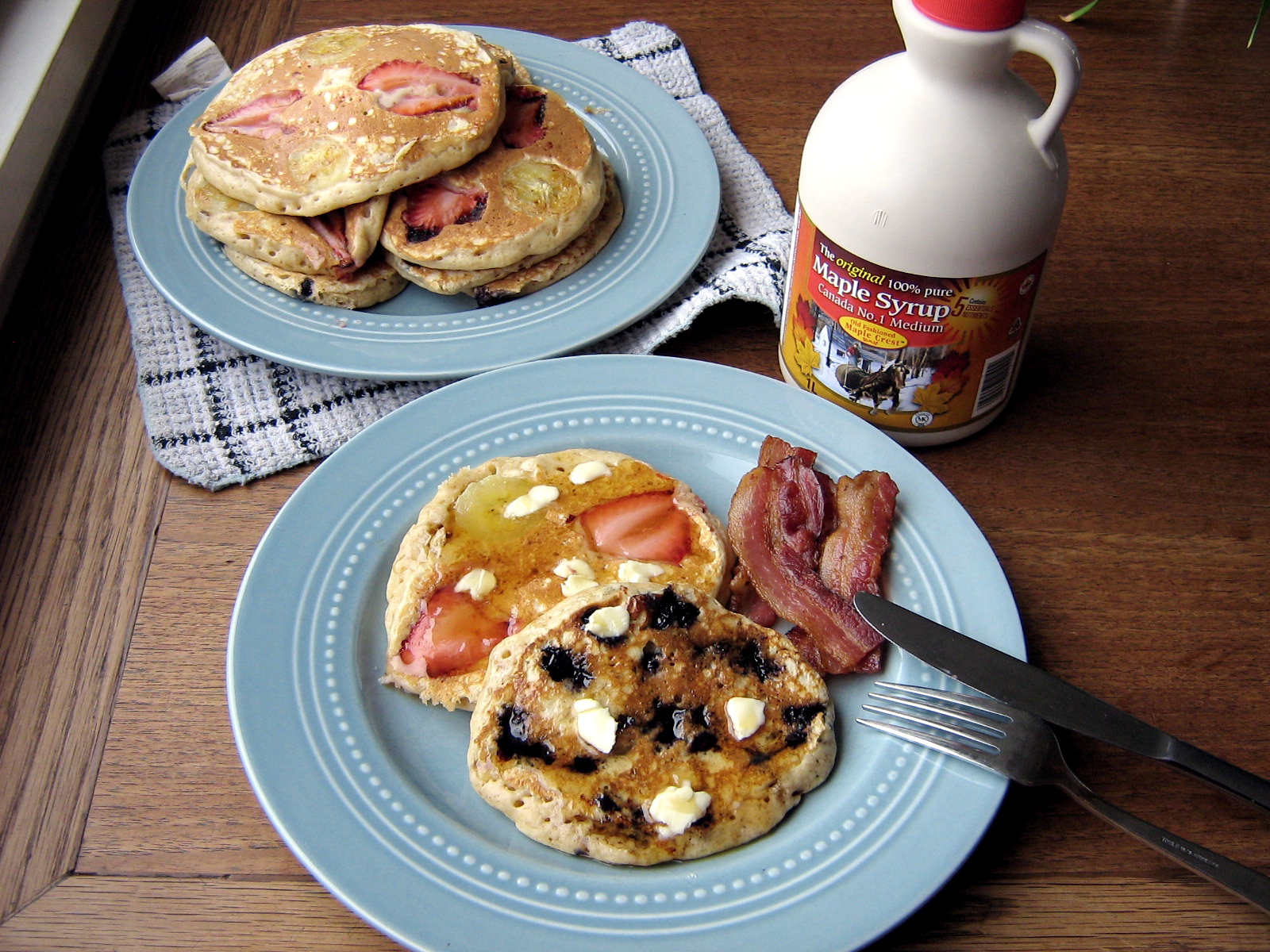 I am constantly on the search for the "best" or "perfect" recipe for certain things – among them, pancakes, pie crust, and chocolate chip cookies. My go-to pancake recipe has been one that I got from TV quite a few years ago, and it has never failed me… however it calls for buttermilk, which is not something I usually have hanging out in my fridge, especially on random weekend mornings when the pancake urge hits. I end up making sour milk with a dash of white vinegar and subbing it for the buttermilk, but the fact that the recipe contains an inconvenient ingredient sort of subtracts from the "perfectness" of the recipe for me (yeah, I'm a weirdo). (Also, I've never really understood what makes a buttermilk pancake any better than a regular pancake, so I've never really seen the need to use buttermilk.) Anyway, the quest continued…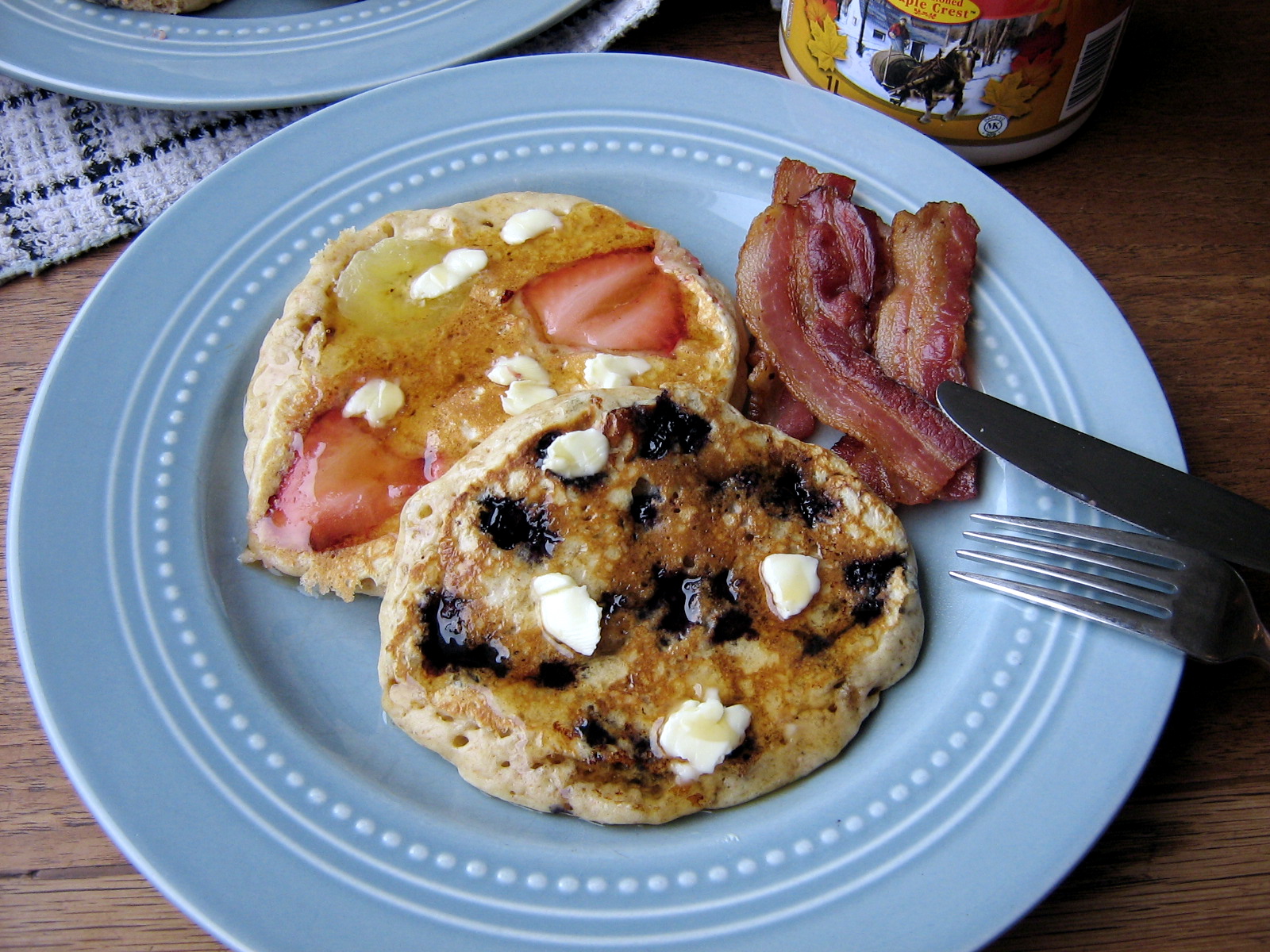 I came across this recipe, aptly named "Perfect Pancakes", on a food blog about a year ago, and wrote it down in my little recipe notebook without noting the source, which I though I would never again find in the bowels of teh interwebz. However, through the magic of Google, I found it, so I can give credit where credit is due for what really is the perfect pancake! I finally made them for the first time the other week, and I will definitely be making them again. They were beautifully light and fluffy and they cooked up perfectly, and they didn't require any ingredients other than those normally found in my kitchen (ie, no buttermilk). I added frozen blueberries and strawberries and bananas and served them with maple syrup (don't even talk to me about that Aunt Jemima crap!). Please try these. They actually are perfect 🙂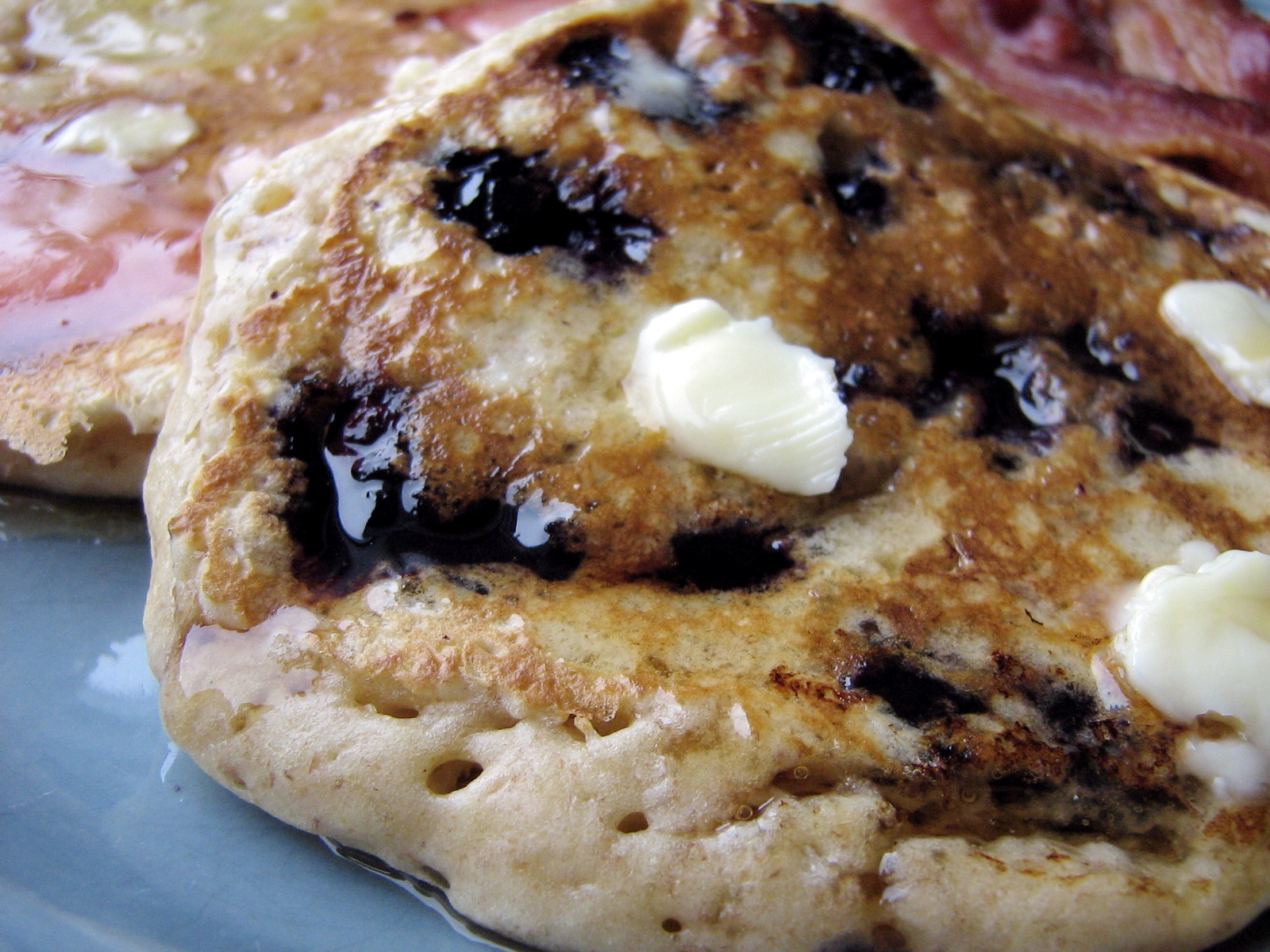 Perfect Pancakes
Recipe from thimble.
Combine dry ingredients in a bowl with a whisk:
1 1/2 cups all purpose flour (I used 1 cup all purpose and 1/2 cup whole wheat)
2 tbsp sugar
4 tsp baking powder
3/4 tsp salt
Whisk together wet ingredients:
2 eggs
1 1/3 cups milk (ever so slightly warm so that the melted butter doesn't solidify in the cold milk)
1 tbsp melted butter
1 tsp vanilla
Add wet to dry and mix with a whisk until just combined. Let rest while the pan heats up over medium heat – for best results, use a non-stick, heavy bottomed pan. Grease the pan with a little bit of butter and drop about 1/4 – 1/3 cup of batter per pancake into the pan. It you want, top each pancake with the fruit if your choice (bananas, fresh or frozen berries, etc – if you are using frozen fruit that is larger than a blueberry (ie, a sliced frozen strawberry), you may want to cook the pancakes a little bit longer, as the batter under the frozen fruit might be a bit runny otherwise).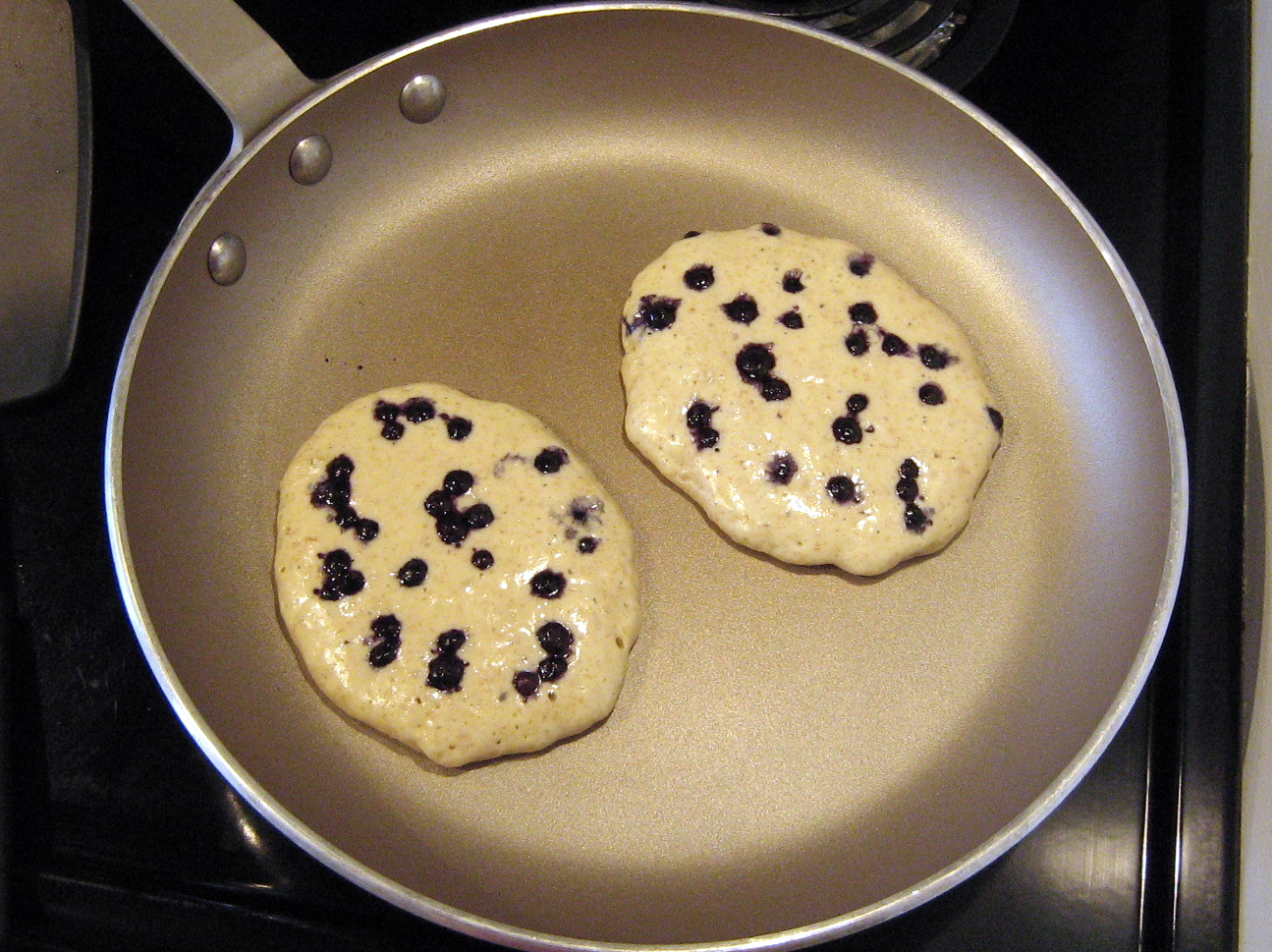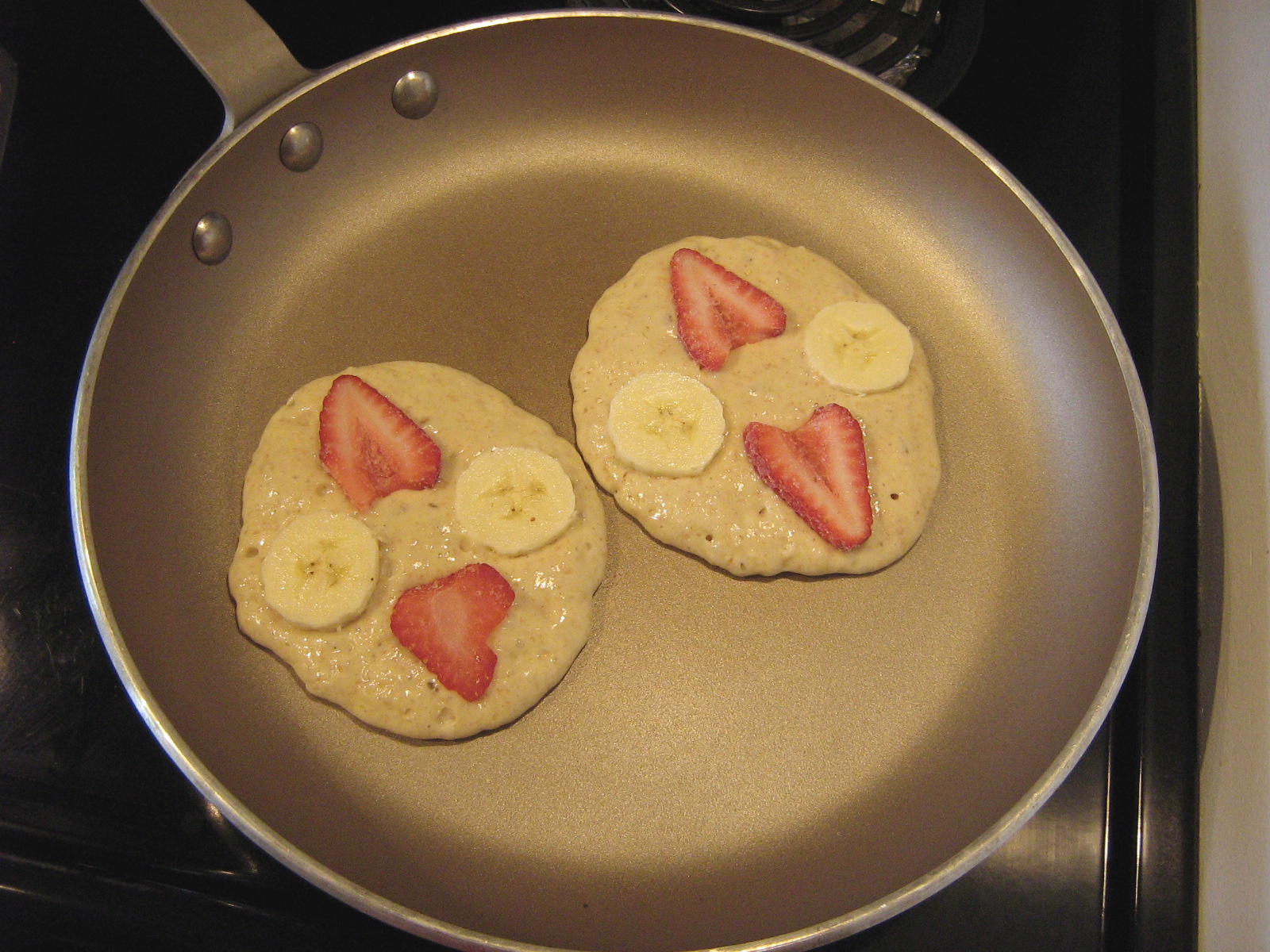 When the bottom is golden, the edges are dry and the top has bubbles around the sides, flip the pancake over and cook until golden. Serve immediately with butter and maple syrup, or place on a plate, covered with a tea towel, in a warm oven until the whole batch of pancakes is ready. Makes about 12.