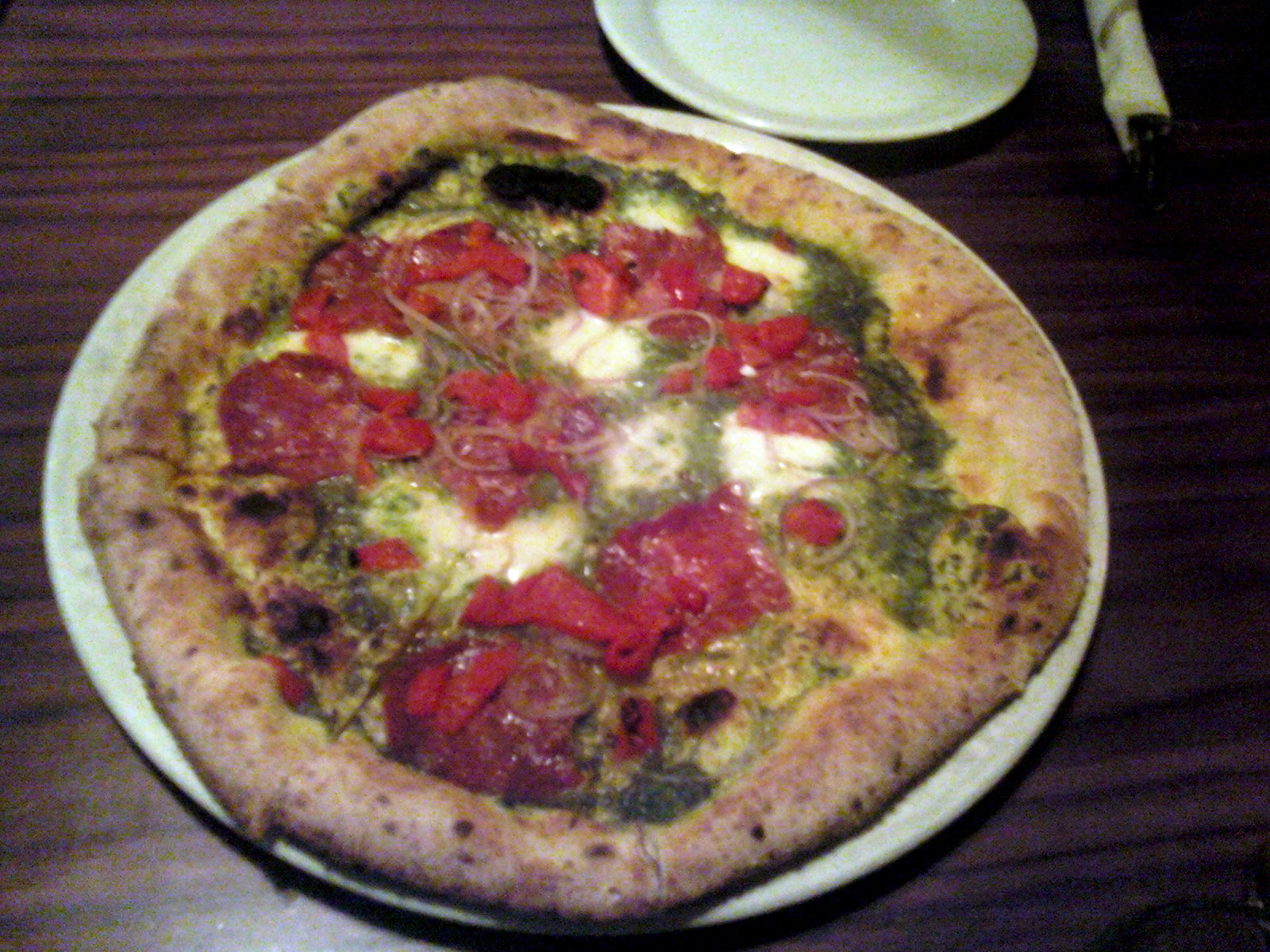 I almost didn't post about this Second Saturday outing, because the pictures I took are so awful (crappy cell phone camera + dark restaurant = baaaaaaad photos), but the pizza was so good that I can't not share. So here it is. Please excuse the photos!
This edition of Second Saturday actually took place on a Monday, because I was out of town for the second Saturday of May. Katheryn, Lynette, and I met for dinner at Pizzeria Prima Strada in Cook St Village for beautiful, thin-crust, oven-fired, Neapolitan-style pizza. We had all eaten there before, so Second Saturday was just a good excuse to eat there again. One thing I really like about this restaurant is that they use fresh, Vancouver Island ingredients wherever possible, including mozzarella di bufala from Natural Pastures (made with milk from Fairburn Farms, home to the only water buffalo herd in Canada!), pepperoni made by Choux Choux Charcuterie, and house made sausage and salumi. I love food even more knowing that something so delicious is produced or grown nearby!
The menu is pretty small, which I usually find is a good thing, because it means the kitchen is not trying to do a hundred different things; instead they are focused on doing one kind of thing very well, and it usually results in a much better meal. In Prima Strada's case, there are a few Antipasti and Insalata offered, ten different pizzas to choose from, Dolci (desserts), and some daily specials. They also have a succinct wine list and serve local Driftwood Brewery beer and several Italian liquors. The pizzas range from the cheeseless Marinara to the traditional Margherita to the spicy salame Diavola to the cream-based Panna e Pancetta. We ended up going with the Funghi (porcini cream, roasted mushrooms, roasted onions, fresh thyme, mozzarella, pecorino), the Panna e Pancetta (cream, pancetta, parmigiano, mozzarella, ricotta, scallions), and a special pizza with spicy Calabrese salami, roasted red pepper, arugula pesto, bocconcini, and red onion. We also ordered a bottle of wine, Mezzomondo Rosso, which was good but honestly I can't remember anything specific about how it tasted. I was concentrating more on the pizza 😉
The pizzas were all very thin crusted and sparsely topped, with nice big toasted bubbles in the slightly charred, chewy crust. The special pizza (pictured at the top of this post) was very flavourful with some good heat from the spicy salami. The Funghi pizza was earthy and very mushroomy, and quite rich with the porcini cream and cheese.
The Panna e Pancetta was everyone's favorite: creamy and delicately flavoured with the pancetta and scallions. For me the best part was the ricotta: I LOVE ricotta, especially on pizza!
The three pizzas were more than enough to feed us, but somehow Katheryn and I found room to order dessert. There were a few choices, including gelatos and sorbettos, but for us it was tiramisu, no contest. On a previous visit I had a hazelnut tiramisu that was the single most delicious tiramisu I've ever tasted (I plan on trying to recreate it at home sometime), so my hopes were high. Sadly, this one didn't quite measure up: it wasn't terrible by any means, but it was no sublime hazelnut tiramisu. In my experience, tiramisu is often either too soggy or too dry, and this one was a little on the dry side. However, based on the overall quality of the food, I wouldn't hesitate to order it (or anything else on the menu) again.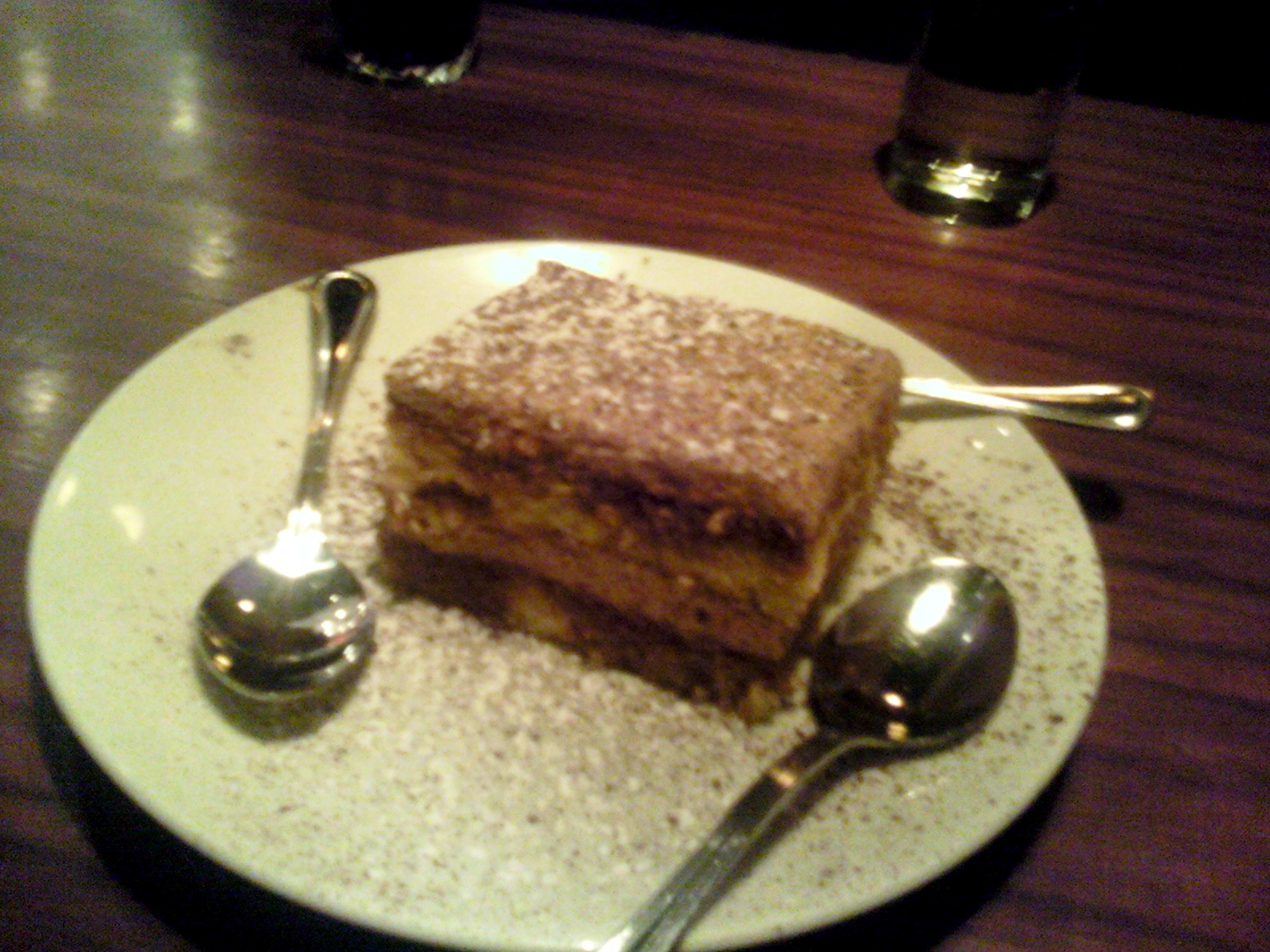 We sat in a booth on the side of the restaurant so we didn't have a great view of the open kitchen with the chefs making the pizzas, but what I was able to see just heightened my anticipation of our pizzas! The food was great, the service was great (our waitress was friendly and cute and attentive), and the bill wasn't too hefty. I will definitely be back the next time I'm craving pizza, with hopes of a piece of that delicious hazelnut tiramisu 😉
PS – just noticed on their blog that they also have an Italian Long Table Dining Series, which sounds like a wine club/dinner party/cooking lesson… very intriguing! Venue for a future Second Saturday, ladies??