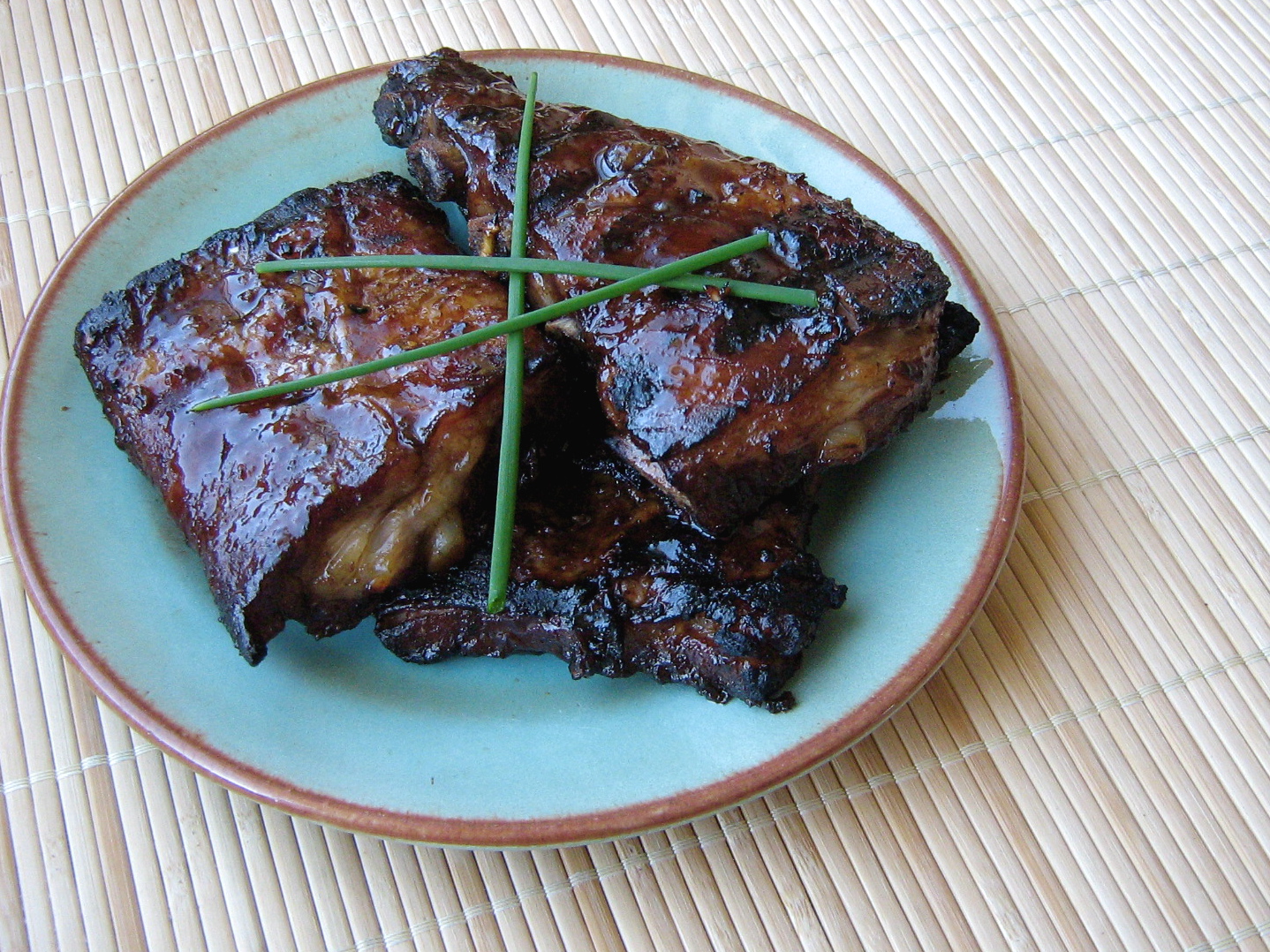 Downtown in Victoria's Chinatown (the oldest Chinatown in Canada, yo!) (also probably the smallest, as it's literally only one block long) there are several Chinese BBQ shops with barbequed ducks, chickens, and meat hanging in the window. If you go in and order some barbequed pork, the guy behind the counter will grab a hunk of pork from the window, throw it down onto a worn wooden chopping block, grasp a formidable-looking cleaver, and hack the pork into little bits, which he will then wrap in purple butchers' paper and hand to you with a little smile, like he knows how much you are going to enjoy those juicy, salty-sweet, porky morsels. Mmm-mmm indeed. Just thinking about it makes my mouth water a little bit.
I stumbled across a recipe for homemade Chinese BBQ pork on someone's blog, and of course it made me want to try it for myself. I had also recently seen a recipe for Chinese pork spareribs, and I happened to have some ribs in the freezer, so I decided to combine the two to make Chinese BBQ pork spareribs. SO GOOD. I cooked them most of the way in the slow cooker and then finished them on the barbeque, because the Chinese name for barbequed pork means something along the lines of "fork toasted" – as in, the meat is toasted over flames on a fork to finish cooking it. I figured on a grill over flames was close enough!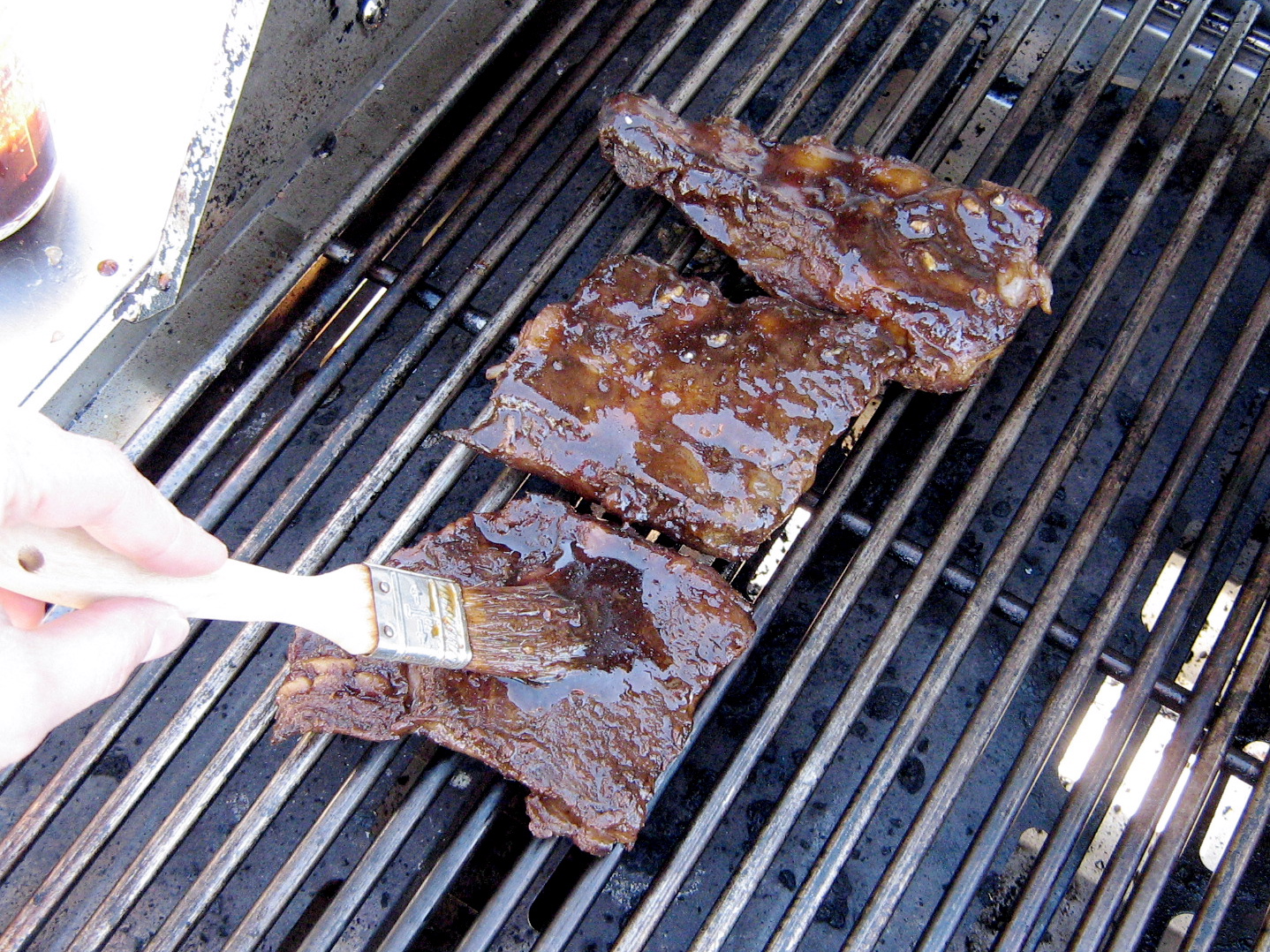 The only thing I had to purchase for this recipe was the Chinese 5 Spice Powder, the ingredients of which vary but apparently the most common is a combination of cinnamon, star anise, cloves, fennel, and Szechuan pepper. In fact, my Chinese 5 Spice Powder is simply labeled "Chinese Spice Powder" and only has four ingredients! But it still tasted great, so I'm quite sure that whatever five or so spices sold together as Chinese 5 Spice Powder will be just fine in this recipe! Some more authentic recipes call for using maltose as a sweetener, but I couldn't find any so I just used honey and a touch of brown sugar.
I chose to use this sauce on ribs, but you could also use it on other cuts of pork. Most recipes recommend marinating either pork tenderloin (for leaner BBQ pork) or pork butt (for fattier, juicier BBQ pork) in the sauce before roasting and then grilling it and brushing it with more sauce. I want to try making this with pork butt and rotisserie-ing it on the barbeque!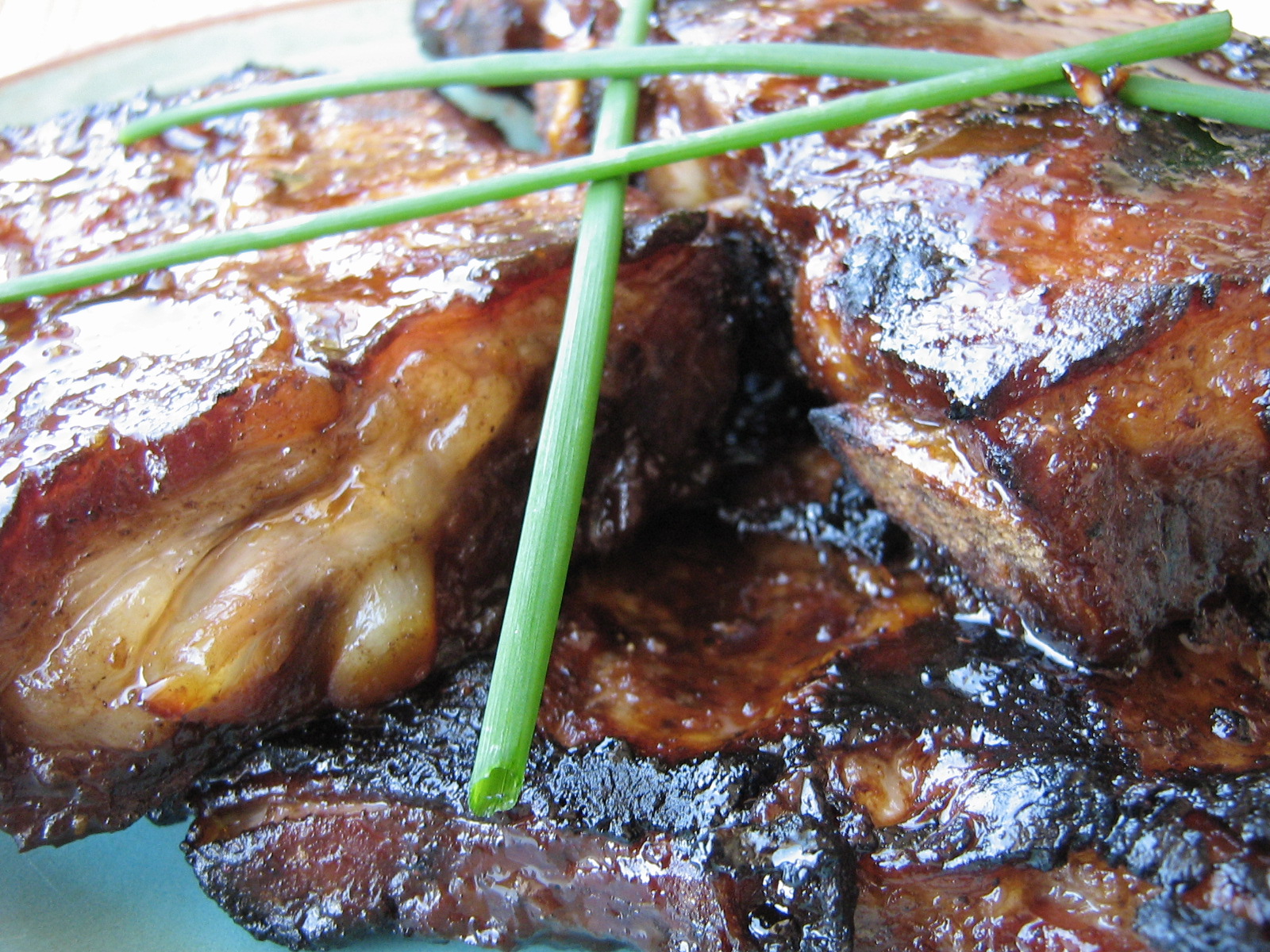 Chinese BBQ Pork Spareribs
For the sauce, mix together:
3 tbsp hoisin sauce
3 tbsp soy sauce
2 tbsp Chinese rice wine
3 tbsp honey
1 tbsp brown sugar
3 cloves of garlic, minced
1 tsp Chinese 5 Spice Powder
1 tsp pepper
1 tbsp sesame oil
Pour over one rack of pork spareribs in a slow cooker insert. Turn the slow cooker to high and cook for 3-4 hours, covered, until the ribs are tender but not falling apart. Remove the ribs from the sauce. Pour the sauce into a container and skim off as much fat as possible. Grill or broil the ribs, brushing them with the sauce, until they are slightly charred on both sides. Eat.
If you are using another cut of pork such as pork tenderloin or pork butt, reserve about 1/2 cup of the sauce and marinate the pork in the remaining sauce for a few hours (if using pork butt, cut into 4 long pieces). Preheat the oven to 375˚F. Scrape most of the sauce off the pork and discard; roast the pork until done (160˚F with a meat thermometer). Finish by brushing the pork with the reserved sauce and grill or broil until slightly charred on all sides. Slice and serve.