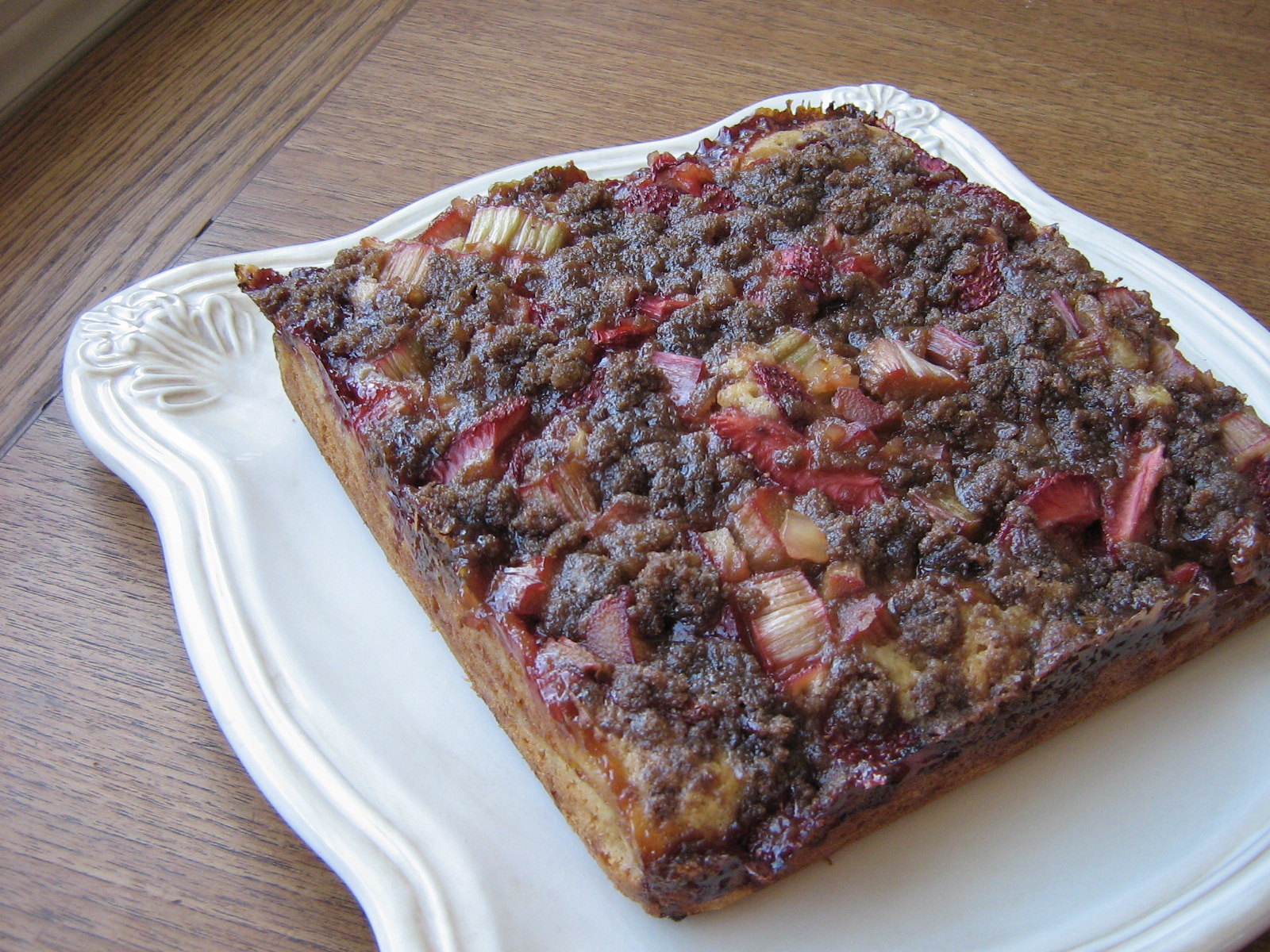 I've been on a rhubarb kick lately. I bought about 4 kilograms of local rhubarb a few weeks ago and it's now in my freezer, waiting to be used in something delicious. Seeing as the strawberry rhubarb pie I made at Easter didn't quite satisfy my craving for slightly tart rhubarb-y goodness, I decided to make a coffee cake instead. This is based on a recipe that I've had in my little recipe notebook since high school – I think it is from making goodies for the concession at a school concert or something, but I have no idea of the original source. I took some inspiration from this recipe from a baking group called "Tuesdays with Dorie" (they are baking their way through a cookbook by Dorie Greenspan, of Julia Child fame) and modified the coffee cake to use strawberries and rhubarb, with some ground ginger in the cake and candied ginger in the fruit and brown-sugar struesel topping. I also used whole wheat pastry flour, which gives the cake a slightly "toasty" flavour and stands up well to the more assertive rhubarb flavour. You actually wouldn't even know it was made with whole wheat because the cake was still moist and light.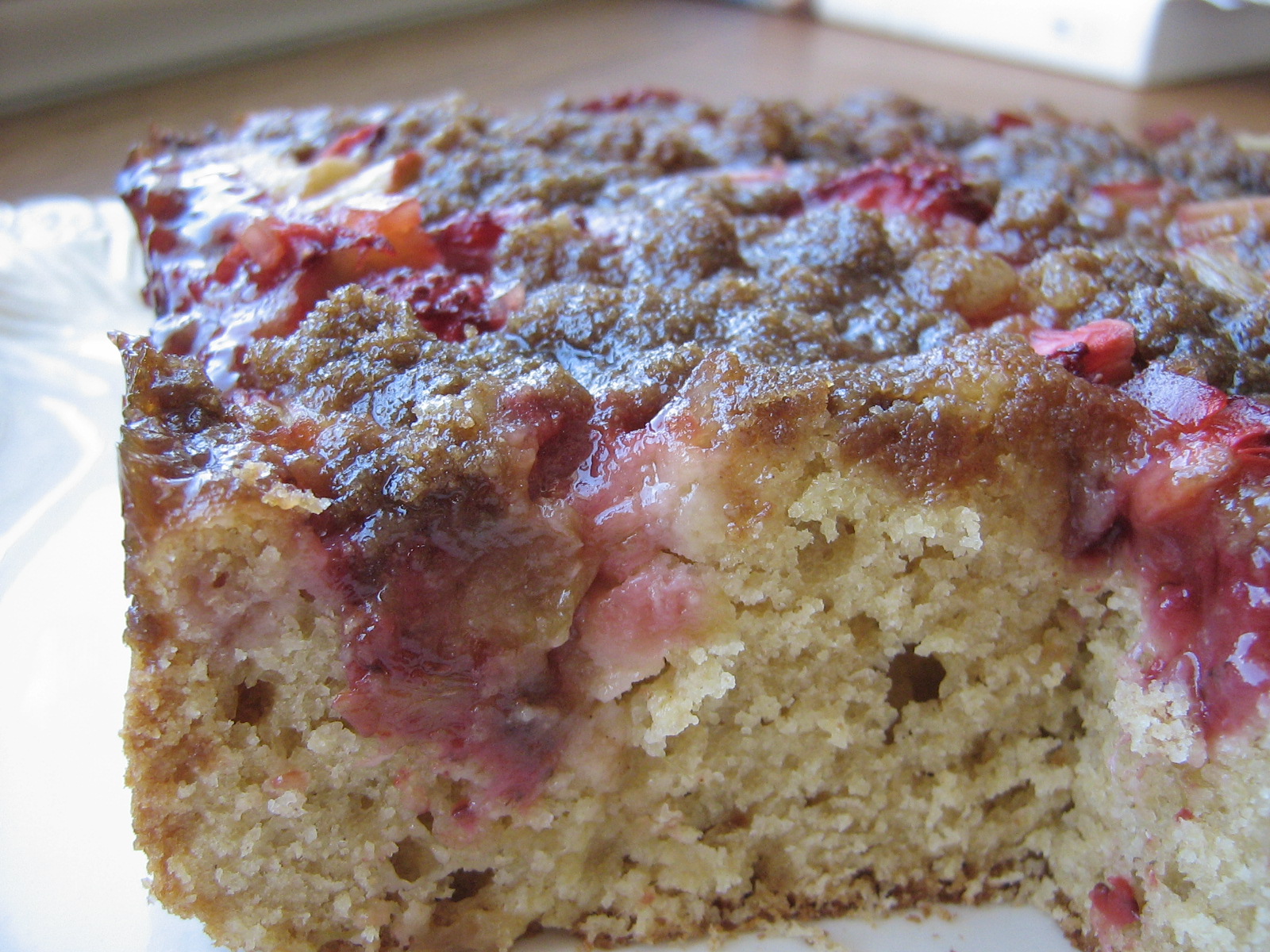 The candied ginger I used was marked "mild" and I could have easily used twice as much to get a better ginger taste. I could have also used more ground ginger in the cake batter, and the recipe below is how I would make it next time, ie: with more ginger! If ginger isn't your thing, feel free to omit it, however it is a really nice addition to the classic strawberry rhubarb combination.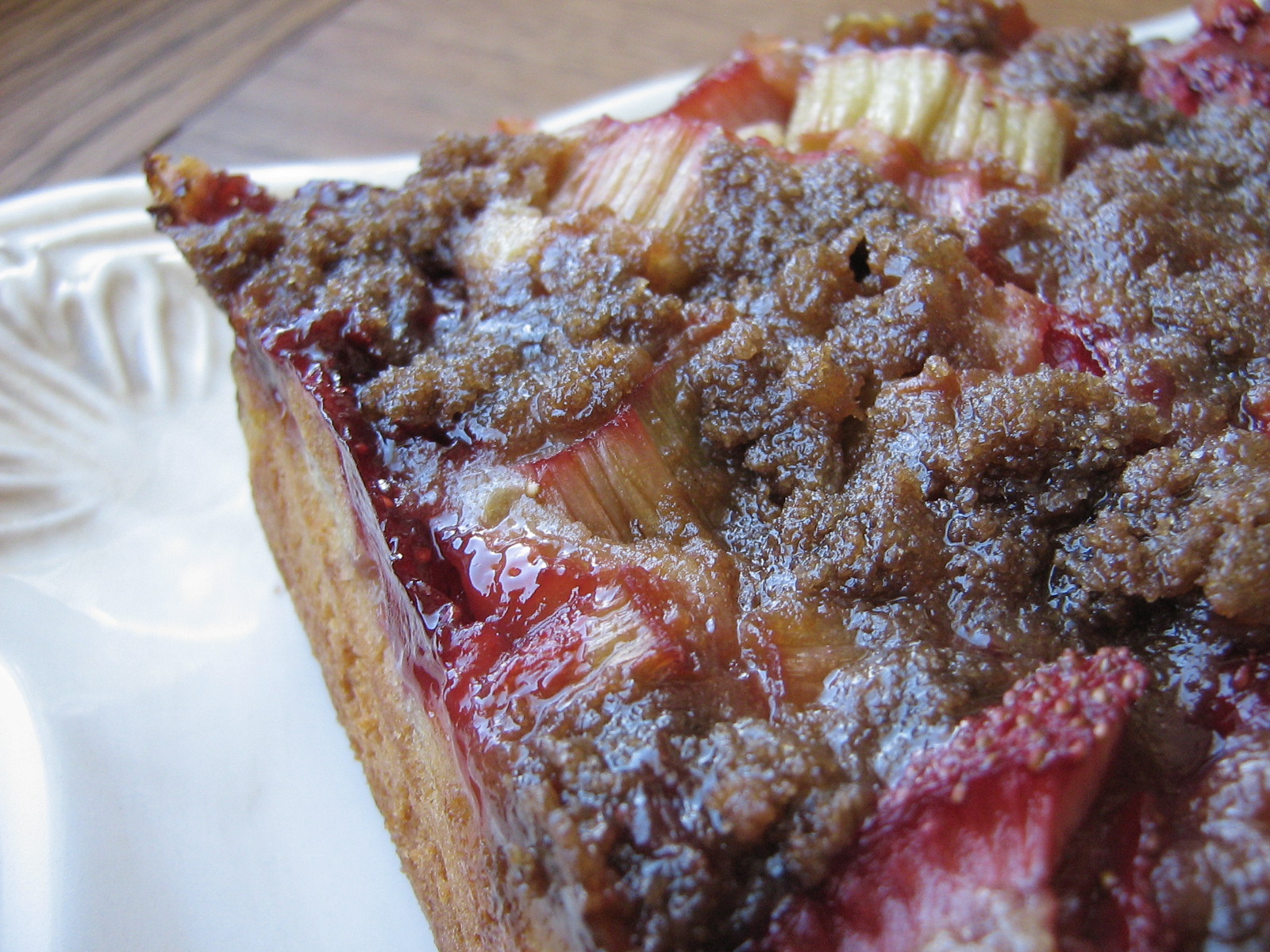 One thing to note: you can use fresh or frozen fruit, but don't mix it together with the sugar and lemon juice until just before you are really to sprinkle it over the batter, otherwise you will end up with a bunch of liquid in the bottom of the bowl that you have to discard because it will make your cake soggy 🙁
Strawberry Rhubarb Coffee Cake with Ginger and Struesel Topping
I used whole wheat pastry flour in this recipe, but all purpose flour works just fine as well. You could also use all purpose flour and substitute about 1/3 cup for whole wheat flour, if you want the whole wheat taste but don't have whole wheat pastry flour. Also, the amount of candied ginger you use will depend on how strong the ginger is. For "mild" ginger, the larger amount is good. For stronger ginger, the smaller amount is probably enough.
Preheat the oven to 350˚F. Butter an 8″ square pan, line with parchment paper as shown, and butter the paper. Set aside.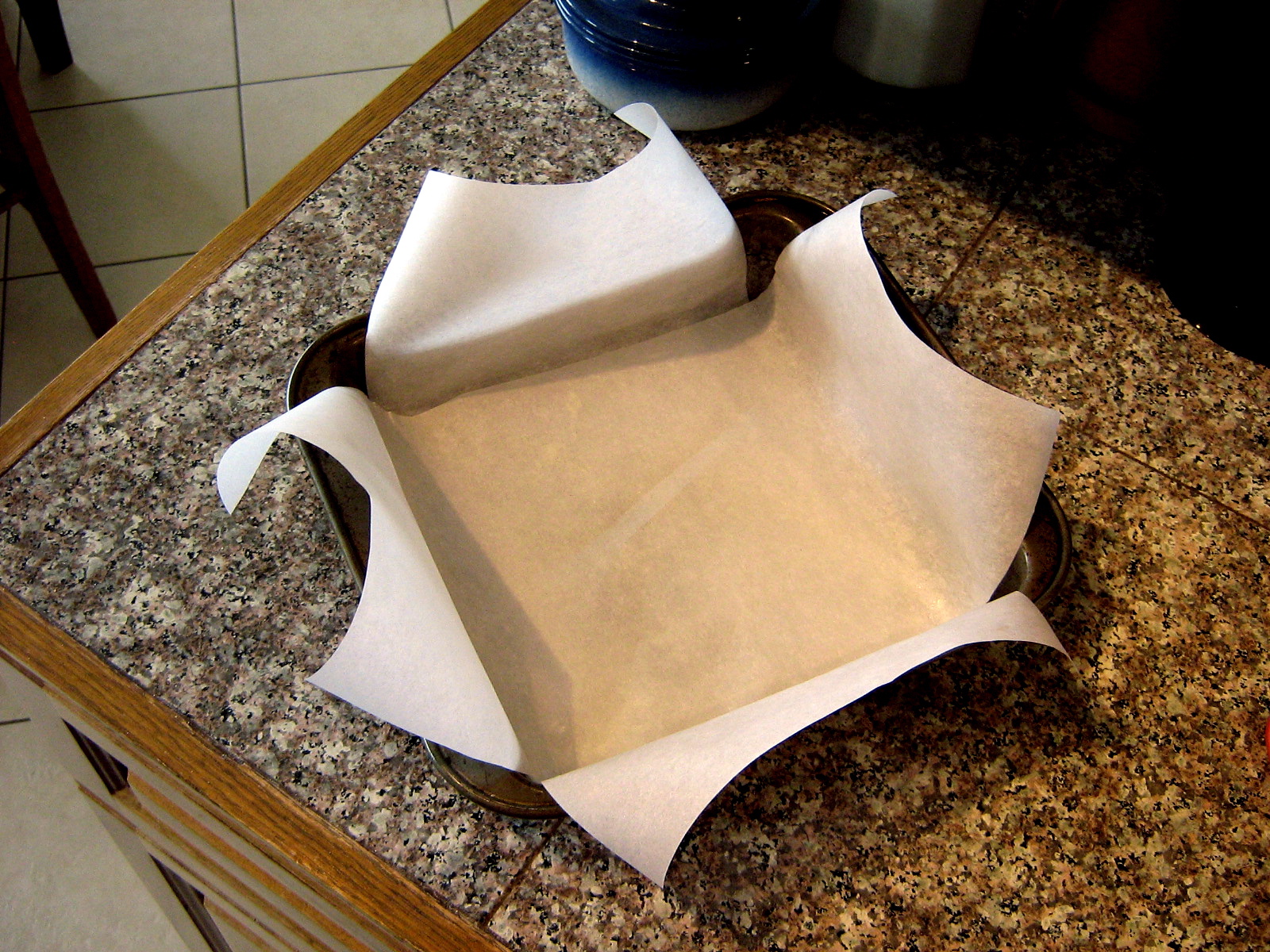 In a small bowl, combine the following for the struesel topping:
1/4 cup brown sugar
1 heaping tablespoon of whole wheat pastry flour
1/2 tsp cinnamon
1-2 tbsp finely chopped candied ginger
Add 2 tbsp cold butter and squish it into the brown sugar-flour mixture with your fingers until it becomes a crumbly mass. Set aside.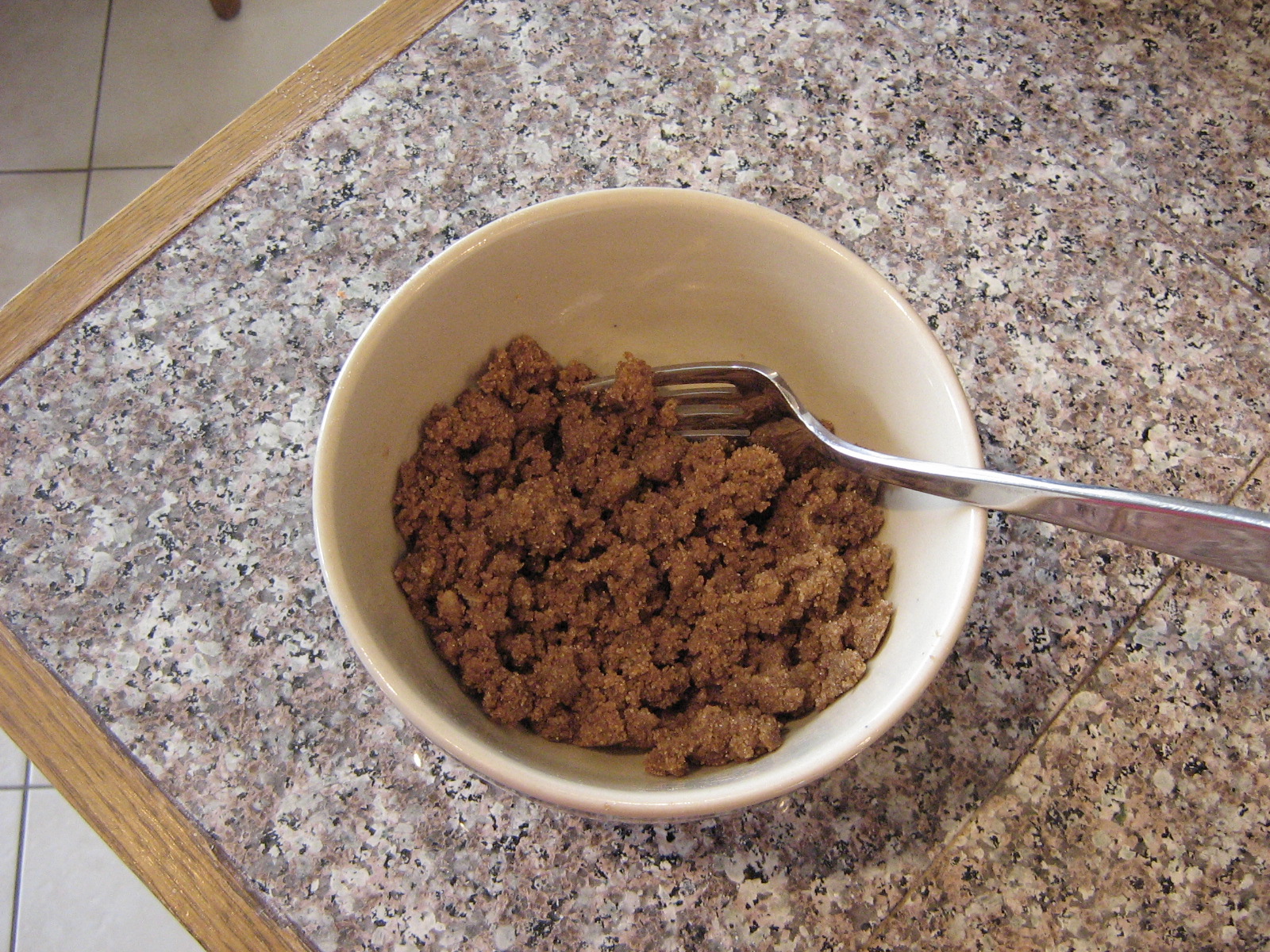 In a medium-sized bowl, cream together:
1/4 butter, softened
1/3 cup white sugar
Add 1 egg and beat with a whisk until smooth.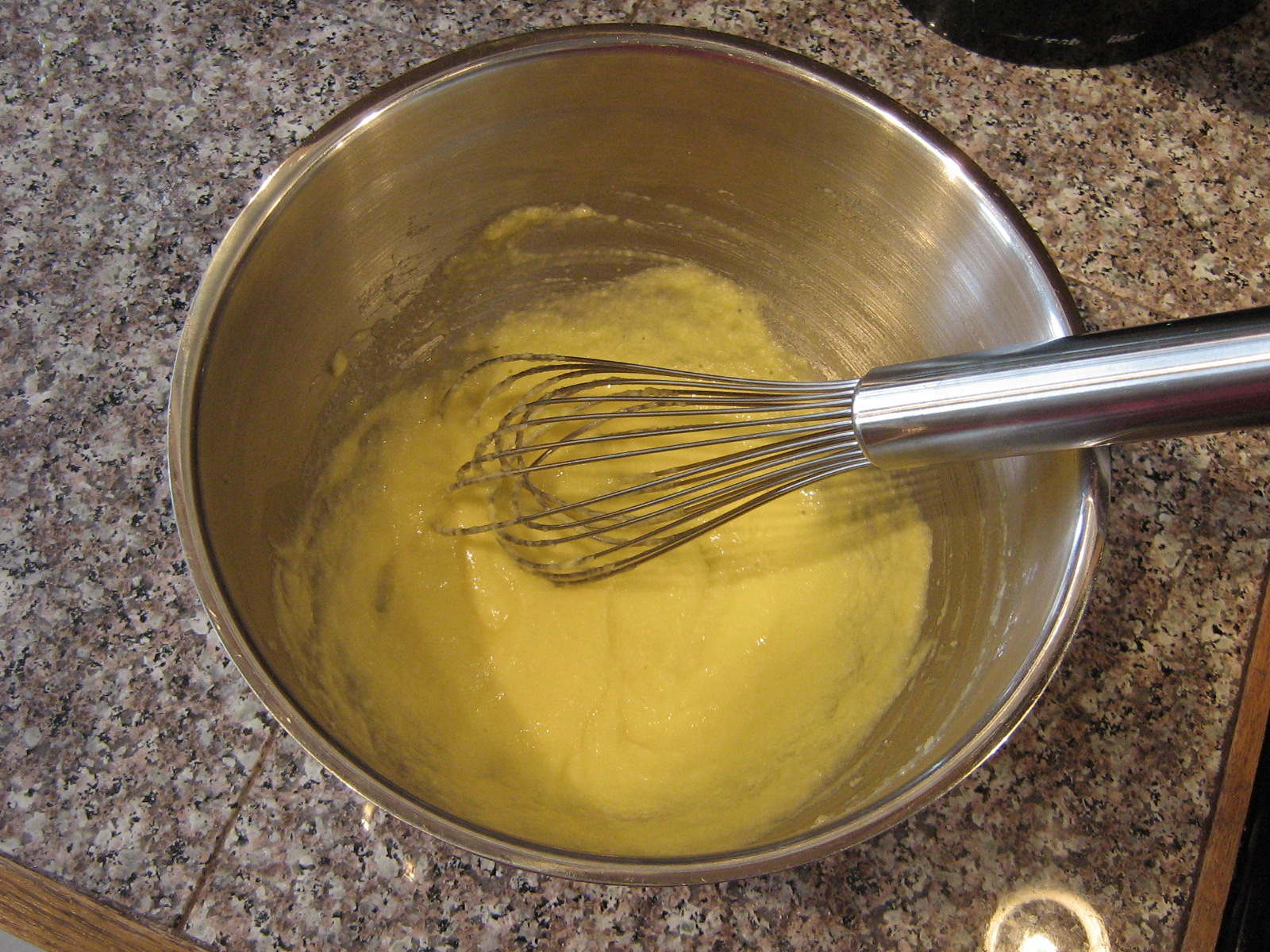 In a small bowl, mix together:
1 cup + 2 tbsp whole wheat pastry flour
1 1/2 tsp baking powder
1 tsp ground ginger

dash salt
Add to egg mixture alternately with 1/2 cup milk, mixing well after each addition and starting and ending with flour mixture, as follows: add 1/3 flour, mix, add 1/2 milk, mix, add 1/3 flour, mix, add remaining milk, mix, add remaining flour.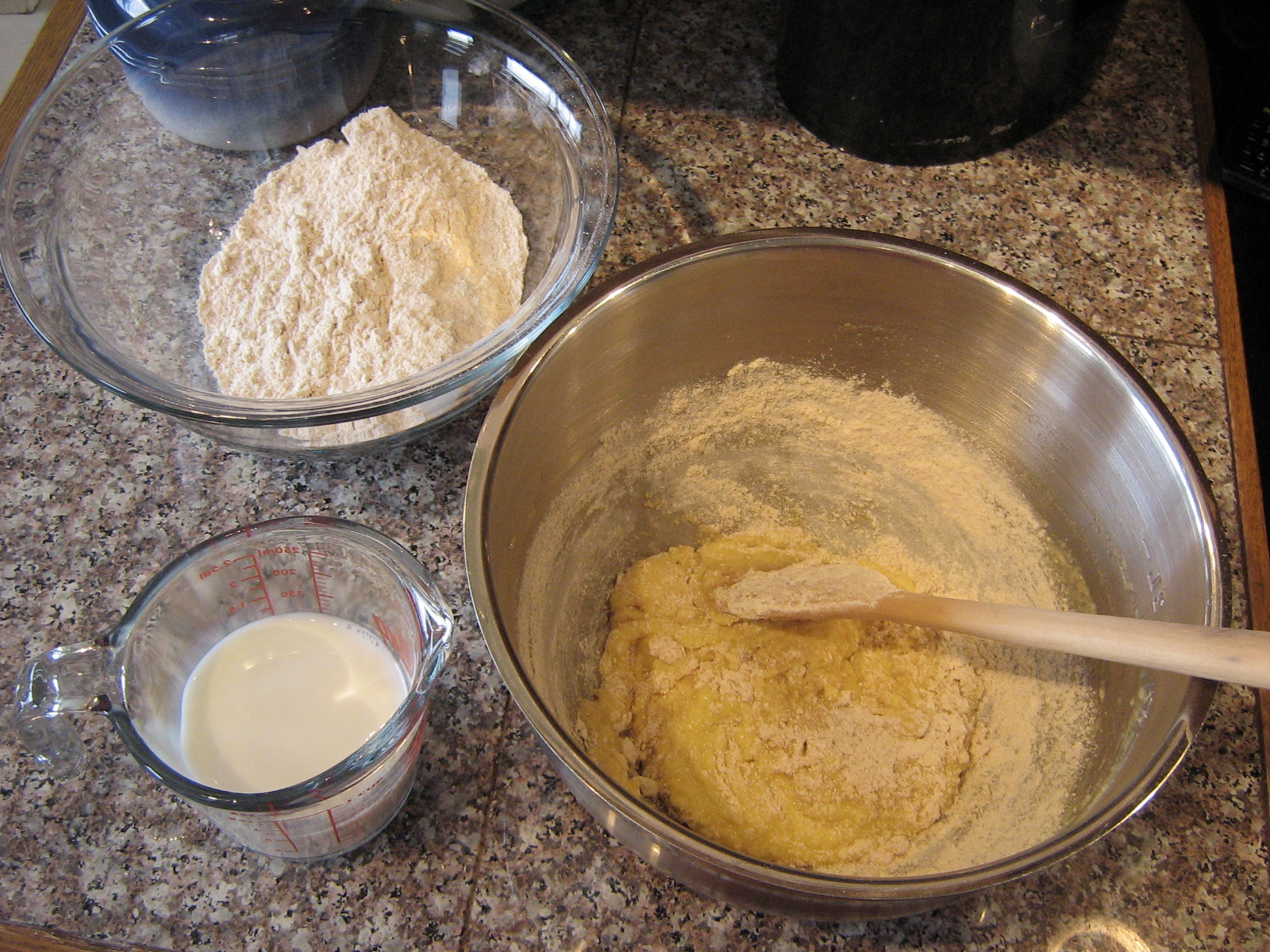 Pour the batter into the prepared pan and spread it evenly into the corners.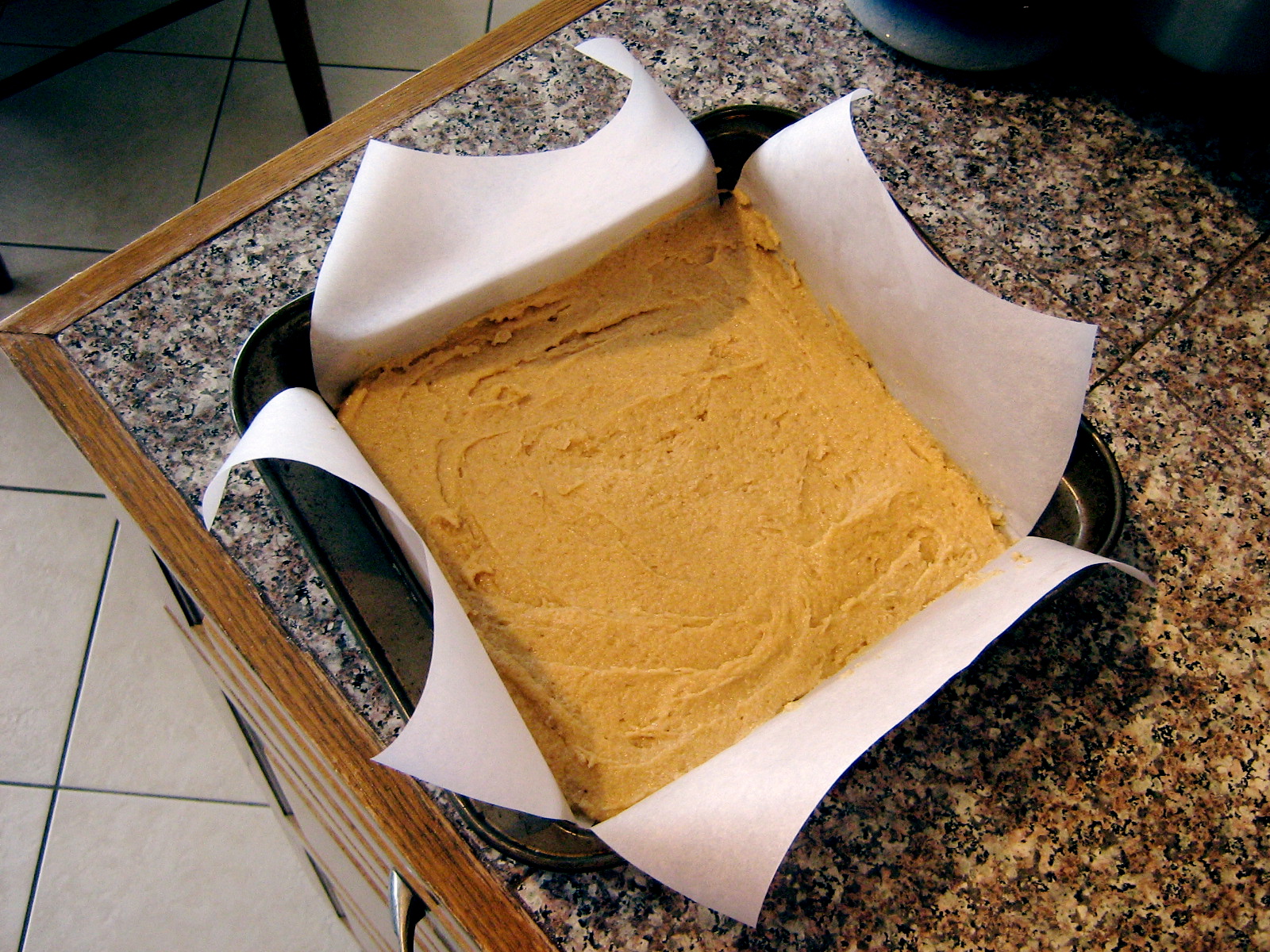 Toss together the fruit topping:
1 1/3 cups chopped rhubarb
2/3 cup sliced strawberries
1-2 tbsp finely chopped candied ginger

1-2 tbsp brown sugar (depending on the tartness of the fruit)
1 tbsp lemon juice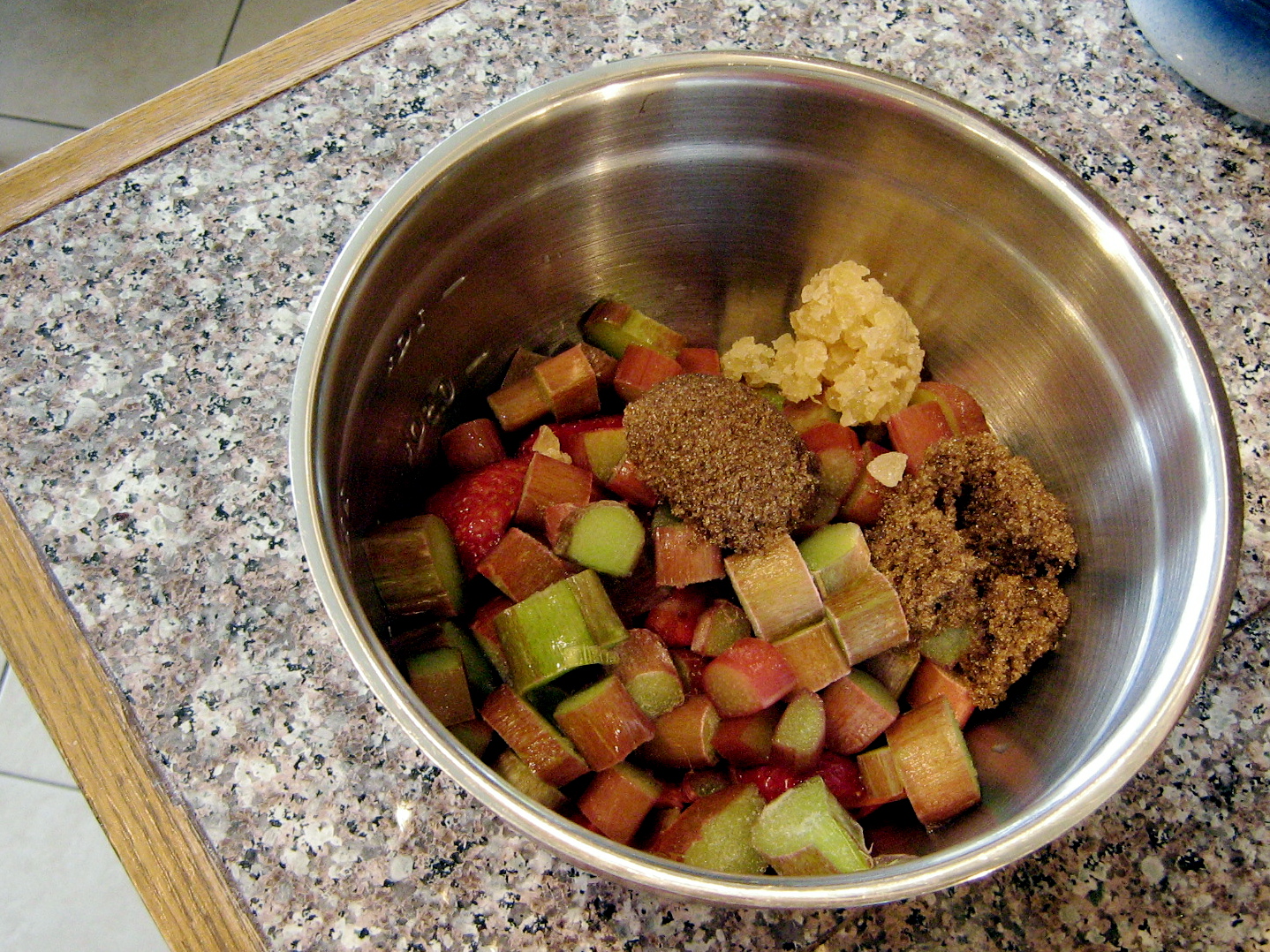 Spread the fruit over the batter in the pan. With a fork, break up the struesel topping into smaller pieces and sprinkle over the fruit. Bake about 45 minutes at 350˚F, until a toothpick inserted in the middle comes out with just a few crumbs sticking to it.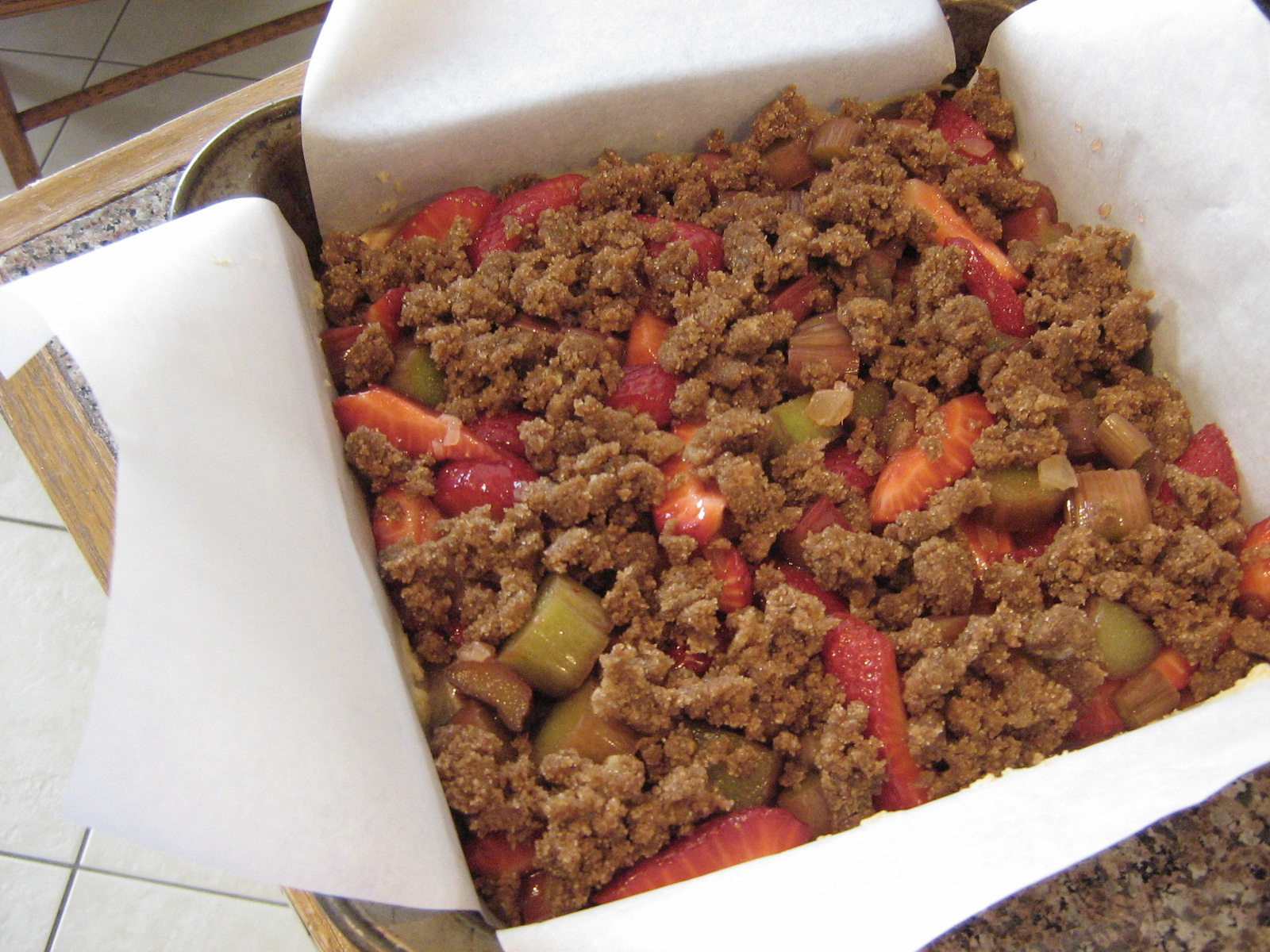 When the cake is done, let it cool in the pan for about 20 minutes.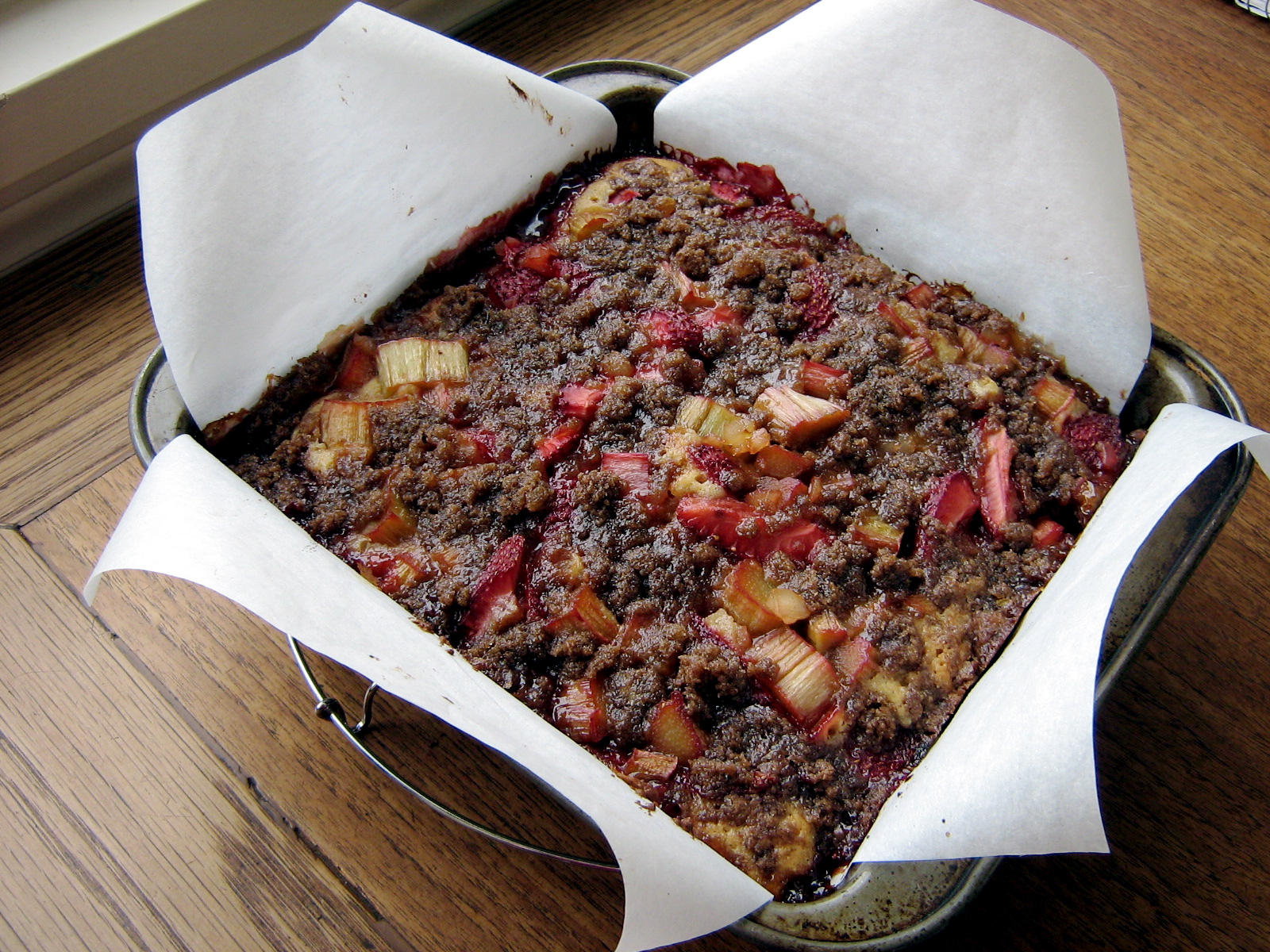 Remove the cake from the pan using the "handles" of parchment paper, then peel the parchment away from the cake.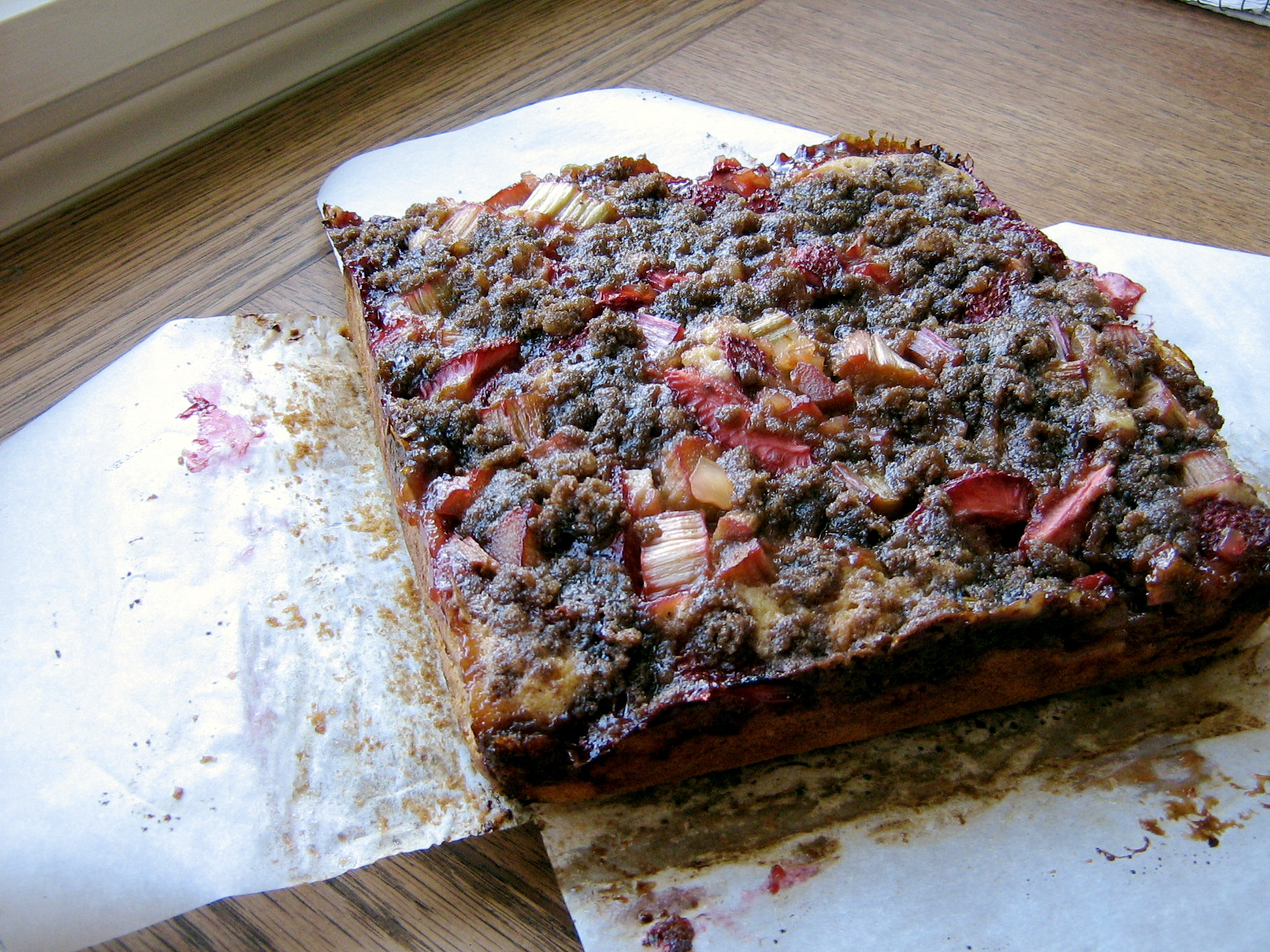 Place the cake on a plate to serve. This is awesome warm from the oven.