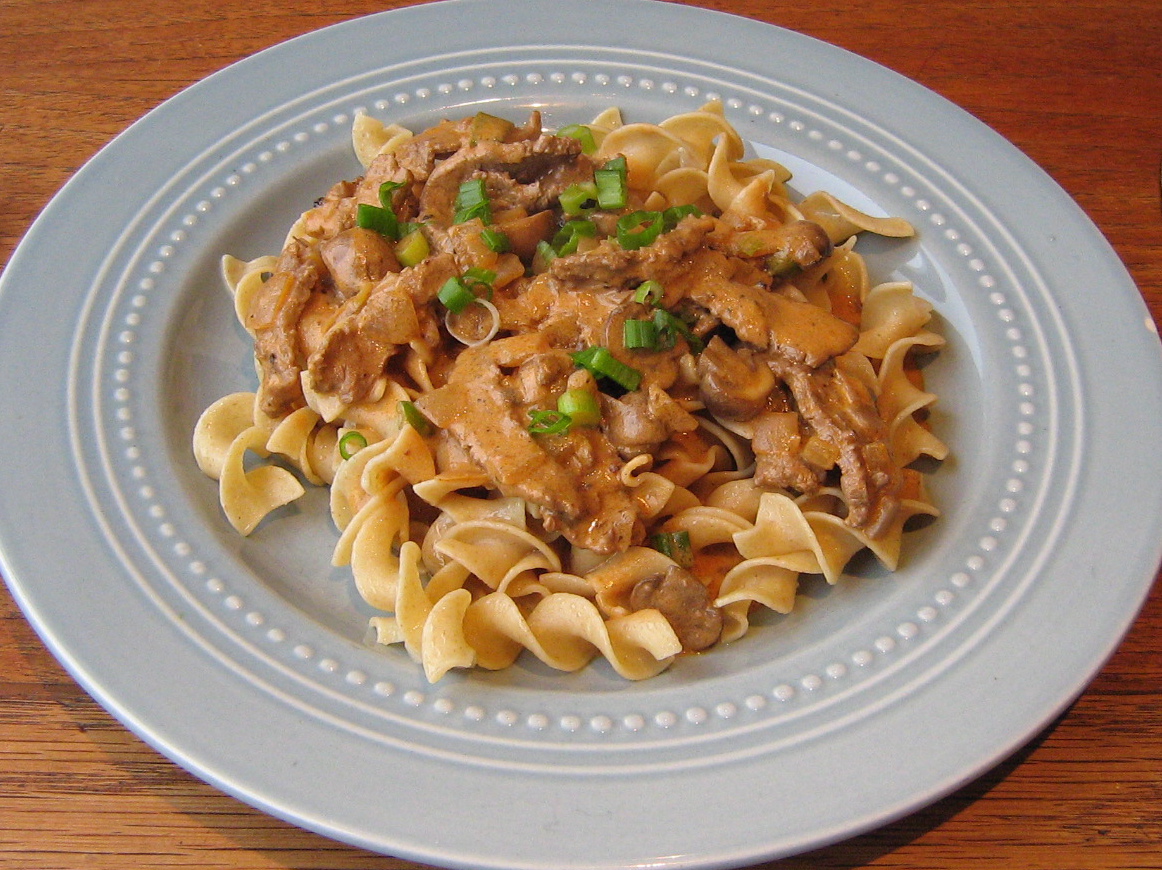 I was craving something rich, creamy, and savoury the other evening, and this hit the spot. I'm quite sure that this is not "authentic" beef stroganoff, but then I'm not really sure what is – as far as I can tell, there's no "traditional" recipe: it's just beef and mushrooms in a sour cream sauce over noodles, and the variations are pretty endless. I've never had it made for me by anyone else, so I have nothing to compare to, but this tasted pretty darn good. I looked at a few recipes online for inspiration, and this is what I came up with 🙂 I used flank steak, but I'm sure any kind of steak would be fine – probably ground beef would work too! Shiitake mushrooms would be a great addition to this dish.
Beef Stroganoff
Heat 1 tbsp oil in a large heavy skillet over medium heat. Add about 250 grams of flank steak, sliced thinly across the grain, and sear quickly. The meat should be browned but still rare in places. Remove to a plate.
Add 1 tbsp oil and 1 tbsp butter to the pan. Sauté:
1 small onion, chopped
2 cups quartered button mushrooms (I used tiny tiny mushrooms so I only halved them)
Season with pepper and a little salt (go easy on the salt if using salted beef stock in the next step) and cook, stirring, until the mushrooms start to get browned and soften. (If you have it, you could add a splash of Cognac, wine or even beer to the pan.) Add:
1 cup beef stock
1 tbsp tomato paste
1 tsp Dijon mustard
1/2 tsp Marmite (optional, but good!)
a few dashes of Worchestershire sauce
Turn up the heat and bring to a boil. Simmer, stirring, until the liquid has reduced and thickened slightly. Stir in:
2/3 cup sour cream
the reserved steak (plus any accumulated juices)
Heat through, season with salt and pepper, and stir in 2 chopped green onions. Serve over hot buttered egg noodles (I used 2 soup bowls full of raw noodles – about 2/3 of a 340 gram bag). Serves 3-4.