I got the April issue of Bon Appetit in the mail last week, and it is full of delicious recipes that I wanted to try immediately. So, I did, and we ate quite well this week! I made three recipes from the April issue and one from the March issue. I was fairly happy with the way they all turned out, but with the exception of one (which I will share in this post), I want to do some tweaking to get them to taste the way *I* want them to before I post the recipes. But I took pictures so I'm going to share them anyway 😉 The recipes are all available at bonappetit.com and I've included links to the original recipes, just in case you don't want to wait for me to post my versions here!
Mushroom Croque Monsieur
Original recipe here.
A croque monsieur is essentially a grilled ham and cheese sandwich with extra cheese sauce broiled on top, but it's French so it's fancy and delicious. This is a typical Paris café meal, served with a mustardy-dressed green salad, and in fact it is one of my favorite food memories of my trip to Paris with my aunt eons ago (along with macarons and steak frites). I have tried to recreate it a few times, and this was probably the most successful. But it's not *quite* what I want it to be. In Paris, I remember it served on a long slice of rustic bread (not egg bread, which the recipe calls for, or sourdough, which is what I used), and I'm pretty sure it was open-face, rather than between two pieces of bread, which got rather hard and overly-crusty under the broiler. But I thought the sautéed mushrooms were a nice touch, so they can stay. Also the Mornay sauce on the top was really really good.
Chickpea Salad with Lemon, Parmesan, and Fresh Herbs
Original recipe here.
(I forgot to take a picture of this one.)
I looooooove chickpeas. I could practically eat them straight from the can, so I was excited to try this recipe. I didn't have the basil that was called for, so it was not as flavourful as it perhaps could have been, but it was still very good, and I like the sound of the variation with feta, cilantro, and onion. I will definitely be playing around with this one, especially as my herb garden comes into full bloom.
Bacon and Leek Risotto with Poached Egg
Original recipe here.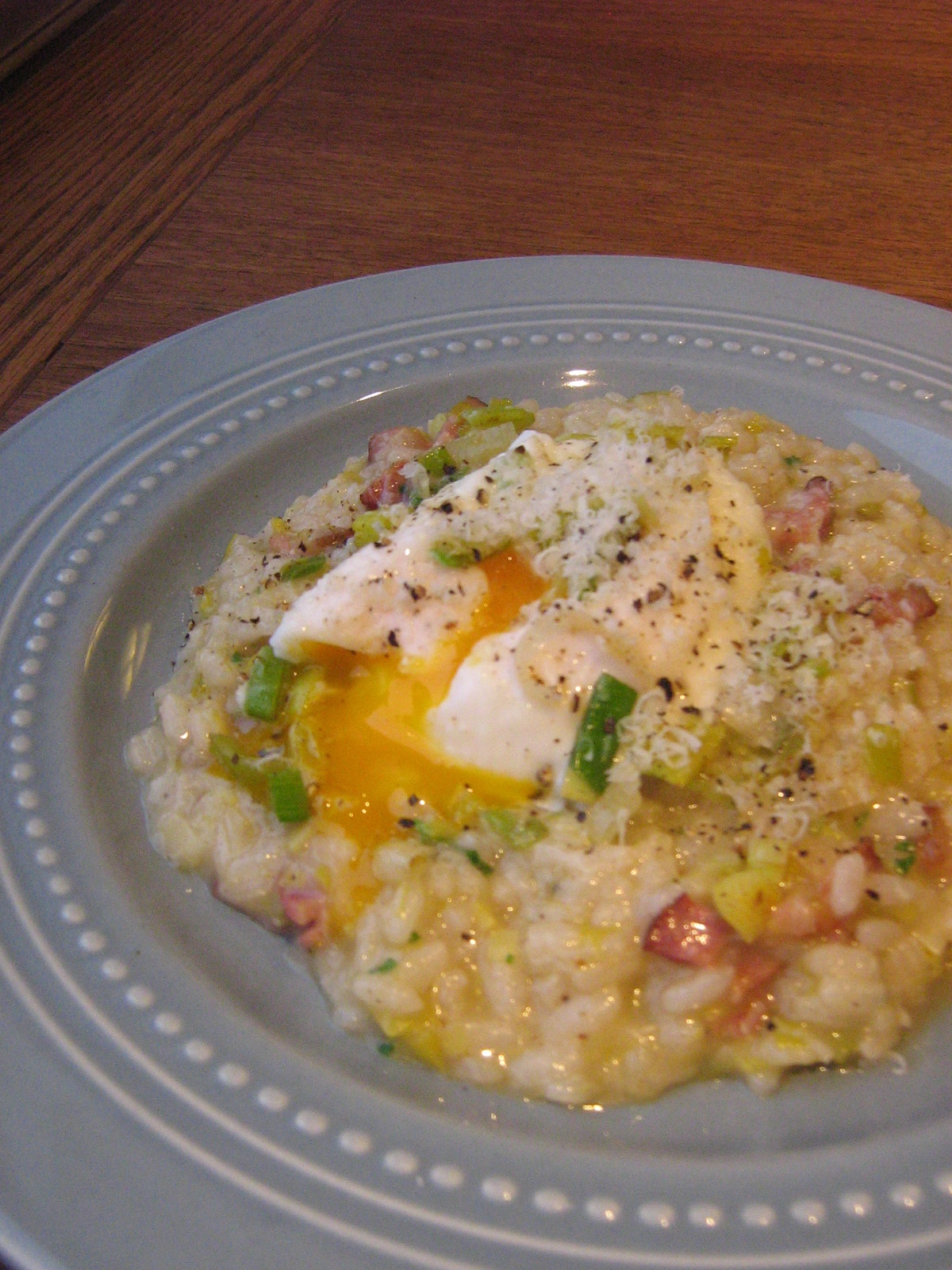 I really liked the sound of this one – I love bacon and leeks and risotto and poached eggs! – but I was kind of disappointed with the result. I think it definitely has potential with the flavour/ingredient combination, but the execution wasn't the best. The recipe has you sauté the leeks and then cook them along with the rice, so that by the time the risotto is ready, you have overcooked leeks and none of the fresh flavour that I was hoping for. I scaled back the recipe from 6 servings to 4, which essentially turned it into my go-to risotto recipe from my trusted friend Martha. So next time, I will just use that one and stir in the bacon and sautéed leeks at the end. The soft poached egg on top was delicious, and was a good addition of protein to an otherwise very starchy meal.
And now onto the winning recipe…
Spicy Pork with Asparagus and Chili
Original recipe here.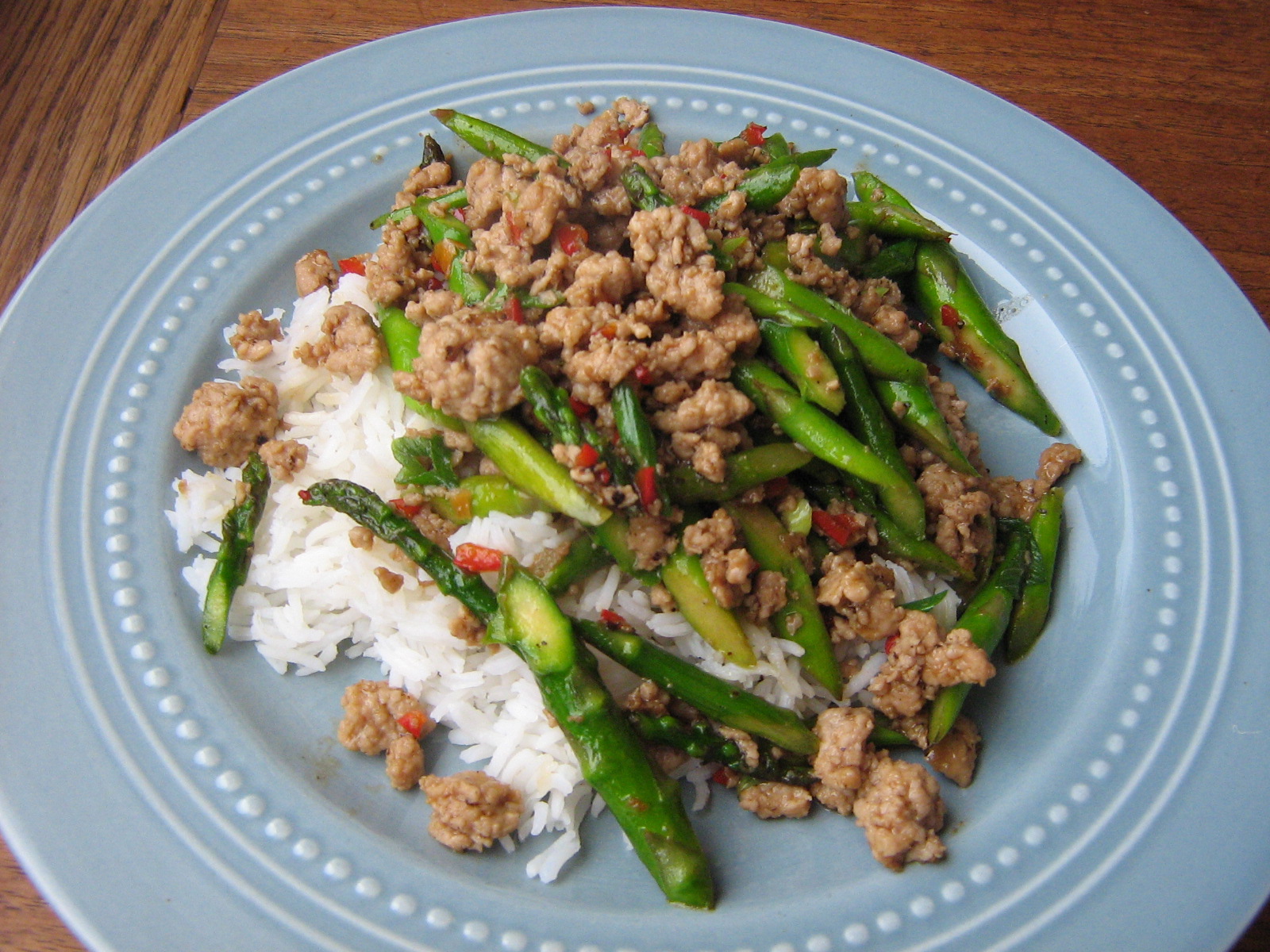 This one was so good. It earned an, "MMM-MMM! Fan-TASTIC!" from Nate, and I whole heartedly agree. It was also the easiest recipe to make out of the four, aside from the chickpea salad, which was essentially just opening a can and adding some condiments. I followed the recipe pretty closely, only I added some hot pepper flakes because my "hot" red chili was pretty wussy, and I used vegetable oil to stir-fry instead of sesame oil, because I read the recipe wrong 😉 The only sort of unusual ingredient is Chinese rice wine (or dry Sherry), but I'm pretty sure you could omit it without missing it much. This would be super good with snow peas and quartered mushrooms along with or instead of the asparagus.
Spicy Pork with Asparagus and Chili
One tip: make sure you have everything ready to go before you start cooking, because this goes pretty quickly.  I've reorganized the recipe a bit because I get annoyed with having to refer back to the list of ingredients at the top of the page (or in this case, on the other side of the page!) for the amount of things.
In a medium bowl, whisk together:
1 tbsp soy sauce
1 tbsp Chinese rice wine (or dry Sherry)
1 tsp cornstarch
Add 12 oz ground pork (about 350-400 grams) and mix it together gently with your hands. Set aside.
Prepare the vegetables:
1 bunch asparagus, washed and cut in the diagonal into 1/2 to 3/4-inch pieces
1 red jalapeno chili, minced with seeds (or any hot red chili)
1 tbsp grated fresh ginger
Heat 2 tsp oil in a wok or deep, heavy skillet over medium-high heat. Add asparagus, chili, and ginger, and toss until the asparagus is crisp-tender (3 minutes). Transfer to a plate.
Add 1 tsp oil to the wok. Add pork mixture and stir-fry until browned, breaking up the pork into smaller pieces. Add the asparagus, etc, back to the wok, along with:
2 tbsp soy sauce
2 tbsp oyster sauce
1 tsp honey
1 tbsp toasted sesame oil
(a few pinches of hot red pepper flakes if your chili is lacking in the heat department!)
Stir-fry until the pork is cooked through, adding water by tablespoonfuls if the mixture is too dry. Add 2 sliced green onions and season with salt and pepper. Serve over rice.