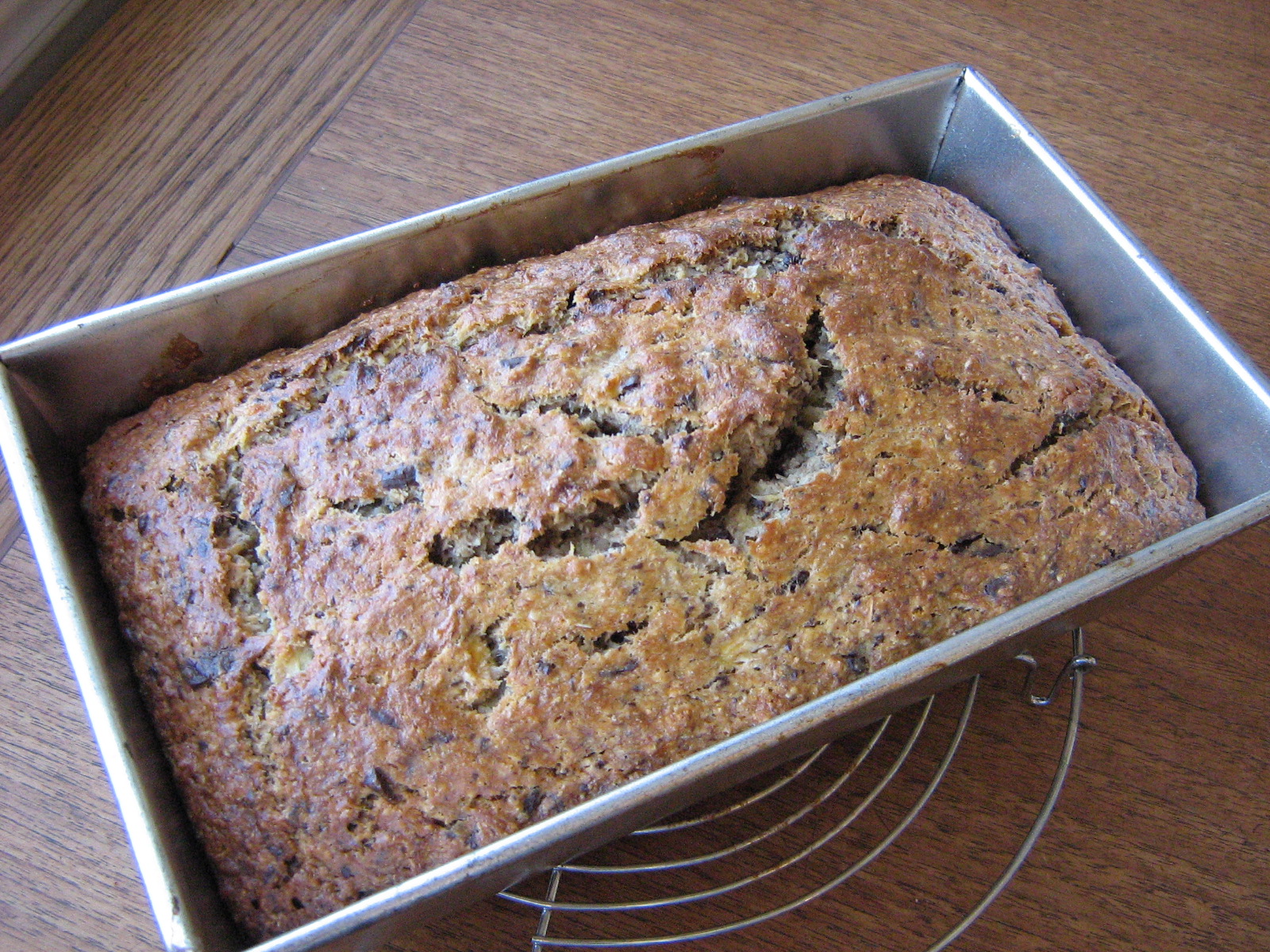 You may suspect that I am employing hyperbole in the title of this post. My friends, you are incorrect! This actually IS the best banana bread in the entire world. Ever. This recipe comes to me via my friend Lynette's mum, Elaine, and it has attained legendary fame by all who have tried it as being absolutely fan-freakin'-tastically delicious. This banana bread comes out light and fluffy, sweet and moist, and is likely to disappear in a shorter amount of time than it took you to bake it. The first time I tasted it, Elaine had made a double batch, and it was absolute torture smelling it as it baked. Lynette and I then devoured an entire loaf, hot and steaming from the oven.
I have made this recipe a billion times, and I've played around it it a bit, so that my typical banana bread comes out slightly different from Elaine's original recipe. I add an extra banana and some vanilla, and to convince myself that it's a little bit good for me, I usually substitute in some whole wheat flour. Then I also usually add a bunch of chopped chocolate or chocolate chips, which effectively cancels out any health benefits the whole wheat flour might add… But whatever. It tastes divine.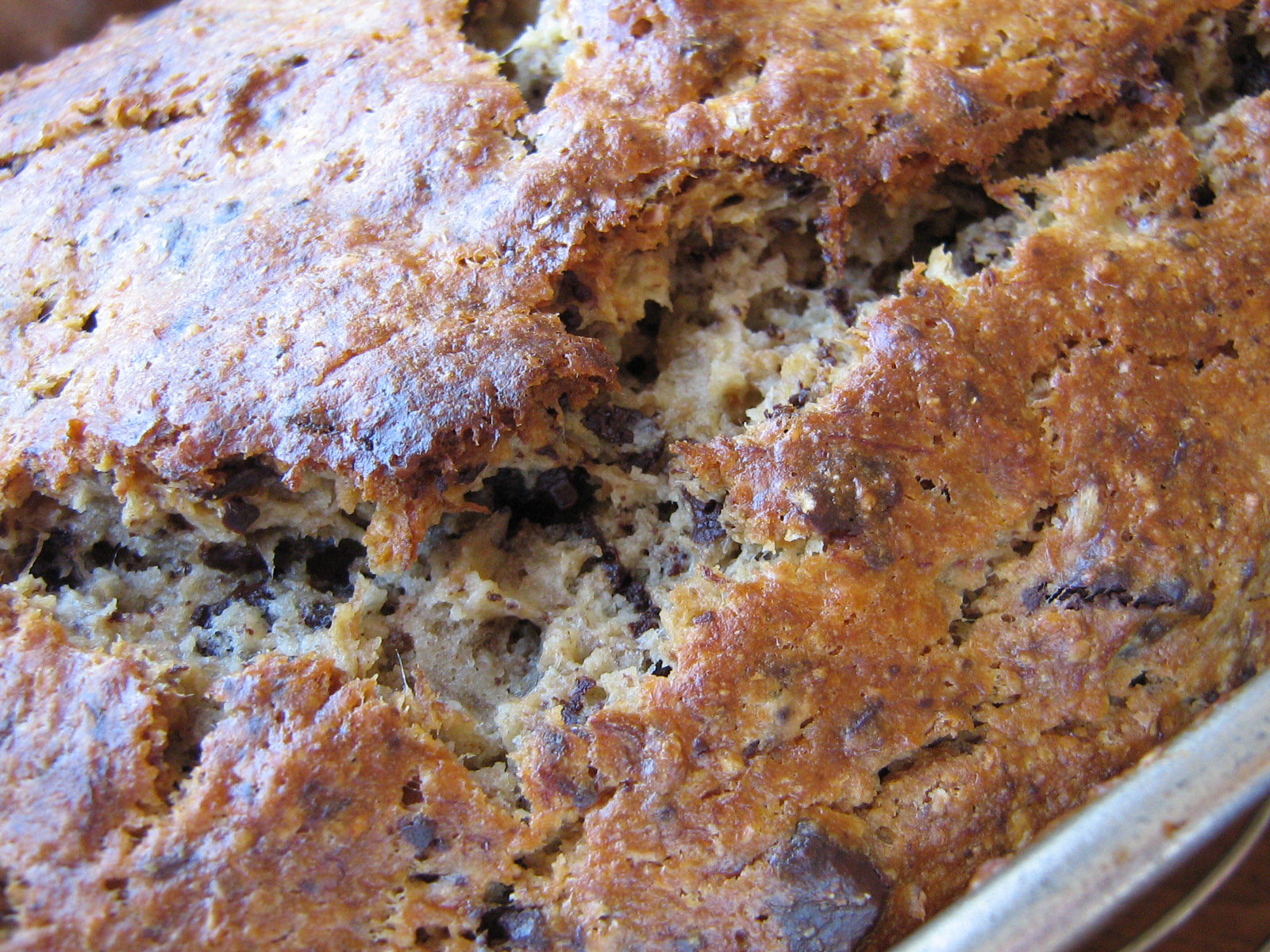 From what little experience I have with baking other banana bread (because seriously, I've never wanted to try another recipe!), the thing that makes this recipe different is the fact that the butter is cut into the dry ingredients, as if you were making pastry or scones. This, I think, is what contributes to the light texture of the finished loaf. That, and a light hand when incorporating the wet ingredients into the dry.
When I asked Elaine if I could share her recipe here, she sent along this tip: "I usually double the recipe, add another banana and egg, but use the smaller loaf pans. I also like to put orange rind in it!" I'll have to try the orange rind with the next batch!
Oh, and the blacker and mushier the banana, the better, in this case. I usually let them get overly-ripe in the fruit bowl, then throw them in the freezer until I have enough for a batch of banana bread. They look disgusting when they are thawing, but the banana flavour is awesome!
Elaine's Banana Bread
This is the recipe as I got it from Elaine, with my changes/additions in brackets.
Mix together the dry ingredients:
1 3/4 cup all purpose flour (or 1 cup all purpose + 3/4 cup whole wheat)
2/3 cup sugar
1 tsp baking powder (+ 1/4 tsp if using whole wheat flour)
1/2 tsp salt
1/4 tsp baking soda
Cut 1/2 cup butter into dry ingredients with a pastry cutter, until in pea-sized bits.
(For chocolate chip banana bread, stir 4 oz (scant 1 cup) chopped chocolate or chocolate chips into the dry ingredients after cutting in the butter.)
Mix together the wet ingredients:
2 large ripe bananas, mashed (I use 3)
2 eggs
(2 tsp vanilla)
Blend wet ingredients into dry with as few strokes as possible. Pour into a greased 9″ x 5″ loaf pan.* Bake a 350˚ F for 50-55 minutes (it usually takes 55-65 minutes for me), or until a toothpick inserted into the loaf comes out with a few crumbs stuck to it (not wet or gooey).
* As she mentioned, Elaine uses smaller pans, which reduces the baking time and probably contributes to a lighter and fluffier loaf; 9″ x 5″ is a standard loaf pan size and results in a slightly denser loaf, which still tastes fantastic!