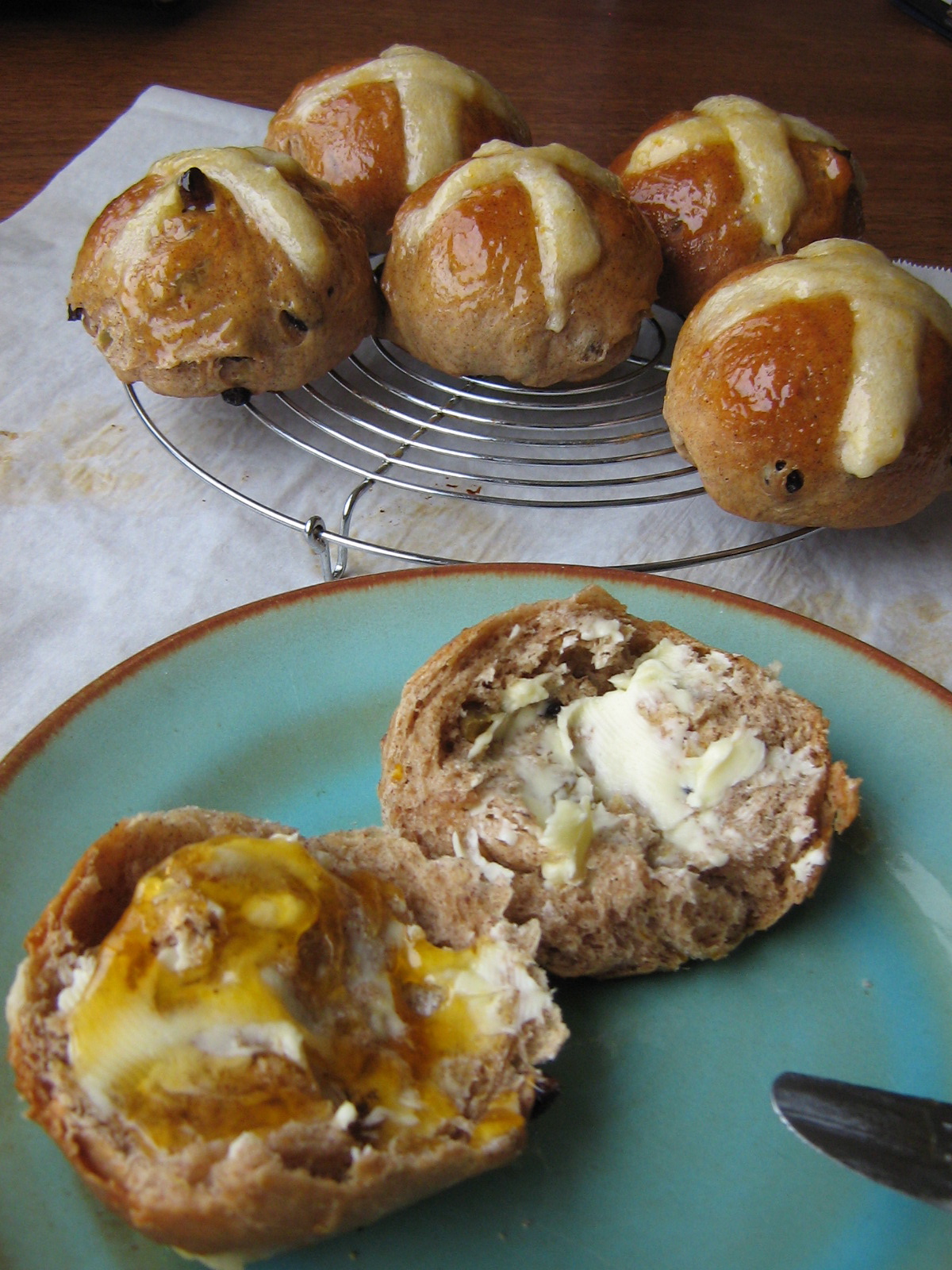 Spring is here! I know this because last weekend I went for a run in a t-shirt, there are crocuses everywhere, the cherry trees are blossoming, and hot cross buns are appearing on the bakery shelves. Also, Sunday was the first day of spring, so… I guess that makes it official.
I like hot cross buns – or rather, I want to like hot cross buns, but I rarely find a store-bought one that meets my expectations. Mostly because they all contain either candied peel or glacée fruit (bleh!). I also find the texture of store-bought hot cross buns to be somewhat lacking, so I decided to try making them myself.
I've gotten fairly comfortable with yeast doughs through experimenting with the no-knead doughs in the book Artisan Bread in Five Minutes A Day (which is super fantastic and I would recommend to everyone), and I had an idea of what kind of dough/final texture I was looking for. I considered using the no-knead challah dough from Artisan Bread, but then I realized that I just needed to find a recipe that used a similar kind of dough, enriched with butter and eggs. I finally settled on a Martha Stewart recipe, which had an enriched dough that contained lemon and orange zest, but no spices. So, I consulted a Canadian Living recipe and used it as a basis for adding cinnamon, nutmeg, and cloves to the Martha Stewart recipe. The result is exactly what I ever could have wanted in a hot cross bun: rich, dense-but-light texture, just the right spice with citrus notes, and best of all, no nasty candied peel or glacée fruit! In my search for the perfect recipe, I came across several that contained only currants, and one with golden raisins and dried cherries, so I used all three, and it's a great combination. Another thing to consider was what kind of "cross" to put on the buns – a flour/water paste combination applied before baking, or an icing cross applied after baking. My personal preference is for the flour/water paste, so I went with that. As a result, there is actually nothing about the recipe I would change next time – I would just refine my technique a little!
I halved the original recipe (which yielded two dozen), and after the first rise, I took half the dough and stuck it in the freezer because I though that twelve buns at once would be overkill, so I only ended up with six buns. When I decide I want more (which will probably be much sooner than later!), I will let the dough thaw to room temperature, divide it into six, and continue on from the second rise.
[Edited to add: if you choose to bake these using frozen dough, the second rise may take a bit longer…]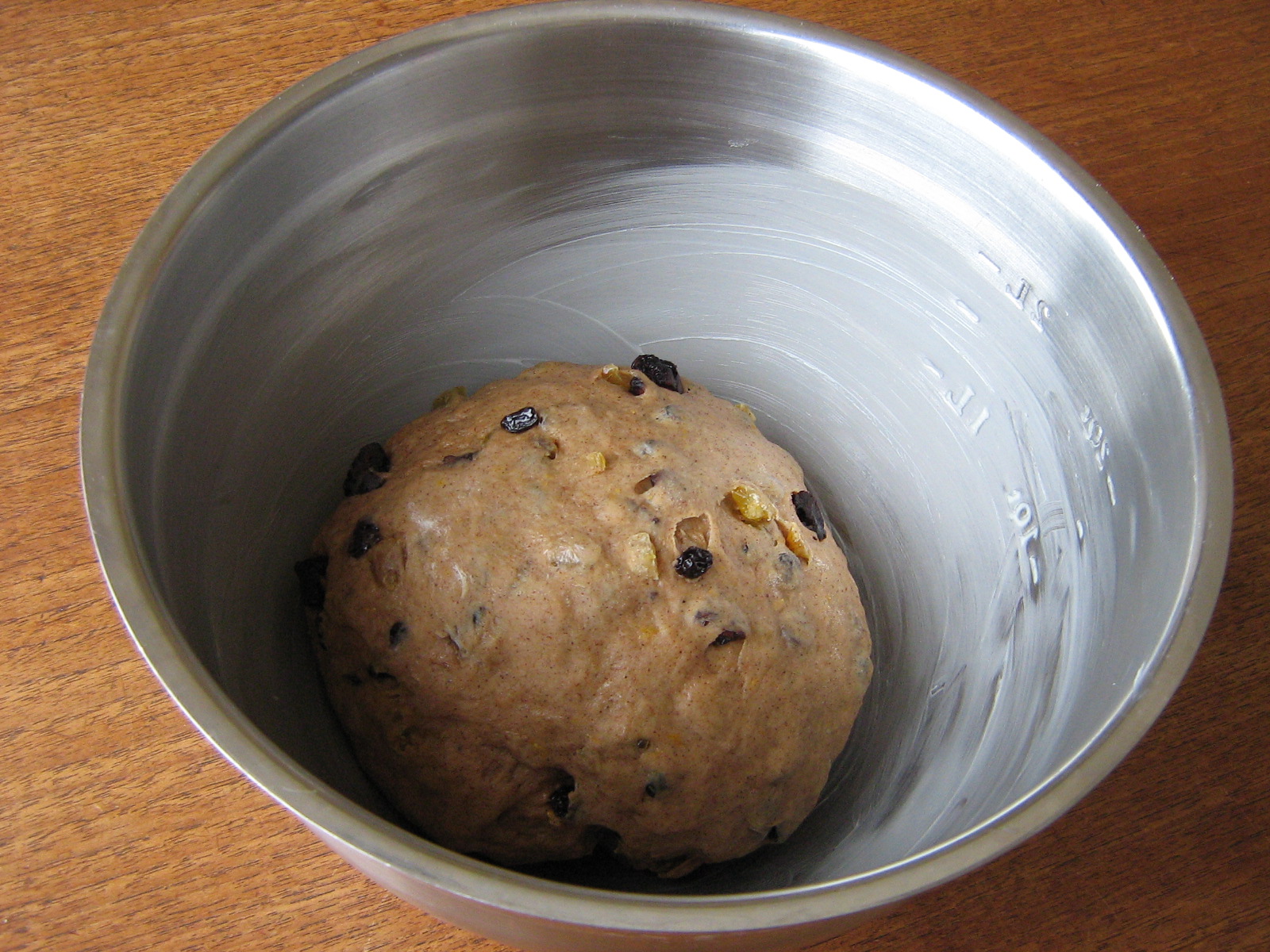 Ready for the first rise.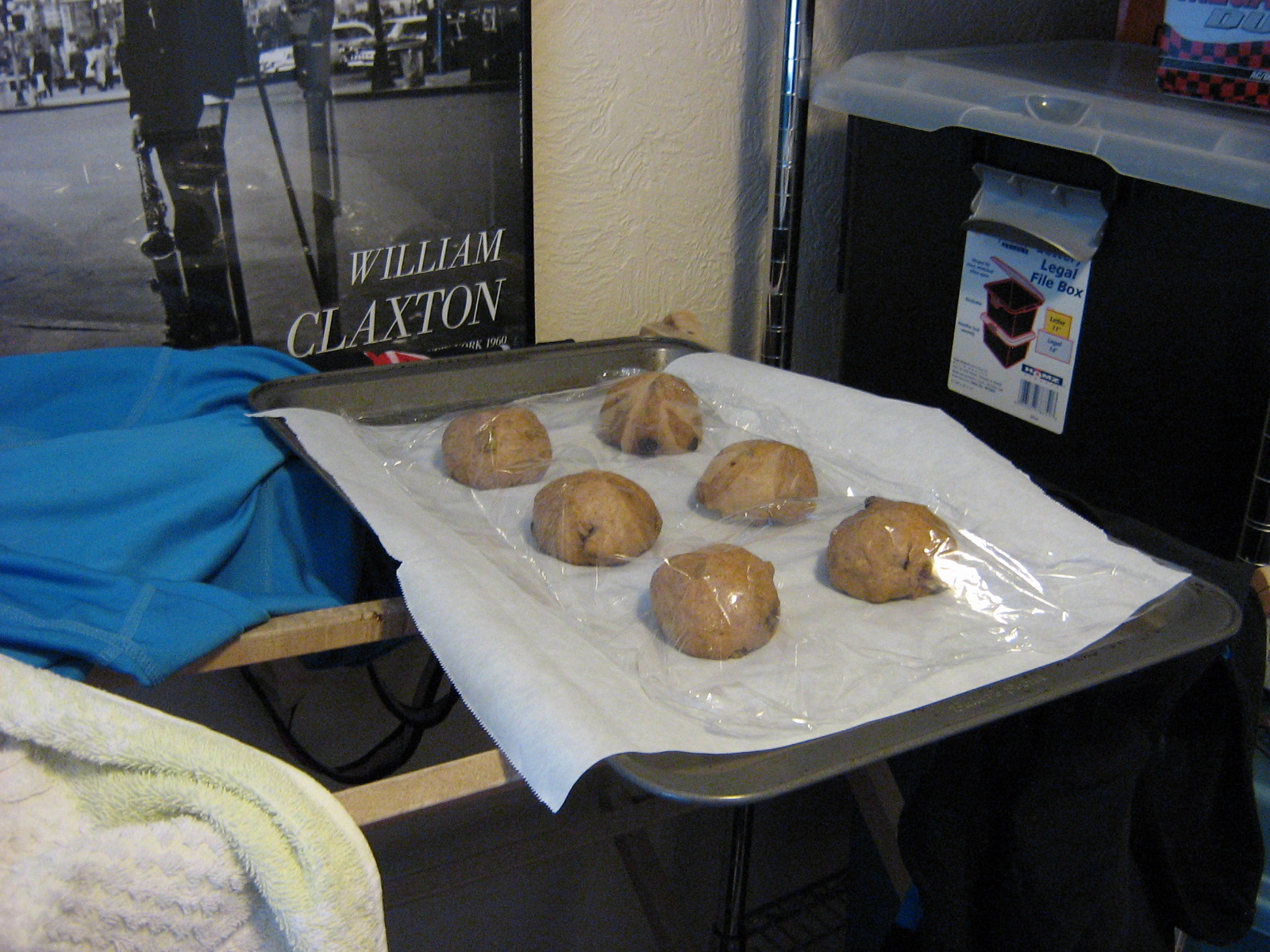 The second rise – proofing on the laundry rack in the spare room, which was the warmest place in the house. Please ignore the dirty laundry 🙁
After proofing, ready for the crosses to be applied.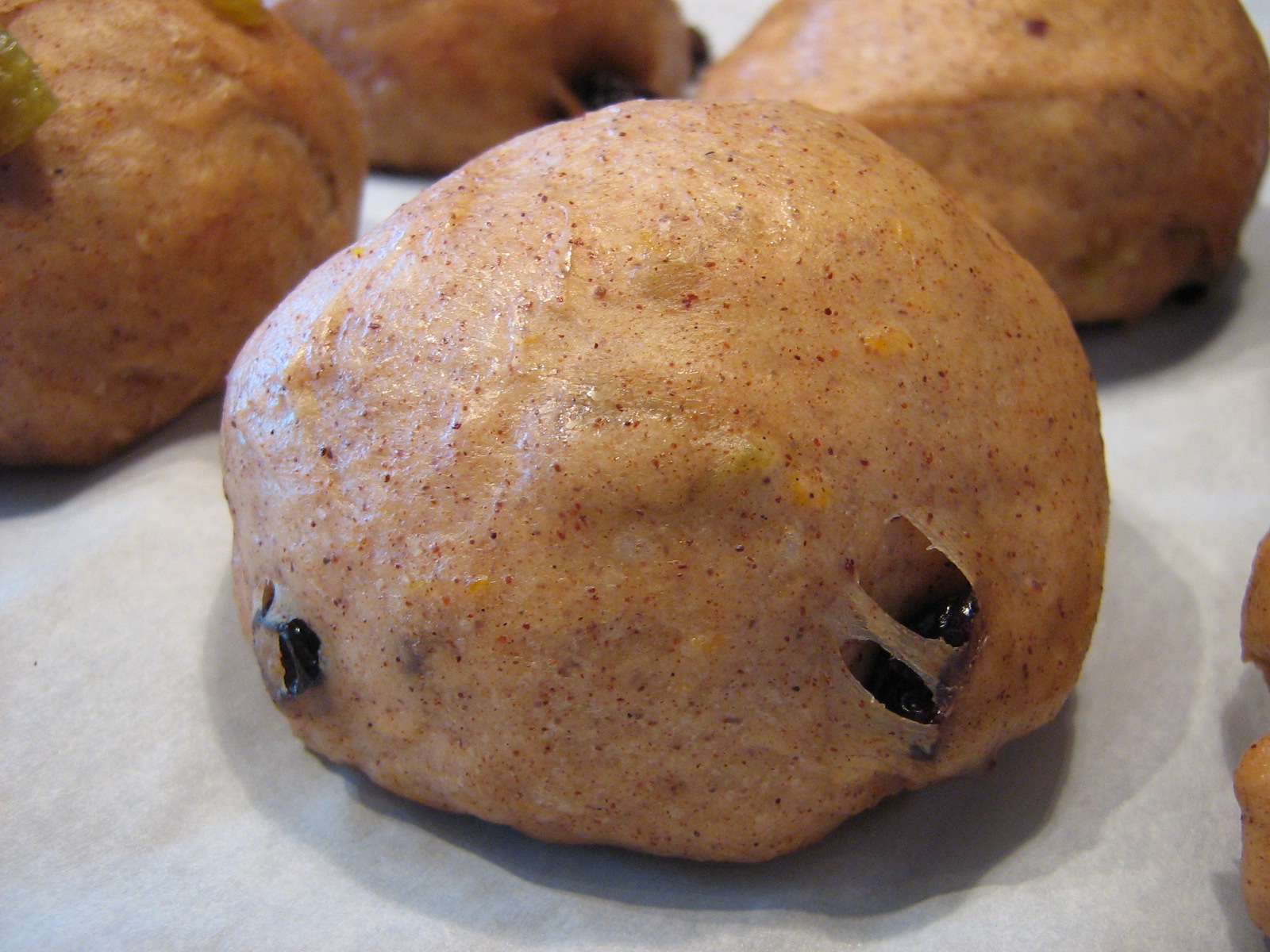 You can already see the spicy goodness!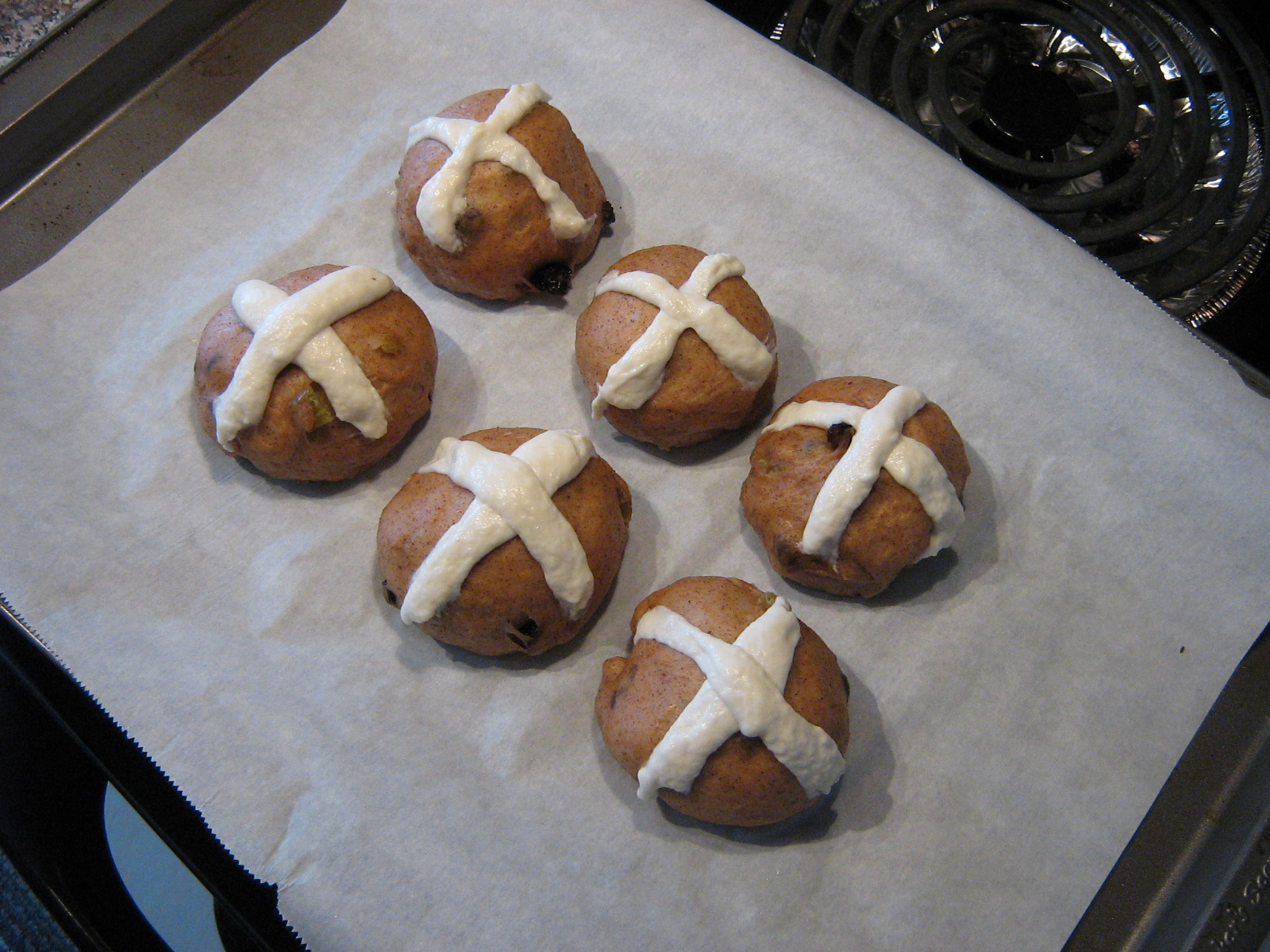 Crossed and ready for the oven (next time, I will make the crosses skinnier).
Eighteen minutes later.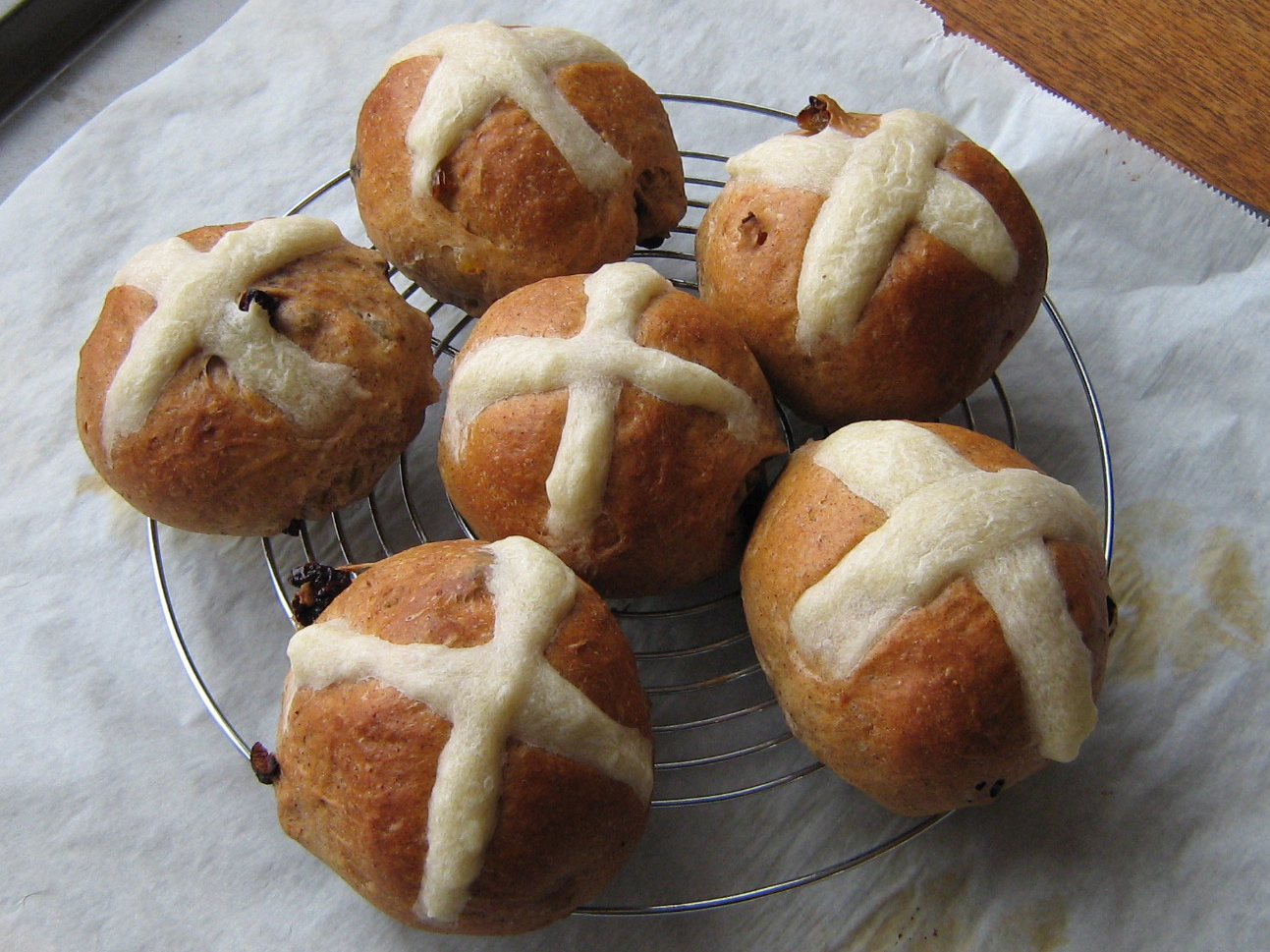 Cooling…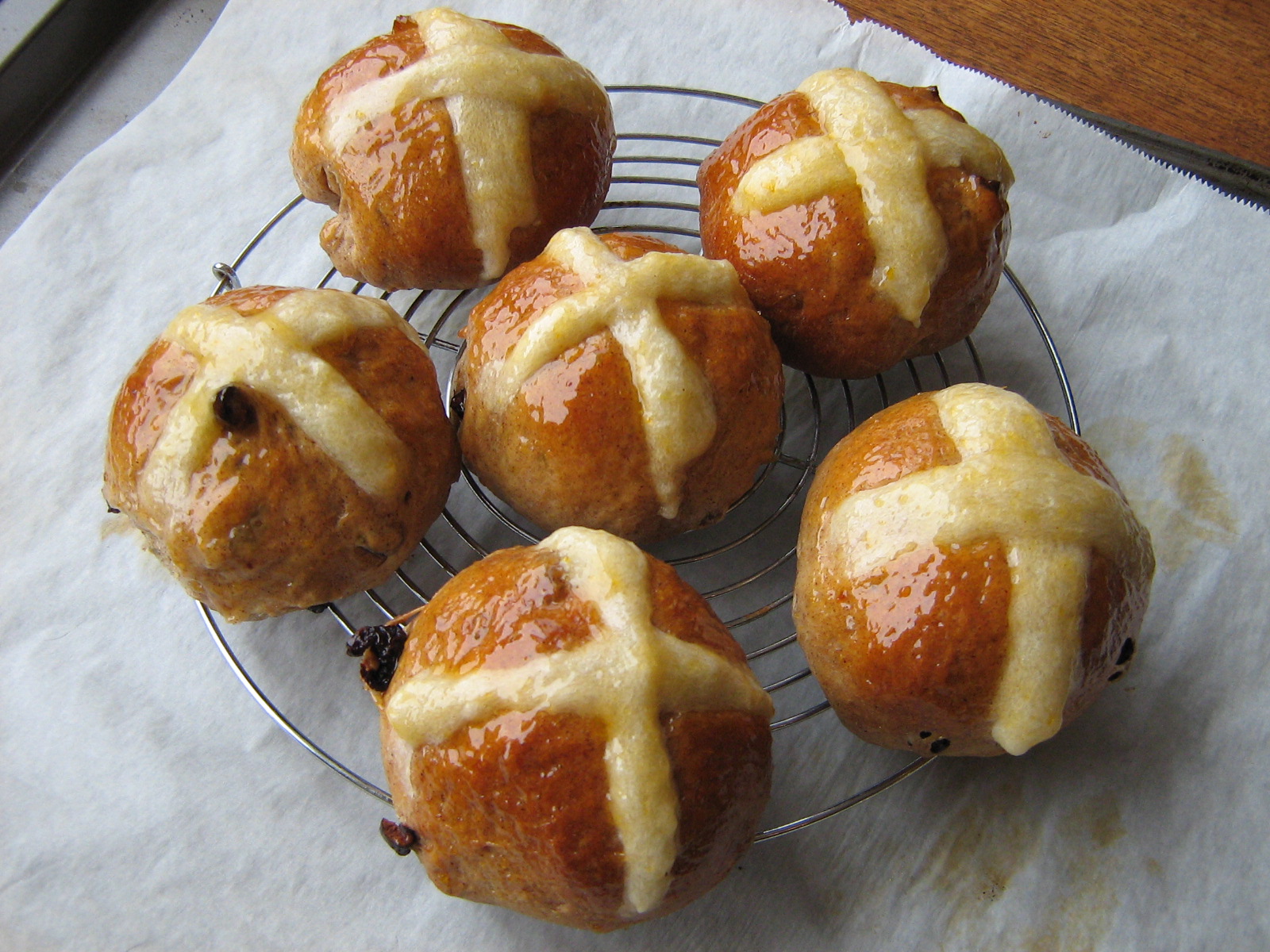 … glazed…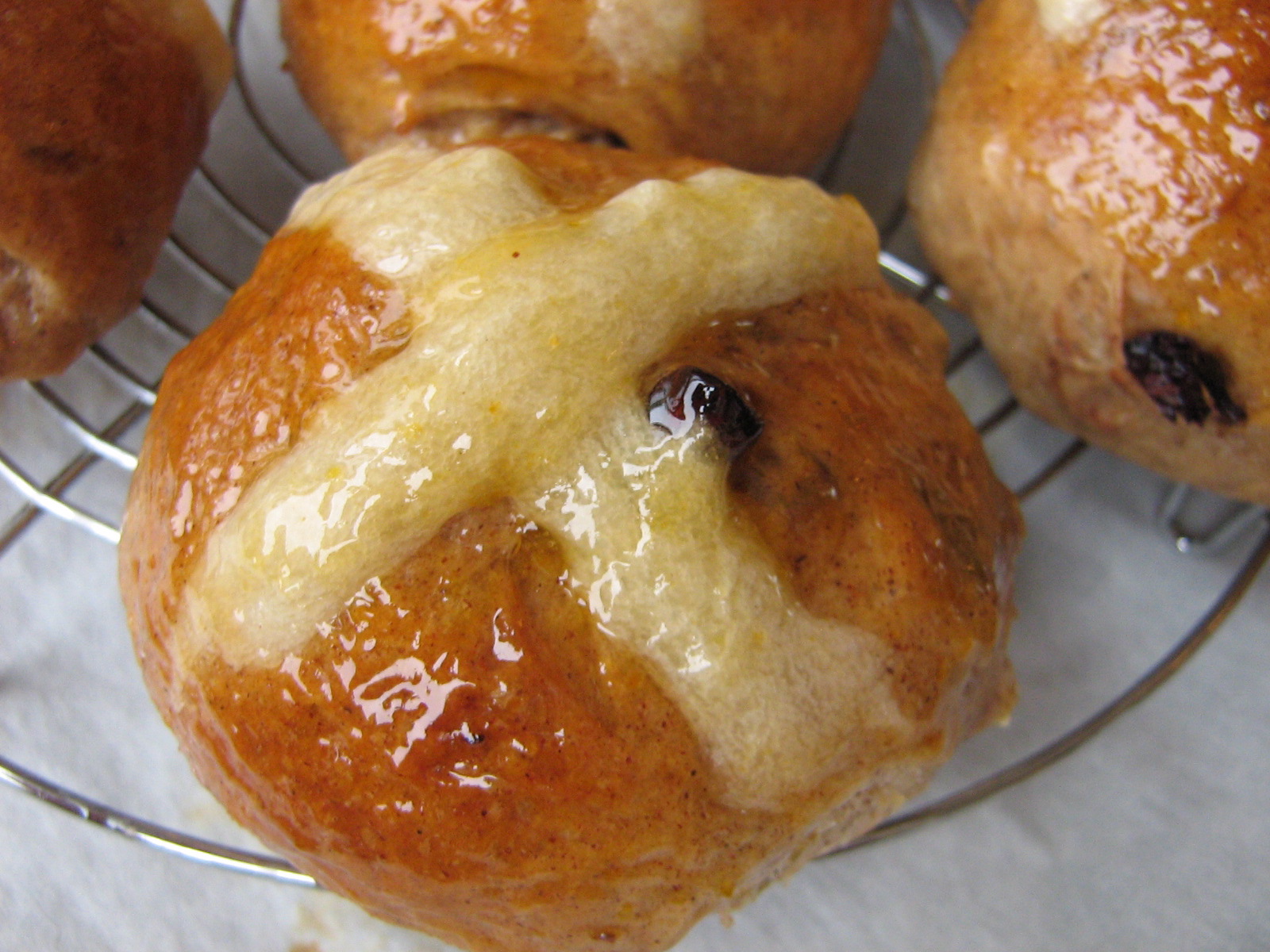 …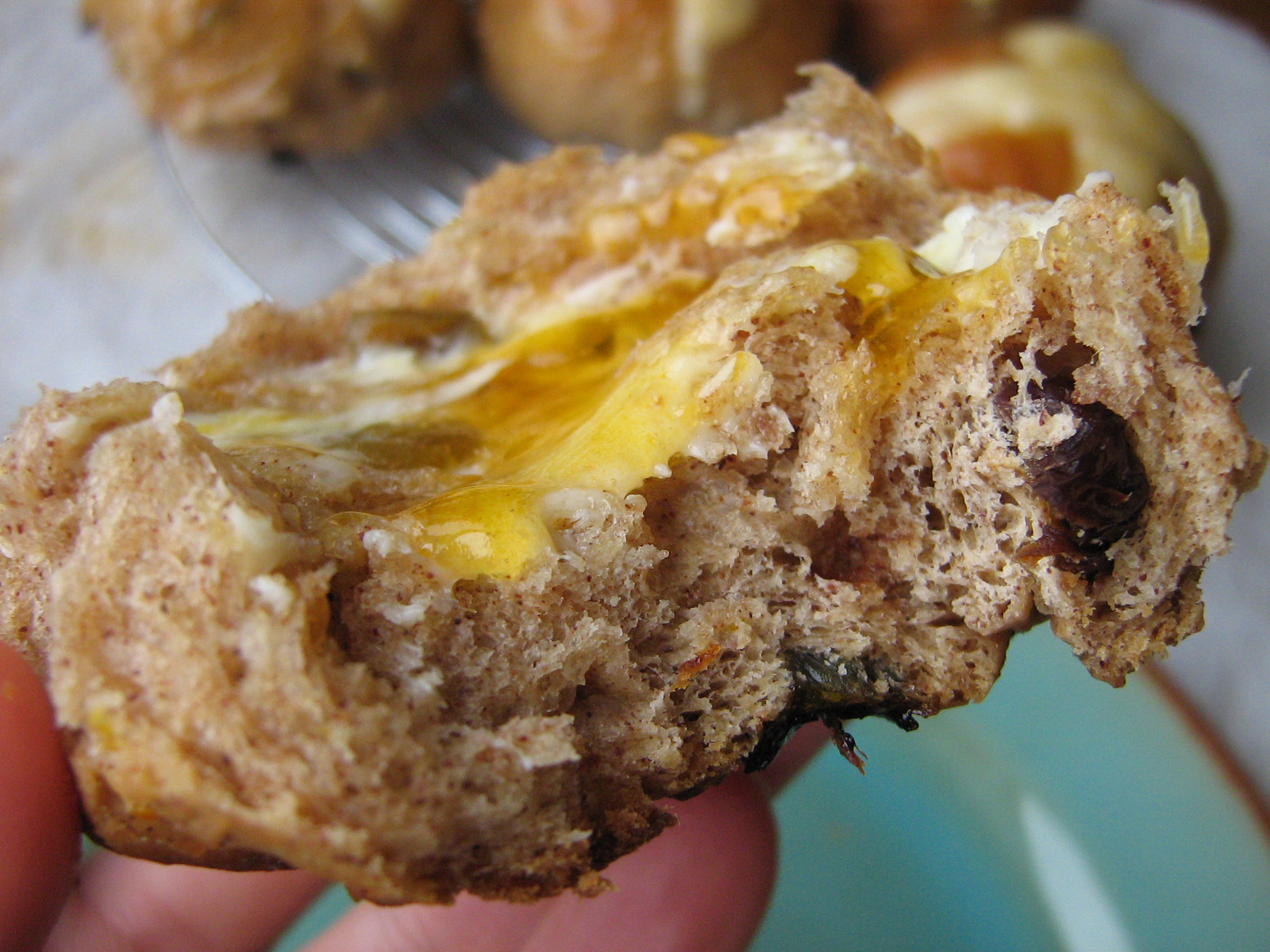 … and eaten!
Perfect Hot Cross Buns
adapted from Martha Stewart's recipe
Dough:
1/2 cup whole milk
2 tbsp honey
1 pkg instant yeast (2 1/4 tsp)
1 1/2 tsp coarse salt
1/4 cup + 2 tbsp butter, melted and cooled
zest of 1/2 a lemon and 1/2 an orange
1 tbsp + 1 1/2 tsp cinnamon
3/4 tsp nutmeg
1/8 tsp cloves
2 eggs, beaten
2 3/4 cups + 2 tbsp all purpose flour
1/4 cup each currants, chopped golden raisins, and chopped dried cherries (3/4 cup total)
3 tbsp apricot jam, for glazing
Bun Cross Paste:
1 tbsp vegetable oil
1/4 cup + 1 1/2 tsp water
scant 1/2 cup flour
dash of salt
Heat the milk to 110˚ F (should feel warm but not hot on the inside of your wrist). Pour in a mixer bowl with all the dough ingredients except for the flour, dried fruit, and jam, and mix with a fork to incorporate. Add the flour and mix with a dough hook on low speed until a soft sticky dough forms around the hook. Continue kneading about 4 minutes more, scraping down the sides of the bowl if necessary.
Add the dried fruit and knead with the dough hook to incorporate. Turn dough out onto a floured surface and kneed by hand to evenly distribute the fruit. Shape the dough into a ball and place in a buttered bowl. Cover with plastic wrap and put in a warm place to rise for about 1 hour and 20 minutes, until doubled in size.
Line a baking sheet with parchment paper. Turn dough out onto a flour surface and shape into a log. Divide the log in half, and cut each half into 6 pieces (for 12 total). Shape each into a tightly formed ball by stretching the top and pinching the bottom to secure. Place on the baking sheet about 1 inch apart. Cover with plastic wrap and let rise 1 1/2 to 2 hours in a warm place (until the buns are touching and doubled in size).
One hour before the end of the rise, combine the Bun Cross Paste ingredients and whisk to form a smooth paste. Let sit for 1 hour before using.
Preheat the oven to 375˚ F. Place the Bun Cross Paste in a small Ziplock bag, cut the tip off one corner to make a small hole, and pipe as cross onto each bun. Place in the oven and bake 18 – 25 minutes, rotating the baking sheet after 10 minutes, until golden brown and hollow-sounding when tapped on the bottom. Transfer to a wire rack and let cool to room temperature.
Heat the apricot jam, then strain through a fine mesh strainer into a bowl. Brush the glaze over each bun. Store in an airtight container.
Makes 12.