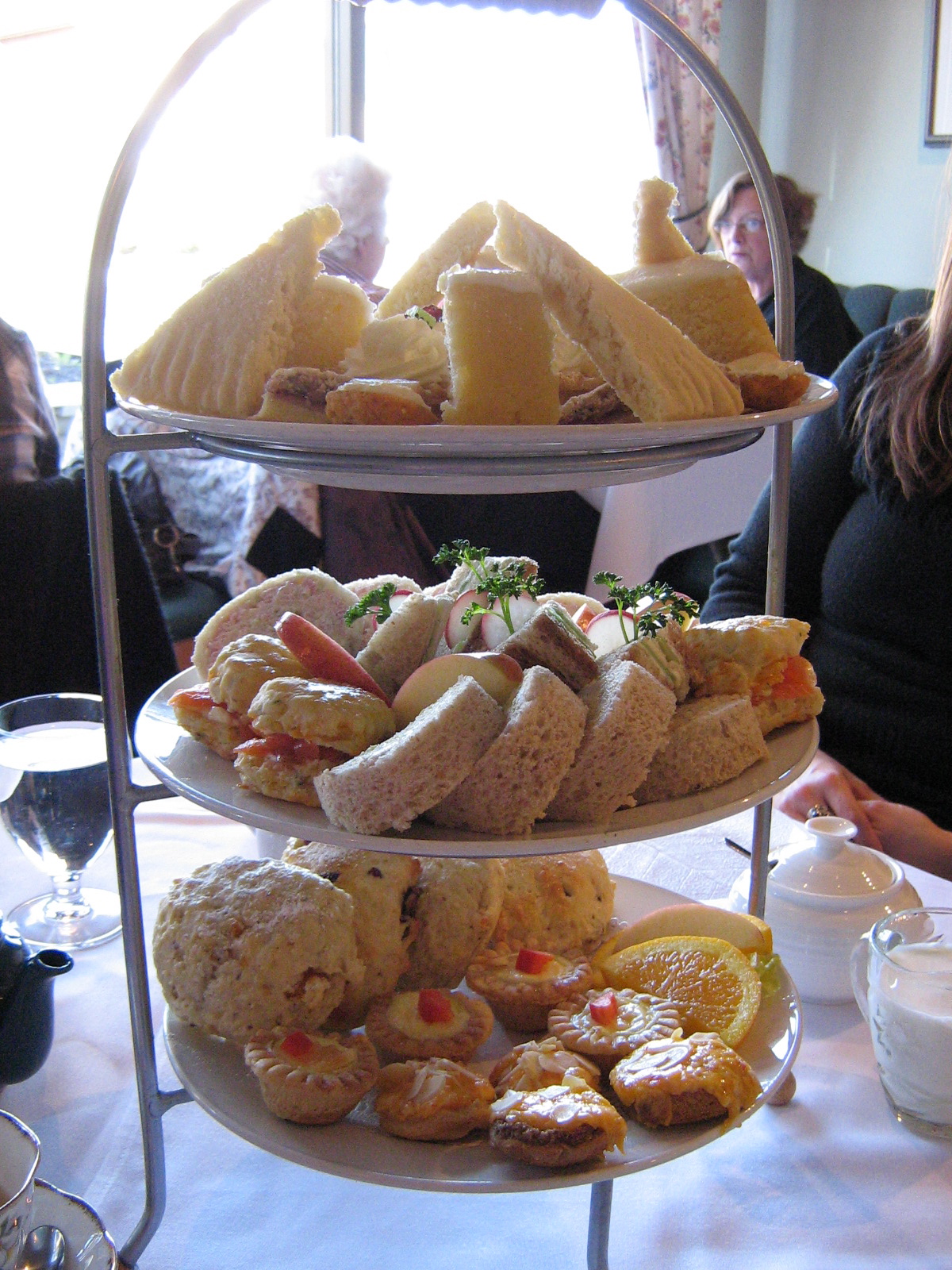 My friend Lynette and I are secretly little old ladies at heart. One of the defining things about our friendship is our undying love of tiny sandwiches, scones with jam and cream, and tea, and we often celebrate the milestones in our lives by going out for afternoon tea. Heck, we don't need a milestone – any occasion is a good excuse. We have even gone so far as to dream up a "Tea Tour" of the English countryside, wherein we would travel from tea shop to tea shop, sampling afternoon teas and writing reviews to publish in a book (who knows how realistic this is, but a dream is a dream, right?). In preparation, we have been to nearly every afternoon tea-serving establishment in Victoria, from the quintessential (and expensive) Fairmont Empress Hotel to the more-British-than-Britain (and now defunct) Blethering Place, but we have not yet written any reviews.
This is about to change. Prepare yourself for the first Tea Party review.
(This means we will have to revisit all the local places we have previously had tea at – darn! 😉 )
First, a bit of background. The tradition of "afternoon tea" apparently originated in the late 1700s with the Duchess of Bedford, who suffered from a "sinking feeling" in the later afternoon, and so devised of a meal that included tea, thin crustless sandwiches, and pastries, to keep her going until dinner (which was served very late in the evening). Today, afternoon tea (aka "low tea", because it is often served at low tables!) is sometimes called "high tea", however "high tea" actually refers to a full evening meal – more akin to dinner (and served at a "high" table), just with lots and lots of tea to drink as well. And apparently within afternoon tea, you can have "light tea", "cream tea", or "full tea", but that's just semantics and menu! Anyway, for the purposes of what we are talking about here, afternoon tea and high tea are the same thing: a meal in the afternoon consisting of tea (of course!), little sandwiches, scones, and goodies.
So, today Lynette, Katheryn, Ang, and I had afternoon tea at the White Heather Tea Room in Oak Bay. Lynette and I have been there several times before, and it definitely stands out as one of the best tea establishments in Victoria, closely tied with the Butchart Gardens (but that's a whole other review!). The quality and amount of food is the best deal in town for the price, and what the tea room itself may lack in elegance or decor is more than made up for in the taste and presentation of the food. The team room recently changed hands, but the new owners have kept it pretty much exactly the same and the food and service are just as fantastic as ever.
Between the four of us, we ordered two "Big Muckle Giant Tea for Two", which is $45.50 for two people (compare this to the Empress Hotel, which is at least $44.00 per person). All together, we paid about $30.00 each, and we came out of there completely stuffed full of delicious food (five hours later and I still can't think about eating, which is saying something if you know me!). Everything is made in-house, from the scones and sandwiches down to the jam and lemon curd, and it all tastes fantastic – like your grandma made it, if your grandma is a really, really, REALLY good cook!.
Their loose tea selection – black, white, green, herbal, and special blends – is quite extensive. Today I had the Balmoral, a blend of black tea with Early Grey and jasmine. Really good, with a slight jasmine-y aftertaste. Other amazing-sounding blends include Angel's Blend, a "heavenly tea with maple sweetness, blackberry pungency, juicy assams, and a hint of mystery green tea," and Mad Hatter, "a whimsical black tea scented with vanilla, passion fruit, papaya and pomegranate. The perfect storybook tea" (which I am totally getting next time!). Lynette usually sticks to the unblended teas, and had the Assam, which she said was very good. Katheryn also had the Balmoral, and Ang had a white tea called Pai Mu Tan, described as "a satisfying cup of tea featuring a fresh aroma, sweet, grassy notes and a delicious, lingering finish." A full listing of the teas can be found here.
On to the food. Our tea came on three tiers: scones and warm savories on the bottom, sandwiches in the middle, and goodies and pastries on the top. I think my favorites were the warm cheese crostada (a little crunchy bite of toasted bread covered in creamy, tangy cheddar with sliced almonds), the cheese scone with smoked salmon (with cream cheese and red pepper jelly – savoury-smoky-sweet-creamy goodness!), the hazelnut and ginger scone (light, airy, gingery, and absolutely divine with lemon curd and Devonshire cream), and the ginger shortbread. SO GOOD. Also especially delicious was the cheese krispie with cream cheese and apple – another tiny, crunchy, cheddary bite made with Rice Krispies – which I think sounds like something you'd find in a nightmare-ish 1950s homemaker cookbook next to a recipe for jellied salad and weiner casserole, but was actually really really good. The Big Muckle Giant Tea menu (along with the other tea menu options) can be found here.
All this may not look/sound like a lot of food, but by halfway through the second tier, everyone was slowing down. I think I was the only one who managed to finish everything, and that took some determination. And remember that it is all washed down with liberal amounts of tea!
(I should add that they have specialty seasonal teas as well – they do a Christmas tea every year, and have an Easter tea coming up – see the Special Events page for seasonal tea dates and menus.)
As I mentioned at the beginning, the food more than makes up for what the tea room lacks in decor. Not that the place is unpleasant – far from it, in fact – but it is definitely not as fancy as, say, the Empress Hotel or the Butchart Gardens. The room is quite small, and there is a display cooler in the middle of the front counter with a lot of action and preparation going on behind it. I don't think this detracts from the place, but if you're looking for fancy surroundings, you might be disappointed. You will not, however, be disappointed by the food, even when compared to a "fancier" place! This is attested by the fact that we were there for nearly two hours – through at least one sitting change – and the room was packed full with happy afternoon tea customers the whole time.
All in all, for the food, experience, and price, I give the White Heather Tea Room five teaspoons out of five! 🙂