These are inspired by a blog post I came across on the lululemon website with several recipes for "energy balls", but somehow that just doesn't sound appetizing… so I'm calling my version "power truffles". These are very tasty, packed with peanut butter, nuts, and seeds, and will be a great post-workout snack, which is what I made them for… but they would be equally good as just an afternoon snack 😉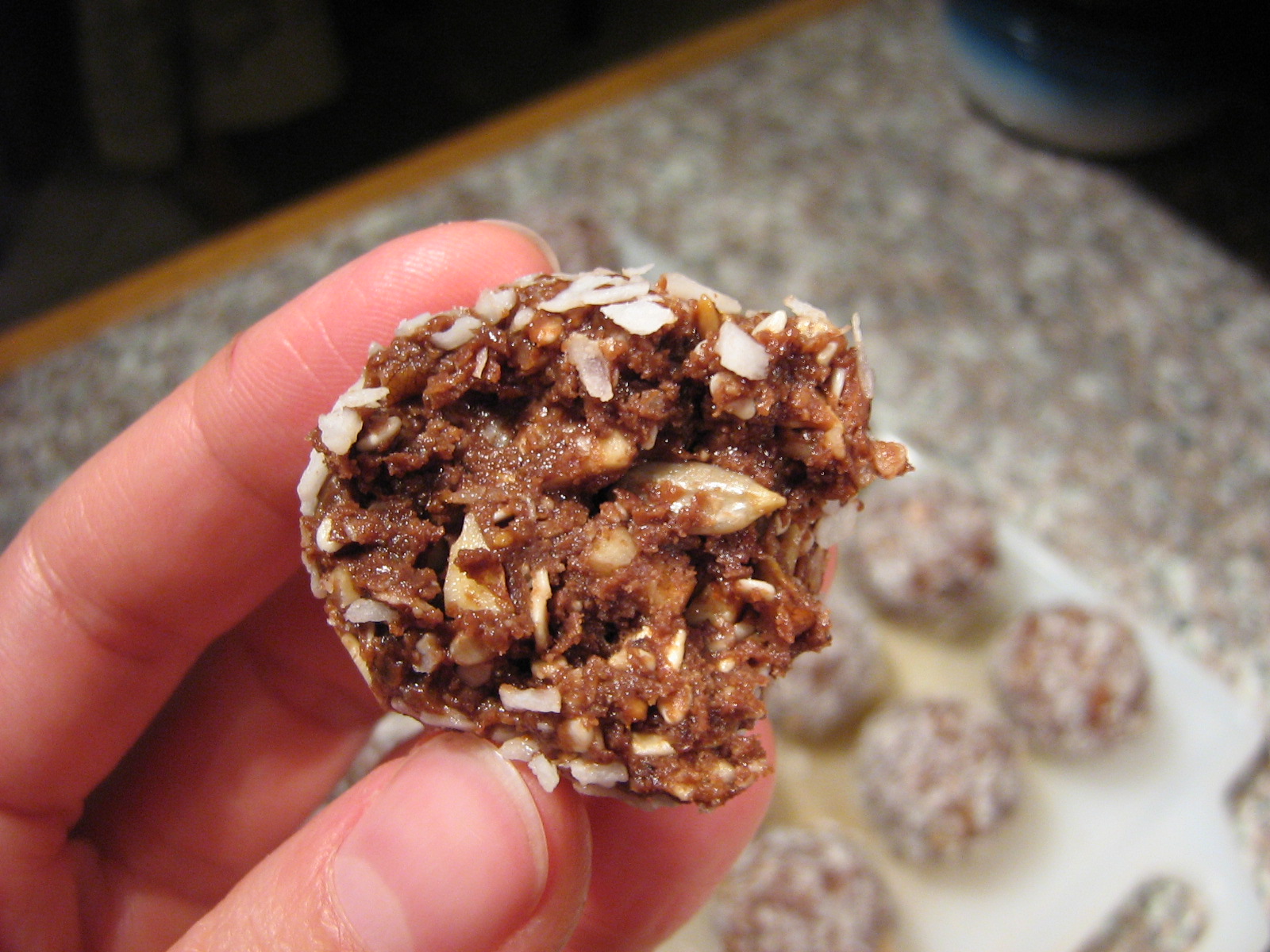 To boost the energy content a little more, the rolled oats could be replaced with quinoa or amaranth flakes, both of which are high in protein. The cocoa powder makes these a little bit chocolatey, and due to the peanut butter and honey in them, they taste slightly like peanut butter and honey on toast, which I quite enjoy. To change things up, they would also be good with almond or cashew butter and perhaps agave syrup, which I haven't experimented with yet. Oooh, I can imagine a version with almond butter, cocoa powder, and dried cranberries instead of raisins… or dried cherries maybe? Yum!
I made these in about 15 minutes total – no baking required. The most time-consuming part was rolling them, and even that was pretty darn easy.
Korena's Power Truffles
Mix together:
1 cup peanut butter
1/3 cup honey
1/4 cup cocoa powder
Stir in:
1/2 cup rolled oats
1/4 cup each ground flax seeds, sunflower seeds, sesame seeds, unsweetened shredded coconut, raisins, chopped pecans, and chopped almonds
Form into ping-pong ball-sized spheres and roll in more shredded coconut. Store in an airtight container, layered between waxed paper, in the fridge. Makes about 21.