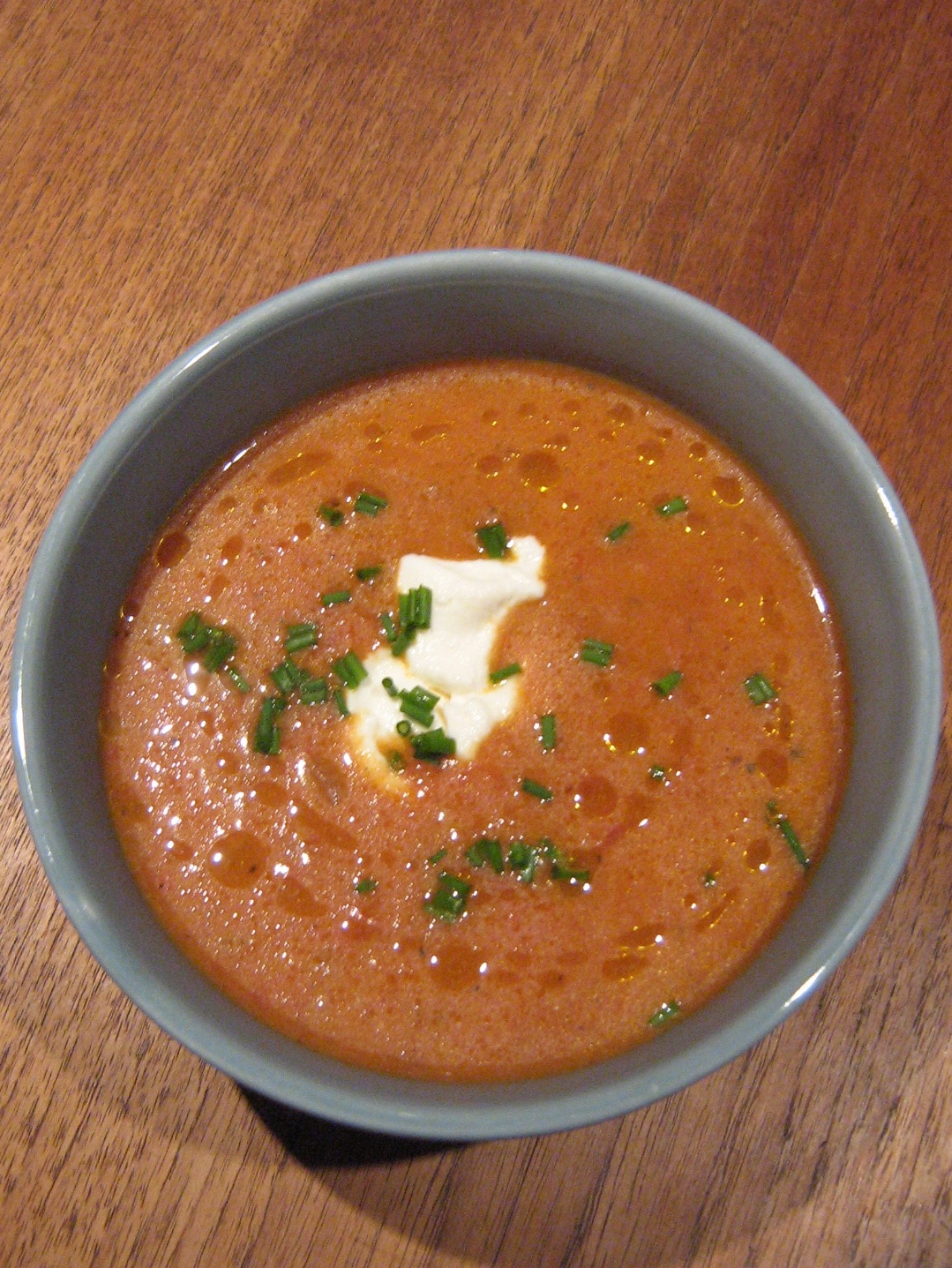 I am not the biggest fan of raw tomatoes (something about the texture puts me off), but I do like tomato soup quite a bit – there's nothing like Campbell's tomato soup with a grilled cheese sandwich. I had half a can of tinned tomatoes and some ricotta in the fridge that I didn't know what to do with, so I decided to make some tomato soup and top it with the ricotta. I consulted with my friend Martha and came up with this recipe – actually double what I originally made, because it barely made enough for Nate and me!
I added milk to make it a little bit creamy, but that is totally optional. Use whatever herbs you want – I used thyme while cooking, and garnished it with chives because I noticed that they are just starting to come up in my herb garden. I would still use a hardier herb, such as thyme or oregano, during the cooking, and garnish with something more delicate (or stir it in at the last minute). Nate suggested dill, which would be fantastic in the summer when it is fresh and growing everywhere! And of course, you can't go wrong with the tomato basil combination 😉 I *LOVE* ricotta, but it could be replaced with sour cream, crème fraîche, or even cream cheese if you're feeling adventurous.
Because this recipe calls for canned tomatoes, it's a good idea to use really good quality canned tomatoes, rather than a no-name bargain brand. I used Unico brand, which is decent, but my favorite is an Italian brand. The tomatoes are much riper and the juice they are packed in is much tomato-y-er, and it's only about 50 cents more than the bargain brand, which is worth it for the taste.
Tomato Bisque with Ricotta and Chives
2 tbsp each olive oil and butter
1 large onion, finely diced
2 cloves of garlic, smashed
2 tbsp flour
2 tbsp tomato paste
3 cups chicken or vegetable stock
28 oz can good quality tomatoes (diced or whole, in juice – if tomatoes are whole, cut them up roughly before adding to soup)
3-4 small sprigs of thyme
1 cup whole milk (or 1 extra cup of stock added along with the rest of the stock)
coarse salt and freshly ground pepper
1/2 – 1 tsp balsamic vinegar
ricotta and snipped chives, to serve
olive oil, to drizzle
In a large soup pot, sauté onion and garlic in butter and olive oil over medium heat until translucent and fragrant. Add flour and cook, stirring, for about 2 minutes. Add tomato paste and stir. Slowly add stock, stirring constantly to avoid lumps. Add tomatoes and thyme, cover, and simmer for 20-40 minutes. Remove the thyme. Transfer half the soup to a blender and purée (or use an immersion blender to blend until half puréed). Return to the soup pot, add milk, and season with salt, pepper, and balsamic vinegar to taste. Heat through and serve topped with a spoonful of ricotta, a sprinkling of chives, and a drizzle of olive oil. Makes about 3 servings.