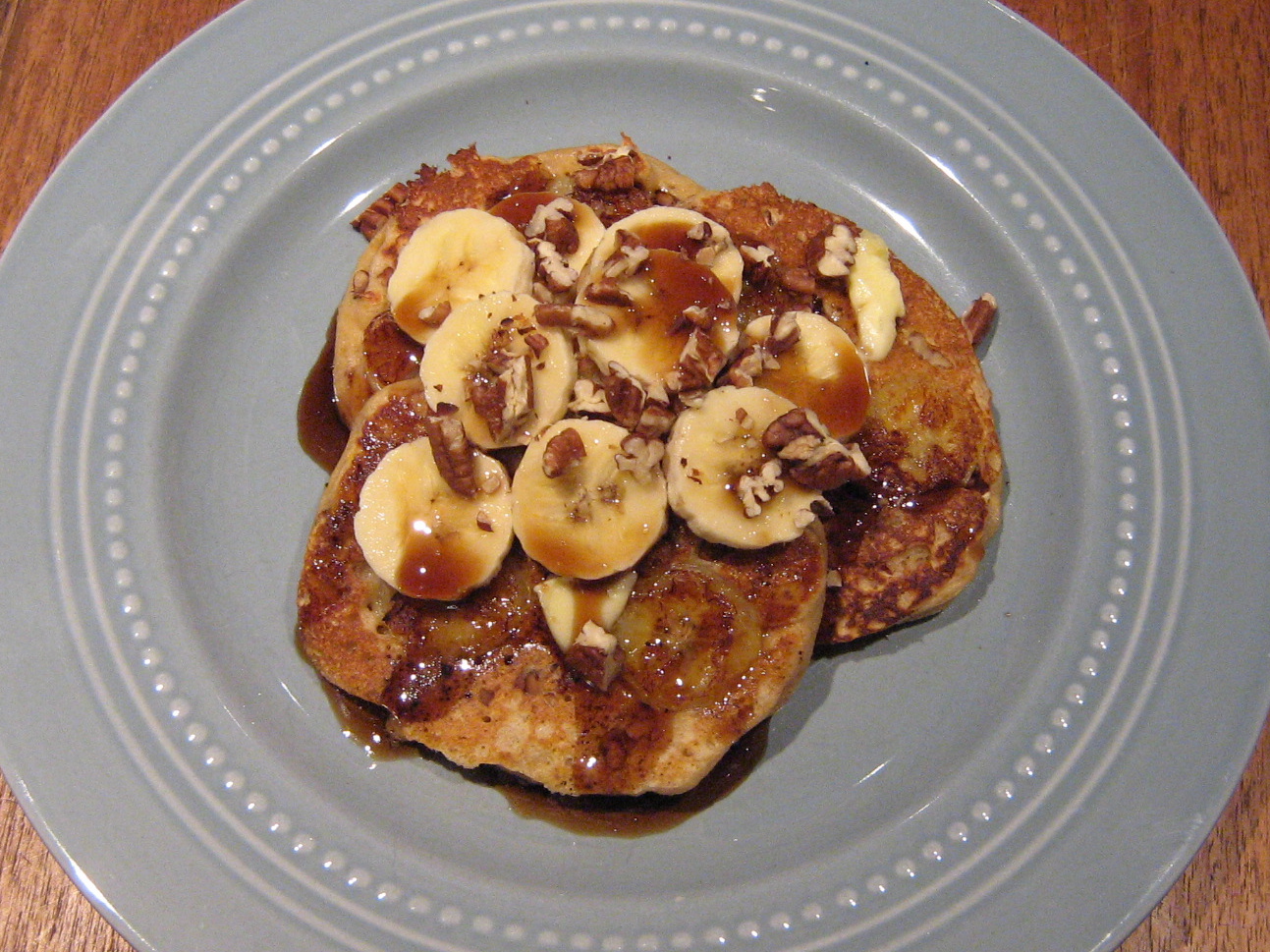 On Monday I watched a show on the Food Network that featured amazing-looking banana pecan pancakes, and I was immediately inspired to recreate the recipe. I had a feeling that Shrove Tuesday – aka Pancake Tuesday – was coming up soon, and a quick Google search revealed that it was actually the next day. Well! What a coincidence!
On Tuesday morning as I stumbled into the shower, I mumbled incoherently at Nate that it was Shrove Tuesday and I would be making pancakes for dinner. His response was a confused, "What? Why pancakes?"
Not being Christian or religious myself, I realized that I had only the vaguest inkling of the link between Shrove Tuesday and pancakes (I just knew it had something to do with Lent), and certainly not enough of an understanding to explain it, so I just yelled, "Shrove Tuesday. Pancakes. Lent!" from behind the shower curtain, leaving Nate still mostly unsure about why we were having pancakes for dinner.
But I didn't care about why, I was more concerned with what, as in what kind of pancakes to make? Banana pecan, of course! I spent most of Tuesday composing flavours in my head and figuring out what to serve along with the pancakes. I eventually settled on a fruit salad of Gala apples, oranges, red grapes, and a handful of frozen blueberries, and I would add the zest from the orange to the pancake batter to make them orange pecan banana. We were out of maple syrup, but I remembered seeing a homemade syrup recipe on Dinner with Julie, so I decided to make that as well.
I got home, all excited for pancake-makin', and Nate again asked me, "So, do you know why you're making pancakes yet?"
"Shrove Tuesday! You eat pancakes! It's the day before Lent or something!" I figured I could convince him if I just kept repeating it.
"What's Lent?"
Okay, fine. I caved in and asked Google.
Wikipedia revealed that Shrove Tuesday, aka Fat Tuesday, aka Mardi Gras, aka Pancake Tuesday, is indeed the day before Lent, a forty day period of fasting and prayer that ends at Easter, the celebration of the Resurrection of Christ. Traditionally, Lent is associated with ritual fasting and general sombreness, and Shrove Tuesday is the last chance to "release high spirits" and feast on sugar, fat, and eggs, which were usually restricted during Lent. Hence Mardi Gras parties and pancakes.
We skipped the party, but feasted on pancakes. These orange pecan banana babies are based on my favorite go-to pancake recipe that I got from a TV episode of CityLine ages ago. The recipe is very adaptable to substitutions (I'm seeing this as a trend in my favorite recipes!) and makes a moderate amount of pancakes (enough for 2 – 3 servings), rather than pancakes for fifty, which I find is often the case with pancake recipes. The dry ingredients contain baking soda (along with baking powder) and therefore the batter relies on acidity in the wet ingredients to initiate the rising action. The original recipe calls for buttermilk to achieve this, but I never have buttermilk on hand, so I have found two substitutions that work well: 1 tbsp white vinegar mixed with enough milk to make 1 cup and left to sit for a few minutes, or 1/3 cup plain yogurt mixed with 2/3 cup milk (I have also used fruit flavoured yogurt (reducing the sugar in the dry ingredients) with success). This time I used the yogurt and milk mixture, along with whole wheat pastry flour, and ended up with fluffy, tender, delicious pancakes.
Oh, and the homemade brown sugar syrup couldn't be any easier: 2 parts brown sugar with 1 part water, and I stirred in a drop of vanilla extract. It tastes like those molasses taffy Halloween candies in the black and orange wax paper wrapper. Mmmm.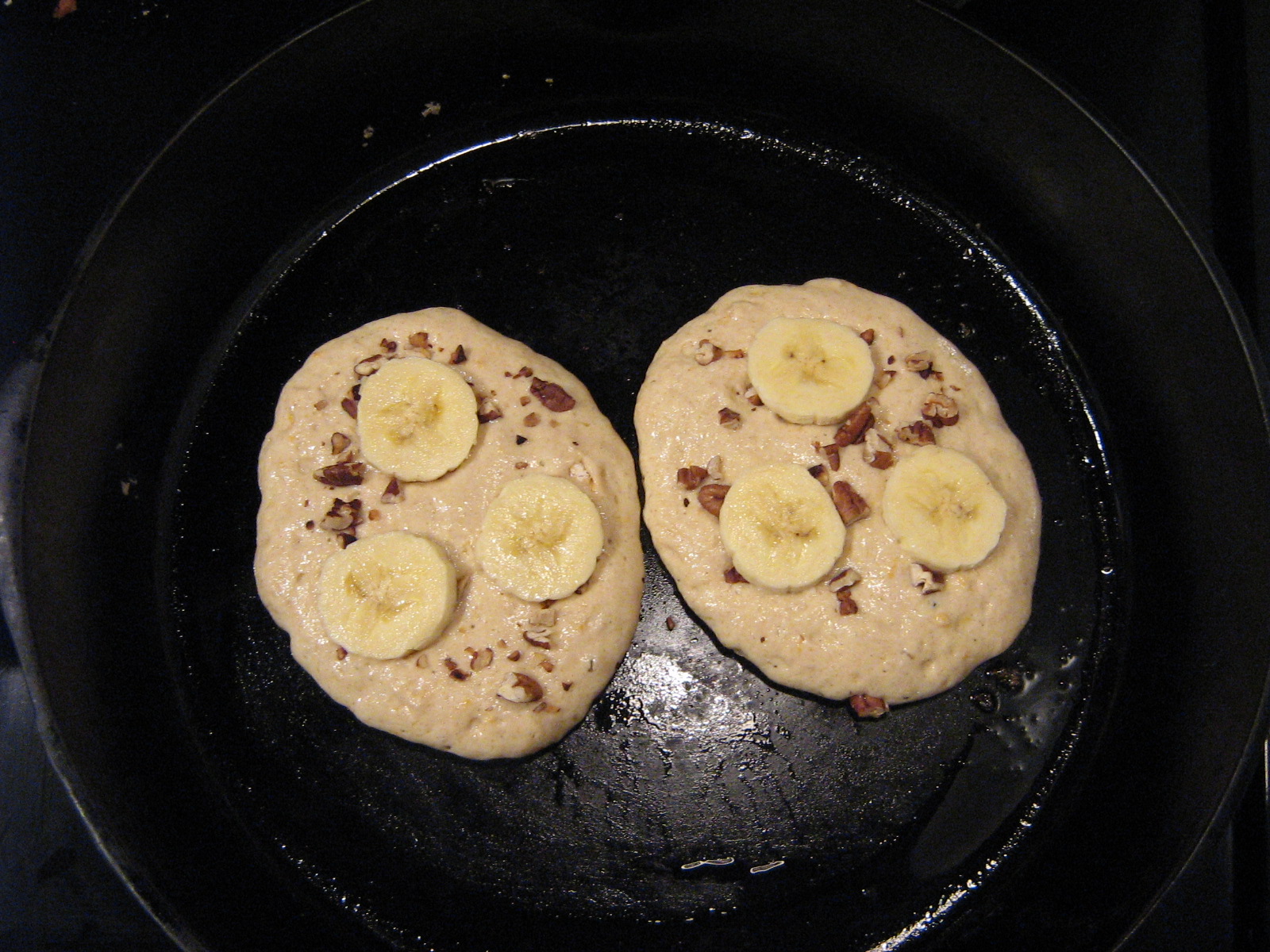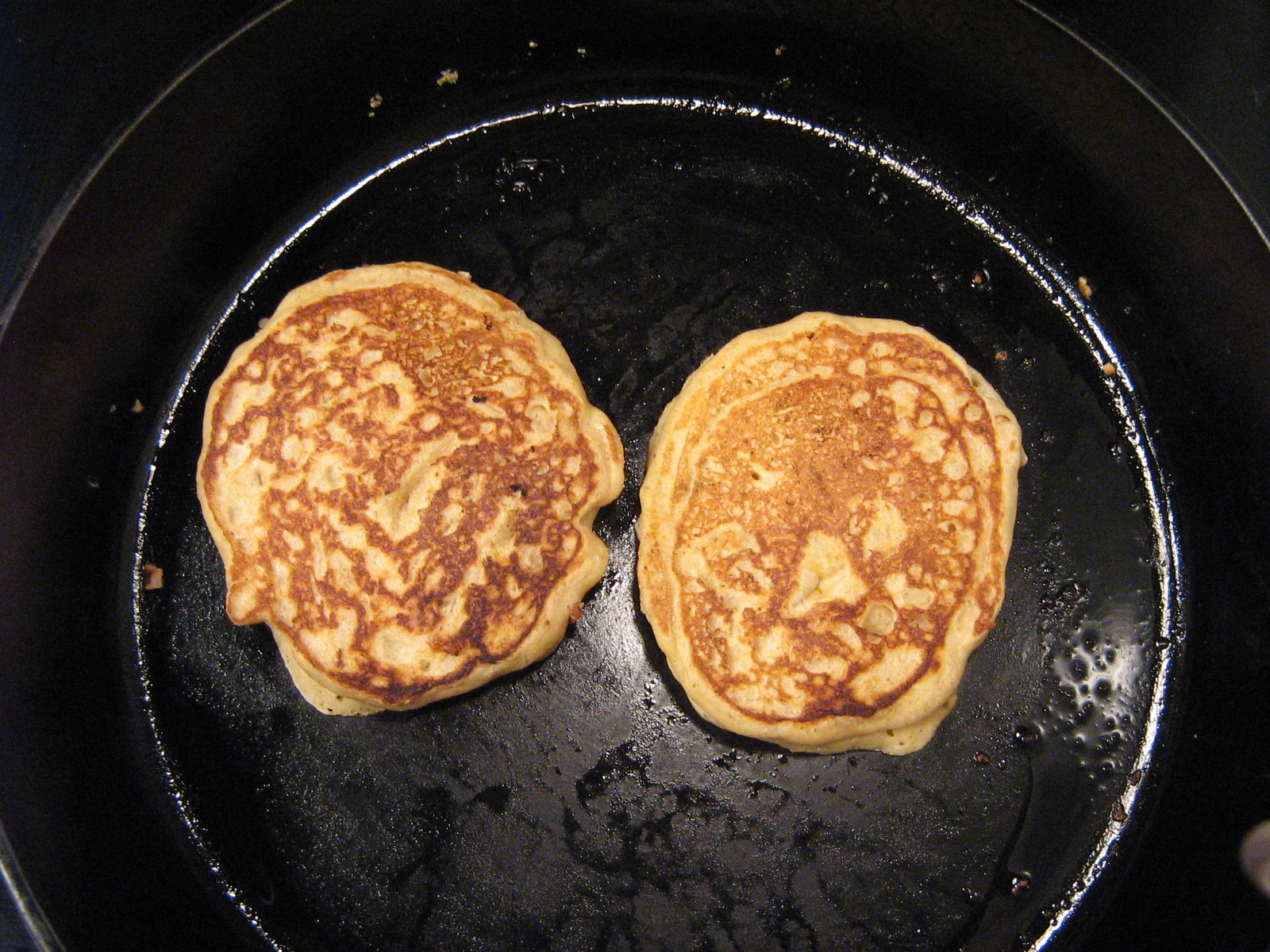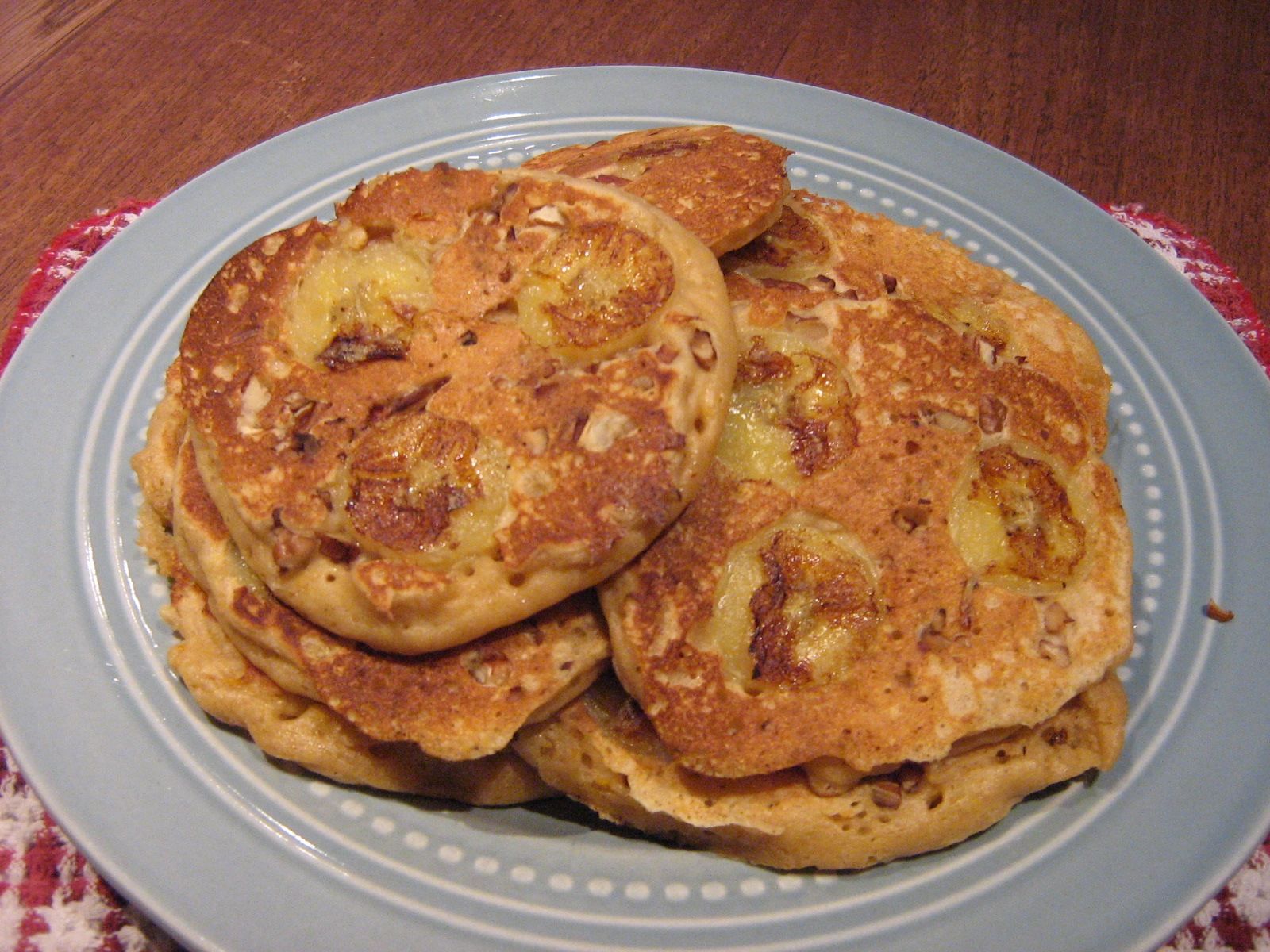 Orange Pecan Banana Pancakes with Homemade Brown Sugar Syrup
Dry ingredients:
1 cup flour (all purpose, whole wheat pastry, or half and half all purpose and whole wheat flour, pastry or regular)
1 tbsp white sugar
1/4 tsp salt
1/4 tsp baking soda
1 1/4 tsp baking powder
1 tsp grated orange zest
Wet ingredients:
1 large egg
1 cup buttermilk (or 1/3 cup yogurt + 2/3 cup milk, or 1 tbsp white vinegar + enough milk to make 1 cup)
1 tsp vanilla extract
2 tbsp melted butter
Toppings:
1 banana, sliced (plus more for serving)
1/3 cup pecans, toasted and chopped (plus more for serving)
In a medium sized bowl, whisk together dry ingredients. In a small bowl, whisk together wet ingredients. Add wet to dry and combine gently with a spatula to get a thick, lumpy batter. Heat a cast iron or heavy non-stick pan over medium heat, brush with butter, and drop batter by scant 1/4 cup (spread the batter out slightly, as it will be quite thick). Sprinkle each pancake with about 1 tsp of pecans and 3 – 4 slices of banana. Cook until bottoms are golden and edges are dry, about 2-3 minutes. Flip and cook until golden, about 2 more minutes. Serve with banana slices, pecans, and brown sugar syrup. Makes about 9 pancakes.
Homemade Brown Sugar Syrup
Original recipe from Dinner with Julie
1/2 cup brown sugar
1/4 cup water
1/2 tsp vanilla extract
In a small pot, stir together sugar and water. Bring to a boil over medium heat and simmer on low until the sugar crystals are dissolved and the mixture is syrupy. Remove from heat, stir in vanilla, and allow to cool. Store leftover syrup in a sealed jar in the fridge.