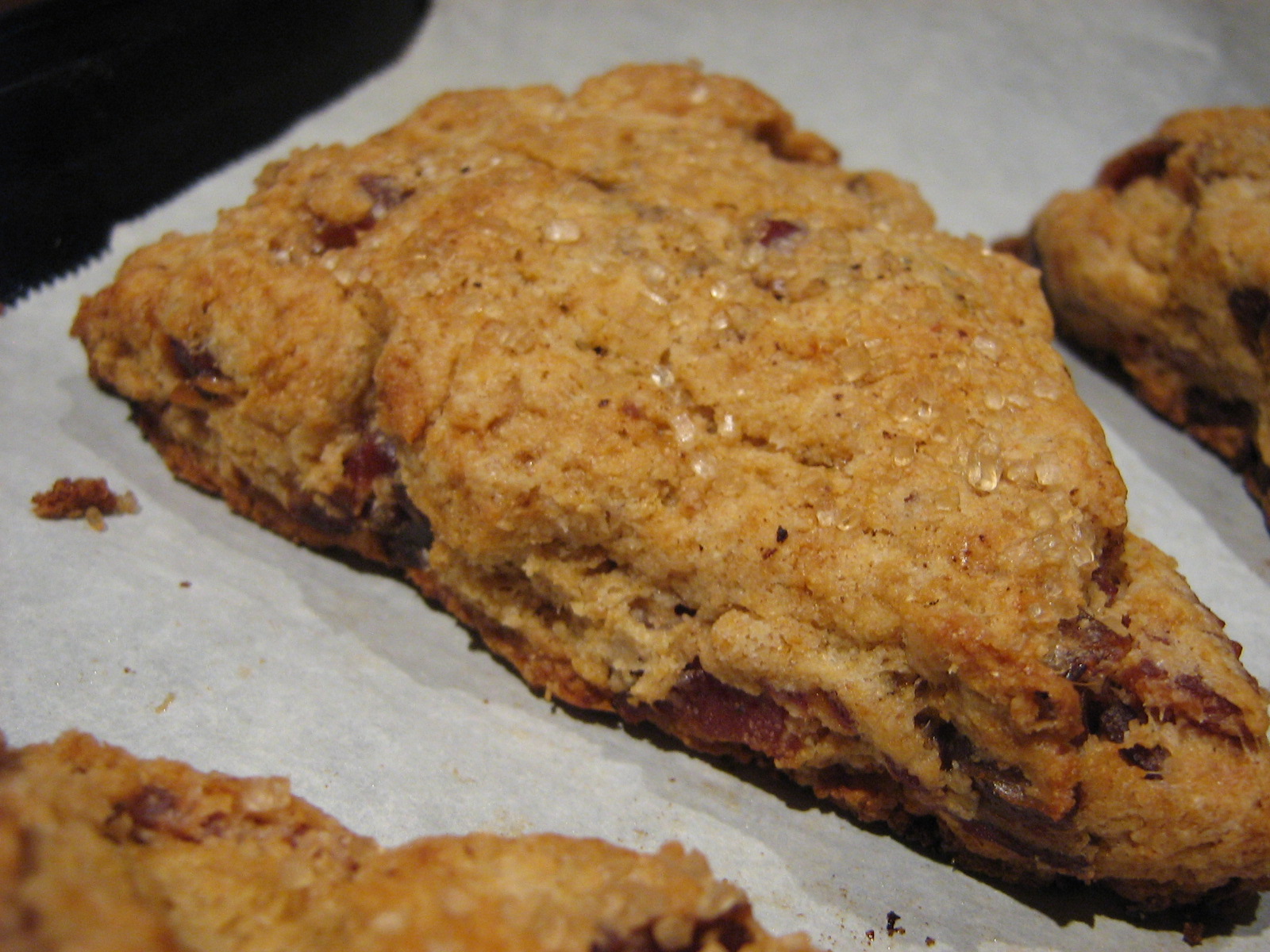 Nate's mum got me a subscription to bon appétit magazine for Christmas, and the March issue arrived last week. I went through and marked all the recipes I wanted to try, and on my second pass, I noticed a recipe that I had overlooked the first time: Bacon and Date Scones. Apparently the recipe comes from a restaurant in Venice, California, called Gjelina. I am a big fan of scones, salty-sweet combinations, and anything with bacon in it, so I knew I had to try these.
I took some inspiration from Heidi at 101 Cookbooks and modified the recipe a bit to use whole wheat pastry flour and raw cane sugar. The scones turned out well, but are very crumbly, I think because the whole wheat pastry flour has lower gluten than all purpose flour, so I've made a change to the recipe below to use half whole wheat pastry and half all purpose flour.
I wasn't expecting these to be as sweet as they are, so I served them with soup. It worked alright, but they are better on their own, smeared with butter. The dates are sweet and almost caramelized, the bacon is salty and chewy, and the scones themselves are flaky. These are definitely a must-try!
Bacon and Date Scones
Modified from the March 2011 issue of bon appétit magazine. Original recipe available here.
If you prefer, you can use 2 cups of all purpose flour rather than the whole wheat pastry flour. The key to flaky scones is to work the dough as little as possible, so be very gentle when kneading it.
10 oz (300 grams) thick-cut bacon slices (about 10 pieces)
1 cup all purpose flour
1 cup whole wheat pastry flour
1/3 cup raw cane sugar (or regular sugar)
1 1/2 tsp baking powder
3/4 tsp baking soda
1/2 tsp coarse salt
3/4 cup coarsely chopped pitted dates
1/2 cup unsalted butter, frozen or very cold
2/3 cup buttermilk (or 1 1/2 tsp white vinegar plus enough milk to make 2/3 cup – mix and let sit for a few minutes)
Large grained raw sugar (such as Turbinado)
Cook bacon in a heavy bottomed skillet over medium heat until cooked through but not quite crisp. Drain on paper towels, let cool and chop. Reserve bacon fat.
Whisk together flour, 1/3 cup sugar, baking powder, baking soda, and salt. Mix in the dates and chopped bacon and toss to coat in flour. Using a cheese grater, coarsely grate the frozen butter into the flour mixture. Toss everything around with a fork, gently breaking up clumps, until everything is evenly distributed. Pour in buttermilk, stir until large clumps form, then briefly knead with hands to form a wet dough. Do not over-knead – there should still be some streaks of unincorporated butter and flour.
Turn dough onto a lightly floured surface and pat into an 8 inch round. Cut into 8 wedges and transfer to a plate. Cover and refrigerate for 1 – 2 hours.
When ready to bake, preheat oven to 400˚ F. Place scones about 2 inches apart on a parchment paper-lined baking sheet and brush with reserved bacon fat. Sprinkle with large grained raw sugar and bake for 16-20 minutes, or until lightly browned and bottoms sound hollow when tapped. Serve warm or at room temperature with butter.