Real Southern barbeque isn't something that you get a lot of in Canada, but ever since Pig BBQ Joint opened up in town, I have developed a love for pulled pork sandwiches. I've made them a few times at home, and this time I sort of made it up as I went along. The results were really good, so I'm going to share it.
I use a slow cooker for this recipe, but you could just as easily cook the pork in a Dutch oven (see the recipe for details). The barbeque sauce is made from the braising liquid and juices from the pork, and relies on smoked salt and chipotle powder in the Brown Sugar Rub to get a slightly smoky flavour. If you don't have smoked salt, regular salt is fine. The sauce as I originally made it was kind of ketchup-y, so I've modified the recipe here to show what I would do next time.
The buns and coleslaw play just as important a role as does the pork and sauce. The buns should be soft and slightly chewy, and not too grainy. The coleslaw should be creamy, crisp, and a little bit tangy. If you have a favorite coleslaw recipe, feel free to substitute it!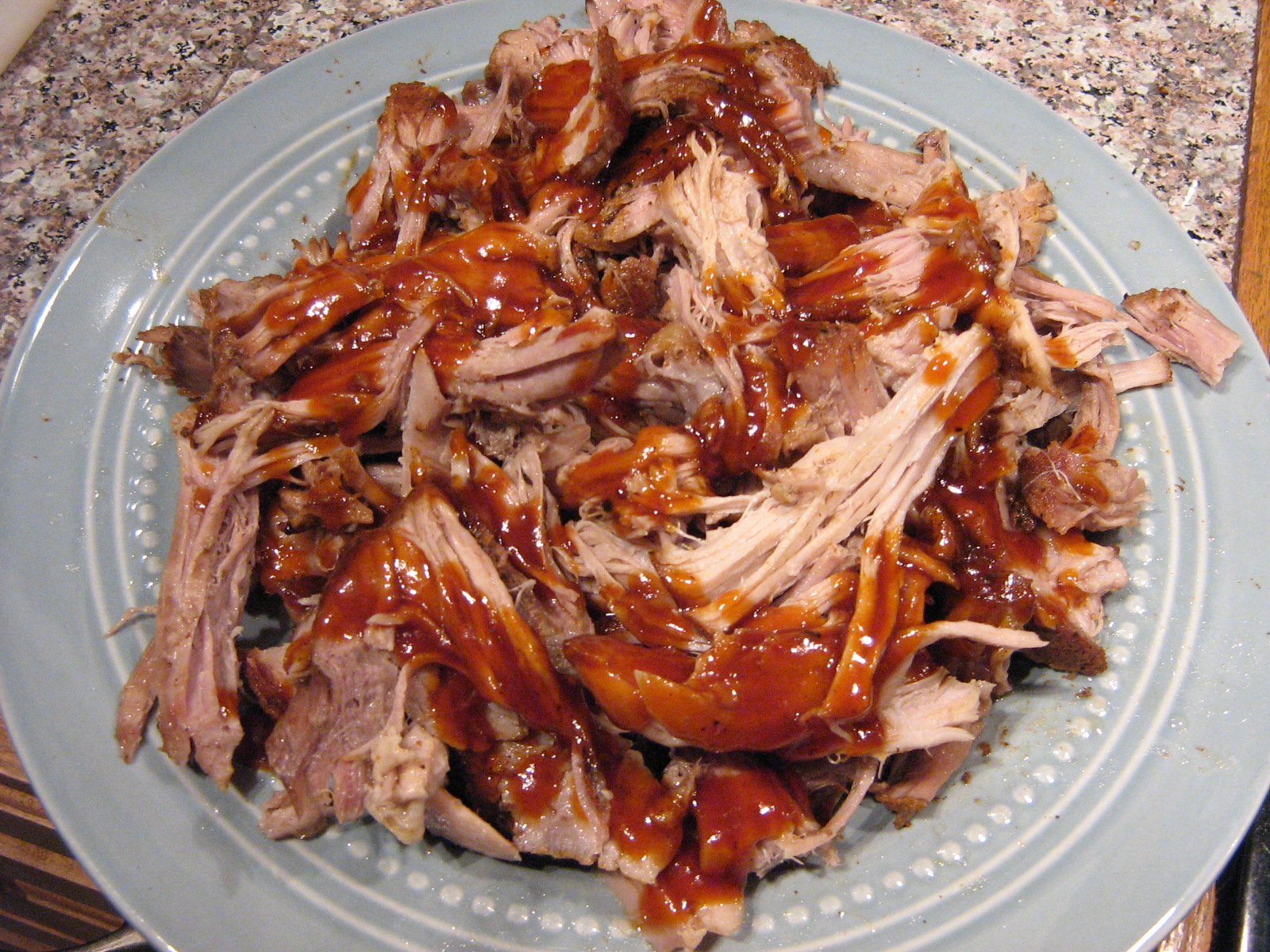 Pulled Pork Sandwiches
To make this in a Dutch oven rather than a slow cooker, cook in a 300˚ F oven for 6 hours, or a 200˚ F oven for 8 hours. You may need to add a little bit more liquid.
1 boneless pork butt roast (about 1.25 – 1.5 kgs)
1 cup natural unsweetened apple juice
1/2 cup apple cider vinegar
soft buns (Kaiser or hamburger style), to serve
Brown Sugar Rub:
1/3 cup brown sugar
1/2 tsp fresh ground pepper
1/2 – 1 tsp chipotle powder
1 tsp smoked salt (or regular coarse salt)
1/2 tsp each garlic powder and dry mustard
Coleslaw:
1 cup each green and purple cabbage, shredded finely
1 medium carrot, grated (about 1/2 cup)
1 green onion, sliced
2 heaping tbsp mayonnaise
1 tbsp apple cider vinegar
1/2 tsp honey
celery salt and fresh ground pepper
Barbeque Sauce:
1/4 cup ketchup
2 tbsp tomato paste
1/2 cup brown sugar
1/4 cup apple cider vinegar
1/4 tsp chipotle powder
a few dashes of Louisiana hot sauce
1 tbsp Worchestershire sauce
1 tsp Dijon mustard
Combine Brown Sugar Rub ingredients. Sprinkle the mixture on a large plat and roll the pork roast in it, pressing to coat with all of the rub mixture. Place the roast in the slow cooker insert (or Dutch oven) and pour the apple juice and cider vinegar around it. Cover and cook on high for 6 hours, or low for 8 hours.
Meanwhile, combine all Coleslaw ingredients in a bowl and mix well. Cover and refrigerate for a few hours.
Remove the roast from the slow cooker (it should be falling apart), set aside on a plate, and cover with foil. Pour the accumulated liquid in the slow cooker into a pot. Skim off the fat. Whisk in the Barbeque Sauce ingredients and bring to a rapid boil. Boil for about 15-20 minutes, until the sauce thickens to the desired consistency. Shred the pork and toss with a few tablespoons of barbeque sauce.
To serve, split the buns and pile the pork on the bottom. Top with more barbeque sauce and a spoonful of coleslaw. Don't forget the napkins!