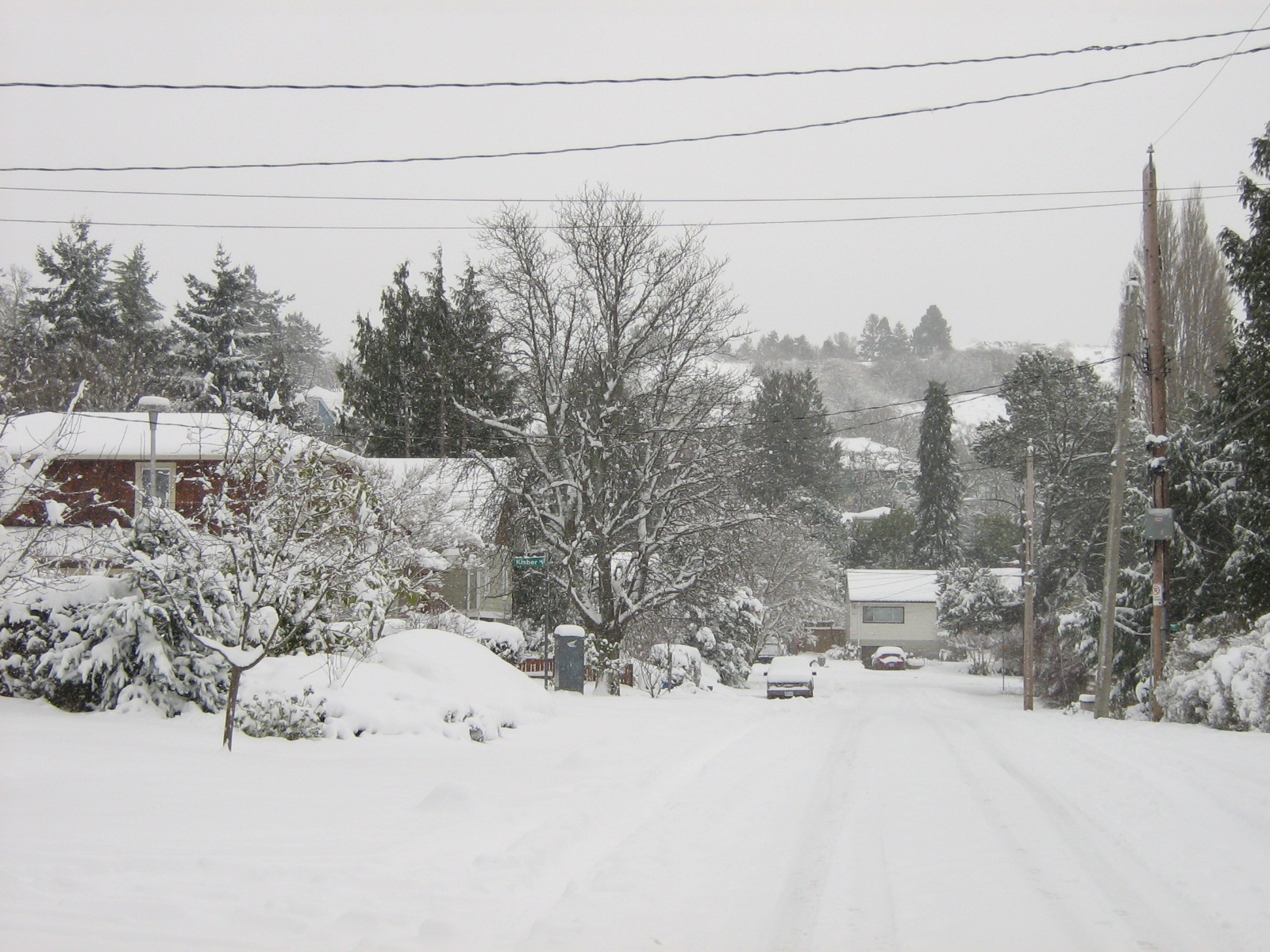 Yesterday we unexpectedly received rather a large amount of snow (we measured 21 centimeters at one point!), and in usual snowy Victoria fashion, the roads were terrible, life slowed to a halt, and neither Nate nor myself went to work. Instead, we spent the day on the couch watching season one of Mad Men, and I did some baking. Seeing as I had all day, I made a quiche, which I find inevitably ends up taking about three times as long as I think it will. I also tried to modify my usual fantastic, go-to banana bread recipe to be sugar-free, but it turned out to be not-so-fantastic sans sugar 🙁 Someday I'll perfect the recipe and share it, but in the meantime, here's my quiche recipe.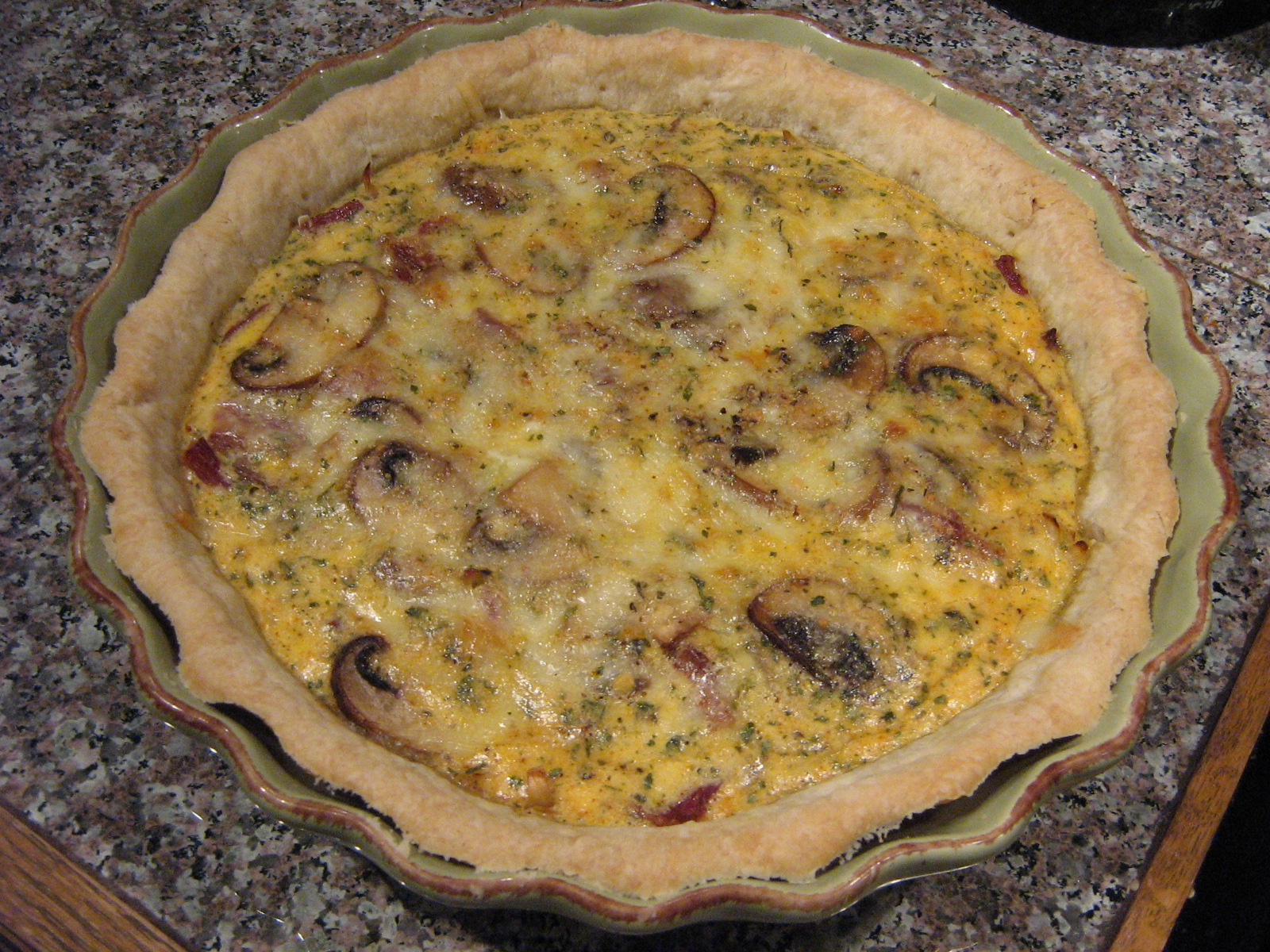 I've got the filling part down, but the perfect tart shell still eludes me. The recipe I used yesterday yielded a very tough crust, so I'm not even going to bother sharing it. There are definitely better tart shell recipes out there, so if you have a winner, please consider sharing it with me!
Once you have the ratio for the egg/milk custard mixture figured out, you can put whatever you want in the filling. For this quiche, I used caramelized onions, bacon, sautéed mushrooms, and white cheddar cheese. I've found that the best way to avoid a soggy-bottomed quiche is to pre-bake the tart shell until golden brown and then to put a layer of cheese on the bottom of the quiche to help "waterproof" it (I'm a firm believer that all quiches should contain cheese). I tend to have a high ratio of filling to custard when I make a quiche – the tart shell is usually about three-quarters full before I pour in the eggs and milk. Below is the recipe as I made it, but feel free to substitute anything for the filling. If you have less filling and want more custard, try 4 eggs to about 3/4 cup milk.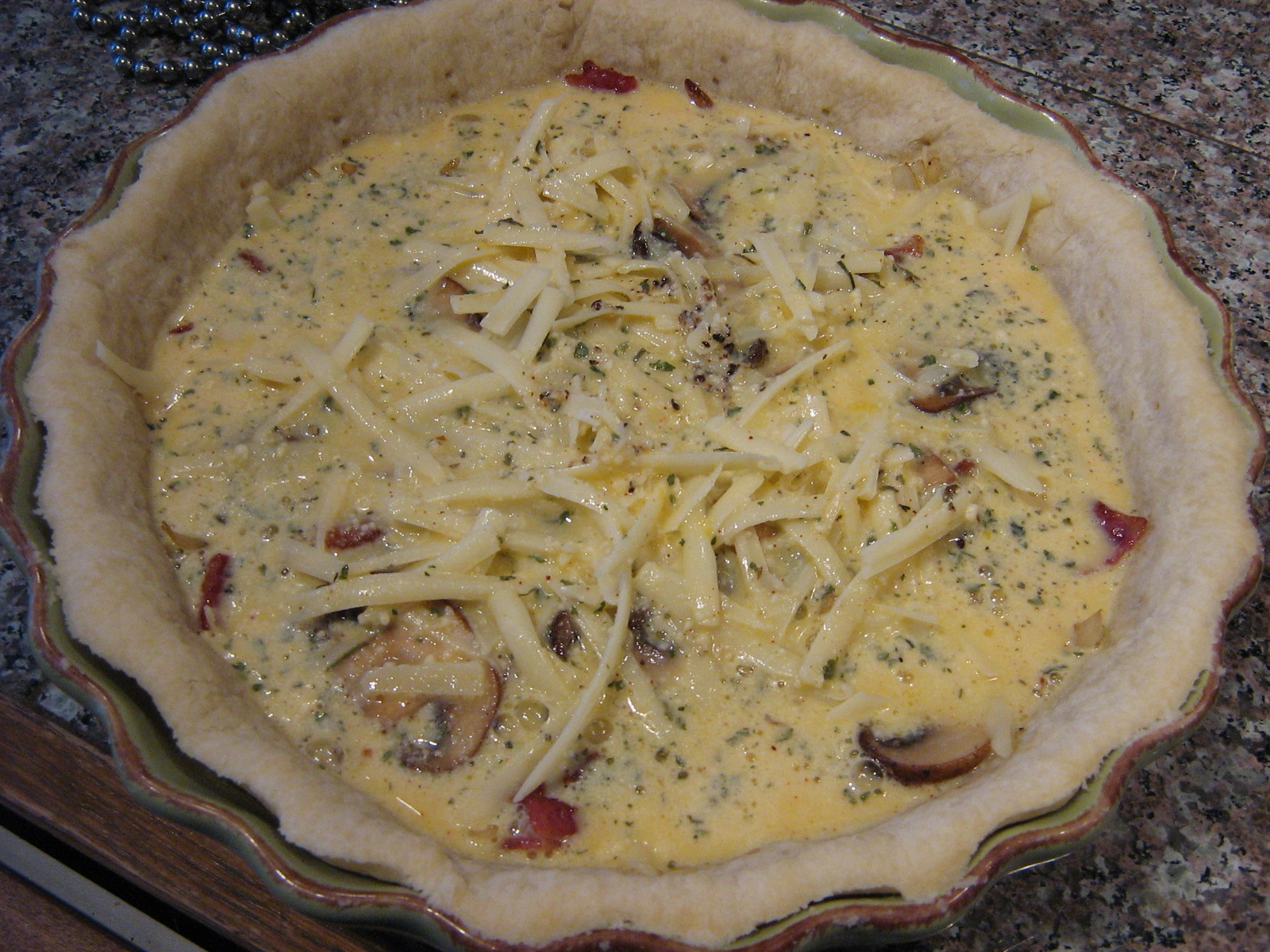 Caramelized Onion, Bacon, and Mushroom Quiche
1 x 9 inch single crust tart shell, pre-baked until light golden brown (use pie weights to prevent the crust from bubbling up)
Custard:
3 eggs
2/3 cup whole milk (or cream, sour cream, or yogurt)
salt and pepper
1/8 -1/4 tsp chipotle powder
1 tbsp chopped parsley (I used about 1 tsp of dried parsley, as my poor parsley plant was buried under almost a foot of snow!)
2 tbsp grated parmesan cheese
Filling:
1 onion, sliced
2 mushrooms, sliced
2 tbsp olive oil
2 tbsp butter
salt and pepper
6 slices bacon, cooked crisp
2/3 cup old white cheddar, shredded
Preheat oven to 350˚ F.
Whisk together the eggs, milk, seasonings, and parmesan cheese. Set aside.
Cook the sliced onions in 1 tbsp each olive oil and butter in a pan over medium heat until caramelized Season with salt and pepper. Remove from the pan. Sauté mushrooms in remaining 1 tbsp each olive oil and butter until golden brown. Season with salt and pepper. Chop bacon into small pieces.
Sprinkle 1/3 cup of shredded cheddar cheese in the bottom of the prepared tart shell. Top with onions, bacon, mushrooms, and remaining cheese. Whisk custard mixture to redistribute seasonings and pour evenly over the fillings in the tart shell.
Bake at 350˚ F for 40-45 minutes, until golden brown and set in the middle (this was the first time a quiche of mine was "done" within the recommended timeframe!). Serve hot or let cool and refrigerate before serving.