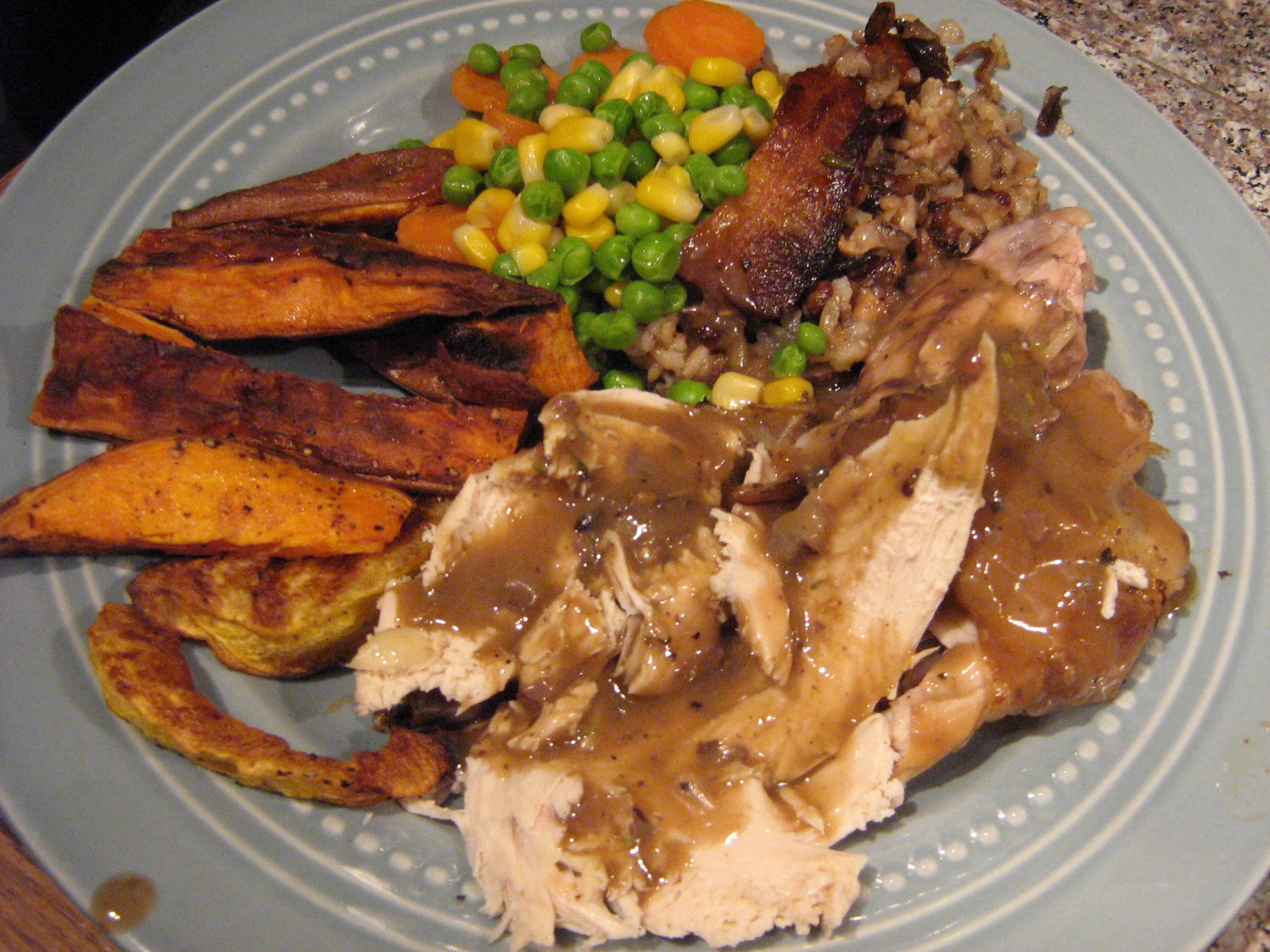 Last weekend, Nate bought me a car stereo as an early Valentine's present, and he and Sam installed in on Sunday. I made a roast chicken dinner for them to show my appreciation – nothing like comfort food to say "thank you"!
There are a bazillion different methods for roasting a chicken, and this one is a pretty standard variation: start with a high heat, turn it down slightly when the bird goes is, rub the skin with oil to make it crispy, season the outside and stuff the cavity with aromatics. I have found that best roasting vessel is a large cast iron frying pan with the chicken on a circular rack, because that way you can simply remove the chicken and rack from the pan and use it to make gravy, without losing any of the drippings or pan juices.
What makes a roast chicken special is the gravy, and I can confidently say that I make a mean gravy. Mostly I owe this to my Dad, whose secret ingredient in chicken and turkey gravy used to be finely chopped dried, salted, Chinese blackbeans. I know that sounds totally weird and gross, but the salty, umami flavour that they imparted to the gravy was SO GOOD. I've taken that idea and run with it, only now my secret ingredients are soy sauce, Marmite, Worchestershire sauce, and balsamic vinegar instead of black beans. The soy sauce adds saltiness and umami and more flavour than just salt would. It also adds colour, which I think is just as important as flavour – a nice, rich, brown gravy is way more appetizing to me than a pale, thin-looking one. The Marmite also adds a bit of salt and a meaty, almost yeasty flavour. Even if you don't like Marmite, you will like what it does for gravy. Worchestershire is a pretty standard ingredient and adds good flavour, but be careful not to add too much, as it can be overpowering. My uncle Mike gave me the idea of adding a small amount of balsamic vinegar to the gravy at the end, to brighten the flavours and cut through the richness with a touch of acidity.
The most important thing to remember when making gravy is to keep tasting it and to add liquid and seasonings in small amounts, as it is always easier to add more than it is to subtract!
Of course, I forgot to take pictures of the gravy making process, so here are some pictures of the chicken instead!
Roast Chicken
I managed to get a super deal on a free range, Island-grown chicken, and the difference in taste compared to a conventionally-grown chicken was pretty obvious. If you can, try to find a free-range chicken – it will make this comfort food that much more comforting! My chicken was about 2 kilos/4 1/2 lbs and took just over 2 hours to roast.
1 whole chicken
Olive oil
1 onion
2 sprigs each fresh rosemary, thyme, and sage
Course sea salt and fresh ground pepper
Garlic powder
Dried rosemary, thyme, and sage
Preheat oven to 375˚ F.
Remove neck and giblets from the cavity of the chicken (if they are in there!). Peel the onion and cut in quarters. Stuff in cavity along with fresh springs of rosemary, thyme, and sage.
Place the chicken on a rack in a roasting pan (I recommend a large cast iron frying pan with a circular rack). Pat the skin of the chicken dry with paper towels and rub with olive oil. Sprinkle liberally with salt and pepper, garlic powder, and dried herbs.
Place in preheated oven and turn heat down to 350˚ F. Roast for about 2 hours, or until juices run clear and a thermometer inserted at the junction of the thigh and the breast reads 180˚ F. Baste occasionally after the first hour/hour-and-a-half, when the juices from the chicken start to accumulate in the pan.
When the chicken is done, remove it (and the rack) from the pan to a plate and cover with foil to rest. Reserve pan, drippings and juices to make gravy.
Perfect Gravy
If your drippings and pan juices contain a lot of fat, you can spoon most of it out before you make the gravy, but keep about 2 tbsp of fat in the pan and try not to lose the juices! This makes about 2 cups of gravy (enough for about 4 people). My rule of thumb for good gravy is 1 heaping tbsp of flour for each cup of stock (give or take), so feel free to increase the amounts as required. The directions assume that your roasting pan is also safe for stove-top cooking – if not, scrape the drippings and juices into a pot before proceeding.
Reserved pan, drippings and juices from roast chicken
2 heaping tbsp all purpose flour
2-3 cups chicken stock
Soy sauce
Marmite
Worchestershire sauce
Fresh ground pepper
Dried rosemary, thyme, and sage
1/2-1 tsp of balsamic vinegar
Place the pan over medium high heat and add flour. Whisk to form a smooth paste. Cook for a minute or two. Gradually add up to 2 cups of chicken stock, whisking to avoid lumps.
Taste the gravy and begin adjusting the seasoning, adding a little at a time: soy sauce for salt, colour, and flavour; Marmite and Worchestershire for flavour, colour, and body; pepper and dried herbs to taste. Keep tasting and adjusting by small amounts. Last of all, add a small amount of balsamic vinegar to brighten and balance the flavours.
If desired, add more stock to thin the gravy out to the desired consistency, but do it slowly – it is much easier to keep adding small amounts of liquid than it is to take it away! If your gravy ends up too thin, turn the heat up and let it boil to evaporate some of the liquid.
When your gravy is perfect, carve the chicken. Stir any juices that have accumulated from the chicken into the gravy. Serve and enjoy 🙂